[ad_1]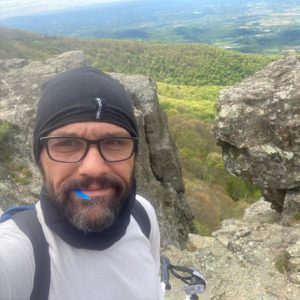 BY T MICHELE WALKER – Michael Schyck can't believe how much his beard has grown. "I've never gone past stubbles. It's crazy," he said. That's what happens when you spend three months on the Appalachian Trail raising money for the Lemon Bay High School Wrestling Team.
On March 22, Lemon Bay High School's wrestling coach, Michael Schyck, embarked on a hike of the Appalachian Trail. He started in Georgia, walked roughly 2,200 miles through 14 states, and ended his adventure on top of Mount Katahdin, Maine.
Schyck's goals are to motivate, mentor and inspire his wrestlers to be more than they thought they could be. "I preach toughness and discipline, through love and hard work, and I get them to set their expectations high. I have always led by example. I do the work with them. They see me as a 51-year-old doing the work, and I believe this is the best way to reach them and get their best."
Schyck is a homegrown Florida native who seeks to give back to the community that has given so much to him. "I appreciate the fact that I've had the opportunity to do something like this. I'm a product of our community. While growing up I've been the beneficiary of their support. Back in the day, there were a lot of people who have contributed to my upbringing and my success. Part of my hope is to pay it forward."
In addition to motivating, mentoring, and inspiring his students, Schyck needs to raise funds for the Lemon Bay High School wrestling program. "I've been pretty good at raising money for the program for the five-plus years that I've been there, but we're all fishing in the same pond. The high school, and middle school, all the clubs, everyone needs money. Asking people for money is a hard thing to do."
Foregoing the traditional candy sales and car washes, Schyck decided to make this year's fundraiser personal. "I am still young and healthy and should be setting goals for myself just like my wrestlers. I have to practice what I preach. What better way to do so than to do something difficult? If I am going to tell my kids to get tough, then I should show them myself. Walking the Appalachian Trail has been a Bucket List item for me for most of my life. So, I am going to take on this adventure and do so by raising money for our wrestling program."
With an original goal of $25,000, Schyck has managed to raise $38,565 to date. With a new goal of $50,000, Schyck is still accepting donations. Every dollar raised is used for students, camps, gear, and travel.
Schyck feels that wrestling is a challenging sport that helps students dig deep. "A lot of kids in wrestling get into it because it's a unique sport. It's a combat sport, so you can take out a lot of frustrations. Some of the guys on my team might not have the means to manage things like tournaments and events. What we're trying to do is to eliminate that variable, where they don't have to worry about anything other than putting in the work. Right now I have six to seven guys that have committed and they could use the help."
Schyck has been pleasantly surprised at how far-reaching this fundraiser has been and how generous people have been to the program. "It's fantastic. I didn't know this was going to impact people like this crazy trip of mine did. I think 153 people have contributed, and I probably don't know 40 to 50 of them. Some of these people are not in our community. They're outside our community and there are even some people that I've met along my hike that gave good money. Some people who don't even live in our community, attend our school or know our kids and they've made donations. It's just been a blessing."
Schyck said the experience of hiking the Appalachian Trail was daunting. "It was very difficult. There are so many people on the Appalachian Trail and they're doing it slowly. One guy out there says he's "Taking the Eight Train to Maine," which means eight miles a day, no more no less. But you know, with me, there was a spell maybe eight to nine days in a row where I averaged 27.5 miles a day. I did the four-state challenge where you're in four states in 24 hours. The last day leading into Baxter State Park, I pulled a 34 to 35-mile day just so I could get to the shelter."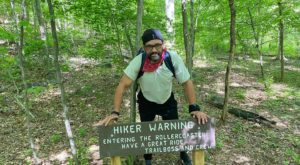 After three months of hiking mountains in the rain and wind, Schyck was relieved that his final mountain climb to Mount Katahdin ended on a sunny day. "It was just a beautiful day. I sat down and had a Snickers bar, believe it or not, and drank the rest of my Gatorade."
For more information or to donate to Lemon Bay High School Wrestling, https://pledgeit.org/2021-appalachian-trail-thru-hike-for-lemon-bay-wrestling?fbclid=IwAR0IXCUnMY_cfVVIg_OntkDiOpJEnhvXvPMLRHj8T97nymPqeZ3usrvFfHE
[ad_2]

Read More:'Walk with Me' for the Lemon Bay Wrestling Club