Summary
Les 3 Vallées is the largest ski area in the world, offering breathtaking elevations, expansive ski areas, and 600 km of slopes for all levels of skiers and snowboarders.
The ski area consists of seven unique resorts, including Courchevel, Méribel, Brides-les-Bains, Les Menuires, Saint-Martin-de-Belleville, Val Thorens, and Orelle, each offering different experiences and accommodations.
The best time to visit is from mid-November to early March, with optimal snow conditions after Christmas. Travelers can fly into major cities like Chambery, Lyon, Paris, or Geneva and take buses or trains to reach the ski area.
Bonjour!
And welcome to the largest ski area in the entire world, Les 3 Vallées. What is Les 3 Vallées? When translated to English Les 3 Vallées means The 3 Valleys. Located in the Southwest region of France, in the incredible French Alps, The 3 Valleys is arguably Europe's most popular ski destination.
With its literally breathtaking elevations, views, and expansive ski areas, The 3 Valleys is the ultimate playground for any level of skier or snowboarder. Seasoned skiers and boarders know just how amazing The 3 Valleys truly is. With 600 kilometers (372.8 miles) of slopes, visitors will have to book more days than usual, because exploring this mountain area will take a little longer than most places worldwide.
How Many Ski Resorts Are There In The 3 Valleys?

Spoiler alert, The 3 Valleys has tons of ski resorts
France is known for its charming alpine resorts and villages. With The 3 Valleys being the largest ski area in the world, it comes as no surprise that there are many resorts within its range.
With seven unique resorts scattered along the mountainside, The 3 Valleys is an expansive winter oasis for skiers and snowboarders.
While there are other massive ski areas in France (and one European country that's basically an alpine ski resort) this one takes the crêpe. The 3 Valleys is located in France exclusively but can be accessed easily through neighboring countries such as Switzerland.
RELATED: 10 Hotels Perfect For A Romantic Getaway In The French Alps
Courchevel
Kyriacos Georgiou on
Unsplash
"">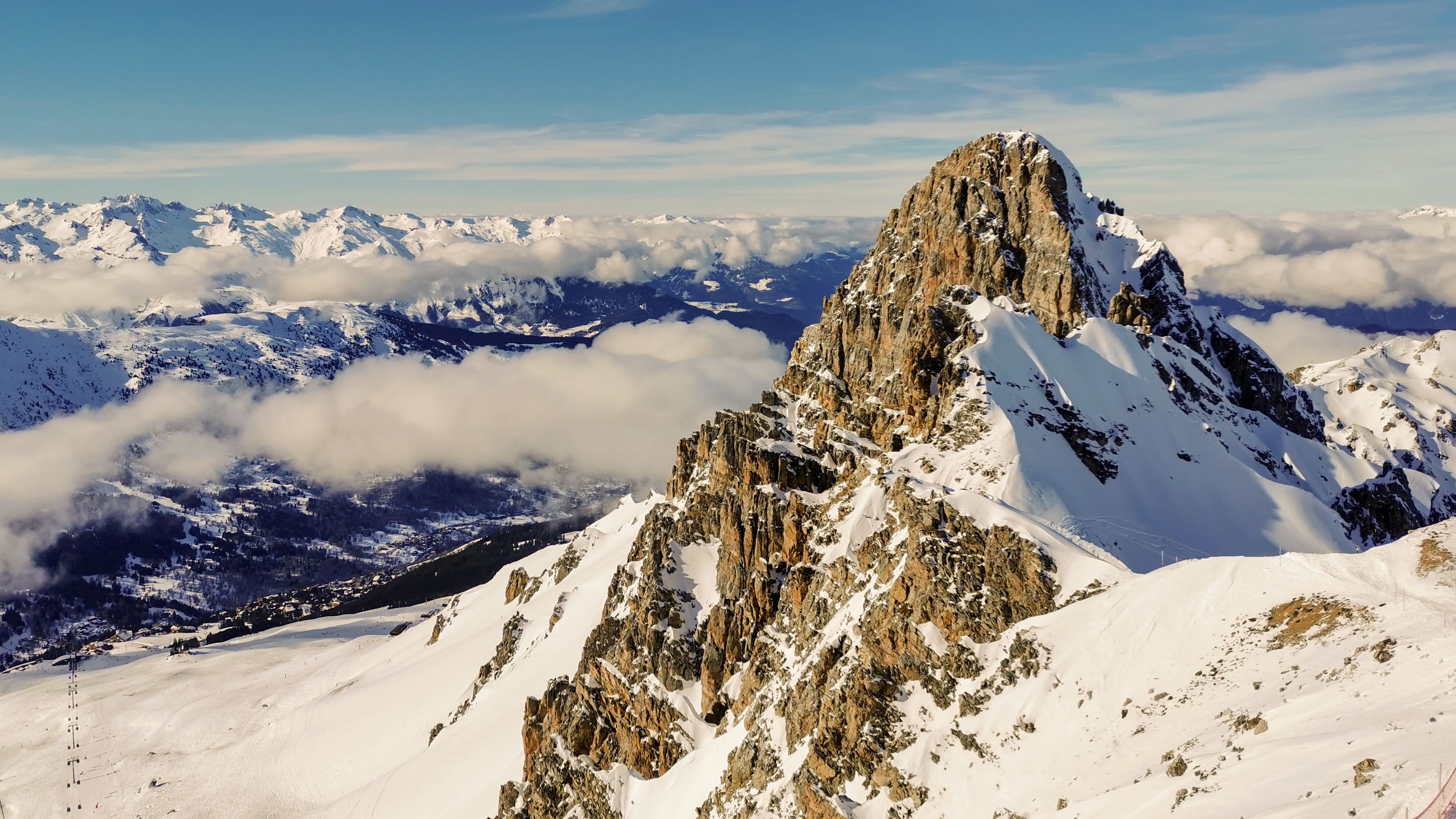 High peak over 3800m altitude over the clouds near the ski resort of Courchevel, France
Located in the heart of the Alps, Courchevel belongs to The 3 Valleys as a great destination for families and beginners. While this location is well-suited for novice skiers and snowboarders, experts can enjoy Courchevel's advanced spots such as the Grand Couloir, an ungroomed and avalanche-controlled that thrill-seekers will love to death.
Besides the slopes, Courchevel is known for its comfortable and cost-free lodging. Courchevel is home to the longest ski run in The 3 Valleys. "La Vanoise" is a 12-kilometer (7.45-mile) run that connects conveniently to Méribel​​​​​.
Méribel
Méribel offers a holistic French experience. With chalets boasting a combination of tradition and modernity, Méribel is the perfect place for those who want a snow-covered paradise.
Its exciting nightlife and historical architecture make for a unique stay. Enjoy Méribel's old barns, traditional food, and peaceful atmosphere. Freeride skiers will be tempted to visit the valley's famous peak, le Mont Vallon, which is not that far from Méribel.
RELATED: Visit The Second Biggest Ski Resort In The World In France
Brides-les-Bains
Brides-les Bains
Located at the foot of The 3 Valleys ski area, Brides-les-Bains is known for its relaxing atmosphere. Soak up this destination's thermal waters while enjoying its incredible views from the bottom of the mountain.
Skiers shouldn't be worried about getting to the top of the mountains since The 3 Valleys are well interconnected. Rather, sit back and relax. Enjoy Brides-les-Bains's mouth-watering delicacies and mountain spas.
Melvin Trav on
Unsplash
"">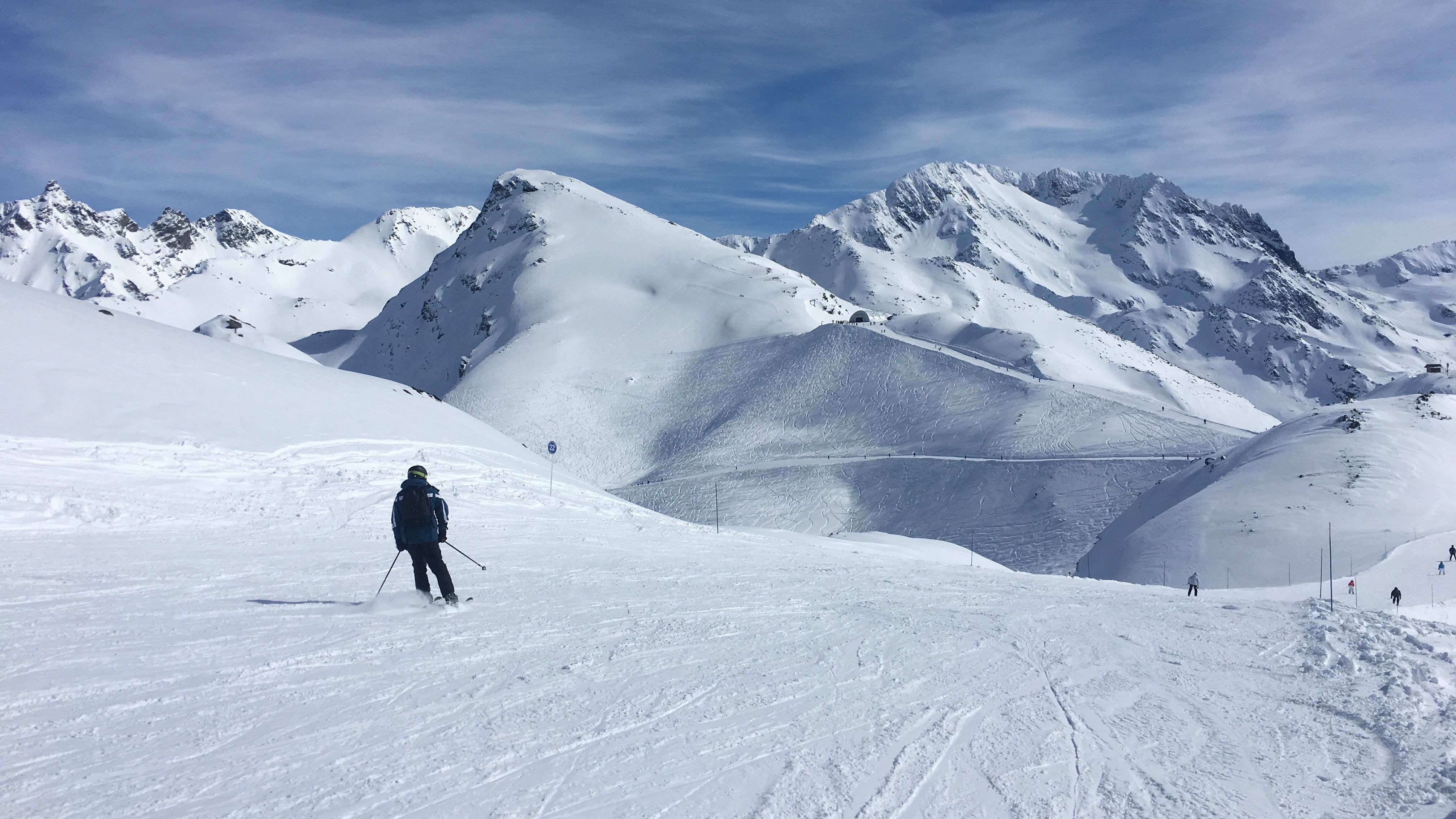 Les Menuires, France
Les Menuires is a great location for those who really want to ski and snowboard. Its accessible location makes getting on and off the slopes as easy as enjoying the site's modernist architecture.
With a family-friendly atmosphere, anyone can enjoy Les Menuires' ease of access. This large resort area has lots to offer, including bars, restaurants, and budget-friendly accommodations.
It's not easy finding cheap ski resorts around the world, Les Menuires takes care of that.
RELATED: This Is The Best Town In France To Rent A Ski Chalet
Saint-Martin-de-Belleville
Saint-Martin-de-Belleville, Les Belleville, France
Saint-Martin-de-Belleville has some serious range. The resort area starts at an altitude of 1,450 meters (4,757 feet)) and climbs up to 2,400 meters (7,874 feet). Its authentic and elegant accommodations alone are a reason to visit.
Surrounded by peaks, Saint-Martin-de-Belleville offers old-fashioned charm in the heart of the Vanoise massif.
Val Thorens
Want to stay above the noise? Val Thorens is the highest ski area in all of Europe! This resort area is known to have the best atmosphere and an incomparable ski experience.
While many of the other resort areas offer enhanced relaxation, Val Thorens offers an unbeatable ski scene. The high altitude makes for favorable early and late skiing availability. Enjoy The 3 Valley's 'highest' level of winter adventure.
With so much real estate to ski, Val Thorens would be a great spot for beginners to learn how to ski and snowboard.
RELATED: Is Snowboarding Hard For Beginners? Here Are The Best Tips From The Pros
Orelle
Dominik Lückmann on
Unsplash
"">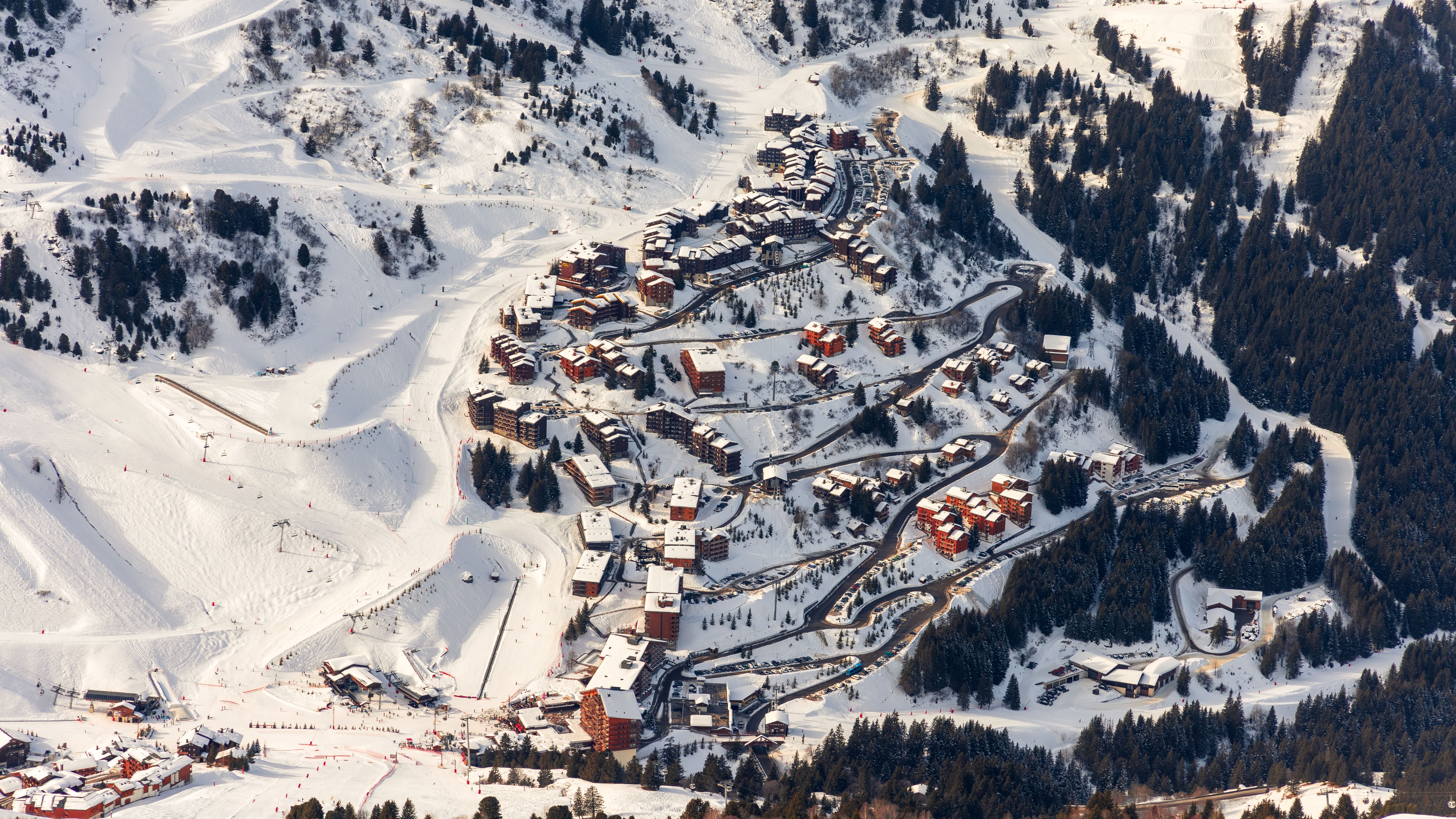 Photo of the mountain village Val Thorens in the ski area Les Trois Vallées
Located in the Maurienne Valley and near the Tarentaise Valley, Orelle is The 3 Valley's sleeper resort area. Its access to the slopes is only rivaled by Val Thorens and its quiet atmosphere is enjoyed by many.
In addition to an amazing ski experience, Orelle is surprisingly affordable. Its simple and friendly atmosphere is an underrated luxury.
Exclusive Les 3 Vallées Activities

The world's largest ski area has countless winter sports to offer
Skiing and snowboarding are not all there is to offer at the amazing 3 Valleys.
How To Get To Les 3 Vallées (& The Best Time To Visit)

Getting to Les 3 Vallées is not a difficult task, but figuring out which route to take is what stumps most people. There are four major cities to fly into when it comes to getting to the mountain area.
The fastest and possibly most convenient option would be to fly into Chambery, a French city just over an hour away from the ski area. Tourists can pay for a bus or a train ride to get to the mountain.
Another great option is to fly into Lyon, a larger city in France. Visitors could always fly into Paris, but that is quite a ways from the mountain area. Lastly, another good option is Geneva, an international hub in Switzerland.
Chambery
Bus Price: $48 – $66
Train Price: $52 – $104
Lyon
Bus Price: $52 – $73
Train Price: $106 – $170
Paris
Bus Price: $84 – $173
Train Price: $113 – $224
Geneva
Bus Price: $93 – $176
Train Price: $56 – $84
Best Time To Visit
The best time to visit The 3 Valleys is from mid-November to early March. However, many locals wait till after Christmas when snow conditions are optimal.