Summary
The UK, Dubai, Saint Kitts and Nevis, and Australia all have strict laws against swearing in public, with penalties ranging from fines to imprisonment.
In the UK, tourists and citizens can be fined or jailed for using threatening, abusive, or insulting words or behavior in public, while in Dubai, swearing in public can lead to a year in prison or hefty fines.
Saint Kitts and Nevis have strong religious foundations and strict anti-vulgarity laws, with even celebrities like 50 Cent and DMX getting arrested for cursing during performances. Similarly, swearing in public in certain states in Australia can result in imprisonment.
It's always important to be aware of the local laws before visiting a foreign destination. In some cases, certain countries are so strict that you don't want to risk breaking the law there, even unknowingly, due to the harsh punishments that will await you. In other cases, even otherwise lenient countries practice weird and strict laws regarding certain matters that all tourists need to know. Check out the countries where it's illegal to swear in public below.
UPDATE: 2023/11/14 12:20 EST BY NOAH STAATS
It Might Just Be Better To Argue In The Car In These Cities
Around the globe, laws and regulations exist to keep order for citizens and tourists. However, acting out of line in these places results in much more than an awkward glare from fellow bystanders. Make sure and behave while traveling the world, especially in the Middle East, the Caribbean, Europe, and Australia.
Related: These Are the Strictest Laws Locals In China Are Expected To Follow
It Might Be Best To Avoid Vulgarities In The United Kingdom

The huge Westminster Palace
Although the UK is known to get rowdy during sports, there is a surprising anti-swearing and vulgarity ordinance that gets people fined and jailed more often than not. Here, tourists and citizens are not permitted to use "threatening, abusive or insulting words or behavior, or disorderly behavior" or to display "any writing, sign or other visible representation which is threatening, abusive or insulting" per the official Parliament website.
Therefore, anything deemed threatening or abusive by Metro police or local law enforcement can get people thrown in jail for the evening. Generally, it's not nice to act this way regardless of the local laws and regulations, but in the UK, more specifically Britain, it's better to leave the aggression at home. Much like the rest of the countries on this list, the general public's peace and safety are what you don't want to disturb. Yes, we all get angry but don't lose your lid and have to get bailed out of jail on vacation. Not worth it.
Order, please: The United Kingdom has rules in place to keep tourists and citizens from threatening or abusive language and behavior in public.
You Can Go To Jail For Swearing In Public in Dubai

Pixabay"">
Aerial view of Dubai at nighttime
The legal system in the United Arab Emirates, which includes the popular tourist destination of Dubai, is much stricter than Americans are used to. Many of the laws in place in Dubai have been inspired by Islamic Sharia traditions. In addition to not being able to eat and drink on public transport or post a photo of someone on social media without their consent, tourists and residents in Dubai are prohibited from swearing in public.
This is completely banned in the UAE, with the public use of the F-word punishable by up to a year in prison. You can also be fined thousands of dollars if you're caught swearing. Similarly, raising the middle finger is considered an indecent gesture which may result in deportation.
In addition to being banned in public spaces, cursing is also prohibited in cyberspace. When you use apps such as WhatsApp or any other form of social media, swearing or using indecent emojis can result in a hefty fine, a prison sentence, or deportation. This bizarre law sounds like a prank, but it's really not!
They're watching your every move: Dubai officials will arrest people who cause a public disturbance, as well as those who raise their middle finger or send indecent emojis while texting.
Saint Kitts And Nevis Have Anti-Vulgarity Laws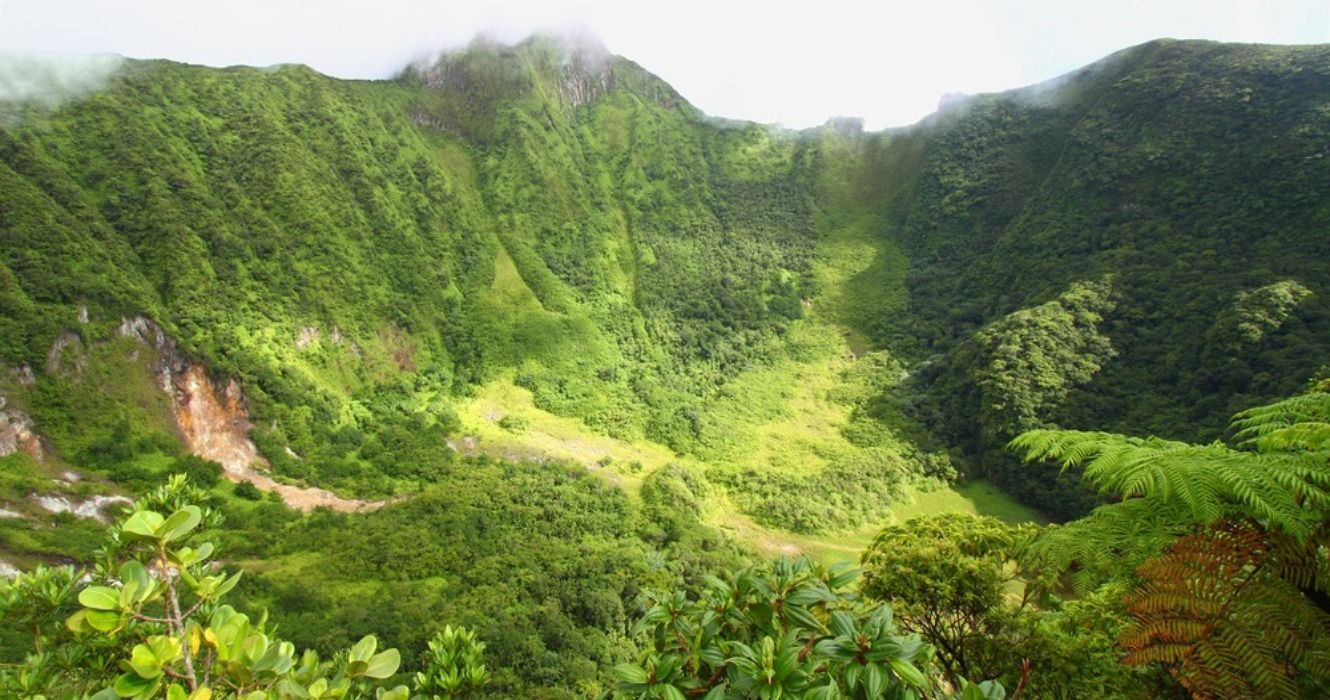 Crater of Mount Liamuiga on Saint Kitts, St Kitts Island, Caribbean
The West Indian country of Saint Kitts and Nevis doesn't sound like a strict destination. But because the country has strong religious foundations, many of the activities that are commonplace in other countries are frowned upon or downright banned, including topless bathing and wearing beachwear beyond the beach or pool. There are also anti-vulgarity laws that prohibit people from swearing in public.
American rap star 50 Cent was notoriously fined after a concert in Saint Kitts in 2016 where he used explicit language during his performance. The rapper was arrested on profanity charges at the Saint Kitts Music Festival when he came off stage. Back in 2003, rapper DMX was also arrested for using profanities on stage.
Artists set to perform in Saint Kitts and Nevis are reportedly warned in advance that swearing on stage carries harsh fines that even the biggest names can't avoid.
Even celebrities get in trouble: Saint Kitts and Nevis has an extremely strict anti-swear law, with rappers like 50 Cent and DMX arrested for cursing during performances.
A New Law Passed In Russia Prohibits Swearing

Back in 2014, it was announced that Russia had passed a law prohibiting swearing in the arts and media, which includes all films, broadcasts, theater productions, and other public forums. Those caught breaking the law can face fines. There are four words in particular that Russians are prohibited from speaking or writing in public, loosely translating to the English words for male and female body parts, the F-word, and an antiquated English word for sex workers.
According to internet sources, a new piece of legislation has been drafted that also punishes Russians for swearing at home. Those overheard swearing at home will be accused of disrupting the peace and enjoyment of those they live with and eligible for a short stint in jail.
Russia is not allowing bad words: More recently, Russia introduced anti-swearing laws in media and performances, with laws even prohibiting bad words said at home.
You'd never know these countries were dangerous based on beautiful photos.
Cursing In Public Is Illegal In Australia

Srikant Sahoo on
Unsplash
"">
opera house vivid sydney
Australia is renowned for being a laid-back country with strict border control laws. But profanity is another area where the Land Down Under is stricter than many other countries. Swearing in public in the states of Queensland, Victoria, and New South Wales, which happen to house the tourist destinations of the Gold Coast, Melbourne, and Sydney, is technically breaking the law.
Swearing in public is a little thing that could get you arrested in this foreign country, with prison sentences of up to six months awaiting those who are found guilty.
Don't go low down under: Australia, although laid-back, does not permit swearing in the states of Queensland, Victoria, and New South Wales.