Summary
Virginia's historic downtowns offer visitors a glimpse into the past with preserved architecture from the 18th, 19th, and early 20th centuries.
These small towns immerse travelers in Colonial, Revolutionary War, and Civil War history, providing a rich heritage experience.
From scenic waterfront villages to bustling cultural hubs, Virginia's downtown areas showcase the state's charm and highlight its historical significance.
With over four centuries of history, Virginia offers travelers pretty and historic downtowns across the state that serve as windows into the past. It is home to some of America's charming small towns with historic districts; Virginia's walkable downtowns feature preserved architecture from the 18th, 19th, and early 20th centuries that house museums, shops, restaurants, and historic attractions.
The many historic downtown areas in Virginia immerse visitors in Colonial, Revolutionary War, and Civil War history, while larger cities also include famous landmarks and modern amenities. From quaint river towns to bustling cultural hubs, these old downtowns in Virginia give travelers a taste of the state's rich heritage.
Related: These Are The 10 Best Historic Downtowns In America
10
Onancock: A Scenic Waterfront Village On Virginia's Eastern Shore
Historic Onancock's scenic location, kayaking, and small-town hospitality make it an idyllic getaway
The town hall and police department in Onancock in the town's historic fire hall, Virginia, USA
One of the many small towns in Virginia perfect for a fall escape, Onancock's picturesque downtown is set along the creek leading to the Chesapeake Bay on Virginia's rural Eastern Shore. The historic 18th and 19th-century buildings lining its streets give Onancock a quintessential colonial charm. Walking down King or Market Streets, visitors will find galleries, antique shops, and restaurants housed in charming old structures.
The center of the downtown area is the colonial-era market house, which now hosts community events, farmers' markets, and festivals. Just outside downtown, travelers can tour 18th-century homes like Eyre Hall House and Kerr Place for architecture and history.
9
Colonial Williamsburg: Step Back Into 18th-Century Virginia
Colonial Williamsburg's 300-acre historic district contains 88 original and reconstructed 18th-century buildings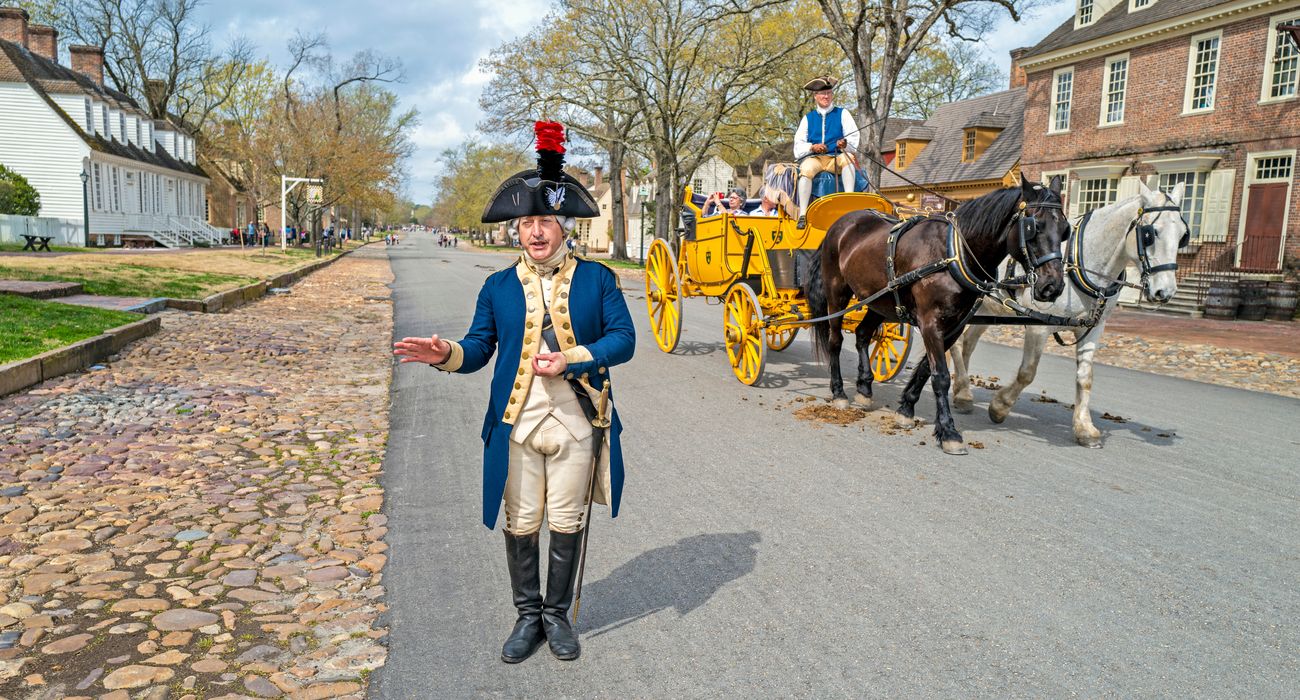 Reenactor in Colonial Williamsburg, Virginia
Colonial Williamsburg is the nation's largest living history museum, transporting visitors back to 1770s Virginia before the American Revolution. The 300-acre historic district contains 88 original and reconstructed 18th-century buildings along Duke of Gloucester Street and surrounding areas that help bring Revolutionary-era history to life.
Costumed interpreters populate the streets and buildings, adding to the immersive experience. Walking along the cobblestones and frequenting colonial taverns, shops, and homes, visitors feel fully immersed in the 18th century as militias conduct drills and artisans' work.
8
Fredericksburg: Old Town Charm And Civil War History
Fredericksburg delivers an authentic glimpse into 18th and 19th-century Virginia
Nils Huenerfuerst on
Unsplash
"">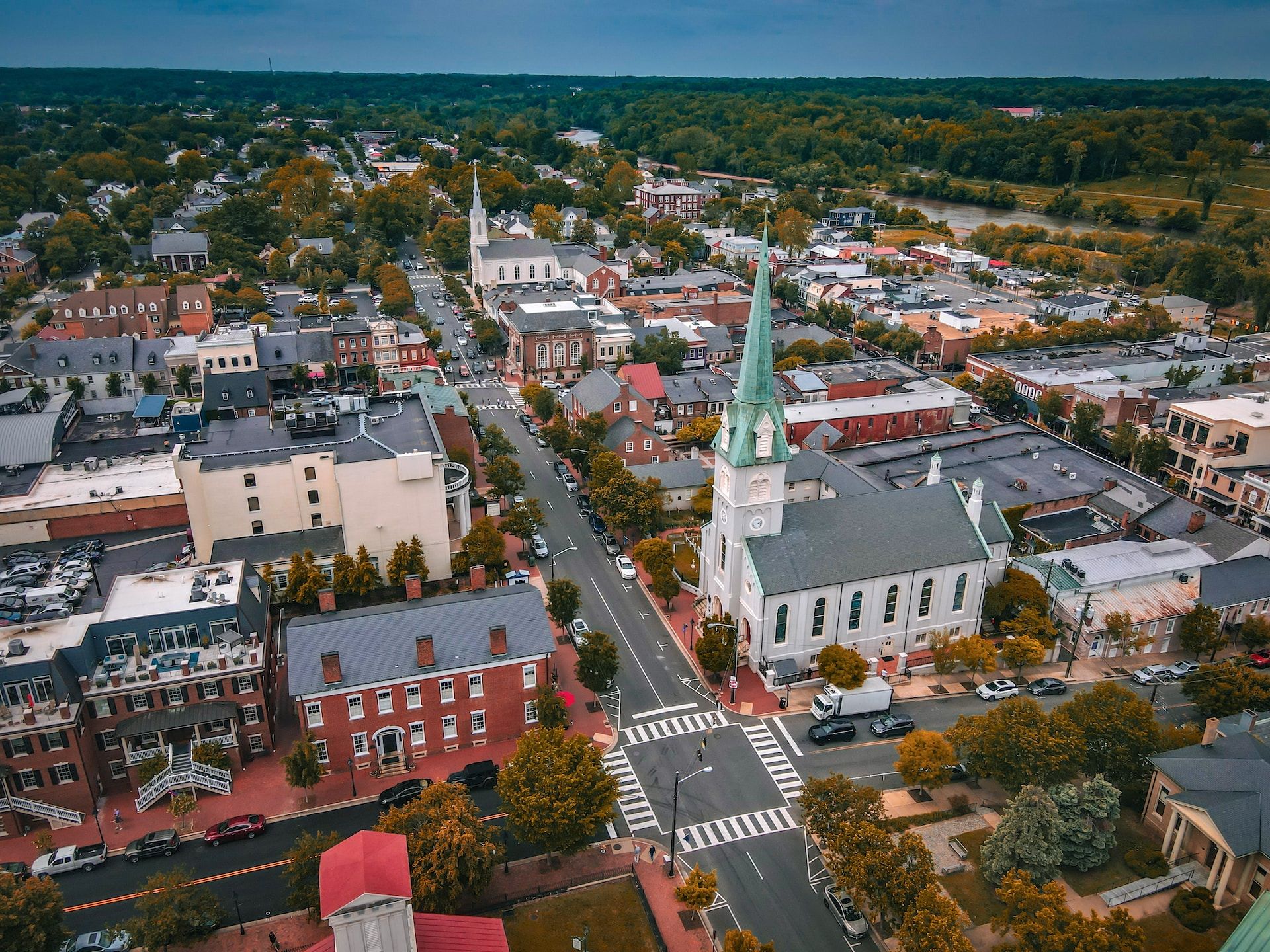 An aerial view of Fredericksburg, Virginia
Downtown Fredericksburg traces its roots back to the 1700s and still retains much of its historical charm through preserved architecture and battlefields. The cobblestone Caroline and William Streets are lined with 18th and 19th-century buildings housing antique stores, cafés, and boutiques.
Nearby battlefields allow visitors to retrace Revolutionary and Civil War events, like at the Fredericksburg National Military Park. Other historical sites include the Rising Sun Tavern, James Monroe Museum, and St. George's Church.
7
Alexandria: Cobblestone Streets In George Washington's Hometown
Boutiques, art galleries, and restaurants housed inside old banks and warehouses add to Alexandria's historic charm
Ken Lund distributed under a
CC BY-SA 2.0
license."">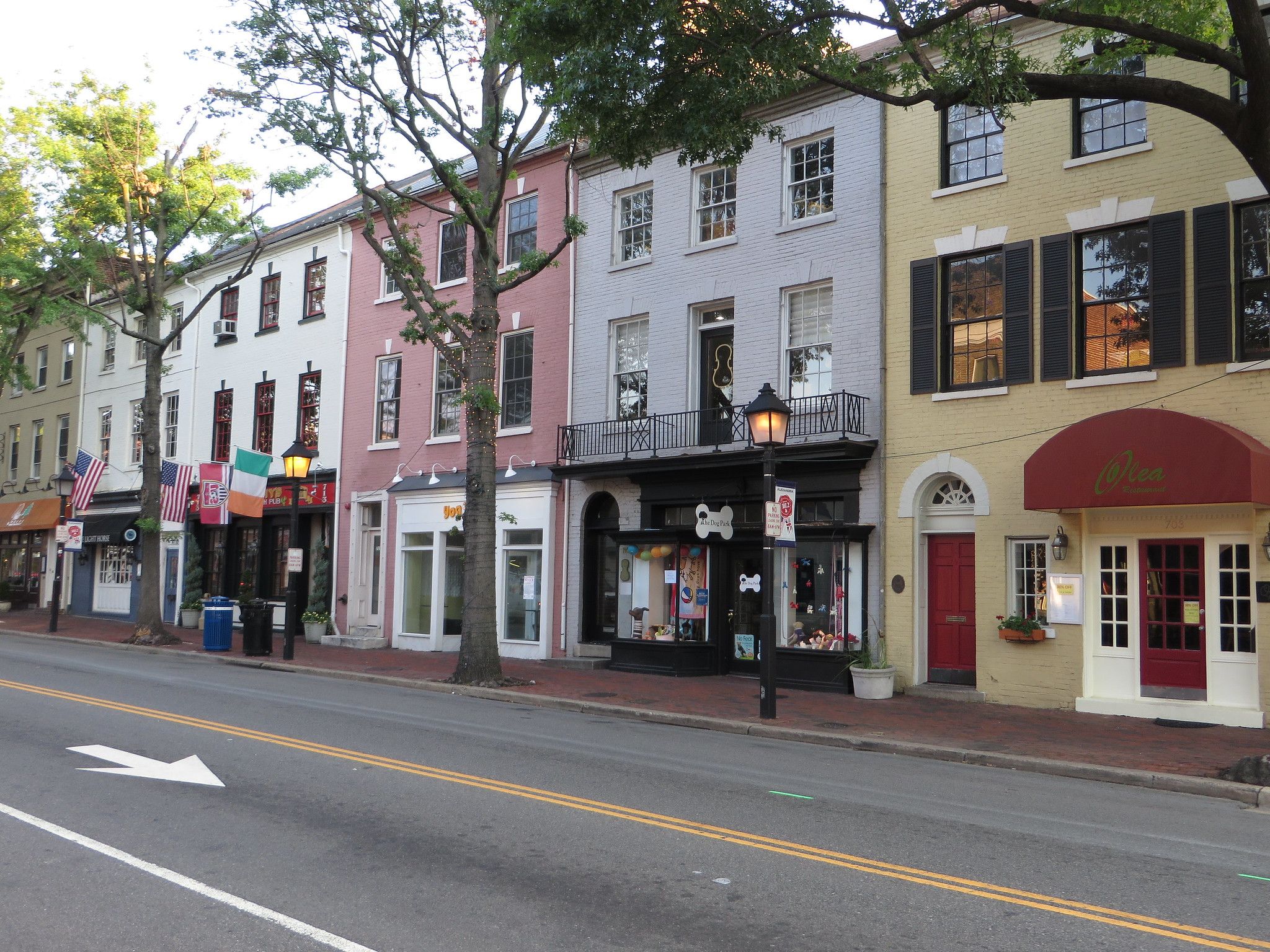 A section of Old Town Alexandria in Virginia
Alexandria in Virginia is perfect to spend a weekend in, thanks to its bustling Old Town district, which features beautifully preserved 18th and 19th-century architecture, brick sidewalks, and cobblestone streets reminiscent of nearby Washington D.C.'s Georgetown neighborhood.
As George Washington's adopted hometown, Alexandria has played an integral role in U.S. history since Colonial times. Walking along King Street and the waterfront, visitors admire the historic row houses and mansions as well as historic sites like Gadsby's Tavern and the Stabler-Leadbeater Apothecary shop.
Related:10 Things To Do In Alexandria: Complete Guide To The Hidden Gem On The Potomac
6
Petersburg: Virginia's Window Into Civil War History
With so many Civil War sites, Petersburg is a must-see for history buffs
EWY Media"">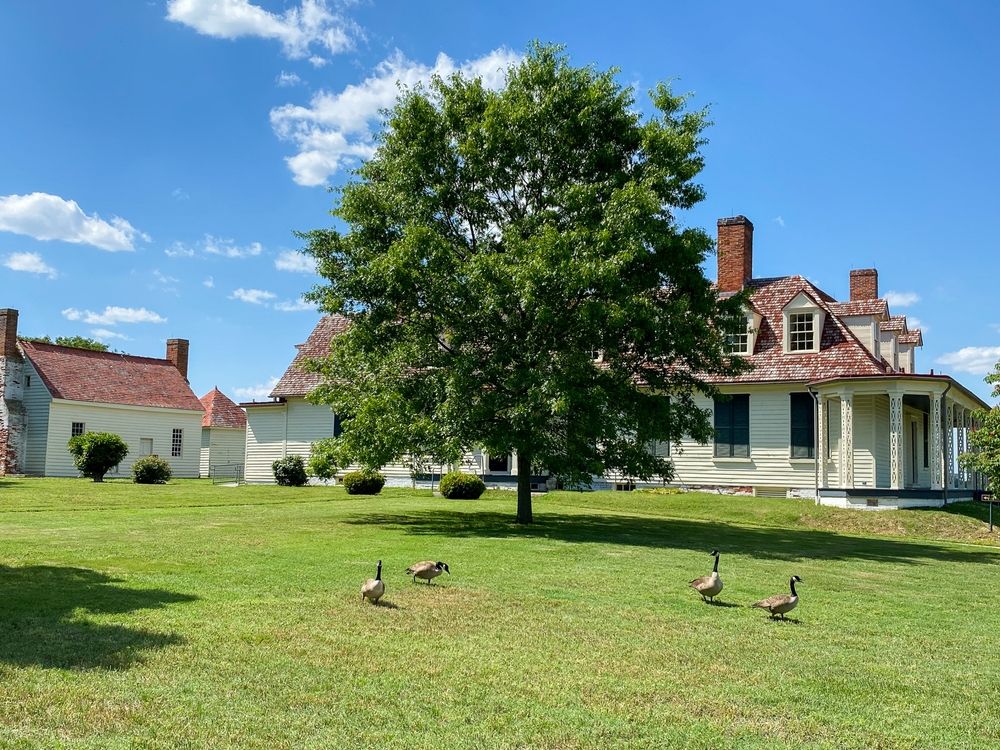 Petersburg National Battlefield site of American Civil War of the Siege of Petersburg, Virginia, USA
Petersburg's old downtown provides an immersive experience of Civil War history, as it was the site of the 9.5-month-long Siege of Petersburg by Union forces. Many of the 18th and 19th-century buildings that line its streets today housed soldiers and witnessed war.
Walking through Petersburg National Battlefield, visitors can traverse the Confederate defense lines along with museums and memorials. Downtown, travelers can see old churches, the Exchange Building medical museum, and the historic Centre Hill Mansion that became a hospital.
5
Abingdon: The Charming Arts Hub Of Virginia's Blue Ridge Mountains
With its mountain views, historic architecture, and lively arts scene, Abingdon offers a getaway steeped in history
Dee Browning"">
The historic Tavern built in 1779 in Abingdon, Virginia, USA
Nestled amidst the majestic Blue Ridge Mountains in southwest Virginia, Abingdon's quaint downtown showcases preserved 19th-century buildings, brick sidewalks, and antique lamps. The historic district contains many structures from Abingdon's heyday in the 1800s as a cultural boomtown.
Winding through this historic Virginia downtown area, visitors will find an eclectic array of boutiques, cafes, patios, and art galleries housed within old general stores, taverns, and homes. The Martha Washington Inn, Fields-Penn House, and the Barter Theatre are popular attractions.
Population: 8,336
Top Attractions: Barter Theatre, Martha Washington Inn, Fields-Penn House
Founded: 1778
Things to Do: See Barter Theatre shows, shop and dine downtown, hike the Virginia Creeper Trail, visit local wineries like Abingdon Vineyards
Best Time to Visit: April-November for weather and events
4
Staunton: Small-Town Beauty In Virginia's Shenandoah Valley
Staunton transports visitors to an earlier era with its gorgeous period buildings and quaint amenities
A beautiful Streetside Cafe in Staunton, Virginia
Tucked in the scenic and activity-packed Shenandoah Valley southwest of Charlottesville, Staunton's downtown exudes understated historic beauty through its ornate 19th-century architecture marked by Romanesque and Greek revival styles. Nearly 250 landmark structures spanning the 18th, 19th, and 20th centuries line the cobblestone streets.
Tourists can admire the intricate craftsmanship and design details of historic homes like the Woodrow Wilson Presidential Library. Downtown, the Blackfriars Playhouse and local shops inhabit old 19th-century storefronts and warehouses.
3
Warrenton: A Plantation Town With Civil War History And Greek Revival Mansions
Near Washington, D.C., Warrenton offers a peaceful escape into Virginia's heritage with museum exhibits and historic church tours
Kosoff"">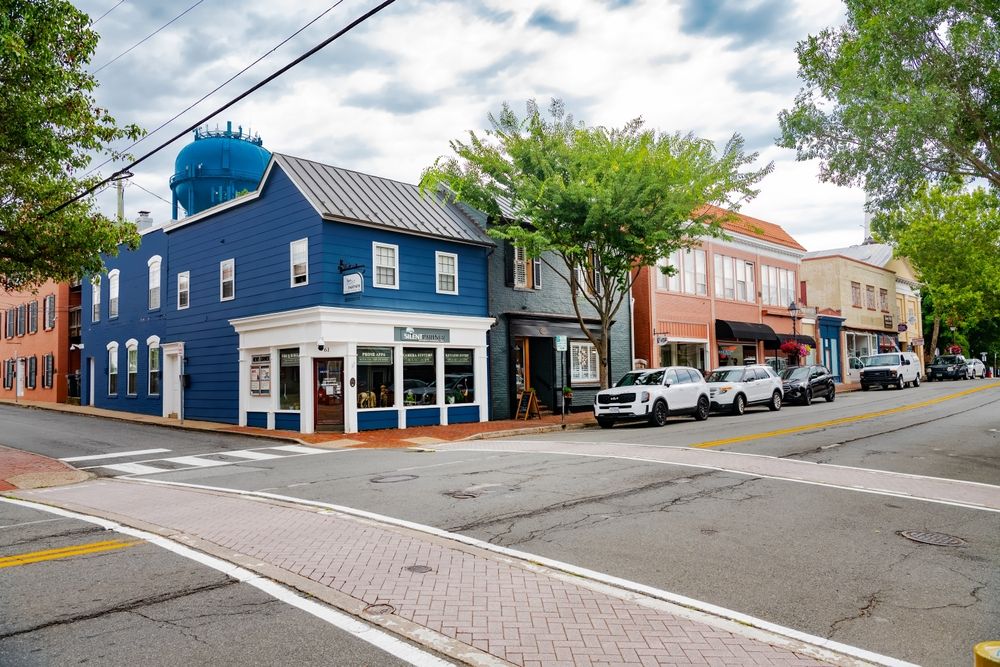 Historic Warrenton, Fauquier County, Virginia, USA
Nestled in Virginia's Fauquier County just west of Washington D.C., Warrenton's remarkably intact 19th-century Old Town district transports visitors back to the antebellum era and Civil War period. Historic Greek Revival mansions line the streets of Old Town, reflecting Warrenton's prosperous past as a plantation hub.
In Old Town, travelers can see one of the few Civil War hospitals still standing, as well as the 18th-century Warren Green meeting house.
Related: These 11 U.S. Cities Are Home to The Best Downtown Areas In The Country
2
Middleburg: A Scenic Hunt Country Retreat
Downtown Middleburg's rolling vineyard views, tasting rooms, and history deliver scenic and sophisticated getaways
Strawser,
CC BY-SA 3.0
, via Wikimedia Commons"">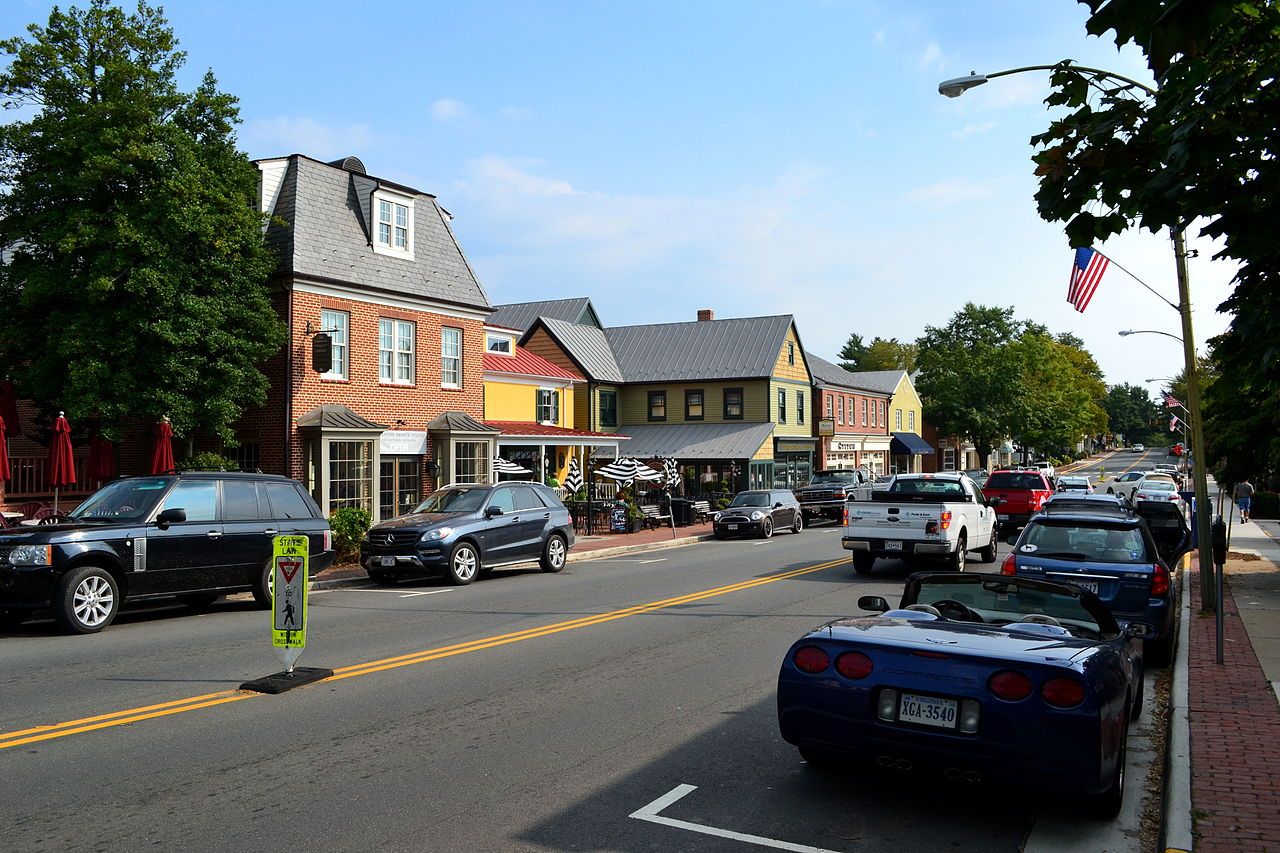 Middleburg Historic District, US 50, Virginia 
Located in the heart of Virginia's hunt country and wine region, Middleburg offers small-town allure with its red brick streets, stone cottages, and farmhouse estates. Gentrified yet unpretentious, Middleburg's National Historic Landmark district preserves 18th and 19th-century buildings that now house boutiques, wineries, restaurants, and inns.
Visitors can tour Huntland, a 230-year-old mansion with ornate interiors, and stroll amidst colorful gardens.
Population: 669
Top Attractions: National Sporting Library, Red Fox Inn, Welbourne
Date Founded: 1787
Things To Do: Wine tasting, shopping, and dining downtown, touring wineries and estates
Best Time to Visit: April through November for weather and hunt country scenery
1
Cape Charles: A Coastal Village On Virginia's Eastern Shore
Cape Charles' historic downtown features tree-lined streets, and nearby beach attractions add to the coastal charm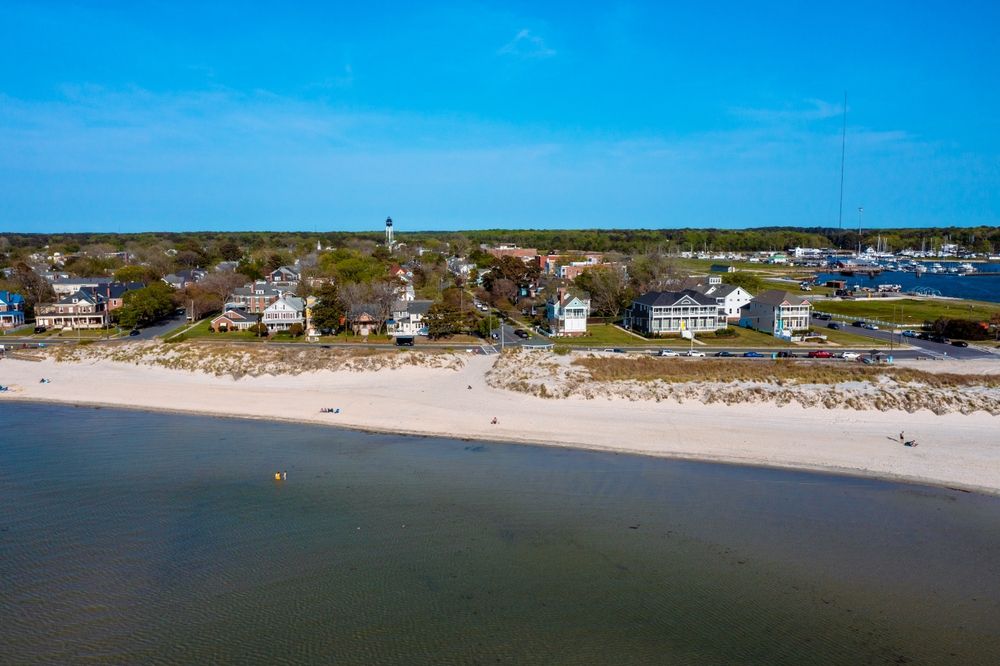 Beach Homes in Cape Charles seen from Chesapeake Bay, Virginia, USA
On Virginia's scenic Eastern Shore along the Chesapeake Bay, Cape Charles' historic downtown transports visitors back with its tree-lined streets and preserved turn-of-the-century homes. The Cape Charles Historic District contains over 150 historic homes and buildings from the late 19th and early 20th centuries in styles ranging from Victorian to Arts and Crafts.
Strolling down Mason Avenue and Strawberry Street, visitors will find shops, cafes, and B&Bs housed inside charming antique wooden homes. Travelers can head to the beach, tour the Cape Charles Museum and Children's Garden, and kayak along the Chesapeake shoreline.