Summary
The Adirondacks offer beautiful destinations for winter activities like skiing, snowboarding, and ice skating, making it a perfect winter playground.
Old Forge is known as the "Snowmobiling Capital of New York" and hosts snowmobile-related festivals and a winter carnival, along with great dining and lodging options.
North Creek is home to Gore Mountain, one of the best ski resorts in the Adirondacks, with various trails and instruction programs, as well as ski shops and delicious dining choices.
Just as New York State has so many picturesque winter towns and charming snow-filled cities to visit, the Adirondacks is also full of many beautiful destinations to see in this chilly season. During the colder months, this mountainous region turns into an outdoor winter playground. Visitors who enjoy skiing, snowboarding, snowshoeing, or even ice skating will find many options in the Adirondacks for hitting the slopes, trails, or rinks.
Various towns and villages within the Adirondacks are involved in hosting events such as the Empire State Winter Games, a winter sports competition in February. Get started on planning a winter trip to New York by checking out the most beautiful destinations to visit in the winter in the Adirondacks.
10
Old Forge, New York – The 'Snowmobiling Capital Of New York'
A snowmobiler's winter paradise
Old Forge is a major destination for snowmobiling, with two festivals centered on this winter activity.
This village is referred to as the "Snowmobiling Capital of New York," thanks to having many miles to trek along and companies renting out snowmobiling equipment. Old Forge also celebrates this season with two snowmobile-related festivals: Snodeo, in early December, and Snowfest, the following March.
A winter carnival in February is a weekend full of floats, costumes, and activities. The McCauley Mountain Ski Area turns into a cross-country skiing venue, with three different types of loop trails, along with skiing and snowboarding.
What Also To Do In Old Forge
Walt's Diner is a beloved breakfast and lunch place, and Keyes' Pancake House makes for a great spot for that first meal of the day. Or do some shopping at ADK Home in the Wilderness Furnishings, a popular home goods store.
Along with its main location in Seneca Falls, Montezuma Winery has an outpost in Old Forge, where oenophiles can go for wine tastings or sample spirits produced by Hidden Marsh Distillery. The Waiting Room is a cocktail bar that serves up classic and signature drinks, beers, and wines.
Where To Stay In Old Forge
• Water's Edge Inn, 3188 NY-28, Old Forge, NY 13420
• Great Pines, 4920 State Route 28, Old Forge, NY 13420
• Adirondack Lodge Old Forge, 2752 NY-28, Old Forge, NY 13420
9
North Creek, New York – One Of The Best Ski Resorts In The Adirondacks
Skiing excitement for beginners through experts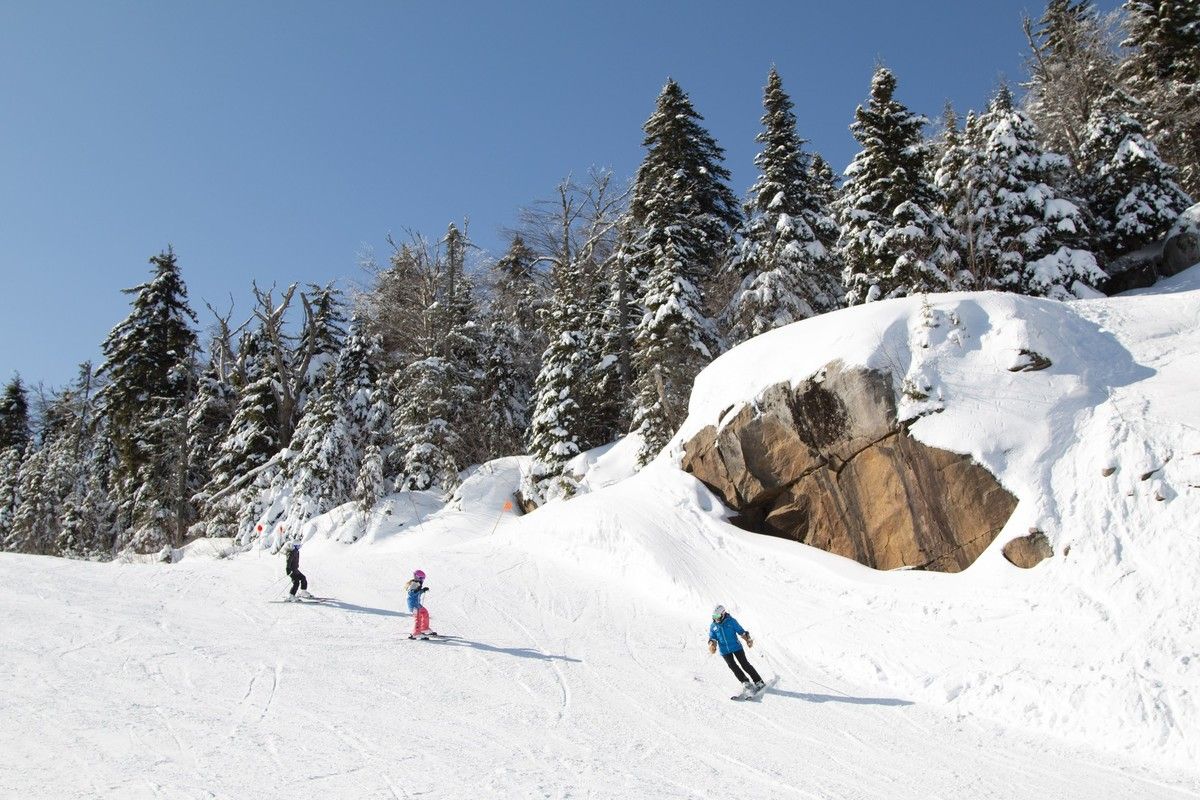 Gore Mountain in North Creek offers skiing and snowboarding lessons.
North Creek is home to Gore Mountain, one of the Adirondacks' best ski resorts. Its 2023-24 season will introduce a new uphill program at their Ski Bowl a new beginner lift and more snowmaking abilities.
The resort also has various instruction programs through the Gore Mountain Snow Sports School. Overall, Gore Mountain has seven mountain areas tied to a network of just over 100 trails and 14 lifts.
For those who need skiing equipment, North Creek has many ski shops, including Cunningham's Ski Barn and The Crossroads North Creek.
What Also To Do In North Creek
Around town, look for murals belonging to the North Creek Mosaic Project along Main Street. This colorful collection of scenery depicts various things that North Creek is known for.
For good eats, Marsha's Family Restaurant serves up a great home-cooked breakfast, while Becks TAVERN at Gore Mountain Lodge offers German-inspired cuisine with a full bar.
Where To Stay In North Creek
• Gore Mountain Lodge, 881 Peaceful Valley Road, North Creek, NY 12853
• The Alpine Lodge, 274 Main St., North Creek, NY 12853
• Garnet Hill Lodge, 39 Garnet Hill Road, North River, NY 12856
8
Wilmington, New York – Famous For Whiteface Mountain
See the views from the gondola or hit the slopes
Whiteface Mountain is a popular ski resort in Wilmington.
Wilmington is the location of one of the Adirondacks' most visited ski resorts, Whiteface Mountain. This resort contains the greatest vertical drop east of the Rockies, along with 96 trails that extend out to 25 miles and surround three peaks. Terrain parks can accommodate ranges from beginner to advanced.
Ski and snowboard lessons for every level can be reserved online. Visitors can also book a winter ride on their Cloudsplitter Gondola, which treks from the resort's Main Base Lodge to the top of Little Whiteface.
What Also To Do In Wilmington
Fuel up before in town at The Country Bear Bakery and Diner, which has gotten high marks for its French toast and other breakfast dishes. Forty Six is touted for its burgers, and this bistro changes its menu with the seasons.
Wilmington also has a small hamlet called the North Pole, whose name symbolizes Santa Claus' famous home base. Visitors can come to this magical theme park and see Santa's Workshop.
On weekends from November to December, Yuletide Weekends bring out the jolly man in the red suit and Mrs. Claus to greet guests and encourage them to make ornaments or listen to a storytime.
Where to Stay In Wilmington
• Cadence Lodge at Whiteface, 5704 NY-86, Wilmington, NY 12997
• The Hungry Trout Resort, 5239 NY-86 Scenic, Wilmington, NY 12997
Related: 10 Best Winter Towns In New York for A Memorable Trip
7
Inlet, New York – Puts On The 'Frozen Fire & Lights' Festival
Winter excitement apart from the snow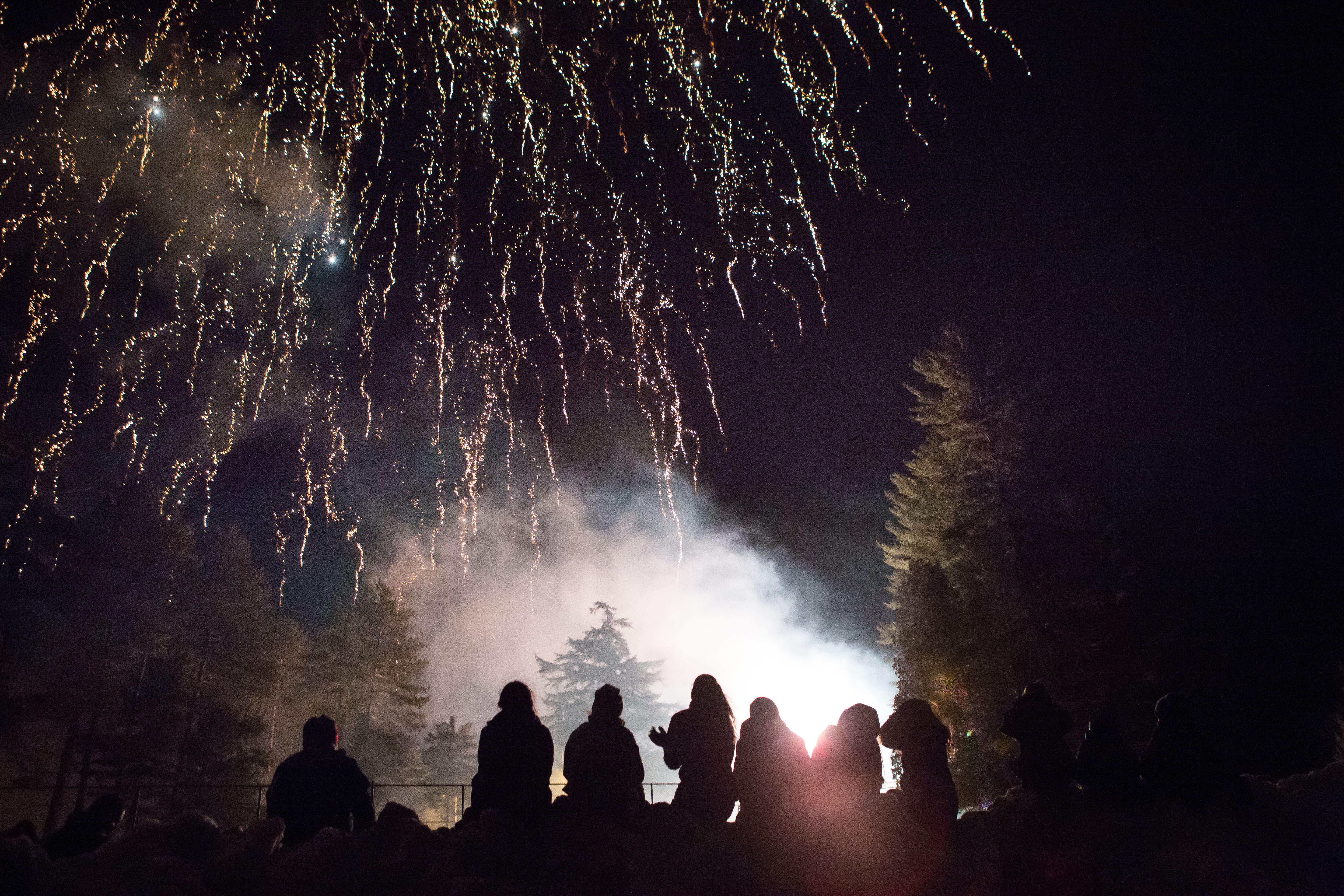 Frozen Fire & Lights is an annual winter festival in Inlet.
This small town is on the northeastern edge of Fourth Lake, one of the Adirondacks' most-liked Fulton Chain of Lakes. This waterfront destination also has happenings during winter time with festivals and other fun things to do.
Taking place on the last Saturday in February, the annual Frozen Fire & Lights is a day of fun at Fern Park. Attendees can go snowshoeing and cross-country skiing or head to an enclosed ice skating rink. Various fun-themed races also happen and admission to this event is free!
What Also To Do In Inlet
Inlet is also referred to as the gateway to the Moose River Recreation Area, a 34-mile corridor of state-owned land connecting with trails in Indian Lake. During winter, it is a snowmobile highway. A permit must be purchased.
With dining, the Indian Lake Restaurant and Tavern is open year-round, with lunch and all-day specials. Mary's White Pine Bakery is known for great donuts and pastries while Screamen Eagle serves up specialty pizzas and wings and touts having 50 beers on tap.
Where To Stay In Inlet
• The Woods Inn, 148 NY-28, Inlet, NY 13360
• Marina Motel, 6 S Shore Rd, Inlet, NY 13360
6
Saratoga Springs, New York – A Popular Spot For Snowmobiling
Cross-country snowsports abound in Saratoga Springs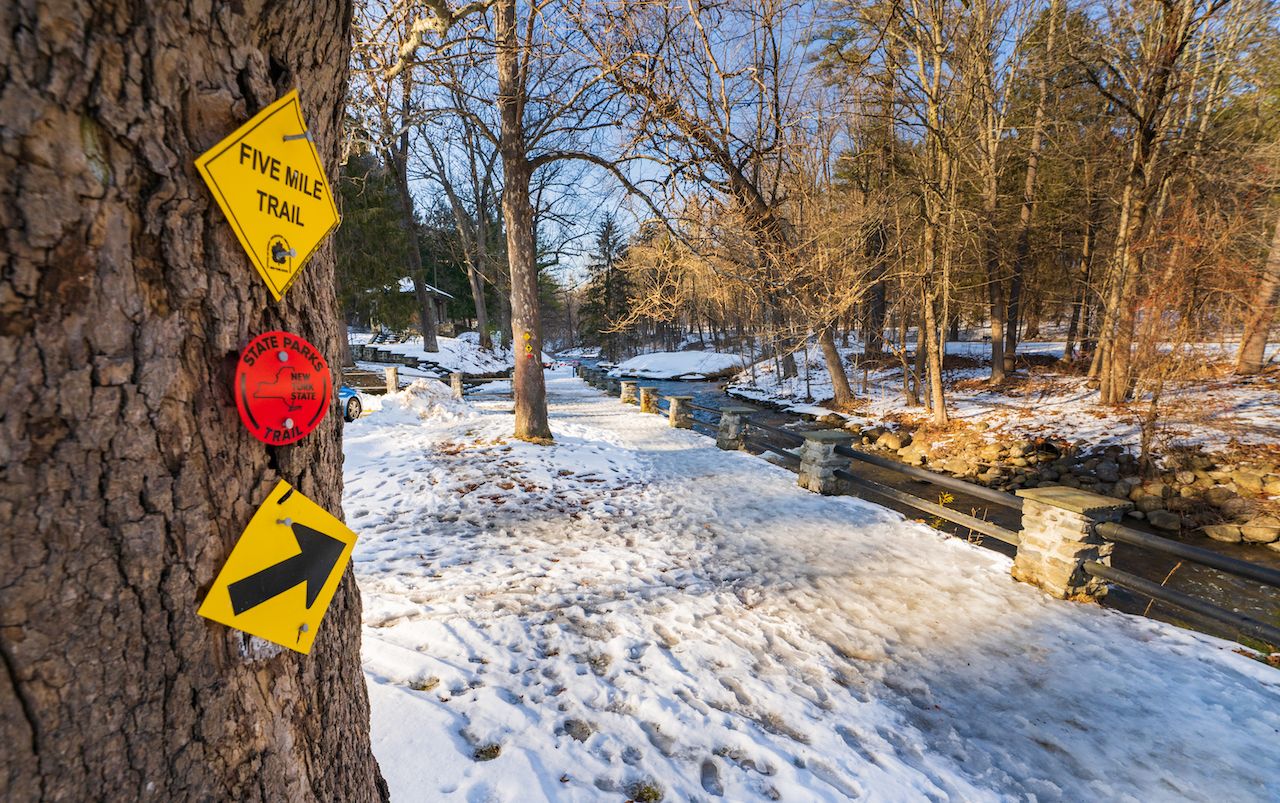 Saratoga Spa State Park has 12 miles of trails that can be used during wintertime.
Saratoga Springs is known as a hub for thoroughbred horse racing but in wintertime, Saratoga County is a big base for snowmobiling. There are many snowmobile-related clubs that manage different sections of the country's snowmobile trails.
The NYS Snowmobile Association Mobile App provides offline maps and details on trail closures and alerts.
Experience winter by walking around various sections of the city. Saratoga Spa State Park offers cross-country skiing on 12 miles of trails along with ice skating and ice hockey. Congress Park is also a snowshoeing spot, as the park's terrain can suit those new to this sport.
What Also To Do In Saratoga Springs
Saratoga Springs has a main thoroughfare called Broadway right through its center and is aligned with some of the city's best shops and restaurants. The surrounding Lake Avenue also has good retail and dining options; try Kaleidoscope Café, known for their home-style barbecue.
Other recommended places include Salt & Char, a refined steakhouse in downtown; Chianti il Ristorante, a Northern Italian enclave with a prime wine list; Boca Bistro, which is known for its Spanish tapas and paella; and Druthers, a gastropub that brews its own beer.
Saratoga Springs also has a longtime history with wellness as visitors came here for rejuvenation in the 19th century. Roosevelt Baths and Spa offers hydrotherapy spa experiences featuring mineral baths, massages, facials, and body treatments.
Where to Stay in Saratoga Springs
• Saratoga Arms Hotel, 497 Broadway, Saratoga Springs, NY 12866
• The Inn at Saratoga, 231 Broadway, Saratoga Springs, NY 12866
• Residence Inn by Marriott Saratoga Springs, 295 Excelsior Ave, Saratoga Springs, NY 12866
Related: 10 Reasons Why Winter Is An Amazing Time To Visit Niagara Falls
5
Tupper Lake, New York – Known For Its Winter Trails
Small-town winter festivities and skiing opportunities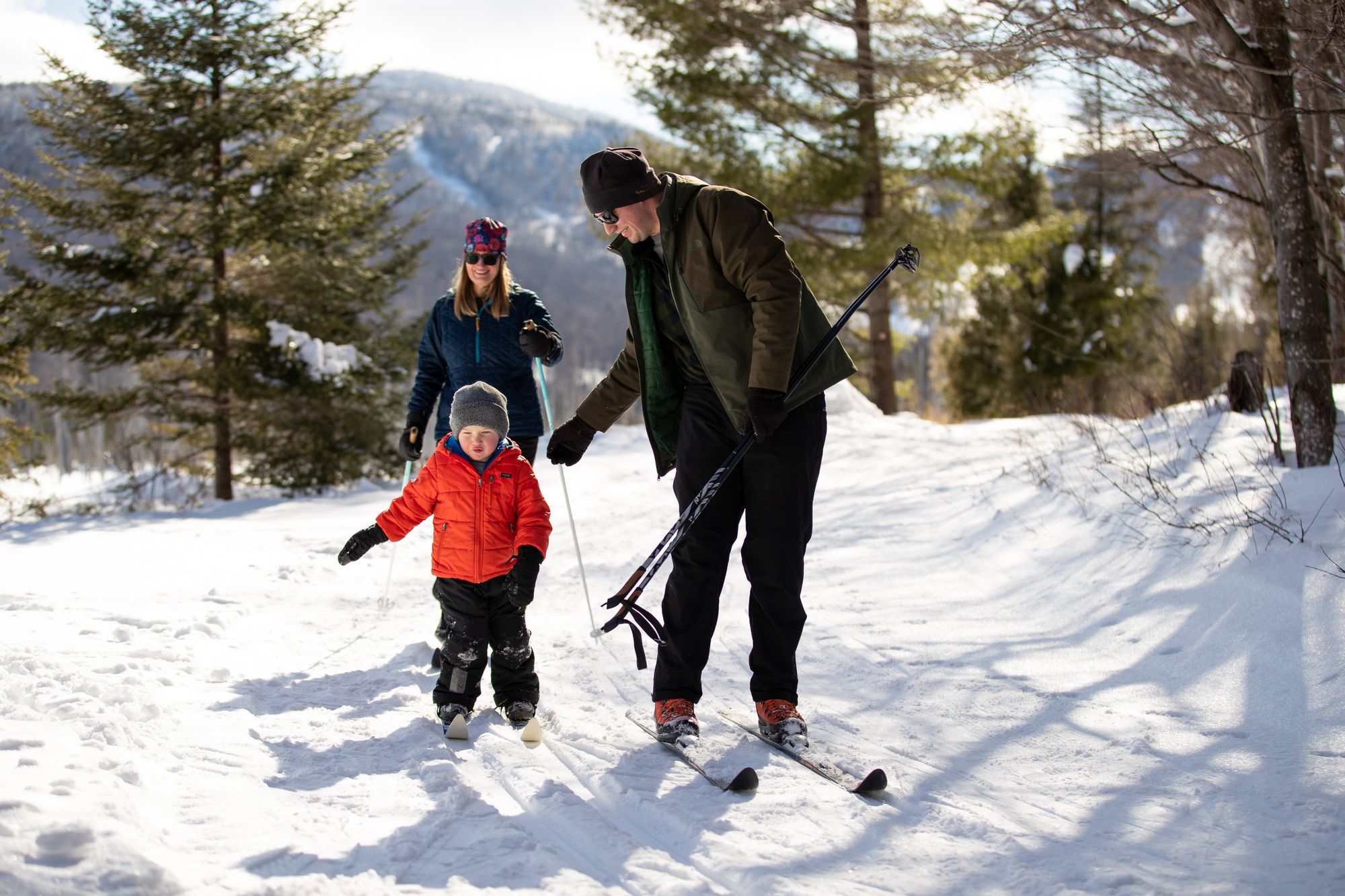 Tupper Lake has many options for snowshoeing.
This village within the boundaries of Adirondack Park has charming winter events and sites remaining open during the season. The Wild Center is one of them, as this natural history museum puts on a schedule of indoor and outdoor offerings.
From November through February, the center puts on "Wild Lights," an illuminated, winter wonderland showcase. The James C. Frenette Sr. Recreational Trails consists of six main trails, connecting the Tupper Lake Gold Club to Big Tupper, a ski area.
What Also To Do in Tupper Lake
In late February, The Tupper Lake BrewSki at James C. Frenette Sr Recreational Trails has participants ski or snowshoe to different stations led by regional breweries along the cross-country ski trails.
The Washboard/Donut Shoppe is part laundromat, part bakery preparing delicious donuts in a variety of flavor toppings. P-2's Irish Pub is a second-generation run establishment that's so liked that it has its own slogan — "Meet you at P-2's!"
Additionally, the Raquette River Brewing has a large beer hall and a rotating tap list of beers and guest ciders along with many guest food trucks.
Where to Stay in Tupper Lake
• Tupper Lake Motel, 255 Park St., Tupper Lake, NY 12986
• Trailhead by Weekender, 314 Park St, Tupper Lake, NY 12986
4
Saranac Lake, New York – Home To An Annual Winter Carnival
See breathtaking ice palaces and more
The centerpiece of the Saranac Lake Winter Carnival is an ice castle.
This town is the location of the longtime Saranac Lake Winter Carnival. This annual event, dating back over 120 years, is known for its centerpiece – an ice palace made from ice blocks cut from Lake Flower. The family-friendly carnival usually happens every February.
Mount Pisgah Recreation Center offers downhill skiing and snowboarding at this family-friendly mountain. The center features six ski runs of various levels along with a hill for tubing which are all reachable by a T-bar lift.
There are also a base lodge and snowshoeing trails. Seasonal and daily passes are available for purchase. Paul Smith's College Visitor Interpretative Center has miles of trails for cross-country skiing and snowshoeing and offers ski lessons and rentals; purchase day and seasonal passes online.
What Also To Do in Saranac Lake
Just outside of downtown Saranac Lake, the Dewey Mountain Recreation Center remains an activity spot during winter. The center is a popular place for cross-country skiing and snowshoeing with half- and full-day equipment rentals available. Seasonal and day passes are sold through the center's website; cross-country ski lessons are also offered.
The Adirondack Rail Trail, a year-round multi-use recreational trail, passes through Saranac Lake and goes between Lake Placid and Tupper Lake. Snowshoeing and snowmobiling are permitted, with the latter sport requiring certain rules to comply with.
ADK Street Eats in nearby Ray Brook is popular for their tacos, hotdogs and burritos. Blue Moon Café is a casual venue with a coffee bar and many breakfast and lunch options. Bitters & Bones is a craft brewery and restaurant with seasonal cocktails alongside salads, starters, flatbreads, and entrées.
Where to Stay in Saranac Lake
• Hotel Saranac, 100 Main St., Saranac Lake, NY 12983
• Saranac Waterfront Lodge, Trademark Collection by Wyndham, 250 Lake Flower Ave., Saranac Lake, NY 12983
• Best Western Saranac Lake, 487 Lake Flower Ave, Saranac Lake, NY 12983
Related: This Is The Most Beautiful City In New York To Visit This Winter
3
Queensbury, New York – Full Of Winter Recreation Spots
Get out into the snow in every way possible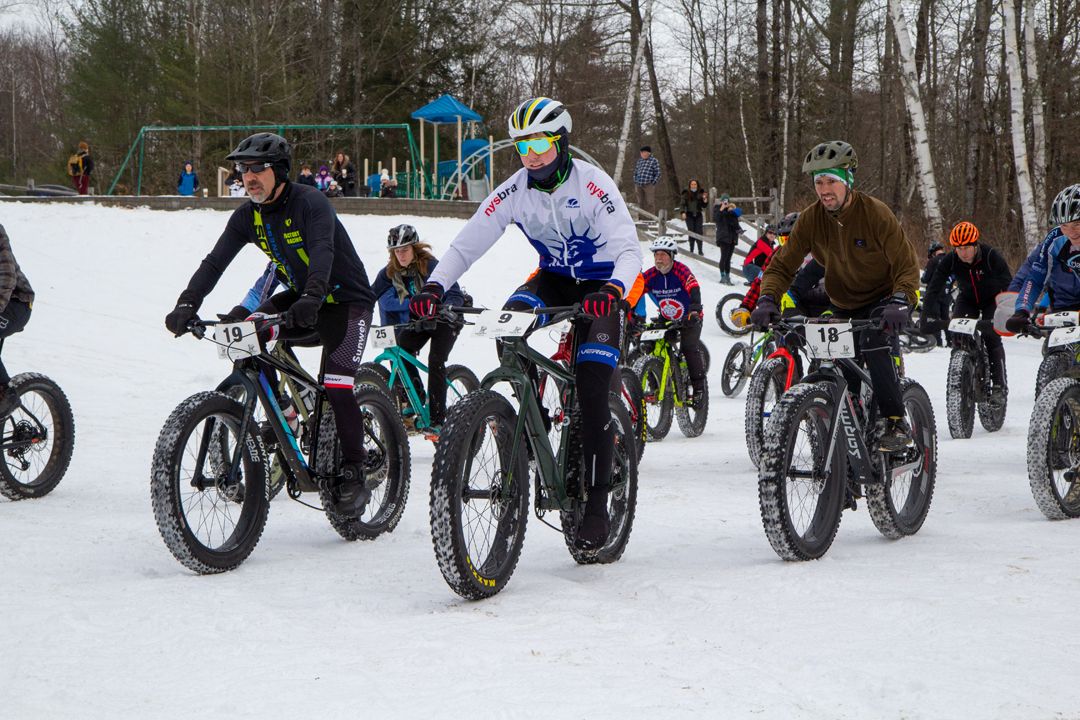 An annual fat tire bike race day happens at Gurney Lane Recreation Area in Queensbury in January. 
This town on the shores of Lake George is home to West Mountain, a ski resort offering a snow tubing park that's accessible via a moving magic carpet ride. Situated at the foot of the Adirondack Mountains, West Mountain has 30-plus trails ranging from beginner to experienced and lessons for skiing and snowboarding through various programs.
The Gurney Lane Recreation Area features ice skating and sledding opportunities and is where a fat tire bike race day happens in January. The 150-plus acre park contains five various short-length trails of varying skill levels that can suit snowshoeing and cross-country skiing. During winter, the area is open on weekends and also during school recesses.
Other suggested places include Meadowbrook Preserve, whose trails make for a relaxed day of cross-country skiing or snowshoeing.
What Also To Do In Queensbury
Adirondack Winery has a tasting room in Queensbury, offering tastings of their fruit-based wines along with various reds, blush, and whites. Advanced reservations must be booked through their website.
Springbrook Hollow Farm Distillery also offers tastings of their various spirits; check their social media accounts for updates or call them directly before coming.
The younger set can have their fun at The Fun Spot, a part mini-golf, arcade, and immersive games attraction complete with a playground. The Silo is a country store and restaurant whose name reflects part of the building.
Where To Stay in Queensbury
• Six Flags Great Escape Lodge & Indoor Waterpark, 89 Six Flags Drive, Queensbury, NY 12804
• Alpenhaus Motel, 851 US-9, Queensbury, NY 12804
• Holiday Inn Express & Suites Queensbury – Lake George Area, an IHG Hotel, 216 Corinth Road, Queensbury, NY 12804
2
Lake George, New York – Carnivals And Events Galore
Enjoy various outdoor themed events this winter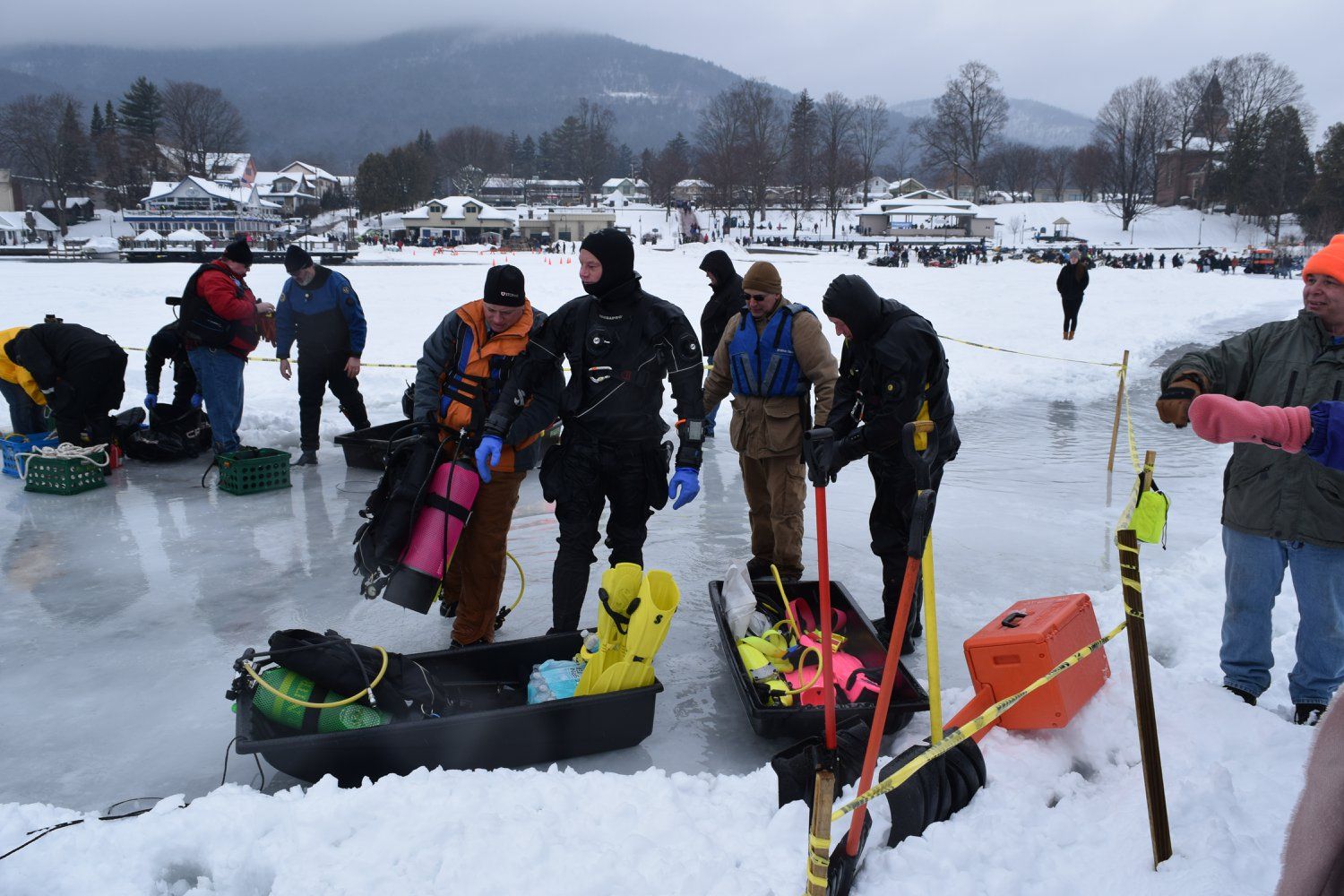 The Lake George Winter Carnival features various outdoor ice-related competitions such as this diving demonstration.
Lake George is often thought of as a summer getaway. While part of this town quiets down as the temperatures drop, Lake George gets festive with much wintertime fun.
Each weekend throughout February, the Lake George Winter Carnival puts on a family-friendly event at Shepard Park. This annual tradition features various activities and contests such as cook-offs and a hot chocolate bar.
In December 2023, Lake George will welcome "Lake George Winter's Dream," a new immersive outdoor event at the Fort William Henry Historical Fortress. Another new event in 2023 is "Winter Realms," also a wintertime spectacular, happening at The Festival Commons at Charles R. Wood Park; it opens in late November. The Lake George Recreation Area offers tubing and cross-country skiing, with the latter having four miles of groomed trails.
What Also To Do In Lake George
Lake George's ice bars are a cool attraction, as many businesses in or near town create these temporary fixtures during wintertime. Among them, the Adirondack Brewery puts on their Funky Ice Fest in January, with their Grooviest Ice Bar.
Lake George Distilling Company has a tasting room in town, and 163 Tap Room is equipped with 16 tap lines and a large inventory of canned and bottled beers plus a full food menu. Adirondack Winery's flagship location is in Lake George as well.
Serving lunch and dinner, The Log Jam Restaurant is housed within a real log cabin, with casual fine dining as dinner time includes a selection of prime rib and seafood. In the heart of Lake George Village, Duffy's Tavern is a saloon known for having three bars and providing pub grub.
Bistro LeRoux is a French establishment with an open kitchen and seasonally changing food and drink menus.
Where To Stay In Lake George
• Fort William Henry Hotel, 48 Canada St., Lake George, NY 12845
• Bayside Resort Lake George, 2999 NY-9L, Lake George, NY 12845
• The Inn at Erlowest, 3178 Lake Shore Dr., Lake George NY 12845
1
Lake Placid, New York – The Location Of Two Winter Olympics
Get inspired by Olympic history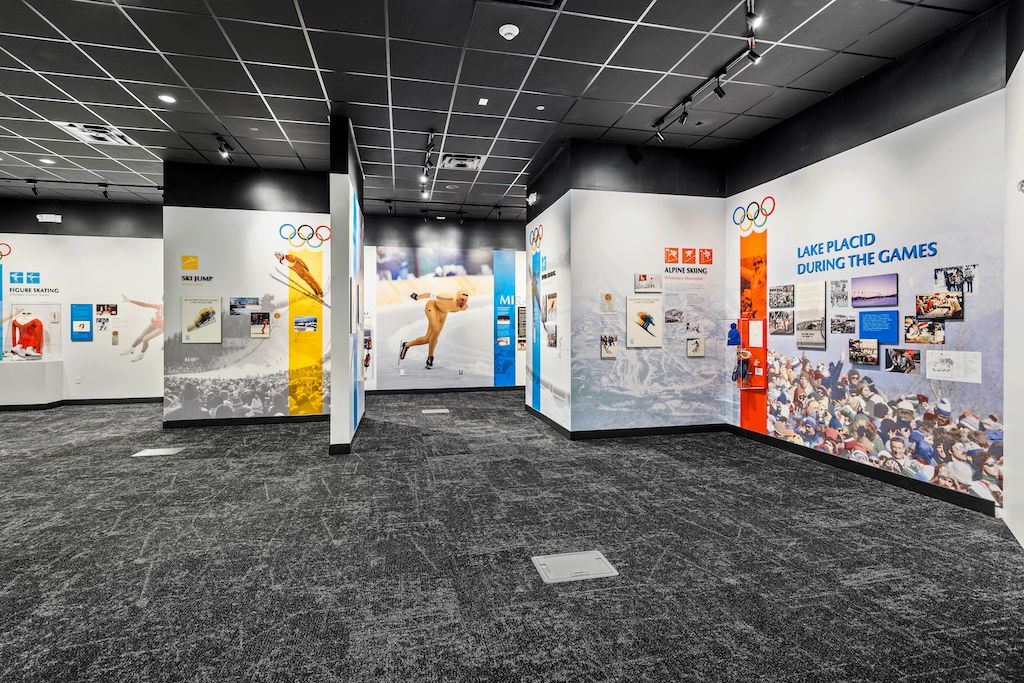 The Lake Placid Olympic Museum tells of the history of the Winter Games and the village's hosting of two of them. 
As one of the most beautiful towns in New York State, Lake Placid was the host location for both the 1932 and 1980 Winter Olympics, but today this village continues its sports legacy through museums and training facilities.
The Lake Placid Olympic Museum tells the history behind hosting both Winter Olympic Games, with a complete redesign finished in late 2022. Exhibits cover Lake Placid's link to the games, with displays on clothing, gear, pins, medals, and torches from past Olympics, plus one entirely on the 1980 games. In an exhibit on what takes to become an Olympian, there's a bobsled simulator among other interactive displays.
Visitors can see the 1980 rink where the "Miracle on Ice" game occurred at what's now The Olympic Center. It was an ice hockey game in which the United States defeated the Soviet Union and became one of the most memorable moments in sports history. Along with three ice rinks and a skating oval, the center offers ice skating sessions with lessons being an additional booking.
What Also To Do in Lake Placid
Feel like an Olympian on the Lake Placid Toboggan Chute. Operating in February, this 30-foot-high outdoor chute has toboggans riding down an ice-covered chute onto Mirror Lake. There is a cash-only admission charge for students and adults; its operation schedule is weather permitting.
Mount Van Hoevenberg offers season passes for newcomers and returning holders. Opened for the 1980 Olympic Games, the venue's Olympic Cross Country trails still can be used by these skiers. Or see what it is like to ride in a bobsled via their Bobsled Experience.
For dining out, try Salt of the Earth Bistro, an intimate restaurant with an eclectic New American menu. The Big Slide Brewery & Public House is an elevated gastropub while Lake Placid Pub & Brewery is known for its microbrews including the multi-award-winning Ubu Ale. Shopping in Lake Placid is plentiful with Pure Placid offering bath and body products and Adirondack Chocolates has many confections.
Where to Stay In Lake Placid
• Mirror Lake Inn Resort & Spa, 77 Mirror Lake Dr., Lake Placid, NY 12946
• Grand Adirondack Hotel, 2520 Main St., Lake Placid, NY 12946
• Lake Placid Lodge, 144 Lodge Way, Lake Placid, NY 12946
By heading to the most beautiful destinations to visit in the winter in the Adirondacks, travelers will make the most of the winter months and create unforgettable memories.