Summary
Escape the winter blues and holiday chaos by booking a vacation on a tropical island in December. Enjoy warm weather, fewer tourists, and affordable prices.
St. Lucia, Turks and Caicos, Bora Bora, and more offer breathtaking scenery, unique traditions, and fun activities for a perfect December getaway.
Whether you're looking for a budget-friendly trip, a relaxing beach vacation, or a vibrant cultural experience, these top islands have something for everyone to enjoy in December.
While the end of the year can be a magical time for some, others may be searching for a place to escape the winter blues and the chaos of the holiday season. A tropical getaway surrounded by palm trees, a warm climate, and white sandy beaches may just be the answer.
Whether it's a holiday spent in the Caribbean islands or a remote island across the world in the Indian Ocean, spending a vacation on an island in December comes with multiple benefits. It's less rainy, there are fewer to no tourists, the weather is warm and comfortable, and it's far less expensive to visit in the winter.
For world travelers who are looking to make a change this year and escape to a tropical paradise for the holidays, they're in the right place. Consider these top islands around the world to escape to this December.
Related: 19 Best Islands In The Maldives For Travelers On A Budget
10
St. Lucia – Charming Holiday Festivities
The spectacular scenery, budget-friendliness, and unique holiday traditions make St. Lucia the best tropical location to visit in December, especially over Christmas.
The Pitons in the background of Pitons Bay in St. Lucia 
Renowned for being one of the top honeymoon destinations and budget-friendly, St. Lucia is one of the best Caribbean islands to visit in December. Located in the Eastern Caribbean, St. Lucia receives the best weather in December and averages 73-85 °F on a daily basis.
Travelers can enjoy a luxurious stay in St. Lucia's overwater bungalows, explore the volcanoes and rainforests, and partake in festive Christmas traditions during this time of year. Instead of Christmas markets and baking cookies, St. Lucia celebrates with an annual Festival of Lights & Renewal, delicious Christmas pudding, and the custom "burst the bamboo."
9
Turks And Caicos – Perfect Caribbean Weather
Nothing quite says "tropical beach vacation" like Turks and Caicos!
Drone photo of pier in Grace Bay, Providenciales, Turks and Caicos
For world travelers who need to escape the cold this winter, Turks and Caicos should be their destination of choice! Turks and Caicos is an archipelago located in the British Overseas Territories and is a destination that's sure to leave every traveler refreshed and rejuvenated after their time here.
December's temperatures here in Turks and Caicos average around 80 °F which is perfect for swimming in the turquoise waters, snorkeling the coral reefs, and lying out in the warm winter sun.
Besides all the amazing tropical activities, Turks and Caicos celebrate the holiday season in a magical way. Guests can see Christmas lights along Grace Bay Beach, the colorful Maskanoo parade on December 26th, and New Year's Eve fireworks.
8
Bora Bora – Sunny, Low Humidity, And Very Few Tourists
Luxurious overwater bungalows, endless water activities, and a sunny tropical climate make Bora Bora the ultimate winter destination.
Overwater bungalows of a luxury resort providing a view on the Otemanu, Bora Bora, Tahiti, French Polynesia
Bora Bora isn't just for honeymooners. This dreamy island is perfect for couples and families who are looking for a different scene this winter.
December-March is Bora Bora's low season which means low crowds, warm weather, and relaxing on the island's breathtaking overwater bungalows. There are so many fun things to do in Bora Bora all year round, like paddleboarding, exploring the iconic landmarks, and snorkeling among the wildlife that will make this wintertime trip so memorable.
Things To Do: Mt. Pahia Summit, Matira Beach, Coral Gardens, Mt. Otemanu, Bora Bora Lagoonarium
Best December Activity: Village de Noel (Christmas Fair)
Why Visit in December: Bora Bora's low season
7
The Dominican Republic – Budget-Friendly Tropical Holiday
The Dominican Republic is not only a lush and vibrant holiday destination, but travelers can get the most bang for their buck on this island.
Rafa G. Bonilla on
Unsplash
"">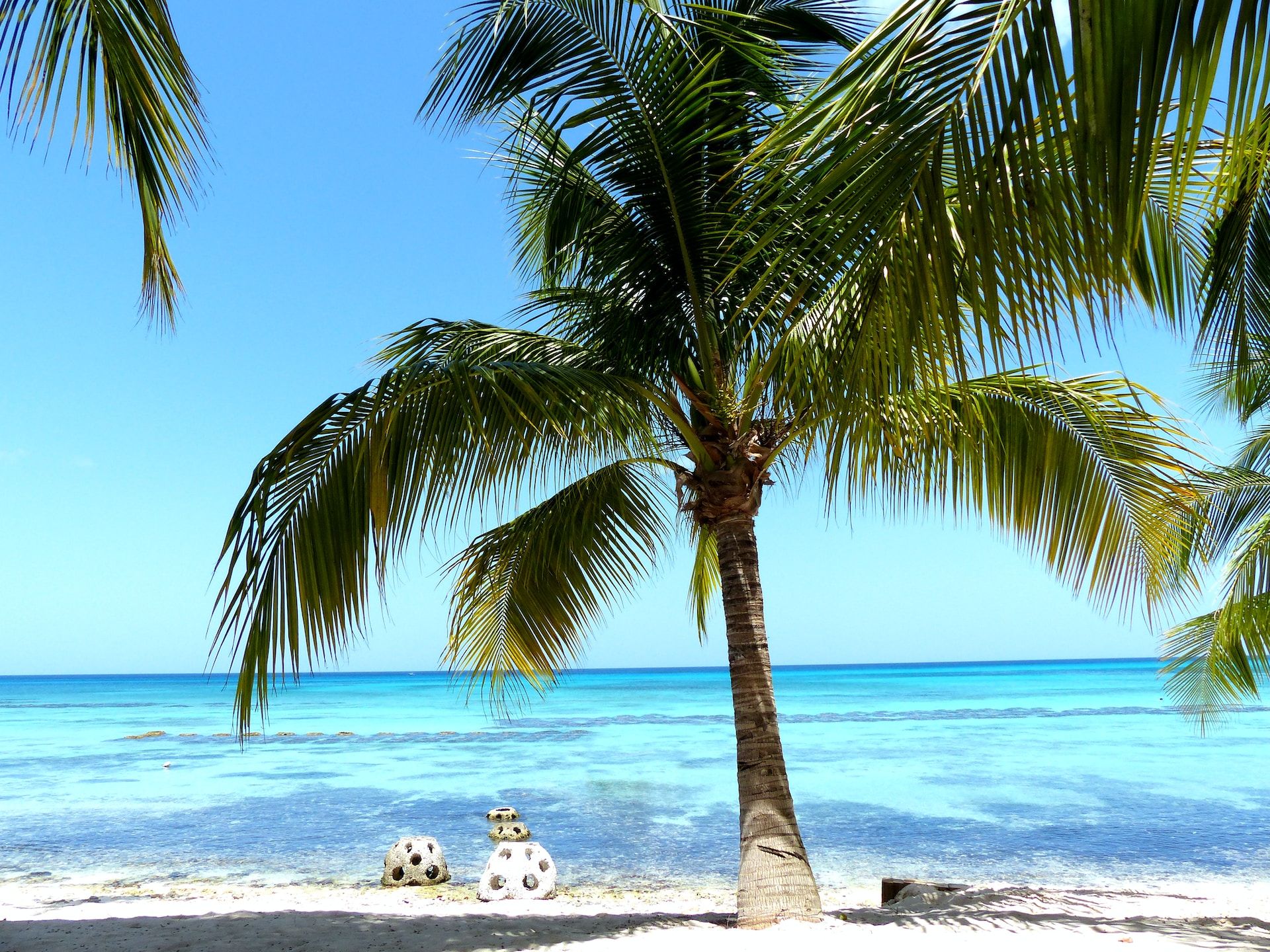 Bayahibe, Dominican Republic
Whether visitors are looking to relax at a resort or go on adventures around the island, the Dominican Republic has a little something for everyone. December is a great time to visit the Dominican Republic because by this time the country's entered its dry season, there's low humidity, and the first few weeks of the month see very few tourists (until the holiday rush starts).
Being one of the most budget-friendly islands in the Caribbean, the Dominican Republic offers travelers great rates on hotels and flights during the first half of December. There are also plenty of adventure sports to enjoy this time of year like horseback riding, kayaking, ziplining, and more!
Related: 10 Best Beaches At This Beautiful Caribbean Island You Should Visit (& The Best Hotels Next To Them)
6
Bali – A Lush And Natural Paradise
Despite the rain in December, Bali offers travelers unmatched vibrancy and unforgettable memories.
ttinu via Adobe Stock"">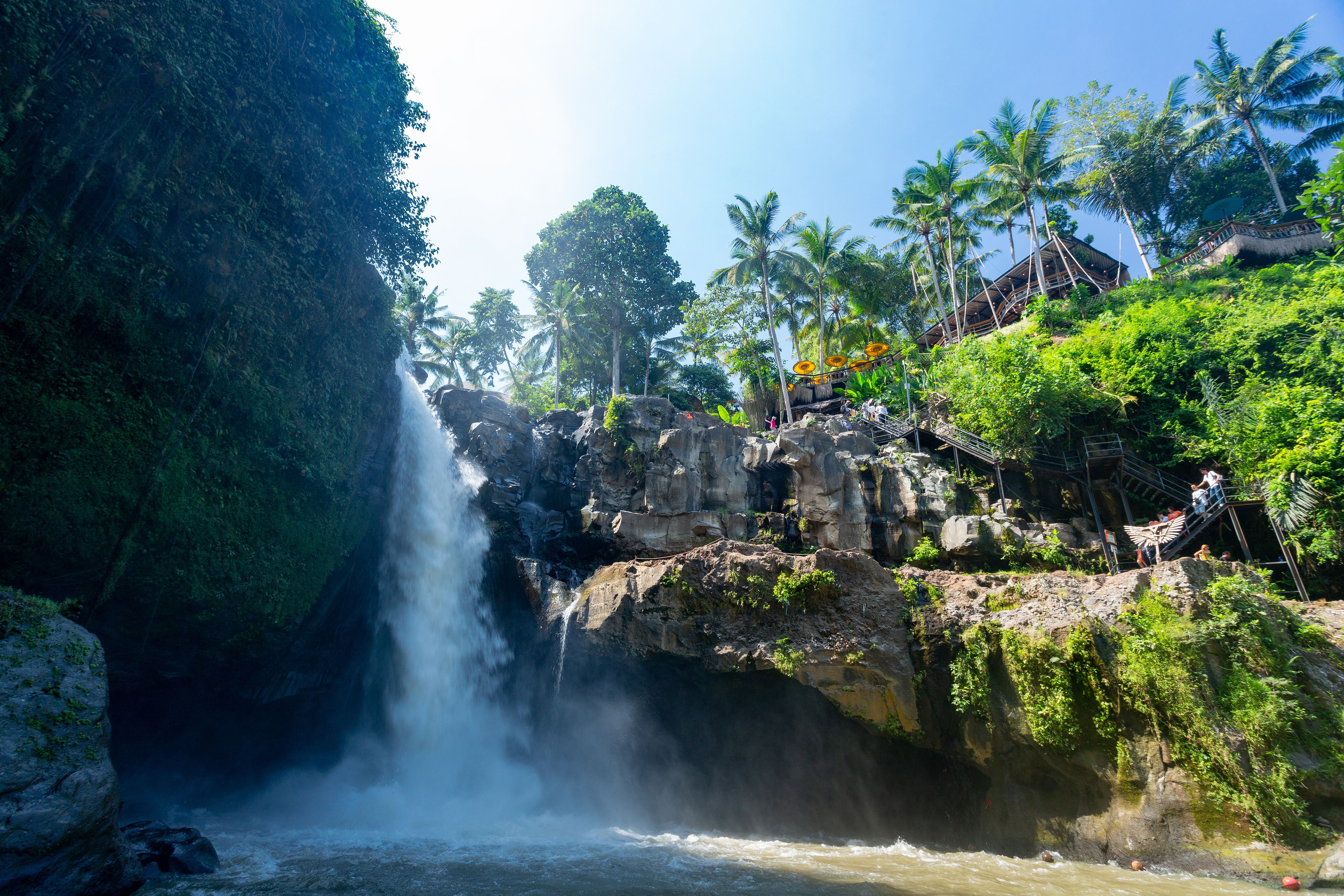 Tegenungan waterfall in Bali, Indonesia
The "Island of the Gods," better known as Bali located in Indonesia is nothing short of a spiritual paradise for travelers. There is no shortage of fun things to do here in Bali, especially during December!
December may be the wet season for Bali, but this means that the island is rich in foliage and local flora and fauna. Travelers will have a great experience visiting the rice paddies, temples, and beaches. Those who are visiting Bali late in December may have the opportunity to witness a holiday festival like Denpasar or Pandawa Beach Festival.
5
Aruba – The Perfect Winter Escape For Families And Solo Travelers
Experience the inviting culture and Dutch influences of this stunning country in the Caribbean.
Shandell Venegas on
Unsplash
"">
The beachfront in Aruba, Dutch Antilles
This isn't only a great vacation spot for families and couples. Aruba is a great destination for solo travelers brimming with pristine beaches, colorful towns, and plenty of activities to keep travelers busy.
December weather in Aruba can be a little rainy at times, but the overall temperature averages around 85 °F daily. Visitors can still enjoy the wide variety of water sports that are available throughout Aruba like windsurfing and jet skiing.
Aruba also has a vibrant nightlife with clubs, beachfront lounges, and restaurants where travelers can relax and enjoy a fun, beachy cocktail.
Things To Do: Palm Beach, Conchi Natural Pool, Baby Beach, Renaissance Island, Oranjestad
Best December Activity: Festival of Lights in Oranjestad
Why Visit in December: Great weather and holiday festivities
4
Mauritius – Trade Snow For The Hot Winter Sun
Discover the best of Mauritius in December this year with its relaxing villas, breathtaking beaches, and a melting pot of delicious cuisines.
Rumman Amin on
Unsplash
"">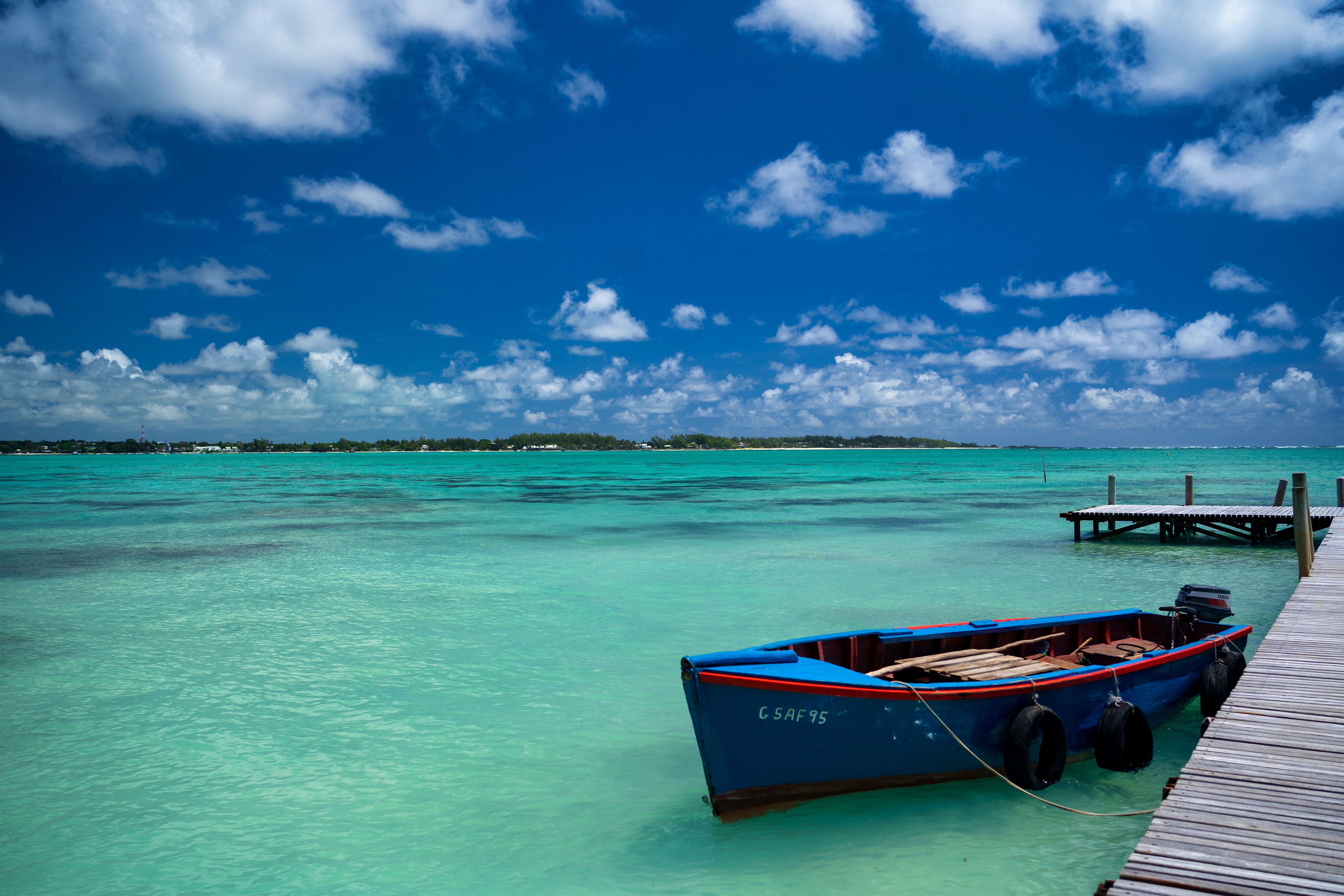 A boat by a wooden dock in the blue ocean in Mauritius
Decembers in Mauritius are hot and vibrant which makes this the perfect winter destination for travelers looking for a lot of time spent by the beach.
There is an endless array of adventurous and leisurely activities to do here in Mauritius, such as scuba diving, museums, snorkeling, and exploring the local markets in town. One thing that really stands out in Mauritius is their local cuisine.
Flavors from India, China, Europe, and Africa have all made their way into the food in Mauritius making it a spectacular way to truly experience the culture!
3
Fiji – The Safest And Most Tropical December Vacation
Sit back and relax this holiday season in one of the most beautiful islands in the South Pacific.
Manuela Tauferner on
Unsplash
"">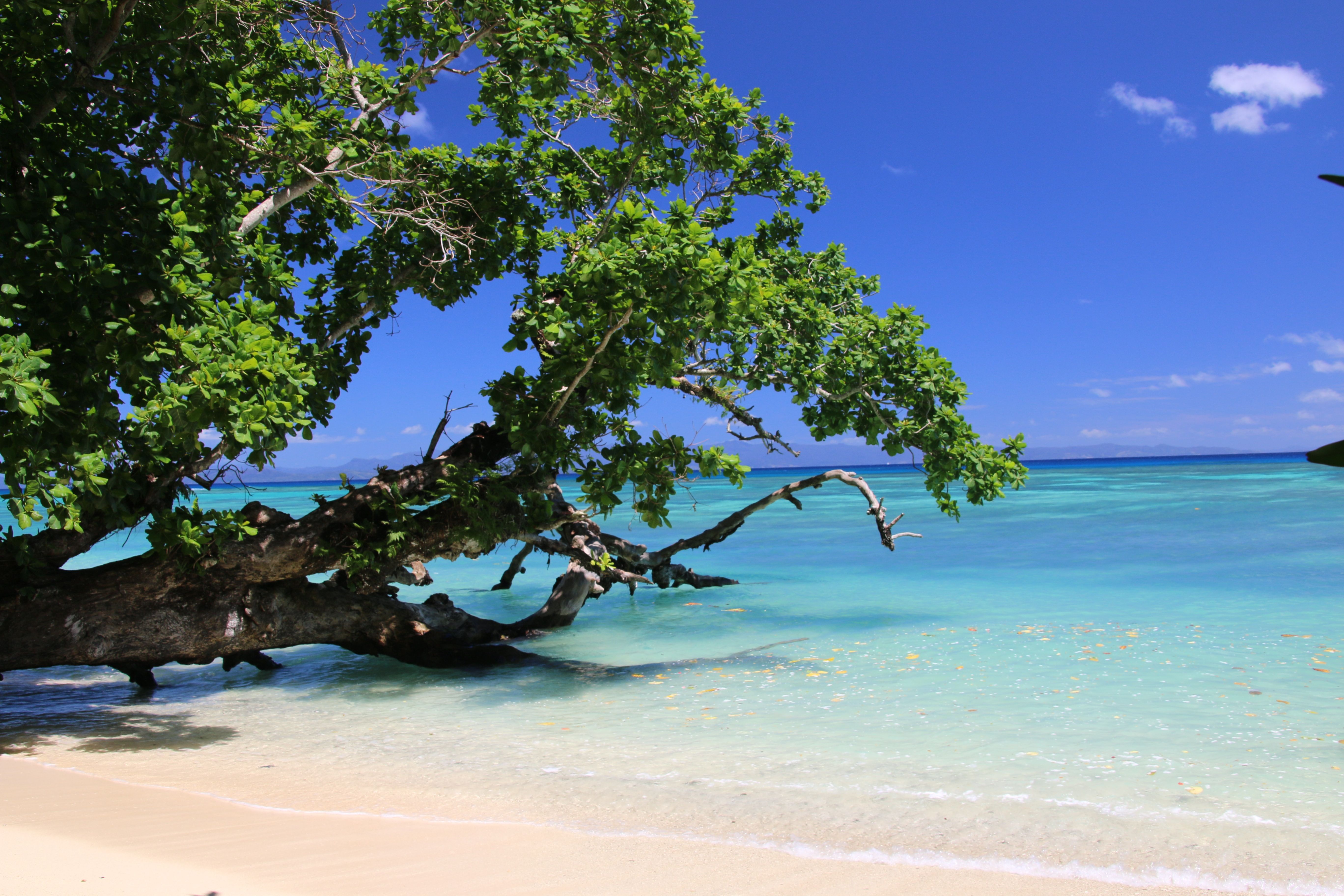 Taveuni Island in Fiji
While Fiji is certainly one of the most breathtaking and culturally diverse islands in the South Pacific, Fiji is also considered a very safe destination for travelers! In short, Fiji is an absolute paradise in December with fewer tourists, incredible high-end resorts to explore, and cultural festivals and ceremonies to attend.
The second half of December sees an influx of tourists due to the holidays, but travelers who are planning to visit at the beginning of December will be greeted with cheaper prices, a warm tropical climate, and plenty of activities and sports in the crystal clear ocean.
Related: 10 Most Beautiful Small Island Nations (& Their Best Hotels)
2
Jamaica – Chase Away The Winter Blues With Reggae And Fun Holiday Activities
Even though it's a popular season for Jamaica, a December spent here is still quite memorable!
Hazal Ozturk on
Unsplash
"">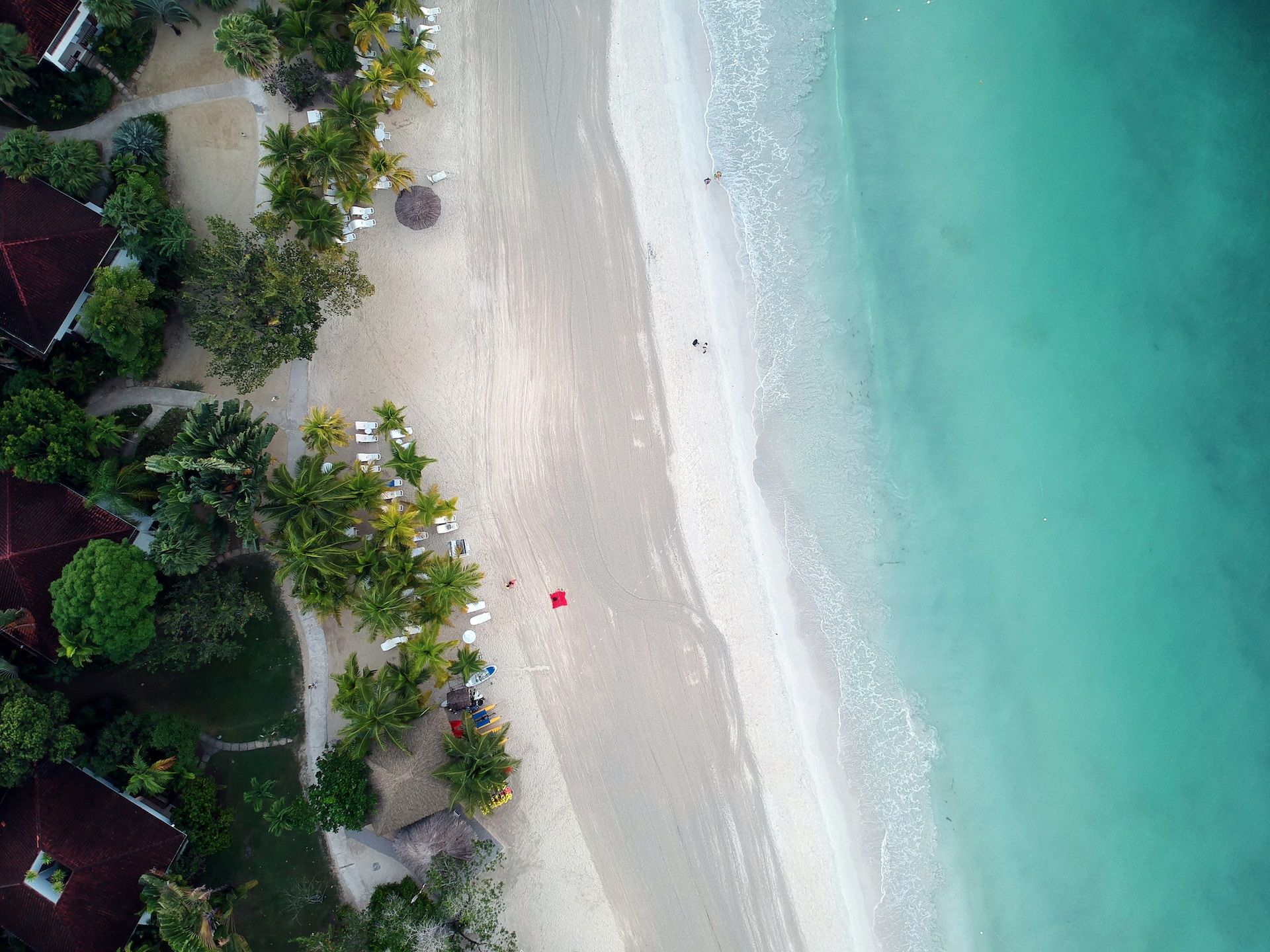 Aerial view of a resort in Negril, Jamaica
"…Jamaica, ooh I wanna take ya!" December is the perfect time for world travelers to pack their bags and head out on a winter getaway. December kicks off Jamaica's dry season and greets guests with warm temperatures in the low 80s and very little rain.
While Jamaica sees some crowds in December, there are plenty of activities and festivals to keep travelers busy. Visitors can partake in (or watch) the Reggae Marathon on the first weekend of December, enjoy the lively scene in Montego Bay, or relax at pristine Seven Mile Beach.
1
Tenerife – See The Best Of The Canary Islands This Winter
Fausto García-Menéndez on
Unsplash
"">
Spellbinding sunset in Tenerife 
Among the Canary Islands archipelago southwest of Spain is the larger island of Tenerife. Tenerife is a great hidden destination that most tourists don't often think to visit in December. But the beautiful winter sun, mild climate, and energetic nightlife make Tenerife one of the best islands to visit in December.
Tenerife has a lot more to offer than its beautiful beaches this winter. Nature enthusiasts will enjoy hiking the volcano Mount Teide, Spain's tallest peak. To see some eclectic city life, travelers can visit La Laguna and Garachico and gaze at the colorful and historic buildings along the way.
Things To Do: Botanical Garden, Playa de Las Teresitas, Basilica of Our Lady of Candelaria, Playa Jardin, Mount Teide
Best December Activity: Christmas light display at Plazoleta de República Dominicana
Why Visit in December: Ideal weather in December
What are you waiting for? Book your vacation to one of the best islands to visit in December, and pretend like it's not actually winter!