Summary
Winter road trips offer the perfect opportunity to explore the outdoors with fewer crowds and less traffic. Plus, many winter destinations are budget-friendly.
From the beautiful desert landscapes of Zion National Park to the vibrant streets of New Orleans, there are plenty of diverse winter road trip options in the U.S.
Whether you prefer snowy mountain scenery or mild coastal drives, there is a winter road trip for everyone. Don't miss out on the chance to explore new destinations this season.
The country is almost starting to fill up with powdery white snow. But that doesn't mark the end of a road trip for those who love being outdoors. While most people prefer to lock themselves indoors during the winter, these cold months can be the perfect time to go for a drive. This season provides a unique road trip scene. It is not romantic, but it can be just as exciting.
The best part about road-tripping in the winter is that roads in the USA have less traffic and fewer crowds, and most of the perfect winter cities worth a road trip are affordable. Remember, there are several places where winter temperatures are less extreme, and many places require snow tires. Where one chooses is up to them. But here are 10 budget-friendly winter road trips to take in the U.S. this year.
10
Zion National Park to Moab National Park
A bus traveling through Zion National Park in Utah, USA
The start of winter does not mean that sunny days are entirely over. Those who want warm, bright days should head to desert areas. This road trip takes travelers through slot canyons, red rocks, and the Capital Reef. As they marvel at the scenery, they can find various spots to grab a drink. The trip begins in Zion National Park, which is free to park where travelers can capture snow-capped peaks & red rocks. Stop for photos here, then proceed to Moab along the Arches scenic drive before landing at Dead Horse Point to enjoy the sunset.
Related: March Adventure In Zion National Park: Hiking, Canyoneering, & 8 More Things To Do
9
New Orleans and the Bayou
St. Louis Cathedral on Foggy Day in New Orleans
There is no other better time to take a road trip in Louisiana than winter. It is one of the more affordable states during the winter, and the temperatures are comfortable, allowing travelers to spend time outdoors. The trip starts in vibrant New Orleans, and travelers meander down to Bayou to enjoy the rural area. The first few days are for sightseeing and exploring New Orleans. Some free places include Jackson Square, Garden District, and Frenchmen Street. Then, head to Bayou to explore some rural towns. It's best to operate from Houma or Thobodaux to enjoy the everyday life in Louisiana. But one can stop over at other towns like Lafayette and Henderson.
8
Arches National Park
Dino Reichmuth on
Unsplash
"">
A Yellow Volkswagen camper van at the Arches National Park Entrance Station, Moab, United States
Arches National Park, Moab's most scenic gem, is beautiful throughout the year, and this trip takes one to the park's scenic places. In the winter, the area is filled with snow and soft winter light, which offers many spots for photography. This out-and-back route offers easy access to the park's attractions. Park in the Windows Section and walk through the North Window or Double Arch below to catch some air. Then, continue driving and stop at the Wolfe Ranch. Take a hike to the Delicate Arch. But be careful of the ice on the trail.
Related: Is One Day Enough For Arches National Park? Here's How To Plan It
7
Pacific Coast Highway
Steve Wrzeszczynski on Unspash"">
Bixby Bridge along the Pacific Coast Highway
The beloved Pacific Coast Highway takes travelers through the Californian Coast. Starting at San Francisco, this scenic road has some of the best stopovers. The West Coast side doesn't snow up as much as other areas. But this road trip creates a perfect balance of hot and cold temperatures. Along the route, travelers can stop to hike the Yosemite National Park, which charges an affordable fee of $35 per car, valid for 7 days. Also, Roadtrippers can spend time exploring San Francisco and Malibu and end their trip in Los Angeles.
6
Overseas Highway
Overseas highway to Key West island, Florida Keys
This is the best route for those looking for a shorter road trip or a drive in a place with mild winter conditions. The Overseas Highway takes travelers through the Florida Keys, starting and ending in Key Largo and Key West. There are more than 10 beautiful stops on the route, including John Pennekamp Coral Reef State Park, where travelers can hike, kayak, paddle a boat, and enjoy the colorful reefs affordably. Long Key State Park, Curry Hammock State Park, and Mile Bridge are other excellent pull-offs.
5
Explore California's Deserts
Joshua tree national park in California, campground with an RV in the image
California's Pacific Highway is a perfect drive with great stops, no matter the season. But going inland can be just as rewarding, and there isn't overbearing heat in the winter. The trip starts in Los Angeles to Joshua Tree National Park. Here, travelers pay $30 per vehicle or $25 per motorcycle, valid for seven days to explore the park. Guests are welcome to climb rocks and visit Ryan Ranch Trail for free. But for a more desert-like exploration, drive north to Death Valley National Park, which is appealing in winter, or head west to Highway 395 to check out classic and historic towns.
4
Shenandoah National Park
René DeAnda on
Unsplash
"">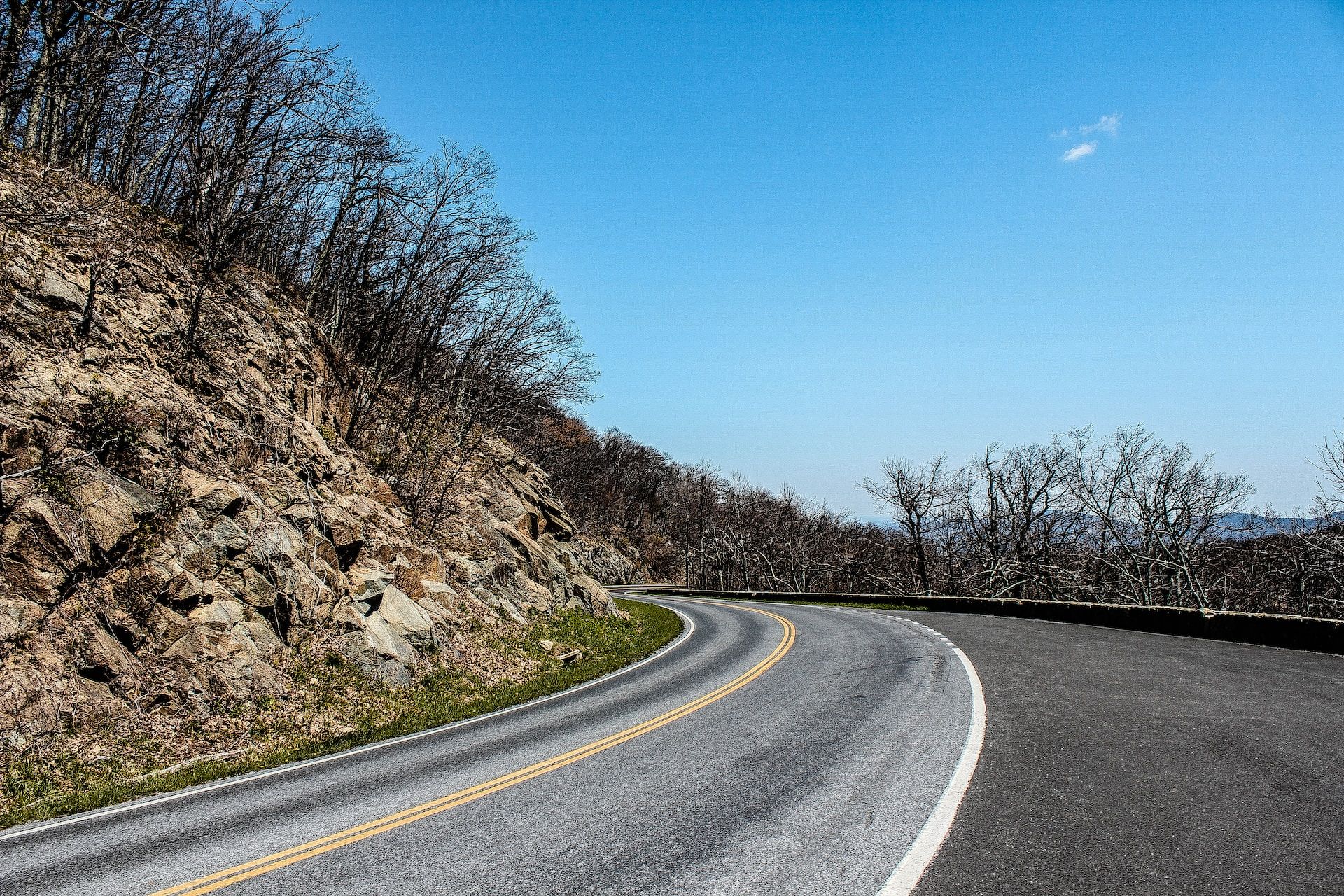 A road outside Alexandria VA in Shenandoah National Park
The East Coast mountains have a human-rich history and can be accessed all year round since they are lower in elevation. This route takes travelers through the wilderness world while enjoying the beautiful views of Shenandoah Skyline Drive, Mammoth Cave, and Nashville's historic downtown bars. The best stop is in Shenandoah National Park, which charges $30/vehicle for parking for 7 days. Spend time hiking and sightseeing here, then continue to the famous Blue Ridge Parkway, which takes travelers to the Great Smoky Mountains, an excellent area for camping and skiing. Then, proceed to Mammoth Cave National Park and take a free self-guided tour.
3
Route 100 in Vermont
Will Swann on
Unsplash
"">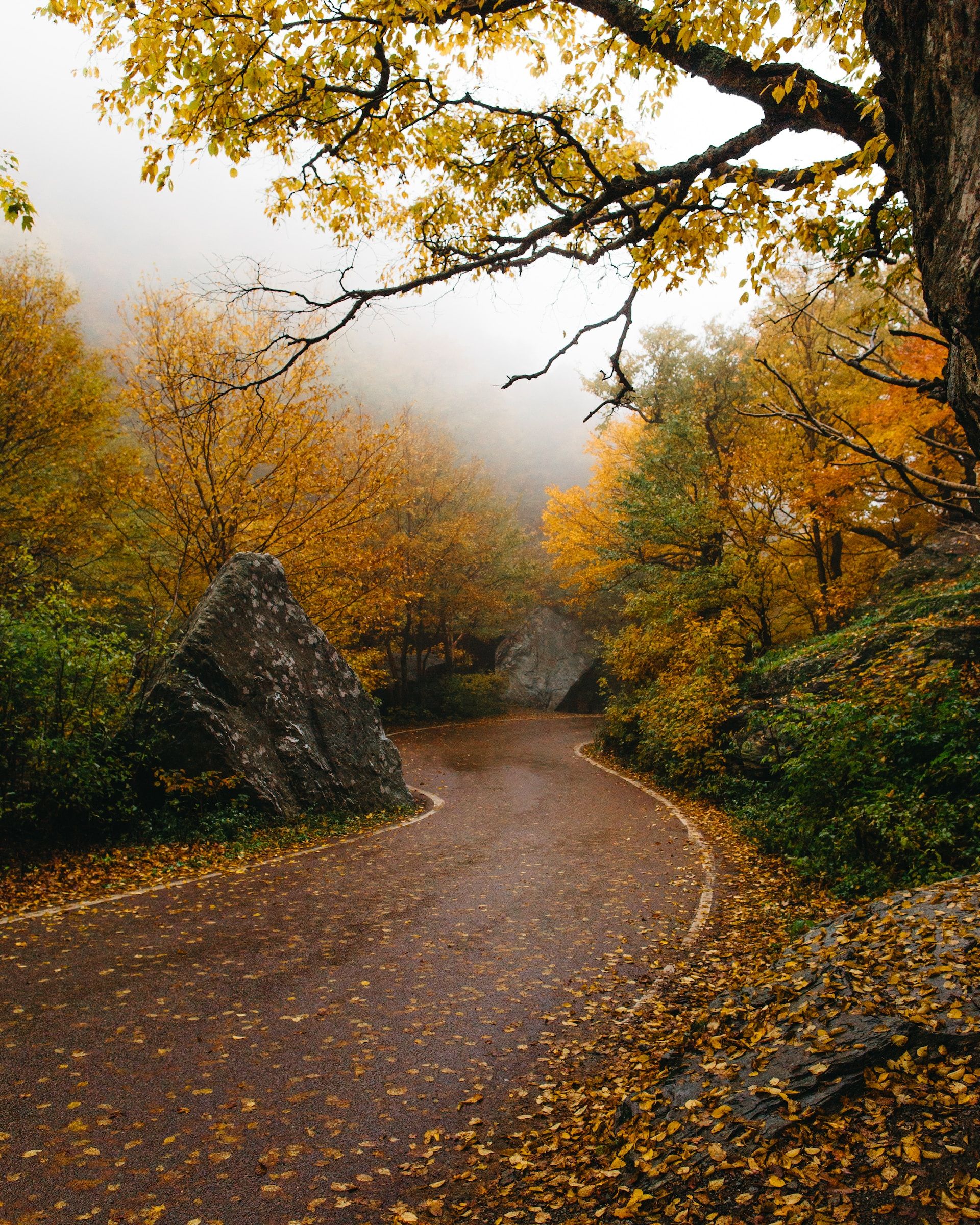 Scenic Route 100 Byway, Vermont, United States
One of the budget-friendly scenic winter road trips to take in Vermont, Route 100 is a trip that lets visitors enjoy the beautiful small towns in New England, the Green Mountain National Forest, several ski resorts, and state parks. There are many affordable recreation opportunities and places to shop, dine, and lodge. Traveling here in the winter is more adventurous than any other season. Start the journey at the mountain village of Wilmington, where several boutiques and restaurants are located. Ski lovers can consider going to Mt. Snow for some fun. Then, proceed north and stop in Weston to check the famous Vermont Country Store. The farther the trip to the north, the more one will be covered in snow.
2
Parke County, Indiana
Paul Crook on
Unsplash
"">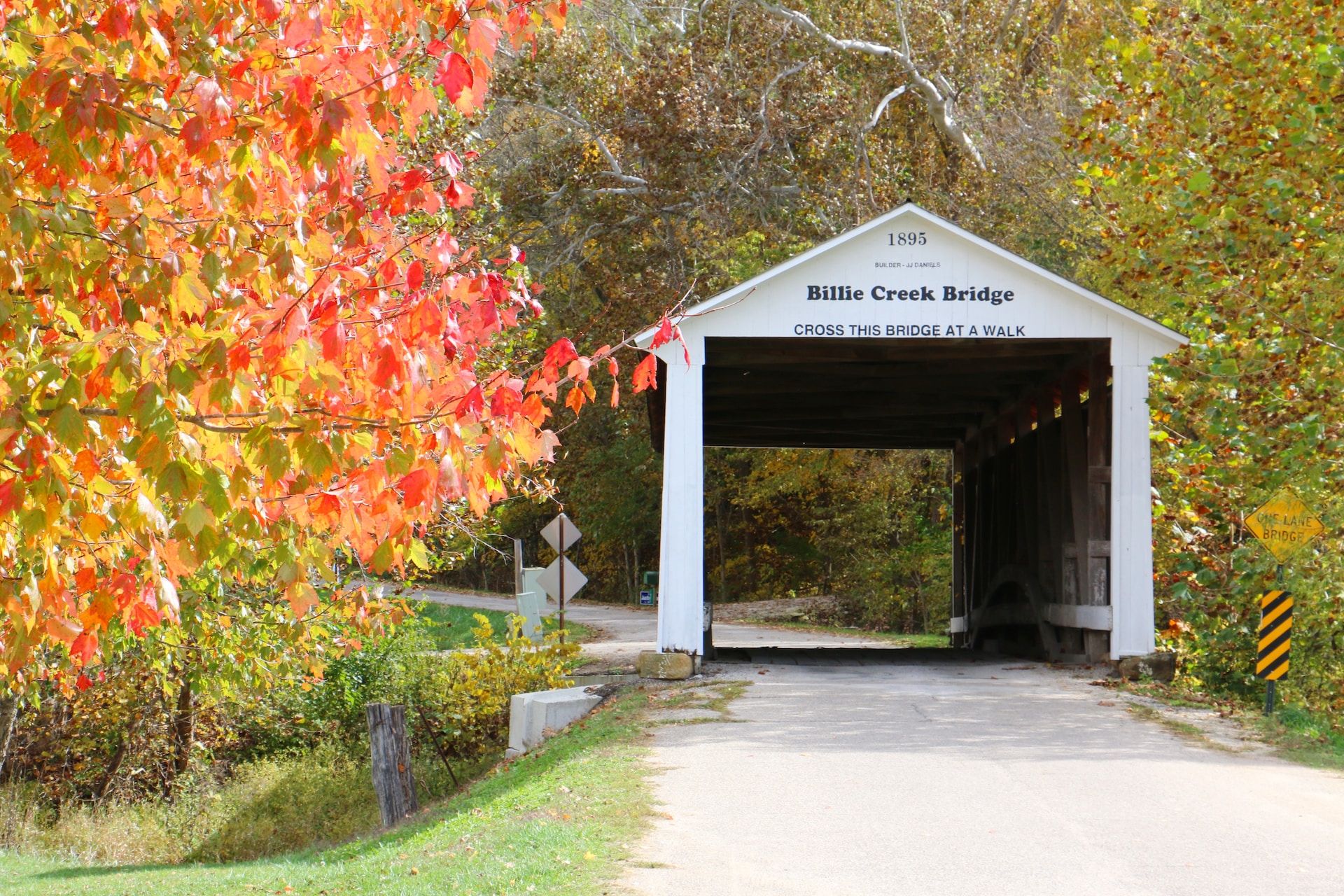 The Billie Creek Covered Bridge in Parke County, Indiana. Parke County has 31 covered bridges, making it the Covered Bridge Capital of the World. 
Starting at Rockville, Indiana, this trip leads travelers to 31 uncovered bridges in Park County. It is best to see the bridges when they're covered with snow. Many were built in the 1800s and are beautifully covered in white snow in the winter. Stop and admire nature at the McAllister Covered Bridge, Roseville Covered Bridge, and Mecca Bridge. Also, check out the Philip's Bridge, the shortest bridge, and Sim Smith Bridge, a haunted area.
1
Olympic Peninsula
Kevin Ortiz on
Unsplash
"">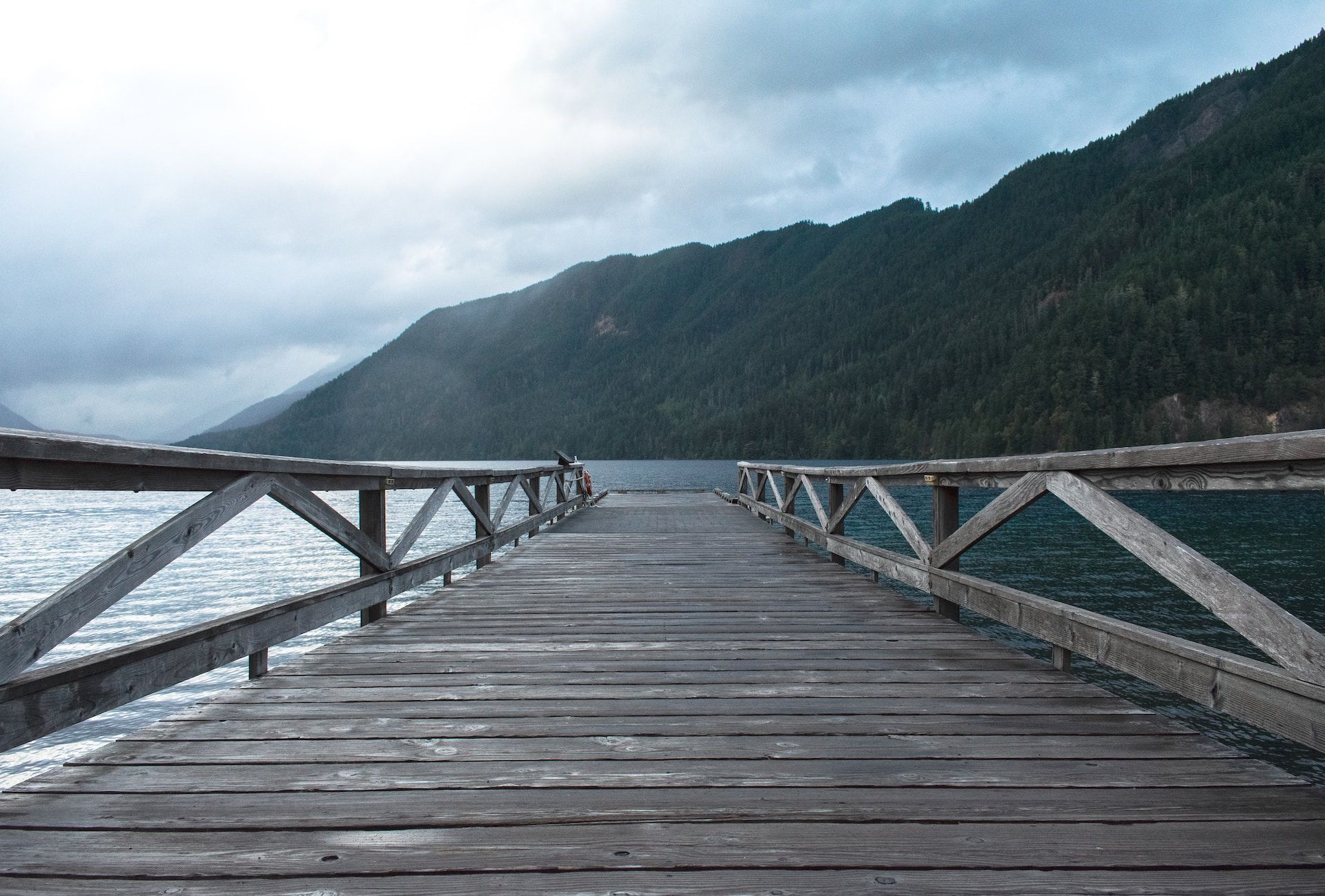 Stunning view of Olympic Peninsula from the Quileute Oceanside Resort
Drive along the Olympic National Park to enjoy the magic in the Pacific Northwest. The drive starts in Olympia. Then, travelers go to the national park, around an hour away. Once there, guests can indulge in fantastic winter activities in the area. The park has iconic spots like the Hall of Mosses and Kalaloch Tree of Life. It is pretty big to explore, and the best thing is that most of the activities are free/affordable after purchasing the pass for $35 for a private vehicle.