Summary
Bragg Creek is considered the most beautiful town to visit in Alberta in winter thanks to its natural setting and small-town feel. It's a hidden gem away from the crowds.
There are plenty of activities to enjoy in Bragg Creek in winter, including skiing, ice skating, fat biking, snowshoeing, and horseback riding.
In addition to its natural beauty, Bragg Creek offers cozy restaurants, bars, and local events, making it a great alternative to Banff for a winter getaway.
Banff, Alberta is famous worldwide for its snowy slopes, film festivals, and hikes, and there is plenty to do in Banff in the winter. But for travelers looking to avoid crowds while still soaking up all of Alberta's natural beauty, there's a less-traveled alternative.
There are tons of beautiful towns near Banff that give the resort town a run for its money. But the most beautiful town to visit in Alberta in winter happens to be a nearby hamlet called Bragg Creek—and it's also a gorgeous jumping-off point for exploring Banff if that's on your itinerary. Here's what to know about Alberta's most beautiful (and underrated) winter town.
Bragg Creek Is One Of Alberta's Most Beautiful Towns In Winter

Aerial view of trees with snow in Bragg Creek AB Canada
Bragg Creek is considered the most beautiful town to visit in Alberta in winter thanks to its gorgeous natural setting, cozy accommodations, and small-town feel. The population is tiny; Bragg Creek is home to just under 600 residents, and it's not as hyped for tourism as Banff by any means.
That doesn't mean Bragg Creek turns visitors away, however. Tourism PR might be relatively new there, but the hamlet wholeheartedly welcomes visitors who respect the natural surroundings and patronize local businesses.
Related: Overshadowed By Banff? 10 Alternative Underrated National Parks In Canada That Everyone Forgets About
Traveling to Bragg Creek in winter offers a similarly snowy setting to Banff (it's only about an hour and a half away), at a slightly lower elevation (Banff is 4,537 versus Bragg Creek's 4,304).
There are also plenty of activities to enjoy, including shopping and outdoor recreation. Exploring Bragg Creek in winter is a highlight, even though the temperatures drop to a frosty level (around 2 degrees Fahrenheit in January, the coldest month).
Bragg Creek receives quite a bit of snow, and the powder lasts through more than just the typical winter months of December through February; historically speaking, Bragg Creek receives about the same amount of snow in December and March (about 20 inches).
It can snow as early as September, but travelers looking for snowy adventures should aim for October at the earliest.
Things To Do In Bragg Creek In Winter

People in the snow in Elbow Falls in Bragg Creek
Cross-country and back-country skiing are popular winter activities in Bragg Creek, with over 37 miles of maintained trails to explore. Visitors can also ice skate, ride fat bikes, go snowshoeing or hiking, and even ride horses.
Many activities are DIY, but there are facilities for some activities (ice skating) and rentals available for others (fat biking). Here's a sampling of Bragg Creek's winter offerings:
Moonlight skiing and snowshoeing are unique ways to experience Bragg Creek's winter beauty!
Visitors can explore Bragg Creek's trails remotely before visiting; webcams and local weather conditions help avoid dangerous situations while letting visitors enjoy all the beauty the area has to offer.
Kieran Wood on
Unsplash
"">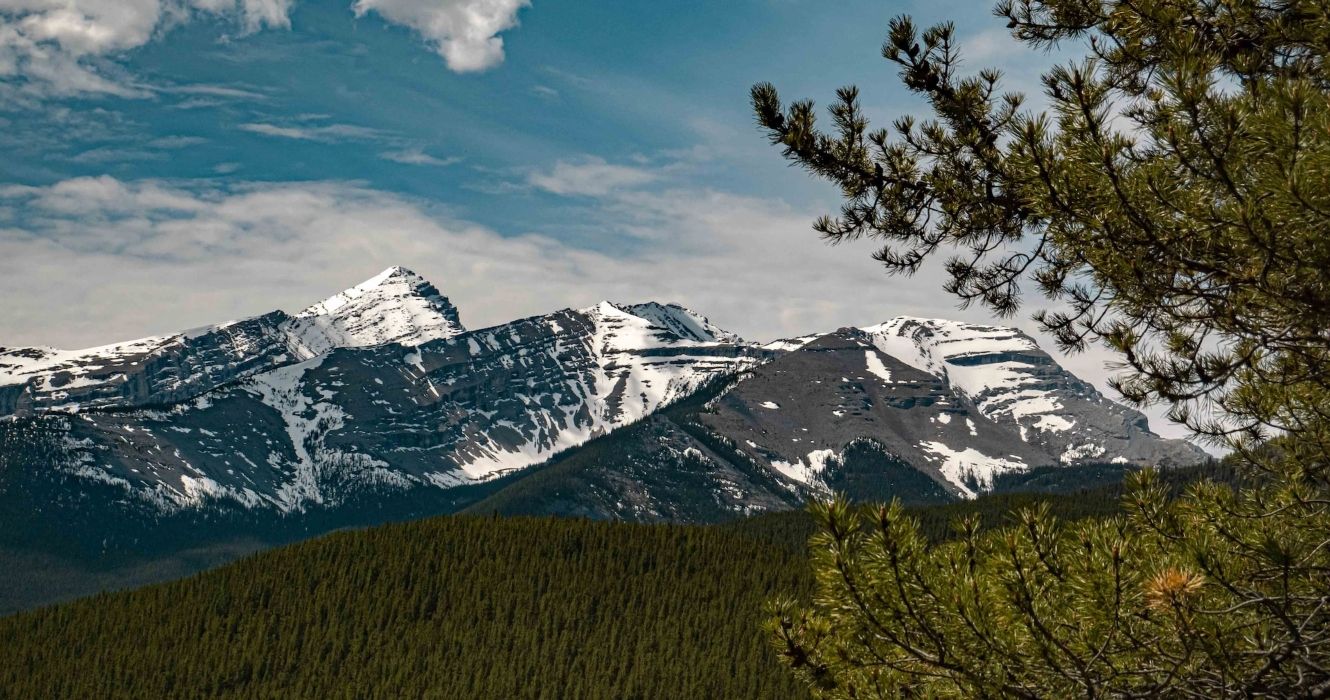 Kananaskis Country Canada
Bragg Creek Has Cozy Restaurants & Bars
Though Bragg Creek is the most beautiful town to visit in Alberta in winter, it's not all about the sights. Bragg Creek, though it is small, also has a diverse range of culinary offerings.
The city is home to multiple bars plus a pizzeria, distiller, and even a country club (Wintergreen Golf & Country Club).
Before setting out on a nature excursion in the winter, consult local trails and maps for the best routes and up-to-date information.
Attend Local Events In Bragg Creek In Winter
Alberta's most beautiful winter town hosts events throughout the year, including some in winter. Local Bragg Creek events in December include pub nights, a Christmas market, theatre productions, and Whisky Fridays at Bragg Creek Distillers.
Why Visit Bragg Creek Instead Of Banff?

For travelers who want to avoid the beaten path (and big crowds), it's worth looking into a trip to Bragg Creek instead. The hamlet is welcoming, cozy, and a convenient home base while you explore this part of Alberta.
Not to mention, unique accommodations may be a highlight for travelers opting out of the ski resort model in Banff; Bragg Creek has quaint lodges, rustic cabins, and B&Bs complete with horse-drawn sleigh rides in the winter. All the more reason to visit!