Summary
North Carolina offers countless scenic places to explore, but popular sites like the Great Smoky Mountains can get crowded. Seek out lesser-known gems for seclusion and serenity.
Pisgah National Forest, with its waterfalls and hiking trails, offers outdoor enthusiasts the chance to immerse themselves in nature without the crowds. Entry is free.
The Biltmore Estate in Asheville provides an escape into luxury and grandeur. While the mansion draws crowds, the vast estate offers plenty of space to spread out and soak in the refined atmosphere.
North Carolina has incredible natural beauty and scenic destinations that draw visitors worldwide. From the majestic Blue Ridge Mountains to the stunning beaches of the Outer Banks, there are countless places to explore in the Tar Heel State. However, popular sites like the Great Smoky Mountains and Asheville can get crowded, especially during peak tourist seasons.
For those looking to take in North Carolina's spectacular scenery without the crowds, plenty of overlooked gems offer seclusion and serenity. Discover waterfalls tucked away in forests, wander quiet barrier islands, and traverse trails through some of the oldest mountains in the world without fighting traffic or crowds. Take a break from the bustling tourist destinations and unwind, surrounded by the calming sights and sounds of nature. Here are some of the least-crowded but still incredibly scenic places to visit in North Carolina.
RELATED: Golden Season Getaways: 10 Small Towns Perfect To Visit In The Fall In North Carolina
10
Pisgah National Forest, North Carolina
Vibrant fall foliage in Pisgah National Forest, North Carolina
Covering over 500,000 acres, Pisgah National Forest offers outdoor enthusiasts plenty of opportunities to immerse themselves in nature without being surrounded by crowds of other people.
Tucked away in the Appalachian Mountains of western North Carolina, the lush forests feature tumbling waterfalls, crystal clear streams, and an extensive network of hiking trails waiting to be explored.
One of the most popular attractions is Looking Glass Falls, a 60-foot waterfall accessible via a short walk through the forest. Visitors will likely encounter a handful of other waterfall watchers, but it's rarely overcrowded. For a more secluded experience, take the strenuous hike to Cove Creek Falls or Yellowstone Falls, two lesser-known cascades far from the main trails.
Thrill-seekers flock to Sliding Rock, a natural 60-foot water slide emptying into a deep pool below. Arrive early to avoid the midday crowds drawn to the unique swimming hole. Or, for a peaceful paddle, rent a canoe or kayak and cruise down the meandering Davidson River through tranquil forest scenery.
The park contains several campgrounds perfect for a remote mountain getaway, while the nearby town of Brevard offers cozy lodges, cabins, and motels.
Entry into Pisgah National Forest is free, although fees apply for camping, trout fishing, and other activities within the park.
With endless opportunities for adventure and solitude, Pisgah National Forest promises beautiful seclusion amid the forests, mountains, and waterfalls of western North Carolina.
9
Grandfather Mountain, North Carolina
Jaggerhornik,
CC BY-SA 4.0
, via Wikimedia Commons"">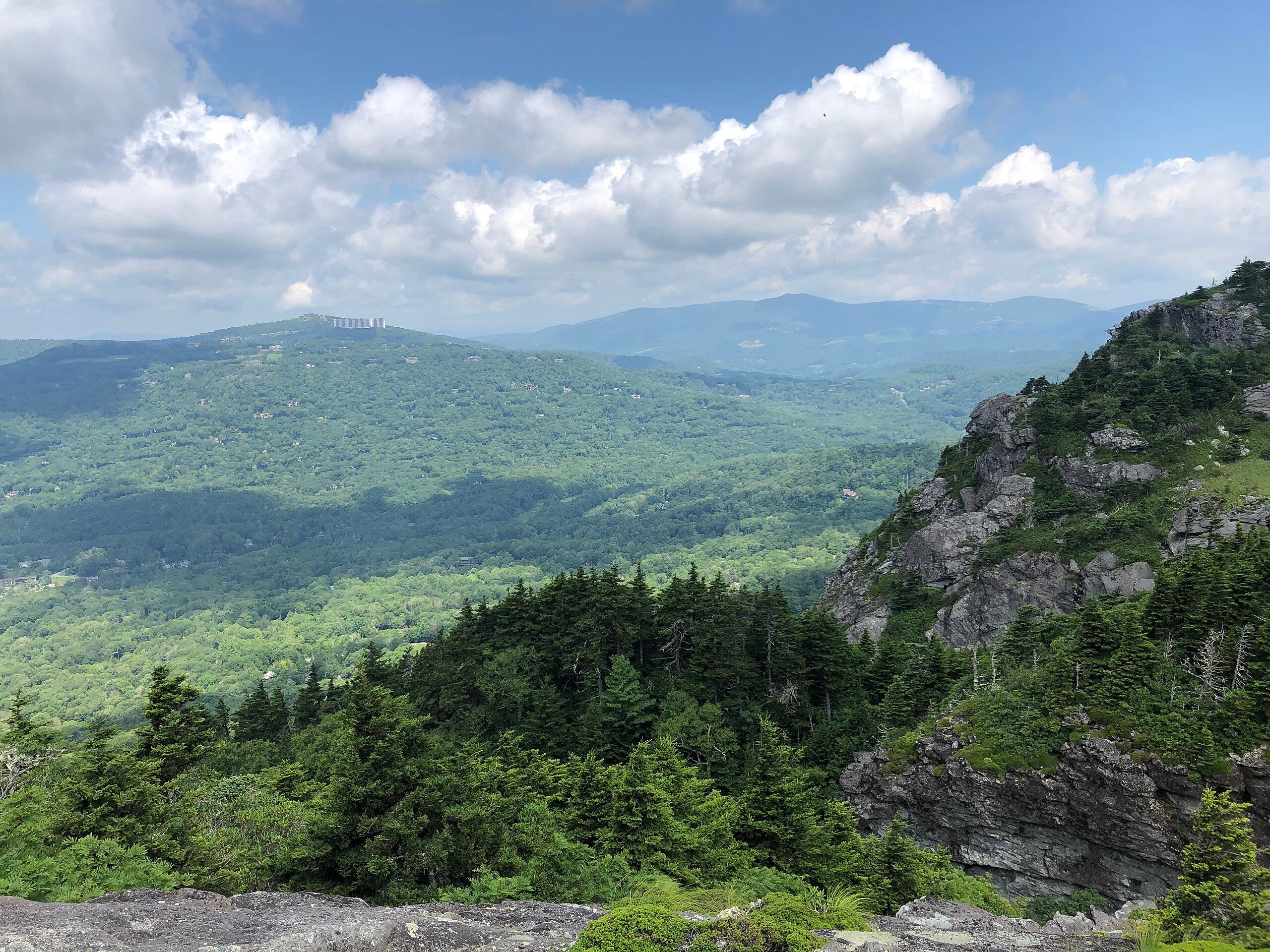 Grandfather Mountain, Linville, North Carolina
Reaching an elevation of over 5,900 feet, Grandfather Mountain towers over the landscape in the Blue Ridge Mountains. The famous Mile High Swinging Bridge is the centerpiece, which stretches more than a football field long between two peaks.
Spanning a rocky chasm one mile above sea level, the Mile High Swinging Bridge sinks as visitors walk across for panoramic views.
While the bridge draws crowds, the vast park provides plenty of trails and overlooks for escaping other visitors among the wild mountain scenery. This landmark attracts the bulk of tourists, with prime visit times busier. However, the swinging bridge queue moves quickly.
Once past the bridge, an extensive network of hiking trails features waterfalls, forests, and sweeping vistas ideal for peacefully enjoying the splendor of the mountains. Picnic Rock rewards hikers with a lofty panorama, while easy walks through the Boone Fork Bowl deliver cascading scenery without the strain of climbing.
For wildlife enthusiasts, habitats in the park provide homes for black bears, cougars, deer, otters, and over 130 bird species. Sign up early for a behind-the-scenes habitat tour for insights into these animals and dedicated viewing.
While no lodging exists within the park, the nearby towns of Banner Elk, Linville, and Boone offer a spectrum of options, from campgrounds to cozy cabins.
With elevations reaching a mile high, Grandfather Mountain dazzles with its lofty vistas, wildlife habitats, and swinging bridge, allowing visitors to immerse themselves within its natural splendor away from larger crowds.
8
Biltmore Estate, North Carolina
Stephanie Klepacki on
Unsplash
"">
Biltmore Estates in Asheville North Carolina
One of the top things to do in the artsy mountain town of Asheville, the sprawling Biltmore Estate provides an escape into early 20th-century luxury and grandeur. The Gilded Age mansion is America's largest private residence built by the prominent Vanderbilt family.
While the villa draws big crowds, the vast 8,000-acre estate offers guests plenty of space to spread out and soak in the refined atmosphere.
The estate's centerpiece is the stunning 250-room Biltmore House, filled with priceless decor and antiques. To fully appreciate the elegant architecture and details, visit on a weekday when fewer visitors compete for space.
Book an after-hours tour and dinner in the estate's 19th-century banquet hall for extra exclusivity.
Beyond the mansion, wander through the impeccably designed formal gardens accented by fountains and statues. Watch the light change over the landscape from an alcove or photograph the vivid flowerbeds and shrubs without photobombing tourists.
At the historic Biltmore Winery, sample local vintages surrounded by the vineyard scenery where the grapes are grown. Enjoy your favorite bottle out on the stone patio with panoramic mountain vistas.
For an immersive Biltmore experience, book a stay at the on-site Village Hotel steeped in luxury. Shuttle service provides easy access around the vast estate, delivering visitors to scenic spots away from crowds when desired.
With endless landscapes and activities, Biltmore Estate promises a refined escape from bustling tourist destinations
7
Blue Ridge Parkway, North Carolina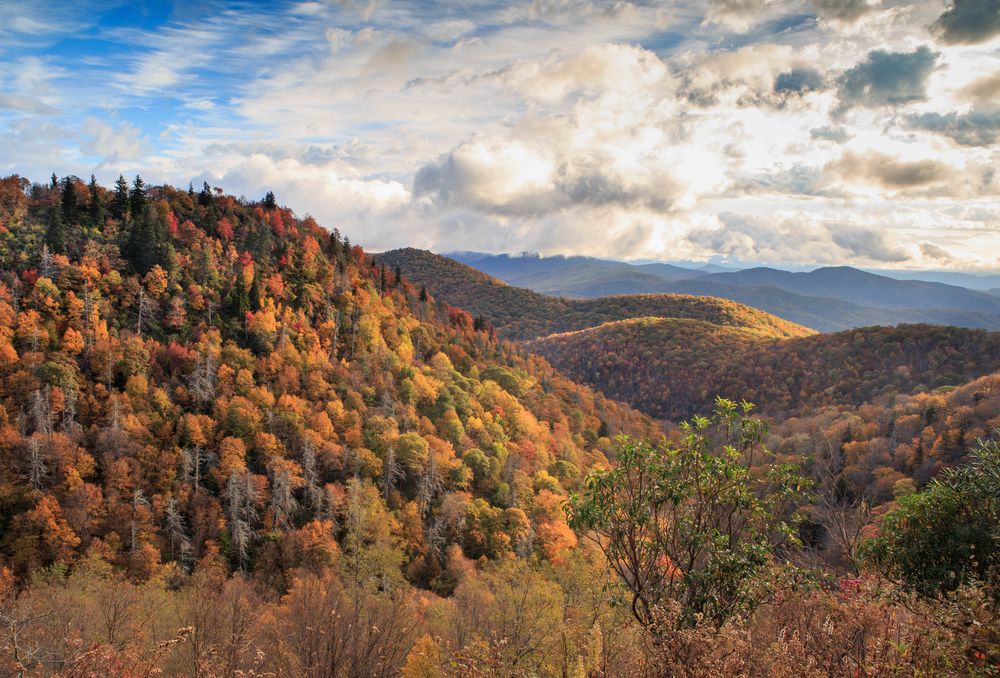 Fall foliage covering the ridges of the Appalachian Mountains at the East Fork Overlook on the Blue Ridge Parkway in Canton, North Carolina, USA
Stretching over 450 miles through the Appalachian Highlands, the Blue Ridge Parkway delivers endless opportunities for adventure and solitude. Winding past peaks, forests, valleys, and waterfalls, the road links Shenandoah National Park to Great Smoky Mountains National Park while offering its wealth of activities.
With limitless pull-offs and beautiful stops along the route, visitors can immerse themselves in the natural beauty far from crowded viewpoints.
One of the most popular hikes leads to the summit of Mt. Mitchell, the highest peak east of the Mississippi at over 6,600 feet.
Escape the small number of mountaintop hikers by descending the mountain via the longer trails, such as the Black Mountain Crest Trail, which continues for miles through silent forests and rhododendron thickets.
At Graveyard Fields, trails snake past towering waterfalls cascading down rock cliffs into pools waiting for swimming. Or enjoy fresher falls at Looking Glass Rock, where water tumbles down a granite dome.
Scenic overlooks like Doughton Park and Brinegar Cabin offer long-range vistas from quiet pull-offs. Have a picnic while soaking in the sweeping landscape views all to themselves.
With no lodging directly along the Parkway, spend nights camping or in hotels at nearby mountain towns and scenic valleys.
Leave the crowds behind while experiencing the diverse ecosystems that shift from forest valleys to craggy peaks along the Blue Ridge Parkway.
6
Linville Gorge Wilderness, North Carolina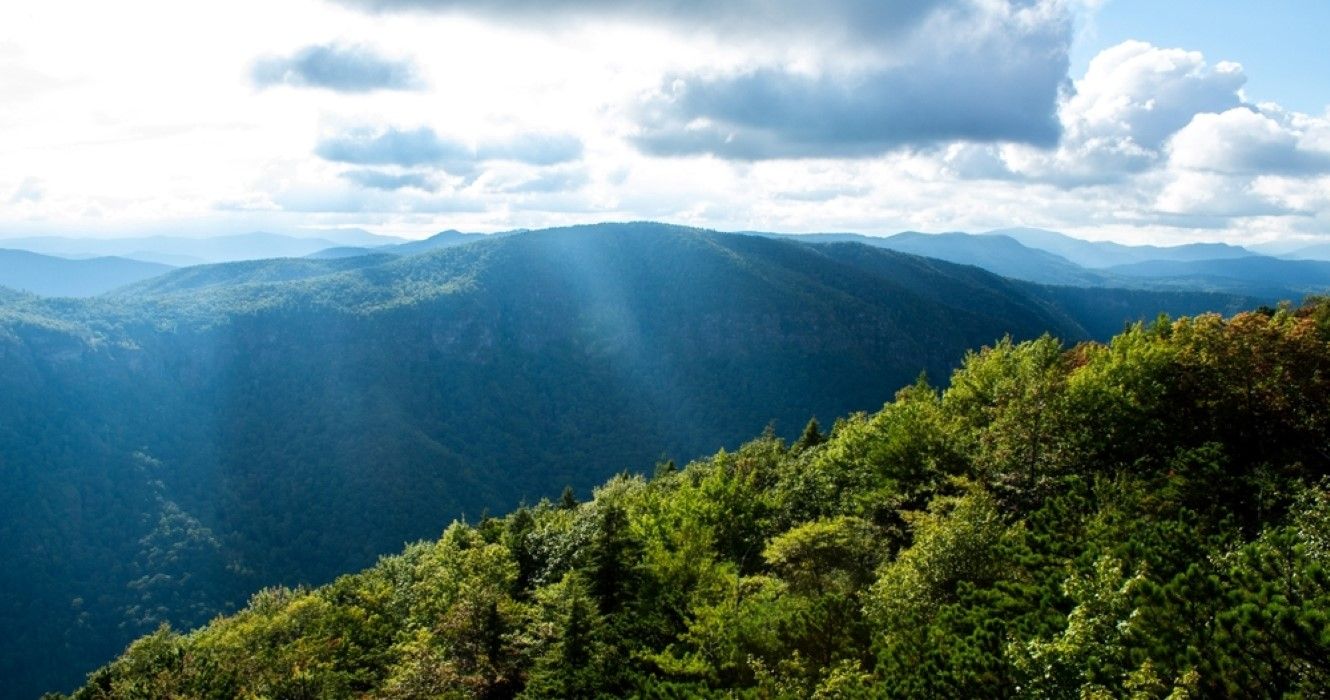 Linville Gorge Wilderness, North Carolina
Carved out by the Linville River, the Linville Gorge plunges 2,000 feet into the Blue Ridge Mountains, creating some of the most rugged scenery in the Eastern U.S.
Designed as wilderness, the 12,000-acre area prohibits road vehicles or development, keeping the dramatic landscape pristine and untamed. Solitude seekers can descend into the gorge on miles of hiking trails to connect with unspoiled nature, far from crowds and noise pollution.
The strenuous 11-mile hike along Jonas Ridge Trail rewards those who complete it with staggering cliff-top views of the gorge as it slices dramatically into the mountains below. Watch rock climbers scaling the exposed cliffs across the void as hawks circle silently overhead.
Closer to the gorge bottom, wander through old-growth forest to waterfalls like Linville Falls, where the river plunges over a series of dramatic drops. Link together trails following cascades like Duggers Creek and Roaring Creek Falls for a waterfall-filled immersion in the gorge's natural beauty.
Anglers can cast a line for trout in the rushing Linville River coursing through the base of the gorge. With no crowded riverbanks, fishing offers peaceful relaxation in solitude.
Backpackers can reserve one of the wilderness' handful of designated campsites or set up a dispersed camp for a night spent under the stars.
Population: 115
Top Attractions: Hiking, backpacking, fishing, waterfalls
Where to Stay: Dispersed camping, motels in nearby towns
Cost: From $27 per night.
With no roads entering the protected area, Linville Gorge promises a remote mountain escape, disconnected from the crowded tourist destinations in North Carolina.
5
Mount Mitchell, North Carolina
DiscoA340,
CC BY-SA 4.0
, via Wikimedia Commons"">
Entrance sign to Mount Mitchell State Park
At 6,684 feet, Mount Mitchell's summit stands as the tallest peak east of the alluring Mississippi River, which visitors can also explore without crowds. A small observation deck crowns the mountaintop, allowing 360-degree views of the Blue Ridge Mountains.
While reaching the summit remains a popular hike, the area offers enough trails and remoteness that solitude seekers can find peace among the windswept forests and ridges surrounding the mountain.
Most hikers arriving on foot take the strenuous 6-mile trail leading straight up the towering peak.
After taking in the panoramic vistas and a deep breath at the top, beat the crowds by descending via the longer but more gradual Black Mountain Crest Trail. This scenic path winds 12 miles along ridges thick with rhododendron blooms in summer before looping back to the trailhead.
Just north of the state park, the Pisgah National Forest offers gorgeous scenery and ribbons of hiking trails with even fewer people. Old Mitchell Trail follows the ridges and valleys for over 4 miles of peaceful walking surrounded by mountain laurels, creeks, and lofty views.
The small campground near the summit provides a wilderness sleeping experience steps from trails. Or opt for accommodations at Burnsville or Spruce Pine, offering riverside cabins and historic small-town hotels less than an hour's drive from Mount Mitchell. ​​​​​​​
Enjoy the extreme natural beauty of North Carolina's highest mountain peak away from crowds on the state park's remote trails and neighboring Pisgah National Forest.
4
Croatan National Forest, North Carolina
Fredlyfish4,
CC BY 4.0
, via Wikimedia Commons"">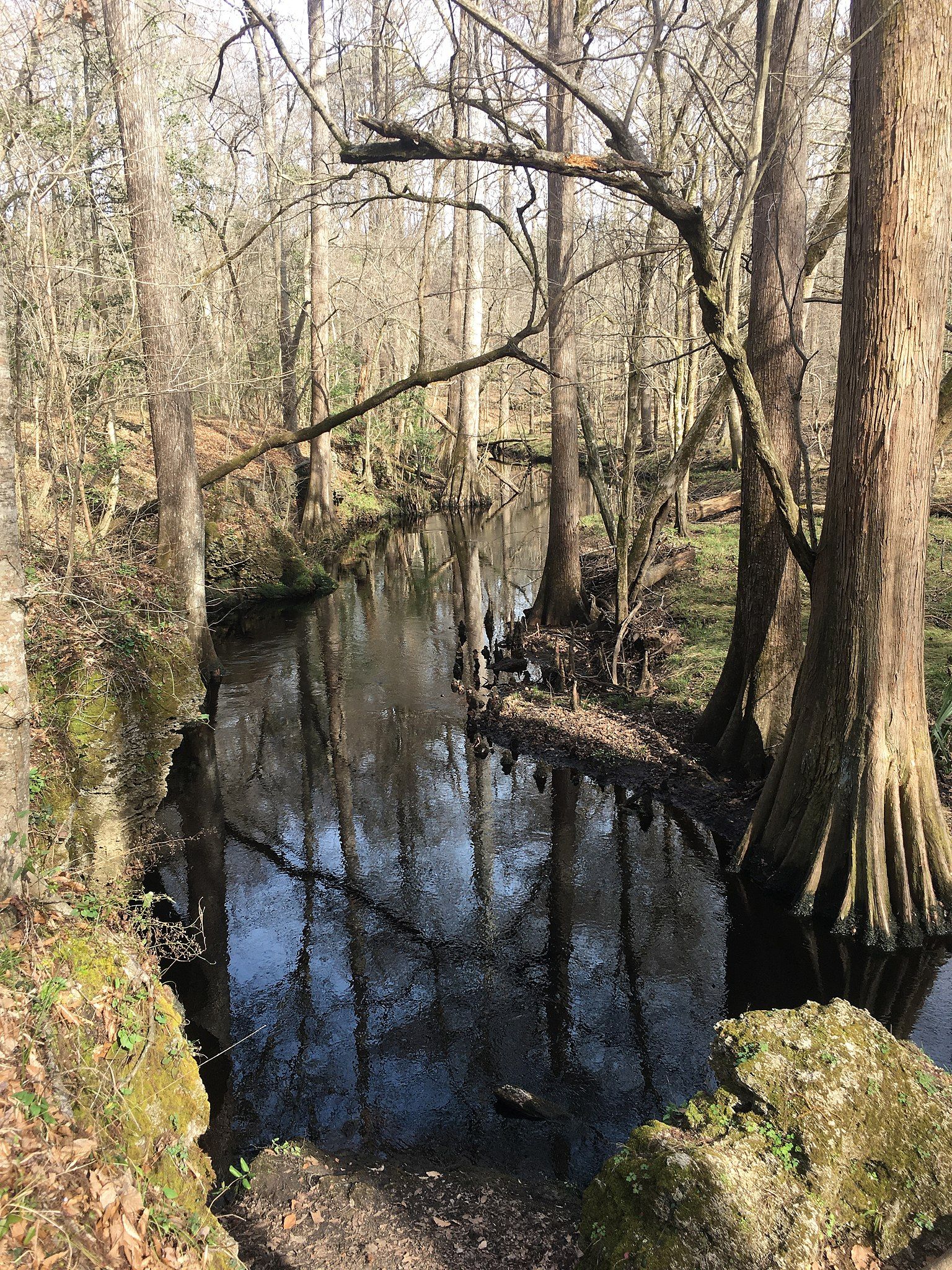 Early spring along Island Creek in Croatan National Forest, Jones County, North Carolina
Spanning 160,000 acres across coastal North Carolina, Croatan National Forest protects miles of seashore, marshes, and maritime forest, ideal for nature lovers looking to avoid crowded beaches. From boating to birdwatching, the forest offers outdoor activities with ample space to spread out and soak in the natural scenery.
On the Neuse River, rent a canoe or kayak and paddle through still marshlands dotted with herons, egrets, and even wild ponies on Shackleford Banks. Stop to wade or swim in shallow areas away from the crowded ocean beaches.
Over 100 miles of hiking trails weave through maritime oak and pine forests, where wild Venus flytraps thrive. The 21-mile Neusiok Trail traces the coastline past inland cypress swamps for complete coastal immersion.
Anglers can surffish for trout and drum or launch small vessels to saltwater fish miles offshore.
Sign up for a permit to collect oysters or clams at secluded tidal flats during the season.
Campgrounds along the saltwater rivers and Intracoastal Waterway allow falling asleep to the sound of lapping waves. Or stay in beach houses or hotels in Morehead City, enabling easy access to Croatan's coastal recreational offerings minus the crowds associated with the Outer Banks beaches. ​​​​​​​
Croatan National Forest has ample room to wander and promises space and seclusion amid North Carolina's coastal beauty.
3
Ocracoke Island, North Carolina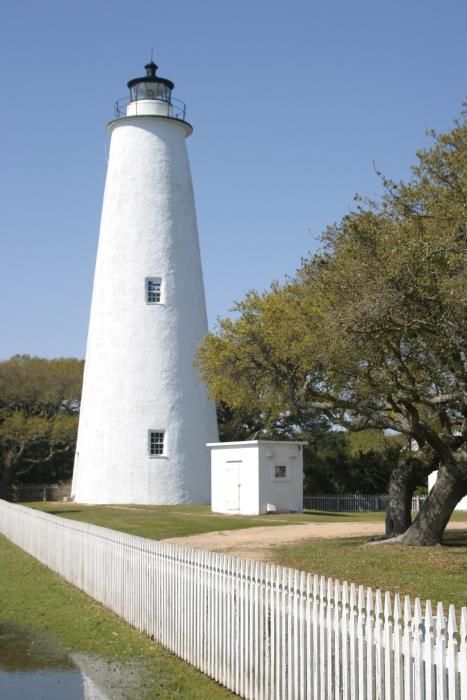 Ocracoke Island, North Carolina
At the southern end of the Outer Banks, Ocracoke Island feels far removed from the summertime crowds drawn to its northern neighbors. With no direct road access, the small island requires a ferry ride to reach, keeping away the masses.
The 16 miles of pristine, protected beaches offer plenty of room to spread out and unwind, surrounded by seaside tranquility.
Beyond sunbathing and beachcombing, visitors can surf, fish, sail, kayak, or take a stand-up paddleboard to explore the Pamlico Sound's shallow coves and marshes. Dolphin sightings are common on cruises through the island's harbor. Even during summer, an entire beach might house just one or two shell-seeking couples strolling the shoreline.
Ocracoke's iconic 1823 lighthouse stands sentry over the harbor, and a small museum at its base highlights the island's maritime history. Quaint streets with locally owned eateries and shops create a distinct culture removed from often-crowded Nags Head and Kill Devil Hills.
Accommodations run from cozy inns and bed and breakfasts to large vacation rentals, perfect for multigenerational groups. With fewer tourists vying for rooms, off-season visits mean lower rates for extended stays.
With no high rises or chain hotels marring the landscape, Ocracoke Island provides a laidback, remote Outer Banks experience steeped in coastal charm. Here, visitors can unwind just from uncrowded beaches offering seaside serenity.
2
Roan Mountain, North Carolina
Diogeninja,
CC BY-SA 3.0
, via Wikimedia Commons"">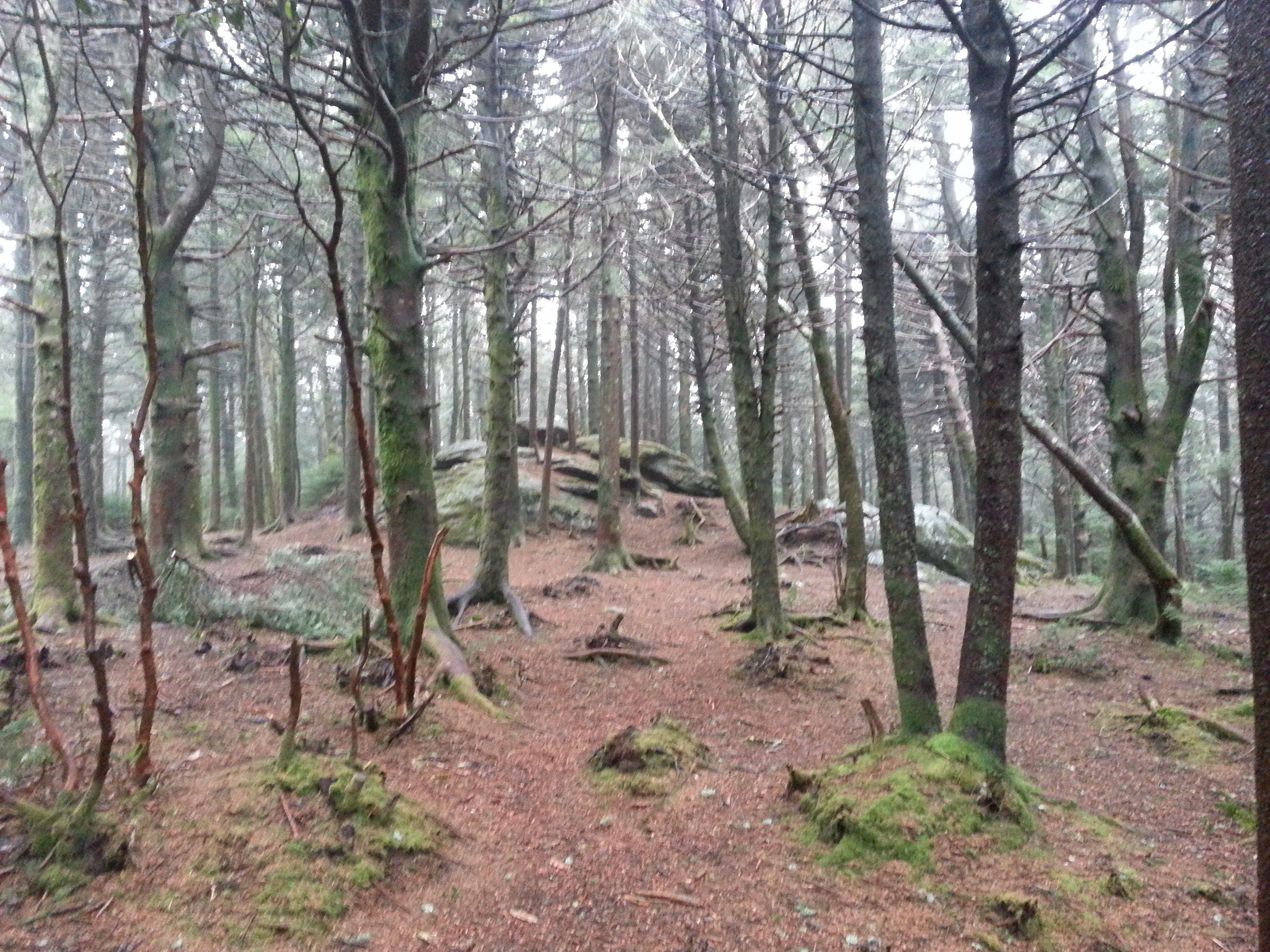 The summit of Roan Mountain on the North Carolina – Tennessee border.
The landscape of Roan Mountain straddles the North Carolina-Tennessee border along the Appalachian Trail. Rising over 6,000 feet, the grassy bald mountains host some of the most spectacular displays of rhododendron, mountain laurel, and azaleas in the country each summer.
While popular with thru-hikers along the Appalachian Trail, Roan Mountain State Park retains a sense of seclusion and serenity amid the vibrant summer blooms and sweeping ridge-top views.
Some of the best scenery shines along the Appalachian Trail, which traverses over 20 miles of the Roan Highlands.
Day hikers can follow the path past grassy meadows bursting with purple rhododendron clusters and whisper-thin Fraser firs. Stop to reflect at historic landmarks like the Cloudland Hotel site while soaking in panoramas of up to 50 miles on a clear day.
Connect to ancillary trails like the Toll House Gap Trail for more privacy, leading through rhododendron tunnels for brilliant blooms without company.
The Doe River winds peacefully through the valley below, passing quietly beside log cabins and country stores, beckoning visitors. Spend the night at one of the trailside shelters along the Appalachian Trail, or drive into the neighboring mountain towns of Elizabethton or Bakersville to relax at a quaint inn or cabin.
Roan Mountain delights the senses with its vibrant floral displays and sweeping mountaintop vistas while avoiding the heavy foot traffic found at other Appalachian Trail highlights.
RELATED:10 Hikes And Trails In Cape Hatteras National Seashore That Are Scenic Even In The Fall
1
Lake Glenville, North Carolina
n
VeeDrummer
,
CC BY-SA 3.0
, via Wikimedia Commons"">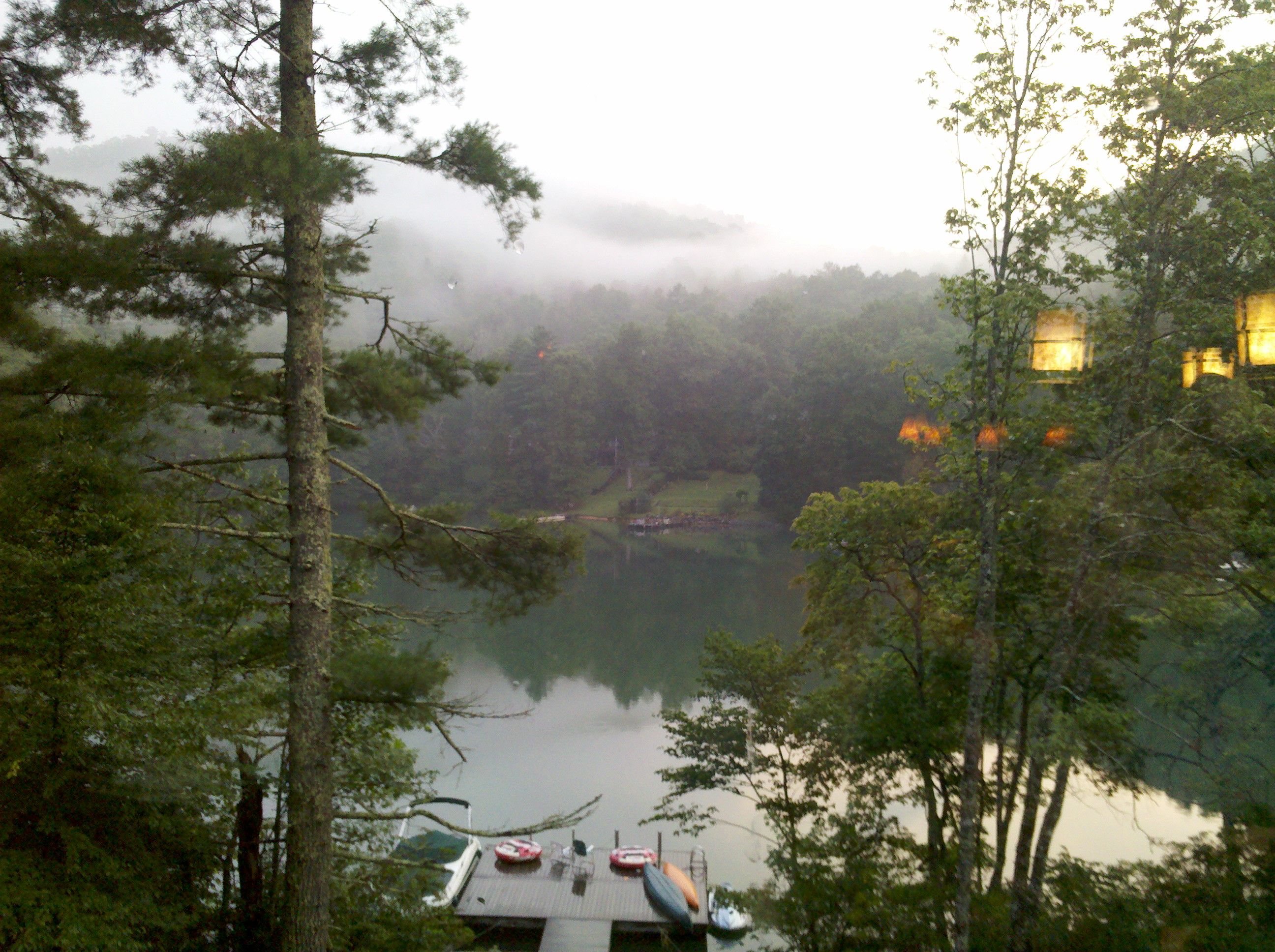 Lake Glenville North Carolina
Nestled in the Nantahala National Forest in the western part of the state, Lake Glenville offers a scenic high-elevation lake experience removed from crowded water destinations. The pristine 3,500-acre lake provides the ideal backdrop for boating, fishing, and swimming, far from the usual summer water recreation crowds.
Visitors can boat into quiet coves and take in the lush forests rolling down to the lakeshore without fighting the high-speed traffic of larger motorized watercraft. Fishers can cast a line for various fish from tranquil banks and fishing piers around the lake, including bass, perch, and walleye.
When not on the water, hike through forested trails nearby, like the fall-filled Blacks Creek Trail or the scenic Bear Pen Gap Loop. Soak tired muscles back at the lake with a swim at one of the small swim beaches tucked into forested pockets.
While no hotels sit directly on the lake, rustic vacation rentals like lake houses and cabins offer accommodations steeped in wilderness charm. Campers can pitch a tent at sites around the lake, including a few only reachable by boat for extra seclusion.
Without the usual lineup of chain restaurants and shops, Lake Glenville epitomizes a remote mountain escape. Relax far from crowded shores on this forest-lined lake, seemingly a world away.