Summary
Beach towns in the Carolinas are a top choice for retirees due to their peaceful communities, reasonable cost of living, and favorable tax policies.
New Bern, Carolina Beach, Duck, Emerald Isle, Hilton Head Island, Surfside Beach, Isle of Palms, Kiawah Island, Sullivan's Island, and Myrtle Beach are all great beachside towns for retirement in the Carolinas.
These towns offer a range of activities and attractions, from outdoor recreation and cultural events to shopping and dining options, making them ideal places to settle down and enjoy the golden years.
Reaching retirement age can be a very exciting time for new beginnings and, perhaps most importantly, to find somewhere relaxing to enjoy the golden years of life's journey. Unfortunately, this also raises a lot of questions like location, housing type, and much more. Many may relocate to a different city or state while others opt for a new country altogether for retirement. Perhaps a house or senior living community is the most typical, but some have lived out their later decades in hotels or resorts as a retirement home alternative.
One method of narrowing the search can simply start with the landscape and weather. For perhaps obvious reasons, beach towns are a top choice for many retirees. The Carolinas have proven to be a prime prospective area for retirement as peaceful beachside communities are plentiful, the cost of living is typically reasonable, and tax policies on property and social security funds are quite lax if they even exist at all.
Famous Myrtle Beach in South Carolina, with its many things to do and see, is often what first comes to mind in this region, but the Carolinas offer much more than that. Here are some of the best beachside towns for retirement across the Carolinas.
10
New Bern, North Carolina
A beautiful street view in New Bern, North Carolina
The 300-year-old city of New Bern is nestled upon the Neuse River and has many claims to fame. It is the former capital of North Carolina, Pepsi has its origins there, and renowned author Nicholas Sparks has cited this city as an inspiration for his work.
This city plentiful in outdoor recreation is based on the riverfront and the Atlantic coast is just a quick drive away, yet beachfront prices are nowhere to be seen. Historic homes downtown and some gated communities could make for a cozy place to settle down for retirement, as New Bern is officially a Certified Retirement Community of North Carolina.
Related: 10 U.S. Cities That Are Great To Visit, But Not Good For Retirement
9
Carolina Beach, North Carolina
A view of a boardwalk in Carolina Beach, NC
Carolina Beach is a well-rounded package to consider for retirement as it provides the feeling of a relaxing escape along expanses of sandy beaches with great fishing while still having much-needed modern amenities for retirees including nearby Medicare hospitals.
After a day of fishing or lounging at the beach, residents of the range of housing types in the area from modest stilt houses to more lavish condominiums tend to hit the vibrant tiki bars for live music or enjoy the boardwalk at sunset.
8
Duck, North Carolina
Jason Pischke on
Unsplash
"">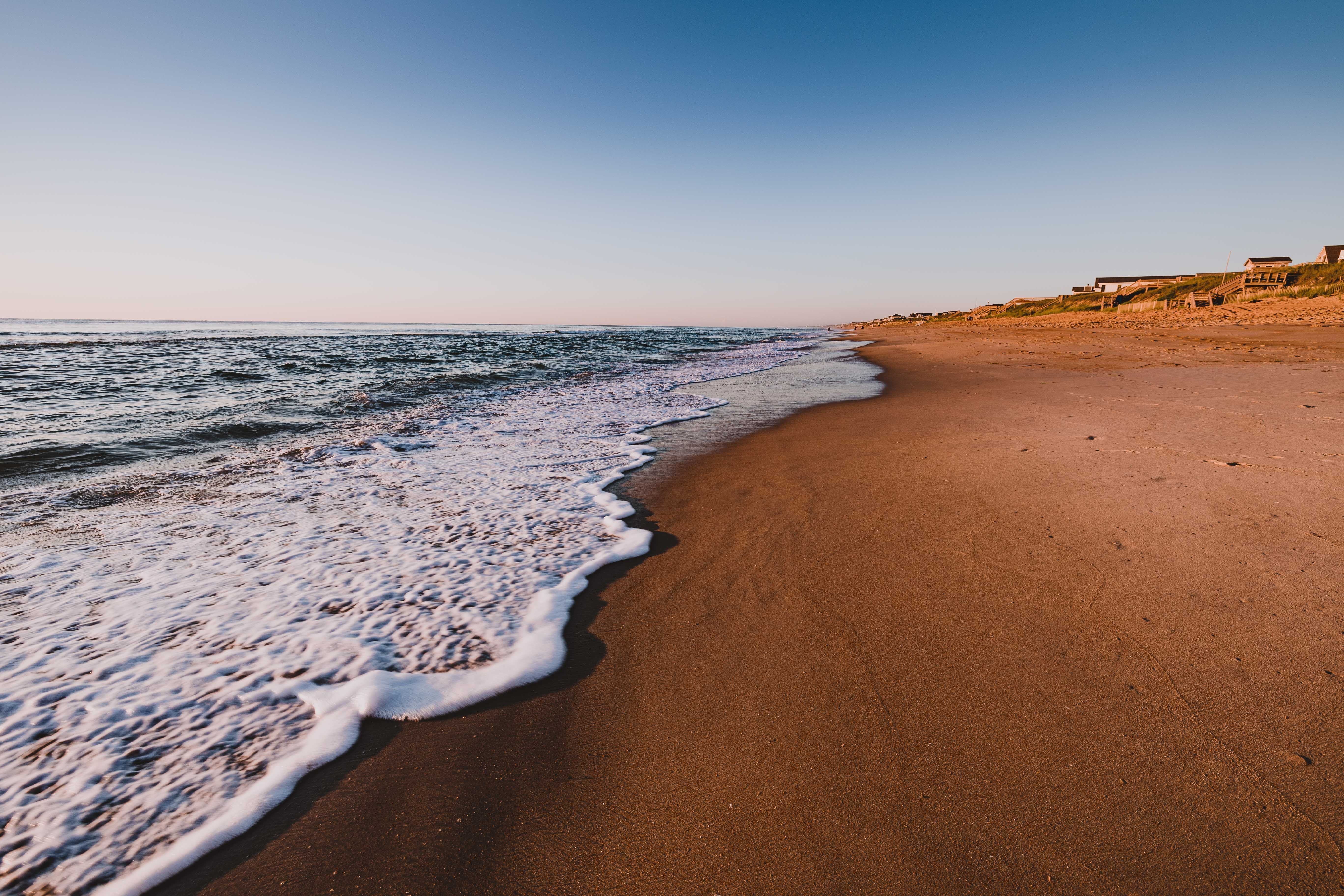 A beach in Duck, one of the best towns on the Outer Banks, North Carolina
The town of Duck in North Carolina's Outer Banks, which is full of overlooked gems great for summer getaways, provides a coastal village atmosphere and has for some time been known as a wonderful place to settle down and retire in.
Although small and quiet with a population of around 758, there are ample shopping and dining options and outdoor activities with which to enjoy the easy-breezy beach days. Nature lovers can also enjoy the guided walks along the boardwalk exploring the flora and fauna.
Related: Golden Season Getaways: 10 Small Towns Perfect To Visit In The Fall In North Carolina
7
Emerald Isle, North Carolina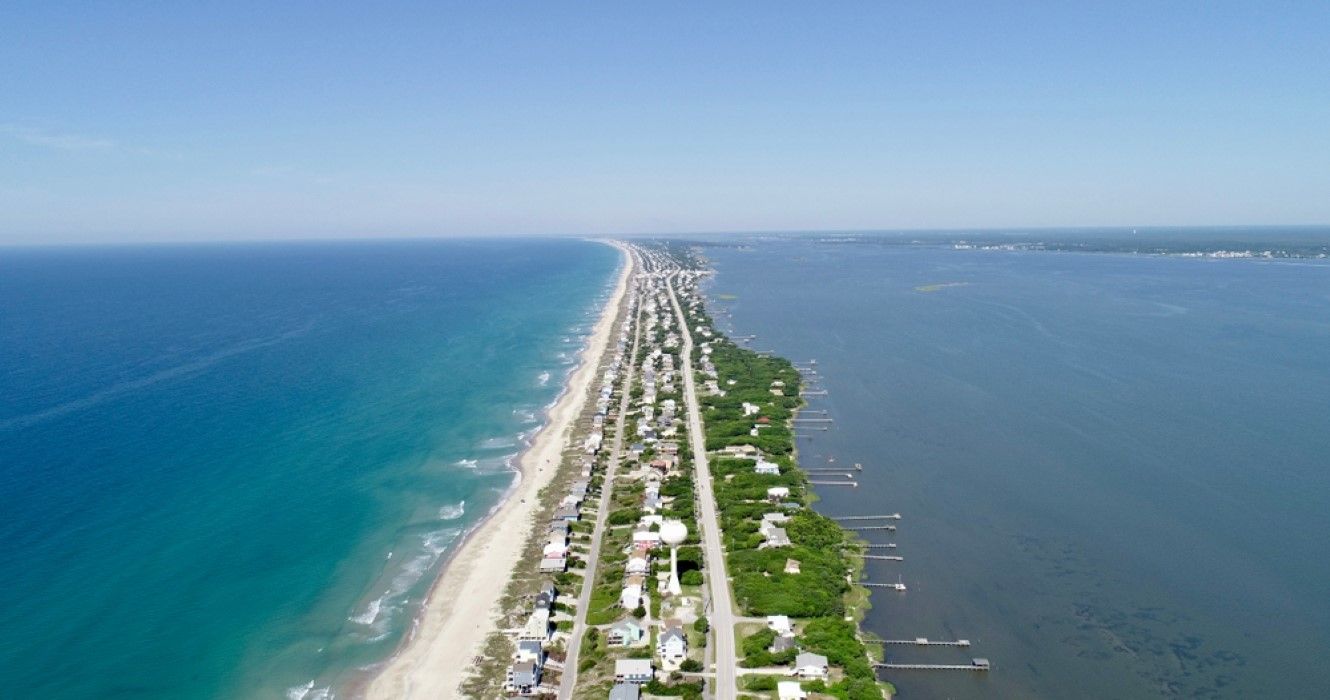 Emerald Isle, North Carolina
Emerald Isle is found in Carteret County—which has been deemed the best place to retire in North Carolina based on overall living conditions, activities, and cost of living, and the isle itself—was rated Best Beach by USA Today in 2018.
This town spans only 12 miles of white sand beaches that sea turtles call home along with the human population of around 4,000. Emerald Isle offers a dreamy beach escape for retirement that feels like a far-off island but still has easy-to-reach shopping centers for anything the residents could need.
6
Hilton Head Island, South Carolina
Nikolay Loubet on
Unsplash
"">
Boats on Hilton Head Island dock
Hilton Head Island is yet another gorgeous option in South Carolina for those seeking serenity in their golden years. It has some of the best pristine beaches and golf courses one could hope for as well as a long list of events, nightlife, and cultural activity.
Healthcare is plentiful on the island along with the renowned Medical University of South Carolina just a short drive away in Charleston.
5
Surfside Beach, South Carolina
Splendid Surfside Beach in South Carolina at sunset
The nickname "Family Beach" gives a valid summary of what life is like at Surfside Beach. It offers the expected water sports and beachfront dining all with an inspiring Atlantic backdrop which serves as a more secluded location compared to famous Myrtle Beach, which is a convenient 15-minute drive away.
Residents here enjoy frequent community events like outdoor movies and concerts as well as the annual Surfside BBQ Festival.
4
Isle of Palms, South Carolina
Tourists relaxing under a beach umbrella on Isle of Palms
Isle of Palms is a stunning beachfront suburb of Charleston with a population of around 4,000. It offers a retirement full of some of the best swimming and sailing around.
Despite the small population, shopping centers are plentiful, there are 10 hospitals, and some of its 27 golf courses have been rated in the top 40 of the entire country.
Related: These Are The 10 Best Islands To Retire In The World
3
Kiawah Island, South Carolina
Andrew Shelley on
Unsplash
"">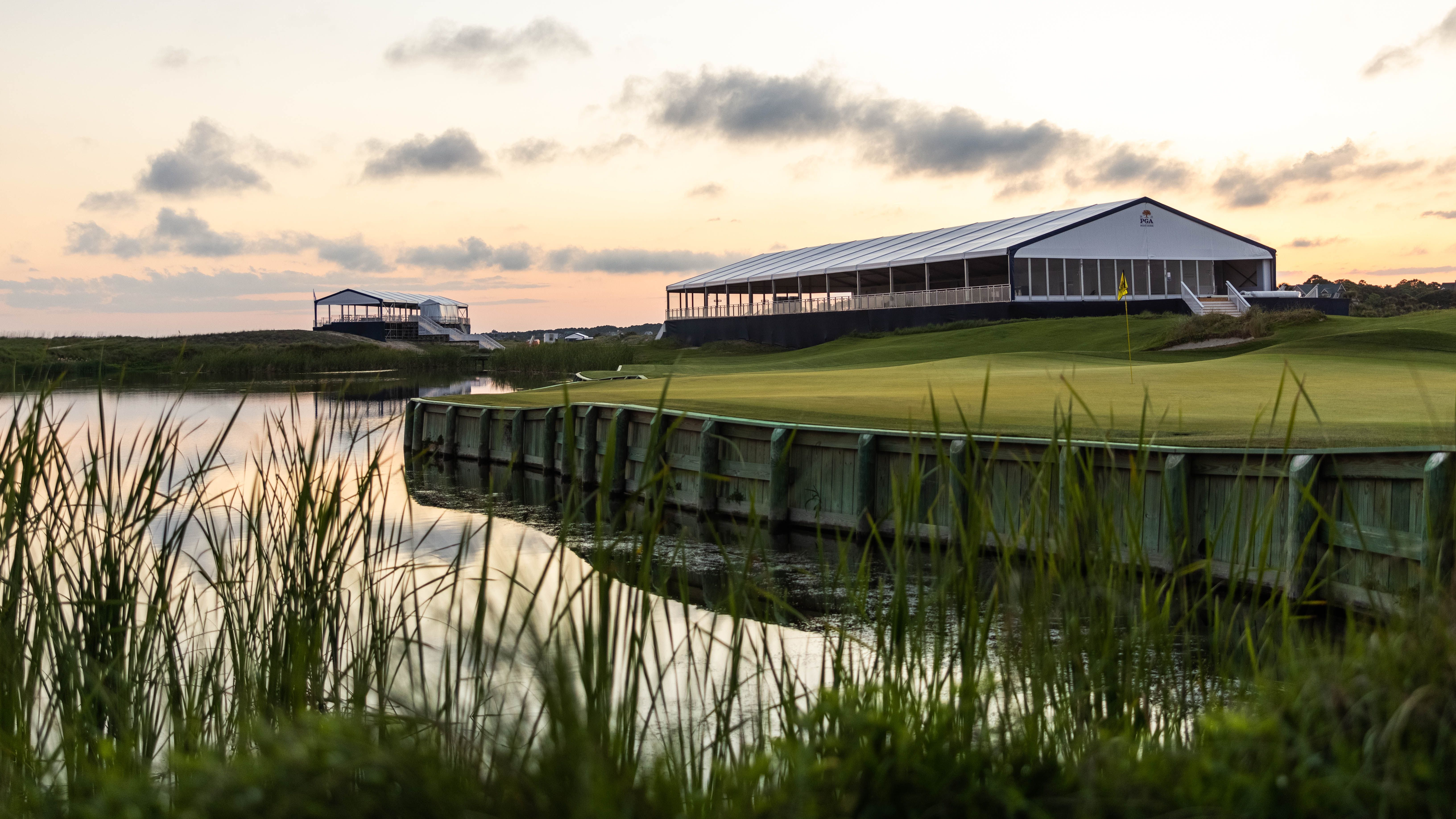 Kiawah Island, South Carolina
Retirees seeking a luxurious lifestyle on the coast could find a fitting home in Kiawah Island. The island provides a variety of upscale accommodations and lifestyle offerings to match it.
Kiawah Island particularly excels in keeping its residents active and offers a variety of activities including hiking and biking trails, top-notch golf, fitness centers, and yoga on the beach.
The island has already become a popular retirement destination and a lavish senior living community specifically to accommodate this is continuing to develop.
2
Sullivan's Island, South Carolina
nFoto de
Matt Benson
en
Unsplash
n
"">
Small catamaran on the beach with Sullivan's Island lighthouse in the background
Sullivan's Island is another suburb of Charleston that is continuing to rise in popularity for retirement due to its quiet beachside lifestyle while still being mere minutes away from all that Charleston has to offer.
The average home price is quite high, but the reward is a truly quiet life of seclusion in a very small community. In contrast to other retirement destinations, no golf courses or fitness centers are to be found here.
Aside from some historical landmarks, there is nothing but upscale accommodations and dining along with a few nice places to get a drink.
1
Myrtle Beach, South Carolina
Tim Wilson on
Unsplash
"">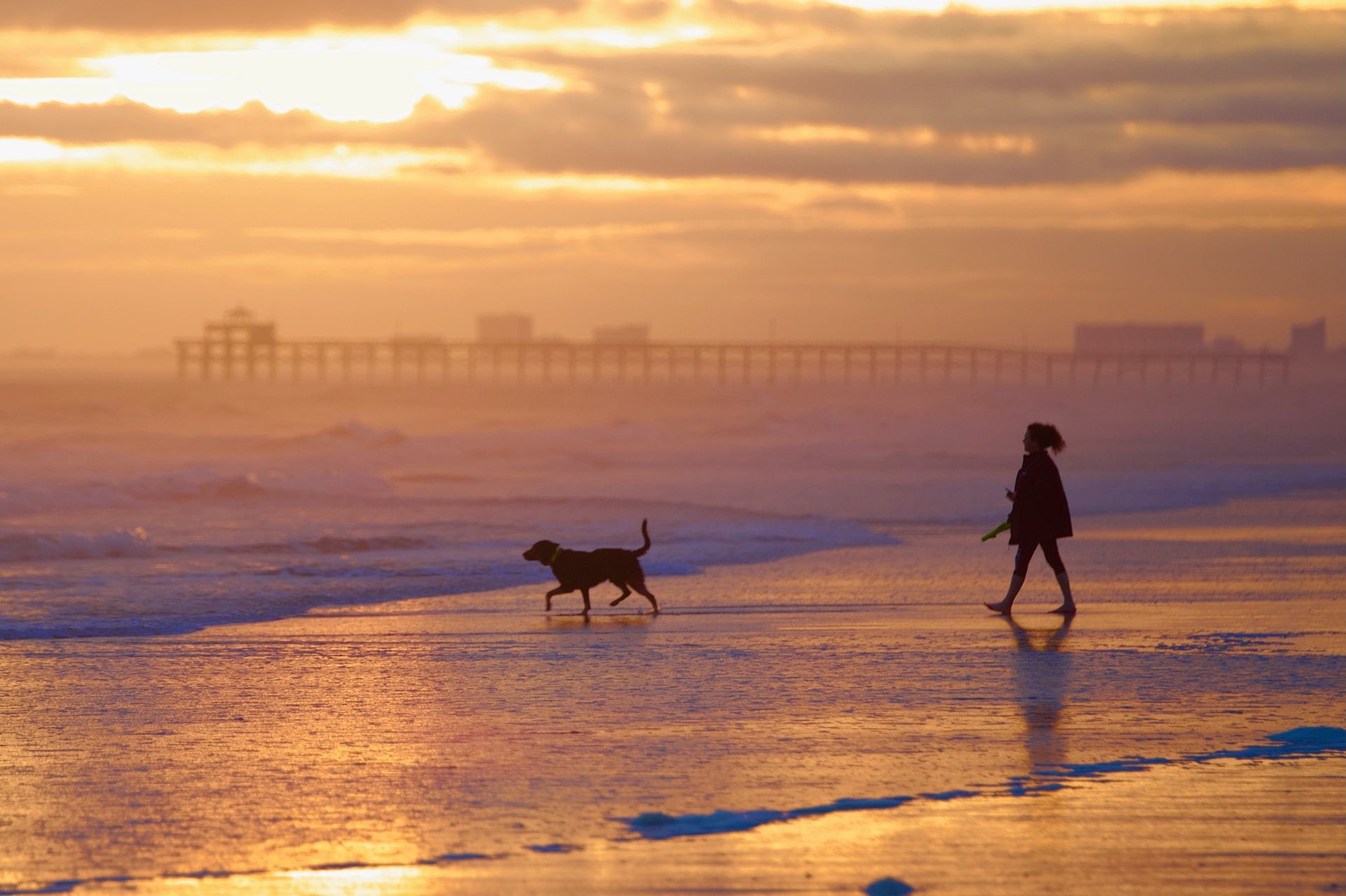 The sunset over Cherry Grove Beach, North Myrtle Beach, South Carolina
Renowned Myrtle Beach hardly needs an introduction as it is one of the most recognized names in the Carolinas. Aside from its endless options in dining, entertainment, arts, and culture, it also has a rather close proximity to Charleston which makes for some great road trips.
Although Myrtle Beach is a hot destination, its cost of living is 8% lower than the national average.
With all of these beautiful beach towns to retire to in the Carolinas, there is something for everyone—but they all include sandy beaches and surf.