Summary
Horror fans flock to the US for bizarre Halloween parties filled with spooky parades, haunted houses, and terrifying festivals.
Must-see unique Halloween events include the Great Jack O'Lantern Blaze in Hudson Valley and Long Island, and the Village Halloween Parade in NYC.
Other unique yet strange Halloween celebrations in America include Into The Dark: The Initiation in San Francisco, Halloweentown in St. Helens, and the Salem Festival of the Dead in Massachusetts.
Come October, horror fans flock to the US to experience bizarre Halloween parties. Besides the usual pumpkin carving events and kid-friendly trick or treating, individuals all over America can join spooky parades, watch terrifying Halloween festivals, and enter blood-chilling haunted houses and attractions.
Most Halloween parties and haunted attractions in the US start operating in late September and feature special events on October 31 filled with costumes, realistic special effects, professional horror actors, and pumpkins. Naturally, many horror fans visit the spookiest US cities for Halloween, including Nashville, Key West, Savannah, and Boston. But there are some cities and towns where the strangest Halloween parties take place, which are truly unique.
From Manhattan's Village Halloween Parade with almost 50,000 participants to the rare characters visitors can meet at Micky's Halloween party in Orlando, the coolest yet most bizarre Halloween parties in the US will have true horror fans pumped on this exceptional and haunted day.
Related: 10 Most Haunted Places In The World As Of 2023
10
The Great Jack O'Lantern Blaze
Great Jack O'Lantern Blaze Pumpkin
The US has some of the best Jack O'Lantern displays, and the Hudson Valley and Long Island are the living evidence. Croton-on-Hudson's Great Jack O'Lantern Blaze showcases over 7,000 intricately carved and glowing pumpkins along the Van Cortlandt Manor. Guests can also admire the twirling Pumpkin Ferris Wheel, a circus sideshow, and a Day of the Dead tribute.
The Great Jack O'Lantern Blaze also operates on Long Island for its second location, in the Old Bethpage Village Restoration. No tickets are sold at either location, so guests must purchase them in advance online.
There are a bunch of food and drink booth options available right at The Blaze, like popcorn, donuts, beer, soft drinks, and wine.
RELATED: A Full Guide On How To Spend Halloween In New York City
9
NYC Village Halloween Parade
CC-BY-2.0"">
People taking a picture of a woman wearing creepy Halloween costume
The 50th Village Halloween Parade in New York City will be on October 31, 2023, in Greenwich Village, Manhattan, with the theme "Inside Out/Upside Down." More than two million adults and children wearing their favorite Halloween costumes are expected to grace the streets of Greenwich Village in NYC to witness marching bands, mammoth puppets, and more.
After parading on the streets, guests must join the official Village Halloween Parade afterparty at Webster Hell, with a $5,000 cash prize to the individual with the best costume. Those looking for the most unique Halloween events in the US must not miss out on this one!
The afterparty will strictly start at 9 p.m. on October 31, 2023.
8
Into The Dark: The Initiation, San Francisco
Colton Sturgeon on
Unsplash
"">
A Jack O' Lantern pumpkin with green smoke on Halloween in the USA
Into the Dark: The Initiation occurs from September 29 to October 31, 2023, at The Mint, San Francisco. It's one of the coolest Halloween events in the US, featuring a combination of mazes, plays, and other spooky attractions inspired by the Symbionese Liberation Army, Anton LaVey, and Jim Jones.
While being cool, it's also one of the strangest Halloween events in the US. Why? Because guests must join the hair-raising initiation ceremony and escape before getting absorbed by the haunted cult. After surviving the ceremony, check out Fang Bang, an '80s-inspired goth bar offering Kool-Aid vodka shots.
Guests who are commuting can take the train and head to Bart Powell St. Station.
7
St. Helens, Oregon: Spirit Of Halloweentown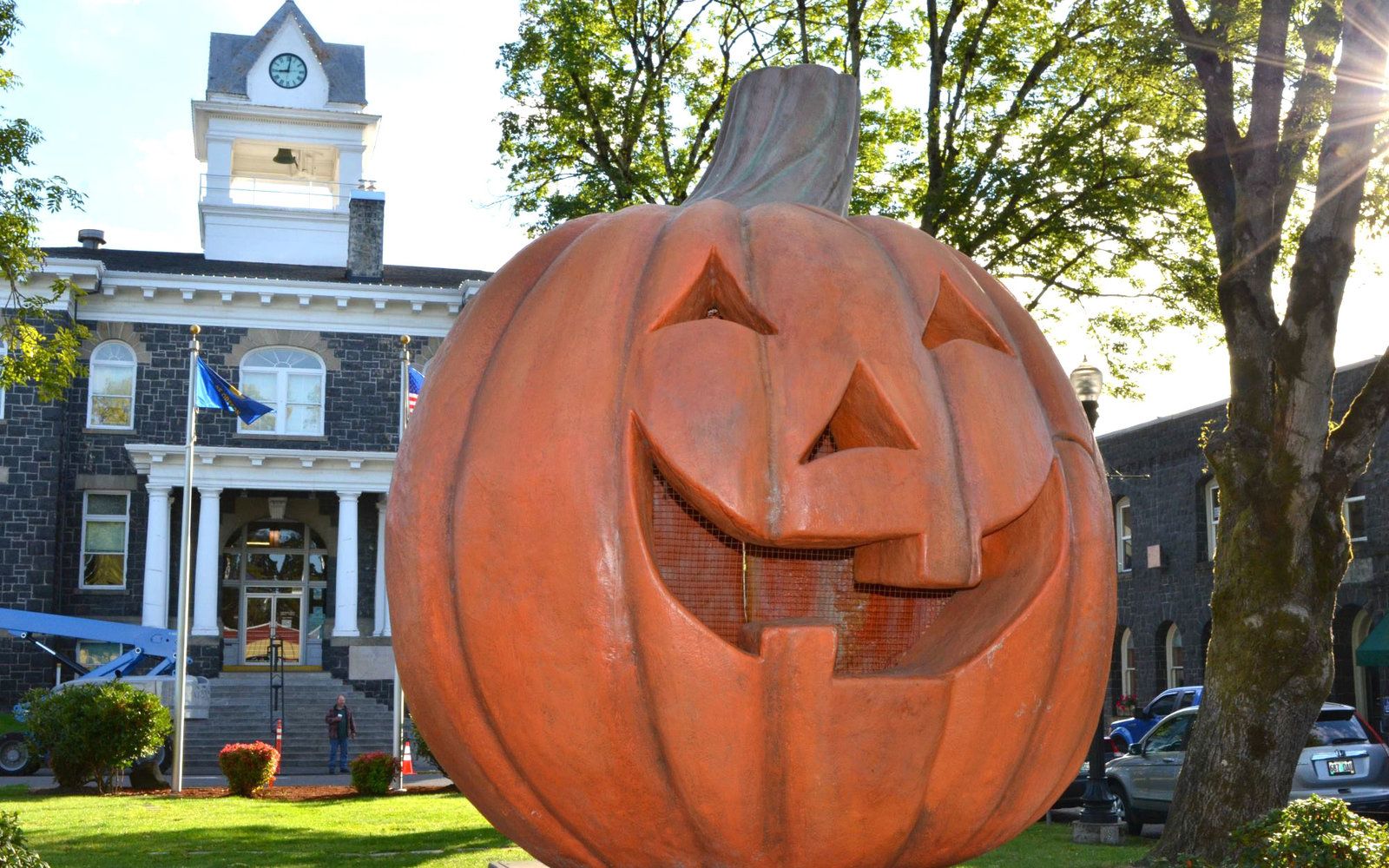 Spirit of Halloweentown pumpkin display in downtown St. Helens, Oregon
Halloweentown in St. Helens, Oregon, is a famous kid-friendly haunted attraction every October. This quaint town resembles a Disney Channel classic for a month of spooky scavenger hunts, the town plaza's huge pumpkin, and a haunted hotel.
Guests can also enter Bella Swan's house in Twilight and check out the character's bedroom where the vampire transformation happened! Other attractions include Split Ink Gallery, Columbia Theater and Special Showings, Whispers on the Water, and more. Offering some of the most unique Halloween celebrations in the US, Halloweentown is a must.
General Admission: $12 to $150.
Schedule: All attractions only open on weekends, except the Haunted House and After Dark.
RELATED: 10 Best Haunted Houses In Georgia For True Halloween Fans
6
Sleepy Hollow Halloween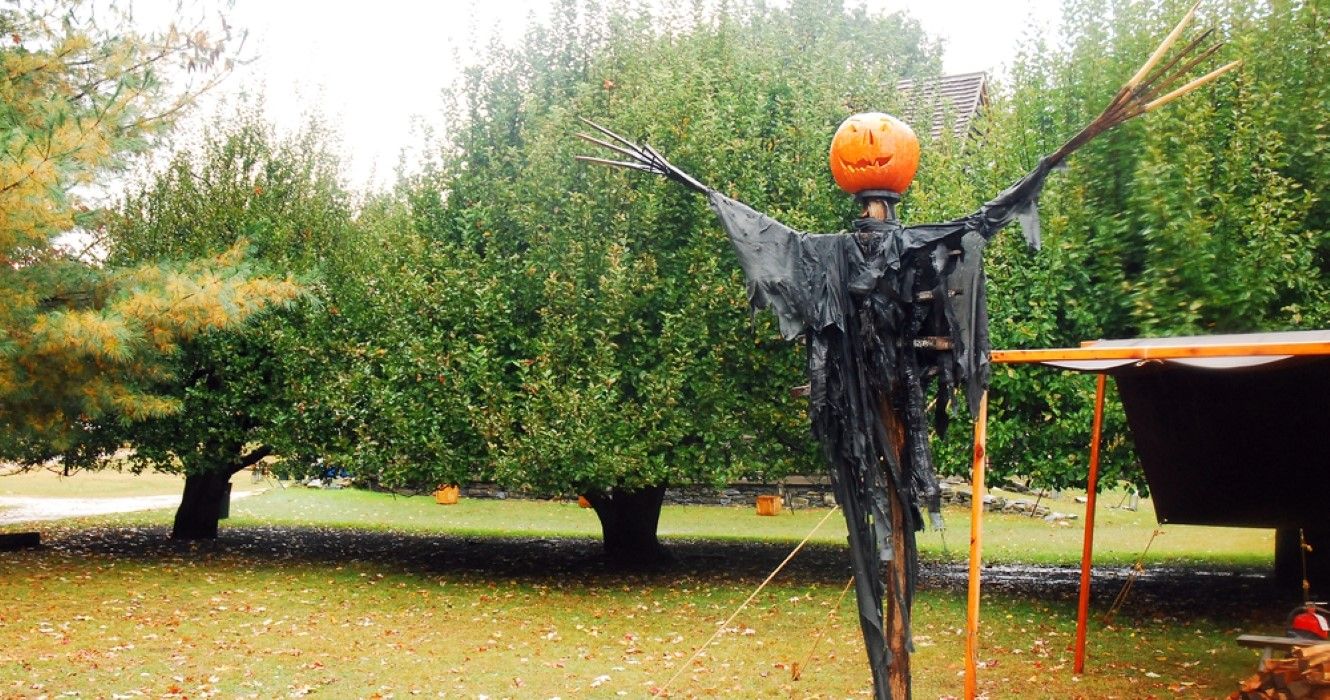 Sleepy Hollow, New York during Halloween
October in Sleepy Hollow means joining a series of strange Halloween events and a few more "normal" ones, ranging from the Headless Horseman to live musical performances, dress-up parties, character parades, and street fairs.
One of the local favorites is Jay Ghoul's House of Curiosities, where guests can meet Dracula, Maleficent, and other spooky legends. Athletes can also join the Halloween 10k run, while tourists can buy souvenirs from The Horseman's Shop and Philipsburg Manor Gift Shop.
5
Salem Festival Of The Dead
Ksenia Yakovleva on
Unsplash
"">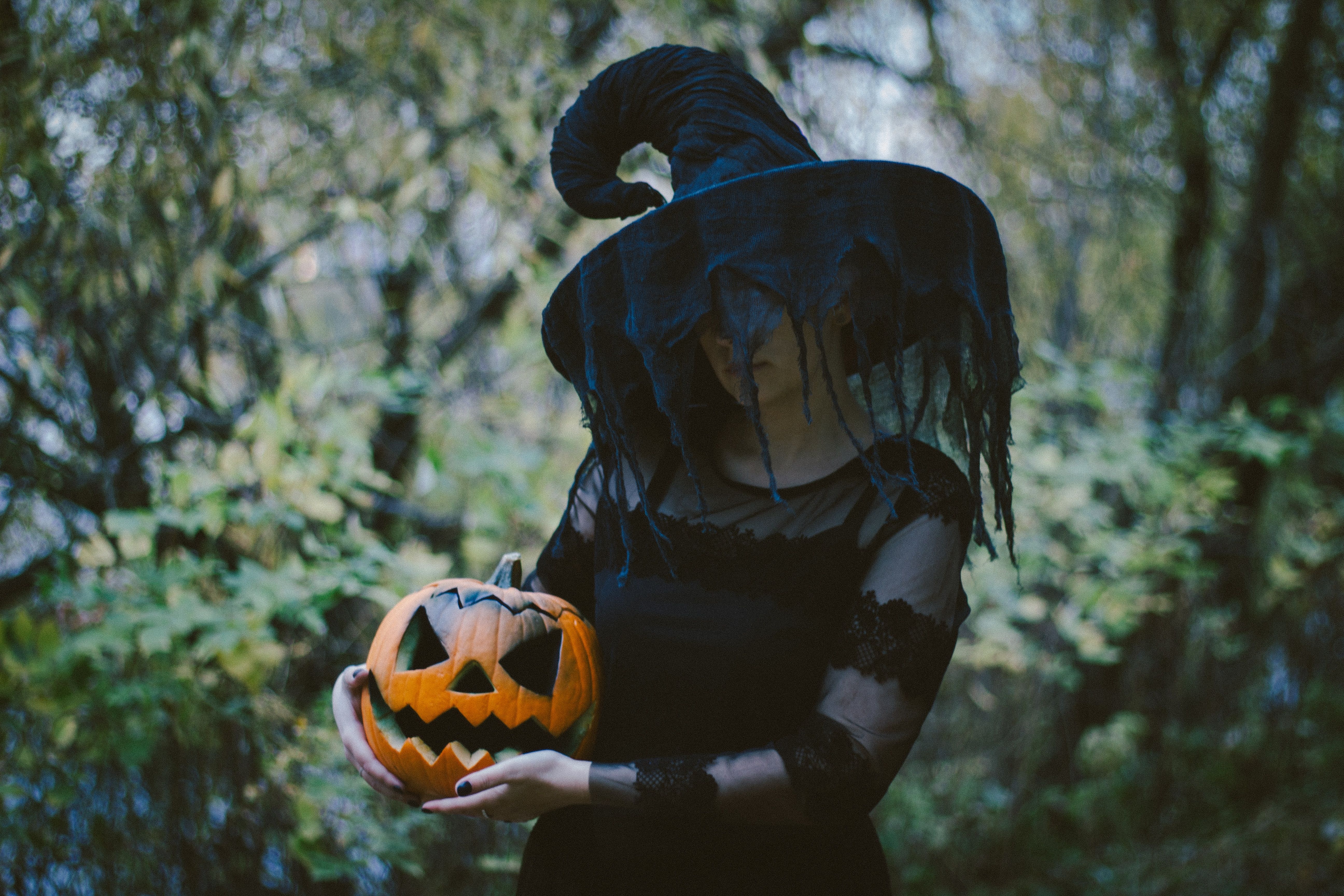 A woman dressed in a witch costume while holding a carved pumpkin for Halloween
Salem, Massachusetts, becomes one of the best places in the US for Halloween; it's home to one of America's witchiest centers in October when the city celebrates the Festival of the Dead. Halloween evenings are all about psychic mediums, communicating with the spirit world, the Witches' Market, and the famous Witches' Ball.
On October 31, 2023, the festival also hosts The Salem Witches' Magic Circle, a free event that's easily one of the many interesting yet most bizarre Halloween events in America; it's where guests gather at the Salem Circle to commemorate dead loved ones.
Tickets: Vary depending on the chosen event but range from $95 to $150.
Event Schedule: October 27, 2023, from 7:30 p.m. to 12:30 a.m.
4
West Hollywood Carnival
Wikimedia Commons,
CC-BY-2.0
"">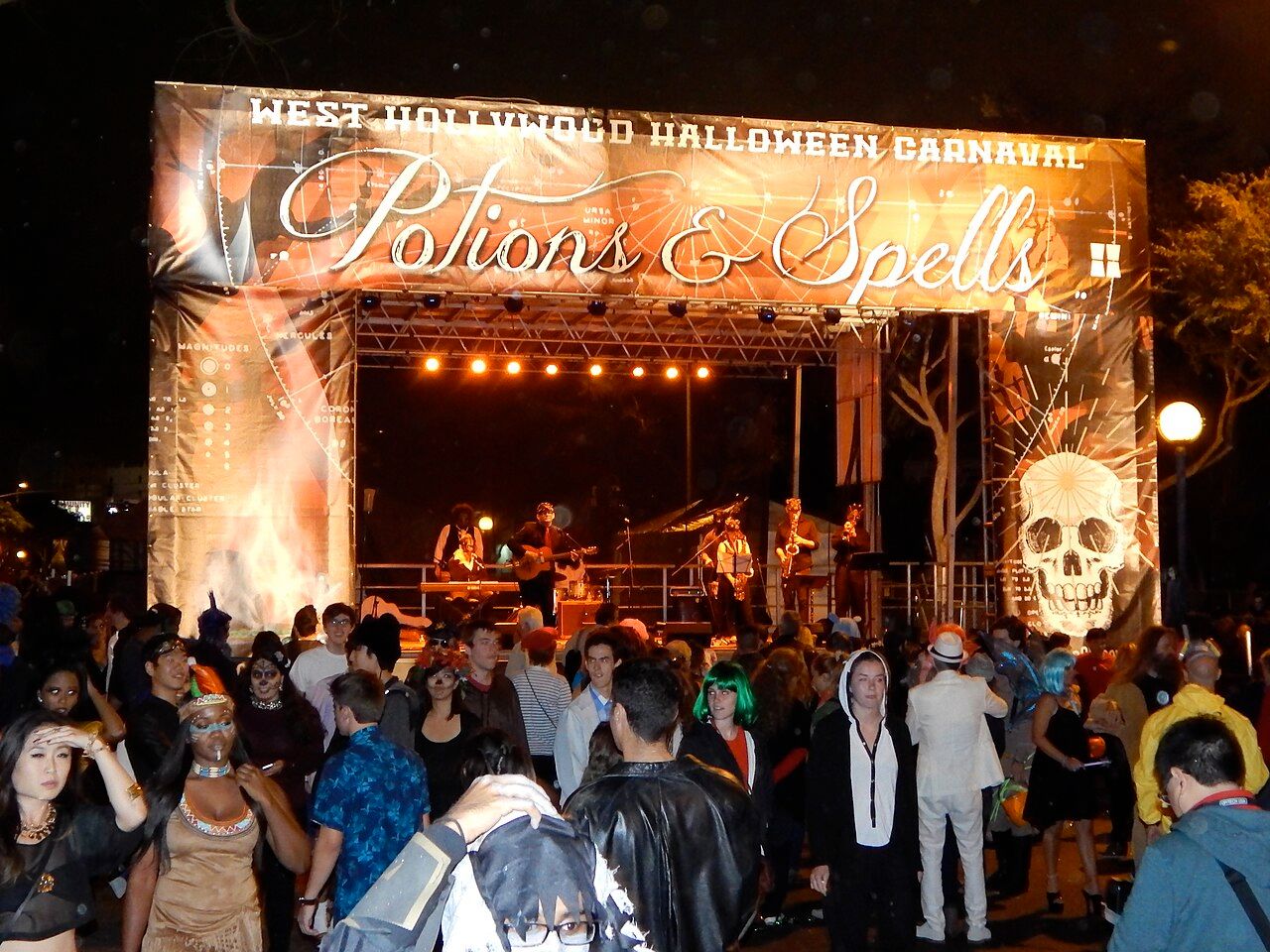 Crowd at West Hollywood Carnival
The West Hollywood Carnival will happen on October 31, 2023, along the Santa Monica Boulevard Stretch between N. La Cienega Boulevard and N. Doheny Drive. Guests can enjoy food trucks and a live DJ set and join the crowd of wildly dressed Halloween fans at an intersection between N. San Vicente and Santa Monica Boulevards.
Kids and pets are discouraged from attending the event, and guests cannot drink any alcoholic beverages or bring any tote bags, camera cases, or backpacks.
RELATED: From Freaky To Food, Here Are 10 Things You'll See At Universal Halloween Horror Nights
3
Pumpkin Festival, New Hampshire
Atlant, Wikimedia Commons,
Creative Commons Attribution 2.5 Generic
"">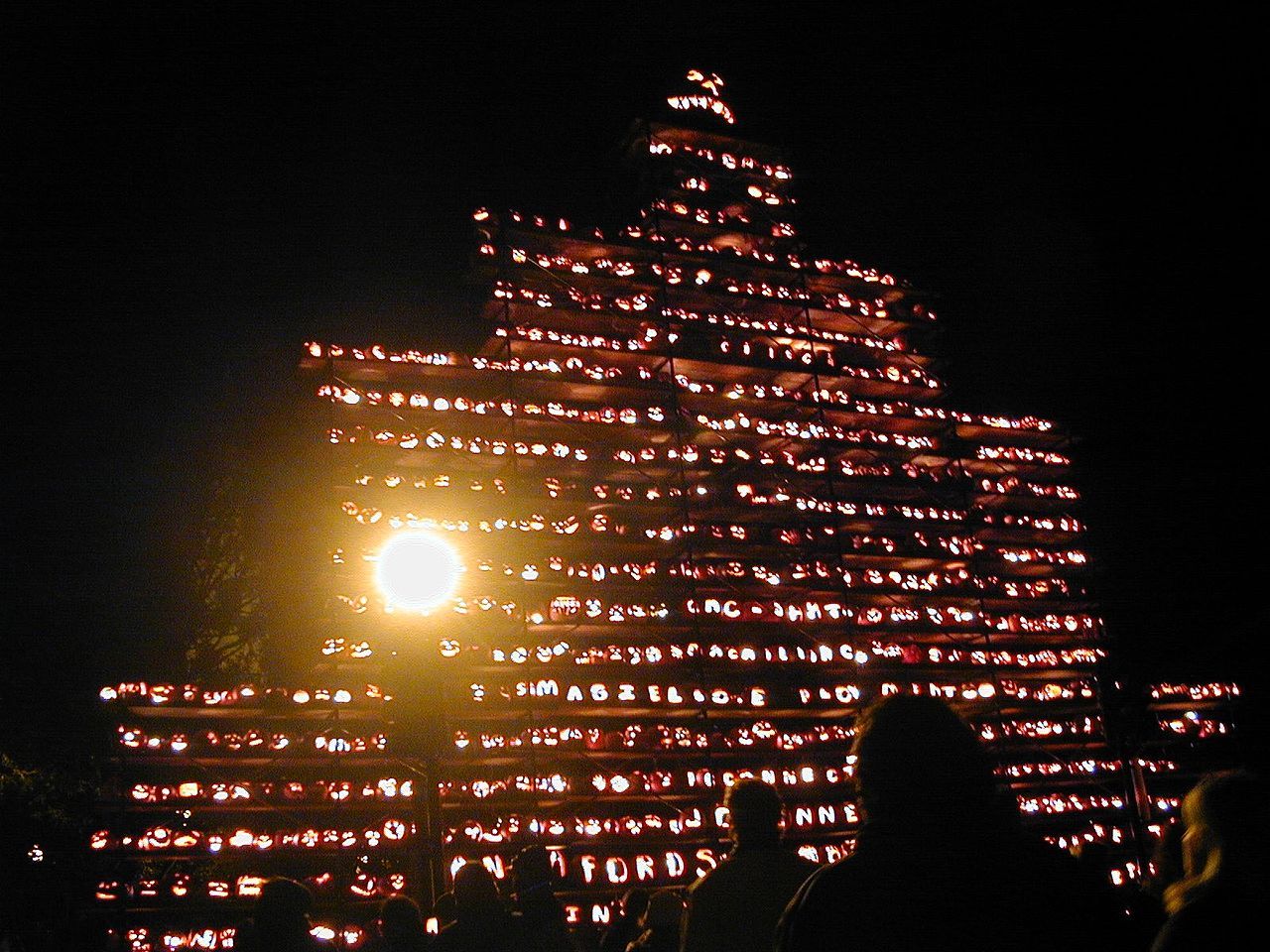 Pumpkins lit up and stacked at night as part of the New Hampshire Pumpkin Festival
The Pumpkin Festival in Laconia, New Hampshire, is one of the many strange yet incredible Halloween parties in the US; it's a two-day event from October 27 to 28, 2023., featuring a ton of visuals and activities. This kid-friendly Halloween attraction features a Jack O'Lantern tower, Pumpkin Beer Festival Garden, Pumpkin Dump Derby, hayrides, and other lawn games.
Guests bringing cars should note that Hanover Street, Beacon St East, Veterans Square, and Canal Street are only for pedestrians. The Pumpkin Festival also accepts food and craft vendors, and small business owners can register online to promote and reserve a spot.
2
Lexington Halloween Festival
Renato Marques on
Unsplash
"">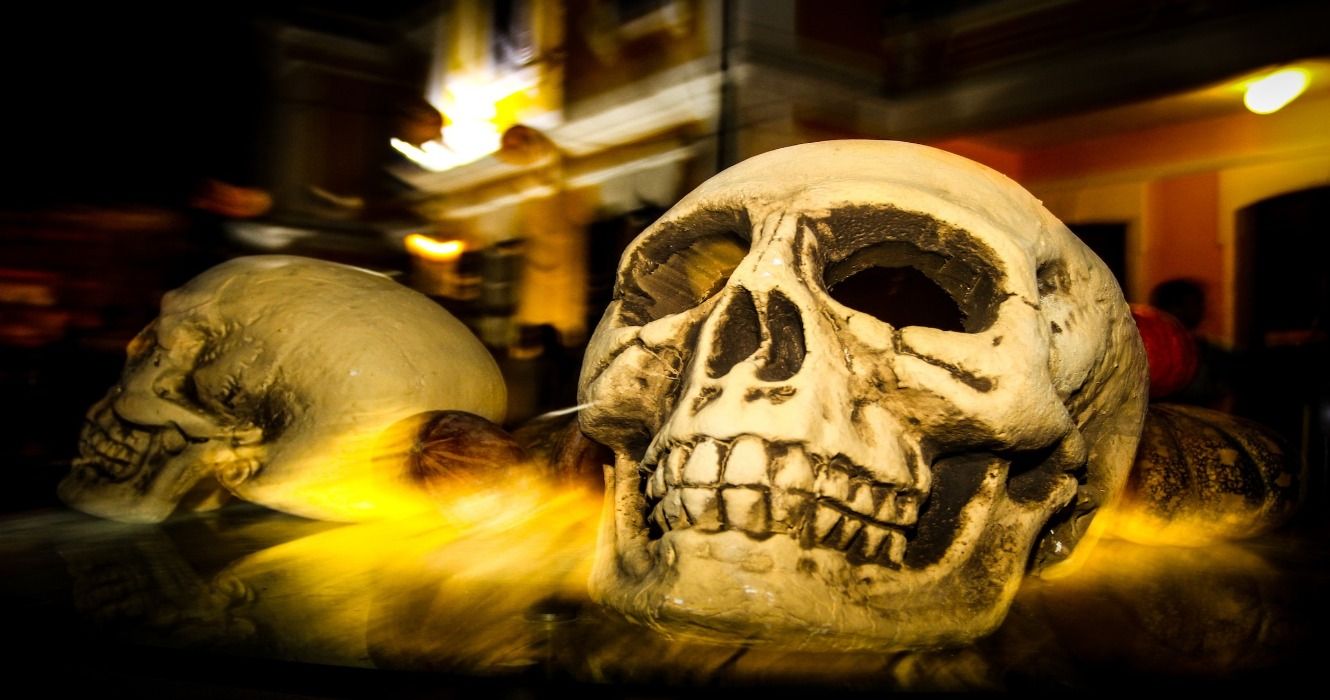 Plastic skulls as Halloween decorations inside a creepy-looking haunted house
Lexington Halloween Festival is another annual tradition, named one of the top 10 Halloween destinations by USA Today. Happening on October 29, 2023, it's Lexington's biggest event and is a free Halloween party with thriller performances and food and beverage vendors.
The Walking Dead fans can appreciate the festival because zombies walk to the beat of Michael Jackson's "Thriller." Kids can also wear grotesque and spooky costumes and join the crowd.
Event Schedule: 5 p.m. to 9 p.m.
Venue: Robert F. Stephens Courthouse Plaza for the variety show and Main Street for the parade.
1
Mickey's Not So Scary Halloween Party, Orlando
Brian McGowan on
Unsplash
"">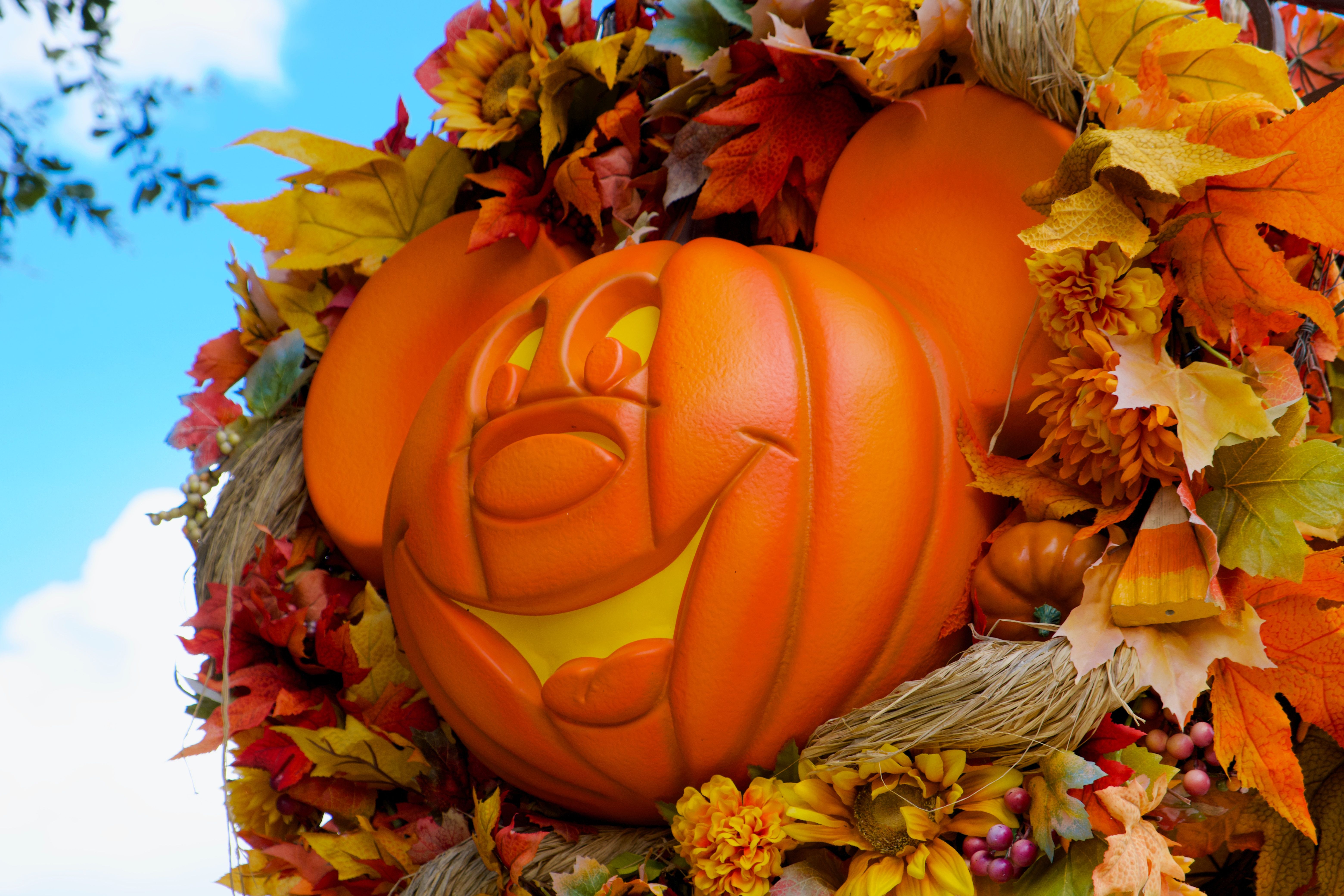 Mickey Mouse shaped seasonal pumpkin 
Kids should also have fun on Halloween, and Orlando's Disney World features Mickey's Not So Scary Halloween Party, which is one of the best Halloween events in the US for kids (and indeed one of the strange – think Disney but in spooky form). Things to expect from Mickey's not-so-scary Halloween Party include the Magic Kingdom displaying fireworks, thrilling Halloween decor, parades, live music, and costumes.
Top secrets about Mickey's Not-So-Scary Halloween Party include a Boo-to-You Halloween Parade featuring Minnie Mouse, Daisy Duck, and Clarabelle Cow dressed as the Sandersons, and a loot bag with free candies given to participating kids. It's definitely one of the most family-friendly and bizarre Halloween parties for kids!