Summary
New York City offers plenty of free attractions and experiences for visitors, from riding the Staten Island Ferry for great views of the city, to exploring parks like Washington Square Park and Riverside Park.
Many museums in NYC have free admission days or hours, such as the American Folk Art Museum and the Museum at FIT. Visitors should check their websites to see the current policies and reserve tickets in advance.
Take advantage of free activities like kayaking in Hudson River Park during certain months, watching parades throughout the year, catching a free outdoor movie during the summer, and exploring architectural landmarks like Grand Central Terminal and Rockefeller Center. There's no shortage of free things to do in NYC.
New York City is a pricey destination, so much so that visitors might feel like they constantly have to shell out cash or reach for their credit or debit card. However, there are places that can be seen for free and experiences that also won't cost a thing. Some freebies might already be obvious to travelers. However, there are others that might surprise those who even fully researched their NYC trip.
Even if a visitor has only one full day in New York City, there can be plenty of time to budget to see a lot. Here are surprisingly free things to do in New York City.
10
Ride The Staten Island Ferry
It's free to ride the Staten Island Ferry.
As a free service provided by the City of New York, this bright orange-colored ferry operates daily between Staten Island's St. George Ferry Terminal and Whitehall Terminal in Lower Manhattan. The route goes along New York Harbor, where passengers can get great on-deck views of skyscrapers, the Statue of Liberty, and Ellis Island.
If someone tries to "sell" you ferry tickets, ignore them; it's a scam.
Upon disembarking at the St. George Ferry Terminal, don't get back on the ferry for Manhattan right away. Spend some time within the adjacent neighborhood of St. George by walking around North Shore Waterfront Esplanade Park.
The park is the location of The Staten Island September 11th Memorial, which pays tribute to the 263 Staten Island residents killed in the September 11th attacks and 1993 World Trade Center bombing. The memorial is known as "Postcards" and its design is described as resembling a pair of wings reaching skyward.
9
Check Out Museum Free Admission Days And Hours
The Morgan Library & Museum has free admission on Friday evenings but advance reservations are required. 
Museums and other public venues in New York City usually require paid admission, but some have certain days or hours when these prices are completely waived. However, they may require visitors to register for free admission tickets in advance via their website. It's also recommended to confirm their free admission day or hours policy is still valid.
The American Folk Art Museum is near Manhattan's 66 St.-Lincoln Center subway station stop and is free to visit during its hours of operation. The museum celebrates folk and self-taught artists and requires ticket registration beforehand.
The Print Center New York in Manhattan's Chelsea neighborhood has various exhibits and programming on the art of printmaking.
Also in Chelsea, the Museum at FIT is at the Fashion Institute of Technology and showcases rotating exhibits and a permanent collection of garments and accessories.
Related: 10 Surprisingly Cheap Places To Travel In The US All Year Round
Some NYC venues offering free days or hours include:
Mondays from 5:30 to 7 p.m. at 9/11 Memorial & Museum for the museum; reserved tickets must be obtained via their website and are available starting on Mondays at 7 a.m.;
Thursdays from 3 to 5 p.m. at the Brooklyn Children's Museum; tickets can be reserved in advance online, as well as at the museum on the day of;
Fridays from 5 to 7 p.m. at the Morgan Library & Museum but advance required ticket must be obtained through the museum's website;
Saturdays at The Jewish Museum but reserved tickets must be obtained as they are given by time slots.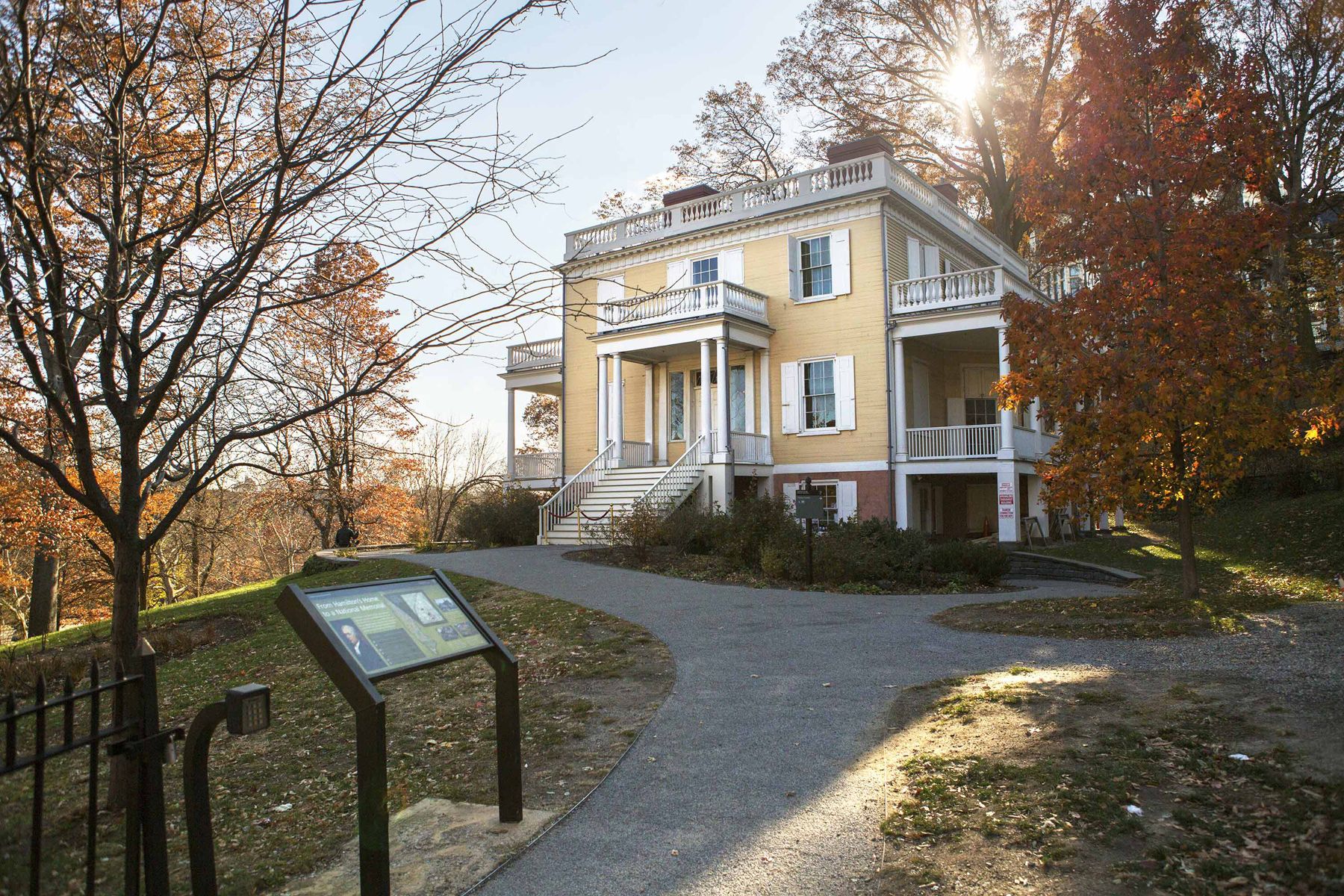 Hamilton Grange National Memorial was once the home of Alexander Hamilton and his family.
There are National Park Service sites in New York City that are free to visit as well. They include:
African Burial Ground National Monument, a memorial to a 17th-to-18th-century cemetery;
Federal Hall, where George Washington was sworn in as the first U.S. president;
General Grant National Memorial, where this US president and his wife, Julia, are entombed;
Hamilton Grange National Memorial, once the home of Alexander Hamilton;
Theodore Roosevelt Birthplace, a replica of this president's childhood home.
National Museum of the American Indian, which is located in Alexander Hamilton US Custom House.
8
Go Kayaking In Hudson River Park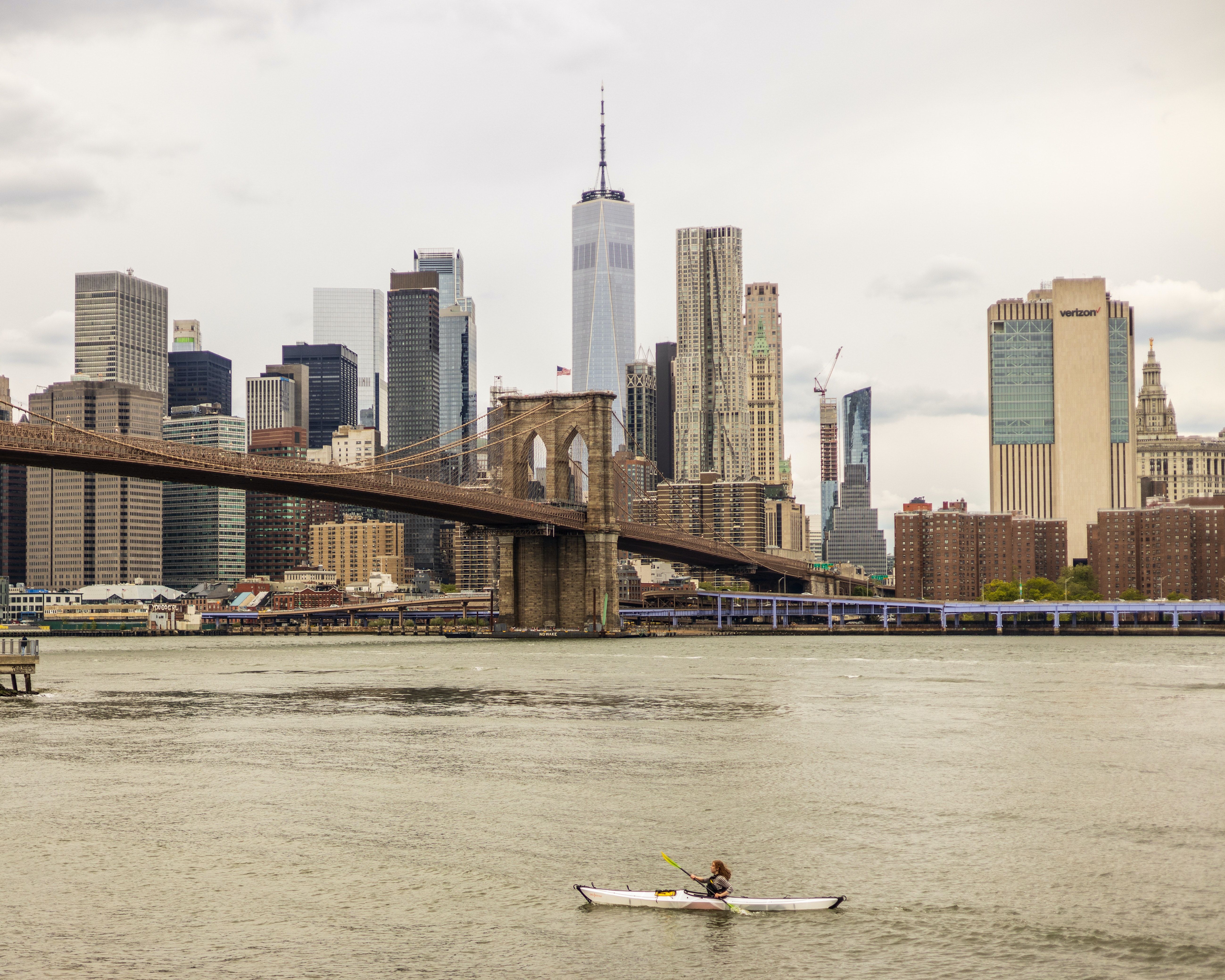 It's possible to go kayaking in New York City during warmer months.
See NYC by water differently through free kayaking lessons. These lessons are offered by Manhattan Community Boathouse at Pier 96 in Manhattan's Hudson River Park during certain months and dates of the year.
Check their website for their current schedule; usually, their kayaking season runs from June through October. Lessons are available on a first-come, first-served basis.
7
Watch A Parade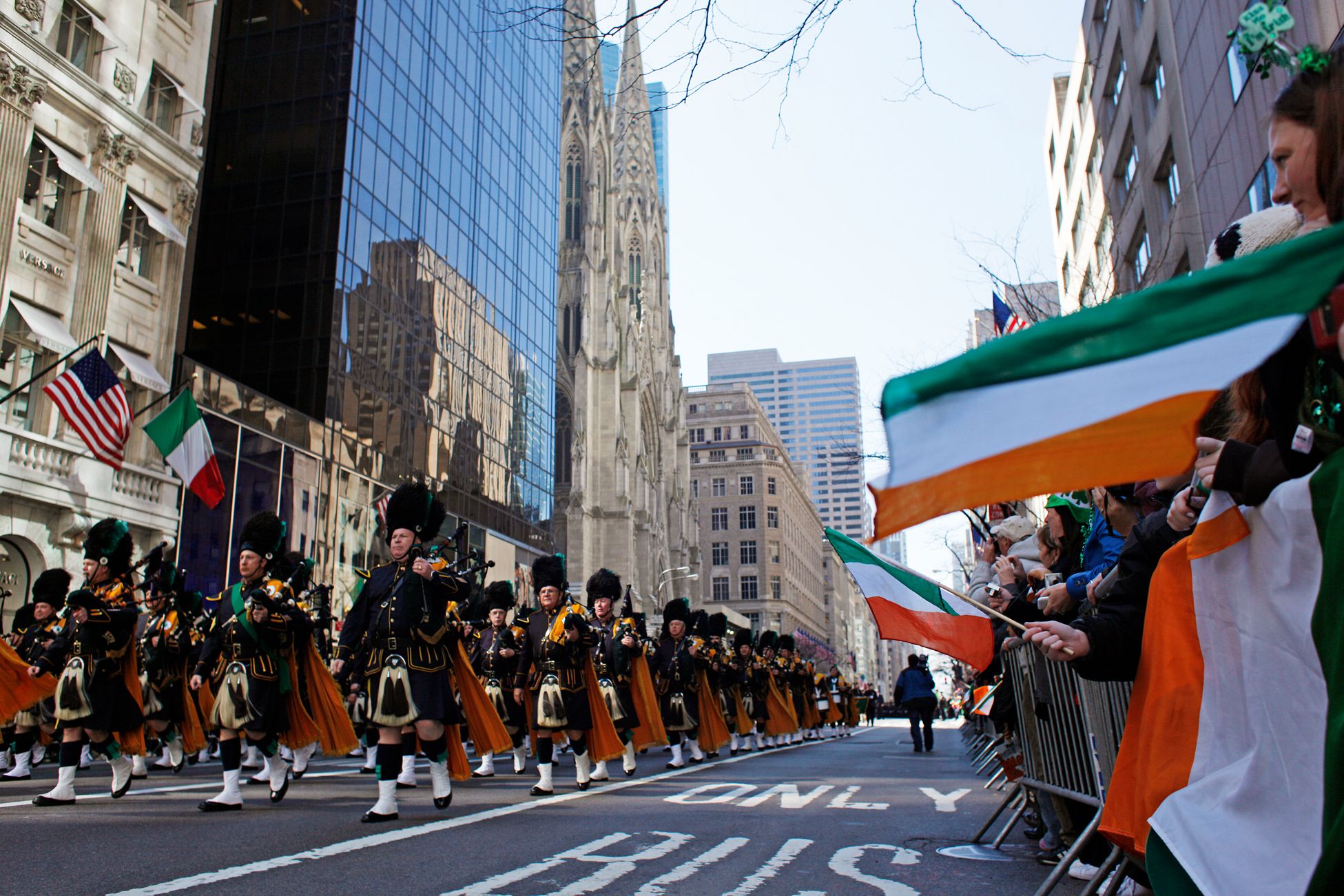 The St. Patrick's Day Parade in Manhattan draws crowds every year.
Throughout the year, New York City is the scene for parades celebrating certain holidays or cultural heritages. Come watch them from the sidelines, or, in some cases, join in the festivities.
On the night of October 31, the Village Halloween Parade draws crowds every year to watch locals don incredibly creative costumes and see floats and parades embracing this fun and frightful holiday.
The Macy's Thanksgiving Day Parade is also a big one, as crowds faithfully gather along the route every year.
Other parades throughout the year honor the city's diversity. They include the Saint Patrick's Day Parade, Puerto Rican Day Parade, NYC Pride March, Manhattan Tartan Day Parade, and Greek Independence Day Parade. Check their websites for more information.
Related: 10 Cheap Bucket-List Things To Do Around The U.S.
6
Take A Walk In the Park
Oltion Kola from
Pixabay
"">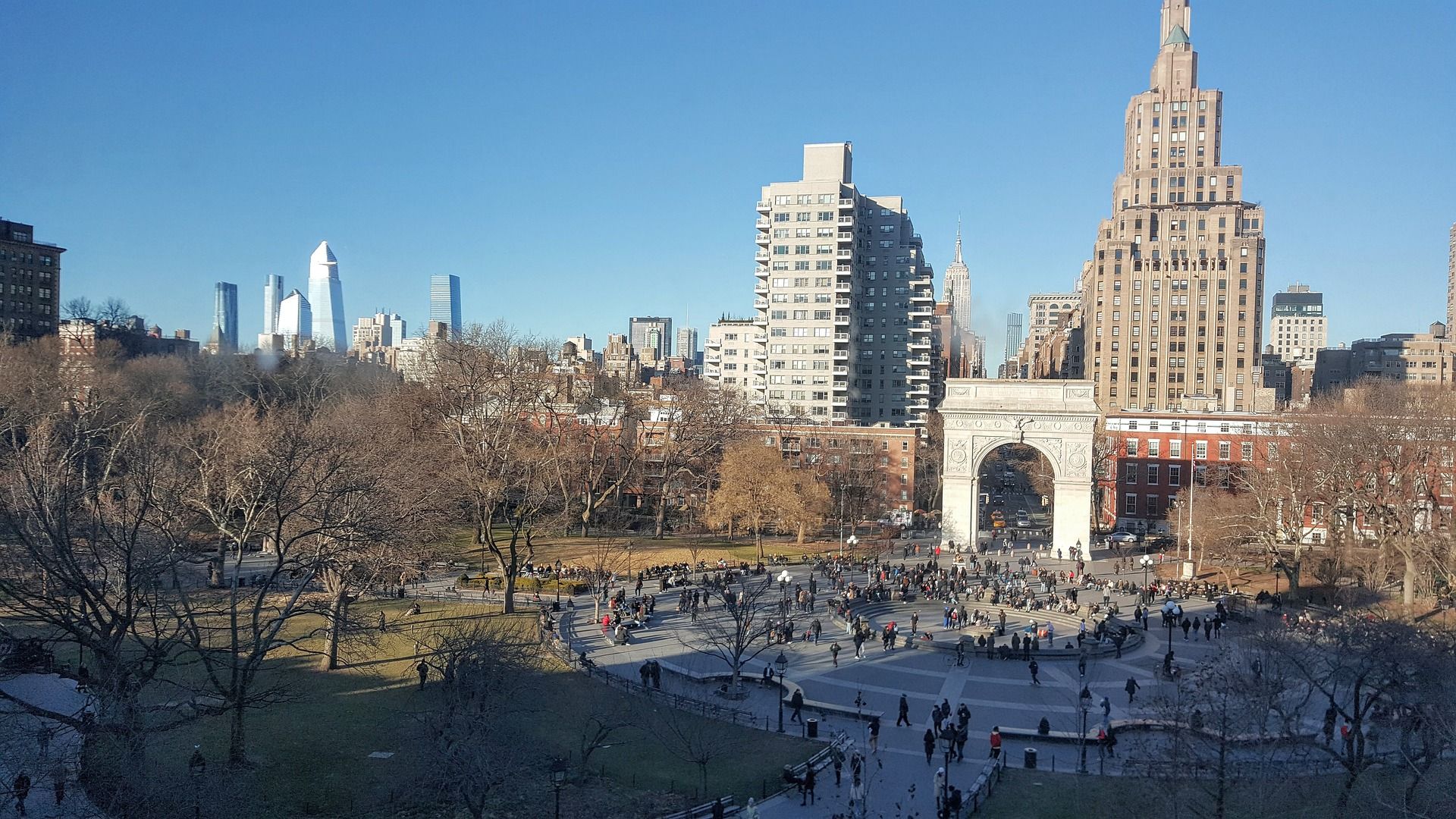 Washington Square Park in Greenwich Village is great for people watching. 
Get into green space in New York City by heading to its parks and scenic spots. While Central Park is definitely worth seeing, and offers some free events, there are many equally notable parks throughout Manhattan and the city's other boroughs.
Washington Square Park in Greenwich Village is also a popular hangout spot that's known for its famous arch of the same name. Find street performers, vendors, and people passing the time.
The High Line is built upon what was once operated as an elevated rail line on Manhattan's West Side. It's now an upper-level garden that stretches from Manhattan's Meatpacking District to Hudson Yards.
Recently, the High Line-Moynihan Connector opened to link the park to the Moynihan Train Hall (an extension of Penn Station). The High Line can be accessed at various points by staircases or elevators. Free tours of The High Line are also offered.
On the West Side of Manhattan, Riverside Park is famous for its 91st Street promenade appearing in the film, "You've Got Mail."
In Brooklyn, consider Prospect Park, which has an Audubon Center, the Lefferts Historic House which is now a museum, and various playgrounds and paths that can be experienced at no cost. The Long Island City neighborhood of Queens has Gantry Plaza State Park, with incredible panoramic views of Manhattan along the East River and a circa 1940 Pepsi-Cola sign.
5
Cross A Pedestrian Bridge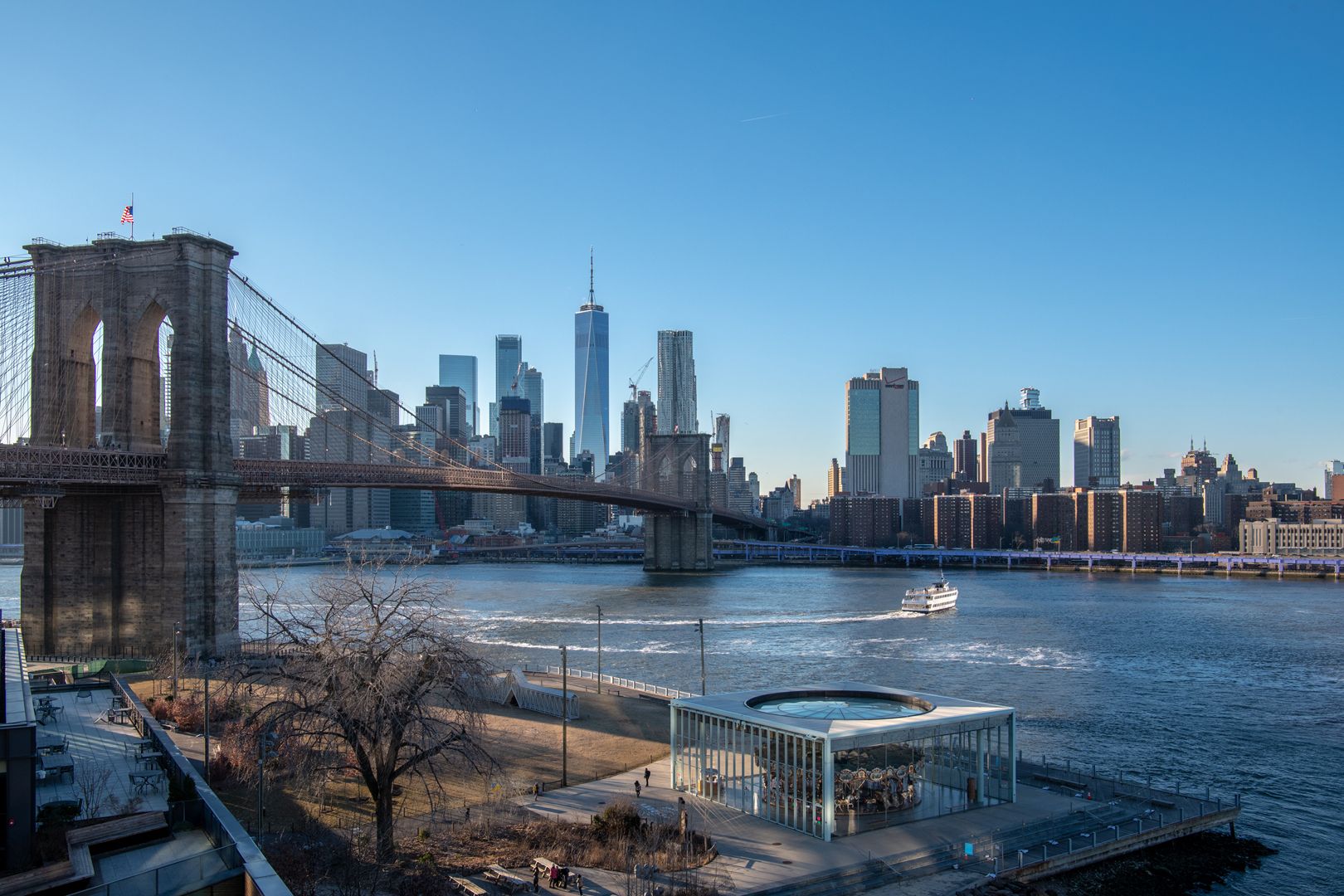 The Brooklyn Bridge leads from Manhattan to DUMBO.
A fair amount of NYC bridges offer free pedestrian access, with the most well-known of them all being the Brooklyn Bridge. The Brooklyn Bridge links Brooklyn and Manhattan over the East River and the Brooklyn side has things to see. It's surrounded by Brooklyn Bridge Park, with features such as the Emily Warren Roebling Plaza. It is named for the woman who helped to oversee the bridge's completion.
The Manhattan Bridge also goes over the East River but connects Manhattan's Chinatown with Brooklyn's DUMBO. Williamsburg Bridge heads from the Lower East Side to the Williamsburg section of Brooklyn. High Bridge, NYC's oldest standing bridge, brings walkers from Upper Manhattan's Morningside Heights to the Bronx.
4
Catch A Summer Movie Night
mschwander from
Pixabay
"">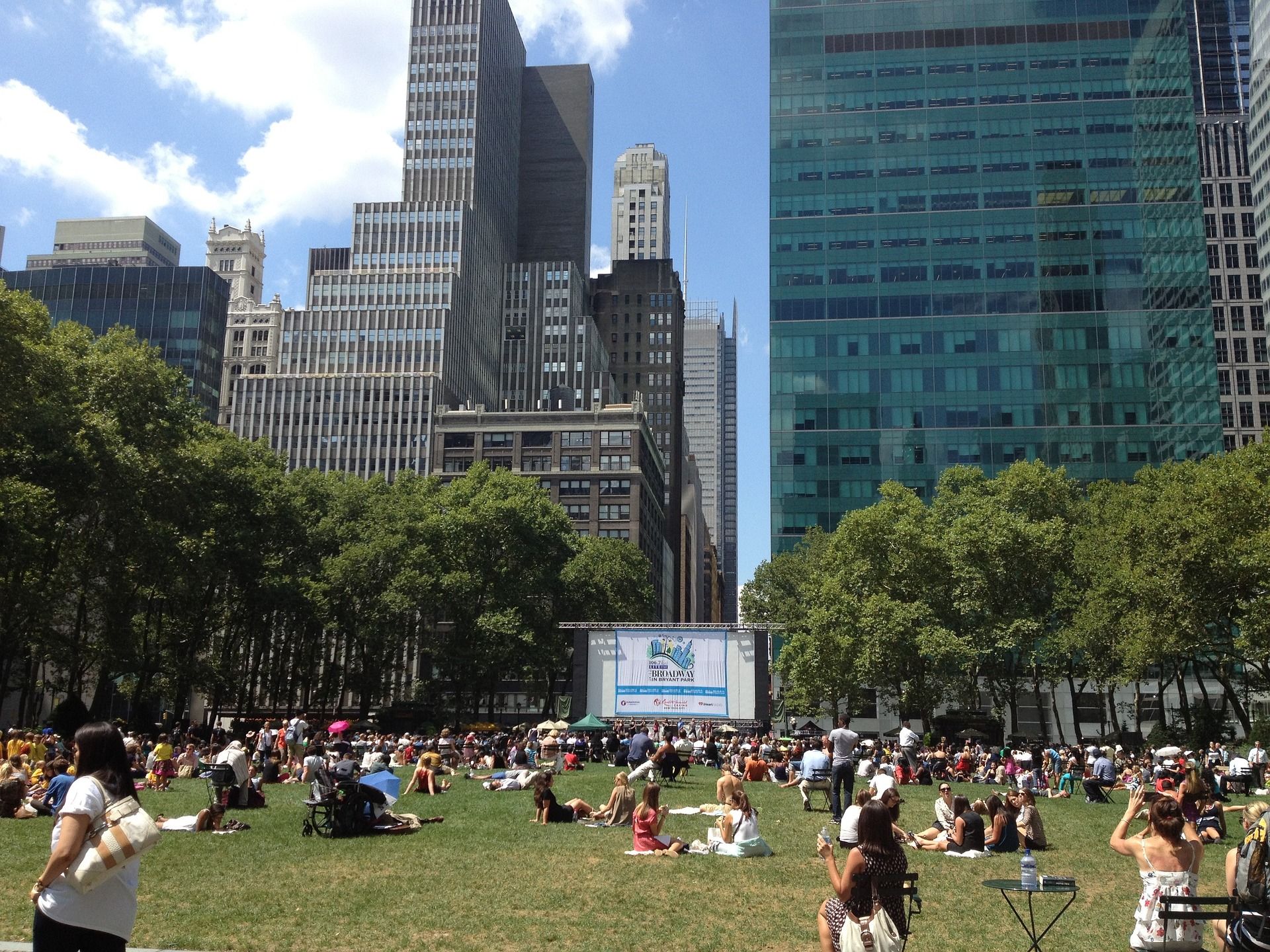 In the summertime, Bryant Park hosts both a movie night series and the "Broadway in Bryant Park" program.
During the summer months, catch a flick for free during various movie night series held at different NYC locations. Confirm with their websites for schedules.
Bryant Park's Paramount+ Movie Nights encourage moviegoers to bring a blanket for sitting in for their weekly evening film series. The Seaport Cinema at The Rooftop at Pier 17 presents screenings within a different setting. The park is also the location for "Broadway in Bryant Park," with performances by the casts of popular Broadway and off-Broadway shows.
"Flicks on the Beach" takes place at Coney Island on eight Monday evenings every summer, with film genres ranging from family-friendly to action-packed. Brooklyn Bridge Park's "Movies With A View" series is situated at Harbor View Lawn.
3
Pay Your Respects At The 9/11 Memorial
The 9/11 Memorial honors those who perished on September 11, 2001 and in the 1993 World Trade Center bombing.
The memorial portion of the 9/11 National Memorial & Museum consists of twin waterfall pools surrounded by bronze parapets listing the names of the victims of the 9/11 attacks and the 1993 World Trade Center bombing.
They are known as North Pool and South Pool with each parapet listing the names grouped by those who were within the World Trade Center, at the Pentagon, or on the four impacted flights along with first responders who died while trying to save others.
"The Survivor Tree" is a Callery pear tree that was damaged during the attack but cared for by the city's Parks and Rec department and replanted at the site. Walk through the 9/11 Memorial Glade, with a pathway flanked by six large stone monoliths honoring the responders, workers, and all those who were exposed to hazards and toxins at the World Trade Center site.
Note that on every morning of September 11, a remembrance ceremony is conducted at this site. Attendance is restricted to those directly connected to the events of that day.
2
Wander Around Little Island
Little Island in Hudson River Park is a public park that opened in 2021.
Opened in 2021, this artificial park in Hudson River Park looks like a floating island. It has changing gardens, restrooms, an amphitheater, a food kiosk, a playground, and pathways. It's easy to wander up, down, and around this island.
Little Island is located at Pier 55, near the intersection of West Street and West 13th Street in Manhattan's Meatpacking District and Chelsea neighborhoods. There's no timed ticketed entry. However, If the park reaches a high amount of visitation, where comfort and safety cannot be guaranteed, the park may enter what's referred to as a "slow down."
This term means that visitors may be asked to line up and wait at the park's bridges until visitation has eased.
1
Step Inside Architectural Landmarks
Marvel at the greatness of the Main Concourse inside Grand Central Terminal.
New York City's true gems are its famous buildings that represent different facets of the city's history. Visitors can step inside and marvel at their designs and decor. Even gazing up at the iconic skyscrapers amid the city's skyline can be a fun and free thing to do.
These beloved towering structures extend to the Flatiron Building, to the Chrysler Building, the Empire State Building, and the Flatiron Building.
However, there are also landmarks that the public can set foot in.
Grand Central Terminal is a major commuter transit hub that makes for great sightseeing on its upper and lower levels. Walk through Grand Central Market to see local food vendors or take photos amid the beautiful Main Concourse and its Information Booth Clock.
On the lower level near the Grand Central Oyster Bar & Restaurant, the Whispering Gallery is the low ceramic arches with Guastavino tile produce an interesting acoustic vibe when people speak facing them.
Rockefeller Center is an Art Deco marvel. This complex is known for its famous Christmas tree and skating rink during the holiday season, but it's also fun to walk past its vast retail store windows. There's also a lot of public art on view within and outside the plaza's buildings. This collection includes carvings on top of entrances, murals within lobbies, and statues along sidewalks.
The dark bronze statue of the Greek mythological figure, "Atlas," stands tall over the center's Fifth Avenue Main Entrance forecourt. Another Greek folklore creature in bronze is the massive, gilded Prometheus, positioned amid the center's famous skating rink.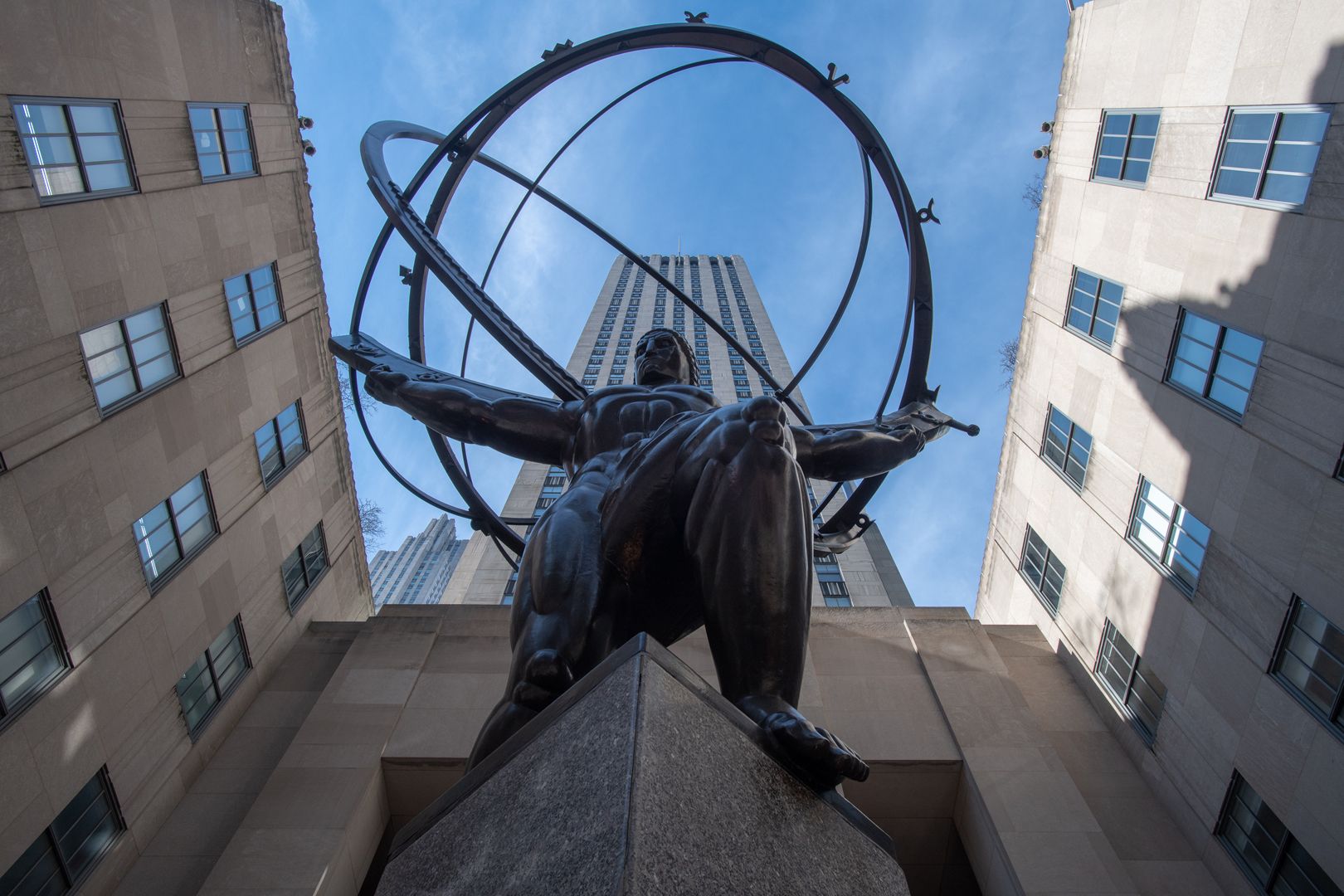 Rockefeller Center offers impressive architecture and art such as the statue of Atlas.
NYC's houses of worship showcase various architectural styles and are open to the public during certain hours; however, remember they still are active and hold religious services. Add St. Patrick's Cathedral, St. Paul's Chapel of Trinity Church, Trinity Church Wall Street, Saint Nicholas Greek Orthodox Church and National Shrine at the World Trade Center, and The Cathedral Church of Saint John the Divine to your list.
Related: 10 Totally Free Bucket-List Things To Do Around The U.S.
Bryant Park is adjacent to the New York Public Library's flagship location, the Stephen A. Schwarzman Building. This Fifth Avenue library is also worth stopping into as it has special exhibitions and docent-led tours that are free but limited to the first 20 people who sign up for them online.
Or try out the free self-guided audio tour that's available by downloading the Bloomberg Connects app.
With so many free things to do in NYC, visitors may want to extend their trip to see even more.