Summary
Verdi, nestled in the Sierra Nevada foothills near Reno, offers stunning fall foliage and outdoor activities like hiking and biking.
Genoa, Nevada's oldest settlement, transports visitors to the Old West with its historic wooden buildings and pioneer cemetery.
Virginia City, a National Historic Landmark, lets visitors step back in time with its old-timey attractions, museums, and annual Camel Races.
Beyond the neon lights of Las Vegas lies a Nevada waiting to be explored, where ghost towns near Vegas frozen in the old west transport visitors back in time, and colorful aspen trees shimmer in the crisp fall air. As the temperatures cool, travelers can break free from the bustling crowds and embrace the slower pace in the unique small towns scattered throughout the Silver State.
From a dusty outpost where visitors can saddle up racing camels to a living ghost town with immaculately preserved Victorian buildings, each town offers surprises not found anywhere else. Visitors can learn about Native American petroglyphs, try their hand at gold panning, soak in natural hot springs, or wander the wooden boardwalks where outlaws once roamed.
Following winding roads through stunning high desert and mountain landscapes allows travelers to create their historic Western experience. Whether seeking rich heritage, outdoor adventure, or quirky attractions off the beaten path, Nevada's small towns deliver charming fall getaways filled with hidden gems waiting to be explored.
This autumn, people can rediscover Nevada beyond Vegas. These are some of the most charming Nevada towns are perfect for a fall day trip.
Related:10 Most Beautiful Mountain Towns To Visit Near The Sierra Nevadas
10
Verdi
View of Verdi Peak from the end of the Island Lake Trail 
Snuggled among the stunning Sierra Nevada foothills just west of Reno, Verdi allows fall visitors to immerse themselves in the season's natural beauty. Outdoorsy travelers will find miles of hiking and biking trails that meander through vibrantly colored fall foliage.
The Verdi History Walk gives a glimpse into the town's past with interpreted signs along a 2-mile loop. Those looking to pick their apples and pumpkins can visit the Apple Hill and Pumpkin Patch farms. Verdi is also home to a number of annual fall festivals, including the long-running Harvest Festival and Parade of Scarecrows.
Things to Do: Hike Mt. Rose Summit Trail (5.5 miles roundtrip), visit Pumpkin Patch Farms (open late September–October), and enjoy the Verdi History Walk
Annual Events: Harvest Festival (October), Parade of Scarecrows (October)
Outdoor Activities: Apple picking, hiking, mountain biking, bird watching
Historic Sites: Verdi History Walk with interpretive signs
9
Genoa
Photo 14814340 Debra Reschoff Ahearn | Dreamstime.com"">
Genoa, a beautiful small town in Douglas County, Nevada
Nestled at the base of the Sierra Nevada mountain ranges, home to lots of natural wonders, Genoa offers visitors the chance to step back in time and experience Nevada's oldest settlement. This atmospheric town transports visitors to the past with its historic, false-front wooden buildings straight out of the Old West.
Walking tours allow travelers to explore landmarks like the Mormon Station State Historic Park, which contains the state's oldest existing structure. At the same time, the town's pioneer cemetery provides a window into the lives of early residents. Genoa's small but welcoming main street features antique shops, galleries, and restaurants to browse.
Just 15 miles from Lake Tahoe, it's the perfect place to spend a fall day surrounded by history and foliage.
Top Attractions: Mormon Station State Historic Park, Genoa Courthouse Museum, Pioneer Cemetery
Tour Duration: 1–2 hours for self-guided town walking tour
Historic Structures: Mormon Station State Historic Park, Genoa Bar, Genoa Courthouse
Nearby Attractions: 15 miles from Lake Tahoe, 14 miles from Carson City
8
Virginia City
Roman Eugeniusz,
CC BY-SA 3.0
, via Wikimedia Commons"">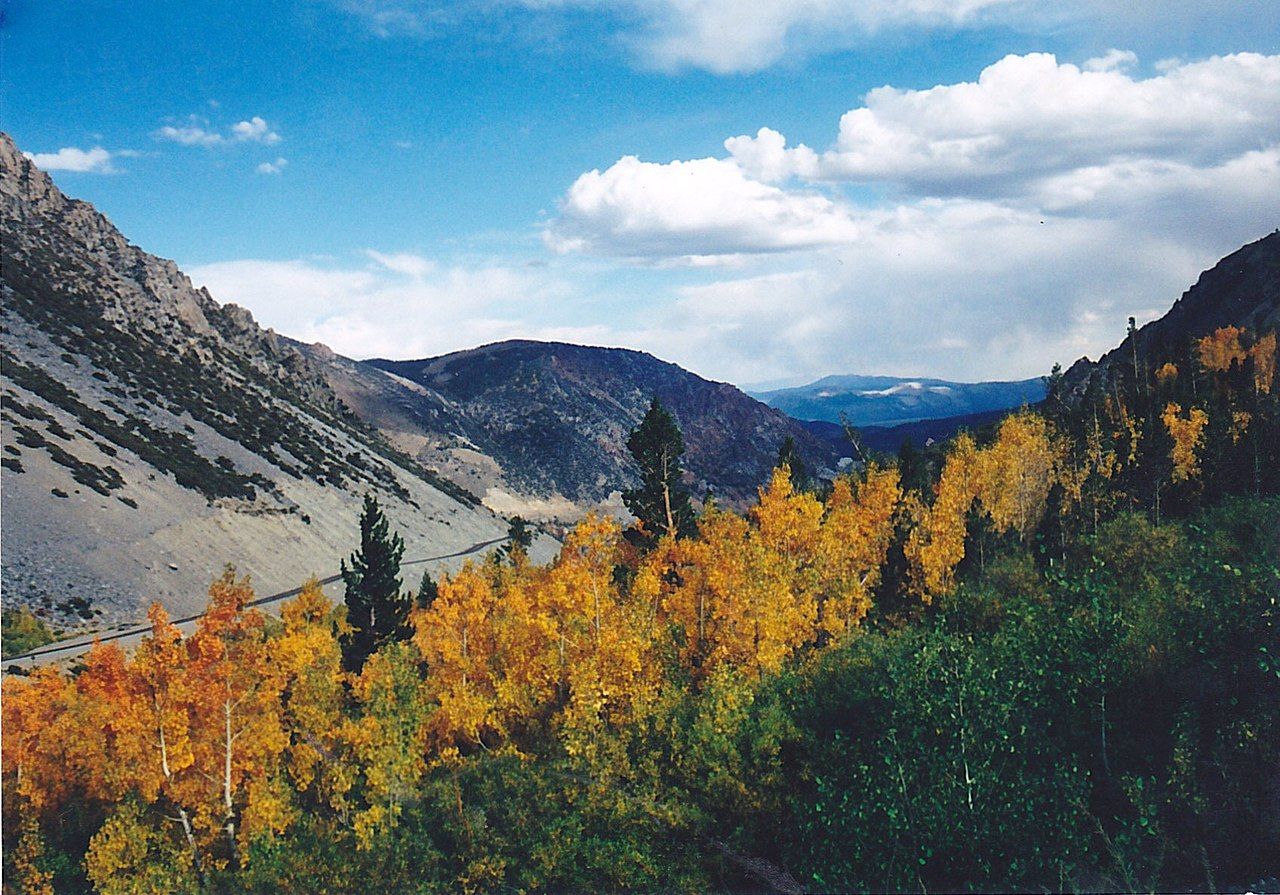 Virginia City, Nevada, USA
Once a booming mining hub, the old-timey wild west town of Virginia City is worth exploring, as it's one of the best day trips from Las Vegas. Fall is an ideal time to visit this National Historic Landmark before the crowds of summer.
Take a ride on the historic railroad, browse the wooden boardwalks lined with old-timey candy shops and salons, tour the 1800s mansions of the silver barons, experience life in an old west jail, and visit the fascinating cemeteries to get a sense of fate on the frontier.
Unique attractions like the Way It Was Museum and the Fourth Ward School Museum further transport visitors back to Virginia City's glory days. Take advantage of the International Camel Races held here every fall.
Top Attractions: Way It Was Museum, Piper's Opera House, Fourth Ward School Museum
Old West Vibes: Wooden boardwalks, historic saloons, old-timey candy shops
Fall Events: Camel Races (October), V&T Railroad special events
7
Ely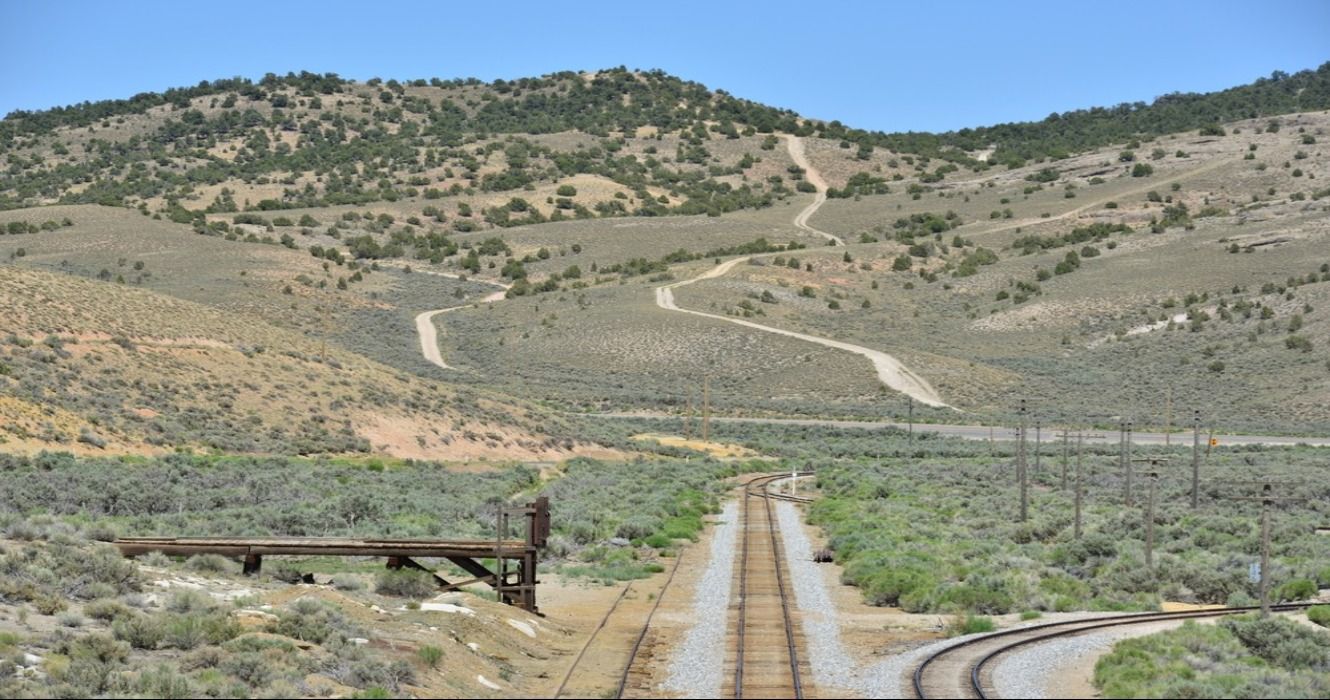 Old Wild West Rail road Tracks at Ely, Nevada, USA
Surrounded by dramatic mountain scenery, Ely's natural beauty shines in the fall when the aspen trees erupt in shimmering gold. Outdoor enthusiasts will find endless hiking, biking, and horseback riding opportunities in the crisp, high-elevation air.
Head to Ward Charcoal Ovens State Historic Park for stunning autumn vistas or hike the 4-mile Cave Lake Trail loop. Visitors can try their hand at fall trout fishing on one of the many lakes and reservoirs nearby. The Ely Renaissance Village looks at pioneer life in the Old West. At night, relax in the historic Hotel Nevada and Gambling Hall, which first opened in 1929.
Those planning to stay a few days will also want to explore the ghost towns near Ely.
Length: 4-mile Cave Lake Trail loop, 2.5 hours hike
Top Attractions: Ward Charcoal Ovens State Park, Cave Lake Trail
Nearby Attractions: Great Basin National Park, Ward Mountain Recreation Area
Related:These Are The Most Beautiful Places To See Fall Foliage Near Las Vegas
6
Lovelock
Eelco Böhtlingk on
Unsplash
"">
People having fun and riding bikes in Lovelock, Nevada
From its charming historic downtown filled with art galleries and antiques to its world-class hot spring pools, Lovelock is a unique spot to soak in fall relaxation. Learn about the town's past at the Pershing County Museum and the untouched Victorian-era home of Marilyn Monroe's grandmother. Nearby petroglyphs at Grimes Point Historic Site look into Nevada's indigenous history.
Outdoor enthusiasts can hike the scenic Overland Trail or try birdwatching at the Lovelock Wetlands. After exploring, indulge in a long relaxing soak at one of Lovelock's geothermal hot springs resorts as the autumn breeze blows.
Hours: Pershing County Museum open daily 11 am-4 pm
Top Attractions: Pershing County Museum, Seven Troughs Distilling Company
Outdoor Activities: Hiking and birdwatching at Stillwater Wildlife Refuge
5
Boulder City
Shihyu Tsao on
Unsplash
"">
View of Hoover Dam Bypass in Boulder City, Nevada
This laid-back town of Boulder City near the Arizona border offers many things to do and is a perfect base for experiencing fall colors without sacrificing comfort. Draining into Lake Mead, the River Mountains Loop Trail shows off spectacular scenery this time of year. Outdoor enthusiasts can kayak on Lake Mead or hike the Historic Railroad Trail.
Downtown Boulder City also maintains a cozy small-town charm with antique stores and restaurants housed inside historic buildings. Nearby, tour the Hoover Dam or take sweeping canyon views on the world's tallest observation wheel at the Neon Museum. As night falls, warm up around a crackling fire while roasting marshmallows at nearby campgrounds.
Hike Length: River Mountains Loop Trail is 34 miles
Top Attractions: Hoover Dam, Hemenway Park, Boulder City Historic District
Fall Events: Art in the Park festival in October
Kid-Friendly: Lakeside playgrounds, hands-on museums
4
Caliente
Deepak Adhikari on
Unsplash
"">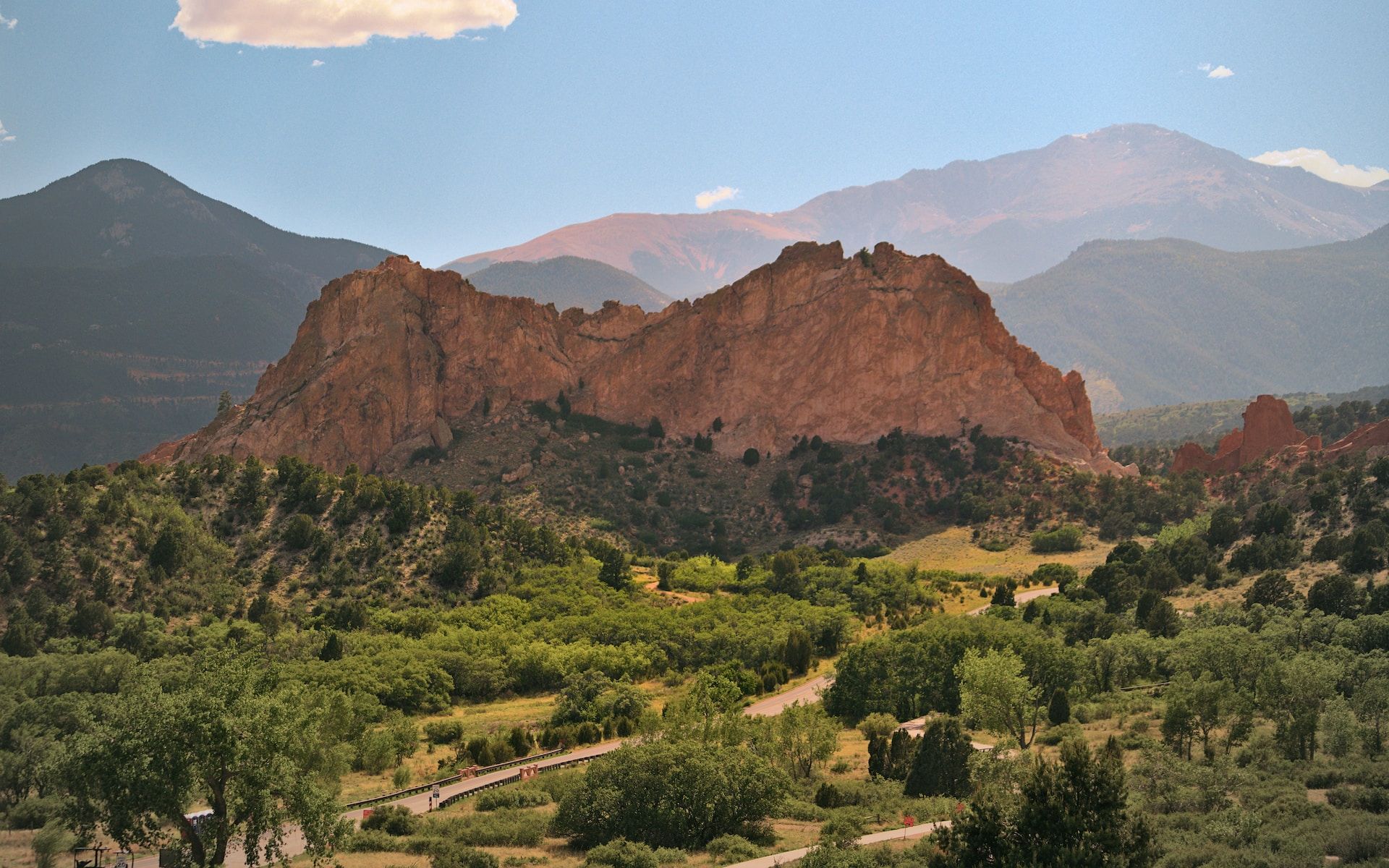 Beautiful natural scenery in Caliente, Nevada
For a taste of the old west blended with natural hot springs, the town of Caliente fits the bill for fall travelers. Relax in the soothing waters of Spencer Hot Springs year-round resort, or try soaking in some public pools around town. Caliente is also home to Nevada's oldest rodeo, which hosts bull riding, calf roping, and other events each August.
The town also serves as a jumping-off spot for scenic autumn drives through colorful canyons to Death Valley National Park. Hike the Kershaw-Ryan State Park Historic Mining Trail for beautiful canyon views and to see remnants from Caliente's past as a railroad hub.
Amenities: Spencer Hot Springs Resort offers lodging, dining, and hot springs pools
Top Attractions: Spencer Hot Springs, Caliente Railroad Depot, Caliente Hot Springs
Things to Do: Soak in hot springs, hike Kershaw-Ryan State Park trails
Hiking Trails: Kershaw-Ryan State Park has over 20 miles of trails
3
Austin
Famartin,
CC BY-SA 4.0
, via Wikimedia Commons
n "">
View of Austin, Nevada from U.S. Route 50 near Austin Summit
Situated in central Nevada's Big Smoky Valley, Austin embodies the state's old-west mining heritage and is thus one of the best day trips from Vegas. Visitors can tour the preserved remains of a turn-of-the-century silver mine before browsing the awesome antique stores around town. Outdoor lovers will enjoy hiking trips into the colorful canyons looking for petroglyphs or along the banks of Stokes Castle Creek.
An authentically quirky event, the World Championship Pack Burro Race, occurs here each fall, where participants lead donkeys through mountainous terrain. Late October brings ghost storytelling, haunted houses, and other spooky celebrations for Halloween.
Hours: Stokes Castle is open daily from sunrise-sunset
Top Attractions: Stokes Castle, Austin Courthouse, International Cafe & Saloon
Outdoor Activities: Hiking, camping, climbing, kayaking, stargazing
Related:If You Only Have One Day In Las Vegas, Here's What To Do All Day For Free
2
Minden
n "" data-modal-id="single-image-modal" data-modal-container-id="single-image-modal-container" data-img-caption=""
Photo 235902053 Gregchapel0312 | Dreamstime.com
"">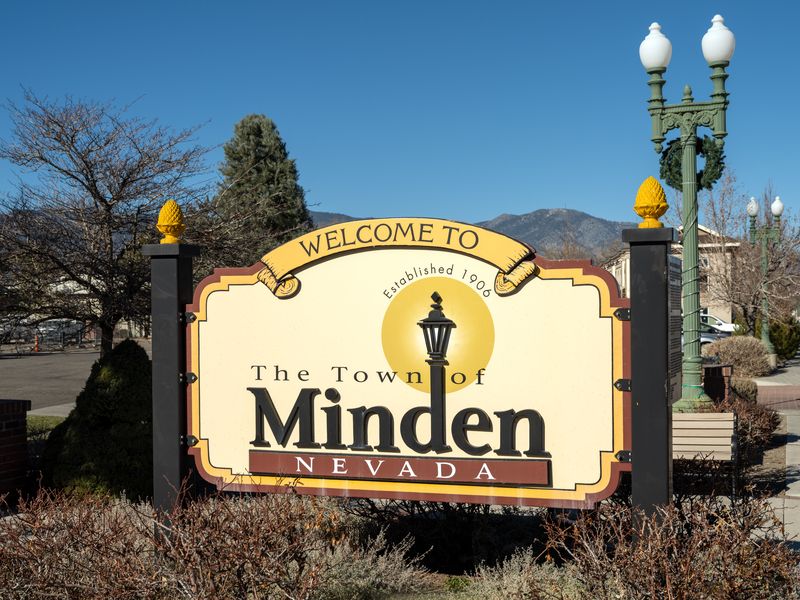 Welcome to Minden road sign, Nevada, located on Highway 395
 
Nestled in Nevada's gorgeous Carson Valley just 30 minutes south of Reno, Minden is among the most charming small towns in Nevada to visit from Las Vegas, and it provides easy access to natural beauty without sacrificing town comforts.
Watch the leaves change color while hiking or biking the picturesque Carson River Trail. Take the short drive up to Heavenly Lookout off the Mount Rose Highway for stunning valley views. Embrace the harvest spirit at local apple orchards and festivals, try one's hand at picking the perfect pumpkin, or go for a hayride under the cotton candy autumn skies.
The town's historic main street also offers restaurants, shops, and cultural attractions to enjoy after a day of outdoor adventures.
Hike Length: Carson River Trail 6 miles roundtrip
Kid-Friendly: Minden Park with play structures, splash pad, and skate park
Top Attractions: Carson Valley, Heavenly Lookout, Minden Park
1
Eureka
Photo 86132102 Sandra Foyt | Dreamstime.com"">
The small town of Eureka, Nevada
Step back to Eureka, an immaculately preserved mining town in central Nevada that makes for one of the top day trips from Vegas. This perfectly charming Nevada town feels almost like a movie set, with nearly 100 restored Victorian-style buildings making up the Eureka Historic District.
Pop into the Eureka Sentinel Museum to see an authentic 1800s newspaper press and other relics from the past. As visitors stroll down Main Street, they can stop to poke around the old-fashioned shops and galleries that fill the Historic Downtown area.
Nearby, explore the Pancake Range's rock formations and hiking trails, or visit one of Nevada's most beautiful and least crowded natural hot springs at the Jackson Hot Springs KOA campground.
Hours: Eureka Sentinel Museum is open weekends from 1 pm-5 pm
Top Attractions: Eureka Opera House, Jackson House Hotel, Eureka Sentinel Museum
Tour Duration: 2 hours for a self-guided walking tour of the historic district
Nearby Attractions: Ruby Mountains, Hickison Petroglyph Recreation Site