Summary
New Hampshire takes the top spot for fall foliage with its vibrant colors and stunning landscapes, including the White Mountain National Forest and scenic drives like the Kancamagus Highway.
Massachusetts bursts with color in the fall, from the rolling Berkshires to historic towns like Stockbridge and Lenox. Beacon Hill and the Freedom Trail in Boston offer stunning views amidst autumn foliage.
Upstate New York is a must-visit for its stunning colors, from the Adirondack and Catskill Mountains to the Hudson River Valley and Finger Lakes. Niagara Falls and the wilderness of the Finger Lakes add to the beauty of the Empire State.
When autumn arrives, certain states around the US transform into a vibrant blaze of fall color. Towering mountain ranges glow red and gold while rolling hills and thick forests display autumn hues. Dramatic coastlines contrast with the changing vegetation. From tranquil lakes mirroring the season's rich palette to gushing waterfalls surrounded by maples and pines, iconic landscapes come alive with the turn of the season.
For travelers eager to revel in the full scenic splendor of fall, some states stand out as top destinations thanks to their incredible display. These places offer an unforgettable journey through forests, valleys, vineyards, parks, and scenic drives bathed in dazzling autumn tones. The variety of landscapes dressed in their finest fall apparel is truly stunning.
So, pack those bags and camera for an unparalleled escape into the heart of autumn. For travelers eager to revel in fall's full scenic splendor, these are the most scenic states to visit in the fall on a road trip or on a longer getaway this season, ranked by their iconic autumn scenery.
RELATED:10 Best Outdoor Adventures To Try This Fall Around The World
1
New Hampshire
A View Of The North Side Of Mount Kearsarge In New Hampshire, USA
Thanks to its quintessential New England beauty when autumn hits, New Hampshire is easily the best state to visit in the fall, and so it takes the top spot. The White Mountain National Forest glows in vibrant hues, with scenic drives like the Kancamagus Highway offering awe-inspiring vistas.
There are plenty of other perfect trips to take in New Hampshire in the fall; Lakes Winnipesaukee and Sunapee reflect the season's rich colors, while destinations like Franconia Notch and Mount Washington immerse you in stunning panoramas. New Hampshire is falling magic, from maple and birch forests to quaint towns with covered bridges.
Top Attractions: White Mountain National Forest, Mount Washington
Best Time to Visit: Late September-Mid October
2
Massachusetts
Boston, Massachusetts, during the fall
Massachusetts bursts with color in the fall all across the state, from its popular cities to the many uncrowded, charming Massachusetts towns full of autumn foliage. The rolling Berkshires display a patchwork of orange, red, and yellow leaves. Historic towns like Stockbridge and Lenox provide chassis scenic backdrops.
Further east, Beacon Hill and the Freedom Trail in Boston shine amongst autumn foliage. Travelers can experience the dramatic coast paired with changing vegetation on Cape Cod and the Islands. Hike mountain ridges or forests for even more stunning views.
Top Attractions: The Berkshires, Cape Cod
Best Time to Visit: Mid-Late October
RELATED:From Wildflowers To Crisp Leaves: 10 Mount Rainier Hikes That Show Off Fall Foliage
3
New York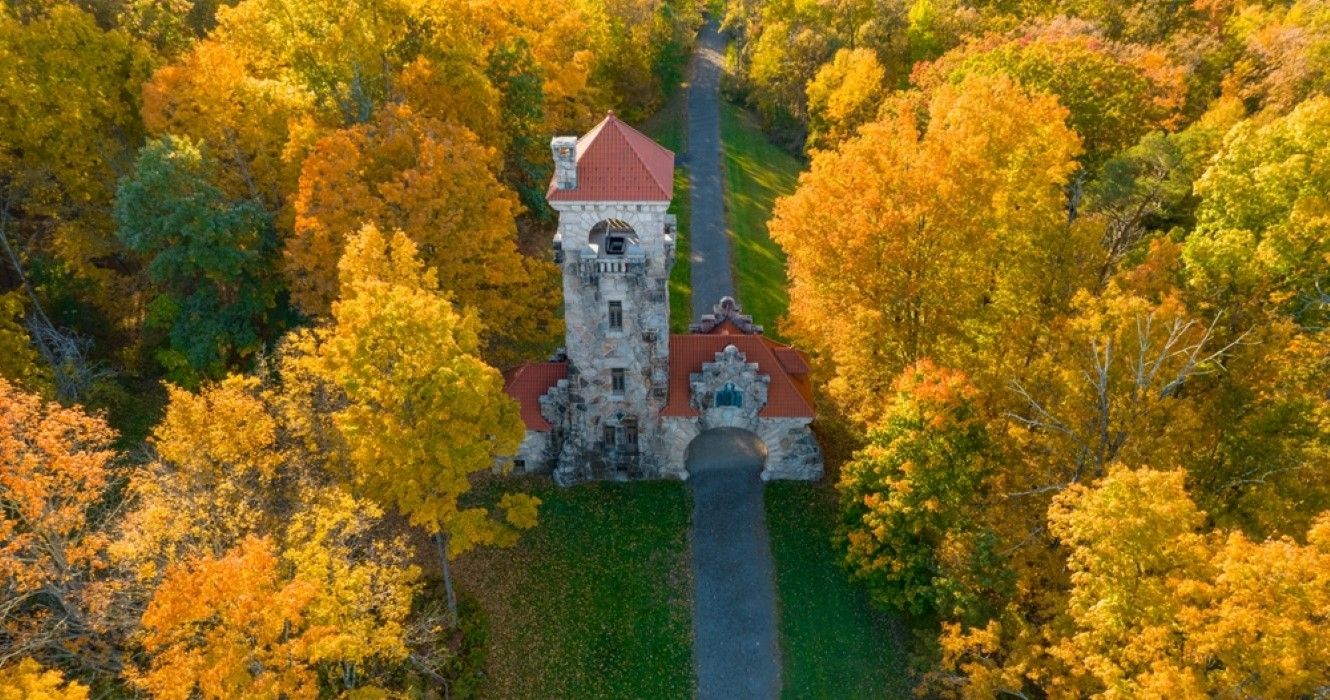 A tower in New Paltz, New York, surrounded by fall foliage, USA
What would fall be without the stunning colors of Upstate New York? The Adirondack and Catskill Mountains put on a truly unforgettable autumn show, with scarlet and orange maples contrasted against evergreen pines. Cascading waterfalls like Niagara Falls add more beauty.
From the Hudson River Valley-covered bridges to the wilderness of the Finger Lakes, the Empire State is pure fall magic. For visitors to experience more fun in this state, New York offers relaxing weekend trips to take in the fall to enjoy the season.
Top Attractions: Adirondack & Catskill Mountains, Finger Lakes
Best Time to Visit: Late September to Early October
4
Michigan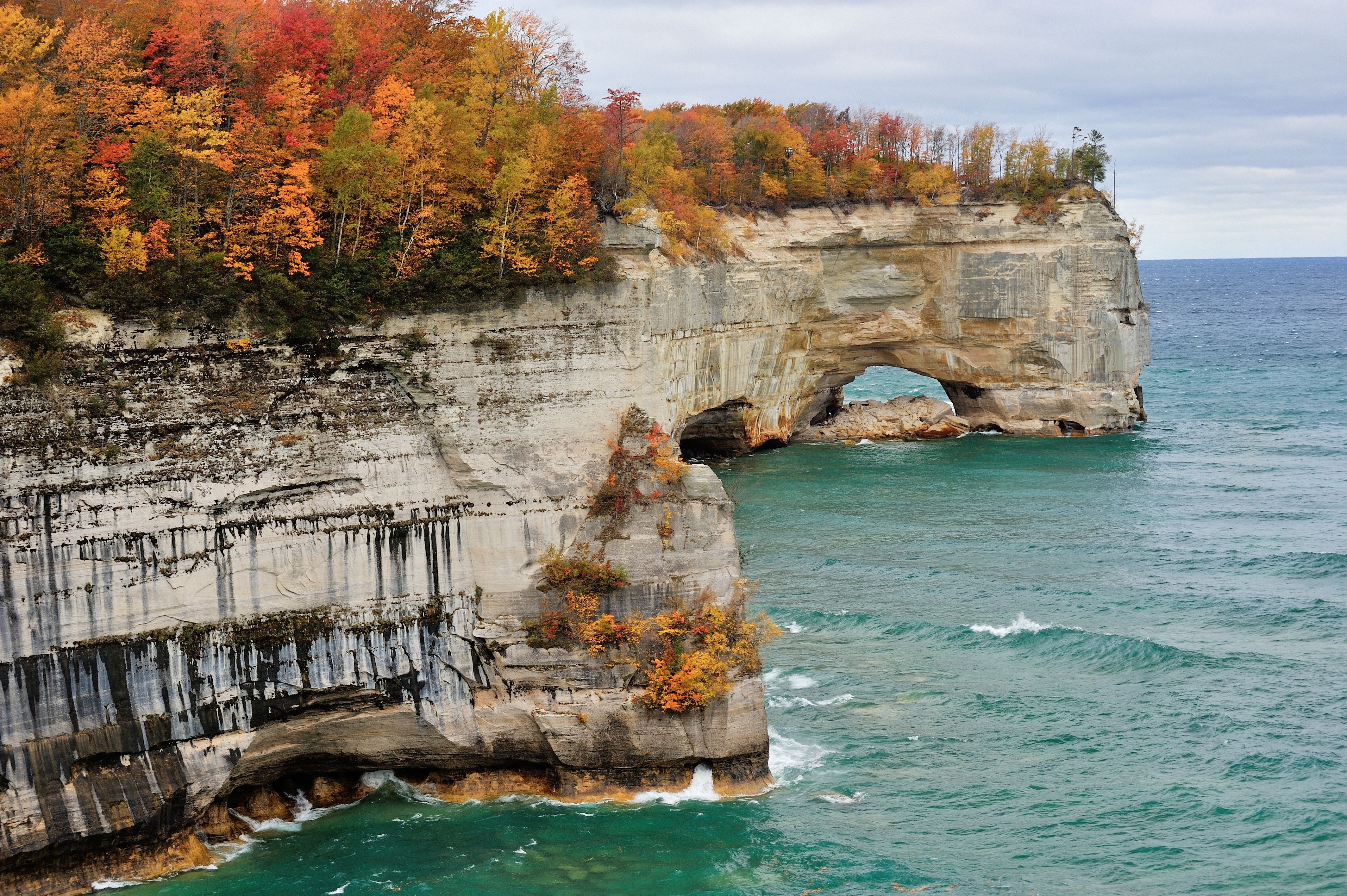 Beautiful fall colors along the coast at Pictured Rocks National Lakeshore in Michigan 
Michigan offers over 11,000 inland lakes, reflecting the season's changing colors. Add lighthouses, dunes, historic towns, and 26 scenic byways amidst golden woodlands, and travelers will understand why it ranks among the best fall foliage destinations in the US.
The incredible U.P. covers an entire peninsula in vibrant autumn hues. Or explore forests, apple orchards, and the nation's longest canopy walk in southern Michigan.
Top Attractions: Upper Peninsula, Traverse City, Sleeping Bear Dunes
Best Time to Visit: Mid-October
5
Pennsylvania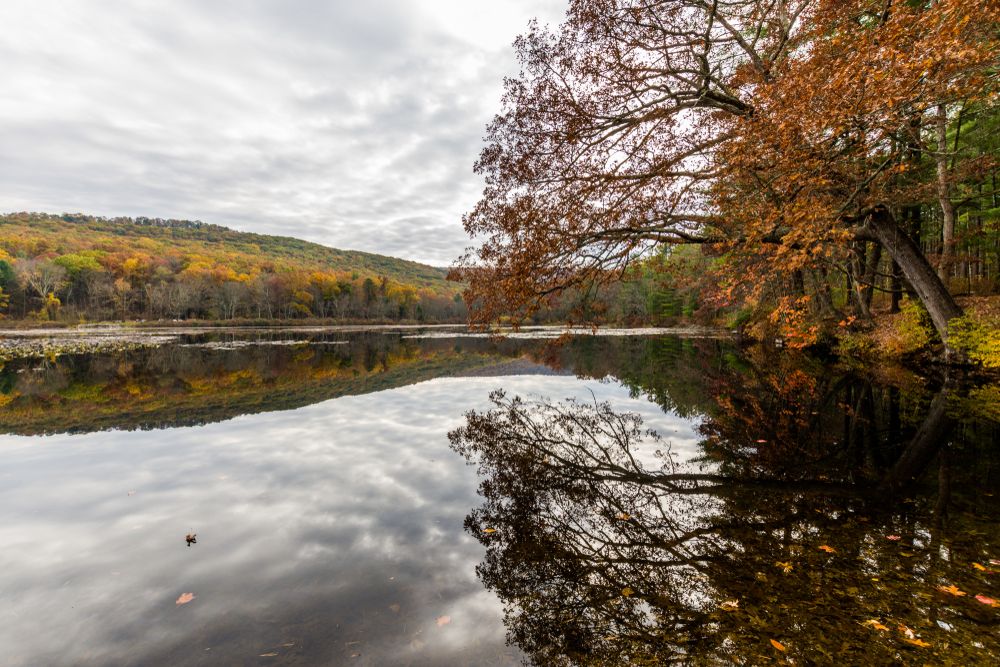 Laurel Lake Recreational Area in Pine Grove Furnace State Park, Pennsylvania during the fall
Pennsylvania shines each autumn with rolling mountains, thick forests, and charming small towns ideal for leaf peeping. The Pennsylvania Grand Canyon and Pine Creek Gorge display awesome fall colors.
Amish Country around Lancaster provides horse-drawn buggy rides through quilt-like scenery—road trip scenic byways like Route 6 or the Lake Erie Coastal Ohio Trail for sensational views.
Top Attractions: Pennsylvania Grand Canyon, Pine Creek Gorge, Amish Country
Best Time to Visit: Mid-October Pennsylvania Grand Canyon
6
Colorado

Denver skyline on a fall morning
While aspen trees are synonymous with the state's autumn scenery, there are plenty of affordable and beautiful places in Colorado with stunning fall foliage.
The variety is amazing, from the golden cottonwoods and thick pines of Rocky Mountain National Park to the vineyards producing color-changing grapes near Grand Junction to the unique landscape of the Colorado National Monument. Maroon Bells and Black Canyon of the Gunnison are also must-see fall destinations.
Top Attractions: Rocky Mountain NP, Maroon Bells, Colorado National Monument
Best Time to Visit: Late September Rocky Mountain
7
Vermont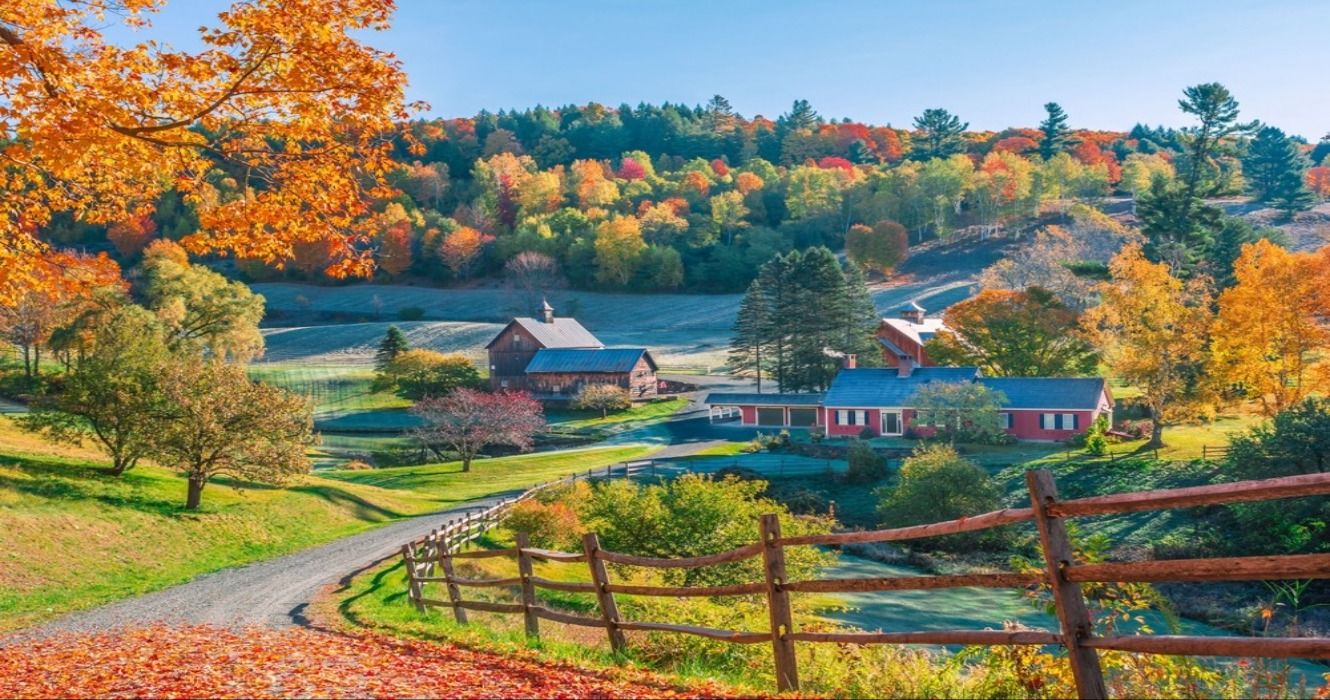 Fall foliage in the autumn surrounding houses in Woodstock in the Vermont mountains, New England, USA
There are tons of reasons to visit Vermont in the fall, one of which is that it's one of the best states for fall foliage. Vermont epitomizes classic New England charm in the fall and comes with amazing experiences with its covered bridges, quaint towns, white-steepled churches, and hillsides ablaze in autumn hues.
The Green Mountain National Forest is carpeted in colorful maples and birches, while lakes like Lake Champlain shimmer blue amidst the foliage—travel scenic routes like Route 100 or the Kancamagus Highway for great leaf-peeping drives. Visitors can secure hotels in Killington, Vermont, for an unforgettable fall stay.
Top Attractions: Green Mountains, Stowe, Lake Champlain
Best Time to Visit: Late September – Mid-October
RELATED:12 Small Scenic Vermont Towns To Visit This Fall
8
Maine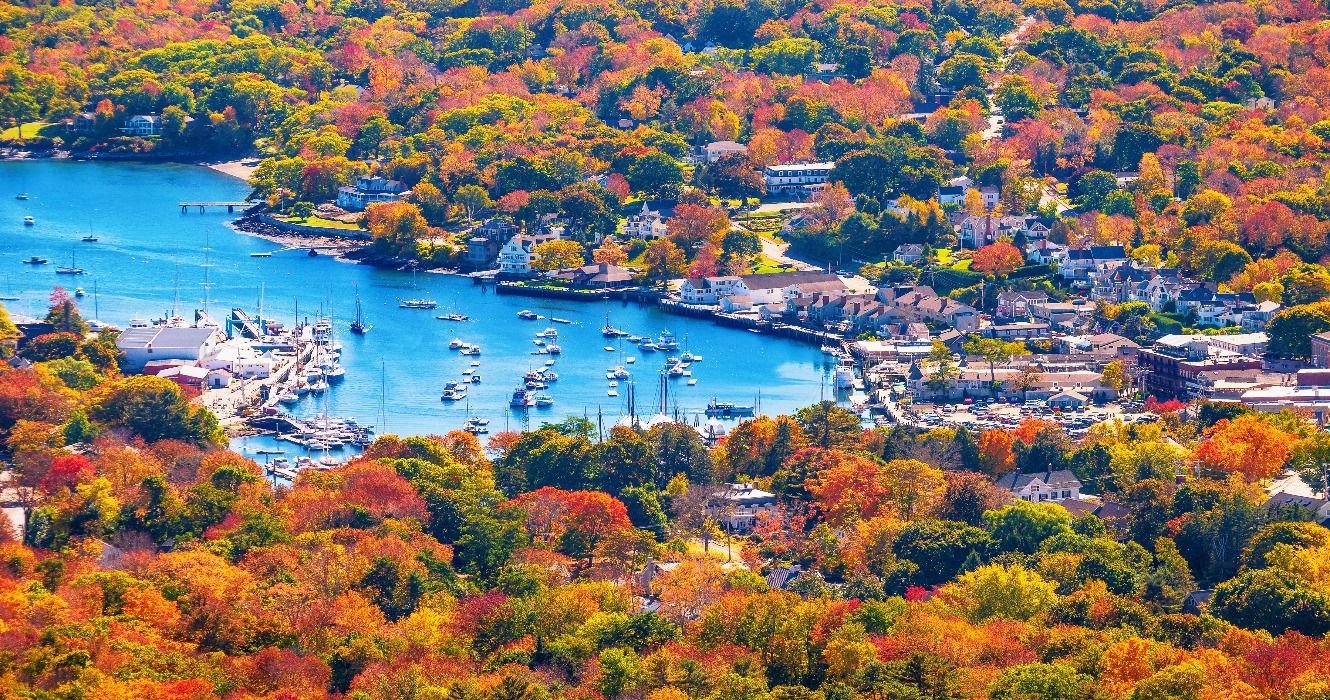 A view of fall foliage in the autumn seen from Mount Battie overlooking Camden harbor, Maine, ME, New England, USA
From the rugged cliffs of Acadia National Park to the lighthouses of its craggy coast to vibrant woodlands throughout the state, Maine puts on an incredible autumn show of dazzling fall diversity. The steep mountains cradling picturesque little towns like Camden and Bar Harbor create stunning contrasts when the leaves change.
Don't miss the amazing fall trips in Maine, such as iconic drives like the Rangeley Lakes Scenic Byway, for the full experience.
Top Attractions: Acadia NP, Camden, Bar Harbor Acadia N.P. Entry: $30 per vehicle
Best Time to Visit: Mid-October
9
North Carolina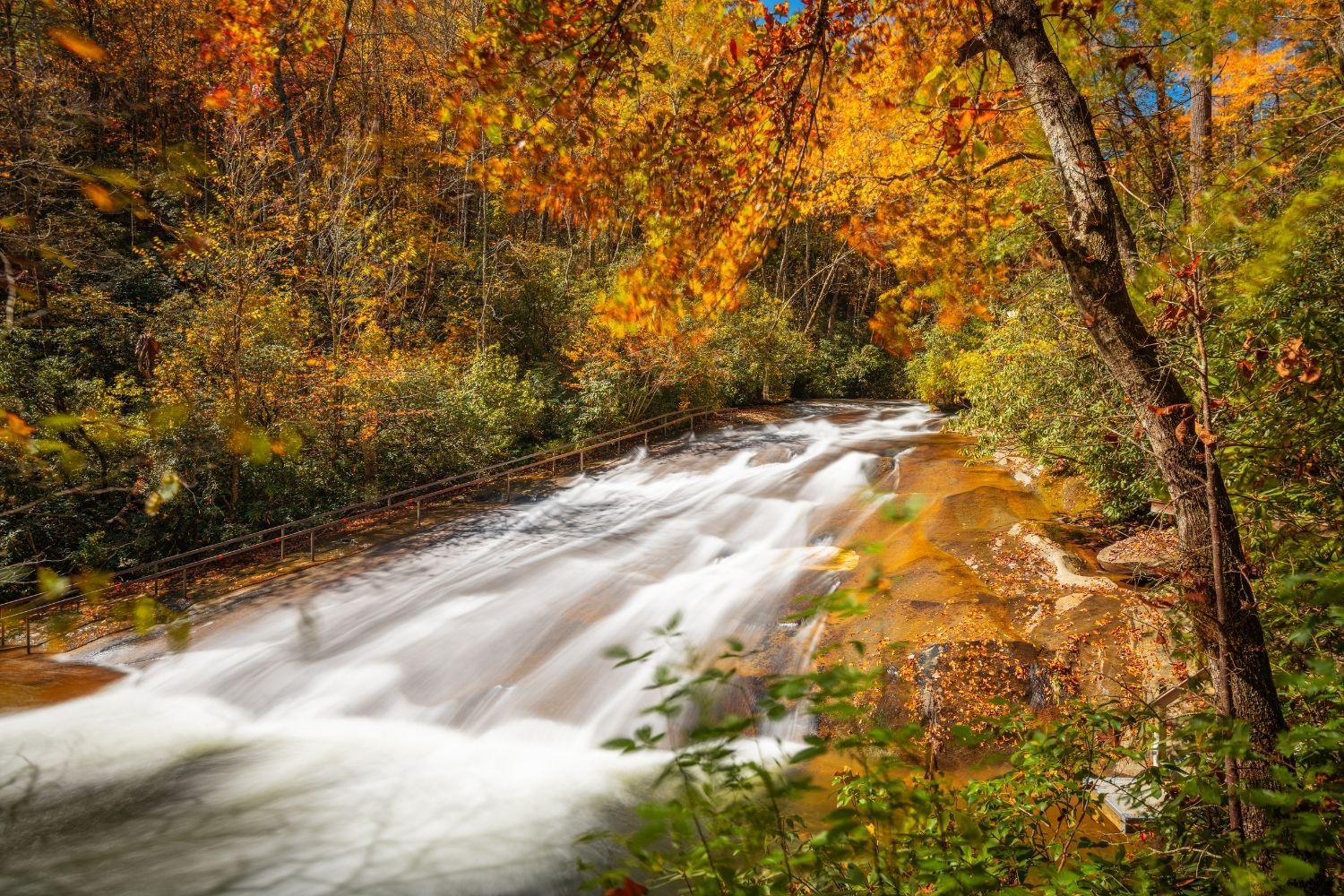 Sliding Rock Falls in Pisgah National Forest, North Carolina 
Witness a spectacular shift from summer greens to an explosion of autumn colors by visiting North Carolina, one of the US states with the best fall foliage. The Blue Ridge Mountains frame fiery foliage vistas, while destinations like Asheville, Great Smoky Mountains National Park, and the Cherokee and Pisgah National Forests display captivating beauty.
The iconic Blue Ridge Parkway connects leaf peepers to countless stunning overlooks and trails.
Top Attractions: Blue Ridge Parkway, Great Smoky Mountains N.P., Asheville
Best Time to Visit: October
Related: 10 Amazing Trips To Take In The Fall In North Carolina
10
Tennessee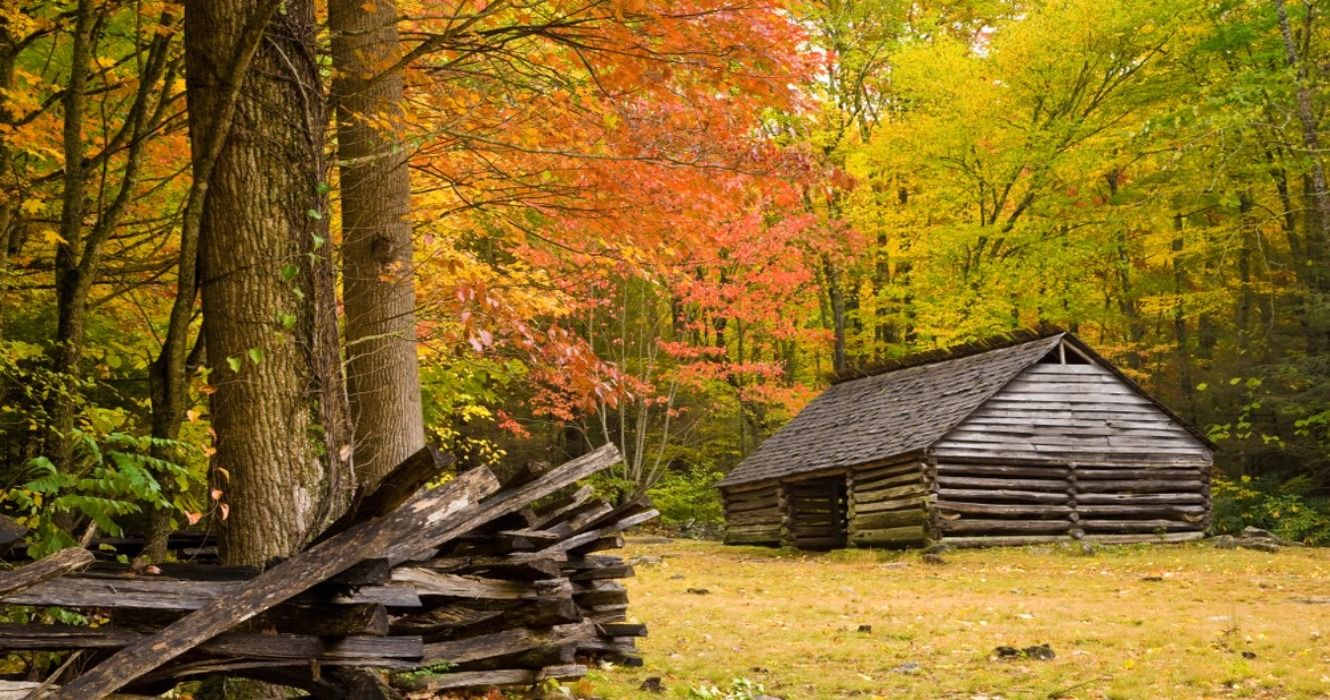 A historic log barn in a hardwood forest in the fall in Great Smoky Mountains National Park, Tennessee, USA
Lastly, Tennessee is among the best US states in the fall to visit; its magnificent scenery makes it a go-to southern state for leaf peeping. The sprawling Great Smoky Mountains National Park boasts unbelievable fall colors.
Meander along the roads and trails of the Cherohala Skyway, rated one of the country's best scenic autumn drives. During your visit, see colorful vistas from the Appalachian Mountains to the Cumberland River Valley. This spot isn't just for families, either; there are also plenty of perfect activities for couples visiting Tennessee in the fall.
Top Attractions: Great Smoky Mountains NP, Cherohala Skyway, Chattanooga
Best Time to Visit: October Great Smoky Mountains