Summary
Discover affordable destinations in the US and plan an unforgettable getaway without breaking the bank. Explore Albuquerque for its rich history and free attractions like Petroglyph National Monument.
Experience the vibrant culture of New Orleans with its lively music scene, delicious cuisine, and cheap eats like po' boys at Parkway Bakery. Find affordable hotels like India House Hostel and enjoy free attractions.
Visit Daytona Beach for its iconic white sand beaches, boardwalk, and affordable lodging. Enjoy free activities like swimming, strolling the boardwalk, and exploring nearby attractions.
The United States is full of amazing destinations that don't have to break the bank. From lively cities to charming small towns, there are plenty of surprisingly affordable places for travelers to explore all year round. With some savvy trip planning and flexibility, you can plan an unforgettable getaway while sticking to a reasonable budget. Whether someone wants to soak up some culture, enjoy nature, or experience iconic American sights, they don't have to settle for lackluster destinations to save money.
With the right approach, travelers can discover the best of what the US has to offer while keeping their spending in check. Read on for surprisingly cheap places in the US to visit year-round that offer plentiful sights, activities, dining, and lodging options to delight travelers throughout all the seasons.
RELATED:10 Surprisingly Cheap Places To Visit In The U.S. In November
10
Albuquerque, New Mexico
Balloons Being Inflated And Launched At Albuquerque Balloon Fiesta In Albuquerque, New Mexico, USA
Albuquerque offers visitors plenty to do and see; the city provides a unique blend of history and entertainment set against a dramatic desert landscape. Travelers can explore centuries-old adobe architecture in Old Town, check out the petroglyphs at Petroglyph National Monument, and enjoy miles of beautiful free hikes in Albuquerque, as well as zero-fee biking trails.
The city also boasts excellent museums like the National Museum of Nuclear Science & History. The city makes for a value-packed vacation spot all year with its affordable hotels, cheap eats like Frontier Restaurant and Flying Star Cafe, and free attractions like the Albuquerque Museum.
9
New Orleans, Louisiana
Mardi Gras Parade In New Orleans, Louisiana, USA
New Orleans is known for its jazz bars, lively music scene, fascinating history, and mouth-watering Cajun and Creole cuisine. While flights and hotels can be pricey during Mardi Gras or Jazz Fest, deals can still be found by booking in advance and traveling during off-peak times.
Once there, travelers can stretch their dollars by indulging in cheap po' boys at Parkway Bakery, catching free nightly music at spots like Maison Bourbon Jazz Club, joining one of the complimentary or cheap ghost tours in New Orleans, and exploring the street art and galleries in the Warehouse District.
RELATED:10 Cheap Places To Travel Without A Passport
8
Daytona Beach, Florida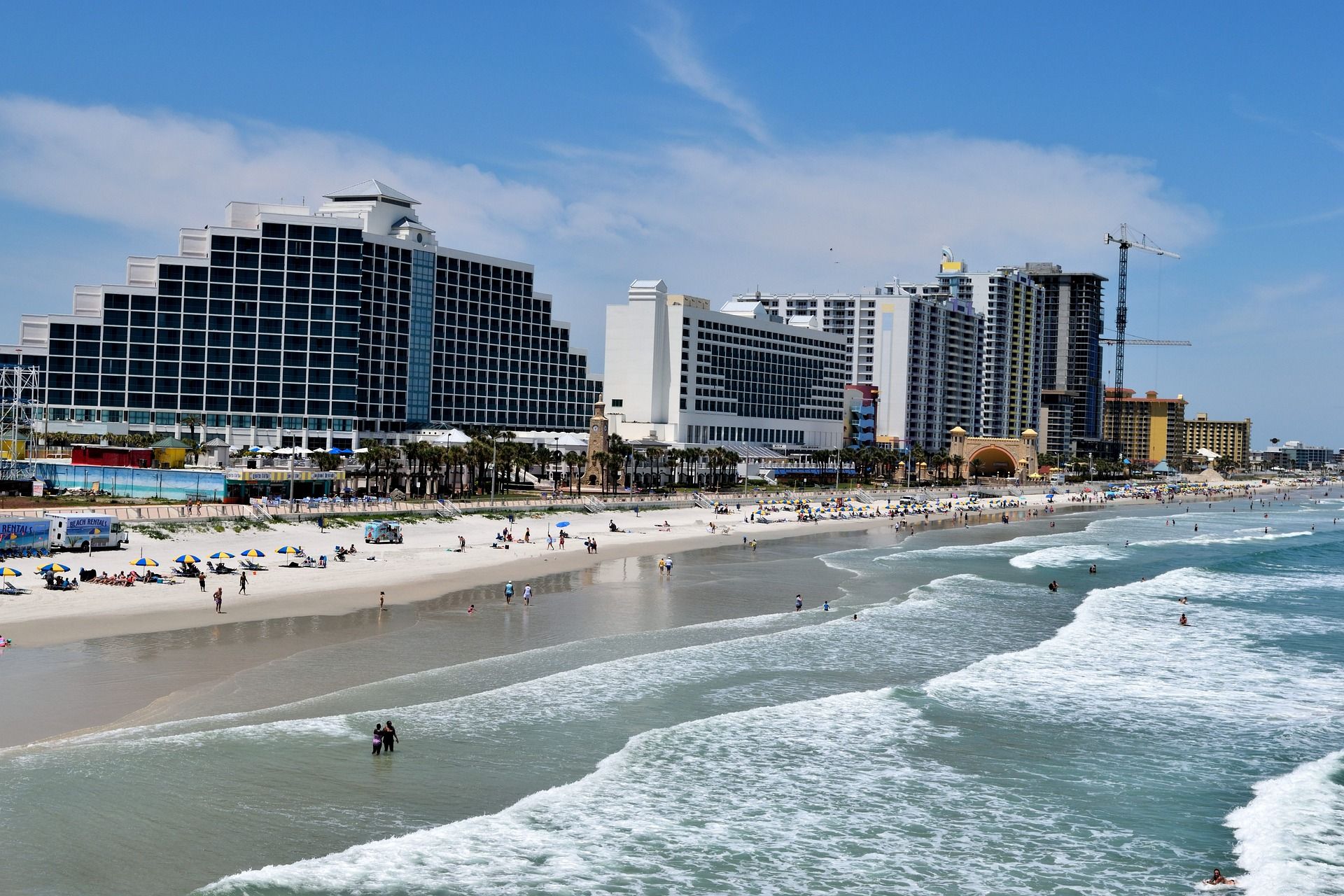 Daytona Beach shoreline with beach, waves, hotels, and buildings
Miles of white sand beaches make Daytona Beach one of Florida's most iconic and affordable beach destinations. Travelers have a lot of things to do in Daytona Beach for cheap; they flock here to enjoy the wide shores, cruise down the boardwalk, visit festivals and events at the Ocean Center, and watch drivers rev up at the Daytona International Speedway.
Nearby attractions like Ponce Inlet Lighthouse and the Marine Science Center are big draws. Visitors can find ample lodging and dining options for every budget year-round. From the Daytona Beach Bandshell concerts to the sea turtle nesting season, this classic beach town always has something new to experience.
7
Austin, Texas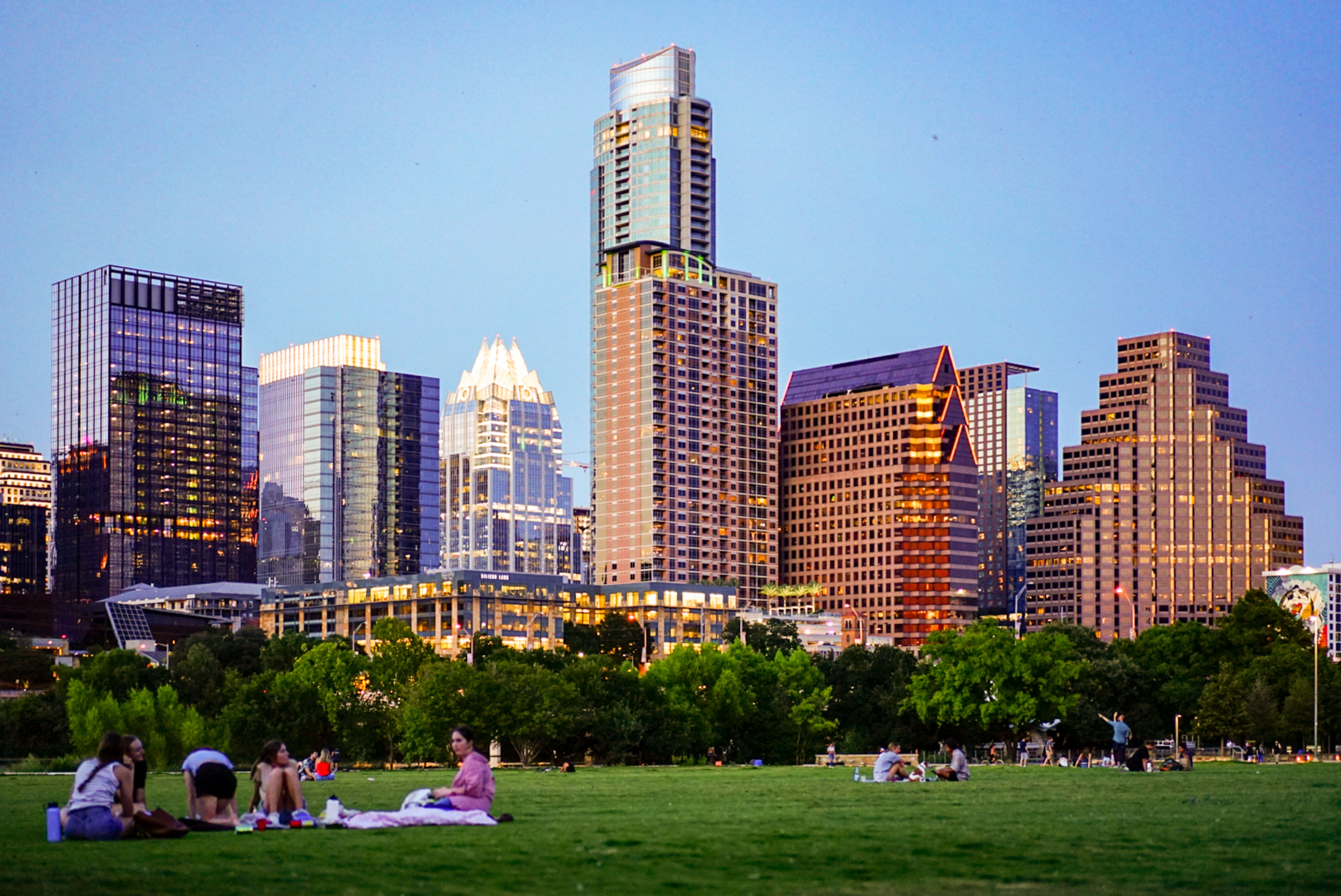 Outdoor enthusiasts enjoying the Austin, Texas skyline
With its famous barbecue joints, live music venues, and the unofficial motto "Keep Austin Weird," Texas' capital has long been a hot spot for travelers on a budget. There are plenty of free things to do, from bat-watching at Congress Bridge and swimming at Barton Springs to exploring murals and street art throughout the city.
Food trucks reign supreme for cheap eats, dishing out everything from tacos to banh mi. Travelers can also catch live music for free or cheap at famous venues like The Continental Club on South Congress Avenue, which keeps Austin rocking day and night all year long.
RELATED:10 Surprisingly Cheap Places To Visit In The U.S. In October
6
Salt Lake City, Utah
Brent Pace on
Unsplash
"">
Salt Lake City, Utah
Salt Lake City offers an unbeatable mix of urban excitement and outdoor adventure without the high prices of many Western destinations. Travelers can explore Temple Square, hike in the Wasatch Mountains, and visit museums and galleries for free or discounts with a Go Salt Lake Card.
The city also hosts many free festivals and events throughout the year, like the Utah Arts Festival and the Living Traditions Festival. Travelers can dine at up-and-coming eateries in the Granary District, shop eclectic local boutiques on Historic 25th Street, and enjoy budget-friendly lodging options everywhere, from Downtown to Sugar House.
5
Philadelphia, Pennsylvania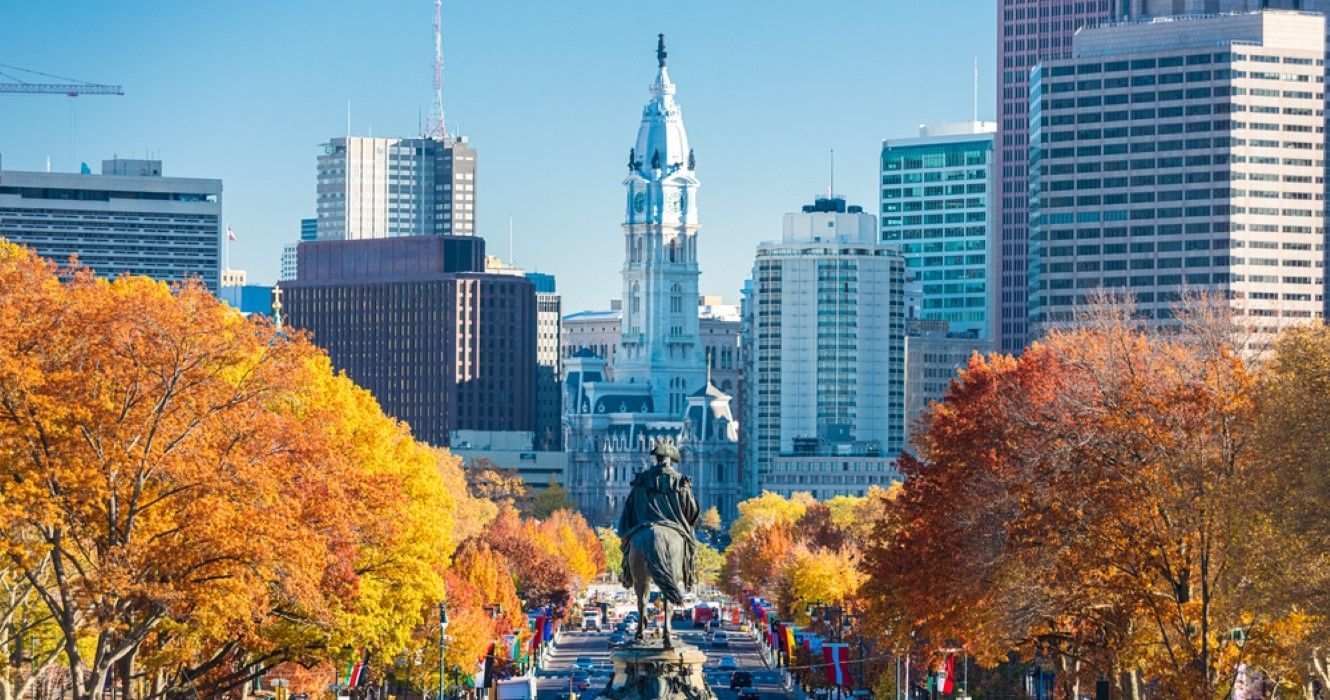 Philadelphia, Pennsylvania, USA in autumn overlooking Benjamin Franklin Parkway
Between its Revolutionary War history, art museum scene, and mouth-watering cheese steaks, Philadelphia entices visitors all year without breaking the bank. Many attractions, like the Liberty Bell and Independence Hall, cost nothing.
The famous Philly food scene offers plenty of affordable options, from food trucks and diners to neighborhood eateries. Travelers can find great hotel deals outside the Downtown area. The convenient Philadelphia Pass provides discounted access to over 30 attractions, such as the National Constitution Center and dozens of historical tours.
With so many free and low-cost things to see and do, Philly is a big-city bargain.
4
Boston, Massachusetts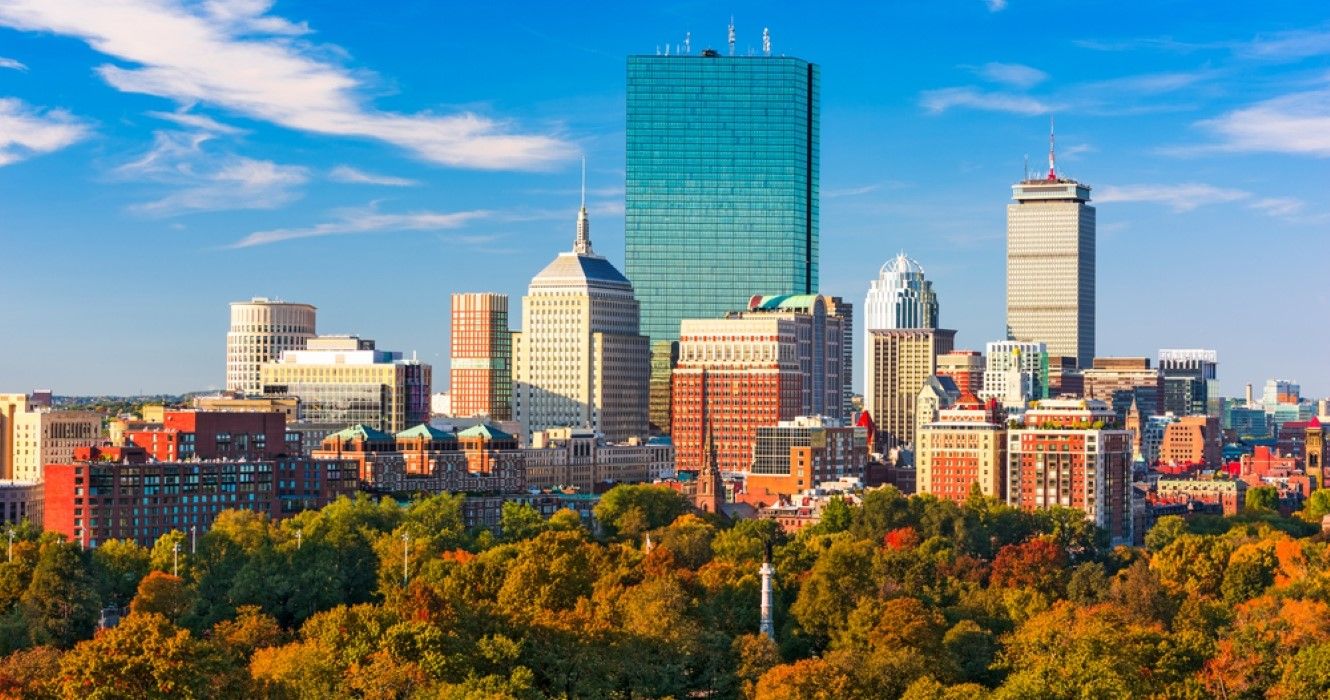 Boston, Massachusetts, during the fall
Despite its world-class museums, historical sites, and top universities, the city of Boston can be surprisingly affordable. Travelers can uncover great deals all over Beantown by timing trips to avoid major events and peak season, using public transit, and snagging coupons for top attractions like the popular New England Aquarium.
Several museums, like the Museum of Fine Arts and the Institute of Contemporary Art, offer free or pay-what-you-wish admission options. Quaint, budget-friendly lodging and dining spots flourish in areas outside downtown. Free walking tours also perfectly introduce Boston's captivating blend of old and new.
3
Charleston, South Carolina
Drone view of Charleston, South Carolina
With its pastel-hued historic homes, romantic cobblestone streets, and sweeping harbor views, Charleston's charm is free for the taking year-round. Travelers can admire the architecture and gardens of properties like the Calhoun Mansion for just the $20 admission.
Carriage tour companies offer special discounted rates in the off-season, providing superb hotel deals. Plus, there are plenty of excellent hostels in Charleston for travelers on a budget.
The Downtown Charleston Culinary Tours and Bulldog Tours food and walking trips also guarantee fun and fascinating excursions at great value. Fresh seafood abounds at restaurants like The Wreck and 167 Raw that won't break the bank either. Everything about this enchanting Southern city feels like a steal.
2
Savannah, Georgia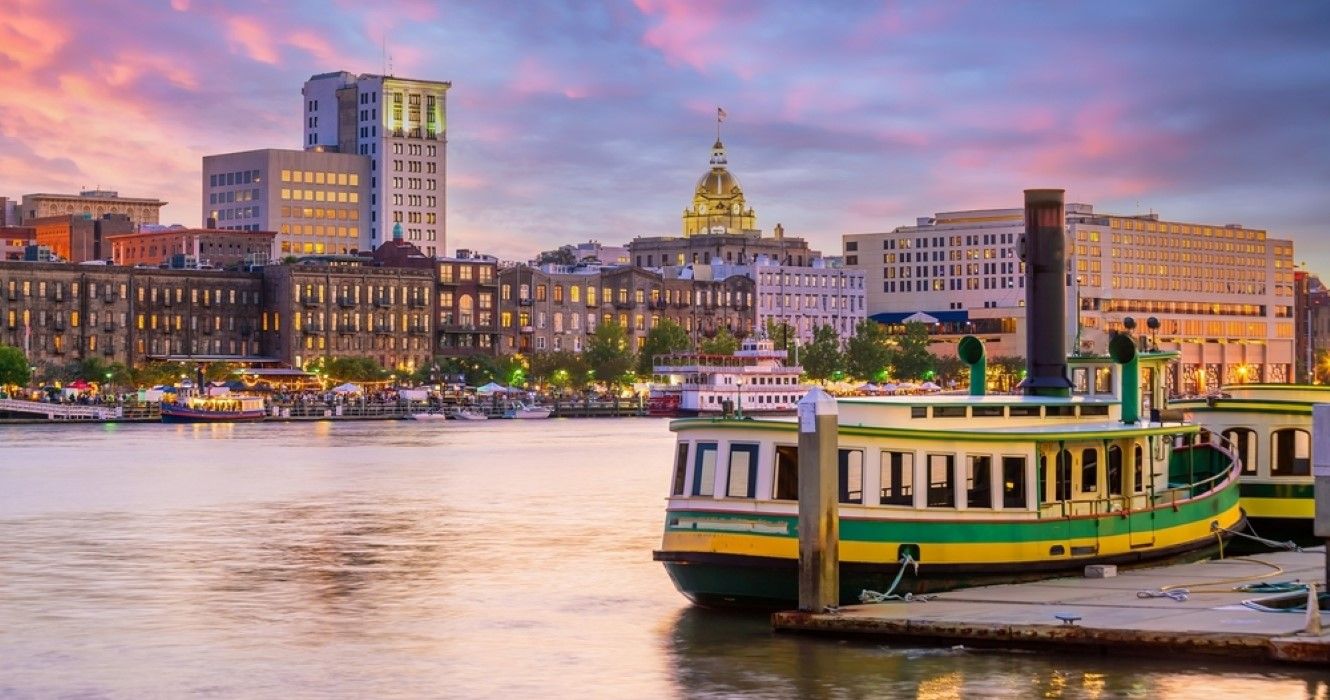 Historic District waterfront of Savannah, Georgia
Filled with verdant public squares, old cobblestone streets, and an easygoing pace of life, Savannah provides an affordable and unforgettable taste of Southern culture.
Visitors can take in the gorgeous fountains and monuments of Forsyth Park, wander the elegant historic homes and museums of Savannah's downtown historic district, and shop the treasures of City Market artisans, all without spending a dime. Nearby Tybee Beach offers budget-friendly activities like swimming, fishing charters, and dolphin cruises.
With such charm and hospitality, Savannah feels less like a vacation expense and more like a travel windfall.
RELATED: Young & Broke: 10 Cheap Places In The US To Add To Your Bucket List
1
Oklahoma City, Oklahoma
Oklahoma City Buildings in Oklahoma at Dawn 
Often overlooked, Oklahoma's capital offers Midwestern hospitality and surprisingly diverse art and cuisine scenes that won't break the bank.
Visitors can browse the massive collection of Western and Native American art at the National Cowboy & Western Heritage Museum for just $15. The eclectic Paseo Arts District and architecturally intriguing Myriad Botanical Gardens offer more cultural enrichment at no cost.
Food trucks and restaurants serve everything from hearty barbecue plates to inventive twists on classic diner fare for cheap. From jazz clubs to microbreweries, OKC keeps visitors entertained all year without overloading their wallets.