Summary
Bowling Green, Kentucky: Affordable family-friendly attractions including Mammoth Cave National Park and the National Corvette Museum.
Kings Canyon National Park, California: Entrance fees may vary, but visitors can enjoy giant sequoia groves, caves, and the Sierra Nevada mountains.
Grand Canyon National Park, Arizona: Consider the less crowded North Rim for a quieter experience. Beware of crowds at popular viewpoints.
With the cost of living high, many are seeking budget-friendly ways to have fun these days and this includes travel. Fortunately, enjoying a family vacation doesn't have to break your budget.
From low-key destinations with family-friendly amenities to spots to explore nature together, here are ten affordable places for budget family travel in the U.S.
RELATED: 10 Shockingly Affordable Fall Vacations To Take In Canada
10
Bowling Green, Kentucky
View of a fountain amid greenery in a park in Bowling Green, Kentucky
Bowling Green (located approximately 66 miles north of Nashville, Tennessee) is a popular spot for families seeking an affordable vacation. By this small Kentucky town, visitors will find the rolling hills of the state's Cave County and Mammoth Cave National Park, featuring the largest cave system on Earth.
It's free to enter the park, although it is required to book tickets in order to enter the cave. Other features in this area include the National Corvette Museum with tickets priced at about $18 per person, the amusement park of Beech Bend Park, and drag strips that are active on the weekends from March to November.
RELATED: Fun In A University City: The Ultimate Guide To Bowling Green & Things To Do
It goes without saying that entering caves (especially the largest cave system in the world) should be approached with caution. It's important to take a tour with a knowledgeable tour guide. Entering the cave is not allowed without a guide.
9
Kings Canyon National Park, California
Joe Wilson on
Unsplash
"">
Charlotte Lake, Kings Canyon National Park, California
On the West Coast, families may be interested in visiting Kings Canyon National Park, situated in the Golden State. As with many Californian national parks, Kings Canyon National Park is known for its enormous trees, and in this case, visitors will find many giant sequoia groves. Among these trees is General Grant, the second-largest tree on the planet.
Kings Canyon National Park requires an entrance fee. Reservations are not possible or necessary.
Entrance fees can vary.
The park is open 24/7, 365 days a year. However, opening times for the visitor centers can differ.
Among the key features of this national park are more than 200 caves, a section of the Sierra Nevada mountains, and a segment of the Kings River. It is also known for a wide range of awesome trails.
8
Grand Canyon National Park, Arizona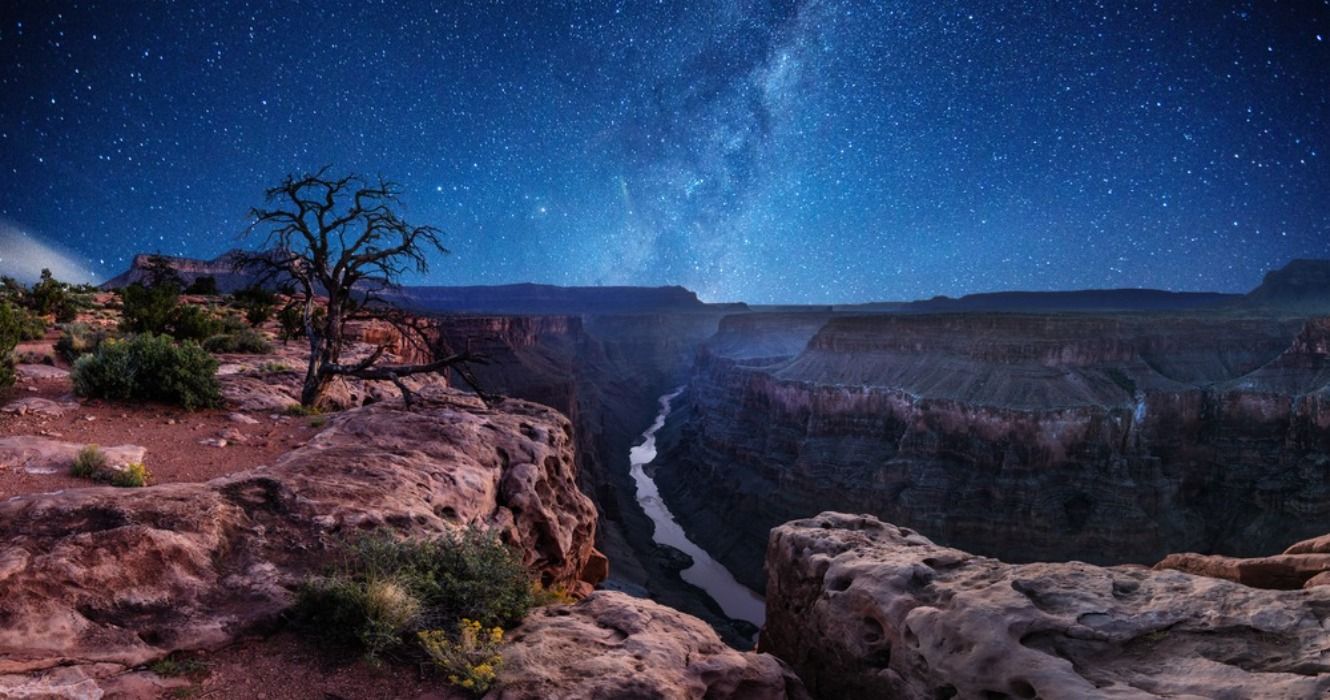 A Milky Way sky in Grand Canyon National Park at night, Arizona, USA
Next on this list is the iconic Grand Canyon. The Grand Canyon National Park in Arizona is 277 miles long, 18 miles wide, and a mile in depth. This several-million-year-old natural wonder is an awesome sight to behold.
It's important to consider how crowded the Grand Canyon viewing points can get, however. For a quieter spot, consider spending time at the North Rim of the Grand Canyon National Park.
7
Washington D.C.
RozenskiP"">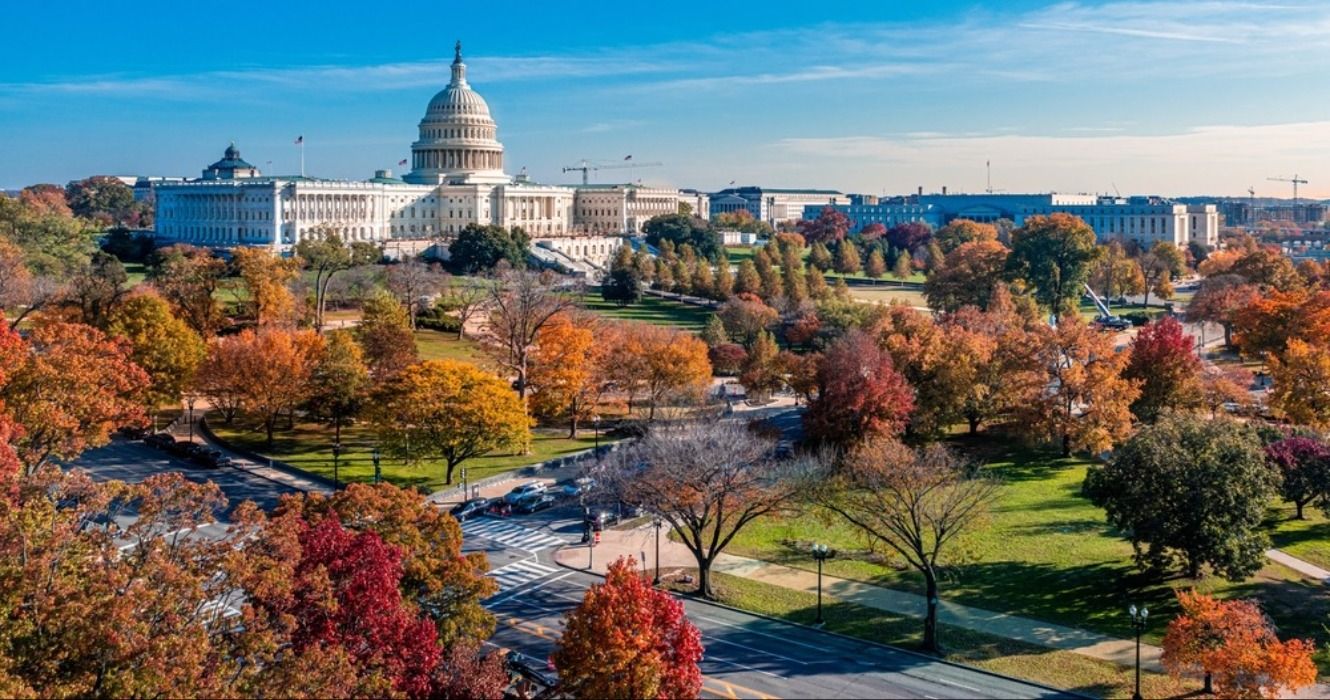 A view of fall foliage at Capitol Hill in Washington DC in the autumn, Washington D.C., USA
The nation's capital is a surprisingly affordable location for visitors. While the cost of rent is high, many tourist-related costs (e.g., meals and local transport) are relatively inexpensive.
Some free things to do while in Washington D.C. include visiting the National Mall, Smithsonian Museums, Library of Congress, Black Lives Matter Plaza, and the National Gallery of Art.
6
Wisconsin Dells, Wisconsin
Ethan Walsweer on
Unsplash
"">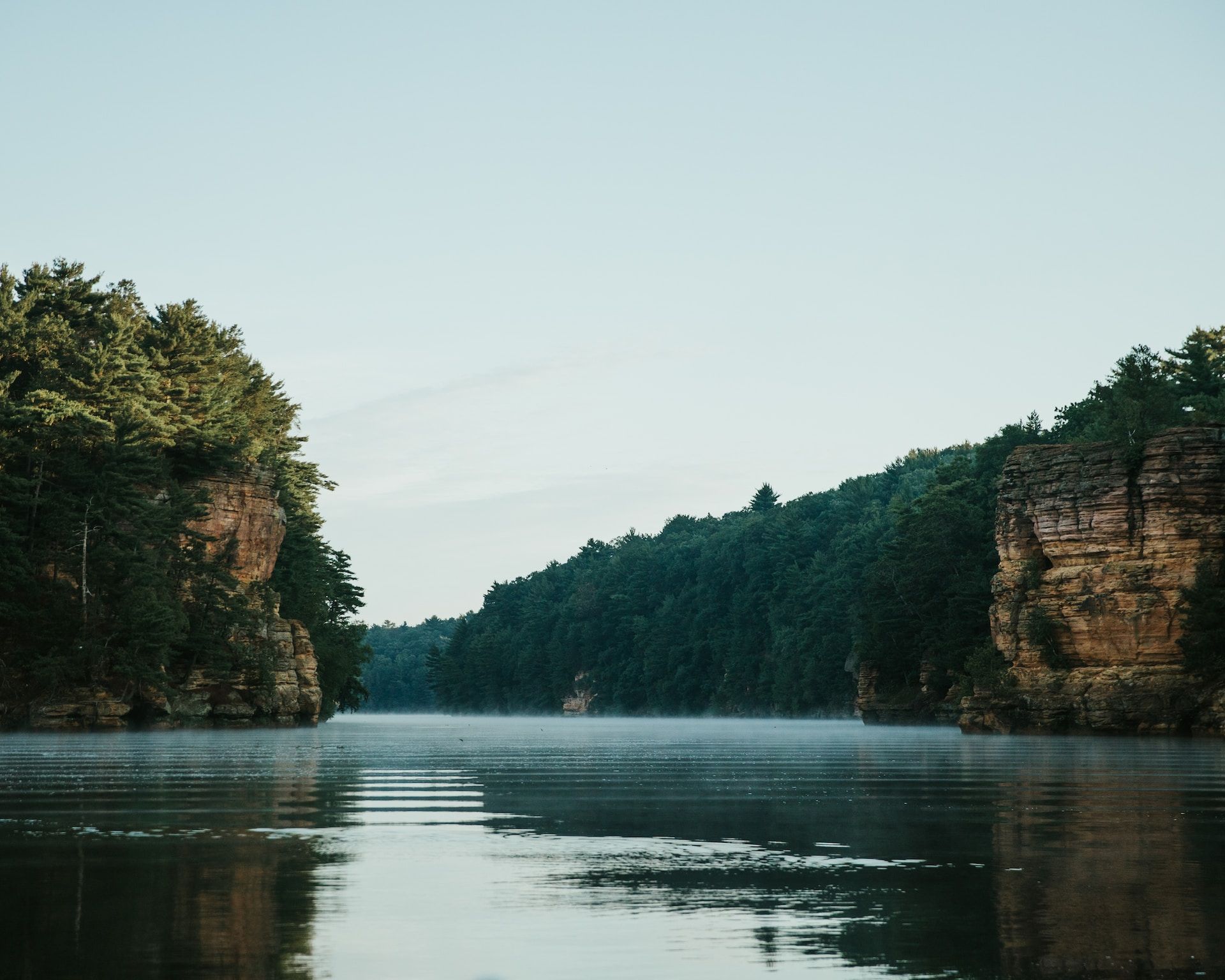 A Beautiful Lake In Wisconsin Dells, Wisconsin
Wisconsin Dells is a great family-friendly and budget-friendly city in southern Wisconsin with a range of attractions. Some things to consider here include spending time at the Wisconsin Deer Park, Noah's Art Waterpark, or Timbavati Wildlife Park. Each of these locations has a 4.3-star or greater review on Google Reviews.
Other attractions of this incredible city are the Rick Wilcox Magic Theater, Witches Gulch, H.H. Bennett Studio & Museum, MagiQuest, Riverwalk, Fawn Creek Winery, and Tommy Bartlett Exploratory. This area is known for having many cozy things to do in winter.
RELATED: Wisconsin Dells: How To Plan Your Holidays Here
5
Destin, Florida
View of boats and yachts in Destin, Florida with beach in view and buildings in the distance on a sunny day
For a sunnier spot of the U.S., consider taking the family to Destin, a small city in northwest Florida. Among the most notable features of Destin are Henderson Beach State Park, Destin Commons, Destin Harbor Boardwalk, HarborWalk Marina, and Fat Daddy's Arcade.
Boating is another activity for families spending time in Destin, Florida, while shopping is also popular in this small Florida city.
4
Yosemite National Park, California
Jessica Tuttle on
Unsplash
"">
Green trees and mountains under a cloudy sky in Yosemite National Park, California
Located in California, Yosemite National Park is one of the best budget vacation spots for the whole family. Open 24/7 and charging $35 per private vehicle for a seven-day period, Yosemite National Park is a fairly affordable destination worth considering for a family getaway.
Among the most notable attractions of this almost 1,200 square mile national park include its whole host of hiking trails, tall and ancient sequoia trees, and camping spots. It's also known for its many stunning lakes.
Considering how popular this national park is, it's important to consider the right time to visit.
3
Hunter Mountain, New York
Moriah Wolfe on
Unsplash
"">
Greenery of the forests of Hunter Mountain and the surrounding area in New York State
Moving to the northeast, this mountain peak in upstate New York is a great location for a day out with the family to take in scenic views and enjoy a peaceful mountain walk.
Among the best hiking trails in this region are:
Hunter Mountain via Spruceton Trail
Devil's Path to Hunter Mountain Loop
Hunter Mountain via Spruceton Horse Trail
Hunter Mountain via Becker Hollow Trail
Hunter Mountain and Southwest Hunter Mountain Loop via Spruceton Road
Please note that all of the above trails are considered challenging. Therefore, if traveling with young children, it's important to take a measured approach to hiking Hunter Mountain and carefully consider how much to hike.
2
Custer State Park, South Dakota
Jonathan Mast on
Unsplash
"">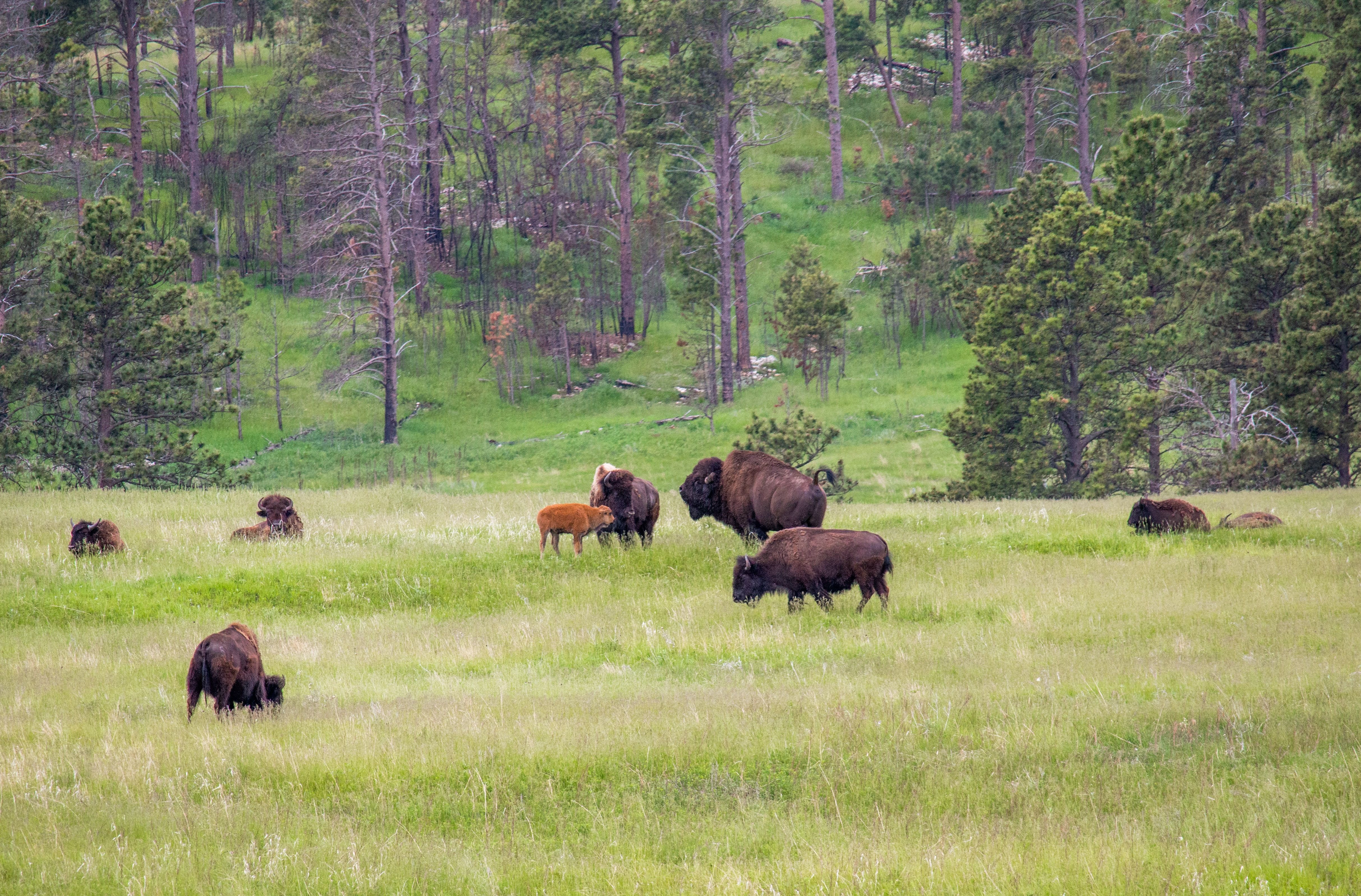 A herd of bison grazing in Custer State Park in South Dakota
This 71,000-acre state park in South Dakota is another superb budget-friendly spot for a family vacation. This highly-rated state park is open 24/7 and offers a variety of attractions.
Families spending time at Custer State Park may be interested in its Needles Eye Highway route, lakes such as the Sylvan Lake, and its scenic hiking trails like the Cathedral Spires Trail, Lovers' Leap Trail, and Black Elk Peak Loop: South Dakota Highpoint.
1
Yellowstone National Park, Multiple States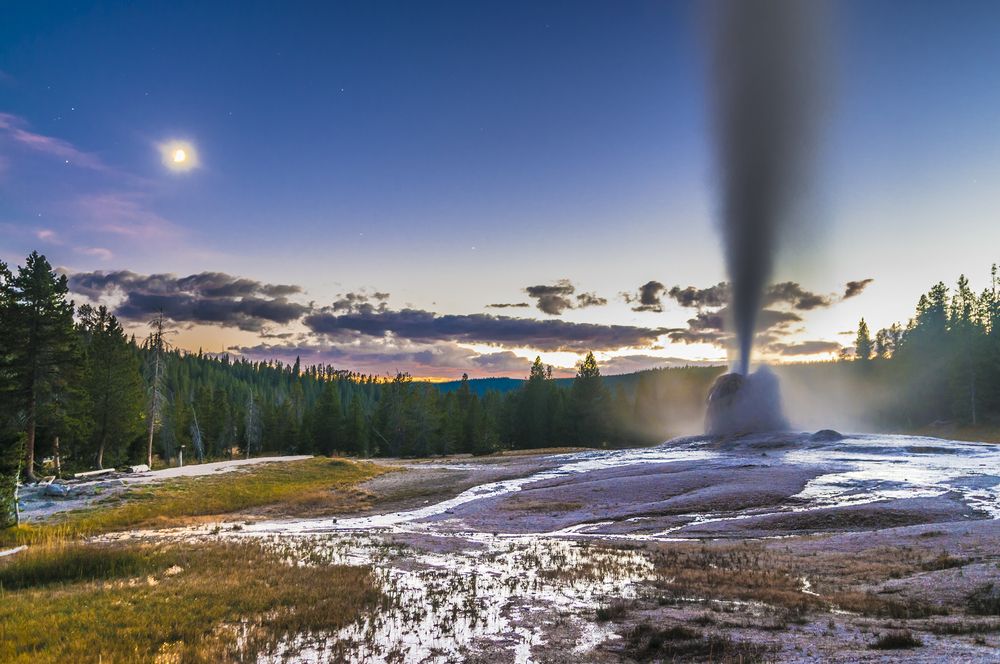 The Lone Star Geyser erupting, Yellowstone National Park, Wyoming, one of the best hikes in the USA
Situated in several states, Yellowstone National Park is one of the greatest attractions the U.S. has to offer, not to mention a great budget-friendly attraction for families seeking a domestic vacation.
Among the things to do here include seeing Old Faithful, Thumb Geyser, Mammoth Hot Springs, Yellowstone Lake, and Tower Fall. In general, Yellowstone National Park is known for its incredible hot springs.
It's important to keep a safe distance away from geological features like geysers. For the safest visit, consider joining a tour group. Either way, heed any relevant warnings.