Summary
Lisbon, Prague, Riga, Vilnius, Ljubljana, Budapest, Zagreb, Sofia, Krakow, and Belgrade are the cheapest European cities to visit in the fall, offering affordable accommodation, food, and attractions.
Travelers can enjoy fewer crowds, stunning fall foliage, and seasonal festivities in these budget-friendly destinations.
From Lisbon's tiles and trams to Belgrade's fascinating history, there is plenty to see and do in these affordable European cities, making them ideal for a budget-friendly vacation.
While there are many towns and attractions in Europe that are pricey, there are also plenty of budget-friendly destinations. These affordable European cities have a lot to offer tourists on a budget, including delectable cuisine, magnificent architecture, interesting history, and scenic landscapes. Europe beckons as the seasons change from summer beach lounging and boardwalk strolling to fall leaf-peeping and festival-going.
Fall is a seductive time to go to a new destination, packed with inspirational coastline beauty, seasonal activities, and delectable food that will tickle travelers' taste buds, due to a decline in people and lower airfare and hotel expenses. Here are the cheapest European cities to visit in the fall.
Related: This European City Was Just Named The Most Budget-Friendly Destination To Travel To
10
Lisbon, Portugal
The decaying charm of Lisbon, which is sometimes disregarded in favor of its flashier European sisters, is apparent as soon as travelers enter its streets. Lisbon is a fantastic, fairly priced city-break choice that is only a few hours from most cities in Western Europe.
It is famous for its tiles, trams, and location at the mouth of the River Tagus. Lisbon is a delight to see when on vacation as it is one of the least expensive cities in Western Europe. The Portuguese capital has amazing cheap spots for an exceptional vacation.
9
Prague, Czech Republic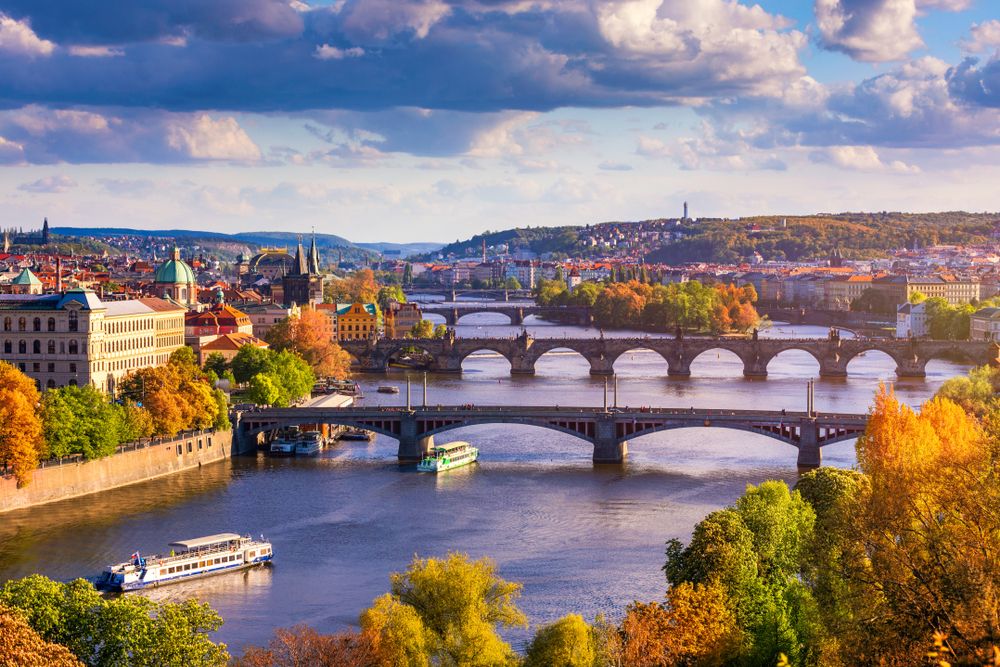 Vltava River in Prague in the fall
Prague, with its statue-lined bridges, enchanted castle, and renowned buildings like the Dancing House and the Astronomical Clock, is more alluring in the fall when the city's streets are covered in vibrant red and orange colors.
Even while it might be cold in September and October, on-budget travelers will be rewarded with fewer crowds, stunning fall foliage, and a ton of seasonal festivities. Additionally, they can enjoy fall activities like the Strings of Autumn Festival or Prague Sounds, which involves live jazz and classical music.
They can also head to Petrin Hill for breathtaking city views whenever they need a break from touring.
8
Riga, Latvia
Tom Podmore on
Unsplash
"">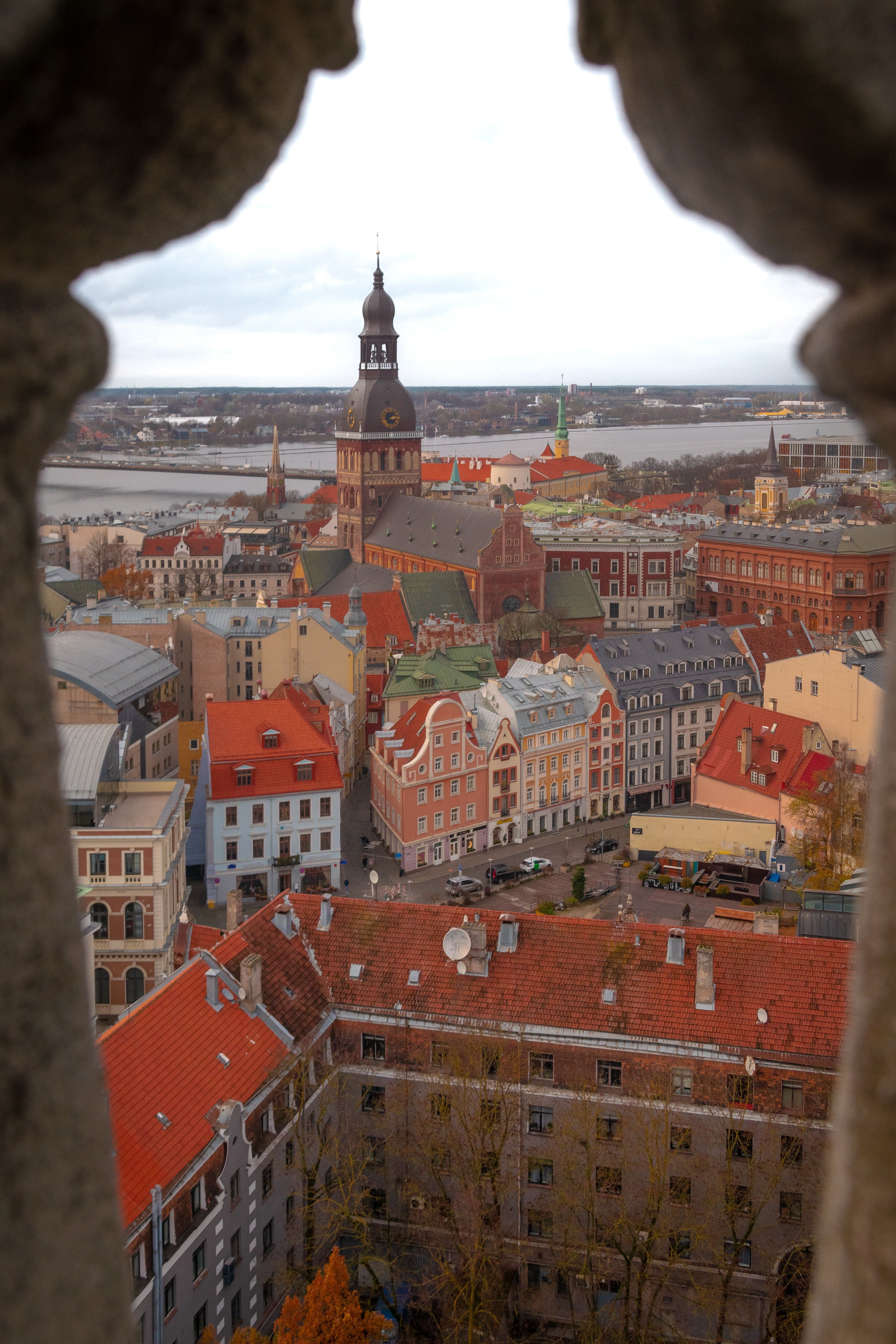 Riga's Old Town in Latvia 
Budget tourists seeking a city holiday frequently choose Riga because of its stunning architecture and exciting nightlife. They may stay here for a smaller budget in the fall because prices are substantially cheaper.
Riga is among the cheapest cities in Europe. Travelers can wind their way through the quaint Old Town's winding alleyways, grab a Samsa for lunch in the central covered markets, enjoy free live music in Dome Square, and take in the architectural splendor of the medieval Swedish Gate and the House of the Blackheads.
Related: Revealed: Cheapest (& Most Expensive) Cities In Europe For Foodies
7
Vilnius, Lithuania
Aerial view of Vilnius, Lithuania, during the fall 
Vilnius is a popular destination for tourists on a tight budget. Its affordable costs, which include hotel rooms starting at only €6 ($6.5) per night, city bus excursions costing just over €9 ($9.72), and eateries charging no more than €10 ($10.8) per person, have been a major factor in being one of the cheapest cities in Europe to visit in the fall.
The gorgeous, historically significant capital of Lithuania is a must-visit and is a heady fusion of the past and present and contains one of Europe's largest medieval old towns. Church steeples and famous baroque architecture dominate the city's skyline, although the occasional contemporary building is beginning to break through as well.
6
Ljubljana, Slovenia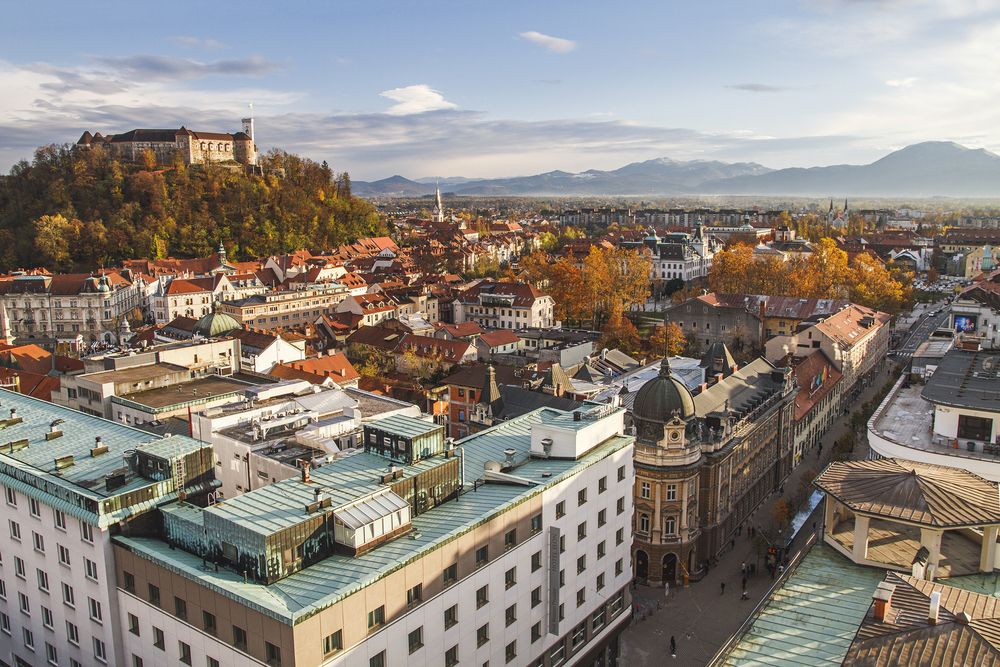 Fall panorama of Ljubljana Castle and historical city
The Slovenian capital's brilliant October colors and lively university community will undoubtedly draw on budget travelers there if a famous wine festival is not enough. Ljubljana, which was named the Green Capital of Europe in 2016, is pleasantly free of polluting traffic and has a nice riverfront for strolling.
For locally grown vegetables at fair prices, travelers can visit the city's Central Market. Being one of the cheapest cities in Europe to visit in the fall, Ljubljana offers numerous free activities and affordable attractions.
5
Budapest, Hungary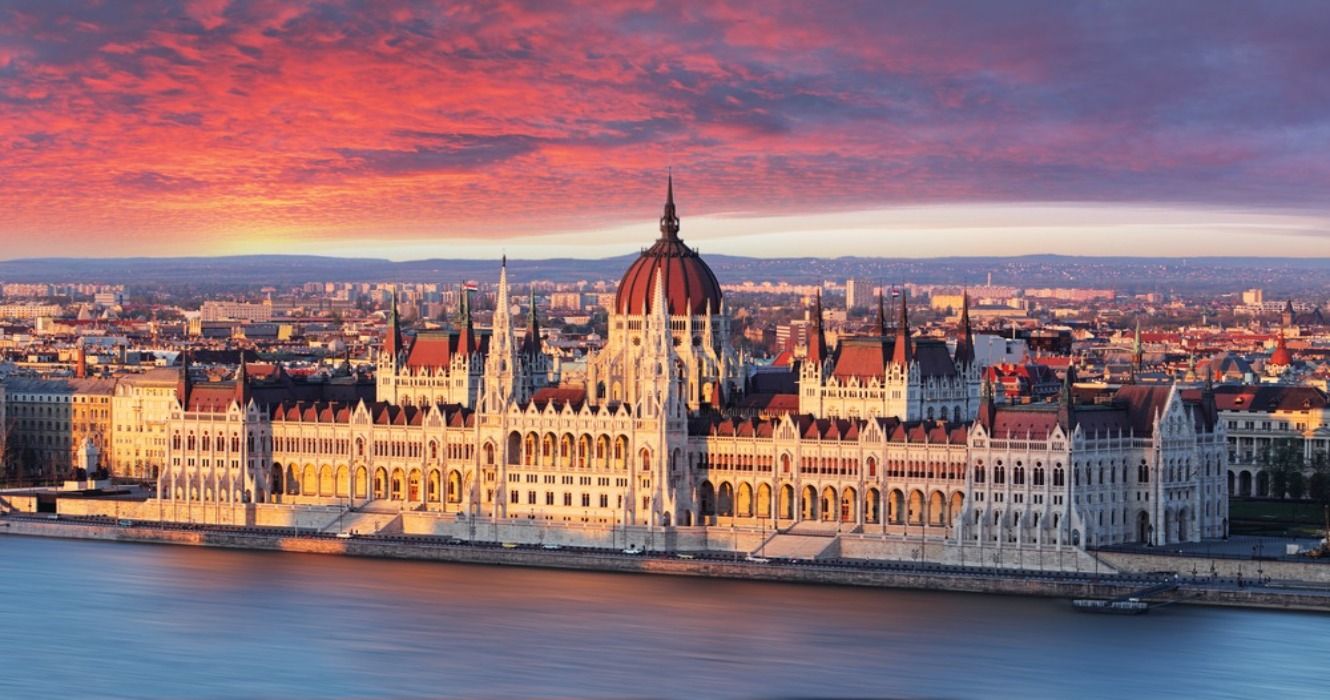 Budapest parliament in Budapest, Hungary, at sunrise
This charming capital city, located along the Danube, is a delight to explore, from the Fisherman's Bastion, which offers spectacular views of the entire city, to its "ruin bars," or pubs housed in former warehouses that have undergone creative renovations.
The city is one of the cheapest European cities to visit in the fall. Its renowned thermal baths, known as Széchenyi baths, are the largest therapeutic baths in Europe and contain indoor and outdoor pools.
Budapest is a popular tourist destination in Eastern Europe, but this off-the-beaten-track location is worthwhile, especially in the fall when travelers can take advantage of budget-friendly hotel rates, seasonal and awesome free activities, and top-notch art and architecture without wearing a bulky coat.
4
Zagreb, Croatia
Marko Tomic on
Pixabay
"">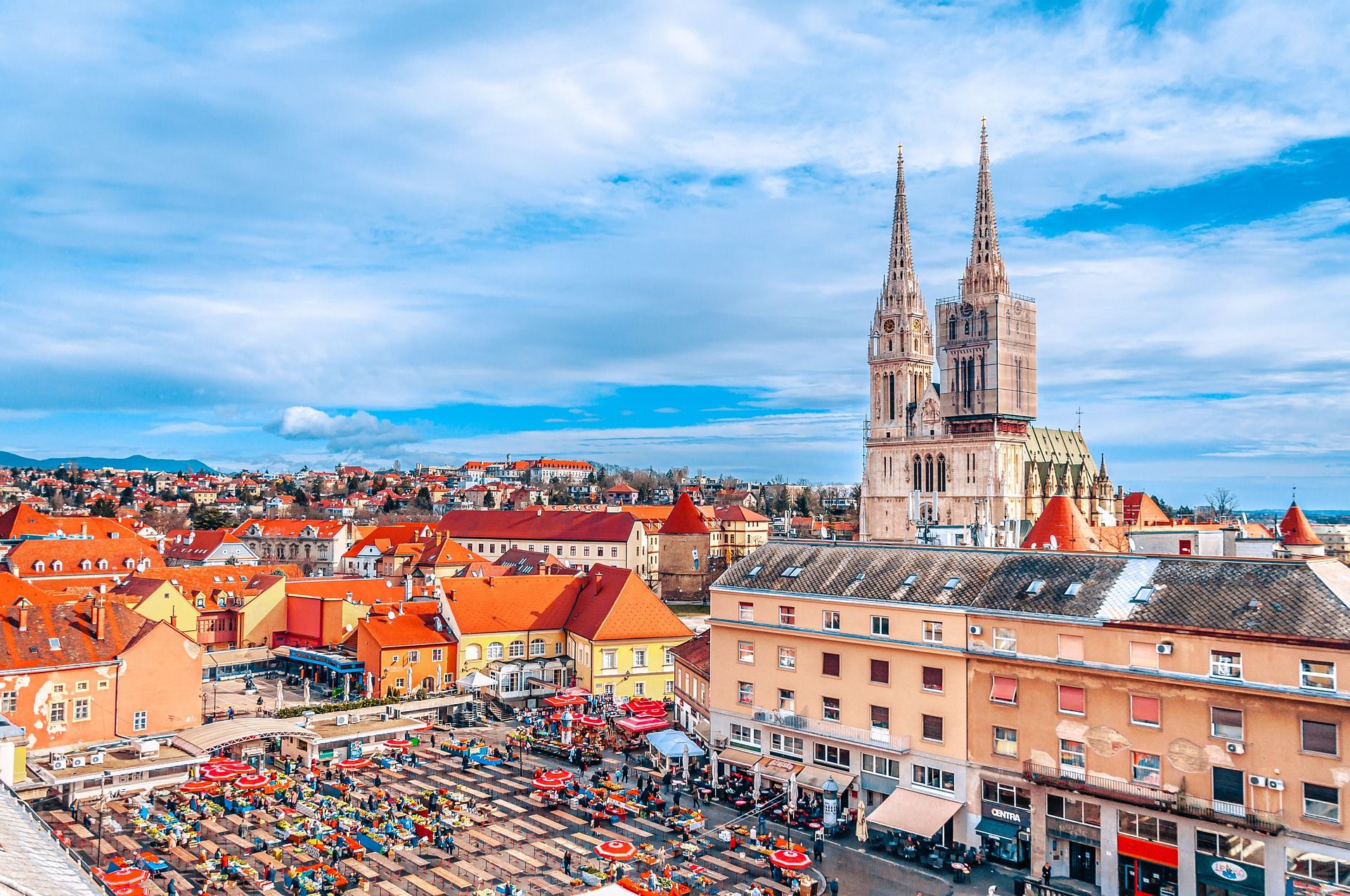 A busy city square in the Kaptol neighborhood of Zagreb, Croatia
Travelers to Europe may enjoy a great time on a tight budget in this Croatian city with its wonderful austro-hungarian architecture and exciting nightlife. If they reserve in advance, a night in Zagreb in the fall can cost them less than €9 ($9.72).
If travelers searching for a less expensive option than other European cities like Paris or London, Zagreb is a great choice. The city contains distinctive landmarks such as Ban Jelacic Square and Mirogoj Cemetery that enchant their visitors with their autumnal displays.
Amazing restaurants can be found in Zagreb where travelers on a budget may try regional cuisine at a reasonable price. Additionally, Zagreb's exciting nightlife provides lots of excitement without breaking the budget.
Related: Why Croatia's Zagreb Is A Great Place For Backpackers
3
Sofia, Bulgaria
Ivan Nedelchev on
Unsplash
"">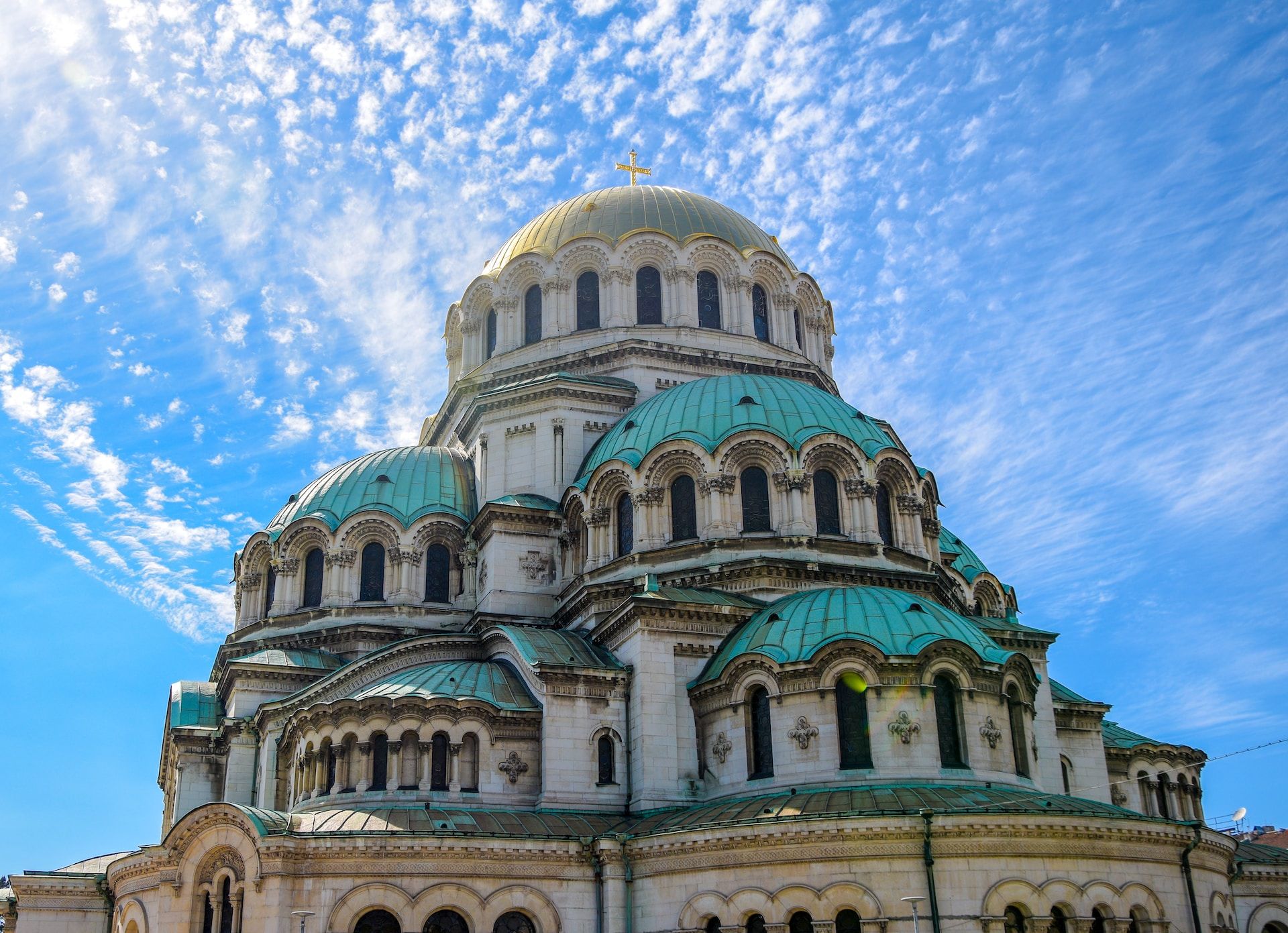 Alexander Nevsky Cathedral Sofia Bulgaria, Sofia, Bulgaria
According to the 2017 European Backpacker Index, Sofia, the capital of Bulgaria, is the most affordable European city to visit. The country's capital is still an unusual destination for a fall break, despite the popularity of the country's beaches and ski resorts among local tourists.
However, the journey will be rewarded with magnificent Ottoman churches, a thriving nightlife, and lovely city parks. At any time of year, Sofia is a lovely city, but travelers will absolutely adore the atmosphere and colors of the fall, particularly in October.
2
Krakow, Poland
Wawel Castle, Krakow in the fall
The gorgeous beauty of Poland can be easily visited on a budget. Travelers' money will go a long way in Krakow this fall, a longtime favorite of thrifty travelers. It is a cheap European getaway and a popular Polish city break destination.
Its museums, memorials, and socialist structures are endlessly intriguing to history enthusiasts, and it has a lively nightlife with affordable dining options and a flourishing craft beer industry. Moreover, Krakow offers plenty of free activities to enjoy during fall vacations.
1
Belgrade, Serbia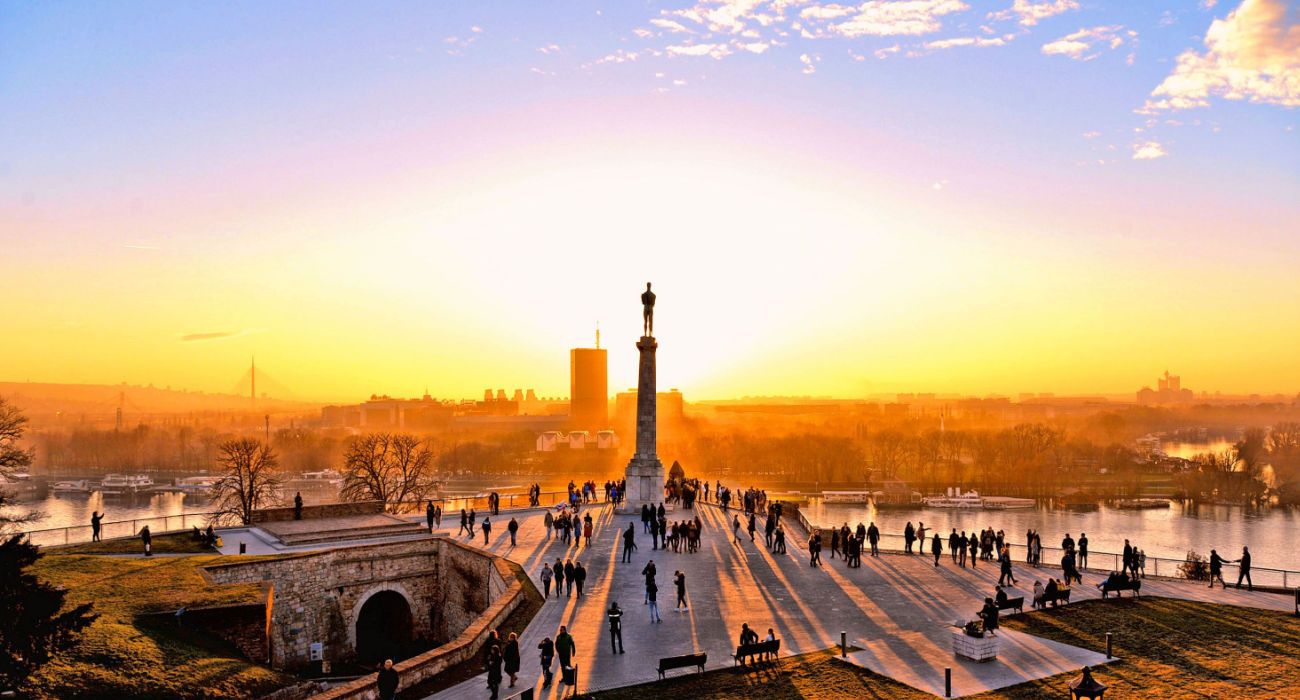 Sunset light on Danube river In Belgrade
One of the cheapest cities in Europe is the capital of Serbia. Although Belgrade may still conjure up pictures of war-torn streets, the former Yugoslavian city is quickly becoming one of the continent's most fascinating historical and culinary capitals.
It is a mash-up of historical events, architectural eras, and contemporary embellishments. No matter what season of the year it is, Belgrade is a European city that is always stunning. However, fall may be the most serene and romantic time of year.
The enchantment is literally in the air, and there are stunning hues of warm brown and beige tones all around. During this time, sightseeing is spectacular, and the city has plenty of fantastic locations for leaf peeping.