Summary
South India offers stunning lakes that provide rejuvenating experiences, with deep blue waters, breathtaking views, and lush surroundings.
The recommended accommodations near these lakes have been carefully chosen for their proximity, good ratings, affordable prices, and excellent amenities.
Visitors can partake in various activities like boating, birdwatching, trekking, and exploring flora and fauna to create memorable experiences at these beautiful South Indian lakes.
Dreaming of a vacation by a crystal-clear lake amidst lush mountains and breathtaking landscapes in South India? There are plenty of serene lakes in South India that offer rejuvenating experiences. Everyone who visits these lakes takes home cherished memories of serenity, deep blue waters, refreshing ambiance, and breathtaking views.
India is a land of stunning natural scenery, a vibrant culture, mouthwatering cuisine, and charming festivals. While some of these reasons to visit India are highly popular, others are hidden gems that promise exciting experiences. And certainly, South India is particularly serene, with hidden gems, gorgeous lakes, and lush surroundings that add to its overall appeal. So, for anyone planning a vacation near South Indian lakes, these ten are the most beautiful and offer memorable experiences.
The accommodations recommended in this article were chosen after extensive research regarding the most beautiful lakes in South India. Each accommodation was chosen for its proximity to South Indian lakes, and most of them have received good ratings. Additionally, hotels with affordable prices and the best amenities compared to other accommodations with equivalent ratings were considered.
Related: These Are The 10 Most Beautiful Waterfalls In India You Should See
Berijam Lake

Berijam lake in Kodaikanal, Tamilnadu, India
Craft of a hydropower project and supported by a magnificent dam, the Berijam Lake is a sight of wonders. Nestled within the undue beauty of tropical forests, the lake is a gorgeous destination to explore flora and fauna. Housing some exotic giants like bison, Indian elephants, Nilgiri langurs, and deer, the lake offers a variety of tourism activities. Cover the expanse of the location with hiking, jeep safaris, personalized tours, and birdwatching, and leave mesmerized with experiences to cherish forever.
Where: Kodaikanal, Tamil Nadu, India
What to do: Boating, Birdwatching, Nature Photography, Picnicking, Trekking, Jeep Safari
Where to stay: Holiday Home Resort
Holiday Home Resort

Amenities

Room service, Bicycle rental, Airport shuttle, Laundry facilities

Price

$
Pykara Lake

n
Raghavan G
,
CC BY-SA 4.0
, via Wikimedia Commons"">
Pykara Lake, Ooty, Tamil Nadu, India
Blooming among the captivating lushness of the Shola Forests is the Pykara Lake, reflecting some of the most amazing blues in the world. Born of the Pykara River and a hydropower project, the lake is surrounded by a waterfall as well, making it a perfect outdoor experience. Adjoined with Mukurthi Peak, it allows visitors to enjoy boating, forest expeditions, and hill treks. Adding to the immense beauty of Ooty, the lake also has some great eateries to munch on some authentic snacks.
Where: Mysore Ooty Road, Ooty, Tamil Nadu, India
What to do: Boating, Picnicking, Wildlife Watching, Photography, Nature Walks
Where to stay: Kstdc Hotel Mayura Sudarshan, Ooty
Kstdc Hotel Mayura Sudarshan, Ooty

Amenities

Restaurant, Room service, Free Parking, Free Wi-Fi

Price

$
Hussain Sagar Lake

n
Tarunsamanta
,
CC BY-SA 4.0
, via Wikimedia Commons"">
Hussain Sagar Lake, Hyderabad, Telangana, India
The largest artificial lake in Asia, Hussain Sagar Lake is located only 2km away from the heart of an enchanting city, Hyderabad. Derived out of a tranquil river Musi, the lake also connects two famous ports of Secunderabad and Hyderabad. An amazing standing statue of Lord Buddha further enhances the beauty of the lake. It is a delight for adventure enthusiasts as it offers a variety of cruises, boating packages, and thrilling parasailing activities. Offering its exquisite natural heritage to its tourists, it is also a recreational and historical hub.
Where: Hyderabad, Telangana, India
What to do: Boating, Visit the Buddha Statue, Parasailing, Dine at Lakeside Restaurants, Explore Lumbini Park, Enjoy Sunset Views
Where to stay: Hyderabad Marriott Hotel & Convention Centre
Hyderabad Marriott Hotel & Convention Centre

Amenities

Outdoor pool, Spa and wellness center, Fitness center, Restaurant

Price

$$
Kolleru Lake

Balaji kumar kolipaka,
CC BY-SA 4.0
, via Wikimedia Commons"">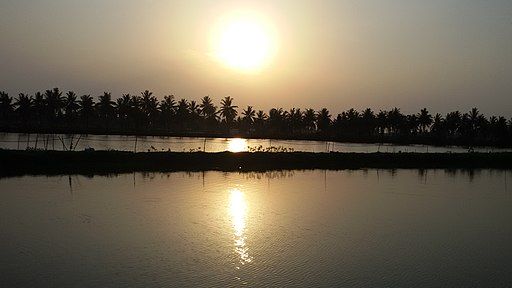 Sunset view at Kolleru Lake, Eluru, Andhra Pradesh, India
Enhancing the beauty of the Godavari and Krishna deltas, Kolleru Lake is another breathtaking destination in Vijayawada, Andhra Pradesh. Renowned for its fascinating season of migratory birds, the lake is also a bird sanctuary. As an enthusiastic birdwatcher, one gets to watch majestic birds like painted storks, open-billed storks, white ibises, glossy ibises, teals, pintails, and whatnot! Visitors can also go boating and enjoy the rejuvenating weather. Connected with the commercial capital of Andhra Pradesh, they can also enjoy the heritage of Vijayawada.
Where: Eluru, Andhra Pradesh, India
What to do: Bird watching, Boating, Photography, Nature walks, Fishing
Where to stay: Hotel N Square
 Hotel N Square

Amenities

Restaurant, Room service, Tea/coffee maker

Price

$
Related: 10 Things To Do In Mumbai: Complete Guide To India's Entertainment Capital
Vembanad Lake

n
© Vyacheslav Argenberg / http://www.vascoplanet.com/
,
CC BY 4.0
, via Wikimedia Commons"">
Vembanad Lake, Kerala, India