Summary
Fall is the ideal time for budget-conscious travelers to explore the United States, with reduced prices and fewer crowds at popular attractions.
Austin, Pigeon Forge, Chattanooga, Myrtle Beach, Columbus, Niagara Falls, Asheville, Charlottesville, New Hampshire, and Seattle are all affordable fall vacation destinations with unique experiences to offer.
From hiking and biking to wine tastings and scenic drives, there are plenty of cost-effective activities to enjoy while taking in the beautiful fall foliage.
During fall, travel enthusiasts are presented with a wonderful opportunity to explore the expanse of the United States. The breathtaking transformation of foliage into a vibrant array of fall colors and the gradual retreat of the scorching summer heat pave the way for one of the best family vacations in the USA. This particular period is ideal for tourists to indulge in budget-conscious vacations as they capitalize on reduced prices during the off-peak season and the added advantage of fewer crowds at popular attractions.
From the East Coast to the West Coast and everywhere in between, tourists can revel in the charm of small towns decked out in fall decor or embark on scenic drives through countryside roads ablaze with color. With the milder weather, outdoor activities like hiking, apple picking, and nature walks become even more enticing. They provide travelers with ample opportunities to make the most of an affordable fall vacation.
Related: 14 Vacation Spots In The US That Won't Break The Bank
10
Austin, Texas
The Bullock Texas State History Museum In Austin, Texas, United States
Austin is an affordable fall vacation gem that marries captivating fall foliage with a unique blend of experiences. As tourists traverse the streets adorned with golden and fiery-red leaves, they're greeted by a city that boasts more than just seasonal beauty.
With many top-rated things to do in Austin, tourists can indulge in hiking adventures along the city's scenic trails or opt for horse riding through picturesque landscapes. They do all this while taking in the vivid colors that envelop Austin during this delightful season.
Top Attractions: Lady Bird Lake, Barton Springs Pool, and Bullock Texas State History Museum
Things to Do: Hiking, horse riding, and kayaking
9
Pigeon Forge, Tennessee
Titanic Pigeon Forge Museum In Pigeon Forge, Tennessee, USA
Nestled amidst the stunning Smoky Mountains, Pigeon Forge is an attractive and affordable fall vacation spot. The vibrant autumn leaves paint the landscape with warm hues, setting the perfect backdrop for a memorable getaway.
Tourists are treated to unique attractions that cater to all tastes. That's because Pigeon Forge is renowned for its unparalleled entertainment options. Tourists can indulge in world-class shows, including music revues and theatrical performances.
Visitors can also explore Old Mill Square, where charming shops and local crafts add a touch of authenticity to the experience.
Top Attractions: Smoky Mountains, Titanic Museum, Old Mill Square, and Dollywood theme park
Things to Do: Hiking, Zip-lining, and biking
Related: 10 U.S. Vacation Spots To Book In The Fall
8
Chattanooga, Tennessee
Ruby Falls Visitor Center, Near Chattanooga, Tennessee In The United States
Chattanooga is an enticingly affordable fall vacation destination that allows tourists to traverse the city's charming streets decorated with rustling leaves of gold and crimson. Tourists can walk along the serene Tennessee Riverwalk or embark on an adventure at the Tennessee Aquarium—home to a fascinating display of marine life.
Visitors can also explore the iconic Ruby Falls, a breathtaking underground waterfall that offers an unforgettable adventure beneath the earth's surface. So, whether tourists are looking for affordable Chattanooga pastimes or completely free things to do, there is no shortage of captivating experiences in this city.
Top Attractions: Ruby Falls, Appalachian Mountains, and Lookout Mountain
Things to Do: Hiking, biking, and boating
7
Myrtle Beach, South Carolina
Observation Wheel On The Shoreline At Myrtle Beach, South Carolina, USA
Myrtle Beach is a surprising haven for budget-conscious travelers. When tourists set foot on its shores, they're met with a unique blend of golden sand and warm, inviting autumn colors stretching along the coastline.
Beyond the beach's natural beauty, tourists can engage in cost-effective activities. From wandering through Brookgreen Gardens, where sculptures harmonize with the changing leaves, to participating in dolphin-watching excursions along the Atlantic, there's an abundance of experiences that won't break the bank in Myrtle Beach.
Top Attractions: Myrtle Beach Air Force Base, Charleston, and Brookgreen Gardens
Things to Do: Hiking, golfing, biking, and wildlife watching
6
Columbus, Ohio
Franklin Park Conservatory In Columbus, Ohio, USA
Columbus is an unexpectedly charming and affordable fall vacation destination. The city's tree-lined streets transform into a vibrant symphony of red, orange, and yellow leaves, inviting tourists to explore a variety of attractions that cater to all interests.
For art and culture enthusiasts, the Short North Arts District showcases local talent against fall foliage. At the same time, the Franklin Park Conservatory and Botanical Gardens offer an oasis of exotic plants and seasonal displays.
Nature lovers can delight in hiking along the Scioto Mile, where riverside pathways are adorned with the season's changing colors.
Top Attractions: Short North Arts District, Franklin Park Conservatory, Botanical Gardens, and Zoombezi Bay Water Park
Things to do: Shopping, hiking, and biking
Related: 14 Vacation Spots In Florida That Won't Break The Bank
5
Niagara Falls, New York
A Goat Island Sign At The Niagara Falls State Park, New York, USA
Niagara Falls presents a cost-effective fall vacation that combines the beauty of the falls with the enchantment of autumn's hues. With some of the best places to stay near Niagara Falls State Park, tourists can enjoy the awe of the cascading waters framed by fiery red and golden leaves for several days.
The Niagara Wine Trail offers a chance to sample local wines amidst vineyards with vibrant foliage. Moreover, the Old Fort Niagara provides a glimpse into the region's history against a picturesque fall panorama.
Top Attractions: Niagara Wine Trail, Old Fort Niagara, and the Niagara SkyWheel
Things to do: Boating, rafting, and shopping
4
Asheville, North Carolina
A View Of The Blue Ridge Mountains In North Carolina, USA
Asheville is a charming city tucked away in the Blue Ridge Mountains. It's an inviting fall haven that enchants visitors with its affordability, natural beauty, and vibrant culture. The rolling mountains are adorned with a patchwork of colorful leaves that create a serene backdrop for diverse experiences.
Whether indulging in the local art scene or immersing oneself in the stunning outdoors, Asheville provides an authentic and affordable fall escape. For instance, the Biltmore Estate, a grand mansion surrounded by meticulously landscaped gardens, offers tours that provide insight into the region's history.
Top Attractions: Blue Ridge Mountains, Bearpen Mountain Trail, Looking Glass Rock Trail, and Asheville Civic Center
Things to do: Hiking, biking, horseback riding, and camping
Related: 10 Prettiest Places To Vacation On The East Coast
3
Charlottesville, Virginia
Wikimedia Commons,
CC BY-SA 3.0
"">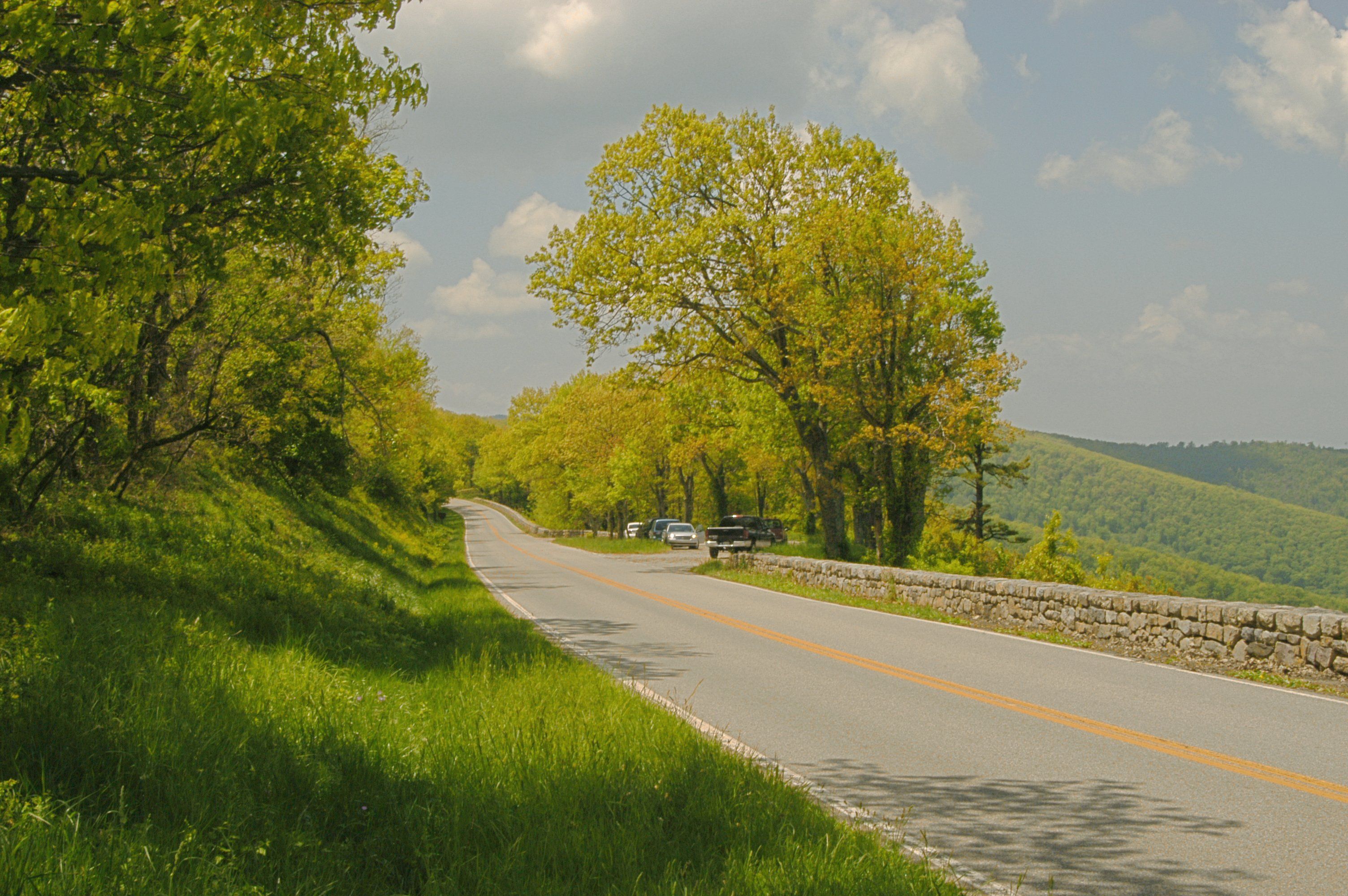 Skyline Drive In Shenandoah National Park, VA, USA
Charlottesville is a city whose streets are usually full of warm hues of autumn leaves in October. This creates a great atmosphere for tourists looking for a budget-friendly getaway. Travelers can enjoy affordable wine tastings along the Monticello Wine Trail, where vineyards are set against a backdrop of rolling hills painted in autumn hues.
Additionally, Charlottesville's farm-to-table dining options showcase the season's bounty, and the city's affordable accommodations make it easy for visitors to extend their stay. With its blend of history, culture, and fall beauty, Charlottesville, Virginia, promises an accessible and enriching autumn escape.
Top Attractions: Monticello Wine Trail, University of Virginia, and Shenandoah National Park
Things to do: Hiking, biking, and scenic drives
2
New Hampshire
A Franconia Notch State Park Sign In New Hampshire, USA
New Hampshire is a breathtakingly cost-effective fall vacation destination with some of the best places to take in the beauty of fall foliage season. Tourists can explore the White Mountains, where scenic drives unveil vistas of mountain peaks blanketed in fall's radiant colors.
Charming towns like North Conway offer a mix of boutique shopping and local dining experiences that capture the essence of New England. Moreover, hiking trails, such as those in the Franconia Notch State Park, lead adventurers through forests painted in vibrant hues.
Top Attractions: Franconia Notch State Park, Lake Winnipesaukee, Hampton Beach and Mount Washington
Things to do: Hiking, camping, fishing, and skiing
Related: 10 Prettiest Places To Vacation On The West Coast
1
Seattle, Washington
Washington Park Arboretum In Seattle, Washington, USA
Seattle offers an affordable fall vacation getaway that balances urban vibrancy with the tranquility of surrounding nature. The city also invites travelers to explore its cultural richness and coastal beauty. For instance, the Pike Place Market bustles with life, offering fresh produce, artisan crafts, and lively street performances.
The city's numerous parks, such as Discovery Park and Washington Park Arboretum, provide serene escapes within the city limits. Tourists can hit the dirt road and explore the best hikes near Seattle.
Whether sipping coffee at a local café or taking in panoramic views from the Space Needle, Seattle's fall charm invites visitors to indulge in an affordable and multifaceted urban escape.
Top Attractions: Pike Place Market, Space Needle, Washington Park Arboretum and Discovery Park
Things to do: Hiking, shopping, and boating