When wine enthusiasts imagine the best wine regions in the United States, visiting Sonoma might be the first idea to come to mind. However, just north in the lush lands of Oregon, Willamette Valley is globally celebrated for its incredible winemaking and is the perfect low-key getaway.
From imposing mountaintops, ocean views, and endless rolling hills decorated with vineyards, Willamette Valley is easily one of Oregon's most magical spots. The Lewis & Clark Expedition once traversed the valley, eventually becoming a part of the Oregon Trail and later a trading post in the 19th century. Today, the ideal climate conditions have made the valley a treasure for winemaking and a hub of culinary innovation.
Beyond the vines, Willamette Valley's history, culture, and natural surroundings make it the ideal destination for a delicious, no-stress vacation. From outdoor adventures, wine tastings, city life, and so much more, there is a tapestry of things to do in Willamette Valley. Discover below just a taste of all the attractions, restaurants, hotels & more in Oregon's precious valley.
Related 10 Best Places To Visit In Oregon During The Fall and Enjoy Its Stunning Beauty
Top Things To Do
Willamette Valley Vineyards, Wilsonville, Oregon
Pinot Noirs and famous vineyards initially bring travelers to the Willamette Valley, but the region's got so much more to offer. From tastings at lovely wineries and impressive food culture to hiking among waterfalls and breathtaking mountains, the valley has something for everyone, including foodies, mountain bikers, and art enthusiasts.
Check out the countryside, precious small towns, Oregon's most interesting cities, and lots more in the Willamette Valley.
1
Indulge In Wine Tasting
Lexi Laginess on
Unsplash
"">
Swirling a small tasting of Pinot Noir in a wine glass against Willamette Valley overcast sky
Perhaps the most important thing to enjoy in Willamette Valley is its iconic Pinot Noir. Their prized pinot-producing climate attracts thousands of visitors a year, from connoisseurs and enthusiasts to curious tourists.
Not only one of the top Pinot Noir producers in the world, but the Willamette Valley AVA's 10 wine-growing appellations offer a wide range of terroir & personalities, from varietals like merlot & cabernet sauvignon to chardonnay & rosé.
Settle down for a tasting at any winery amidst the region's breathtaking natural beauty and join in a vital aspect of the Willamette Valley's identity. Many of the wineries are dog & family-friendly for travelers with smaller companions, while others boast their commitment & dedication to sustainable & organic practices.
2
Visit Historic Vineyards
Bunches of grapes growing on vines at golden hour in the Willamette Valley
Part of the charm of sampling wine in Willamette is being right where the grapes were grown, harvested, and produced. Travelers can choose from over 600 wineries within the renowned region and should precede or conclude each visit by strolling through the scenic vineyards for stunning views of the rolling hills.
Many of the wineries also offer individualized or group events & experiences to meet the winemakers, sample unique varietals, and learn more about the winemaking process.
What Are The Best Wineries In Willamette Valley?
With so many to choose from, where does one even begin? While checking out Oregon Wine Board's interactive map is a good place to start narrowing down the list, some wineries stand out for their excellence.
For example, Domaine Drouhin is famous for its picturesque vineyards and impressive flights & cheese boards. Eyrie Vineyards is an excellent first stop for its dedication to story-telling & history, and its Pinot Noir also placed in the top 10 at the Wine Olympiad in Paris.
Pioneer wineries in the Willamette Valley include Sokol Blosser, the nation's first LEED-certified winery, Penner-Ash Wine Cellars, co-founded by one of the first female winemakers in Oregon, and Honeywood Winery, the oldest continuously running winery in the region established in 1934.
Other favorites include Adelsheim, Bethel Heights Vineyard, and White Rose Estate.
Always call ahead & make a reservation before visiting any winery to ensure a spot.
3
Go Biking
The Willamette River flows beside a bike path in Eugene, Oregon
Vineyards aside, one might wonder what to do besides wine tasting in the Willamette Valley. Outdoor enthusiasts will love to find out that hundreds of miles of scenic bike trails line the valley, ranging from leisurely rides to hardcore adventures.
Black Rock Mountain Biking Area offers four areas with intermediate to extreme trails, including a Basic Training Area to better prepare adventurists for biking the mountain. The routes boast human-made & free-riding features, plus ride-arounds in case cyclists need to get down safely.
Family members or non-adventurists have plenty of spots to sit back and enjoy the action throughout the area.
On the other hand, the Willamette Valley Scenic Bikeway is an extensive network of paths stretching over 130 miles from Eugene to beyond Salem. The trail system is moderate with steep inclines & descents, but cyclists can easily choose shorter round-trip sections to complete and enjoy biking through the valley past vineyards and hops fields.
Officially the first scenic bikeway in the United States, these routes wind past friendly towns offering up stops at wineries, coffee shops, and brewpubs.
4
Get Outdoors & Go Hiking
Porter Raab on
Unsplash
"">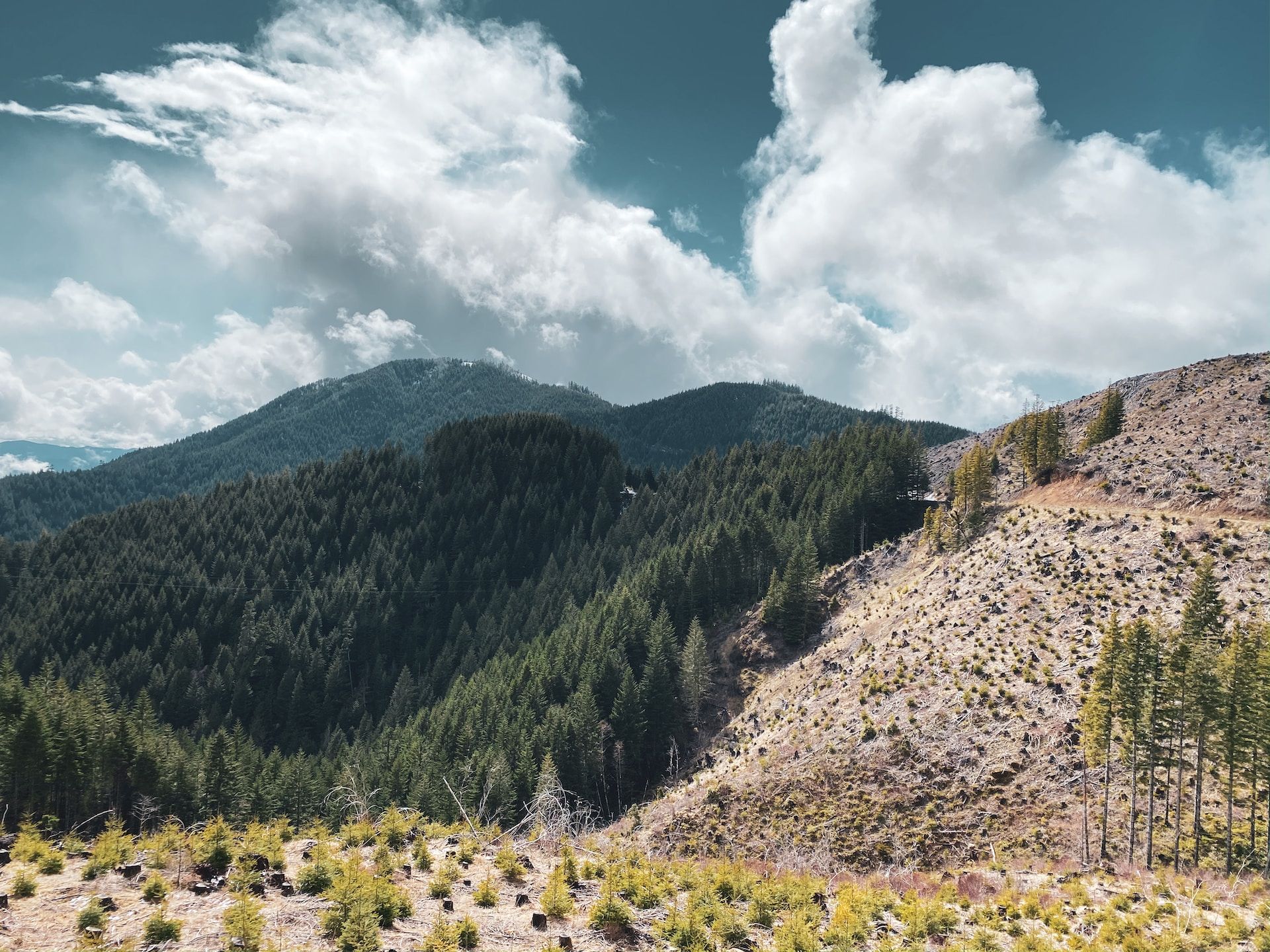 Mary's Peak evergreen-covered mountains in Oregon
Surrounded by national parks & mountain ranges, Willamette Valley is easily one of the prettiest places on the West Coast. Outdoor enthusiasts have endless options for scenic hiking trails in Oregon, varying from easy to challenging.
Check out some of the best spots for outdoor activities in Willamette Valley, including:
Mary's Peak –– Over 12 miles of hiking routes crisscross this mountaintop, leading to never-ending views of the Cascade Mountains to the Pacific Ocean. It also happens to be one of the best areas to catch wildflower blooms in the summer.
Clear Lake –– An incredible body of water fed by snow runoff and surrounding creeks, Clear Lake offers stunning visibility up to 200 feet and is one of the nation's best spots for freshwater diving. Other adventures in the area include fishing, kayaking, hiking, and mountain biking.
Oregon Garden –– Over 80 acres of botanical gardens and home to Frank Lloyd Wright's Gordon House.
While hopping between outdoor activities, look out for the several covered bridges that connect & decorate the country roads. Lane County has the most extensive collection of the West Coast's covered bridges, some even open to car traffic.
5
Wander Behind Waterfalls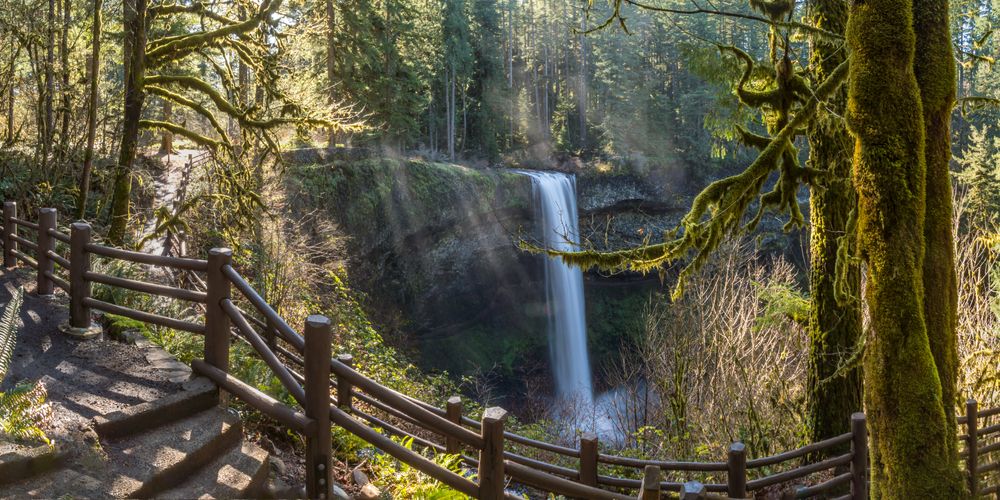 Silver Falls in the Willamette Valley of Oregon, USA
Give in to the wanderlust and head to Silver Falls State Park, Oregon's largest state park, for one of its top visitor attractions: The Trail of 10 Ten Falls. Known for its stunning waterfalls, some over 100 feet high, the 7.2-mile route takes hikers around, into, and behind a series of magnificent falls.
With paved trails and mossy handrails, the hike is suitable for children & older adults and allows everyone to explore the dense & verdant Oregon forests.
Entrance Fee: $5 a day per vehicle
Visitors should wear sturdy shoes for when the path inevitably gets a little slippery and a light waterproof jacket to immerse themselves in the waterfalls' spray.
Trail Length: 7.2 miles, circular
Duration: ~3.5 hours
Difficulty: Moderate
Related: 10 Best Waterfalls Near Portland You Shouldn't Miss
6
Go Camping At Willamette National Forest
For more waterfalls, hiking, and outdoor adventures, the Willamette National Forest offers a lifetime of exploring. Seriously, there are over 1,700 miles of backpacking or day hiking trails. These routes take visitors past hidden lookouts, wildflower meadows, pristine lakes, scenic drives & so much more.
With some of the United States' most beautiful trails, the forest is divided into eight sections, each with a distinct personality providing opportunities for mountain biking, whitewater rafting, or trekking.
Finding a cozy spot under the stars and setting up camp is an excellent way to spend a few days in the national park and enjoy its attractions. Keep in mind, many campsites and areas of the park charge day-use fees or require permits.
Travelers should practice due diligence and research local guidelines & recommendations before visiting the national forest, especially in the summer when it's prone to wildfires. Always respect the trails & campsites and leave them cleaner than before.
7
Sip On Craft Brews
Two men admire their beer glasses at a microbrewery in the Willamette Valley
Who said Willamette Valley was only about the wine? Decades of perfecting the art of fermentation have spurred other great culinary ventures like exquisite food, house-made spirits, and beer making.
Whether hiking, sightseeing, or hopping between wineries, there are several breweries and brewpubs throughout the valley, from the country to the cities & towns.
Check out unique flavors at breweries along the self-guided Mid-Willamette Valley Food Trail, or visit some of these other notable pubs:
Block 15 Brewing Co. –– From IPAs to fruity sours, this brewery blends European styles with regional & organic products.
Xicha Brewing –– Oregon's first Latino-owned brewery, located in Salem.
Siuslaw Brewery –– An idyllic farmhouse brewery serving up raspberry wheats and dessert vanilla bean stouts.
Related Discover The 10 Best Breweries In Bend, Oregon For Craft Beer Enthusiasts
8
Get Cultural In The Cities
Zack Spear on
Unsplash
"">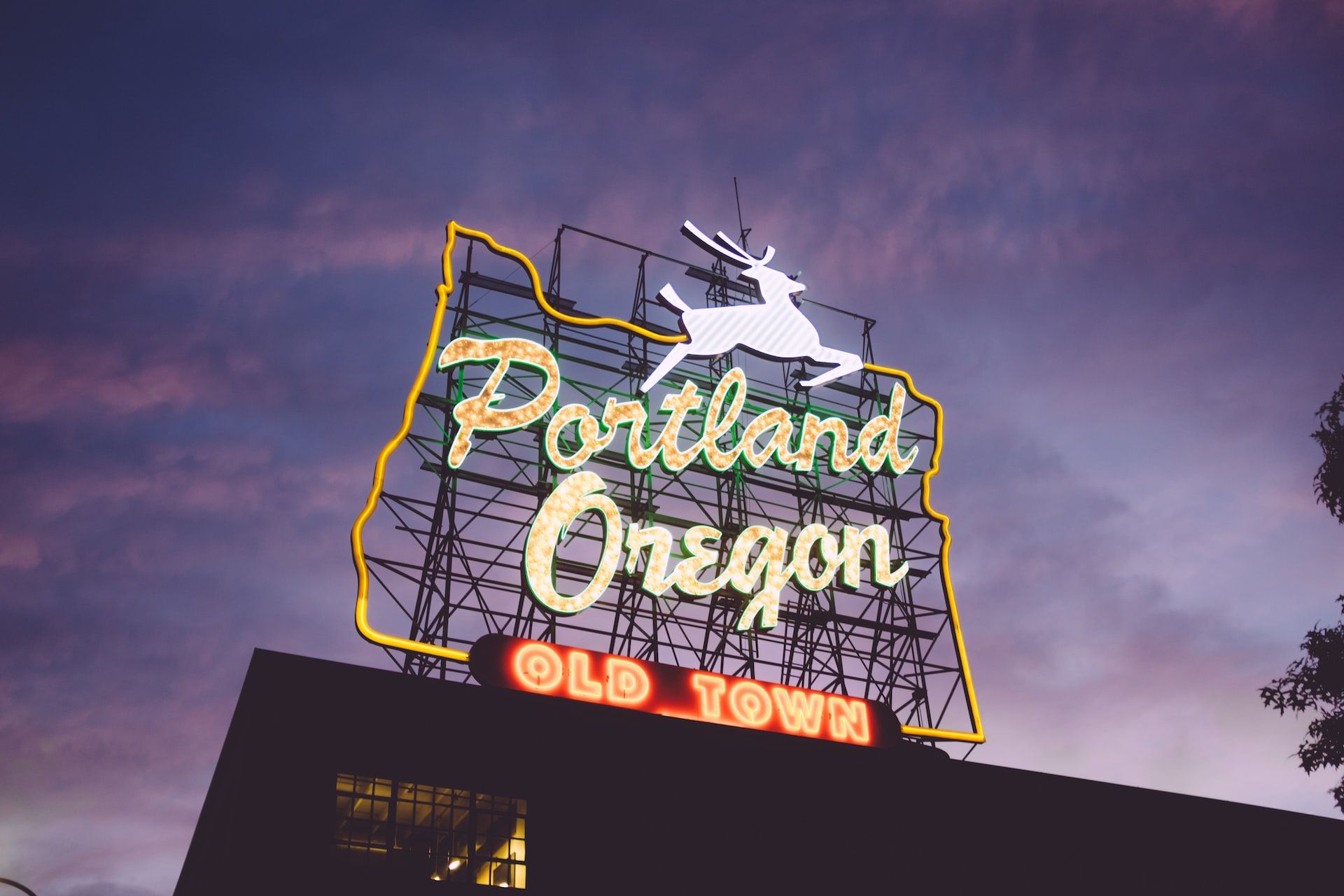 Portland Oregon Old Town sign
Take a break from Willamette Valley's wilderness & countryside and experience some of its eclectic & lively city life. While there's a lot of culture in the small towns throughout the region, cities like Portland and Eugene are excellent day trips for museums, history, and nightlife.
Both cities are pretty weird and proud of their alt-art scenes, but planning a trip to Portland should include wandering through the iconic Powell's City of Books or enjoying the gorgeous Japanese gardens.
On the other hand, Eugene is Oregon's third-most populous city (and perhaps its grooviest), offering travelers a series of brightly colored downtown murals, a hopping foodie scene, and a new world-class track-and-field center at the University of Oregon.
Related: 10 Amazing Things To Do In Eugene Oregon This Fall
9
Revel In Fruit & Berry Picking
Elizabeth George on
Unsplash
"">
A bunch of ripe blackberries ready to be picked
Forget the Michelin star five-course meals––nothing compares to picking sweet ripe blackberries off the bush. Thanks to clean air & sweet water from the Cascade Mountains, Oregon is renowned for its incredible cane berries, like blackberries, raspberries, blueberries, and boysenberries.
While travelers can find the berries growing wild on mountain hikes or bike routes, the best place to harvest fruit is on family-owned U-pick farms.
Mid-Willamette Valley may have the most local farms for berry picking, where couples & families can enjoy filling baskets with fruit that's sweet as candy.
Summer is the best time to collect berries, while many farms also offer seasonal products throughout the year, like flowers, plants, and vegetables.
10
Go Sightseeing In Salem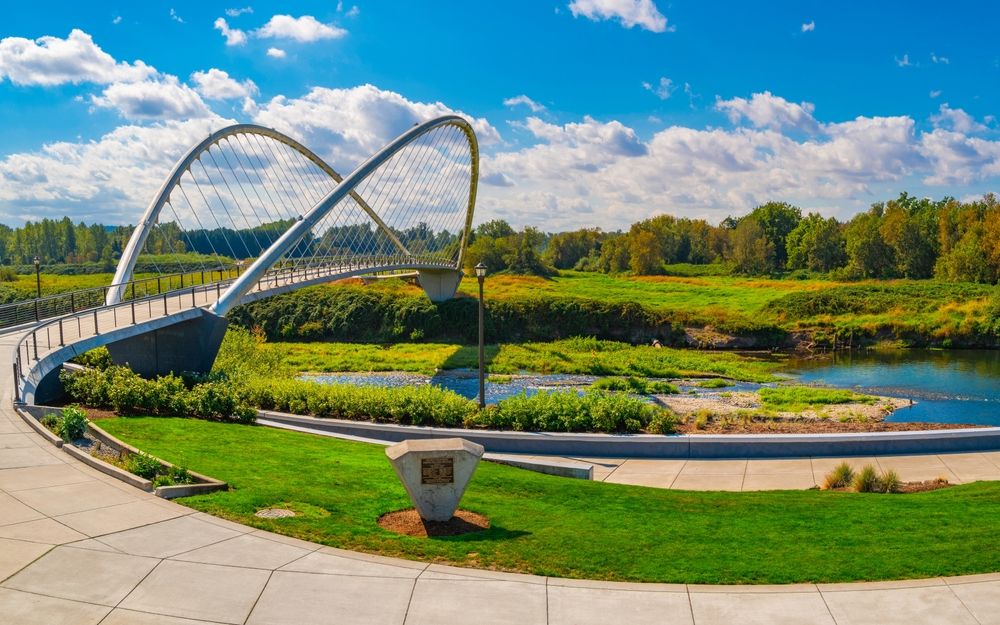 Riverfront City Park with Peter Courtney Minto Island Bridge over Willamette River in Salem, Oregon
Stopping in Salem, Oregon's capital city, is a convenient and essential thing to do in the Willamette Valley. Located at the heart of the valley, Salem blends politics, heritage, and culture, from the State Capitol topped by the trailblazing Golden Man stature to tons of public art or craft brew pubs.
The Willamette Heritage Center is one of many things to do in Salem, showcasing the region's history through 14 significant structures, exhibits, & a research library.
Hours: Daily, 10 AM – 4 PM | Closed Sundays & Mondays
Entrance Fee: $10 adults
11
Where To Eat In Willamette Valley
Unexpected burst of red and pink flowers in the rolling green fields of the Willamette Valley
Travelers should savor some local cuisine during their travels in the Willamette Valley, partly to indulge in incredible farm-to-table dining experiences and partly to soak up all the Pinot Noir.
Luckily, there are plenty of restaurants throughout the valley, from diners emphasizing fresh, local ingredients to marketplaces and establishments serving up international flavors.
Just southeast of Portland, the town of McMinnville has become a foodie haven with dozens of highly-rated restaurants popping up––an excellent stop before or after a day of wine tasting. Of course, the three main cities in Willamette Valley are great options for travelers to get their grub on, but really, the entire valley is dotted with fantastic spots to eat.
Visitors have everything from luxurious fine dining establishments to laid-back, budget-friendly restaurants.
Breakfast Spots
Hours: Daily, 8 AM – 10 PM
Cost: $$
Address: 530 NE 4th St, McMinnville, OR
Recommended: Mimosas | Shakshuka | Pancakes
Hours: Daily, 8 AM – 8 PM
Cost: $$
Address: 155 SW 7th St, Dundee, OR
Recommended: Breakfast Burrito | Breakfast Sandwich | Biscuits & Gravy
Lunch Locations
Hours: Monday.- Saturday, 11 AM – 5 PM
Cost: $$
Address: 313 NE 3rd St, McMinnville, OR
Customers Love: Margaritas | Arepas | Chile Relleno Salad
Hours: Thursday – Saturday, 11:30 AM – 2 PM, 4:30 PM – 8 PM | Sundays, 11:30 AM – 7:30 PM
Cost: $$
Address: 714 E 1st St, Newberg, OR
Customers Love: Braised Beef Cheeks | Wild Boar Pasta | Gelato
Dinner Restaurants
Hours: Wednesday – Sunday, 4 PM – 8:30 PM
Cost: $$
Address: 318 NE 3rd St, McMinnville, OR
Recommended: Margarita Pizza | Meatballs | Peach Burrata & Arugula Salad
Hours: Monday – Friday, 11:30 AM – 10 PM | Saturdays, 10 AM – 2 PM, 3:30 PM – 11 PM | Sundays, 10 AM – 2 PM
Cost: $$
Address: 338 Main St, Springfield, OR
Recommended: Oysters | Fish & Chips | Scallops
Drinks
Years of perfecting the craft of beer & winemaking have also made the Willamette Valley a hub for great spirits, cocktails, and expert distilleries.
Hours: Thursdays, 2 PM – 6 PM | Fridays, noon – 6 PM | Saturdays, noon – 8 PM | Sundays, noon – 5 PM
Cost: $$
Address: 15800 NE McDougall Rd, Dayton, OR
Customers Love: Whiskey | Cocktails | Flights
Hours: Saturdays & Sundays, 1 PM – 5 PM
Cost $$
Address: 18715 OR-240, Newberg, OR
Customers Love: Whiskey | Gin | Cocktails
12
Where To Stay In Willamette Valley
Lexi Laginess on
Unsplash
"">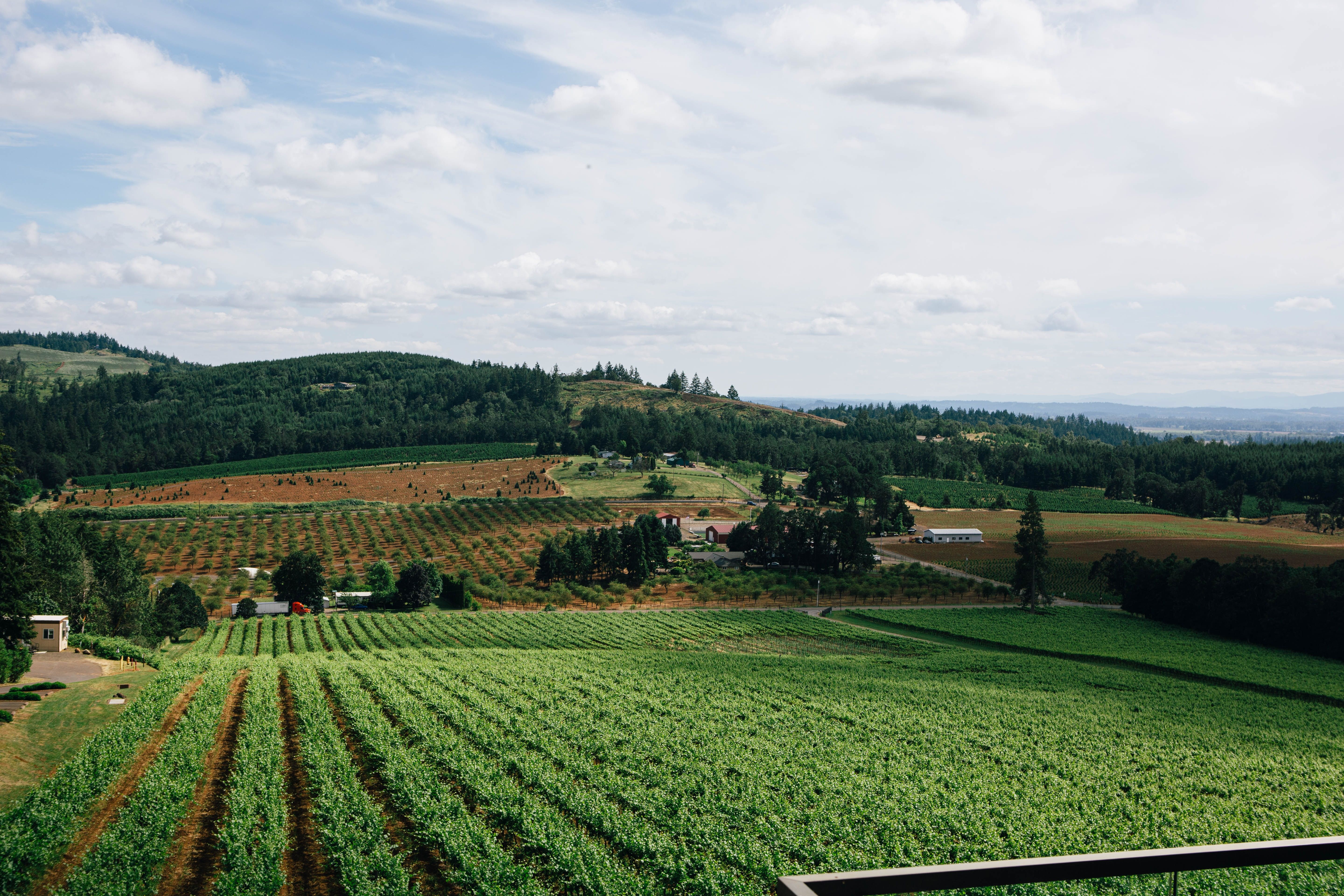 Willamette Valley Vineyards in Oregon, US
When planning a trip to the Willamette Valley, consider the three areas that comprise the region: North Willamette Valley is just down from Portland, Mid-Willamette Valley encompasses Salem, and South Willamette Valley is just above Eugene.
The best way for travelers to plan an itinerary through the valley is to decide which attractions, cities, and wineries they'd like to visit and choose accommodations in the corresponding area. The entire valley is only about two hours long by car, so depending on time and budget, visitors can focus on one area, or spend a day or two in each.
No matter the zone, Willamette Valley offers tons of places to stay––from cozy bed & breakfasts nestled in vineyards to unique vacation rentals and basic affordable hotels.
North Willamette Valley Stays
Prices From: $177 per night
Amenities: Game Room | Fitness Center | Terrace
Prices From: $89 per night
Amenities: Private Unique Trailer | Outdoor Pool | Bike Rental
Mid-Willamette Valley Stays
Paradise on Private 15 Acre Wildlife Sanctuary
Prices From: $135 per night
Amenities: Fireplace | Grill | Garden
Prices From: $99 per night
Amenities: Coffee Machine | Free Wi-Fi | Parking
Related 10 Best Resorts In Oregon To Book For A Remarkable Fall Retreat
South Willamette Valley Stays
Prices From: $65 per night
Amenities: Free Wi-Fi | Free Parking | Coffee Machine
Prices From: $65 per night
Amenities: Free Wi-Fi | Free Parking | Coffee Machine
13
Best Time To Go To Willamette Valley
Joshua Slate on
Unsplash
"">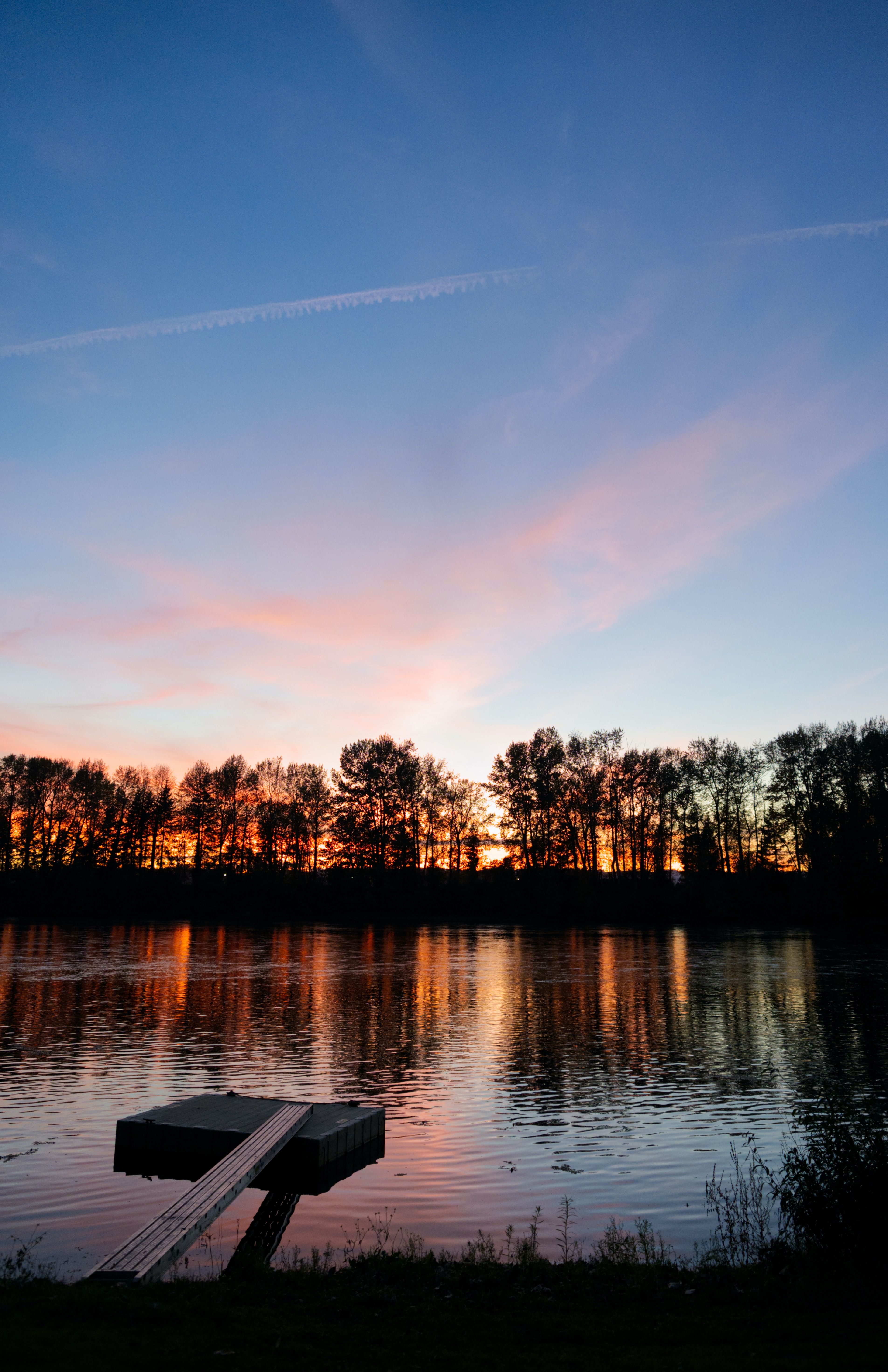 Sunset over Willamette River, Oregon
Protected by mountain ranges on either side and the Pacific Ocean to the west, Willamette Valley boasts a specific mix of Mediterranean & oceanic climates, making it such great terrain for its famed vineyards.
The weather & temperatures are generally mild, with cool & foggy winters leading to dry & warm summers.
Best Time To Visit: Summer
Temperatures: Highs in the upper 70s and lows in the upper 40s
Summer
Summer is the best time of year to visit Willamette Valley, thanks to its warm & sunny afternoons ending in cool evenings & nights. Most wineries extend their hours from June to August, offering more events, concerts, and yard games.
Travelers will also enjoy more hiking, biking, and the fan-favorite chilled pink drink: rosé.
Fall
Autumn is the best time to visit Willamette Valley for oenophiles. Harvest season typically begins in September and runs through late November, allowing visitors more opportunities to watch the picking & collection process, meet winemakers, and maybe even participate in crush events throughout the valley.
Fall is the most budget-friendly season to visit Willamette Valley.
Spring
Willamette Valley is one of Oregon's most beautiful spring destinations. Known as Willamette in Bloom, visitors can enjoy the countryside waking up, from tulip fields and trees to baby animals on the farms.
Temperatures range anywhere from the 40s to the low 70s, and although it's more humid, spring is great for cycling or celebrating Oregon's Wine Month in May.
Winter
Winter temperatures see highs in the 50s and lows in the 30s, with misty mornings and a greater chance of rain. December through February are slower months and although some wineries reduce their hours, it's an excellent time to have more one-on-one experiences and find cheaper accommodation.
Also known as cellar season, winters in Willamette Valley offer snow-capped mountains & cozy vibes.
14
Best Ways To Get Around Willamette Valley
Porter Raab on
Unsplash
n "">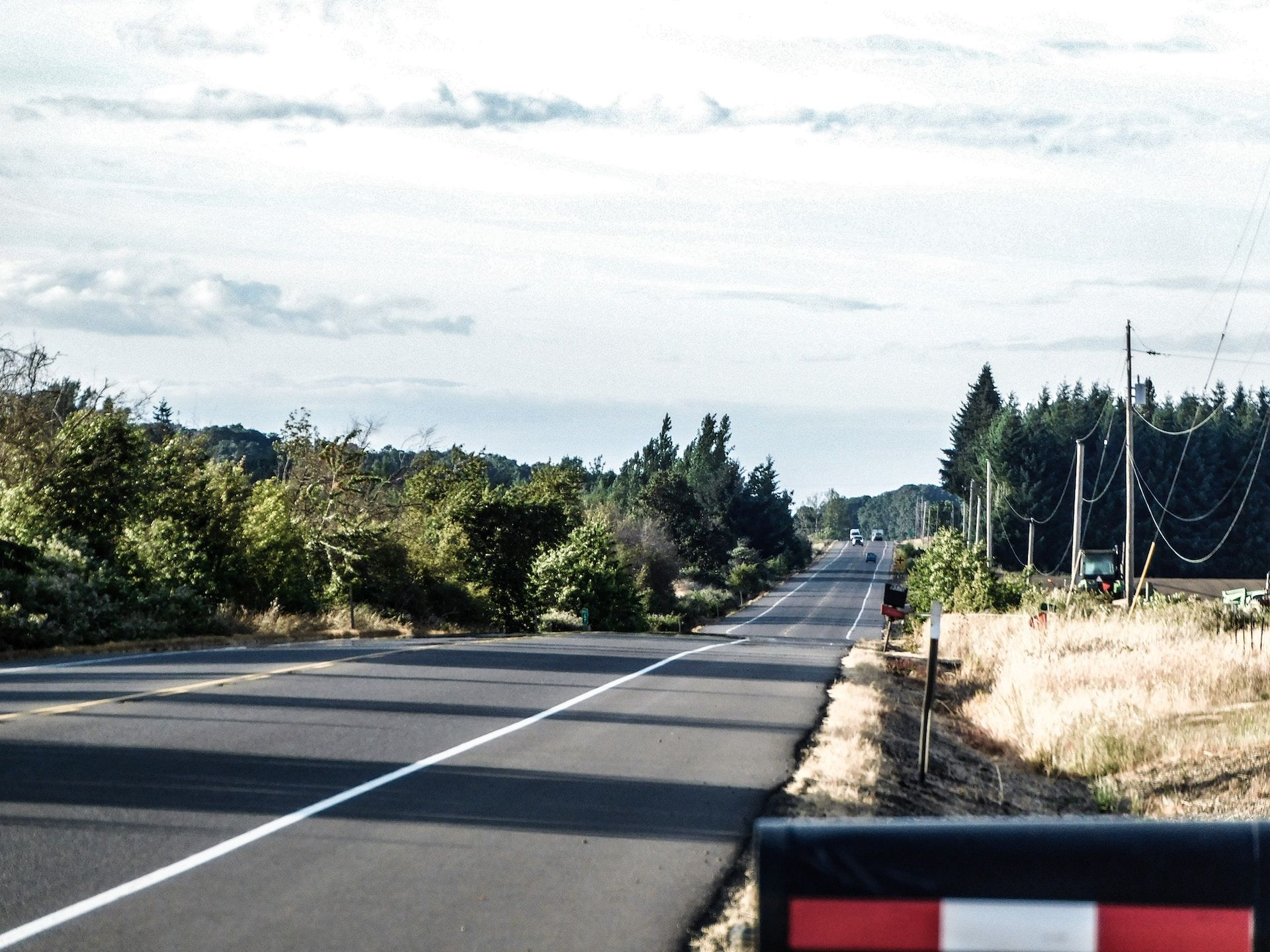 A road traveling through the Willamette Valley countryside, Corvallis, Oregon
Navigating around Willamette Valley might take some preparation; nothing is reachable by foot.
By Car
Having a car is the simplest way to get around Willamette Valley. Driving between national forests, wineries, cities & towns is the most convenient & flexible method of crisscrossing the extensive region and making the most of the vacation.
Renting a car in Portland, Eugene, or Benton Lane are good options for venturing into Willamette or taking a scenic drive for some of the best fall foliage on the West Coast.
For travelers who prefer not to rent a car or driving just isn't their thing, there are several tour companies & local guides to help get visitors where they're going or provide more personalized experiences.
Ride Services
Uber & Lyft are great for getting around the cities, but they're not as accustomed to traversing the wine region and are generally not recommended.
Travelers should always know their limits and never drive under the influence to ensure safe roads for everybody. One of the safest options is the NW hop-on-hop-off Wine Shuttle Bus from Portland.
Visitors will spend a lot of time strolling, hiking, cycling, or mountain biking around Willamette Valley. Walking can take place everywhere from the towns and picturesque vineyards to hiking through national parks.
Oregon is also one of the most bike-friendly states in the United States, so cyclists can enjoy biking on country roads between vineyards or specific sites like Willamette Valley Scenic Bikeway, Black Rock Mountain Biking Area, or the McKenzie River Trail.
Where To Fly Into Willamette Valley
The closest & most convenient airport for arriving at Willamette Valley is Portland International (PDX). Salem (SLE) and Eugene (EUG) are other possible options.
15
Tips To Know When Visiting Willamette Valley
Brooks Rice on
Unsplash
"">
People sitting around a campfire near a lake surrounded by trees at Willamette National Forest
Budget
Visiting Willamette Valley doesn't have to break the bank, especially when one plans ahead to find the best deals on hotels & rental cars.
When it comes to wine tasting, prepare to spend around $25 per flight or up to $35 for more premium tastings.
Etiquette
To get the most out of a winery visit, enthusiasts should consider a few things to feel comfortable & enjoy the experience. Most wineries are casual, so jeans, comfortable shoes, or light dresses are all acceptable attire (maybe leave the leggings at home).
It never hurts to check the winery's website or social media beforehand to get a feel for the right clothes since some are more upscale.
Avoid heavy perfumes, fragrances, or brushing one's teeth right before a tasting to properly savor the flavors. Finally, for those who really want to look like they know what they're doing, remember the 5 S's of Wine Tasting: See, Swirl, Smell, Sip, Savor.
Pronunciation
Don't offend the locals: Willamette rhymes with Janet or granite and has no other pronunciations.
16
How To Spend The Perfect Day In Willamette Valley
Aerial view of a small winery in the mid-Willamette Valley outside Salem, Oregon
Although there's enough to do to keep travelers busy for months, a day trip to Willamette Valley is a perfectly viable & enjoyable option. The best way for visitors to maximize a day in the renowned region is to center their activities around one area.
For example, wine enthusiasts may want to hop in the car and tour McMinnville & its surrounding countryside for some of the best wineries, restaurants, and stunning views over the vineyards. There's no shame in spending the day relaxing and doing wine tastings, learning from winemakers, and watching the sunset from a restaurant with a view.
On the other hand, for travelers with an affection for the outdoors, the best way to spend a day may be hopping on a bike and cycling parts of the Willamette Scenic Bikeway. The trail will take them past wineries, brew pubs, and farms to explore at their leisure.
Either way, the only way to spend a day in Willamette Valley is by enjoying one's company, good food & drinks, and the gorgeous natural surroundings.