Summary
Florida is known for its tourist attractions like theme parks and beaches, but it also has a rich historical past with many abandoned towns.
Ghost towns like Ellaville, Atsena Otie Key, and Kismet provide a glimpse into Florida's history and the people who once lived there.
Exploring these abandoned towns allows visitors to learn about Florida's past and appreciate its intricate history.
From its theme park capital of Orlando and sprawling golf courses to Florida's best beaches with the clearest water, the Sunshine State is known for various tourist enticements.
The many small beach towns in Florida and the state's iconic cities (like historic St. Augustine, one of the oldest cities in the US, and the bustling entertainment metropolis of Miami) never fail to attract all the attention. But long before any of Florida's exciting attractions were established lies an immense history stretching back millennia.
Historical gems in the form of long-forgotten cities and towns can be found sprinkled across the state, providing a glimpse into Florida's incredible past and the people who once called it home. Showcasing a bygone era and fascinating historic sites, here are some of the best abandoned towns in Florida to visit to get a taste of the state's history.
Related: 10 Hikes That Will Lead You To Ghost Towns Throughout The U.S.
10
Ellaville
Suwannee River old bridge, Ellaville, Florida
Nestled on the banks of the Suwannee River, the ghost town of Ellaville was founded back in 1861 by George Drew, who later went on to become the state's twelfth governor. A lumber tycoon, he also established Florida's largest sawmill; however, he later sold his company and moved away.
A series of natural disasters coupled with the Great Depression ultimately led to the town's demise, which culminated with the closing of its post office in 1942.
Location: Suwannee County in north central Florida
Notable sights: Suwannee River Bridge
All that's left of the town today is the bridge over the Suwanee River, and only bits of pieces of the Drew Mansion remain after it burned down in the 1970s.
9
Atsena Otie Key
Atsena Otie Key on Florida's Gulf Coast 
Pigeon Key isn't Florida's only ghost island; Atsena Otie Key, which is now part of the Cedar Keys National Wildlife Refuge, is another.
Originally known as Cedar Key by settlers who established the area in 1842, the region was home to only about 200 people until a mammoth hurricane destroyed the town some 54 years later, forcing them to move to an island closer to the mainland.
Location: Island off the northwest coast of Florida in the Gulf of Mexico
Notable sights: Atsena Otie Cemetery
8
Brewster
Photo by
John O'Neill
, licensed under
CC BY-SA 3.0
, Wikimedia Commons"">
The old smokestack in Brewster, Florida
Established in 1910 for miners working in a nearby phosphate mine, this small town had it all: a post office, a grocery store, a school, a saloon, and even a swimming pool.
However, after the mine was closed, the town was all but abandoned by 1962, leaving only the smokestack and a handful of buildings in its wake.
Location: Southwest Polk County, Florida
Related: Safety First: These Are The 10 Safest Florida Beach Towns
7
Fort Dade
Photo by
HVANMALDEN
,
CC BY-SA 4.0
, via Wikimedia Commons"">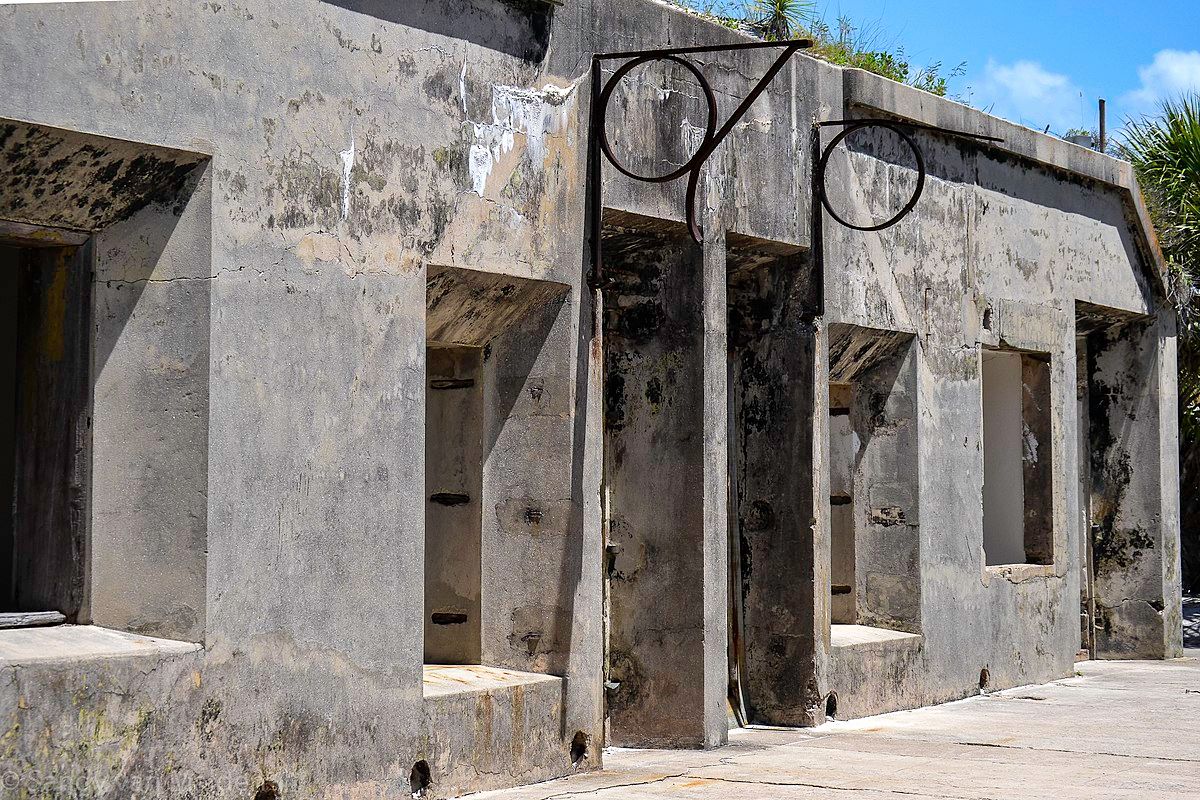 Abandoned buliding in Fort Dade, Florida
Nestled on the remote island of Egmont Key off the coast of St. Petersburg, Fort Dade is one of the deserted islands in Florida. It was built in 1848 and served as a U.S. military outpost.
For those visiting the Tampa Bay area, the deserted island provides a fascinating look into Florida's military past.
Location: Island off the west-central coast of Florida at the mouth of the Tampa Bay
Notable sights: Egmont Key National Wildlife Refuge, Egmont Key State Park, Egmont Key Lighthouse, Battery Mellon, Battery McIntosh,
Admission to Egmont Key State Park is free; however, there are fees associated with accessing the island via ferry, such as the Egmont Key Ferry that departs from Fort De Soto Park.
6
Kismet
Photo by Trish Hartmann,
CC BY 2.0
, Wikimedia Commons"">
An animal stands in a deserted dirt road in the Ocala National Forest
Situated in Lake County just outside of Orlando, the small town of Kismet is one of the best ghost towns in Florida to visit; it flourished in the late 1800s as a burgeoning citrus community until extreme blizzards, known as the "Great Freeze," blanketed the area leading to its untimely demise.
It's said that film and television producer Walt Disney's parents met in the town and got married at the local church. Although nothing still stands today, the area is now part of the Ocala National Forest.
Location: Lake County in Central Florida
Notable sights: Ocala National Forest
5
Fort Drum
Photo by
formulanone
from Huntsville, United States,
CC BY-SA 2.0
, Wikimedia Commons"">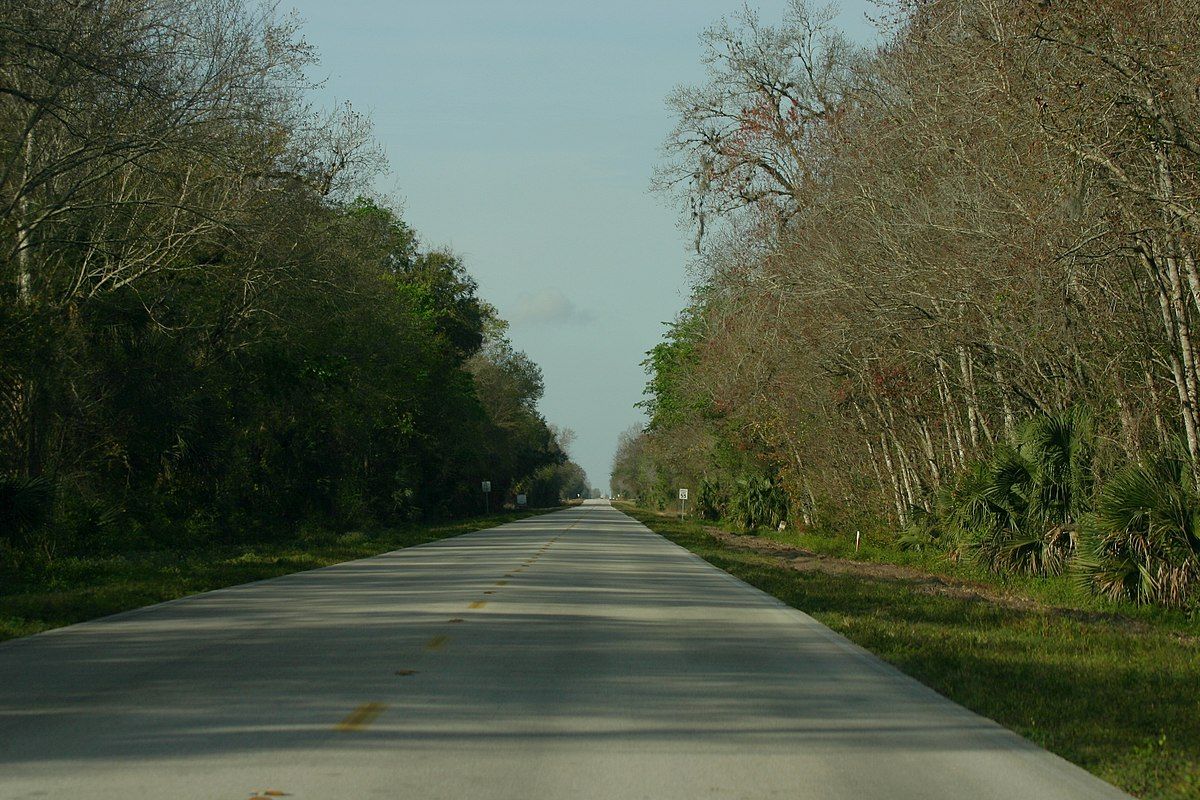 A road through Okeechobee County, Florida
Built in the 1840s, this settlement was a military fort during the Second Seminole War and is among the best abandoned places in Florida to learn about this period of time in the state's history.
Although there are hardly any remnants of what it once was, it still serves as another valuable piece of Florida's military history.
Location: Okeechobee County in Florida's Heartland region
Notable sights: Fort Drum Cemetery
Related: Amtrak Orlando: 10 Things To Know About This Amtrak & Its Sunshine State Routes
4
Rollestown
Photo by
Ebyabe
,
CC BY-SA 3.0
, Wikimedia Commons"">
A view of the St. Johns River in Palatka, Florida
The Rollestown Historical Marker serves as one of the few reminders of this Florida ghost town's existence, detailing the settlement's founding along the banks of the St. Johns River in 1767 by English philanthropist Danys Rolle.
It was ultimately abandoned in 1783 following the signing of the Treaty of Paris, which ended the American Revolution and formally recognized the US as an independent nation. Today, it's among the best Florida ghost towns to visit to learn about the state's history.
Location: Putnam County in northern Florida
Notable sights: Rollestown Historical Marker
The Rollestown Historical Marker, which was erected in 1961, can be found at 343 Hwy 17, East Palatka, FL 32131.
3
Yukon
The Duval County and Jacksonville line
Situated between the Ortega River and the St. Johns River, the area now known as Tillie K. Fowler Regional Park in Jacksonville, Florida, once served as the community of Yukon, which dates back to 1787.
After the Naval Air Station Jacksonville was established nearby, the town was deemed a flight and safety hazard and was closed.
Location: On the Atlantic coast of northeastern Florida in Jacksonville
Notable sights: Tillie Fowler Park Loop Trailhead, Tillie K. Fowler Regional Park
2
Eldora
The Eldora House, Canaveral National Seashore, Florida
Located on a barrier island off the east coast of Florida, Eldora is an abandoned town in Florida that served as a stop-over point for travelers during the 19th century.
Also known for its orange groves, the town never recovered after the icy freezes that affected the area, as well as the impacts felt during World War II. The historic Eldora Statehouse serves as one of the few reminders of this charming town.
Location: Volusia County in east-central Florida
Notable sights: The Eldora Statehouse
Related: 10 Things To Do In Key West: Complete Guide To The Florida Keys
1
Tasmania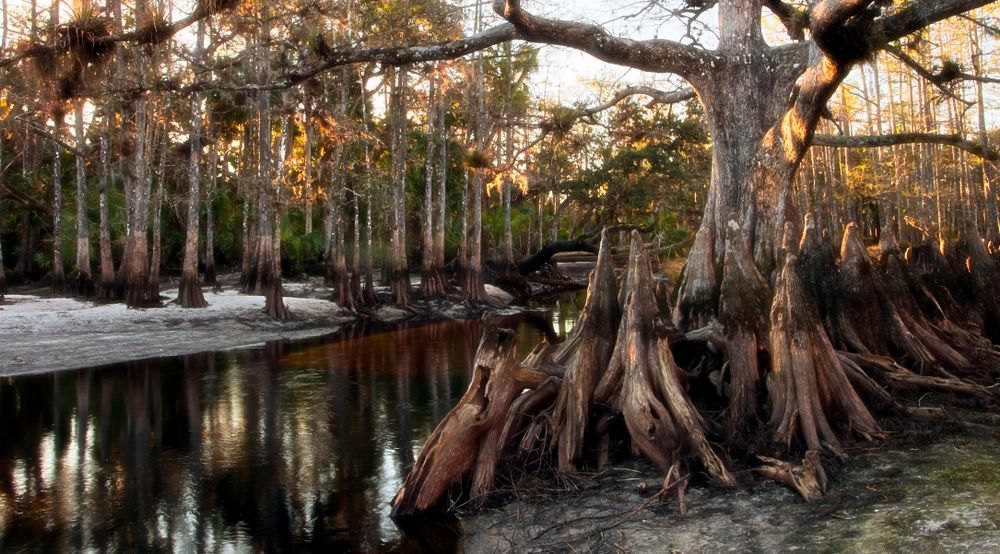 Fisheating Creek, the heart of Wild Florida, USA
Tasmania is one of Florida's ghost towns, but it wasn't always so. This former settlement was nestled along Fisheating Creek in what's today known as Glades County.
Originally established in 1888 and later renamed Tasmania in 1916, the town's end came about during the Great Depression.
Location: Glades County in Florida's Heartland region
Although many of these abandoned cities in Florida are now long and gone, they still paint an excellent portrait of the state's intricate past.