Nantucket, a picturesque and secluded island nestled off the shores of Cape Cod, Massachusetts, unveils its distinctive charm as a summer retreat graced by pristine beaches and iconic cedar-shingled structures. The quaint landscape features meticulously trimmed privets that envelop many of its unpainted buildings, creating an atmosphere of timeless elegance. However, seeing Nantucket in the fall can be equally enjoyable, with many saying this is the best time to go.
Meandering through the cobblestone streets and wharves of the Town of Nantucket, visitors are greeted by a tapestry of upscale boutiques, dining establishments, and historic churches. Amid these architectural treasures, the Whaling Museum is a testament to the island's rich history as a pivotal 19th-century whaling center. These are just some of the many exciting historical attractions in the area, so history buffs are in for a treat.
Things To Do In Nantucket
As people head to Nantucket this fall, there will be endless activities, restaurants, places to stay, and people to meet. This guide to the best things to do in Nantucket this fall should make planning a trip easier. Let's begin!
Related: If You're Seeking The Best Park Of Nantucket, You're In Luck: This Charming Town Has It All
1
Check Out The Whaling Museum
Address: 13 Broad St, Nantucket, MA 02554
Hours: Open daily from 10 AM to 5 PM
Tickets: $5 for kids, $25 for adults, and $20 for seniors
The first thing to experience while in Nantucket is the Whaling Museum. Here, tourists can learn about the town's history, including the booming whaling industry that can be thanked for Nantucket's success in the 21st century.
Most people spend about an hour or two here, so make sure and allow enough time at the museum complex.
The Whaling Museum is the flagship site of the Nantucket Historical Association's fleet of properties.
Nantucket is also called the 'Grey Lady' because of its maritime history, so this museum is an excellent way to learn more about that.
2
Brant Point Lighthouse
Rusty Watson on
Unsplash
"">
Brant Point Lighthouse Nantucket Island, Nantucket, Massachusetts, USA
Address: Easton St, Nantucket, MA 02554
Hours: Open 24 hours
Another point of interest on Nantucket is the Brant Point Lighthouse. Here is where guests can experience a lighthouse located on Nantucket Island: the station was established in 1746, automated in 1965, and is still in operation today.
3
Soak Up The Sun At Madaket Beach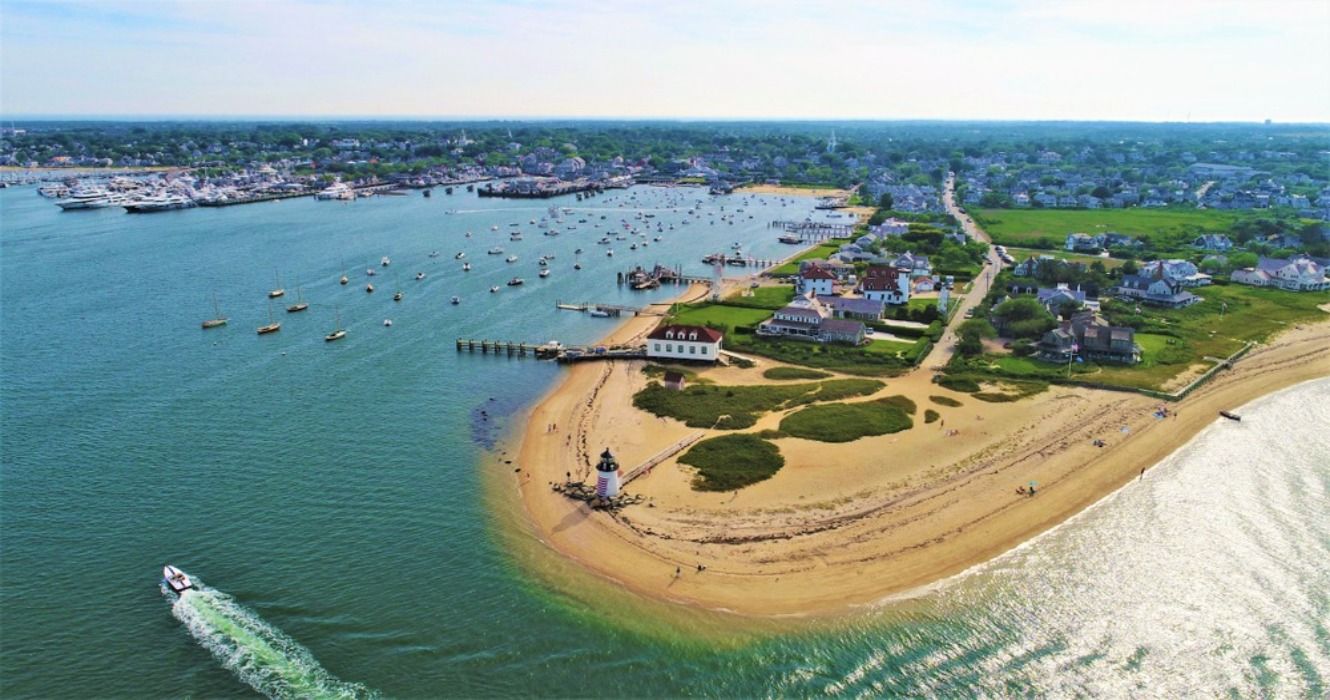 The entrance of Nantucket Island, Massachusetts, USA
How To Get To Madaket Beach: Accessible by bike via a 5.5-mile paved bike path, or take the NRTA shuttle bus (seasonal operating schedule)
The next thing to do in fall on Nantucket Island is head over to Madaket Beach, known for its rough surf and southern location. This is more of a beach to walk on rather than swim in, as the water can be choppy and intimidating for newer or inexperienced swimmers.
4
Tour The Great Point Lighthouse
Jack Cohen on
Unsplash
"">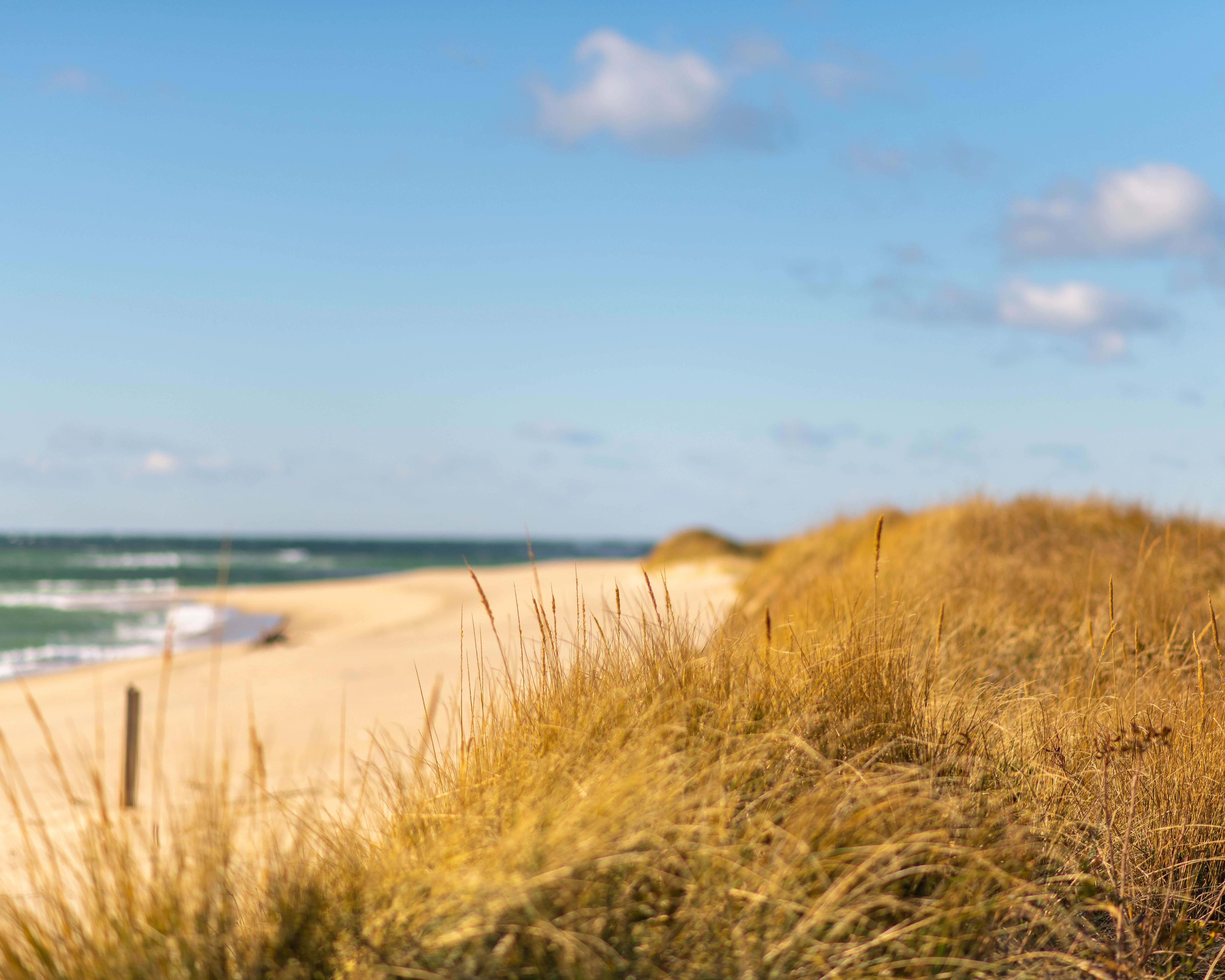 Nantucket Beaches at mid-day with dunes and beach grass
Address: Nantucket, MA 02554
Hours: Open 24 hours
Another fun sight to see while on Nantucket Island is the Great Point Lighthouse. Here, visitors can explore the lighthouse located on the northernmost point of Nantucket Island.
The lighthouse was first built in 1784; however, the original wooden tower was destroyed by fire in 1816. The following year a stone tower was erected, which stood until it toppled in a storm in March 1984.
5
Nantucket Shipwreck And Life Saving Museum
inspireddesign270 from
Pixabay
"">
Nantucket lighthouse in Nantucket Island
Address: 158 Polpis Rd, Nantucket, MA 02554
Hours: Open daily from 10 AM to 5 PM
The next fall activity in Nantucket is to check out the Nantucket Shipwreck and Life Saving Museum. Here is where a small, seasonal, non-profit museum dedicated to the history of shipwrecks off the Nantucket coast and Sound welcomes guests throughout busier times on the island.
6
Take A Trip To The Loines Observatory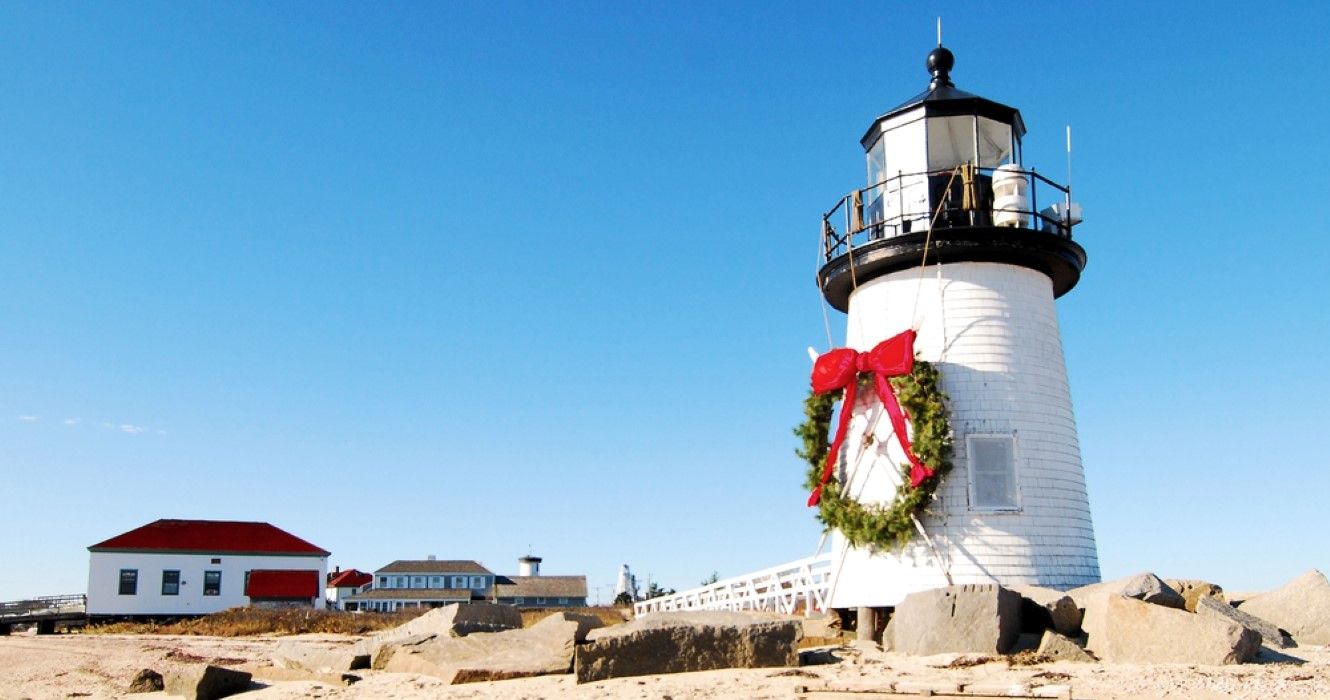 Brant Point Lighthouse in Nantucket during Christmas
Address: 59 Milk St Ext, Nantucket, MA 02554
Hours: Monday, Wednesday, and Friday from 9 AM to 10:30 PM (9:45 PM Fridays)
For those wanting to enjoy the crisp air, a trip to the Loines Observatory is a nice way to spend the afternoon on Nantucket. Here lie the two domes of this Loines Observatory that serve as both an active research observatory and venue for public astronomical programs on Nantucket Island.
7
Walk Around The Sankaty Head Lighthouse
Nantucket harbor view during wintertime
Address: USA, Baxter Rd, Siasconset, MA 02564
Hours: Open daily from 4 AM to 12 AM
The next stop on Nantucket is the Sankaty Head Lighthouse. Here, tourists can explore the 1850 structure that was automated in 1965 and still operates today. Like many of the lighthouses on Nantucket, this one is historic and has served the community for many decades.
Related: Cute & Cozy: These Main Streets Are The Best-Looking In The US
8
Stroll The 'Sconset Bluff Walk
Tricia Small on
Unsplash
"">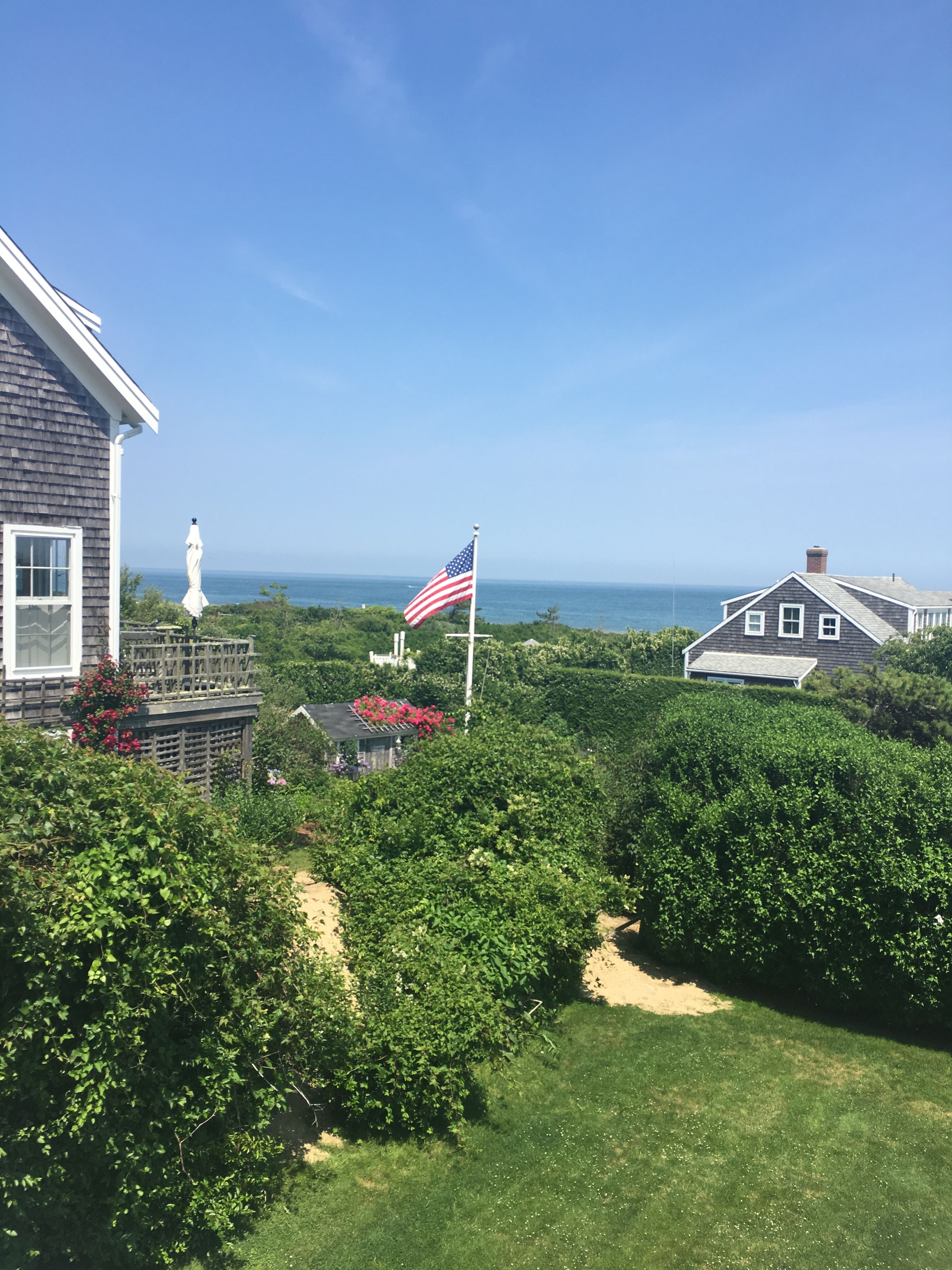 Neighborhood in Nantucket
Address: 27 Bank St, Siasconset, MA 02564
Hours: Open daily from 7:30 AM to 8 PM
In the fall, it's worth it to escape the crowds and head to the 'Sconset Bluff Walk, a footpath with scenic sea & heathland views that runs through the backyards of homes along the bluff.
Considering the weather will be gorgeous, and the skies should be clear, this walking path is a nice way to kill an hour or two on Nantucket Island this autumn.
9
Catch The Waves At Sconset Beach
Atlantic Ocean view from Nantucket Beach
One of the more popular beaches on Nantucket.
Beach in Siasconset, Massachusetts.
Staying in the area, guests of Nantucket Island can also experience Sconset Beach. This is a local favorite, boasting stunning coastal views and soft sand. This expansive beach allows for great sunbathing and picnics but can get crowded during peak seasons.
However, in the fall, this shouldn't become a problem for tourists. Of course, with wind chills, we recommend bringing a sweater!
Nantucket is one of the many luxury getaways in New England, with great spots for spring vacations. Warmer months make for amazing beach days on Nantucket Island.
10
See The Historic Old Mill
Matthew Landers on
Unsplash
"">
Boat headed to Nantucket from Boston
Address: 50 Prospect St, Nantucket, MA 02554
Hours: Open 24 hours
Finally, a fall trip to Nantucket wouldn't be complete without seeing the historic Old Mill monument. Here is where the oldest functioning mill in the United States is located.
Additionally, the mill is owned and operated by the Nantucket Historical Association as a museum, where people can freely come see it during the day.
Related: Embrace The Bloom: 10 Of New England's Best Spring Destinations For Nature Lovers
11
Best Time To Visit Nantucket Island
Greg Schwanbeck on
Unsplash
"">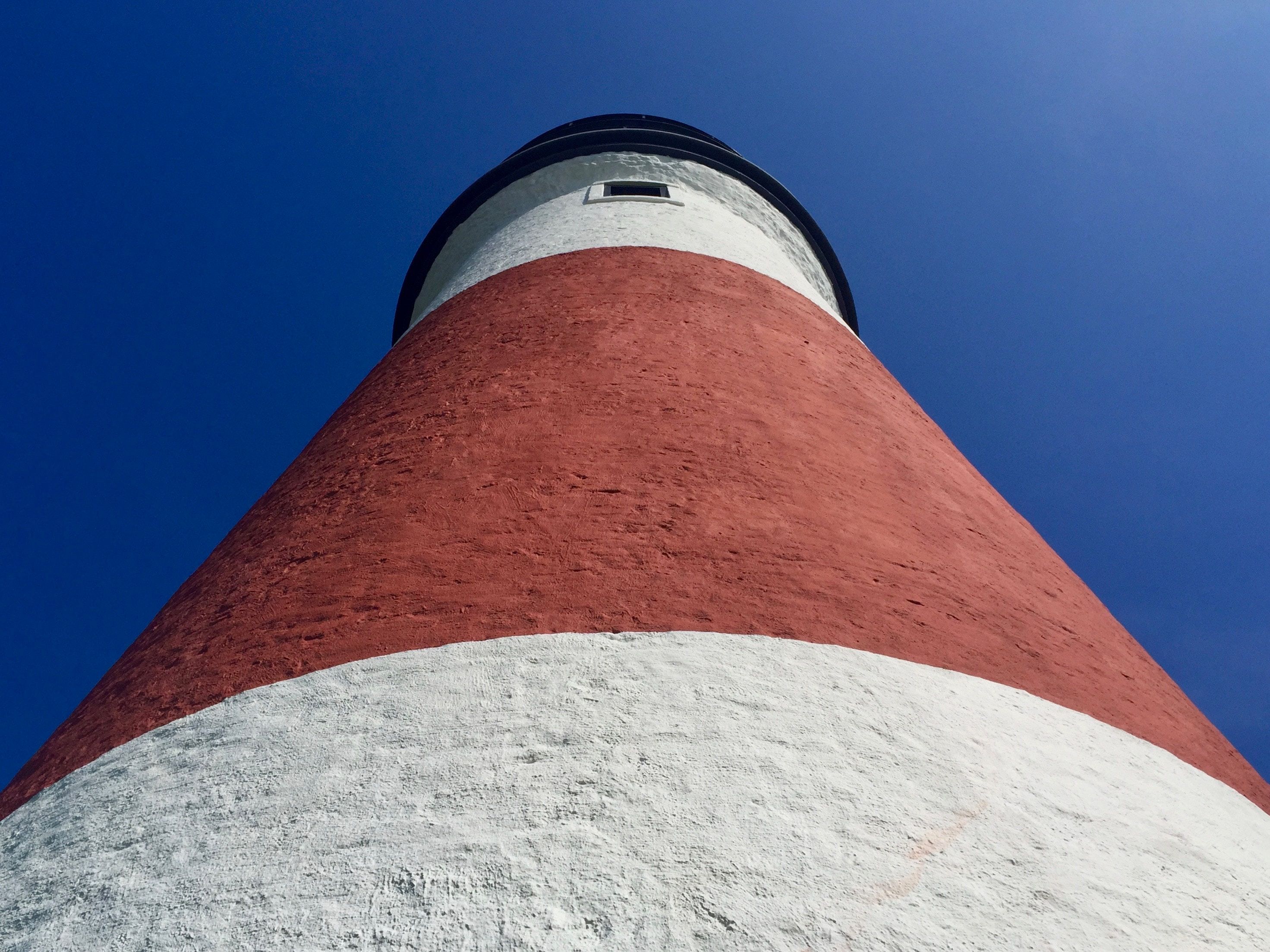 Lighthouse on Nantucket Island
Best Time To Come: March, April, September, and October.
Although Nantucket is stunning year-round, the best times to visit include the shoulder seasons: March, April, September, and October. This is when fewer people are on the island, and things are more magical in terms of scenery.
Notably, in the fall, leaves will be changing, and temps will drop, making a vacation memorable.
Most people don't come here in the winter because it gets so chilly, and businesses reduce hours and operations on the island. Spring, summer, and fall are the best times to travel to Nantucket.
12
Best Ways To Get Around Nantucket
Michael Schofield on
Unsplash
"">
Boat heading to Nantucket from Boston
Best Way To Get Around: Biking or walking
Since Nantucket is one of the few destinations in the US where people don't need a vehicle, we'd say this entire island is easily accessible. Most tourists and locals ride bikes or golf carts, although cars are permitted on roadways throughout Nantucket Island.
After all, with most hotels and rentals being close to downtown, this allows for an easy, carefree vibe among island guests, allowing them to walk between restaurants, attractions, and shops.
13
Where To Eat And Drink On Nantucket Island
Beach during the day on Nantucket Island, MA
Regarding food and drink options on Nantucket, there are plenty. Here are some options for breakfast, lunch, dinner, and drinks during the vacation.
Address: 1 Chins Way, Nantucket, MA 02554
Hours: Daily from 7 AM to 2 PM and again from 5:30-9 PM
Serving: Upscale American fare served in a small, simple space inside a shingled house.
Address: 326 Madaket Rd, Nantucket, MA 02554
Hours: Open daily from 11 AM to 9:30 PM
Serving: Chill seafood specialist with Baja-style eats such as fish tacos, plus a patio & take-out window.
Address: 6 Harbor Square, Nantucket, MA 02554
Hours: Daily from 5:30 PM to 1 AM
Serving: Elevated seafood dishes paired with wine in rustic-chic environs or on the waterfront porch.
Address: 130 Pleasant St, Nantucket, MA 02554
Hours: Tuesday – Saturday from 5-11 PM (11 AM to 2 PM Sundays)
Serving: Upscale wine and tastings featuring local assortments.
14
Where To Stay On Nantucket
Wide shot of Nantucket Harbor
Regarding hotels on Nantucket, there won't be as many as in a large city: but these properties are well worth the price. Since this is a higher-end location, hotels, and rentals will be more expensive than usual for vacationing in New England.
Here are some options for budget, mid-tier, and luxury stays on Nantucket Island.
Address: 1 Miller Lane, Nantucket, MA 02554
Amenities: Outdoor pool, Indoor pool, Fitness center, Restaurant, Bar/Lounge, Bicycle rental, Free Wi-Fi, Free parking
Address: 8 Chester Street, Nantucket, MA 02554
Amenities: Flat-screen TV, Hairdryer, Air-conditioned, Non-smoking rooms available, Bathrobe, Private bathroom, Family rooms
Address: 3 Chestnut Street, Nantucket, MA 02554
Amenities: Free Wi-Fi, Free toiletries, Hairdryer, Beach access, Air-conditioned, Library, Designated smoking area, Beach towels
Address: 9 Cliff Road, Nantucket, MA 02554
Amenities: Free Wi-Fi, Private bathroom, Complimentary breakfast, Air-conditioned, Flat-screen TV, Internet, Pets allowed on request
Address: 66 Centre Street, Nantucket, MA 02554
Amenities: Free Wi-Fi, Coffee machine, Free parking, Wi-Fi available in all areas, Flat-screen TV, Pets allowed on request
Address: 29 Centre St, Nantucket, MA 02554
Amenities: Restaurant, Bar/Lounge, Free Wi-Fi, Wi-Fi available in all areas, Flat-screen TV, Free toiletries
15
Tips For Visiting Nantucket Island
Jon Mezzadri on
Unsplash
"">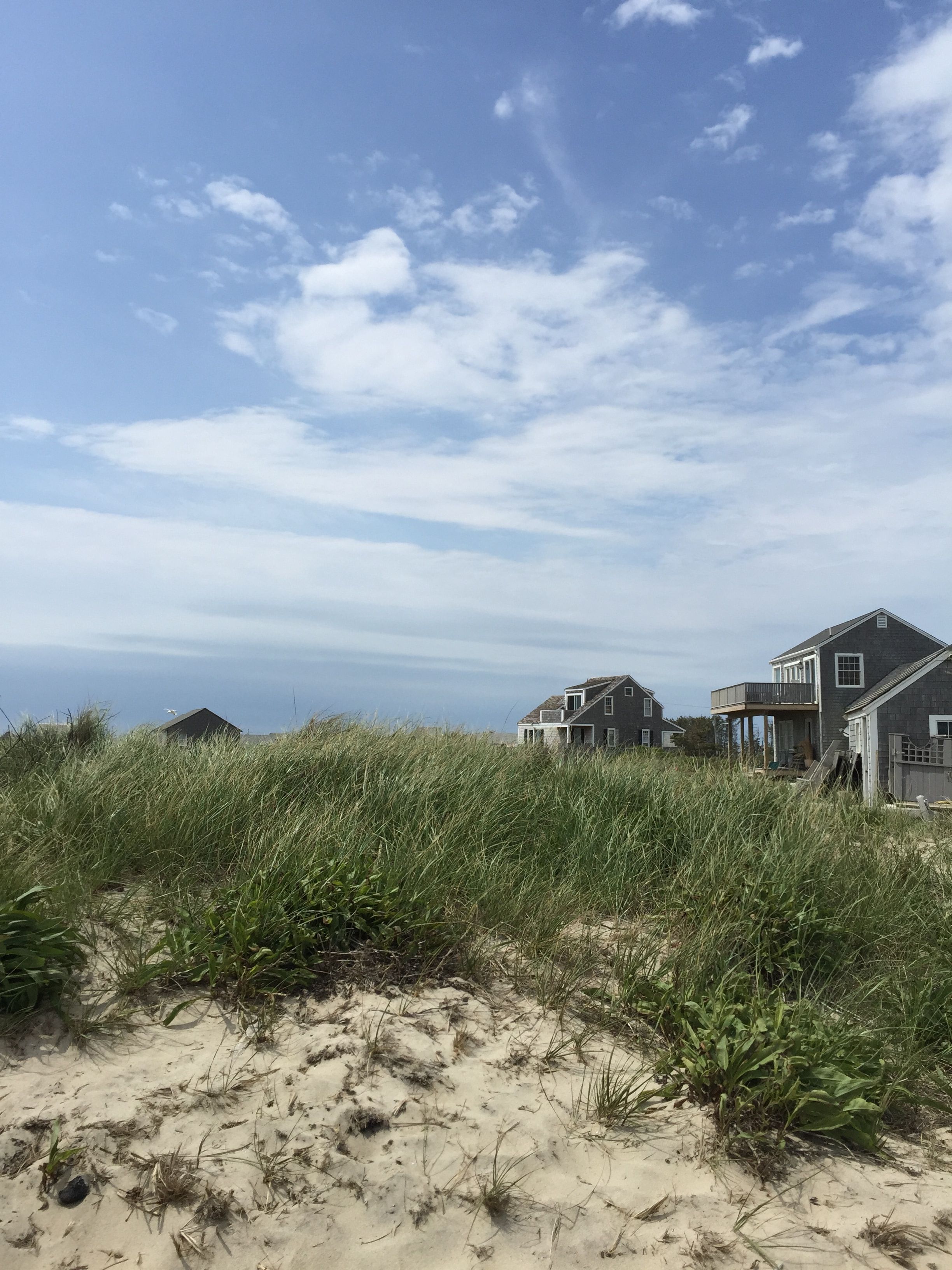 Nantucket Island, Massachusetts, USA
When visiting Nantucket Island, there are some things to remember. First, the island is accessible by boat or seaplane. Moreover, the best ways to get here include: by plane from Boston, Hyannis, Martha's Vineyard, New Bedford, or New York City; by car ferry from Hyannis, or by passenger ferry from Hyannis, Harwich Port, or Martha's Vineyard.
Again, this is a remote vacation destination, so expect different methods of transportation to and from the island.
Is Nantucket Expensive?
Price-wise, Nantucket is much more expensive than other stops in New England. Food, transportation, hotels, and everything else cost a premium here. Make sure and budget for these factors, especially if trying to visit Nantucket on a lower budget.
Related: 10 Unforgettable Memorial Day Travel Destinations Across The US For Your Epic Getaway
16
How To Spend The Perfect Day In Nantucket
Luxury homes on the island of Nantucket
Spending the perfect day on Nantucket won't be hard. We recommend starting the day off strolling through town, peeping into local stores, and grabbing some coffee. Check out one of the many lighthouses or museums along the island in the afternoon.
Going to the beach afterward for sunset is another nice addition to the day. It's cooler in the fall, so make sure and pack a coat and sweater. Finish the day eating fresh seafood at a nice restaurant, head to the hotel, and roast marshmallows by the fire. Have fun!