Summary
Travelers can save money by visiting some of the cheapest states in the US without sacrificing attractions and cultural experiences.
Factors like traveling season, accommodation choices, and transportation means impact travel expenses, so thorough research is important.
Some of the cheapest states to visit include Indiana, West Virginia, Georgia, Iowa, Tennessee, Kansas, South Carolina, Oklahoma, Texas, and Mississippi, each offering unique and affordable attractions.
With the current cost of living, nearly everything costs more, even travel. However, despite the effects of inflation in many of the world's regions since 2021, travelers can save money by visiting some of the cheapest states in the US.
Being easy on the pockets doesn't mean these destinations have attractions and places that are less intriguing. In fact, they are the best places to uncover hidden gems and have authentic cultural experiences. Discover the cheapest US states to visit that make budget travel fun, easy, and safe. Some states are also home to many of the cheapest cities in the US, too, which are packed with exciting yet low-cost experiences.
Factors like the traveling season, accommodation choices, and transportation means impact travel expenses. Additionally, budget travelers should be cautious of their spending and perform thorough research on their preferred state (this includes its low-cost activities and hotels) before visiting.
Related: The Cheapest Month To Visit Vegas & Other Affordable Tips
10
Indiana
Bird's eye view of Indianapolis during the night in Indiana, USA
Indiana is one of the cheapest states in America to visit before summer ends, and the travel budget gets lower after this high season. Saving money when visiting this state isn't hard because, thankfully, it has many attractions and experiences that are affordable and intriguing.
A pocket-friendly attraction is Turkey Run State Park, where tourists can marvel at unique geological wonders and hit scenic hiking trails along aged forests. Bring camping gear to add excitement to this adventure! Other cheap places to visit are spread across some of Indiana's most beautiful towns.
Cheapest time to visit Indiana:
November to March (prices hike during winter holidays)
9
West Virginia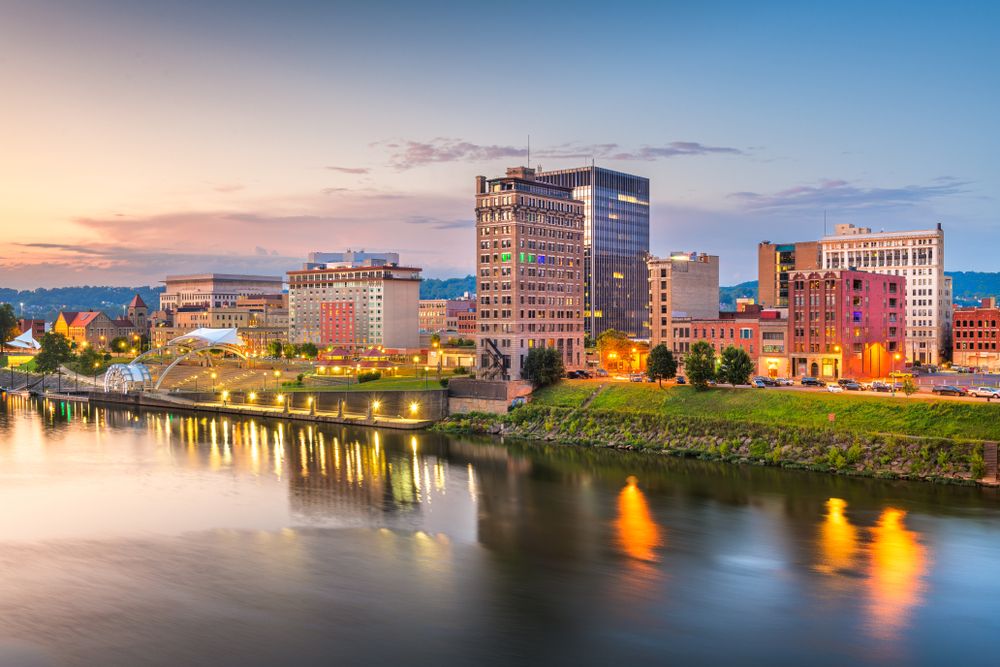 A view of Haddad Riverfront Park and the Charleston downtown skyline 
According to Champion Traveler, a solo traveler spends approximately $1,157 on a 7-day trip in West Virginia, though the amount can be higher or lower. Prices can vary depending on the location (major cities have slightly higher costs than small towns), season, and accommodation options.
Fortunately, saving money is pretty easy since there are several least-populated towns in West Virginia with beautiful attractions that tourists don't need to splurge to see. The hospitality in these towns is also incredible, so besides cutting costs, travelers don't need to worry about having unpleasant experiences.
Cheapest time to visit West Virginia:
January or late September
8
Georgia
Joey Kyber on
Unsplash
"">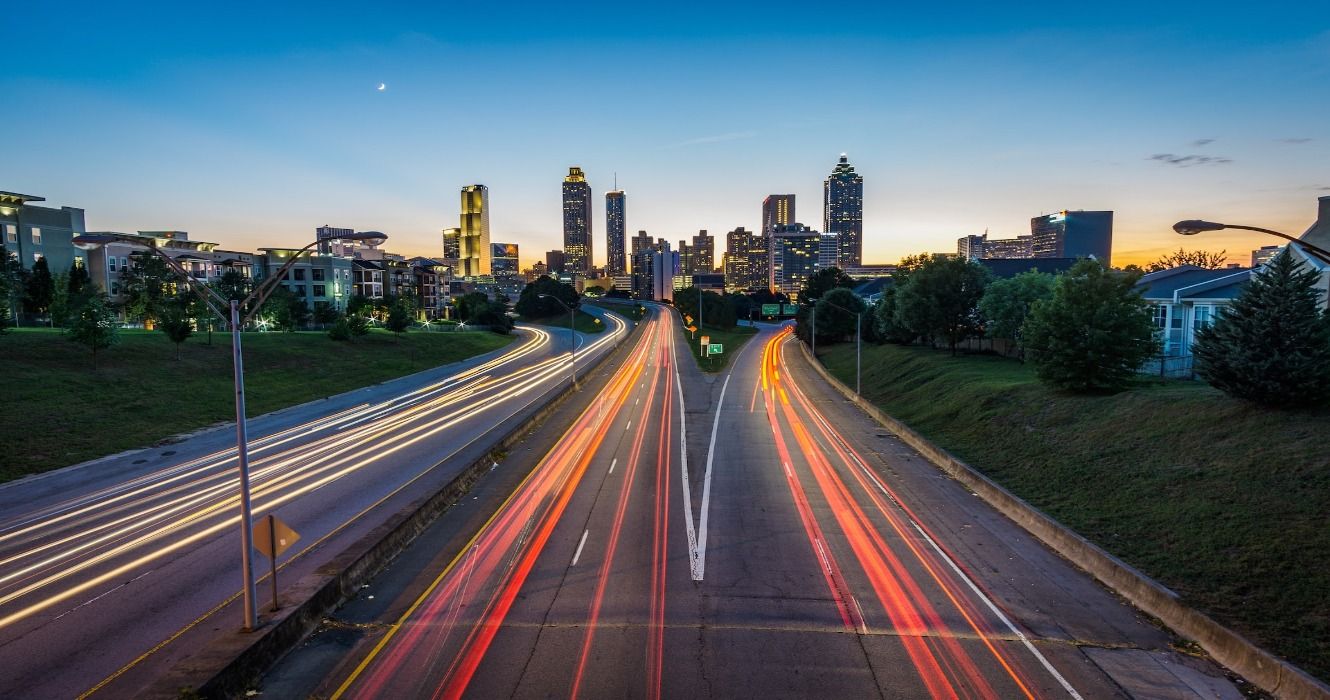 Time-lapse of travelers going to and from Atlanta, Georgia, via the Jackson Street Bridge at night
Georgia is known for its natural wonders (from lakes to creeks), southern hospitality, and flavorful peaches. It's also the birthplace of influential African American historical figures, and fortunately, vacationing in this state to witness its unique offerings doesn't have to leave tourists with a financial pinch.
Sure, the travel style and budget of tourists differ, but those with a tight budget will have much to choose from regarding accommodation and activities. It's also worth noting that underrated towns in Georgia that are less explored are cheaper than major cities like Atlanta. These include Tallulah Falls, Helen, Augusta, and Lithonia, among other beautiful towns in Georgia worth visiting.
Another town in Georgia to visit is Savannah, with its historic attractions, charming old streets, gorgeous parks, and old-world homes, although it's not among the state's most affordable places. However, travelers on a budget can visit Savannah between January and February, which is when the city's hotels and experiences are at their lowest, usually.
Cheapest time to visit Georgia:
November to February (excluding the holiday season)
7
Iowa
Dubuque as seen from a small railway amidst green tress in Iowa
Iowa is one of the cheapest states tourists can visit, and its offers an endless list of fascinating things to do without breaking the bank. There's a lot to explore for less, including the famous Clear Lake and beautiful Iowa towns with a unique blend of history, fascinating culture, and natural beauty.
The state's affordability extends to its accommodation options, as it's possible to get a hotel for as low as $95 per night. Some of the most affordable cities in Iowa to visit include Dubuque, Fort Madison, Waterloo, Burlington, among others.
Adventurers willing to stretch their budget can go glamping in treehouses or rustic cabins in Iowa, which offer a more intimate connection with the state's breathtaking landscape.
Cheapest time to visit Iowa:
September through November
Related: Interested In Booking An All-Inclusive? These Are The Cheapest Times To Book
6
Tennessee
Neon signage in downtown Nashville, TN at night
Tennessee is a cheap US state to travel to, and Nashville is its prime location; one can plan the perfect weekend itinerary in Nashville, which also involves choosing a pocket-friendly Airbnb and doing affordable (and free) activities.
The city has many low-cost and free things to do, including attending free live music (but one can tip the band), hiking and picnicking in parks, and exploring free art galleries.
Being home to the Great Smoky Mountains (which also extend into North Carolina), adventurers can explore some of the most beautiful small mountain towns in Tennessee and take scenic hikes without worrying about breaking the bank.
Cheapest time to visit Tennessee:
November to March (prices shoot over the holiday period)
5
Kansas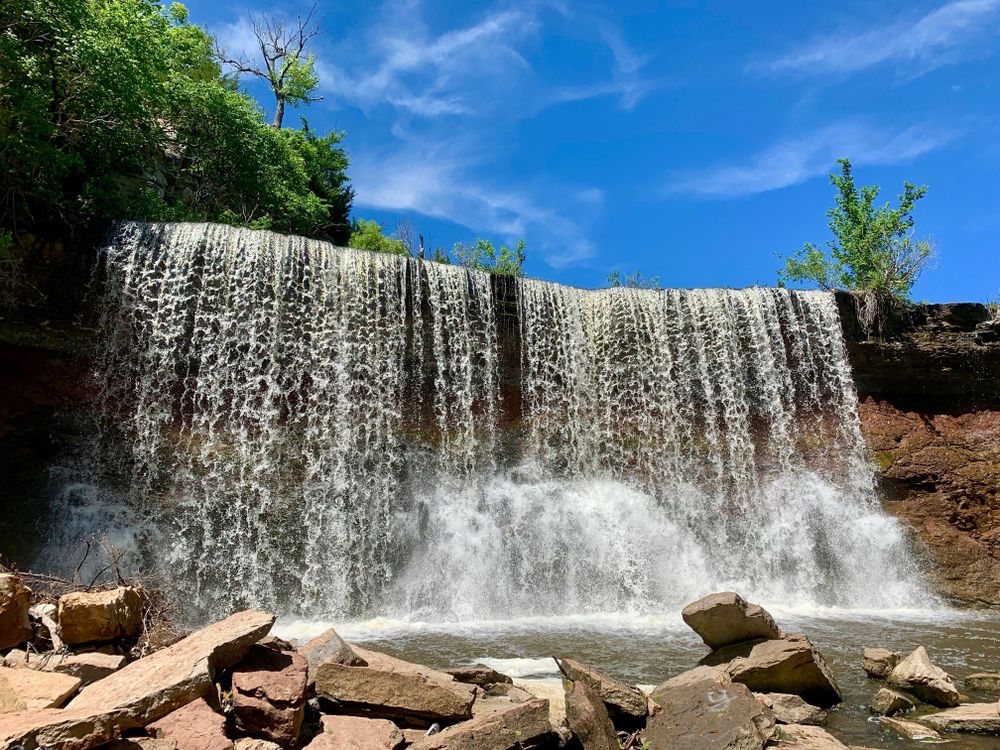 Cowley County State Lake Waterfall, a popular attraction in Kansas, USA
While not widely known as some US states, Kansas has diverse attractions and captivating places that aren't hard on the wallet. For instance, visiting a top-rated attraction like Safari Zoological Park in Caney costs about $14.95.
Animal lovers willing to stretch a bit can take the VIP package from $30 to learn about endangered species like Lemurs, sloths, anteaters, tigers, and more. The Sunflower State also has unique things worth discovering for less.
Other low-cost places in Kansas to visit include Coronado Heights, Lucas​​​​​​​, Wilson, and Monument Rocks (aka The Chalk Pyramids) in Gove County.
Cheapest time to visit Kansas:
December to February (excluding the holiday season), October to November (prices are relatively low)
4
South Carolina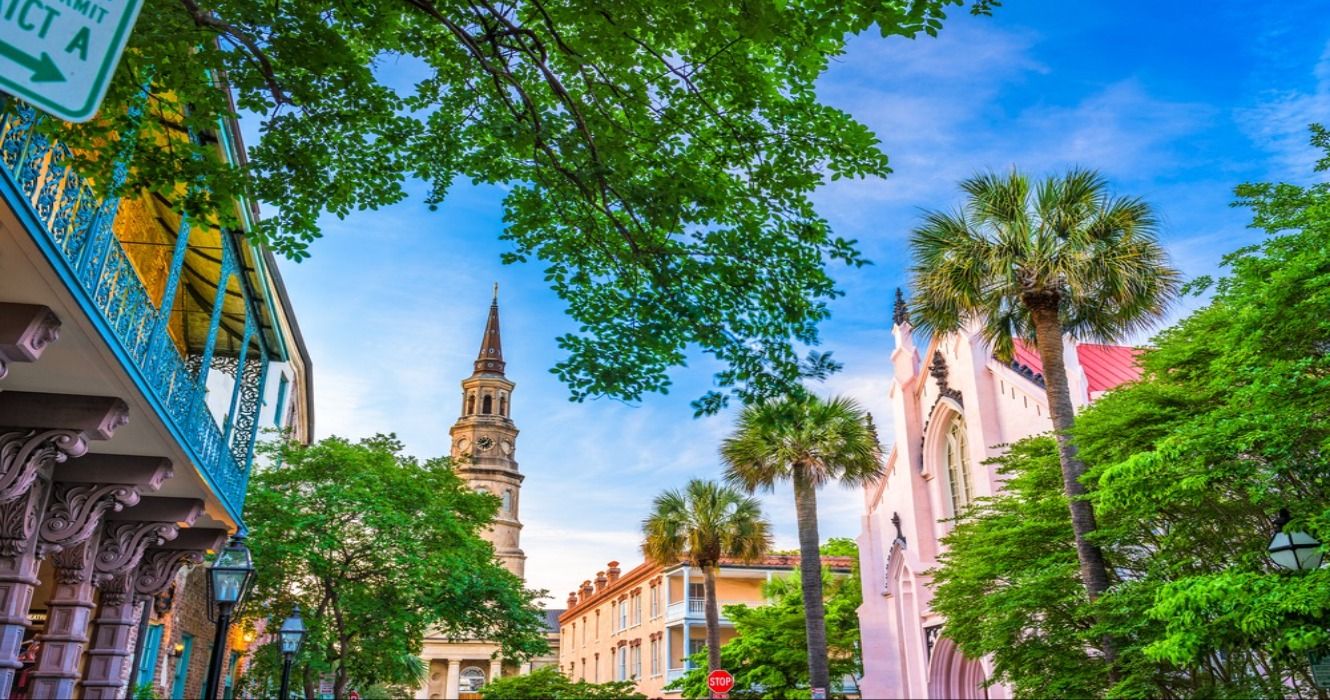 The historic downtown area of Charleston, South Carolina, USA
Saving money while traveling to South Carolina doesn't have to be nerve-wracking as the state is full of bargains. From its gorgeous beaches (some of which are the least crowded beaches in South Carolina) to adventure-filled state parks, the state has many attractions and activities that are easy on the pockets.
Myrtle Beach is one of South Carolina's most sought-after destinations, and one can book affordable Myrtle Beach hotels that won't break the bank. By spending less on accommodation, tourists can allocate a significant portion of their travel budget to memorable activities.
Cheapest time to visit South Carolina:
September to November
Related: Unlocking Affordable Freedom: 10 Cheapest Countries To Work Remotely
3
Oklahoma
Scenic view of the Iconic Route 66 with desert trees beside it in Oklahoma 
Oklahoma is one of the most underrated US states, and its often-overlooked nature makes it one of the cheapest places in the US to visit. A solo traveler can spend about $1,000 on a 7-day trip, which is significantly lower compared to other states, as there are low-cost attractions and cheap hotels, even in its capital.
During the visit, tourists explore amazing state parks in Oklahoma that prove how beautiful the state is or take a road trip along Route 66, which unveils architectural wonders, unusual attractions, and historic sites.
Cheapest time to visit Oklahoma:
November to February
2
Texas
Alisa Matthews on
Unsplash
"">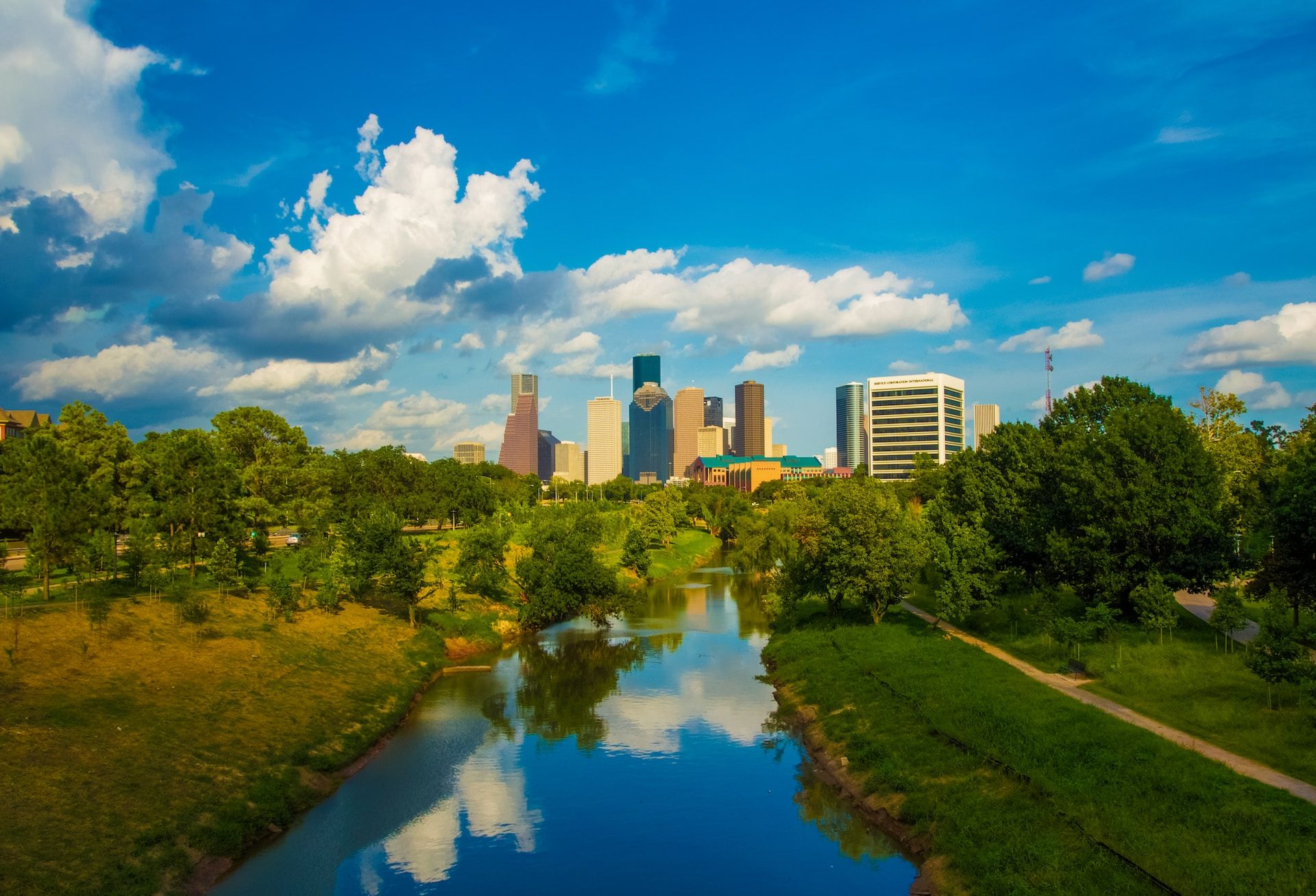 A lake and skyscrapers under a blue and cloudy sky in Houston, Texas, USA
Vacationers who want to save money while having unforgettable experiences should visit Texas. This cheap state has captivating cities and towns home to incredible yet budget-friendly attractions.
Corpus Christi is the perfect place for those who want thrilling water sports, while San Antonio is ideal for touring famous historical sites. Galveston is another charming beach town with inexpensive fun activities like strolling along the beaches, and later, guests can stay at any of its cheap hotels in Galveston that don't compromise on quality.
Cheapest time to visit Texas:
September
1
Mississippi
Downtown Vicksburg near the Yazoo Diversion Canal, Mississippi
Mississippi is the cheapest state to vacation in, and while it's not on everyone's radar, it has some incredible attractions and sights worth visiting. The transportation costs are significantly low in Mississippi, as it has the cheapest gas price at $3.12 per gallon compared to California at $5.07 (prices are subject to change).
As such, the state is a decent place for a road trip, and tourists can move to different cities and towns without spending much on transport. Adventurers who want to escape typical touristy traps will also love Mississippi for its numerous hidden gems.
Cheapest time to visit Mississippi:
Mid to late September