When considering a trip to Thailand, many travelers might focus on Bangkok, the lively Thai capital. But not far away is the smaller city of Ayutthaya, full of rich history, gorgeous sights, and a small-town feel that is refreshing after vacationing in adventurous Bangkok.
For those using Bangkok as a home base for myriad day trips in the area, or for anyone looking for an off-the-beaten-path exploration of Thailand, Ayutthaya offers a jam-packed itinerary.
Things To Do in Ayutthaya
Ayutthaya is full of historical landmarks, breathtaking temples, and other things to do and see.
18
Tour Ayutthaya Historical Park
Ayutthaya Historical Park
Ayutthaya Historical Park is home to multiple notable Ayutthaya landmarks, all stemming from the old city's roots in 1351 (though the city may be even older).
Travelers can walk through the Historical Park for free, though paid tours/guides are available.
Some temples charge an entrance fee of around 50 baht ($1.44 USD)
Fun fact: "Wat" in Thai means "enclosure"; a wat is a complex of temples.
17
See The Buddha Head At Wat Mahathat
Rutpratheep Nilpechr on
Unsplash
"">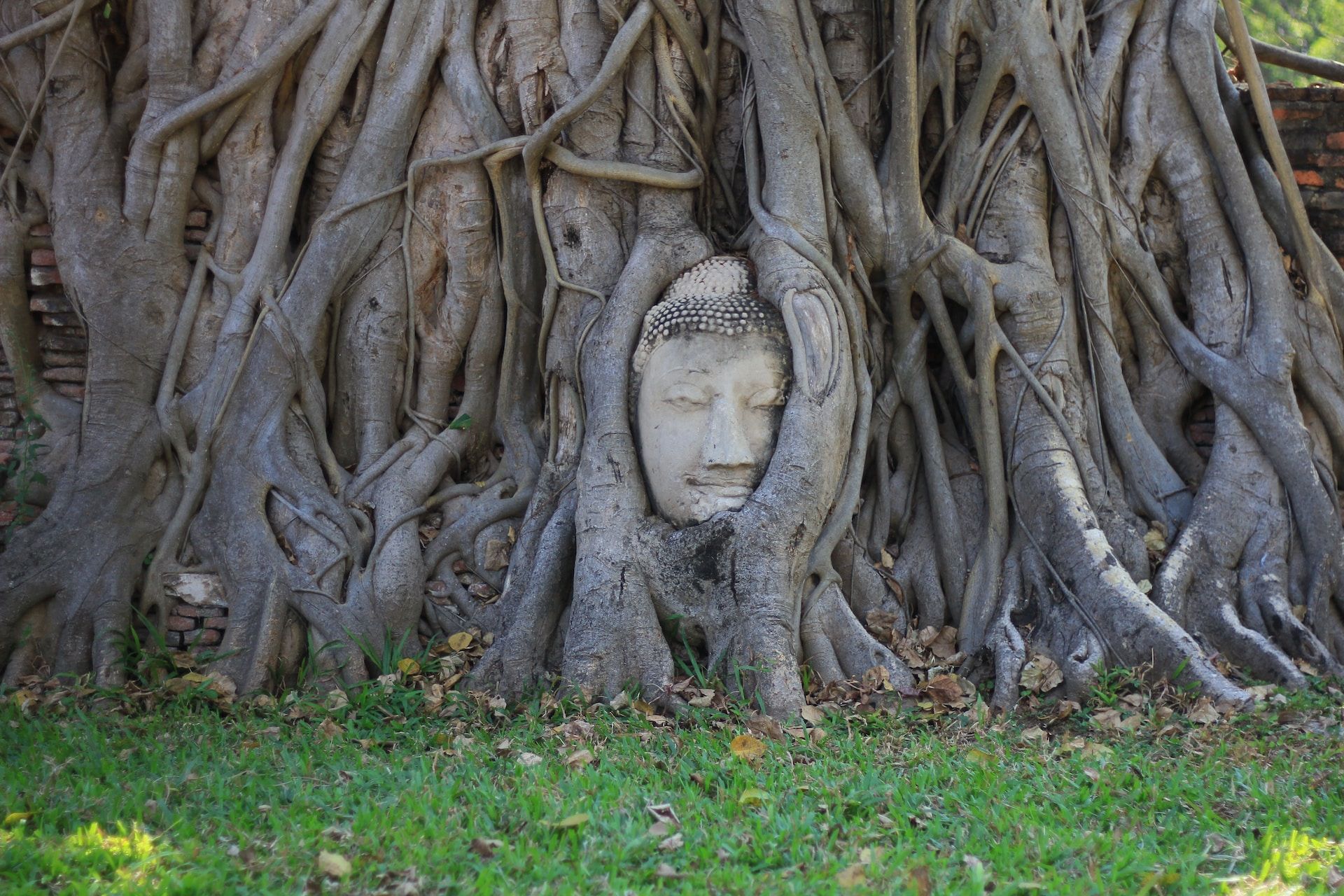 Buddha Head embedded in a banyan tree, Ayutthaya, Thailand
Wat Mahathat is one of many historical landmarks in Ayutthaya's Historical Park, and this is one of the most prized sites. The former royal temple was home to the Buddha's holy relic and is one of the oldest temples in the city.
A highlight at Mahathat is the 'head of Buddha' at the base of a tree (which scales a brick wall).
Wat Mahathat entrance fees are 50 baht ($1.44 USD)
16
Visit Wat Chaiwatthanaram (By Boat)
Teodor Kuduschiev on
Unsplash
"">
Headless statue at Wat Chaiwatthanaram
Another noteworthy historical landmark in Ayutthaya Historical Park is Wat Chaiwatthanaram, the largest wat in the Park. Technically, the Wat is not part of the UNESCO World Heritage Site, but it holds historical and political significance.
Travelers can reach Wat Chaiwatthanaram by road or boat, and the site is typically the last on a boat trip.
Wat Chaiwatthanaram entrance fees are 50 baht ($1.44 USD)
15
Explore Wat Phra Si Sanphet
Noppon Meenuch on
Unsplash
"">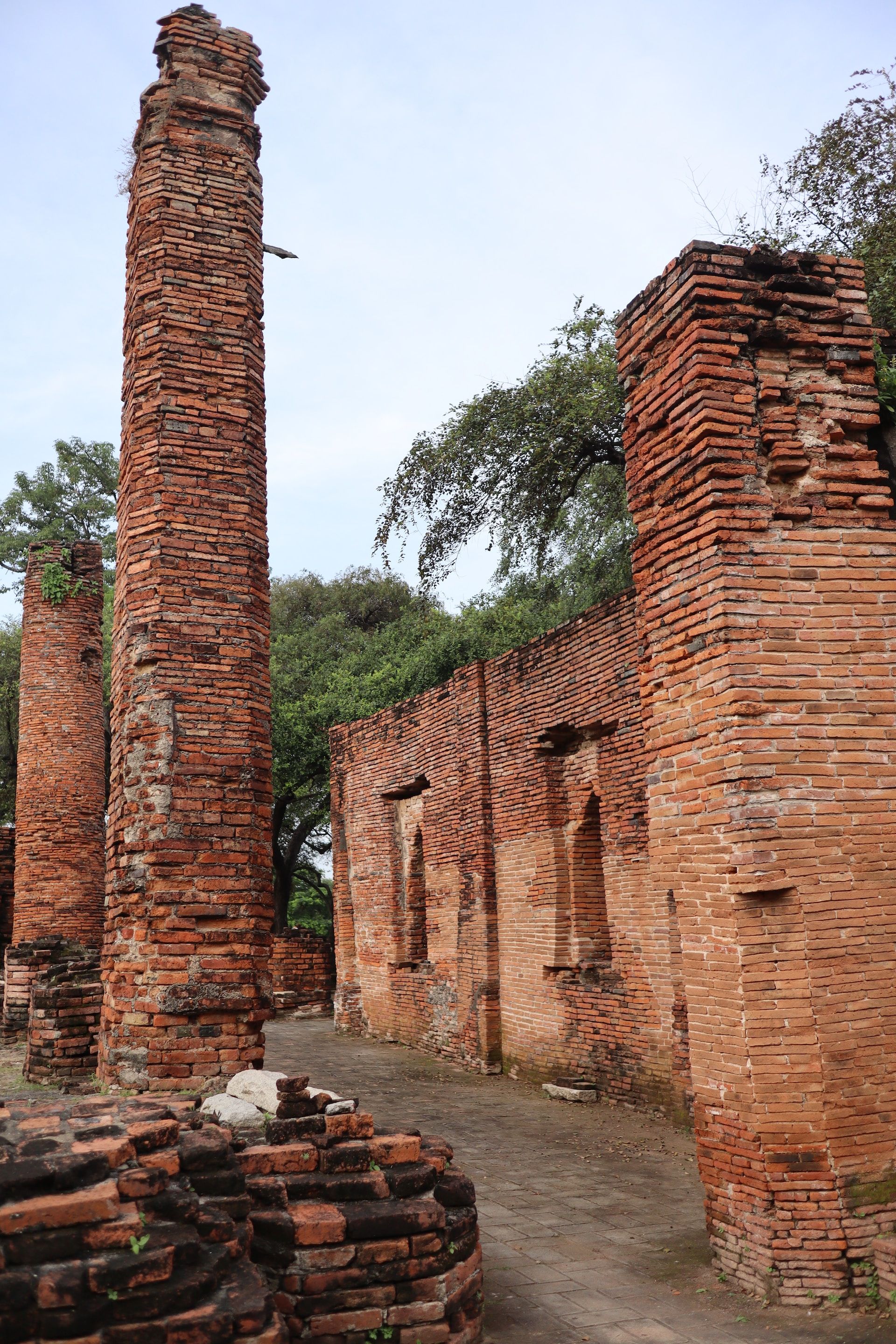 Wat Phra Si Sanphet, Ayutthaya, Thailand
Another historical landmark to see at Ayutthaya Historical Park is Wat Phra Si Sanphet. The "Temple of the Holy, Splendid Omniscient" was a respected holy site in its heyday and was considered the grandest of its era.
Wat Phra Si Sanphet is home to a giant Buddha head thought to be from a massive 52-foot-high statue that was destroyed during the Burmese-Siamese War.
Wat Phra Si Sanphet entrance fees are 20 baht ($.58 USD)
14
Tour Wat Yai Chai Mongkhon
Statues at Wat Yai Chai Mongkhon
Wat Yai Chai Mongkhon is a Buddhist temple that lies among the other temple complexes in Ayutthaya Historical Park. Once a monastery called Wat Pakaew, this site features a restored Buddha image, a Buddhist temple, and a Chedi (pagoda) that memorializes King Naresuan the Great's reign.
Wat Yai Chai Mongkhon entrance fee is 20 baht ($.58 USD)
13
Gaze At Buddha At Wihan Phra Mongkhon Bophit
Wihan Phra Mongkhon Bophit Ayutthaya
Wihan Phra Mongkhon Bophit is a Buddhist temple that is well-known for its gigantic Buddha statue, one of the largest in all of Thailand.
Wihan Phra Mongkhon Bophit is free to visit
This historical landmark is also a busy modern temple that sees many worshippers each day.
12
Worship At Wat Phanan Choeng Worawihan
Buddha statue at Wat Phanan Choeng Worawihan
Another iconic Buddha statue sits in Wat Phanan Choeng Worawihan, and this one survived the destruction of war in surrounding areas. Many people come here to worship in modern times.
Wat Phanan Choeng Worawihan entrance fees are 20 baht ($.58 USD)
11
Dive Into History At Chao Sam Phraya National Museum
John Matthew Flores on
Unsplash
"">
Ruins in Ayutthaya, Thailand
Ayutthaya's Chao Sam Phraya National Museum showcases artifacts from the ancient city. Three separate exhibition buildings showcase tableware and other antiques, pottery, and rotating exhibitions of historical Thai objects.
Chao Sam Phraya National Museum entrance fees are 150 baht ($4.33 USD)
10
Get Whimsical At Million Toy Museum
A short trip (whether on foot or bicycle) away from Ayutthaya Historical Park is Million Toy Museum, where visitors can see toys through time. The two-story building features tons of toys, many in glass cases, making this a kid-friendly adventure but also one that children will enjoy.
Million Toy Museum entry fees are 50 baht ($1.44 USD)
The site also features a garden and cafe.
9
Embark On A Boat Tour Or River Cruise
Aaron Thomas on
Unsplash
"">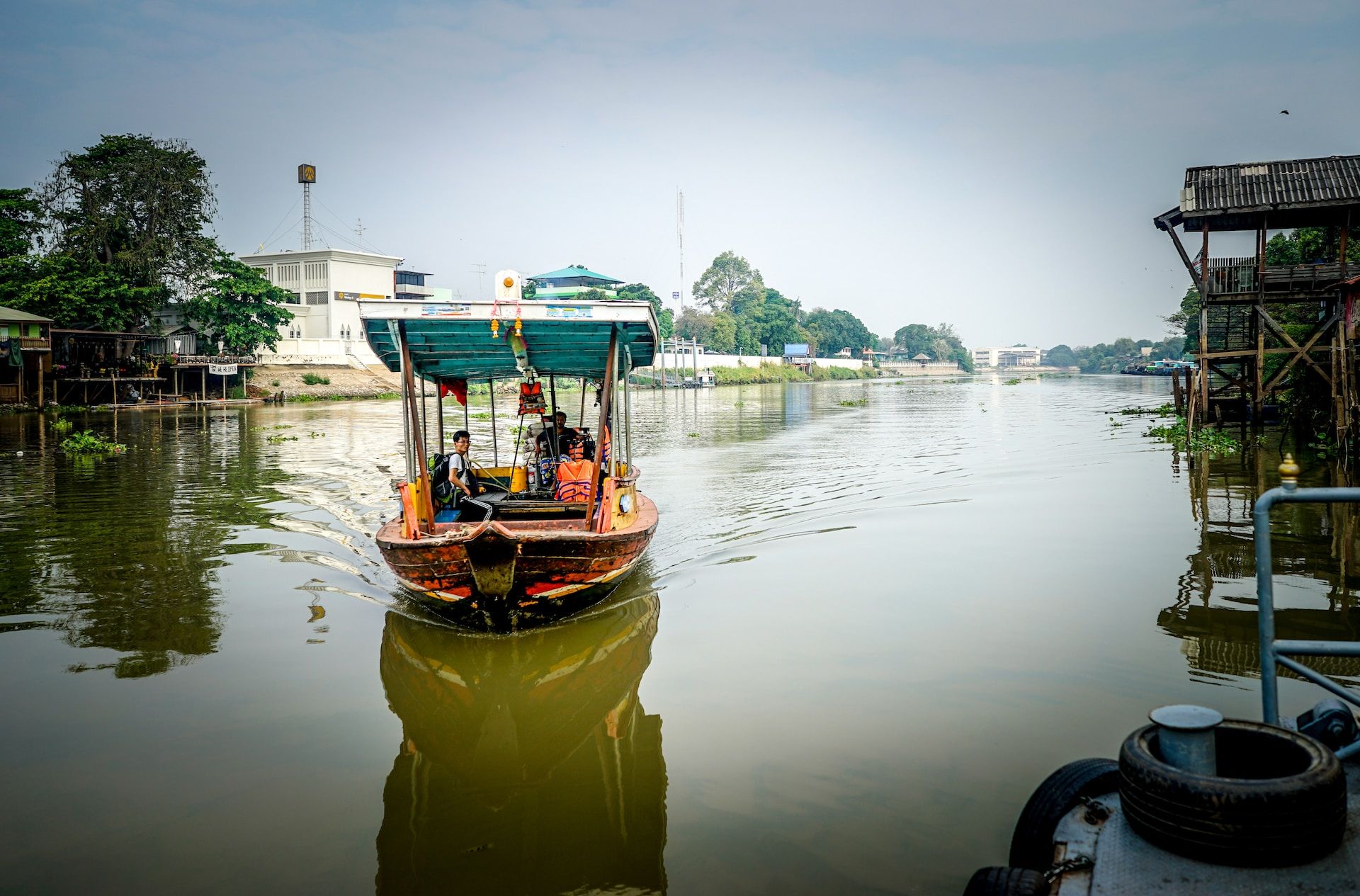 Smal boat in Ayutthaya Thailand
A river cruise is a gorgeous way to see Ayutthaya, including many of its historic sites. A variety of tour options are available, from full-day river cruises to short boat tours of specific attractions.
Cruises are available through various travel agencies in the area, but adventurous visitors can also arrange a private cruise with boat operators on the pier.
8
Cycle Through Historic Ayutthaya
Renting a bicycle in Ayutthaya is an excellent way to get around, but it can also be a means of seeing the sights. Guided bike tours are available for a fee, but travelers can also rent a bicycle and set out on their own.
Bicycle rentals typically cost 40 to 50 baht (up to $1.44 USD)
Plan a bicycle route in Google Maps before departing to avoid getting lost and ensure that the itinerary is sufficient for travel time between sites.
Related: Snorkel Thailand: 13 Best Places To Explore Underwater
7
Take A Tuk Tuk Tour
sippakorn yamkasikorn on
Unsplash
"">
Tuk tuk in Ayutthaya
Riding in a tuk tuk can be a fun experience for travelers of all ages in Thailand, and it's a convenient way to get around. Consider hiring a tuk tuk for a day tour; most offer services by the hour.
How much is tuk tuk tour in Ayutthaya?
A tuk tuk tour will cost travelers around 200 to 300 baht per hour; between $5 and $9 USD.
6
Best Time To Go
Guille Álvarez on
Unsplash
"">
People in Ayutthaya during Festival of Light
Like all of Thailand, Ayutthaya experiences a range of weather conditions in each season. Summers can involve high temperatures with frequent showers, clouds, and humidity.
Generally, April is the hottest month in Thailand (summer temperatures range from March to June) while November through March is the coolest and dryest (though the priciest for travelers).
Travelers can also plan their trip to experience festivals in different seasons. For example, a November trip is ideal to experience Loy Krathong, which celebrates water spirits and honors Buddha. April is a great time to visit for Songkran, the Thai New Year, during the first full moon in April.
5
Best Ways To Get Around
Alexander Kaufmann on
Unsplash
"">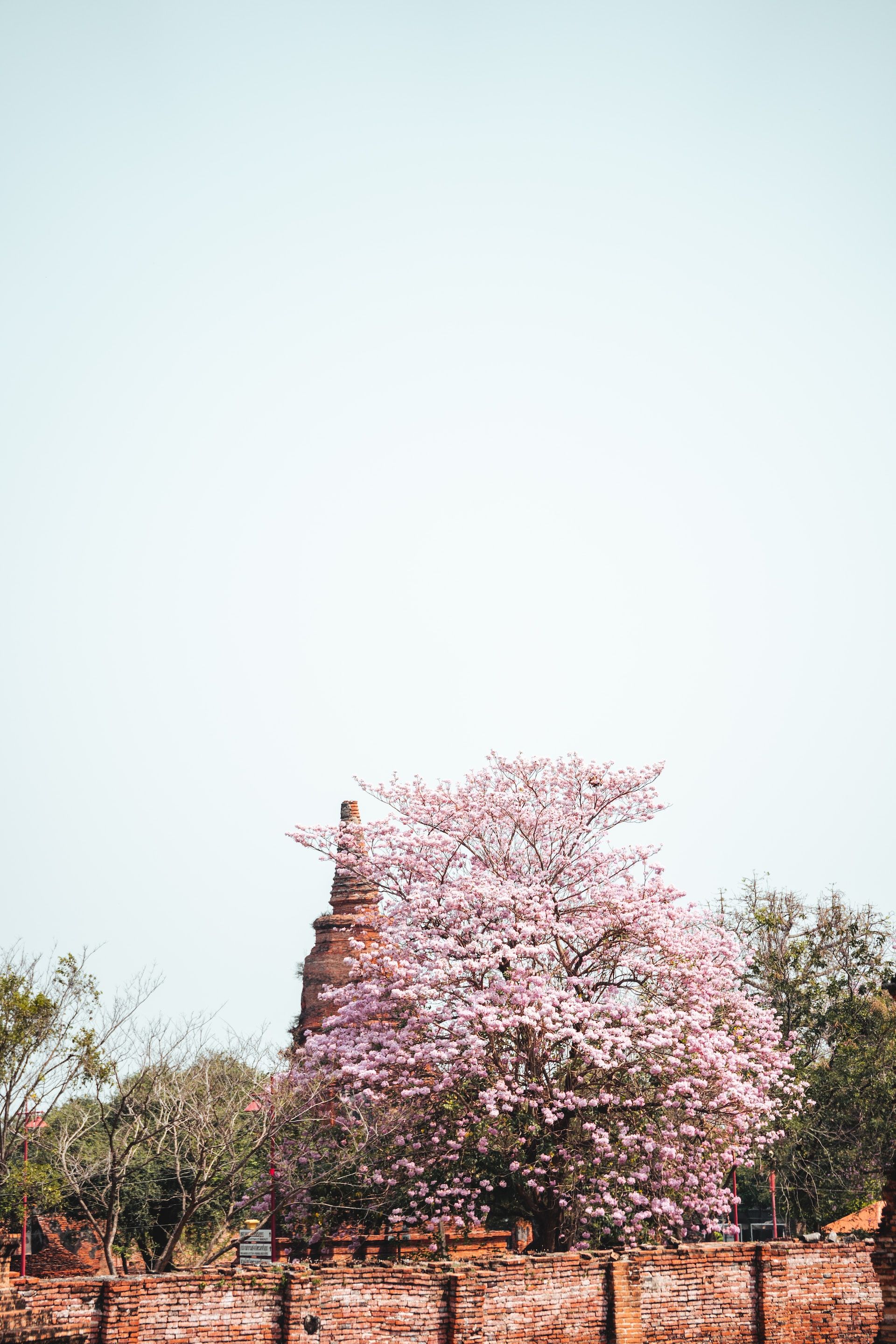 Cherry blossoms in Ayutthaya Thailand
Ayutthaya is mostly walkable if tourists plan to see the main UNESCO World Heritage Site and surrounding temples. However, depending on the weather conditions, it may be wise to take a bicycle or hire a ride.
Is Ayutthaya a day trip from Bangkok?
Yes—the trip takes about an hour or so by car.

Is there a boat from Bangkok to Ayutthaya?
Yes, travelers can get from Bangkok to Ayutthaya via boat; the trip takes about three hours each way, and
Thai River Cruise
includes a buffet lunch.
Travelers can also use the train station in Ayutthaya to get around to other parts of Thailand, including Bangkok.
An all-inclusive boat tour from Bangkok to Ayutthaya will cost about $63.44 USD (2200 baht) per adult.
4
Where To Eat
Whether travelers have a hankering for food from home or want to try iconic dishes that Thailand is known for, Ayutthaya delivers.
Breakfast
Nong Nine bike & restaurant for morning smoothies and lattes.
Jintana Service for convenient vegetarian dishes (near the train).
Lunch
Tuk Restaurant ร้านข้าวต้มริมทาง for a cheap and filling lunch (but wait times can be long).
Earl Thai Restaurant for a variety of Thai dishes in a comfortable atmosphere.
Here Kae Pork Satay หมูสะเต๊ะเฮียแกละ อยุธยา for mouthwatering skewers (best to call ahead to order to avoid wait times)
Dinner
เกรท Great Steak & Thai Cuisine for "American comfort food" and sandwiches.
Eatory for Italian dishes in a quirky environment.
Drinks
Bai-Plu for live music events and drinks.
BROWN ALE AYUTTHAYA for craft beer and cocktails.
Planet Earth Bar & Restaurant for a lively environment.
Related: Step Back In Time & Visit The Oldest Restaurants In Bangkok
3
Where To Stay
krit Gaudart on
Unsplash
"">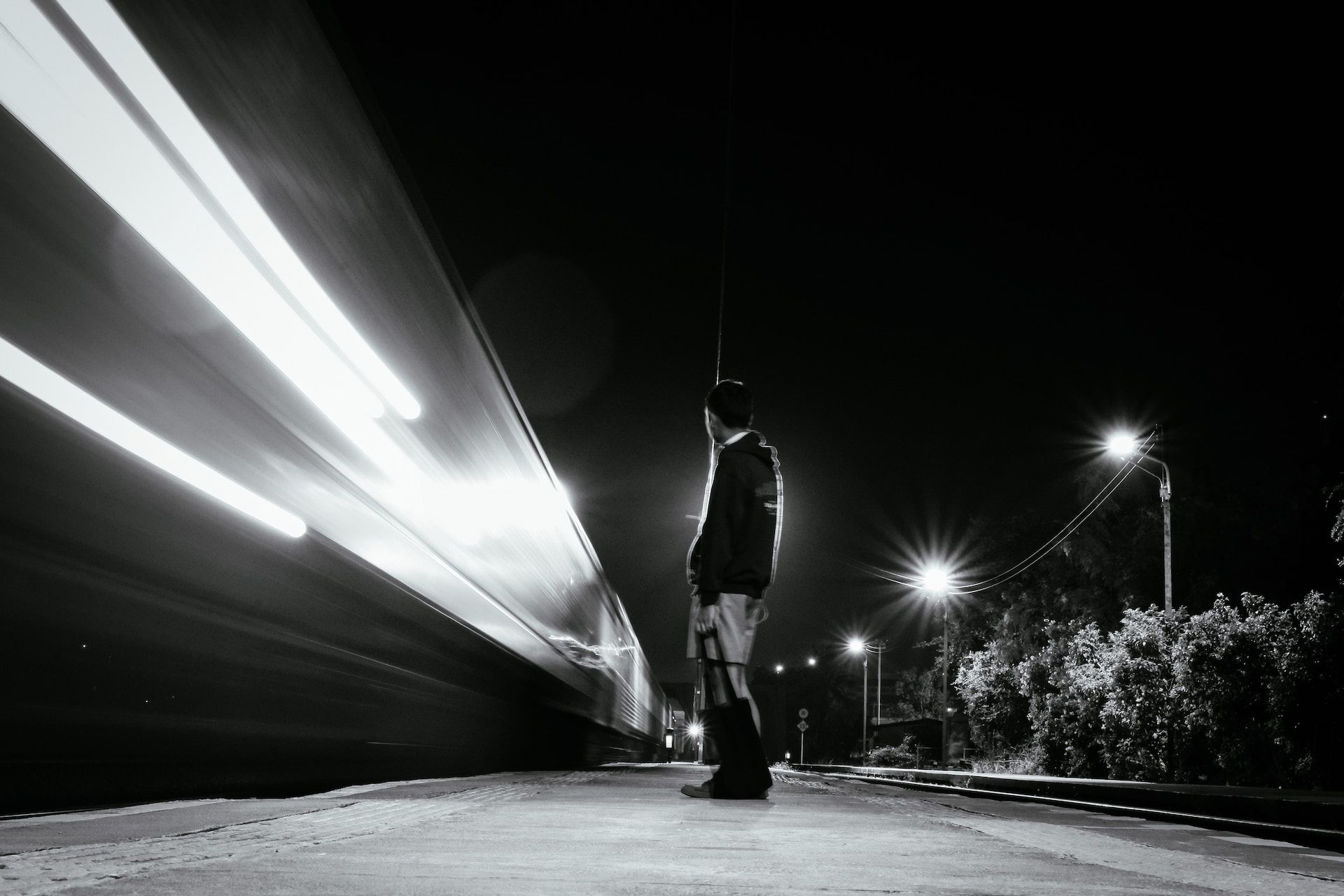 Person by a train in Ayutthaya Thailand
Accommodations in Ayutthaya, like elsewhere in Thailand, can be supremely affordable. Travelers have plenty of choices in terms of location, budget, and amenities.
Budget-Friendly Hotels & Hostels in Ayutthaya
Baan Mee Suk Ayutthaya
starts at $14/night and offers dorm-style bedrooms and a shared lounge area.

Zleepinezz Hostel
starts at $19/night and is within a five-minute walk from the Historical Park.

Klong Suan Plue Resort
starts at $24/night with convenience to the Historical Park, an on-site restaurant, and rustic ambiance.
Mid-Tier Accommodations in Ayutthaya
Baan Canalee
starts at $53/night and offers a natural ambiance (lots of greenery) and convenience to Ayutthaya Historical Park.

บ้านไม้87 Ban Mai 87
starts at $56/night with balconies (river views), complimentary breakfast, and earned a Sustainable certification.

Baan Luang Harn
starts at $44/night and is convenient to Ayutthaya Historical Park, with on-site dining, outdoor spaces, and a quaint charm.
High-End Hotels in Ayutthaya
Sala Bang Pa-In
starts at $265/night and lies on a private island with boat service at the ready.

Sala Ayutthaya
starts at $192/night and offers waterfront views, outdoor dining, and indoor pools.

Baan Pomphet
starts at $135/night and has an on-site restaurant/bar, gardens, and an outdoor pool.
Related: Why The Mountain Lanes Around Thailand's Chiang Mai Are Perfect For A Motorbike Road Trip
2
Tips To Know When Visiting
Melvina Mak on
Unsplash
"">
Weeds sprouting from a Buddha statue in Ayutthaya
Thailand is an exciting place to visit, but even smaller towns can have a buzzing 'vibe.' Expect cultural sites to be busy and always watch out for motorcycles and bicycles while walking (or driving).
One perk in Thailand is the relative affordability of goods and services; even $100 USD can go far in Thailand, depending on what travelers decide to splurge on.
Related: Thailand Currency: Everything You Need To Know About The Stretch Of The U.S. Dollar
Note that Ayutthaya is nearest to Bangkok, but quite far from tourist destinations like Phuket (where beaches abound).
1
How To Spend The Perfect Day In Ayutthaya
Mil Amirian on
Unsplash
"">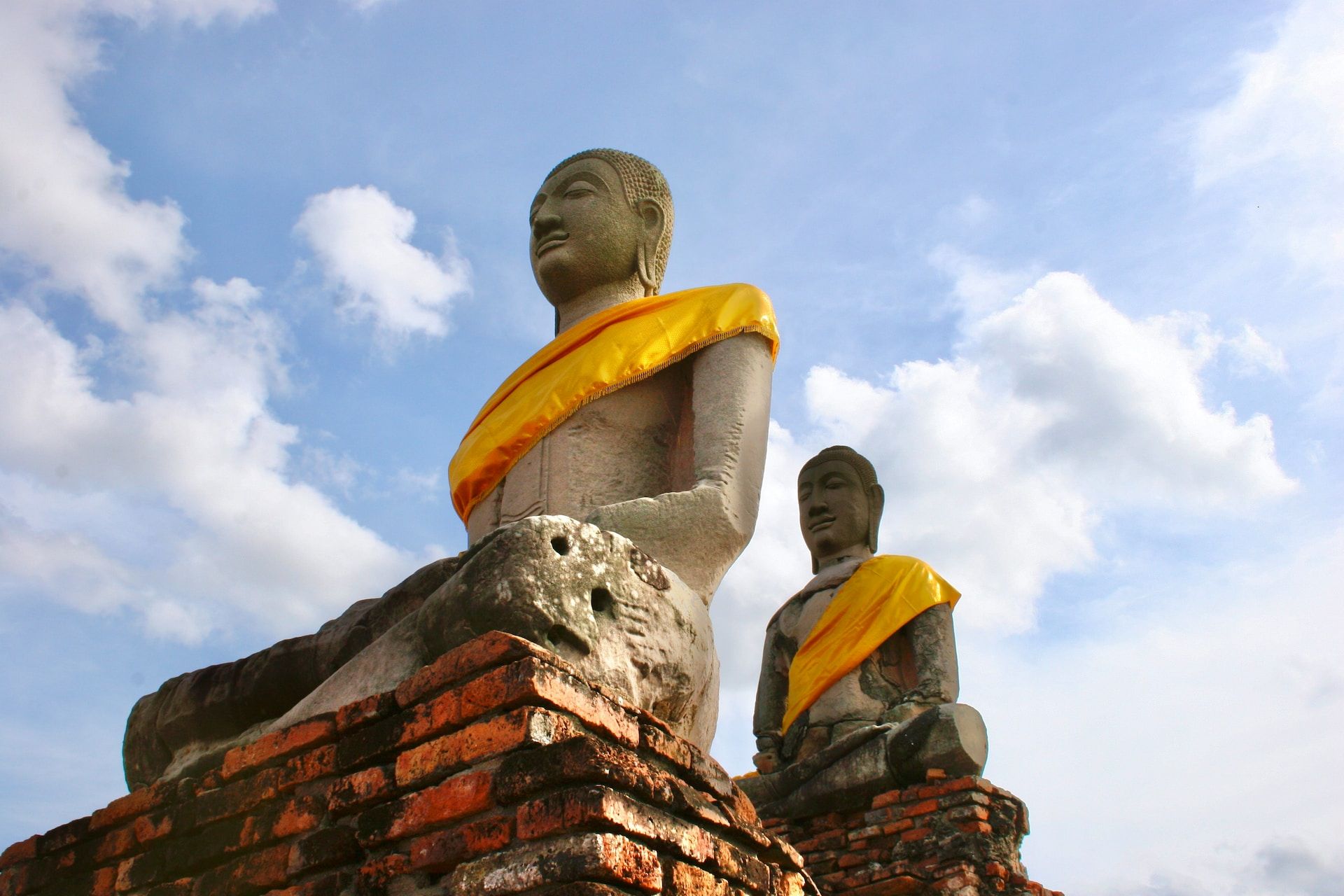 Statues in Ayutthaya
The perfect day in Ayutthaya starts with a smoothie or latte from Nong Nine bike & restaurant, followed by biking around Ayutthaya Historical Park to see the sights. After lunch, hire a river boat or a tuk tuk to explore more of the area in comfort.
Later, visit the Million Toys Museum or Chao Sam Phraya National Museum (depending on travelers' interests) before dining out for dinner. Spend a quiet evening on the hotel patio or balcony, soaking in the sights and ambiance.
FAQ
Q: Is a day trip to Ayutthaya worth it?
Most visitors to Bangkok find plenty of things to do and see in the big city. But taking a tour to Ayutthaya is an inexpensive way to slow down and see the sights.
A taxi trip from Bangkok to Ayutthaya only costs about ฿900, or just over $25 USD.
Q: What is the dress code for Ayutthaya Thailand?
Ayutthaya, Thailand does not have a set dress code, but it makes sense to dress modestly (cover knees and elbows) while visiting temples.
Q: How long to spend in Ayutthaya?
Ayutthaya's top attractions can be seen on a day trip from Bangkok, but the city can easily take up two or three days, depending on travelers' interests. Plan for at least two days for maximum enjoyment.