Home to lush tea plantations, tropical beaches, exotic wildlife, breathtaking waterfalls, and ancient world heritage sites, Sri Lanka boasts a multi-faceted charm. This South Asian gem lying in the heart of the Indian Ocean attracts millions of vacationers every year. Since the destination has so much to offer for travellers of all age groups, having a Sri Lanka travel guide is a must to enjoy a hassle-free vacation. From the colonial elegance of Nuwara Eliya to the serene landscapes of Mirissa, there's so much to explore in Sri Lanka. Check out all the essential information and tips to make the most of your trip to this spectacular island nation.
Places to Visit in Sri Lanka
Whether it's Colombo, Kandy, Mirissa, Bentota, Trincomalee, or Nuwara Eliya, each city in the country has a story to tell. This detailed Sri Lanka travel guide includes information on a few places that need to be on your itinerary.
1. Colombo
Colombo is the capital and largest city of Sri Lanka famed its modernism, colourful indigenous and colonial history. The capital is replete with museums, amusement parks, temples, and other tourist attractions. To make the most of your vacation, you can enjoy a city tour on an open deck bus, have a spiritual tour of the temples, explore history at the National Museum, or have some relaxation at Mt. Lavinia Beach.
Major attractions: Royal Colombo Golf Course, National Art Gallery, Pettah Floating Market, Shri Ponnambalawaneswaram Kovil, National Museum Of Colombo
Must Read: 10 Places To Visit In Badulla For A Fulfilling Vacation In Sri Lanka
2. Yala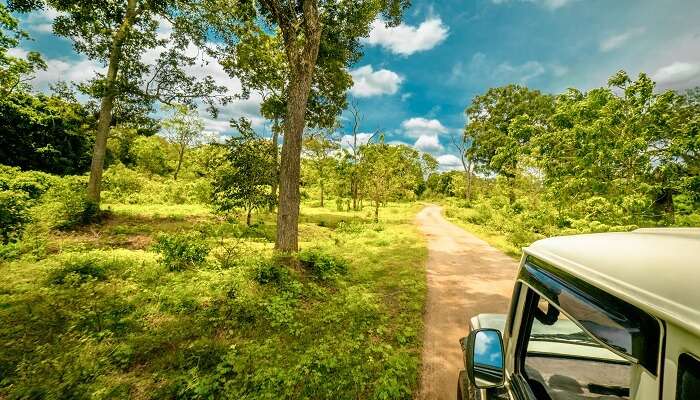 Designated as a wildlife sanctuary in 1900, Yala is widely renowned for Yala National Park that houses numerous animals including rare and endangered species as well. Enjoy your trip while hire a jeep to have a ride across the jungles of the Sanctuary. Some of the animals that you can spot here include Sri Lankan elephants, wild water buffalo, painted stork, Sri Lankan leopard, black-headed Ibis, and more.
Major attractions: Buduruwagala, Yala National Park, Okanda Devalaya, Kebiliththa, Sithulpawwa, Magul Maha Viharaya
3. Ella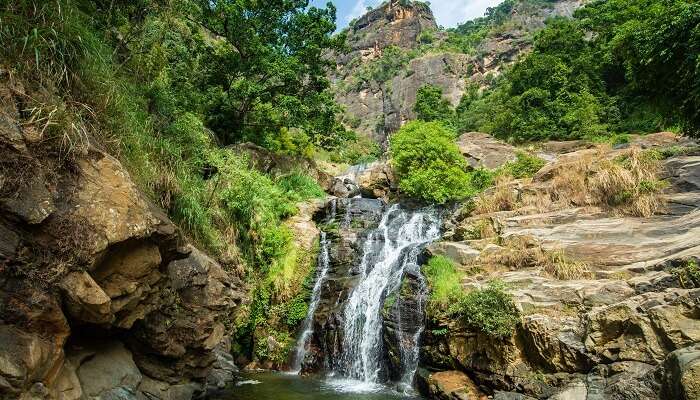 Positioned at an elevation of about 3,415.3 ft above sea level, Ella is a small town in the Badulla District of Uva Province. Elements like picturesque landscapes, caves, and waterfalls make ellra a picturesque location. From taking a dip in Ravana Falls to learning the tea-making process at the Ella Tea Factory, and indulging in a soothing massage at 98 Acres Resort, you can indulge in a weath of soul-soothing experiences while visiting Ella.
Major attractions: Ella Rock, Nine Arches Bridge, Ravana Falls, Ceylon Tea Factory, Little Adam's Peak, Dhowa Rock Temple
Suggested Read: 15 Romantic Beach Resorts In Sri Lanka To Melt Your Hearts Away
4. Mirissa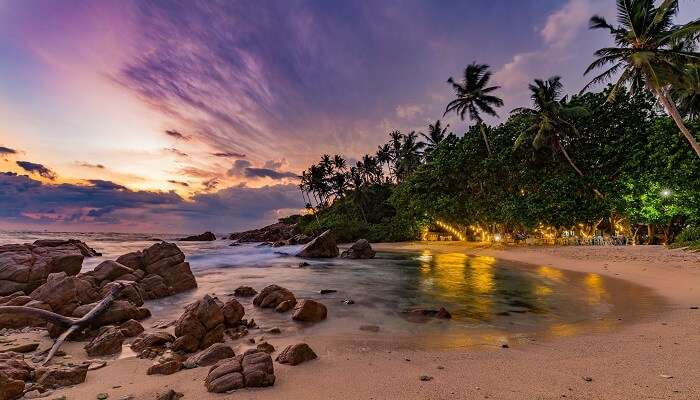 Mirissa, as every Sri Lanka travel guide will tell you, is an ultimate abode for beach lovers. Apart from water sports, the destination offers a wide range of enjoyment options. From climbing the Parrot Rock to witnessing the lively nightlife to taking a walk along the palm tree forest, you can add numerous activities to your Sri Lanka itinerary. Maske sure to visit Elephant Transit Home which is around 2 hours drive from Mirissa.
Major attractions: Mirissa Beach, Secret Beach, Parrot Rock Bridge, Coconut Tree Hill, Weligambay Beach
5. Trincomalee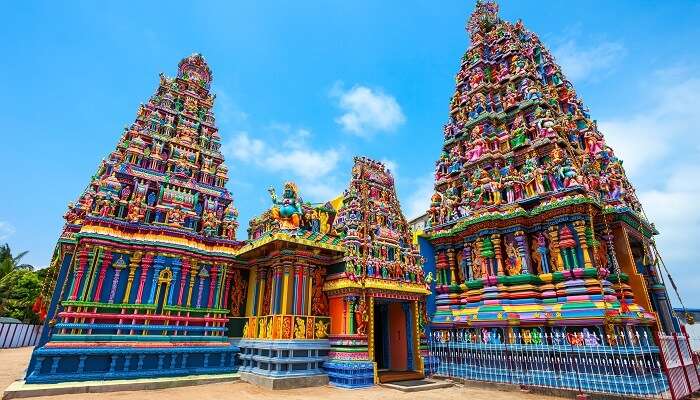 Dipped in historical significance, Trincomalee is a place of tranquility and elegance. The city is home to some of the most famous monuments and temples in Sri Lanka. While temples like Koneswaram, Pathirakali Amman, and Velgam Vehera offer visitors sheer peace of mind, the famous beaches including Uppuveli and Nilaveli make a perfect base to indulge in water activities.
Major attractions: Fort Frederick, Koneswaram Temple, Pathirakali Amman Temple, Maritime and Naval History Museum, Velgam Vehera
Suggested Read: 4 Things To Do In Kolonnawa, Sri Lanka For An Amazing Holiday
Things to do in Sri Lanka
There's no dearth of experiences to enjoy in Sri Lanka. Whether on a honeymoon, a family vacation, or a solo trip, you are bound to enjoy your trip. This Sri Lanka travel guide comprises some exciting activities that travellers of all age groups can enjoy.
1. Experience Wildlife Safari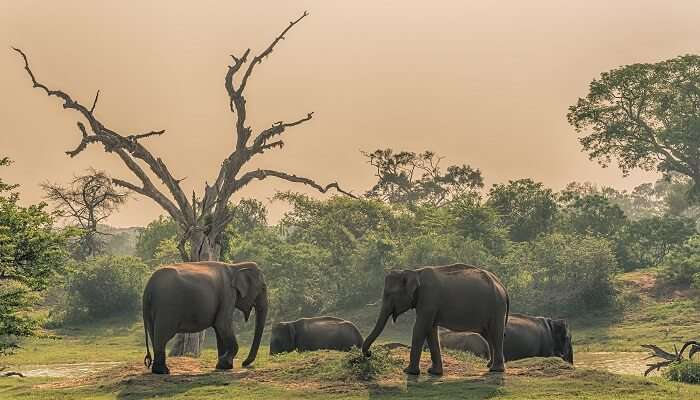 There are a plethora of national parks and wildlife sanctuaries in Sri Lanka offering vacationers an adventurous wildlife safari. While Yala National Park is famous for its leopard population, Udawalawe National Park offers sightings of elephants in their natural habitat. Besdies this, Minneriya National Park is another spot to witness the largest gathering of wild elephants.
2. Explore Lush Green Tea Plantations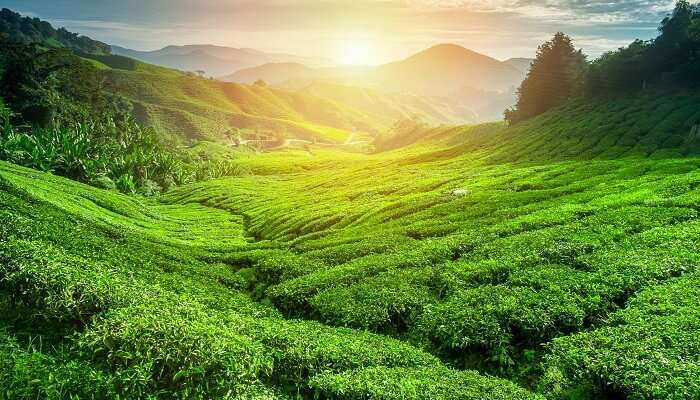 Everyone who visits Sri Lanka and has ever read a Sri Lanka travel guide knows that the destination is home to enticing tea plantations. Hill Country region, located in the central part of Sri Lanka, features the majority of the country's tea plantations. Explore the alluring towns of Ella, Nuwara Eliya, and Hatton, which serve as gateways to these lush green landscapes. Witness the tea making process and sample a refreshing cup of Ceylon tea.
Suggested Read: 4 Amazing Places To Visit In Udawalawa On Your Sri Lankan Escape This Year
3. Rejuvenate at Pristine Beaches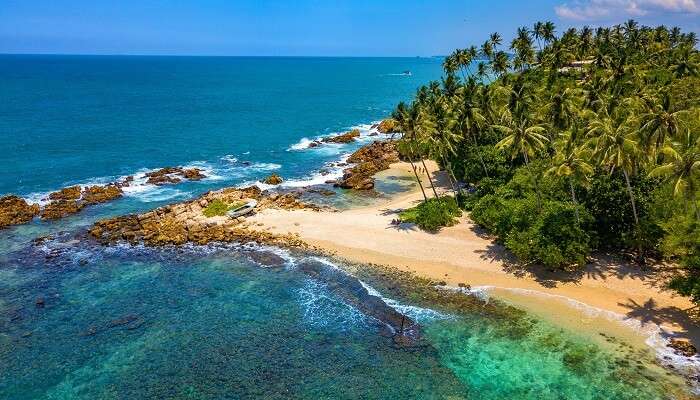 Beaches in Sri Lanka greatly adds up to its natural charm. Relax your senses on the golden shores of Mirissa, Arugam Bay, or Bentota. To treat the adrenaline rush in you, indulge in water activities such as snorkeling, jet ski, diving, and surfing. Besides this, witness the alluring sight of turtles nesting at the Rekawa Turtle Conservation Project.
Where to Eat in Sri Lanka
While exploring a new destination, it's a must to savour its local delicacies. Like other countries, Sri Lanka also takes pride in its numerous traditional dishes. These three will take you on an ultimate culinary tour.
1. Balaji Dosai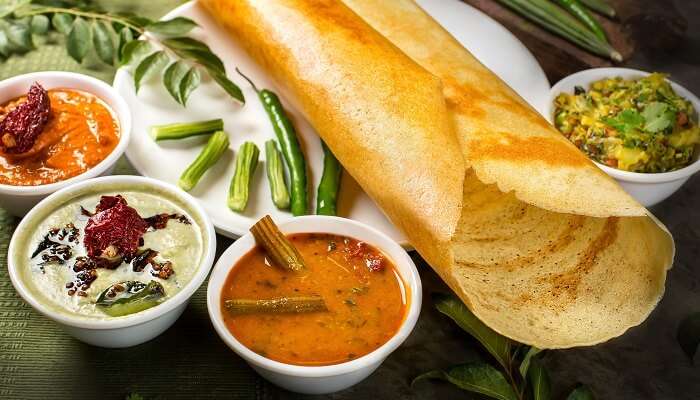 If you're craving authentic South Indian cuisine, Balaji Dosai is the place to stop by. This no-frills eatery takes pride in its delicious dosas, idlis, and other traditional Indian dishes. The extensive menu offers a variety of vegetarian options to treat visitors' taste palates. Besides this, the friendly staff and affordably priced dishes add to the overall dining experience at Balaji Dosai.
Location: 03 DS Senanayake Veediya, Kandy 20000, Sri Lanka
Timings: 7:00 am to 9:30 pm
Suggested Read: Visit The World's End At Horton Plains National Park
2. Ministry of Crab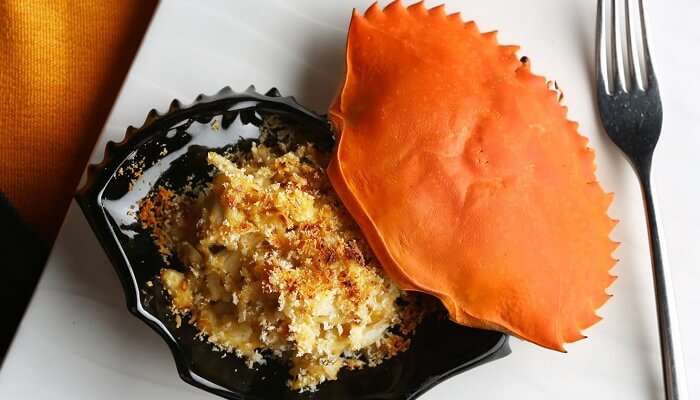 Image Credit: Ministry Of Crab for Facebook
Set in a 400-year-old Dutch Hospital in Colombo, Ministry of Crab is one of the most popular restaurants in Colombo offering a wide range of crab delicacies. Apart from crab, this celebrity restaurant also serves freshwater prawns in a plethora of styles. Guests can either pick the inside space or the courtyard seating to enjoy a paradisiacal culinary experience.
Location: Old Dutch Hospital Complex, 04 Hospital St, Colombo 00100, Sri Lanka
Timings: 12:00 pm to 10:30 pm
3. Golden Grill Restaurant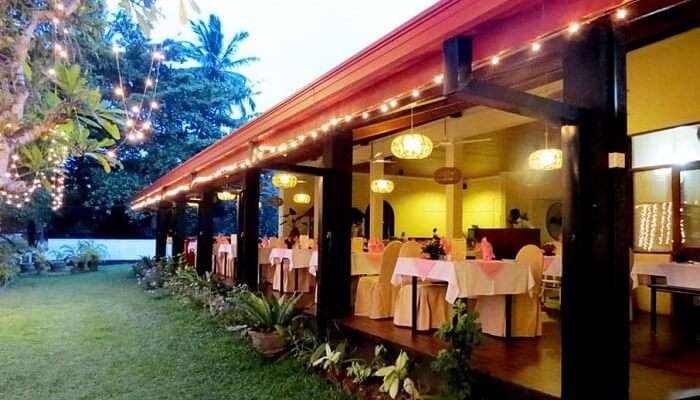 Offering a fine dining experience in Bentota, Golden Grill Restaurant is a true haven for those seeking an authentic taste of Sri Lankan Delicacies. From the famous Jaffna crab curry with freshly baked bread to the traditional red mullet curry, there is a multitude of delicacies to tickle your tastebuds. Apart from the extensive menu, the beachfront location and casual ambience are other elements that impress guests.
Location: Bentota Bridge, National Holiday Resort, Bentota, Sri Lanka
Timings: 11:00 am to 10:00 pm
Suggested Read: Sri Lanka In March: A Guide For Witnessing The Cultural Colors Of The Country
Where to Stay in Sri Lanka
Accommodation is an essential part of Sri Lanka travel guide and vacationers are spoilt for choice when it comes to places to stay in Sri Lanka. From ultra-luxurious resorts to mid-ranged hotels to affordable homestays, you will come across numerous options that suit your budget.
1. Taj Bentota Resort & Spa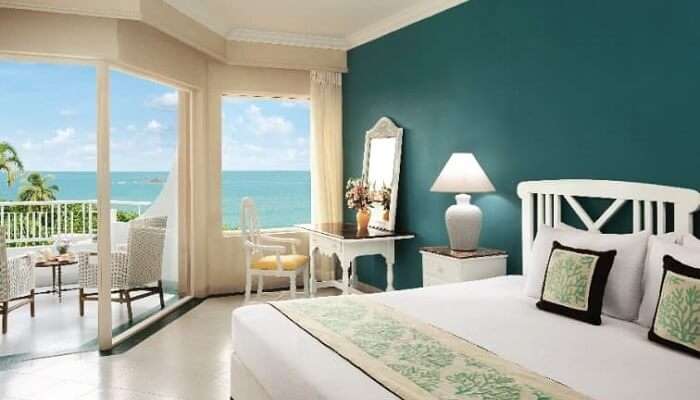 Enjoying the vicinity of Bentota Beach, Taj Bentota Resort & Spa overlooks the breathtaking Indian Ocean. This 5-star resort allows you to enjoy a whale-watching experience in Galle and also make arrangements for romantic private dining. Besides this, the on-site Jiva Spa offers some soul-soothing therapies and treatments for visitors. You can either choose a room with a garden view or the sea view according to your budget and preferences.
Location: National Holiday Resort, Bentota, Galle District, 80500, Sri Lanka
2. Anantara Peace Haven Tangalle Resort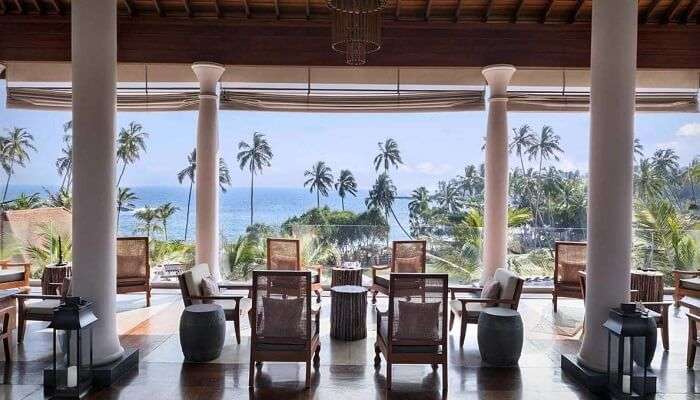 Sitting on a rocky outcrop on the southern coast of Sri Lanka near the old fort town of Tangalle, Anantara Peace Haven Tangalle Resort is a 5-star property that is known for its opulence and ideal location. The resort houses 152 rooms and pool villas along with excellent cliffside dining. This spectacular property surrounds coconut plantations and offers easy access to Goyambokka Beach and Red Beach. Besides this, the resort also features its own spa offering some therapeutic ayurvedic treatments.
Location: Goyambokka Estate, Tangalle 82200, Sri Lanka
Suggested Read: Best Things To Do On A 4D/3N Family Trip To Sri Lanka
3. Cinnamon Red Colombo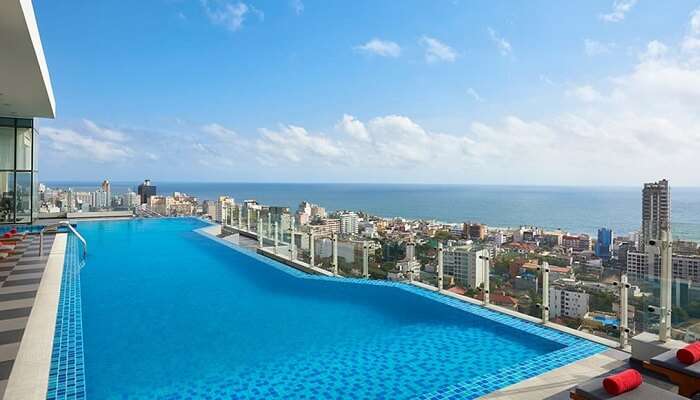 Image Courtesy: Cinnamon Hotels
Cinnamon Red Colombo is one of the most affordable hotels in Colombo offering vacationers a rejuvenating experience. The rooms and suites are decked up with all the modern comforts such as plush bedding, tea/coffee making facilities, air-conditioner, flat-screen TV, safety deposit box, and more. The well-equipped fitness centre and infinity swimming pool allow you to indulge in soul-soothing experiences. Besides this, the in-house restaurants offer a wide range of international and local delicacies.
Location: 59 Ananda Coomaraswamy Mawatha, Colombo 00300, Sri Lanka
Best time to Visit Sri Lanka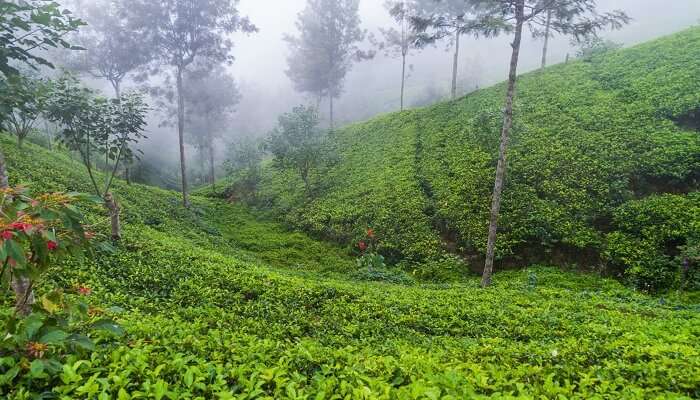 Sri Lanka has a tropical climate; the weather can vary depending on the region and the time of year. The two monsoon seasons highly impact the climate across the nation. The southwest monsoon influences the western and southern regions, whereas the northeast monsoon affects the eastern and northern parts. The months between December and March receive the highest amount of vacationers.
The west and south coasts boast dry and sunny weather which makes beach destinations Bentota, Galle, and Mirissa favour water adventures like snorkelling, diving, etc. Besides this, the months between April to September are favourable for exploring the east coasts destinations like Trincomalee, Arugam Bay, Yala National Park, and more.
Suggested Read: 25 Best Places To Visit In Kandy – Sri Lanka's Spiritual Capital
How to Get Around Sri Lanka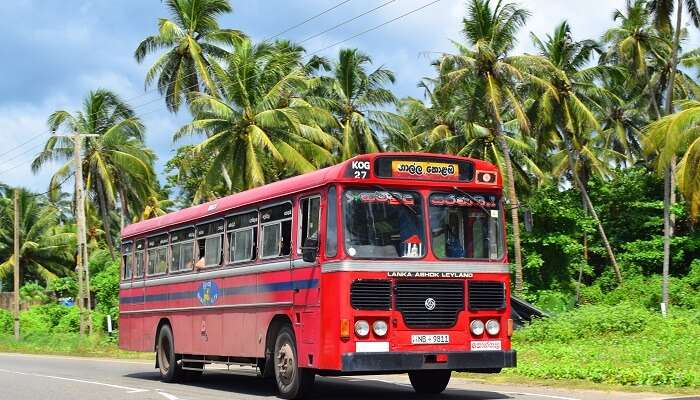 There are plentiful transportation options in Sri Lanka offering vacationers to travel from one place to another. Check out the most common ones for a hass;e-free exploration.
Taxi or private car: Hiring a private car or taxi is a convenient option for getting around Sri Lanka. While opting for this mode, you can explore various attractions at your own pace. You can either opt for a self-drive option if you have a valid international driving license or simply hire a car with a driver and explore the attractions smoothly.
Buses: A bus is a great transportation option for the ones seeking affordable travel. Sri Lanka has both government-run buses (SLTB) and private buses that cover almost every part of the country.
Tuk-tuk: Tuk-tuks are three-wheeler vehicles perfect for covering short distances within cities or towns. These three-wheeler vehicles are affordable and readily available in almost all cities.
Trains: Sri Lanka boasts an extensive railway network connecting cities and towns across the nation. It is an ideal mode to cover long journeys at economical prices. Besides this, train travel to the island nation will let you enjoy panoramic countryside views. Make sure to book the tickets well in advance to avoid any last-minute hassle.
Cycling: Cycling is another popular option for exploring smaller towns or coastal areas. There are several operators across the country offering bicycle rentals at nominal rates. Apart from exploring tourist attractions, you can enjoy leisurely rides while witnessing the scenic views along the way.
Essential Sri Lanka Travel Tips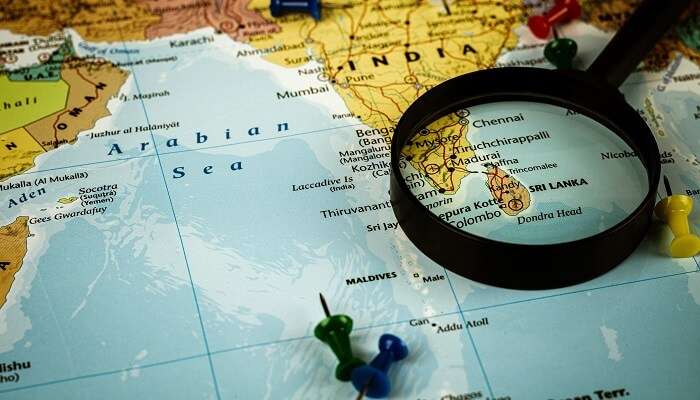 Visit destinations like Jaffna, Negombo, Adam's Peak, Arugam Bay, Unawatuna, etc. to avoid the crowd
Sample some local Sri Lankan delicacies
Buy handicrafts and local items only from government-certified stores
Opt for decent clothing inside temples
Get a local sim for a long trip
Plan your trip according to the weather
Always keep the Sri Lanka travel guide handy to avoid any confusion
Interact with the locals to learn more about the country
Always keep a mini-first aid box in case of any emergency
Suggested Read: 10 Mountains In Sri Lanka That Will Put You Under A Spell With Their Mesmerizing Beauty
What to Pack for a Sri Lanka Trip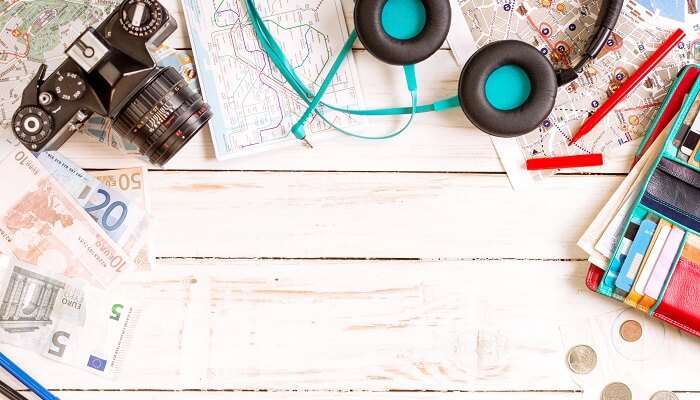 To prepare for a Sri Lanka trip wisely, you need to pack numerous essential items. Some of these are listed below:
Waterproof phone cover
Power bank
Selfie stick
Bug spray or mosquito repellant
Mini first aid kit
Enough local currency
Worldwide power adaptor
Comfortable shoes
Clothing as per the weather
Essential documents
Further Read: 5 Best Places To Visit In Sri Lanka In October Which One Must Visit
Since this Sri Lanka travel guide has got all the information you need, go ahead and plan a trip to the island nation with your loved ones. Whether you like wildlife, nature, adventure, or new cultures, Sri Lanka features all to cater to travellers of varied interests. Plan your Sri Lanka trip with TravelTriangle and embark on a journey that will be etched in your memories.
For our editorial codes of conduct and copyright disclaimer please click here.
Cover Image Source: Shutterstock
Frequently Asked Questions About Sri Lanka Travel Guide
Which are the best places to visit in Sri Lanka?
Colombo, Nuwara Eliya, Galle, Bentota, Sigiriya, Yala National Park, Mirissa, and Negombo are a few places in Sri Lanka offering you to witness the best of the nation. Before planning a trip, travellers must have a look at the Sri Lanka travel guide to plan the trip in an organised manner.
How many days do I need to explore Sri Lanka?
You can plan a trip of 7-10 days especially if travelling for the first time. You will have enough time to explore major attractions and indulge in exciting experiences.
Which are the famous foods of Sri Lanka?
These are some of the most popular Sri Lankan dishes that you can try:
1. Gotu Kola Mallum Sambola (shredded greens with coconut)
2. Polos (a spicy dish of jackfruit)
3. Parippu (spicy lentil)
4. Wambatu Moju (an eggplant pickle)
5. Fish Ambul Thiyal (a fish dish)
6. Lamprais (meat marinated in sambal chilli sauce)
7. Kiribath (rice and coconut milk dish)
Which are the best things to do in Sri Lanka?
Here are some exciting experiences you can enjoy in Sri Lanka:
1. Go for a stroll around Turtle Atchery
2. Play with elephants at Pinnawala Elephant Orphanage
3. Take a dip in Glen Falls
4. Indulge in a wonderful shopping experience at Pettah Floating Market
5. Soak in the serene vibes of Temple Of Tooth Relic
6. Learn the tea-making process at Tea Factory
7. Witness intriguing wildlife at Yala National Park
8. Go for an intriguing Ramayana Tour
What can I buy in Sri Lanka?
Sri Lanka offers a great shopping experience. Some of the best souvenirs that you can find in Sri Lankan markets are spices, tea, moonstone carvings, Buddha statuette, handwoven accessories jewellery and gems, elephant figurines, Ayurvedic cosmetics, etc.
People Also Read:
Canada Travel Guide Tanzania Travel Guide Bahamas Travel Guide