The capital of Telangana, Hyderabad is a city that is famed for its intriguing history and vibrant culture. Moreover, the city's vicinity is a treasure trove of soulful experiences and for the ones wanting to venture beyond the city, there are a plethora of tourist places near Hyderabad within 500 km.
From the magnanimity of Nagarjuna Sagar Dam to the historical ruins of Hampi, there's a lot to treat travellers of all age groups and diverse interests. Whether you are a true nature lover, a history buff, or an adventure seeker, these 7 places within a 500 km radius will leave you with countless memories.
7 Tourist Places near Hyderabad within 500 km
Here is a list of the top places near Hyderabad within 500 km that one cannot miss out on on their vacation to the "City of Pearls. From temples to forts and lakes to waterfalls, there is no dearth of breathtaking around the city.
1. Hampi
Located in Karnataka, around 376 km from Hyderabad, Hampi is a UNESCO World Heritage Site famed for being a historical and cultural marvel located. Once the capital of the Vijayanagara Empire, Hampi is a treasure trove of temples and ancient ruins. The place is home to around 1,600 ancient monuments spread across 41.5 sq km.
Among these, some of the most fascinating ones are Krishna temple complex, Ganesa, Narasimha, Hemakuta group of temples, Lotus Mahal complex,Vitthala temple complex, Achyutaraya temple complex, and Pattabhirama temple complex. Apart from this Matanga Hill offers an enchanting view of the Hampi landscape and Tungabhadra River offering one to soak in the natural charm on a coracle ride are some other attractions in Hampi.
Distance from Hyderabad: 376 km
Major attractions: Vijaya Vittala Temple, Sri Virupaksha Temple, Queen's Bath, Riverside Ruins, Hampi Bazaar, Archaeological Museum, Matanga Hill
Must Read: 10 Resorts Near Hyderabad For Couples For The Most Romantic Time Together
2. Srisailam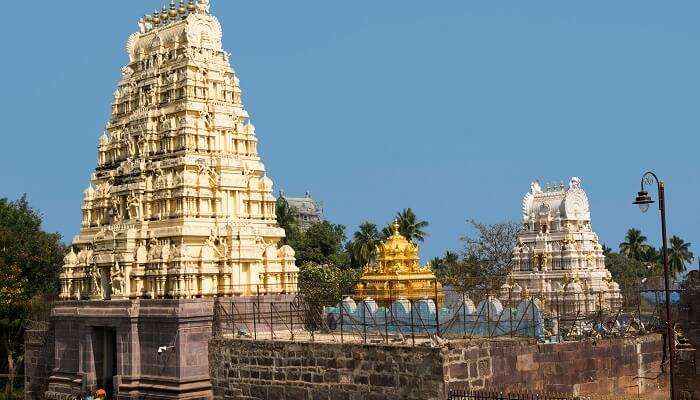 Srisailam is a hill town that captivates vacationers with its pilgrim sites, waterfalls, huge dams, and scenic landscapes. The highlight of the town is the Mallikarjuna Jyotirlinga Temple, dedicated to Lord Mallikarjuna, an incarnation of Lord Shiva, and his consort Goddess Bhramaramba. Apart from the main temple which is one of the twelve Jyotirlingas, Pathala Ganga and Akkamahadevi Caves are two other prominent sites that make Srisailam one of the best tourist places near Hyderabad within 500 km.
While being a stunning hill station near Hyderabad, Srisailam enjoys the vicinity of dense forests. Additionally, the wide range of flora and fauna makes it a true paradise for wildlife enthusiasts and nature lovers. Besides this, for adventure, the destination also offers activities like forest camping, rappelling, and flying fox.
Distance from Hyderabad: 213.2 km
Major attractions: Srisailam Dam, Siva Mallikarjuna Temple, Sri Bhramaramba Devi Temple, Pathala Ganga Walk Way
3. Bidar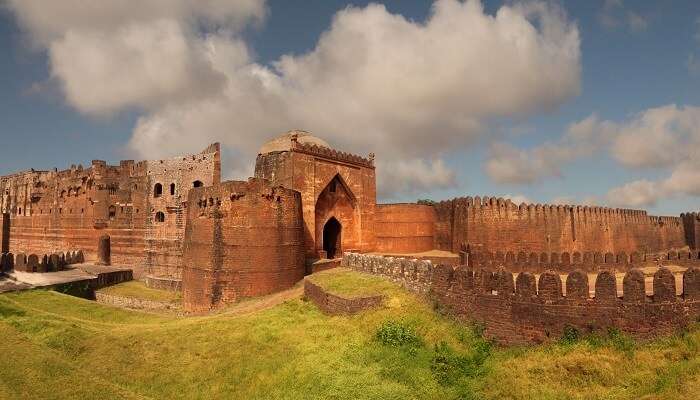 Positioned in the neighbouring state of Karnataka, Bidar is another historical city that entices vacationers with its exquisite monuments and religious spots. The imposing Bidar Fort takes one back to the bygone era with its intricately designed palaces, royal baths, and ancient temples. Another exciting spot is the Bahmani Tombs which is a cluster of 12 tombs embellished with lofty domes, niches, paintings, and arches.
Besides this, the bustling local markets, Bidar Museum, and street food joints exhibit the true culture and coluors of the city. To make the most of your vacation, plan a visit during the annual Bidar Utsav when the city gleams with vibrant festivities. The grand extravaganza of dance, music, and cultural performances makes the city all the more alluring.
Distance from Hyderabad: 142.6 km
Major attractions: Bidar Fort, Gurudwara Nanak Jhira Sahib, Bahmani Tombs, Chaubara Clock Tower, Tarkash Mahal
Suggested Read: 55 Fascinating Places To Visit In Hyderabad In 2023 To Witness The Rich History And Glory
4. Warangal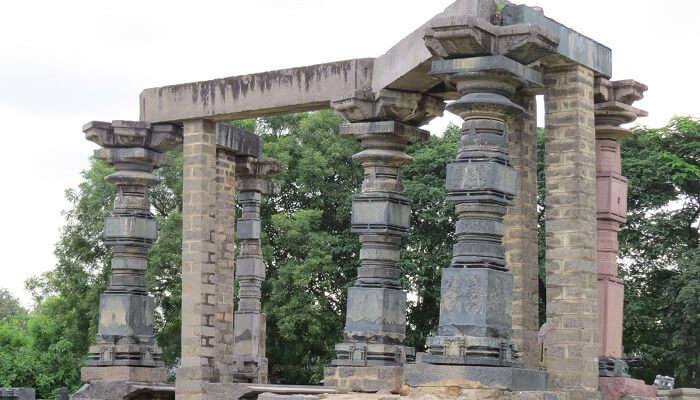 Image Credit: Jayadeep Rajan for Wikimedia Commons
Lying around 145 km from Hyderabad, Warangal is a city steeped in rich history dating back to Kakatiya dynasty. The city is home to numerous architectural marvels and historical spots offering one a glimpse into the region's glorious past.
From divine temples to serene lakes to grand forts, and beguiling landscapes, Warangal has got it all to keep visitors fascinated. The magnificent Warangal Fort, 12th century Thousand Pillar Temple, and Ramappa Temple, a UNESCO World Heritage site are some of the prominent sites in Warangal that make it a worth-visiting tourist place near Hyderabad within 500 km.
Major attractions: Warangal Fort, Thousand Pillar Temple, Jain Temple, Pakhal Lake,
Bhadrakali Temple, Eturnagaram Wildlife Sanctuary
5. Nalgonda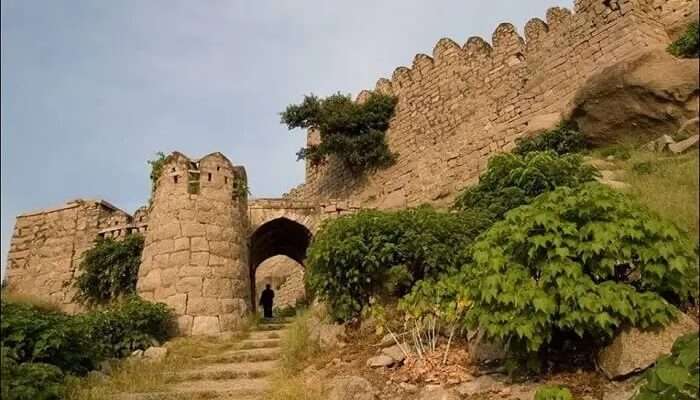 Image Credit: Pranayraj1985 for Wikimedia Commons
Nestled in the heart of Telangana, Nalgonda takes pride in its rich history, architectural marvels, and awe-inspiring landscapes. From serene temples to ancient forts, each attraction has its own story to tell. Devarakonda Fort which is one of the major attractions of Telangana showcases the region's glorious past while offering majestic views of the surrounding landscape.
Besides this, the sacred Kolanupaka Jain Temple, believed to be more than 2,000 years old is renowned for its Jain manuscripts, intricate details, and stunning idols. For the ones seeking a soulful escape from the hustle and bustle of Hyderabad, Nalgonda is a great pick.
Distance from Hyderabad: 100.2
Major attractions: Bhongir Fort, Devarakonda Fort, Chaya Someshwara Temple, Rachakonda Fort
Suggested Read: 14 Waterfalls Near Hyderabad For A Jaw-Dropping Experience
6. Anantagiri Hills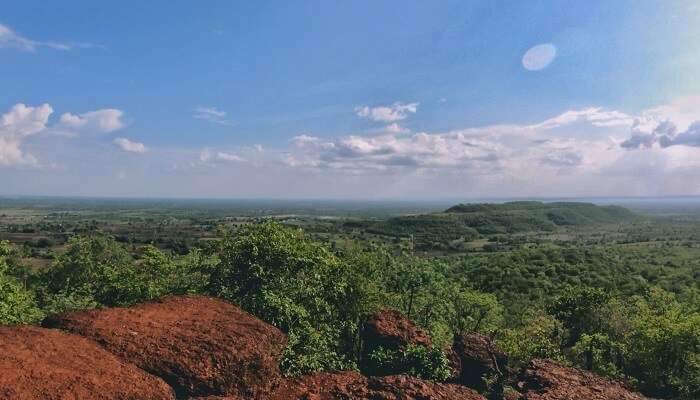 Positioned in Vikarabad of the Ranga Reddy district, Anantagiri Hills is known for its mist-clad mountains, lush greenery, and picturesque vistas. The jaw-dropping viewpoints, waterfalls, and dense forests make it one of the best tourist places near Hyderabad within 500 km. While boasting exciting trekking and hiking trails, Anantagiri Hillst makes a perfect pick for adventure seekers.
Besides this, Sri Anantha Padmanabha Swamy Temple or Anantagiri Temple dedicated to Lord Vishnu is a famous pilgrim spot offering sheer solace. Another highlight of the hills is the coffee plantation where one can learn about the coffee-making process, and sample some freshly brewed coffee.
Distance from Hyderabad: 81.9 km
Major attractions: Ananthagiri Temple, Ananthagiri Hills Viewpoint, Kotipally Reservoir, Tyda Park, Bhavanasi Lake
7. Nizamabad
Tucked away in the northern part of Telangana, Nizamabad is a city of archaeological sites, serene lakes, and ancient temples. The prime attraction, Nizamabad Fort attracts visitors with its intricately carved pillars, sprawling courtyards, and majestic gates. Another famous spot is Dichpally Ramalayam, a 14th-century temple dedicated to Lord Rama.
Apart from this, the Archaeological and Heritage Museum housing a vast collection of artefacts, sculptures, and historical relics is a perfect spot for history aficionados. The city also makes an ideal paradise for the epicures; they can savour some local delicacies like mirchi bajji, meat stews, and Hyderabadi biryani, qubani ka meetha, and phirni.
Distance from Hyderabad: 175.2 km
Major attractions: Domakonda Fort, Nizamabad Fort, Nizam Sagar Dam, Ali Sagar Dam, Ashok Sagar
Further Read: 10 Reasons Why You Should Never Visit Hyderabad
Whether you're interested in exploring the mysterious ancient ruins or wish to bask in the charms of nature, the places near Hyderabad within 500 km will never disappoint you. While planning a trip to Hyderabad, spare your weekend to explore places like Hampi, Warangal, Bidar, Nagarjuna Sagar Dam, Nizamabad, and more. So, pack your bags and gear up to embark on a delightful journey with your loved ones.
For our editorial codes of conduct and copyright disclaimer please click here.
Cover Image Source: Shutterstock
Frequently Asked Questions About Tourist Places near Hyderabad within 500 km
Which are the top tourist Places near Hyderabad within 500 km?
Here is a list of a few places lying within Hyderabad within 500 km:
1. Anantapur
2. Hampi
3. Badami
4. Nizamabad
5. Anantgiri Hills
6. Nalgonda
7. Warangal
8. Bidar
Is there any beach near Hyderabad within 300 km?
Vodarevu Beach, Chirala Beach, Suryalanka Beach, and Suryalanka Beach are some beaches lying around 300 km from Hyderabad.
Which are some hilly areas near Hyderabad?
There are numerous hilly sites near Hyderabad offering you to dwell in the lap of nature. Some of these include Ananthgiri Hills, Dandeli, Nagarjuna Sagar, Araku Valley, Srisailam, Horseley Hills, Ooty, Lambasingi, and more.
How far is Horsley Hills from Hyderabad?
Horsley Hills is around 547.9 km from Hyderabad. You can complete the journey in around 10 hours.
Where can I stay in Hampi?
Here are a few accommodation options in Hampi offering you a cosy stay:
1. Royal Orchid Central Kireeti-HAMPI Hospet
2. Hyatt Place Hampi
3. Vijayshree Resort
4. Heritage Resort Hampi
5. Evolve Back Hampi
People Also Read:
Places to Visit near Udaipur Places to Visit near Pune Places to Visit near Bangalore