Summary
Aruba offers a unique tropical paradise with beautiful beaches and year-round sunshine, making it the perfect destination for a relaxing or active getaway.
Arashi Beach in Noord is considered the best beach on the island, offering calm waters for swimming and a tranquil setting for sunbathing and picnicking.
Palm Beach is Aruba's most popular tourist destination, offering top-notch resorts, an exciting nightlife scene, and a lively atmosphere perfect for water sports and entertainment.
With emerald waters, white-sand beaches, and year-round sunshine, Aruba is a unique tropical paradise located in the southern Caribbean Sea, about 15 miles off the coast of Venezuela. Known as "One Happy Island" for its friendly hospitality and cheerful locals, Aruba offers plenty of adventures for travelers seeking a relaxing or active getaway.
From exploring historic sites and admiring unique rock formations to snorkeling colorful coral reefs and unwinding on serene beaches, Aruba has something for everyone. These are the best places to visit in Aruba (and what to do there).
10
Bask On The Shores Of Arashi Beach In Noord
Arashi Beach is considered Aruba's best and most picturesque beach on the island's northwestern tip. The white sands slope gently into calm, clear waters, perfect for swimming, snorkeling, windsurfing, and kitesurfing.
Palm trees offer patches of shade, and a natural stone walkway leads to a small cliff overlooking the crashing waves below. The tranquil setting makes Arashi Beach ideal for sunbathing, beach yoga, picnicking, and romantic walks at sunset when vibrant hues paint the sky.
Luxury properties like the Ritz-Carlton Aruba and Bucuti & Tara Beach Resort border the beach, or visitors can stay at one of Noord's many affordable apartments and guest houses.
Things to do
: Jeep and UTV tours, snorkeling, underwater, and island tours
9
Snorkel At Baby Beach In San Nicolas
A painter paints a mural on the streets of San Nicolas, Aruba
On the southeastern tip of Aruba lies one of the island's unique beaches. Protected by a barrier reef, Baby Beach has exceptionally calm, shallow waters, making it one of the best places to visit in Aruba for families with small children.
The curved shoreline wraps around a lagoon teeming with tropical fish, making it a top spot for snorkeling. It's also a popular place to observe sea turtles nesting from February to August.
Rent snorkeling gear onsite or bring some along to explore the colorful coral formations and sea creatures below the surface.
The beach stays quieter than others on the island, with a slow pace ideal for relaxation. Nearby accommodations in San Nicolas, which is home to the most incredible street art, range from budget to luxury.
RELATED:Aruba: A Guide To The Most Stunning Beaches
8
Explore The Charm Of Oranjestad
Andrew Wickline on Pixabay"">
High-rise hotels and all-inclusive resorts dot the shores of Aruba's coastline
Aruba's compact capital sits on the southwestern coast, offering so many things to do on the beach and beyond. Along the waterfront, the mile-long Palm Beach promenade known as the Esplanade contains high-rise resorts, bars, and restaurants interspersed with local arts and crafts vendors.
Inland lies a charming downtown district filled with Dutch Colonial architecture and shopping opportunities. Visit the Archaeological Museum of Aruba to learn about the island's indigenous history and people.
Don't miss the Aruba Bird Sanctuary to observe native bird species. Other attractions include Fort Zoutman showcasing centuries of fortifications, and the Willem III Tower offering panoramic views. Oranjestad's central location makes it a convenient home base and one of the best places to visit in Aruba.
Things to do
: A trip to the market, Attend Bon Bin festival, fine dining
7
Experience The Vibrancy Of Palm Beach
View of the Ritz-Carlton Hotel on Palm Beach in Aruba
Aruba's most popular tourist destination, Palm Beach, boasts top-notch resorts, an exciting nightlife scene, and the island's best stretch of sand and surf. It exudes a lively yet romantic ambiance as a favorite spot for weddings and honeymoons.
Lined with towering palm trees, the powdery white beach has calm, swimmable waters perfect for water sports like windsurfing and kayaking. There's always an energetic vibe with jet skis buzzing by, music pumping from beach bars, and parties springing up along the boardwalk after dark.
For travelers who want action, entertainment, and luxury lodging, this mile-long hotspot is the best place to visit in Aruba.
Things to Do
: Water tours, biking the Lake Trail, shopping at Worth Avenue
6
Discover Local Life In Savaneta
Savaneta Lagoon, Aruba
For a taste of traditional Aruban life, head to the former fishing village of Savaneta. This seaside community moves leisurely away from the resort crowds, with residents fishing from the jetty and congregating in the town square.
Pop into local restaurants serving fresh seafood and traditional fare like keshi yena stew. Visit the Aruba Ostrich Farm to feed the eponymous birds, or admire handmade souvenirs at the Old Dutch Windmill. Nearby, Mangel Halto Beach is great for swimming in calmer waters.
Choose one of Savaneta's guest houses or bed and breakfasts for a quiet, authentic stay.
Things to do:
Jet skiing, kayak tours, snorkeling, and beach hopping
5
Embrace Tranquility At Arikok National Park In Santa Cruz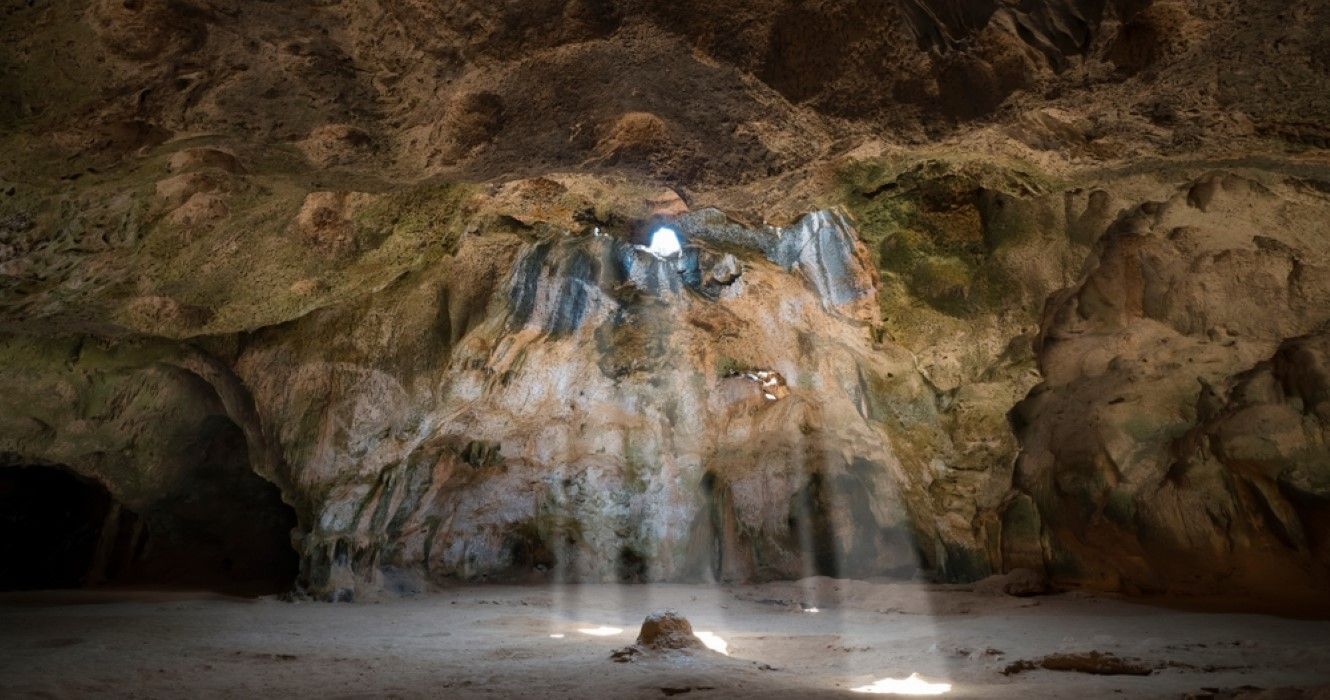 Quadirikiri Cave, Arikok National Park, Aruba
Covering 20% of Aruba, Arikok National Park stretches across the island's eastern interior. With craggy rock formations, secluded beaches, ancient caves, and roaming wildlife, the park reveals Aruba's rugged natural side.
Hike winding trails past the island's highest peak, Jamanota, or explore remnants of Aruba's gold mining history. Four-wheel drive safari tours provide the ultimate way to see the park while sandboarding down its dunes offers adventurous fun.
When booking eco-friendly lodging like Hotel California, stay in Santa Cruz to be closest to the park entrance.
Things to do:
UTV tour, Horseback riding, Off-road safari
4
Snorkel Among Shipwrecks In Malmok
California Lighthouse and Malmok Beach, Aruba
The protected coves around Malmok on Aruba's western shore create super calm waters and excellent snorkeling. Here visitors can explore two shipwrecks—the Antilla and Pedernales—sunk upright offshore.
Schools of fish now swim through the skeletal hulls covered in coral and sponges. Other snorkeling highlights include swimming through a small plane wreck and spotting sea turtles. When it's time for a break, lounge on Malmok Beach or grab a bite in the low-key resort area.
Boutique properties like the Amsterdam Manor Beach Resort are perfect for this more secluded part of the island.
3
Discover The Beauty Of Ayo And Casibari Rock Formations In Paradera
Photo by Hrushik Perumalla from Pexels"">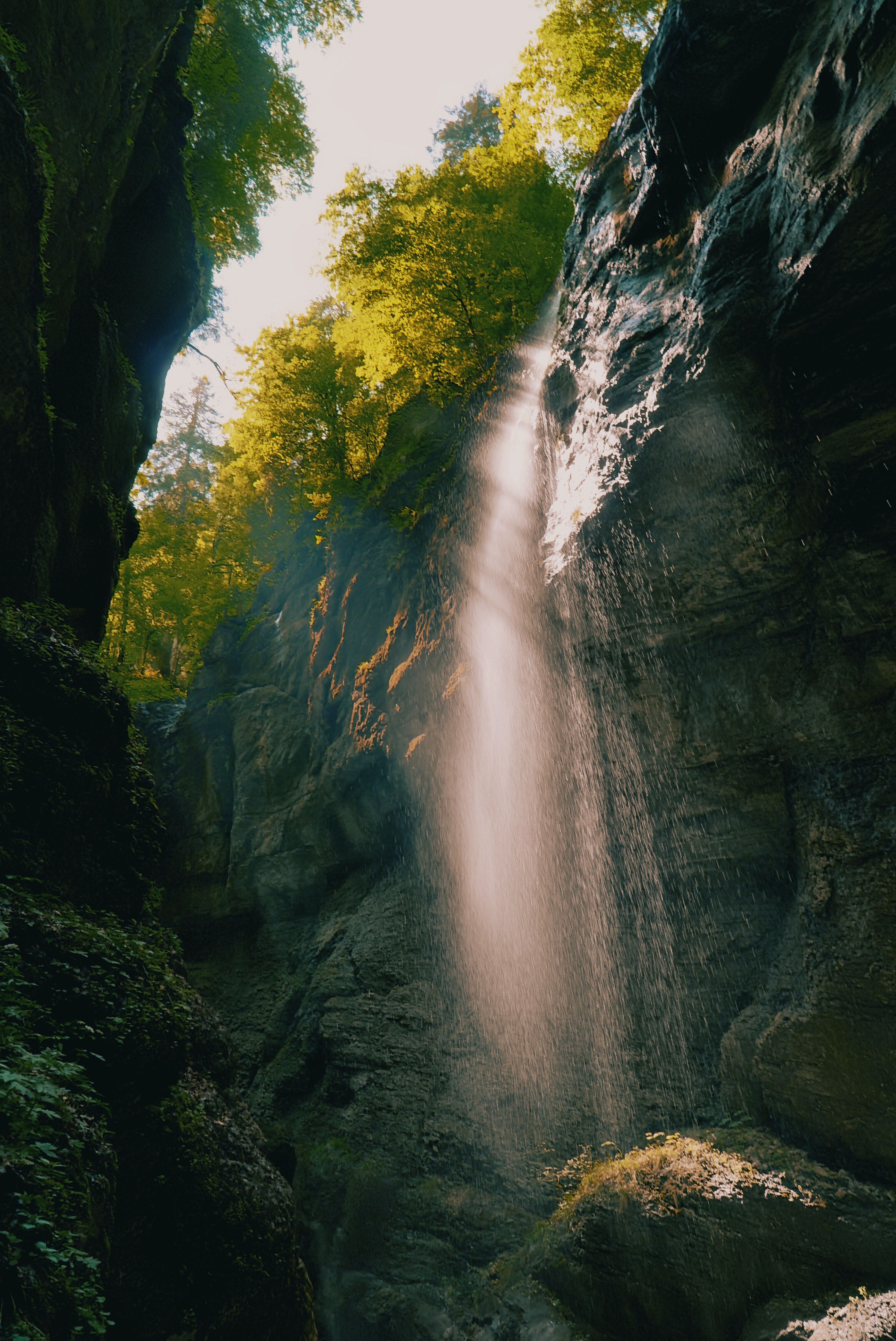 Waterfall on Rock Formations with Trees above
Aruba's desert landscape holds some fascinating geological features and striking vistas. In Paradera, visit the Ayo Rock Formations' towering maze-like structures etched by erosion over the centuries.
Climb the steep, rocky paths for panoramic views across the island. Not far away lies Casibari, with craggy boulders piled impressively atop each other to form a small "cave." Stalactites hang from the ceiling while stairs lead to the top for a breathtaking perspective.
Ways to explore:
Island sightseeing tour, Bus tour, Jeep safari
Stay near Oranjestad or along Aruba's west coast to access these natural wonders easily.
2
Visit The Bushiribana Gold Mill Ruins In Tanki Leendert
Image by
Mick Haupt
on
Unsplash
"">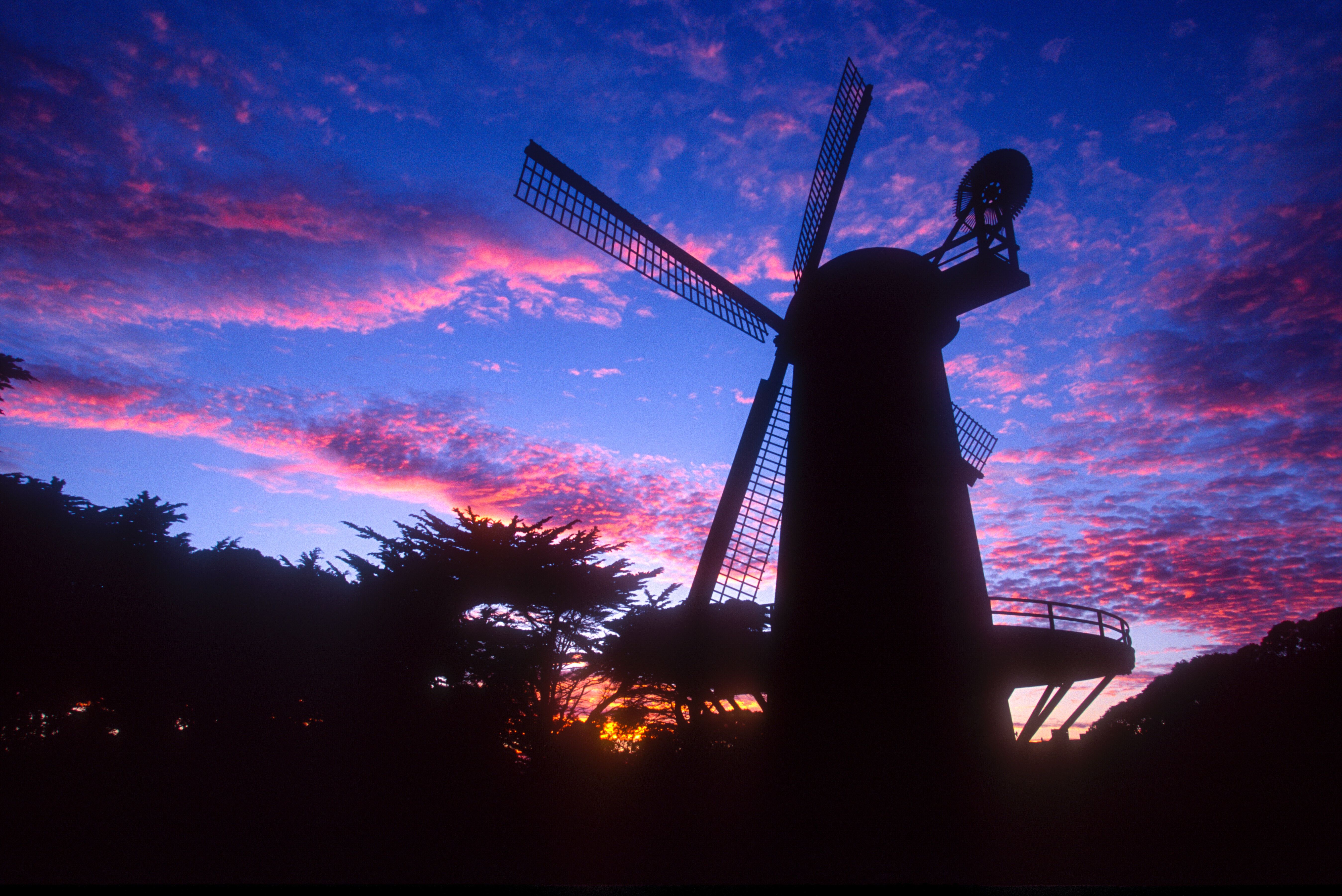 Beautiful Golden Gate Park's Windmills
Once the site of a bustling gold smelting operation, the Bushiribana ruins give a glimpse into Aruba's former mining industry. The nineteenth-century mill closed in 1912, but its stone walls and rusting machinery remain, set dramatically on a clifftop overlooking the coast.
Wander trails around the ruins and learn more in the onsite museum. Nearby beaches like Boca Grandi offer seclusion and excellent kite surfing. Tanki Leendert's laidback vibe and oceanfront lodging provide a serene base near the historic site.
Things to do:
Jeep tours, beach and cave pool adventure, bus tour
Related: This Aruba Beach Was Just Voted The Best In The Caribbean, Here's What To Know About It
1
Discover The California Lighthouse In Hudishibana
Raoul Croes on Unsplash"">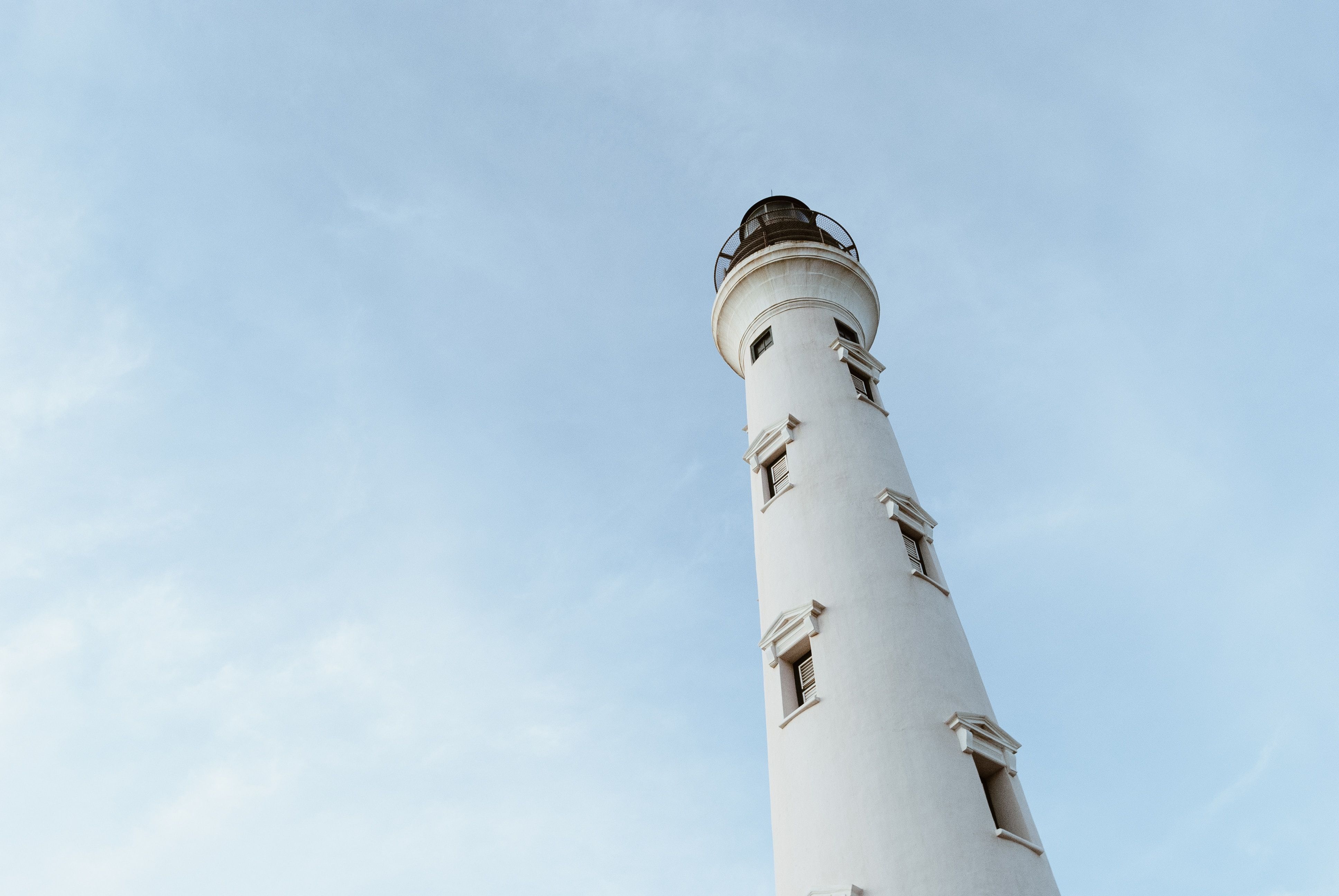 The California Lighthouse towers over the sunny shores of Aruba
Perched above the rocky northern coastline, this tall white lighthouse makes a great scenic stop while exploring the island. The lighthouse was built in 1910 to guide tankers transporting oil from Venezuela to California, hence its name.
Climb the 64 steps for panoramic vistas across craggy cliffs to the ocean. The region around Hudishibana offers secluded beaches, nature trails, and flowing cave systems to discover.
Staying at nearby hotels in Noord, like the OceanZ Boutique Hotel or Tamarijn Aruba All Inclusive, makes it easy to visit this iconic lighthouse and other attractions in Hudishibana.
While the best places to visit in Aruba feature beachside activities, there's so much to see that it can't hurt to book a longer trip and see it all!