From Ayurvedic treatments to holistic therapies, all spas in Sri Lanka provide a unique blend of traditional healing practices and modern wellness techniques. One of the best ways to indulge in self-care and pampering during your visit is by experiencing the world-class spas this island has to offer. Also with its lush landscapes, pristine beaches, and rich cultural heritage, Sri Lanka makes for a perfect tropical paradise with an ideal setting for relaxation and rejuvenation. Join us as we explore seven exceptional spas across the island, where tranquility, luxury, and rejuvenation intertwine to create unforgettable experiences.
7 Best Spas In Sri Lanka
Embark on a blissful escape with our guide to the best spas in Sri Lanka, where ancient healing traditions and luxurious treatments await, rejuvenating your mind, body, and soul.
1. Santani Wellness Resort & Spa, Kandy
First one on our list of best spas in Sri Lanka is Santani Wellness Resort & Spa. Situated amidst the picturesque mountains of Kandy, you'll find a haven of serenity. Immerse yourself in their holistic wellness programs, which include yoga, meditation, and Ayurvedic treatments. The spa's stunning architecture complements the serene surroundings, offering breathtaking views of the lush greenery. Indulge in their signature massages and therapies, customized to your needs, to achieve a perfect balance of mind, body, and soul.
Location: Arantenna Estate, Werapitiya 20908, Sri Lanka
Reviews
Must Read: 7 Cottages In Kandy Everyone Is Rushing Towards In This Hot Weather
2. Amangalla, Galle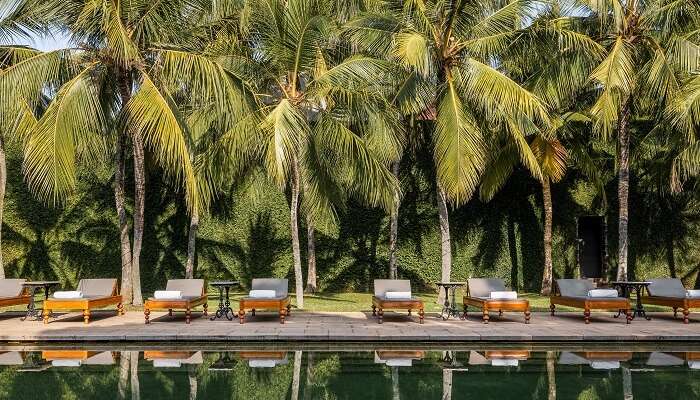 Housed within a restored colonial-era building, Amangalla in Galle combines old-world charm with luxurious spa experiences. Step into a world of tranquility as you enter their spa, featuring elegant treatment rooms and a serene atmosphere. From Ayurvedic rituals to soothing massages, each therapy is designed to rejuvenate and invigorate your senses. After your treatment, unwind in their peaceful relaxation pavilion or take a dip in the outdoor pool for a truly blissful experience.
Location: 10 Church St, Galle 80000, Sri Lanka
Reviews
3. Amanwella, Tangalle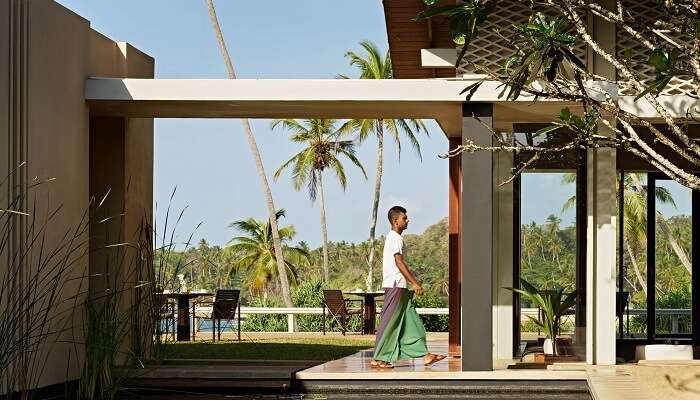 Nestled along the palm-fringed shores of Tangalle, Amanwella boasts a secluded and serene ambiance, perfect for unwinding. Their spa pavilions, overlooking the sparkling Indian Ocean, offer a range of therapeutic treatments using natural ingredients. Surrender to the healing touch of their expert therapists and indulge in their signature massages, body scrubs, and facials. The combination of the stunning coastal backdrop and indulgent treatments make it among the top picks for rejuvenating spas in Sri Lanka.
Location: Bodhi Mawatha, Godellawela 82200, Sri Lanka
Reviews
Suggested Read: Arugam Bay In Sri Lanka: A Guide To The Mesmerizing Beach On The Coast Of Sri Lanka
4. Barberyn Ayurveda Resorts, Weligama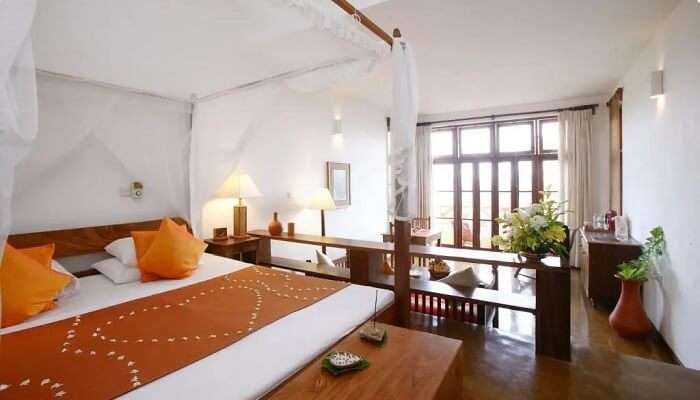 Image Courtesy: Barberyn Resorts
For a truly authentic Ayurvedic experience, head to Barberyn Ayurveda Resorts in Weligama. With a strong focus on holistic healing, their team of skilled Ayurvedic doctors and therapists provide personalized treatments based on your body type and specific needs. From traditional massages and herbal baths to detoxifying therapies and yoga sessions, each aspect of your wellness journey is carefully curated. Embrace the ancient wisdom of Ayurveda in this serene coastal retreat.
Location: Barberyn Rd, Weligama 81700, Sri Lanka
Reviews
5. Jetwing Vil Uyana, Sigiriya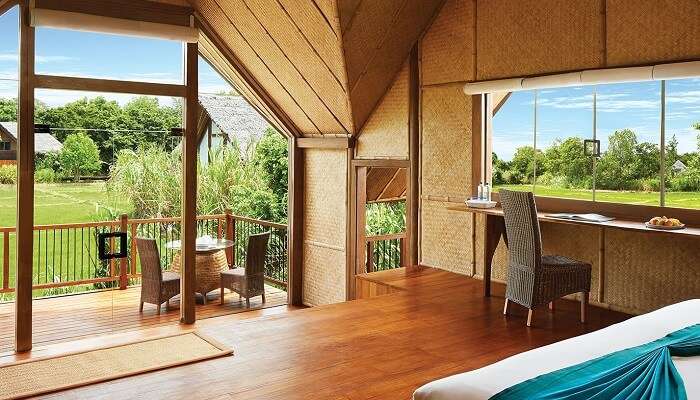 Image Courtesy: Jetwing Hotels
Nestled in the heart of the Cultural Triangle, Jetwing Vil Uyana offers a unique spa experience amid a stunning landscape of rice fields, waterways, and abundant wildlife. Their spa pavilions on stilts provide a tranquil sanctuary for relaxation and rejuvenation. Indulge in their signature treatments, which incorporate natural ingredients sourced from the surrounding area. Unwind with a soothing massage, followed by a refreshing herbal tea, as you immerse yourself in the serenity of this eco-luxury resort.
Location: Sigiriya, 21120, Sri Lanka
Reviews
Suggested Read: Galle Fort: A Complete Guide To Know Everything About This Historical Gem In Sri Lanka
6. Anantara Peace Haven Tangalle Resort, Tangalle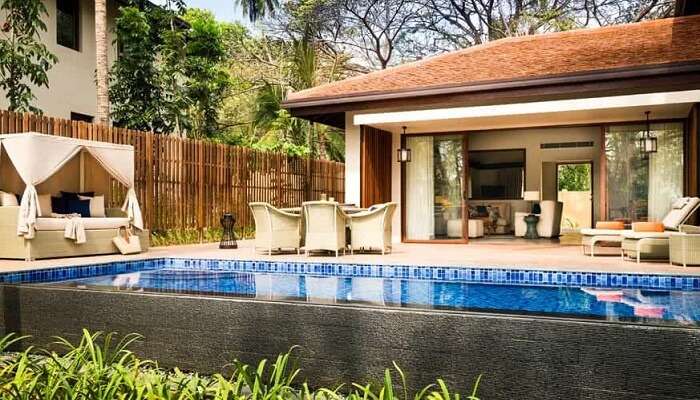 Situated along the golden shores of Tangalle, Anantara Peace Haven Resort offers a luxurious escape with a focus on holistic wellness. Discover tranquility at their award-winning spa, offering an array of treatments inspired by traditional Sri Lankan practices. From Ayurvedic rituals to Balinese massages, each therapy ensure to provide you a unique experience which also makes it among the best spas in Sri Lanka to explore on your next trip.
Location: Goyambokka Estate, Tangalle 82200, Sri Lanka
Reviews
7. Shangri-La's Hambantota Golf Resort & Spa, Hambantota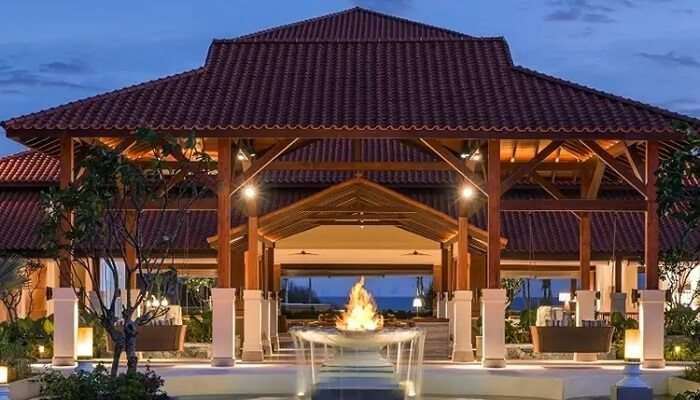 Located amidst the idyllic coastal town of Hambantota, Shangri-La's Hambantota Golf Resort & Spa combines luxury and wellness in a breathtaking setting. Their Chi Ayurveda Spa offers a range of therapeutic treatments that combine ancient Ayurvedic techniques with modern expertise. Relax and rejuvenate with a personalized massage, enjoy a soothing bath, or unwind in their outdoor spa pavilions overlooking the Indian Ocean. Immerse yourself in the serenity and luxury of this world-class resort.
Location: Sittrakala Watta, Chithragala, Ambalantota, Sri Lanka
Reviews
Further Read: Sri Lanka In August: A Guide To Treat Yourself With The Magic Of Monsoon
Whether you seek a serene mountain retreat or a tranquil coastal haven, these exceptional spas promise to rejuvenate your mind, body, and soul. Indulge in the therapeutic treatments, embrace the serene ambiance, and let the skilled hands of experienced therapists transport you to a state of pure bliss. Plan a trip to Sri Lanka and experience the magic of Sri Lanka's spas, and emerge renewed and refreshed, ready to embrace all the beauty this remarkable island has to offer.
For our editorial codes of conduct and copyright disclaimer please click here.
Cover Image Source: Shutterstock
Frequently Asked Questions About Spas in Sri Lanka
What types of spa treatments are available in Sri Lanka?
Sri Lanka offers a diverse range of spa treatments, including Ayurvedic therapies, traditional massages, facials, body scrubs, and holistic wellness programs.
Are the spa treatments in Sri Lanka suitable for all ages?
Yes, most spas in Sri Lanka cater to a wide range of age groups, offering treatments suitable for both adults and children, ensuring everyone can experience relaxation and rejuvenation.
Can I find spas in Sri Lanka that are eco-friendly?
Absolutely, Sri Lanka is known for its commitment to sustainable tourism, and many spas embrace eco-friendly practices, using natural and locally sourced ingredients and promoting environmental conservation.
Are advance bookings required for spa treatments in Sri Lanka?
It is advisable to make advance bookings, especially during peak tourist seasons, to secure your preferred time slots and ensure a seamless spa experience. However, walk-in appointments may also be available depending on the spa's availability.
Can I find spas in Sri Lanka that offer yoga and meditation sessions?
Yes, many spas in Sri Lanka offer yoga and meditation sessions as part of their wellness programs. These sessions help promote relaxation, increase flexibility, and cultivate inner peace.
People Also Read: