Whether travelers want rest and relaxation or adventure and excitement, Poipu is the perfect vacation destination. There are simply so many things to do! The main attraction, of course, is Poipu Beach. Tourists can lounge on the sand, swim in the surf, snorkel, or stroll. The views are beautiful, and who knows? A green sea turtle or a monk seal might just pop over to say hello.
But Poipu is more than just the beach. This gorgeous town on the southern side of the island also offers cliffside hikes, a spouting horn blowhole, shopping, tennis, and golf. Tourists can even tour the Kauai Coffee Company or explore the fourteen stops along the Koloa Heritage Trail. There are endless things to do in Poipu, as well as the surrounding natural areas.
UPDATE: 2023/07/28 17:11 EST BY NOAH STAATS
There's Much More To Experience In Poipu, Hawaii!
This article has been refreshed with new things to do in Poipu, Kauai, as well as photos, tips, and other info related to each attraction. Whether someone wants to spend their trip lying in the sand, head to a historic plantation town, or even catch up on a surf lesson, Poipu is the place to travel this summer and beyond!
Things To Do
There are many reasons to visit Kauai, and Poipu is at the top of the list. It really is a slice of paradise. Here is our complete guide and list of things to do in Poipu, Kauai.
1
Become Airborne At Shaka Zipline Kauai
For those seeking a thrill in Poipu, Hawaii, heading to Shaka Zipline Kauai is a great choice. Here, guests can have the best view ever of three unique valleys and dramatic backdrops of mountains and Kauai's south shore.
On top of that, this ziplining opportunity is a great way to support local businesses, as it's run by local Hawaiians. A standout feature of this attraction is that families or groups can choose an eight or five-line zipline where five guests go together.
Address: 2360 Kiahuna Plantation Dr, Poipu, HI 96756
Hours: Monday through Friday, 7 AM to 3 PM
Tickets: Starting at $129.95
This is a highly-rated spot and tends to be busiest on weekends and during summer vacation months.
2
Enjoy The Soft Sands At Shipwreck Beach
Ryan Miller on
Unsplash
"">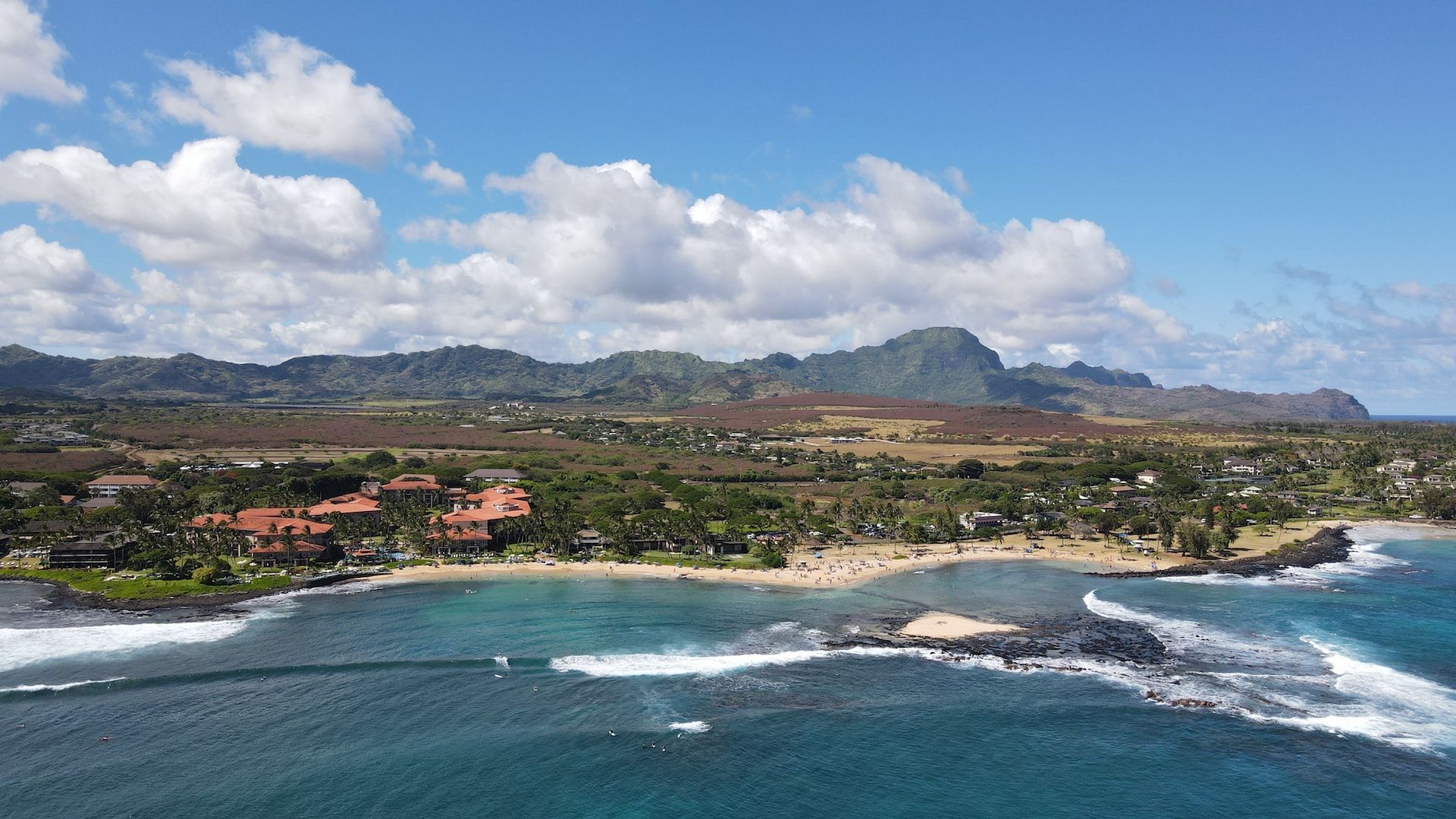 View of Poipu Beach from the ocean
Beach in Kauai County, Hawaii
Something to do while in Poipu is head over to Shipwreck Beach, a local and tourist hot spot. Here, guests can find a local favorite for surfing and body surfing located in front of the Grand Hyatt Hotel. There is parking at the Hyatt, which makes this more accessible than some of the other beaches on the island.
Shipwreck Beach is one of the most-visited spots on Kauai for adventurers and thrill-seekers, as it boasts cliffs, miles of terrain to hike, and a laid-back, quintessential Hawaiian energy. In addition, this beach isn't super-crowded during early morning hours and weekdays, especially during non-tourist heavy seasons.
If anyone wants to have an authentic Hawaiian memory and even make new friends, this is a great location to spend the day. Guests of the Grand Hyatt Hotel will have priority to sections of this beach, although it is public.
It's recommended to request a beach chair, grab some towels from the hotel, and set up camp earlier in the day. Because of its popularity, this beach does fill up by noon on weekends and holidays (as does the parking lot).
3
Go Back In Time At Old Koloa Town
Bryce Edwards from San Jose, CA, USA,
CC BY 2.0
, via Wikimedia Commons"">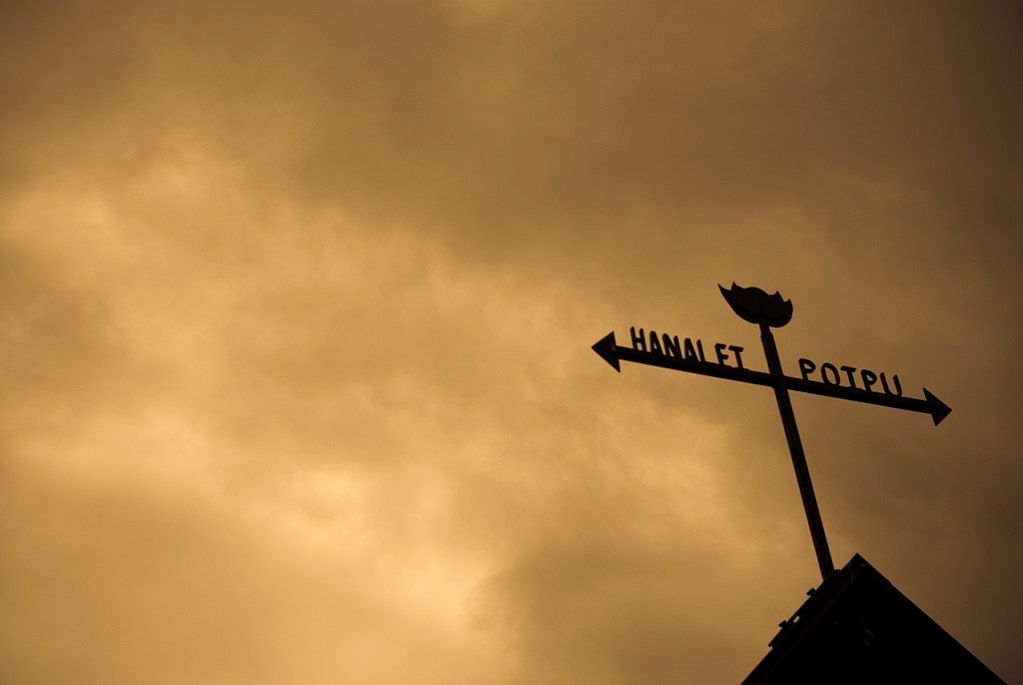 Sign in historic Old Koloa Town, Hawaii
What: Charming town rooted in its plantation past
Where: About 20 minutes west of Līhuʻe
The next sight to experience while in the Poipu area is Old Koloa Town, a historic community with an assortment of gift shops, art galleries, and places to grab a snack or a meal. What gives this town an edge is that it features century-old buildings and offers a glimpse into Hawaii's rich history.
On top of the cute shops and places to dine, Old Koloa Town feels very reminiscent of old-world Hawaii and is a favorite stop among locals and travelers alike. Kōloa opened its first sugar mill in 1835, marking the beginning of the now-loved and forever-photographed town. It has stood as a pillar of authentic Hawaii for many decades and has a thriving community of indigenous Hawaiian people.
The gateway to the Kōloa/Poʻipū area is called the Tree Tunnel, which is where guests can drive a eucalyptus-lined street to the entrance of the city. This is only one of the many stunning features of this town, with shops now occupying the plantation buildings along Kōloa Road.
Related: 13 Things To Do In Kailua-Kona: Complete Guide To This Scenic Big Island Town
4
Spend The Day At Poipu Beach Park
Zane Persaud on
Unsplash
"">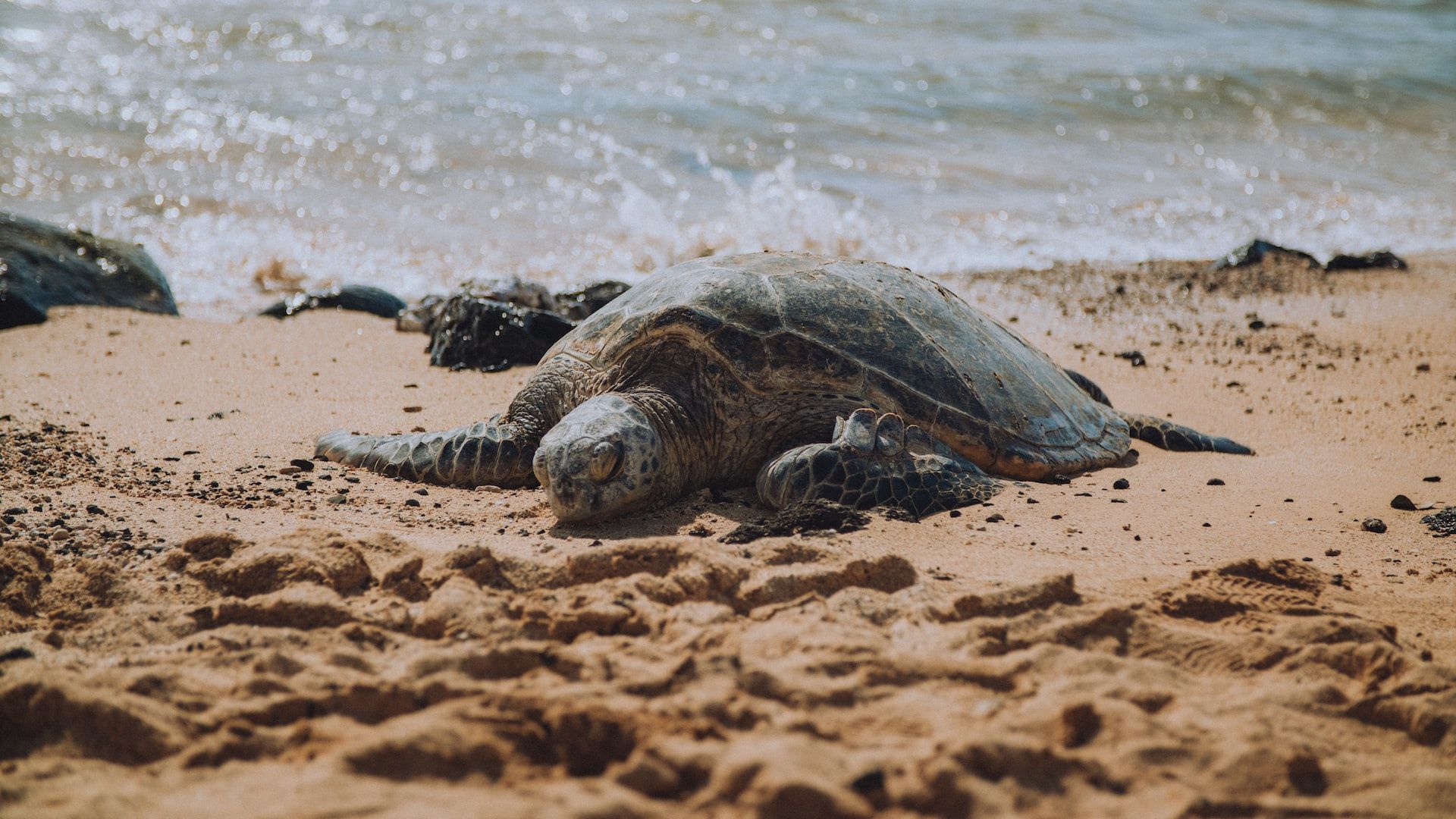 Green sea turtle on Poipu Beach, Kauai
Poipu Beach Park is a gorgeous place to spend the day. The park's crown jewel is, of course, the beach itself. In fact, Poipu Beach is one of the most beautiful beaches to visit in Hawaii. It offers excellent snorkeling spots and gets regular wildlife visitors, like green sea turtles and monk seals, who like to soak up the sun on the sand.
It's even got a crescent-shaped cove ideal for safe swimming. Behind the beach is a large grassy area, ideal for throwing a Frisbee or simply strolling through to see different vantage points of palm trees framing the beautiful ocean. There's even a playground for kids!
Related: Oahu Vs. Kauai Vs. Maui: Comparing The Best Islands In Hawaii
5
Play Tennis At Poipu Kai
Frank Kovalchek,
CC BY 2.0
, via Wikimedia Commons"">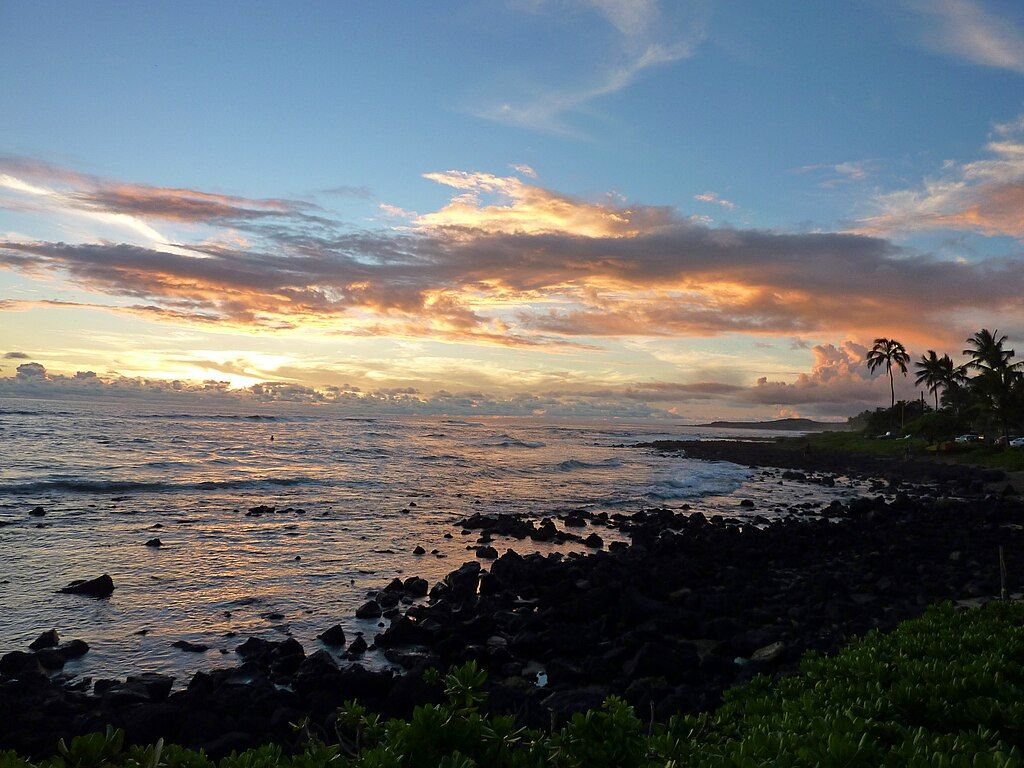 Sunset in Poipu, Kauai beach view
Want to work up a sweat while on vacation? Tennis in the sunshine is a fun way to stay fit. Poipu Kai is a world-class tennis facility just a short walk from Poipu Beach. Guests can rent a court, take private lessons, or join a clinic. Rent tennis gear in the pro shop and enjoy an afternoon on the courts!
Address: 1941 Poipu Road, Koloa
Hours: Daily, 8 AM to 12 PM; 2 PM to 6 PM
Cost: $20 per person per day
6
Hike The Mahaulepu Heritage Trail
View of path leading to beach on the Mahaulepu Heritage Trail in Kauai
This trail spans 3.7 miles and is considered moderately challenging.
The Mahaulepu Heritage Trail is a stunning coastal trail that starts in the southeast corner of Shipwrecks Beach and ends at Mahaulepu Beach near Kawailoa Bay.
This out-and-back beach-to-beach adventure is a 3.7 moderately challenging hike. Expect to see rugged sea cliffs, gorgeous ocean views, secluded coves, lava formations, tide pools, and native Hawaiian plants.
7
Explore The Koloa Heritage Trail
jdross75 via Adobe Stock
n
n
n "">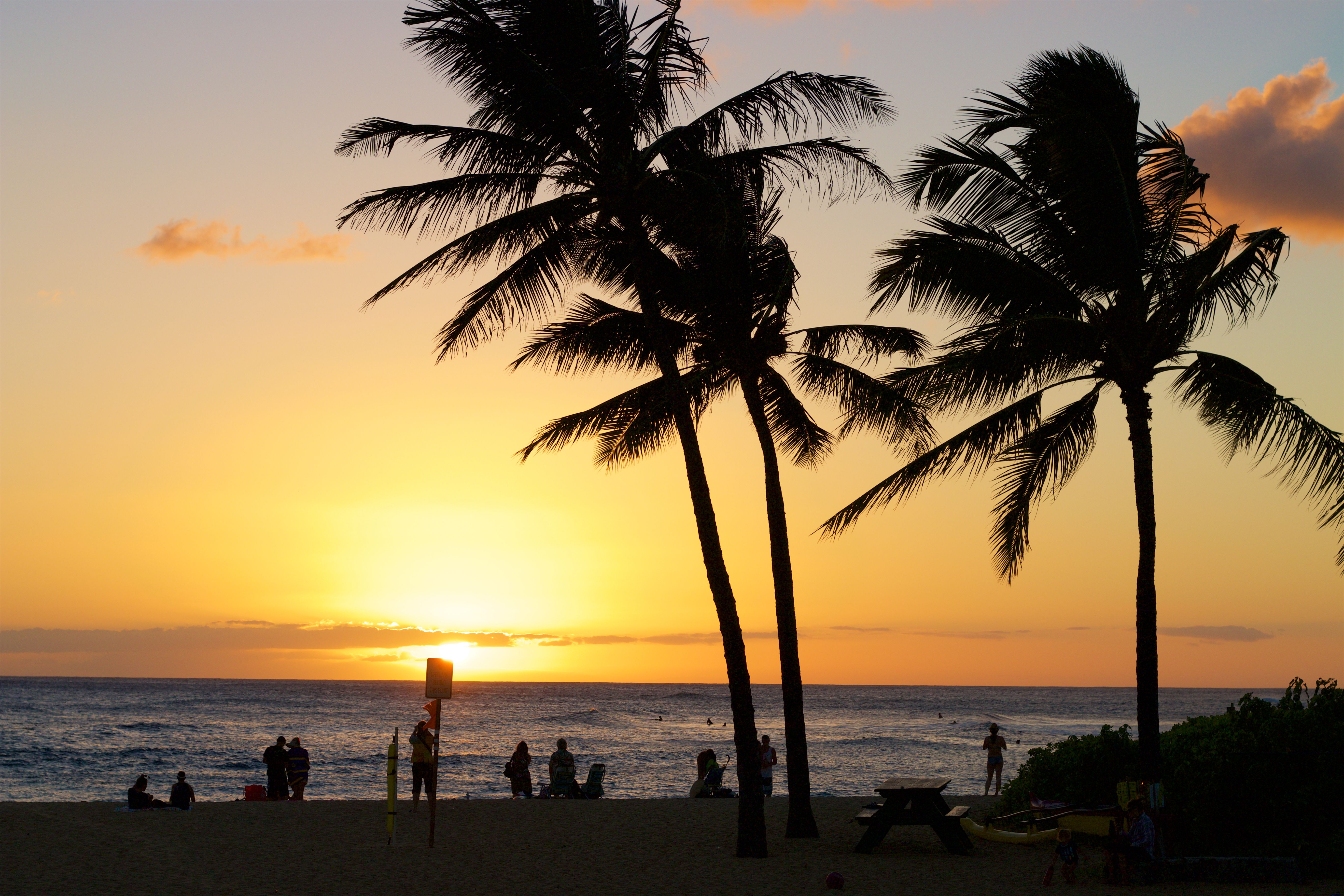 Sunset in Poipu, Kauai
This is a ten-mile trail with 14 stops.
Want to learn more about the history, archeology, and culture of the Koloa District and the people who lived there? The Koloa Heritage Trail is a terrific way to do just that. The trail is ten miles, and tourists can choose to walk, bike, or drive.
There are 14 stops, all of which have monuments detailing the importance of the location. This is a great learning experience and a fun adventure for all ages.
8
Drive To Waimea Canyon From Poipu
ggfoto via Adobe Stock"">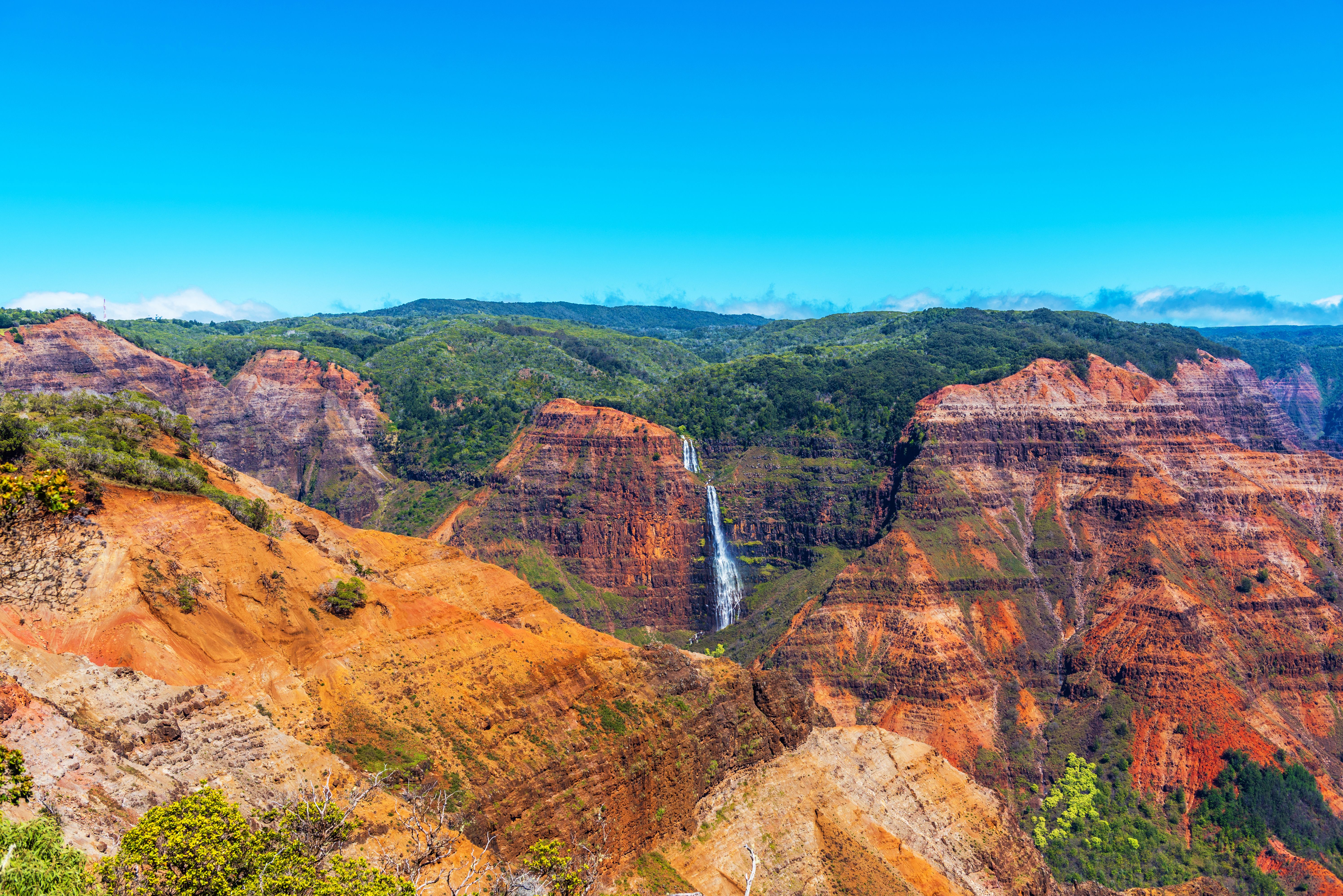 Waimea Canyon in Kauai with a waterfall in the distance
Just a forty-minute drive from Poipu, a journey to Waimea Canyon makes a great day trip from Poipu. Waimea Canyon has trails for all levels of hikers, all offering stunning views.
Spend the morning exploring the state's most scenic treasure, or stay the entire day! Nicknamed the "Grand Canyon of the Pacific," there are so many things to do here. A drive along the main road, Waimea Canyon Drive, offers many spectacular views. There are trails for beginners and advanced hikers, picnic spots, and even seasonal trout fishing.
A trip to Waimea Canyon can be very tailored to specific needs. Tourists can drive through, stopping only at lookout points, have a little hike and a picnic, or really jump into the opportunity for serious adventure.
9
Spend The Afternoon At The Shops At Kukuiula
Musicians entertain shoppers visiting The Culinary Market at the Shops at Kukui'ula
The Shops at Kukuiula is an outdoor center with architecture reminiscent of Hawaii's plantation past. It has unique boutiques, surf shops, award-winning restaurants, and art galleries.
On Wednesdays between 3:30 PM to 6 PM, The Shops at Kukuiula host the Kauai Culinary Market, where local farmers and small businesses offer produce, pies, and other food products.
On Fridays, local Kauai bands entertain shoppers from 5:30 PM to 7:30 PM.
Address: 2829 Ala Kalanikaumaka St, Koloa
Bob Linsdell,
CC BY 3.0
, via Wikimedia Commons"">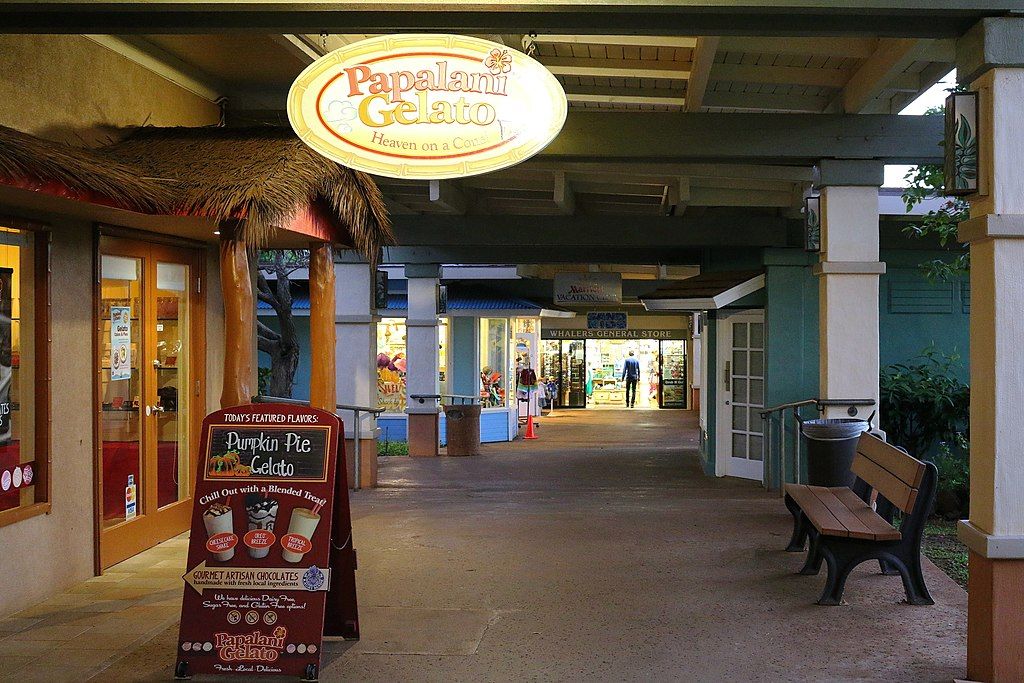 Entrance to Poipu Shopping Village in Hawaii
The Poipu Shopping Village is another great place to shop. In addition to art galleries, unique stores, and souvenir shops, the Poipu Shopping Village offers free entertainment every Monday and Thursday at 5 PM. Enjoy Hawaiian music and Hula dancers.
The Village Market is also on the first and third Tuesday of every month from 4 PM to 7 PM. Visitors can shop for local produce, flowers, and more while listening to local musicians and tasting Hawaiian cuisine.
Address: 2360 Kiahuna Plantation Drive, Poipu
Related: A Kauai Paradise: Discover The Magic Of Wailua Falls
11
Witness The Spouting Horn Blowhole
Water spouting from a blowhole in Kauai
This unique attraction features saltwater spurting 50 feet into the air. This is because seawater rushes under a lava shelf and bursts through the opening, producing an impressive spray. At sunset, the salt water from the spouting horn blowhole is especially spectacular as it emits lights in the colors of the rainbow.
Visitors may also hear a hiss or a roar as the water spouts up, which is the basis of a Hawaiian legend about a boy and a lizard.
Legend states that a giant lizard guarded the coastline. One day, a boy entered the water, trying to outsmart the lizard. The lizard attacked him, but the boy escaped, sneaking under a lava shelf and through a small hole to the surface. The lizard followed the boy but got stuck.
The hiss and the roar visitors hear are meant to be the ancient lizard stuck in the lava tube.
Address: Spouting Horn Park, Lawai Road, Koloa
12
Take A Tour Of The Kauai Coffee Company
Sign at the entrance of Kauai Coffee Company
The Kauai Coffee Company began in the 1800s (as McBryde Sugar Company) and is currently the largest coffee plantation in the U.S. Just a few miles from Poipu, stop by and learn how the coffee is grown, harvested, processed, and graded.
Self-guided walking tours are available, as are a museum and a gift shop. Stock up on local Kauai coffee to take home! There are also free coffee samples and a snack bar.
Address: 870 Halewill Road, Kalaheo
Hours: Monday through Friday, 9 AM to 5 PM; Saturday & Sunday, 9 AM to 4 PM
13
Go Golfing In Poipu
Poipu Bay Golf Course on a sunny day
Yet another fun outdoor activity to do in Kauai—golf! The Poipu Bay Golf Course is next to the Grand Hyatt and stretches along the ocean. The Kiahuna Golf Club is inland and right in the middle of Poipu.
Poipu Bay Golf Course
Address: 2250 Ainako St., Koloa
Cost: rates start at $230 per game
Kiahuna Golf Club
Address: 2545 Kiahuna Plantation Drive, Poipu
Cost: rates start at $135
14
Best Time To Visit Poipu, Hawaii
Danny Shives on
Unsplash
"">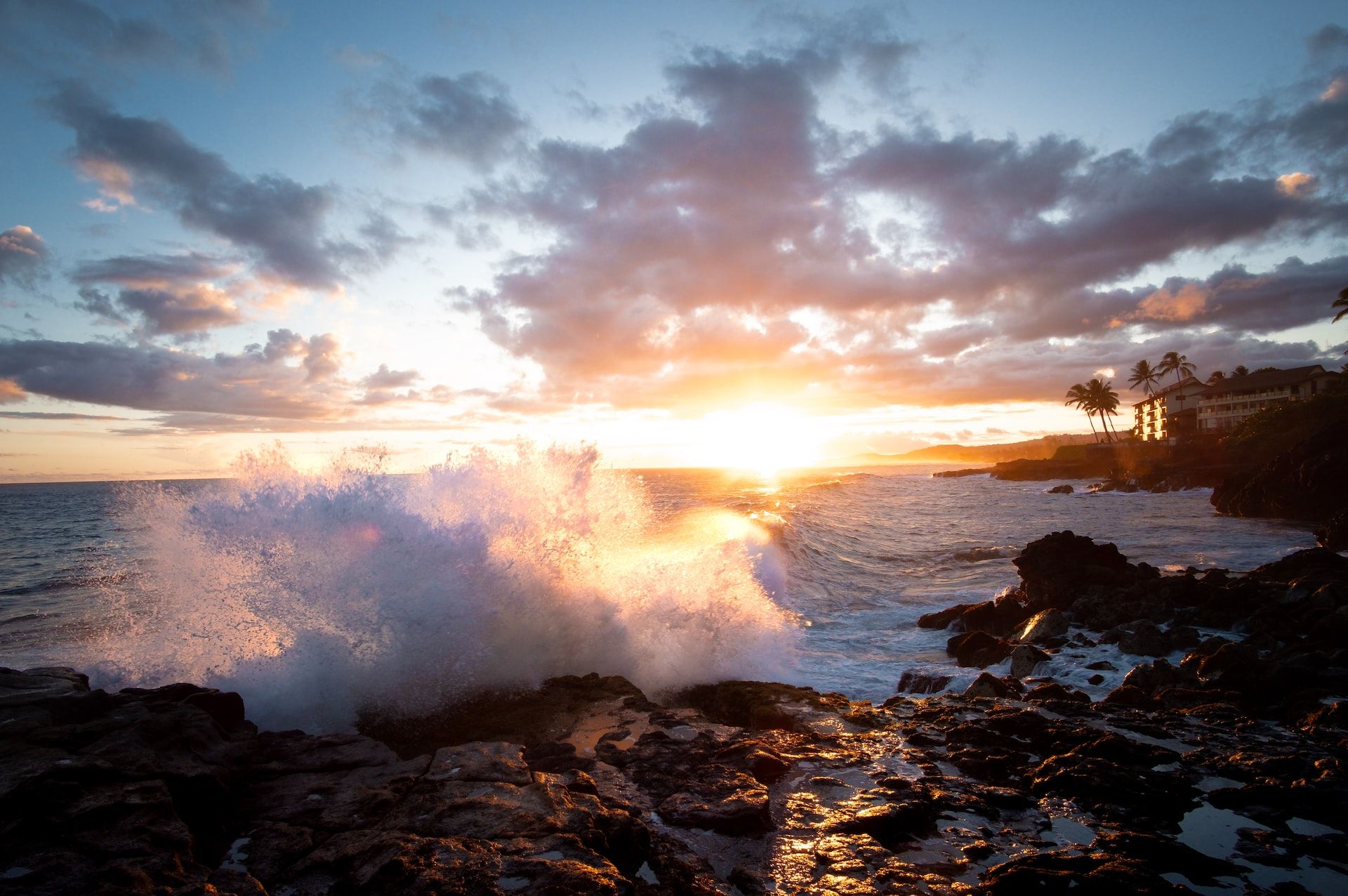 Waves crashing onto rocks in Poipu, Kauai
Poipu is a very popular vacation destination all year round. The weather is pretty stable, ranging from the mid-70s to the mid-80s. Kauai is the wettest Hawaiian Island, but Poipu is one of the driest locations in Kauai. Rain showers do happen regularly, but they are usually brief, and the sun is quick to return.
Best Time To Visit:
Spring and fall

Most Crowded:
Summer
Spring and fall are great times to visit Poipu for tourists wishing to skip the summer crowds. In fact, Poipu, Kauai, is one of the most stunning spring vacation destinations in the U.S. To be honest, there really isn't a bad time to visit Poipu.
Just keep in mind that summer and December (around Christmas) are the most expensive times to visit.
Related: Spring Break Reimagined: Find Yourself In Paradise At These 10 Beautiful Hawaiian Destinations
15
Best Ways To Get Around Poipu
Getting around Poipu is easy enough, but there aren't a ton of options for transportation.
Car
The easiest way to explore Kauai is by car. For tourists staying in Poipu with no desire to see the rest of the island, a car probably isn't necessary.
There are so many things to do in Poipu that are within walking distance. And walking around Poipu is a lovely way to spend the day.
Book rental cars when booking flights. During busy times, rental companies may run out of vehicles.
Shuttle
The Aloha Spirit Kauai Shuttle offers free shuttle rides around Poipu, or tourists can hire via private charter.
Bus
The Kauai Bus is a low-cost way to get around the island. Please note that large suitcases on not allowed on the buses.
Cost: $2 per person per trip
Bike
For tourists searching for fun things to do, traveling the coast by bike is a fun activity for the entire family. Some hotels offer bike rentals as a perk of being a guest, but why not check out Pedego Poipu for electric bikes?
Address: 1941 Poipu Road, Koloa
Hours: Daily, 9 AM to 6 PM
Cost: $25 per person per hour/$109 per person per day
16
Where To Eat In Poipu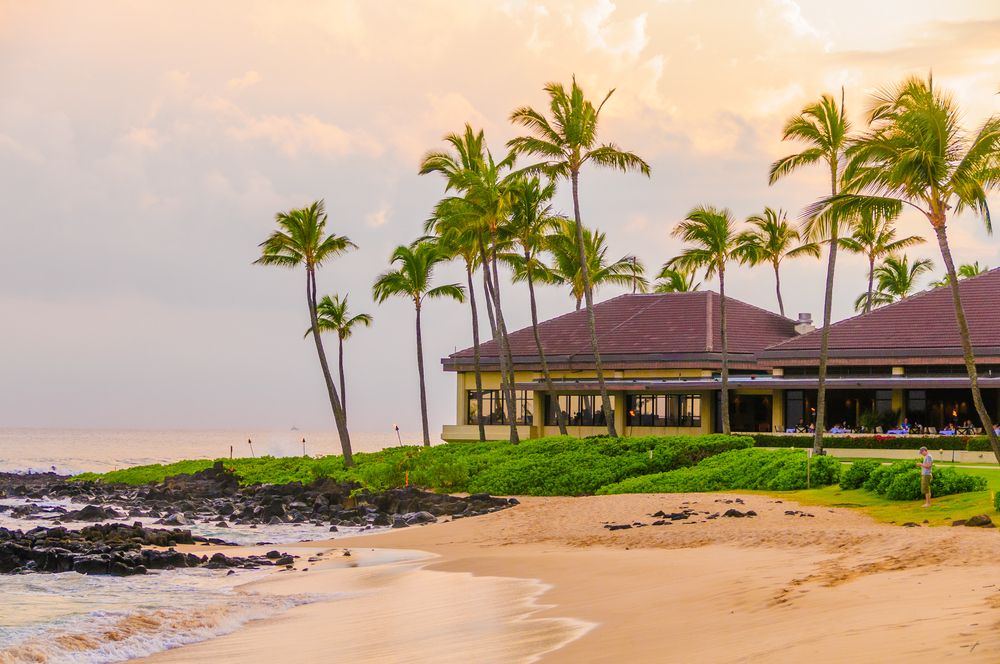 The Beach House, Kauai
There is no shortage of delicious food in Poipu. From fresh fish to Mai Tais, tourists will delight in culinary options!
Breakfast
Little Fish Coffee
A perfect day in Kauai starts with a fresh cup of coffee and a tasty treat. And Little Fish Coffee hits the spot every time.
Address: 3750 Poipu Alanui Drive #25-EW, Poipu
Hours: Daily, 7:30 AM to 1 PM
Recommended: Try the Acai Bowls. The bagel sandwiches are pretty good, too!
Lunch
Brennecke's Beach Broiler
This fun and casual eatery has been around for 33 years. Located just steps from Poipu Beach, Brennecke's Beach Broiler is a super popular spot for tourists and locals alike. There's also an attached beachside deli for sandwiches, snacks, and shaved ice!
Address: 2100 Hoone Road, Poipu Beach, Koloa
Hours: Daily, but may vary. Call ahead:
(808) 742-7588
Recommended: Try the fresh fish specials!
Happy Hour
Kalapaki Joe's
The westernmost sports bar in the United States also has one of the best happy hours (daily, from 3 PM to 6 PM). Check out Kalapaki Joe's long list of beers on tap and discounts on yummy food. The 25-cent wings are out of this world.
Address: 1941 Poipu Road, Koloa
Hours: Monday through Friday, 2 PM to 9 PM; Saturday & Sunday, 7 AM to 9 PM.
Related: Escape To A Garden Oasis At The Botanical Gardens Of Kauai
Dinner
The Beach House Restaurant
With views as gorgeous as their food, The Beach House is considered one of the best restaurants on Kauai. It offers fresh Pacific Rim cuisine with famous sunset views and delicious Mai Tais. This restaurant is a must-try when in Poipu.
Address: 5022 Lawai Road, Koloa
Hours: 3:30 PM to 8:30 PM
Recommended: Poke Tacos, the Fish and Lobster Pasta, and of course—the Monkeypod Mai Tai
17
Where To Stay In Poipu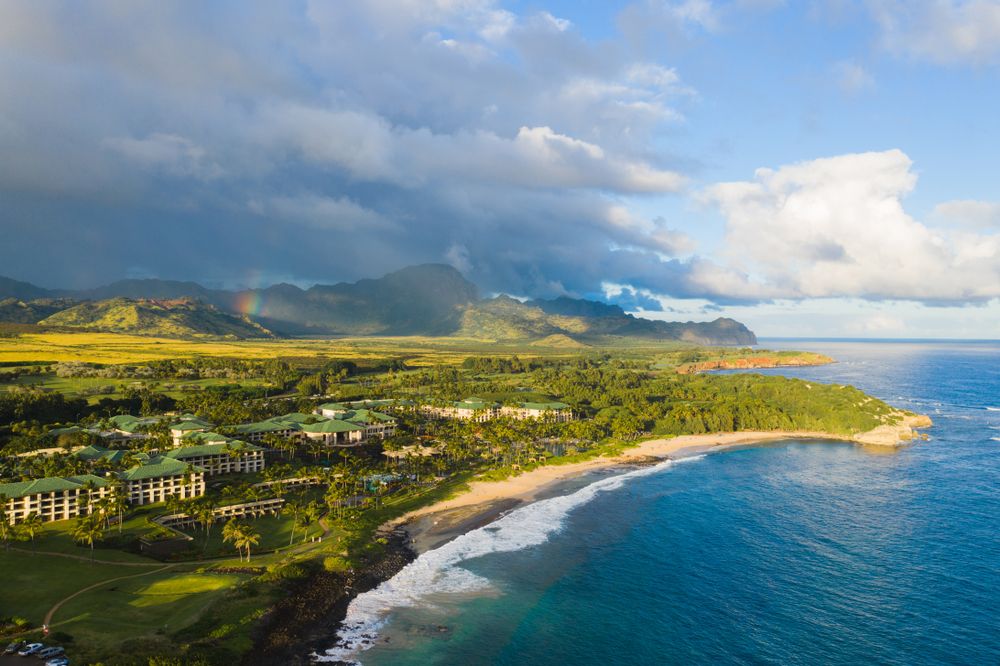 Aerial view and the ocean, a large Kauai resort, and the beautiful mountains. 
Some of the most stunning hotels in Kauai are right here in Poipu!
Luxury
Grand Hyatt Kauai Resort and Spa
The fanciest hotel in Poipu, the Grand Hyatt Kauai Resort and Spa, is simply stunning. Set on 50 acres of tropical gardens and gorgeous pools; this hotel has it all—a classic Hawaiian lobby, poolside dining, a beautiful open-air restaurant set over a lagoon, and a terrace to watch the sunset. It's located just steps from Shipwreck Beach, a great place to relax on the beach or play in the waves.
Address:
1571 Poipu Road, Koloa
Amenities: Outdoor pool; spa and wellness center; restaurants; waterslide; fitness center; bar/lounge; bicycle rentals.
Cost based on double occupancy: $$$
Mid-Level
Sheraton Kauai Resort
Nestled on the beautiful Poipu Beach, the Sheraton Kauai Resort is an ocean-front property offering gorgeous sunsets from their famous restaurant, RumFire.
Address:
2440 Hoonani Road, Koloa
Amenities: Outdoor pool; fitness center; bar/lounge; Free Wi-Fi; spa and wellness center; restaurant; gift shop; room service.
Cost: $$
Budget
Castle Kiahuna Plantation & Beach Bungalows
The Castle Kiahuna Plantation & Beach Bungalows are spread over 35 acres of lush landscaped gardens and are bordered by Poipu Beach to the south and the Poipu Shopping Village to the north.
Amenities: Private Beach; fitness center; bar/lounge; free parking; outdoor pool; restaurant; Free Wi-Fi; flat-screen TV
Cost based on double occupancy: $$
18
Tips For Visiting Poipu, Hawaii
Polihale,
CC BY-SA 3.0
, via Wikimedia Commons"">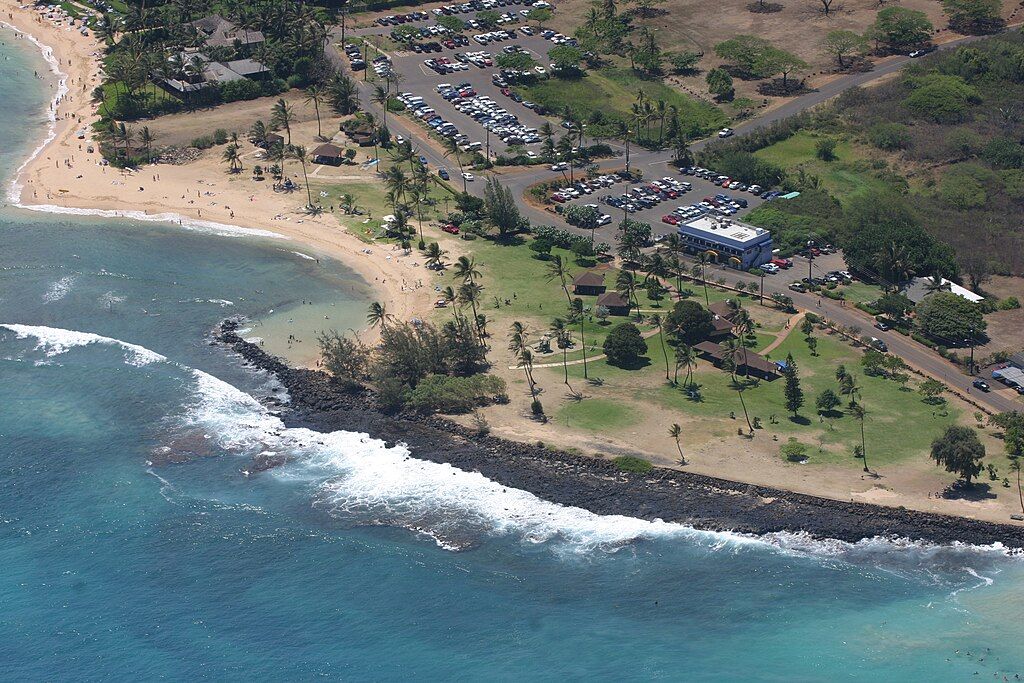 Aerial shot of Poipu Beach Park in Kauai, Hawaii
For those coming to Poipu, Hawaii, there are some things to be aware of. First, like all of Hawaii, Poipu holds many sacred lands and spaces, all of which must be respected by visitors.
While on beaches, trails, and walking through historic towns, it's imperative that guests stay polite and avoid littering, destroying things, and being disruptive to local life. Nature is a major part of Hawaii, so guests are responsible for keeping the island as beautiful as it was when they arrived.
Additionally, Poipu is one of the most popular places for Kauai residents and travelers, meaning it can become crowded in the summer and spring during the prime vacation season. With those times also comes more congestion throughout Hawaii and more expensive flights and hotel stays.
Guests will also want to rent a car or stay at a hotel in town or on the beach to avoid high taxi rates or having to rely on limited public transport.
19
How To Spend The Perfect Day In Poipu
Benjamin Rascoe on
Unsplash
"">
Waves gently crashing onto Poipu Beach at sunset. 
Start the day with a cup of coffee and an Acai bowl from Little Fish Coffee. There might be a line, but it's worth waiting. Then, head over to Poipu Beach. The morning is the best time to see the green sea turtles that sunbathe near the little crescent-shaped beach.
There's even a chance of a monk seal spotting! Enjoy the beach without the crowds before returning to the hotel for a quick swim in the pool.
In the afternoon, head to Shipwrecks Beach to start the Mahaulepu Heritage Trail. This will take a few hours. Enjoy the spectacular views while breathing in the fresh ocean air. Bring a hat and some sunscreen as parts of this trail are hard to find shade. After the hike, head to The Shops at Kukuiula for some light shopping, a well-deserved snack, and maybe even a little entertainment.
Finish the night at the Beach House. A delicious dinner. A colorful sunset. A few Mai Tais. There's no better way to spend the evening in Poipu!
FAQ
Q: What is Poipu Beach known for?
Poipu Beach is known to be one of the best beaches in the U.S. With its sandy beaches, crystal clear water, and sunny skies, a day at Poipu Beach is pretty perfect.
There are many reasons to visit Kauai, and Poipu Beach is at the top of the list.
Q: Is Poipu worth visiting?
Poipu should be on everyone's list of places to visit. It has one of the most beautiful beaches to visit in Hawaii, a ton of outdoor activities, great shopping, delicious dining, wonderful weather, and spectacular sunsets.
Q: What is a fun fact about Poipu Beach?
It's actually two beaches, not one. There's a tombola (sand strip from shore to an island) separating the two bays. Poipu Beach's tombola is a napping spot for monk seals!