Summary
Hamilton Pool Preserve in Texas offers a tranquil swimming hole with a 50-foot waterfall in a beautiful natural setting. Swim during hot summers for a refreshing experience. Trail Length: 0.25 miles. Entry Ticket: $3-8.
Havasu Falls in Arizona is a stunning destination with striking blue-green waters. Access is challenging, so plan in advance and get permits. Trail Length: 10 miles.
Madison Blue Spring in Florida is known for its crystal-clear waters and excellent snorkeling. Engage in various activities like swimming, snorkeling, scuba diving, hiking, camping, and wildlife viewing. Entry Ticket: $2-6.
From cascading waterfalls and serene river pools to secluded springs, the United States is home to an abundance of hidden aquatic treasures known as swimming holes, each offering a slice of paradise waiting to be explored. Whether travelers seek thrilling cliff jumps or peaceful retreats, these enchanting destinations promise unforgettable moments and a refreshing escape from the ordinary.
From otherworldly-looking swim holes to totally tourist-friendly spots, pack the swimsuit, and prepare to dive headfirst into the best swimming holes the United States has to offer.
10
Hamilton Pool Preserve – Dripping Springs, Texas
Hamilton Pool Preserve, in the Texas Hill Country
Hamilton Pool is a natural pool, created thousands of years ago when an underground river's dome collapsed, forming a large, shallow basin, resulting in a tranquil pool with a 50-foot waterfall cascading down from a limestone cliff.
The preserve is surrounded by a diverse ecosystem, including lush vegetation, ferns, and various plants and animal species, providing an excellent opportunity for birdwatchers and nature enthusiasts.
The trail leading down to the pool from the parking area is relatively short but scenic, taking visitors through a rugged canyon and offering glimpses of the pool along the way. The pool's water is typically cool and clear, making it ideal for swimming during hot Texas summers.
Trail Length:
0.25 miles

Entry Ticket:
Between $3 to $8
Swimming in Hamilton Pool can be restricted at times due to water quality and safety issues. Flash flooding and heavy rainfall, sometimes increase bacteria levels in the water, posing health risks to swimmers, causing the authorities to temporarily close the place until the water quality improves.
9
Havasu Falls – Supai, Arizona
jslate"">
Havasu Falls Waterfall at Havasupai, Arizona, USA
Havasu Falls is a 100-foot stunning waterfall located in the Grand Canyon's Havasupai Indian Reservation near the village of Supai, Arizona. The falls are renowned for their striking blue-green waters and are a popular destination for hikers, swimmers, and nature enthusiasts.
Havasu Falls is not easily accessible. To reach the falls, visitors must embark on a challenging hike through the Grand Canyon with the trailhead at Hualapai Hilltop.
The pool at the base of Havasu Falls is ideal for swimming, and many visitors enjoy cooling off in the refreshing waters. Visitors to the swimming hole can also camp near the falls allowing them to experience the beauty of the place in a more immersive way.
Since Havasu Falls is located within the Havasupai Indian Reservation, visitors need to obtain permits to access the area. Permits are limited, and there is often high demand, so it's crucial to plan well in advance and secure reservations.
Related: Time For A Dip: 10 Swimming Holes In The U.S. That Are Worth The Hike To Reach
8
Madison Blue Spring, Lee, Florida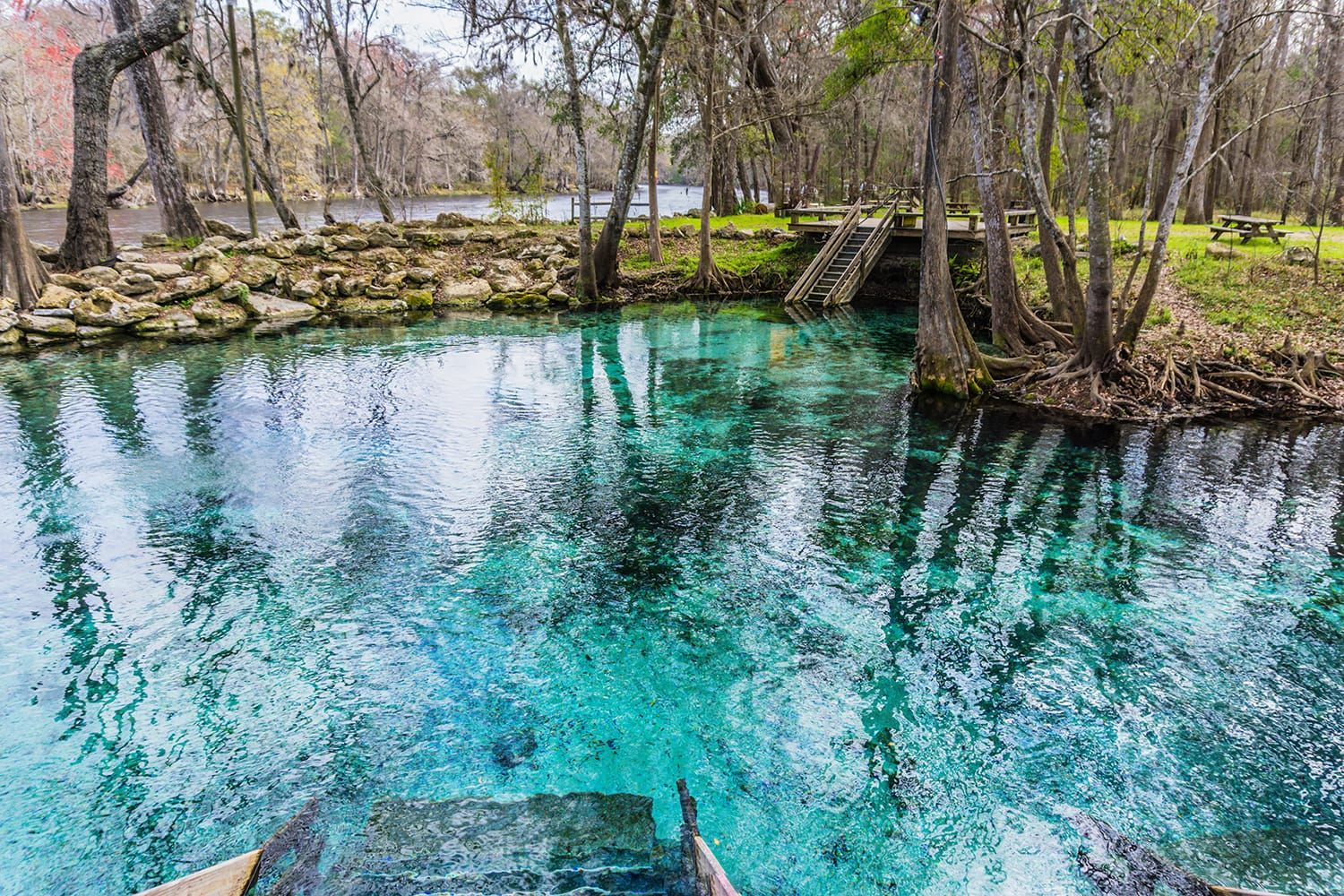 Madison Blue Spring in Lee, Florida 
Madison Blue Spring is a beautiful first-magnitude spring that attracts visitors with its crystal-clear waters, stunning blue hue, and recreational opportunities. The spring is part of Madison Blue Spring State Park, a popular destination for outdoor enthusiasts and nature lovers.
Madison Blue Spring offers a large swimming area with incredibly clear waters. The visibility in the spring is excellent, allowing visitors to enjoy a dip or see the bottom and observe underwater formations and aquatic life through snorkeling in the refreshing spring water.
Popular Activities in Madison Blue Spring Park:
Swimming, Snorkeling, Scuba Diving, Hiking, Camping, and Wildlife Viewing

Entry Ticket:
Between $2 to $6
Related: 10 Of The Best-Kept Secret Watering Holes For Swimming In The U.S.
7
Blue Hole – Santa Rosa, New Mexico
Blue Hole, Santa Rosa NM
Blue Hole in Santa Rosa, New Mexico, is a unique and popular natural attraction known for its crystal-clear blue waters and excellent diving conditions. It is a spring-fed, circular sinkhole that forms an 80-foot deep pool, offering a refreshing oasis for visitors in the arid New Mexico landscape.
The water in Blue Hole is incredibly clear and has a beautiful turquoise-blue color, making it an ideal spot for swimming, diving, and snorkeling.
Popular Activities at Blue Hole:
Swimming, Cliff Jumping, Scuba Diving, and Snorkeling
There is no admission fee to access Blue Hole, however, diving activities may require permits or certification through diving schools.
6
Sliding Rock – Pisgah National Forest, North Carolina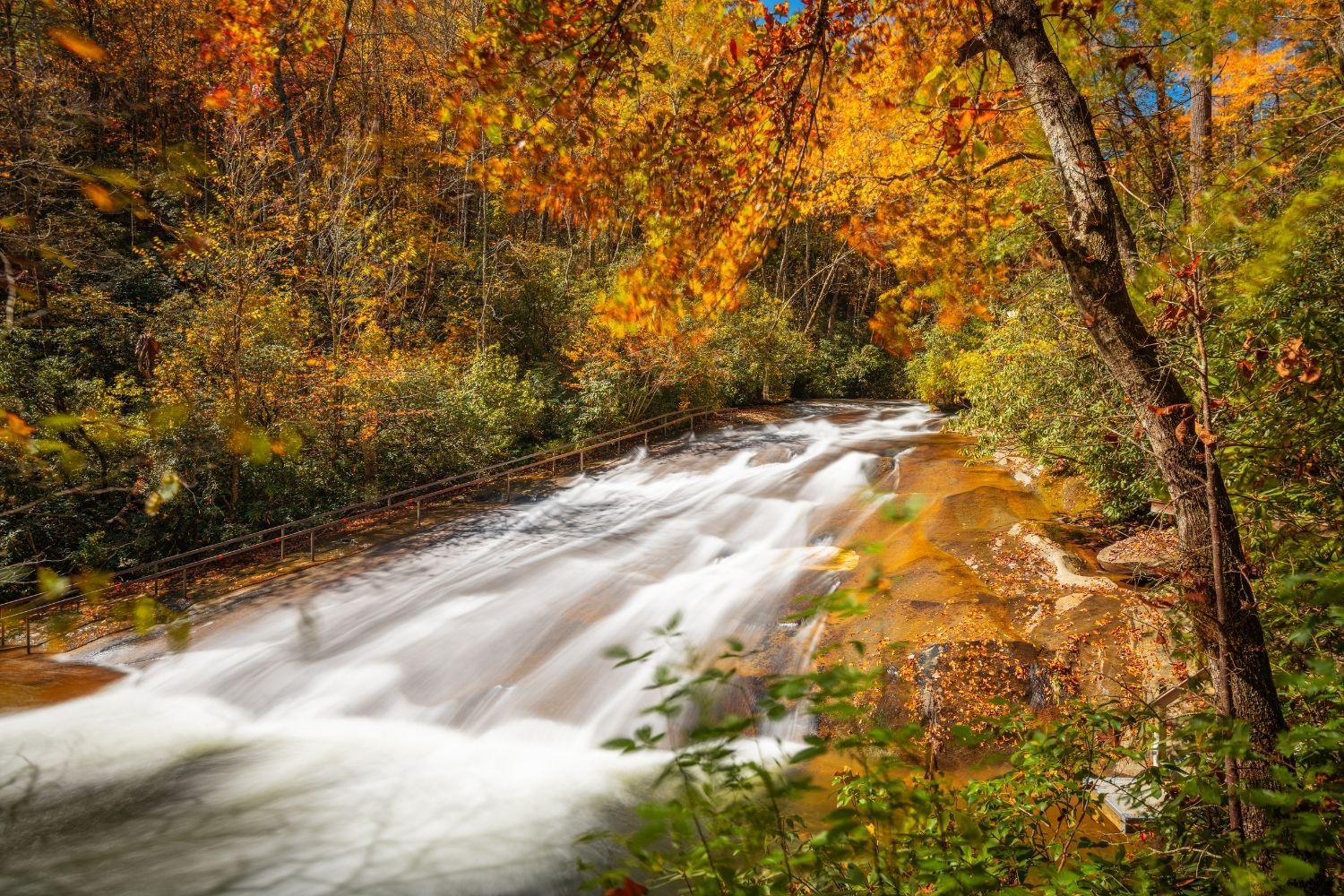 Sliding Rock Falls in Pisgah National Forest, North Carolina 
Sliding Rock is a popular natural water slide located in Pisgah National Forest near Brevard, North Carolina. It is a unique and exciting destination for visitors of all ages, offering a thrilling experience of sliding down a smooth 60-foot-long rock face into a pool of cool, clear mountain water.
At the base of Sliding Rock, there is a deep pool of water where visitors can swim and cool off after sliding down the rock. The water temperature can be quite chilly, even in the summer months, as it comes from the mountain streams.
The pool also has the facility of trained lifeguards to provide guidance and assistance to visitors using the slide and help maintain order and safety in the pool area.
Entry Ticket:
$5 per person

Available Facilities:
Restrooms, Lifeguards, Observation Deck, and Parking Area
5
Devil's Punchbowl – Aspen, Colorado
Devil's Punchbowl in Aspen, Colorado 
Devil's Punchbowl is a natural swimming hole located approximately 10 miles east of Aspen, Colorado, along the Independence Pass, a scenic mountain pass in the Rocky Mountains.
The swimming hole is formed by the cascading waters of the Roaring Fork River, creating a series of pools and deep areas, with one particularly deep and large pool resembling a punchbowl.
One of the main attractions of Devil's Punchbowl is a natural waterslide carved into the rock by the river's flow. Visitors can slide down the smooth rock face into the deeper pool below, adding a touch of adventure to the whole experience.
To reach Devil's Punchbowl, visitors have to take a short hike but relatively easy hike, starting from the parking area along the Independence Pass.
Be cautious of changing water levels and currents, especially during peak snowmelt season in late spring and early summer. Always swim with caution and be aware of the surroundings.
4
The Blue Hole – Wimberley, Texas
The Blue Hole in Wimberley, Texas 
The Blue Hole in Wimberley, Texas, is a natural swimming hole renowned for its crystal-clear blue waters and scenic surroundings. It is formed by the flow of Cypress Creek, a spring-fed waterway that meanders through Wimberley, featuring a limestone bedrock, beautiful vibrant blue color water, and exceptional clarity.
The transparency of the water allows visitors to see the sandy bottom and various aquatic life, creating an enchanting swimming experience.
The swimming hole features several rope swings tied to nearby trees, adding a touch of fun and excitement for those looking to make a splash. Besides that, there are various scenic hiking trails along Cypress Creek, providing opportunities for nature walks and wildlife viewing.
Entry Ticket:
Between $6 to $12

Operational Seasons:
Late Spring to Early Fall
Related: The Best Swimming Hole In The U.S. Can Be Found Right In Upstate New York
3
Johnson's Shut-Ins – Middlebrook, Missouri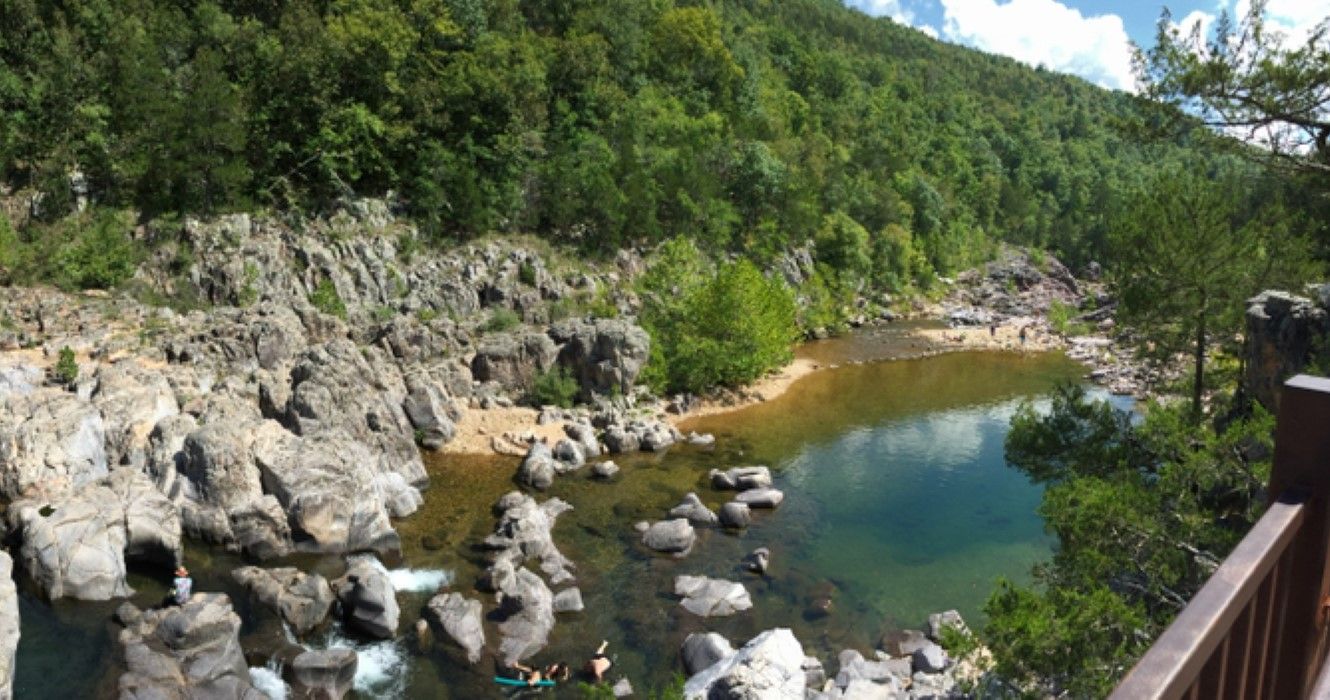 Johnson's shut ins state park, Missouri
Johnson's Shut-Ins is a series of unique swimming holes situated in Johnson's Shut-Ins State Park, one of the best state parks in Missouri, creating a fun and adventurous aquatic playground for visitors. These Shut-Ins were formed by the East Fork of the Black River eroding through the resistant volcanic rock known as rhyolite.
Over time, the rushing water created a series of smooth, rounded chutes, potholes, and pools surrounded by towering rock formations. Visitors can swim in the crystal-clear water, explore the rock chutes and pools, and even slide down the smooth rocks, creating an exciting and unique water adventure.
Available Facilities:
Hiking Trails, Campsites, and Visitor Center
Related: Cool Off In The Desert With A Visit To these Sedona Swimming Holes
2
Fossil Springs – Strawberry, Arizona
Fossil Springs in Strawberry, Arizona 
Located within the Coconino National Forest majorly famous for its ancient petroglyphs, Fossil Springs is a natural spring and a beautiful destination known for its crystal-clear blue waters and unique geological features, offering visitors a refreshing and scenic escape into the wilderness of Arizona.
It is a natural spring that emerges from an underground aquifer. The water from the spring flows from ancient limestone deposits, which give it a high calcium carbonate content, resulting in the striking turquoise color of the water.
To access Fossil Springs, visitors typically embark on the Fossil Springs Trail, offering diverse landscapes, including lush forests, rocky terrain, and canyon views.
While Fossil Springs is a stunning destination, the hike can be challenging, especially during hot weather. Bring plenty of water, wear appropriate footwear, and be prepared for varying trail conditions.
1
Jacob's Well – Wimberley, Texas
Person at the edge of Jacob's Well, Texas
Located in Wimberley, Texas, Jacob's Well is a karstic spring, characterized by its deep underwater cave system and constant flow of clear, cool water. The spring is both a beautiful natural attraction and a significant ecological site formed by water emerging from the Trinity Aquifer, flowing from deep underground to the surface, creating a natural swimming pool.
The main feature of Jacob's Well is its deep underwater cave system, which extends approximately 140 feet below the surface. The cave is a popular destination for experienced cave divers, but it should be noted that diving in the cave is extremely challenging and potentially hazardous.
The best swimming holes in the U.S. each have something unique to offer, but visitors should always be cautious, follow posted guidelines, and be safe in and around the water.