The sweet subject of Jimmy Buffett songs, Mardi Gras celebrations, and maritime history, it's no wonder Biloxi is considered a hidden gem on Mississippi's "Secret Coast." Located only an hour and a half drive from New Orleans, Biloxi has a taste of the Big Easy with endless stunning views of the serene Gulf of Mexico.
Biloxi has "belonged" to six different nations, including France, Spain, and England, over the course of its history, not to mention being the traditional home of the Biloxi tribe, who have inhabited this area for thousands of years. If it isn't already obvious, the city's name comes from the Biloxi people themselves.
Hurricane Katrina hit Biloxi hard, but the Magnolia State has shown its resiliency in strides over the last 18 years. Many people moved away from the coast in the aftermath for fear of further hurricanes, but many also stayed to rebuild on her beautiful shores.
As Jimmy Buffett said, "Sun shines on Biloxi, Air is filled with vapors from the sea." Come see why Biloxi is one of the most beautiful towns in Mississippi.
UPDATE: 2023/07/24 12:00 EST BY NICHOLAS MAYAMBA
There's More To Do In Biloxi
Biloxi has rebuilt after catastrophe struck, and tourism is back in full swing. See everything the city has to offer with this updated travel guide, complete with more things to do and see.
Related: 10 Things You'll Love Doing in Mississippi
Top Things To Do In Biloxi
Biloxi has no shortage of fun and interesting things to do for intrepid beach-goers.
From historical monuments and nature preserves to flashy casinos and fine dining experiences, Mississippi's Gulf Shores are a great example of what the American South has to offer in terms of entertainment and cultural experiences. Here are the best things to do in Biloxi, Mississippi.
1
Go Casino Hopping
Aerial image of Beau Rivage Biloxi Beach, Mississippi 
Biloxi is home to eight world-class casinos, including the Beau Rivage Casino, Boomtown Casino, Golden Nugget Casino, Hard Rock Casino, Harrah's Casino, IP Casino, Palace Casino, and Treasure Bay Casino.
It's often called the "Vegas of the South" for its superb entertainment, dining, and gambling. Biloxi's casinos contribute a huge chunk of the city's tourism revenue, drawing gamblers from far and wide looking to get lucky. They host various casino games that guests can indulge in, such as roulette, slots, blackjack, and other table games.
Each casino provides a distinct gaming experience with different gaming options. For instance, those looking for a more upscale option with little expense to spare should consider Hard Rock, IP, or Beau Resort casinos.
2
Visit The City's Historic Sites
nBiloxi, MS: Maritime Seafood Industry Museum"" data-modal-id="single-image-modal" data-modal-container-id="single-image-modal-container" data-img-caption=""Shutterstock"">

Biloxi, MS: Maritime Seafood Industry Museum
The area surrounding Biloxi has been inhabited for thousands of years and has seen French, Spanish, and English occupation and the Civil War, among other historical and cultural landmarks.
It's a great place to uncover the American South's often mystifying past.
The best historic sites to see in Biloxi include the Biloxi Lighthouse, the Maritime & Seafood History Museum, the Mardi Gras Museum, and the Ohr-O'Keefe Museum of Art, where the "Mad Potter of Biloxi" art is on display.
Each historic site is interesting enough to deserve a spot on the itinerary. Tourists should plan their schedule to accommodate a tour of the historic venues.
3
Take The Kids To Gulf Islands Waterpark
nNight scene overlooking the Biloxi area of Highway 90 with the beach and traffic"" data-modal-id="single-image-modal" data-modal-container-id="single-image-modal-container" data-img-caption=""Shutterstock"">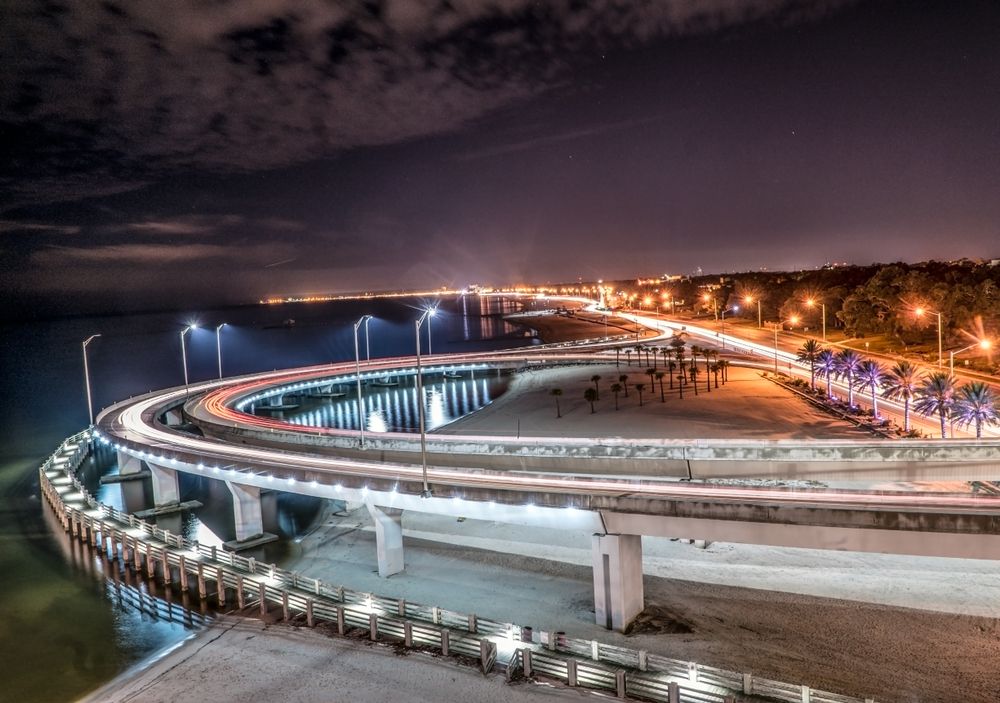 Night scene overlooking the Biloxi area of Highway 90 with the beach and traffic
Gulf Islands Waterpark is among the city's top attractions and arguably the best place for a family fun day out in Biloxi. Rated among the largest water parks on the Gulf Coast, the venue guarantees guests endless unadulterated entertainment for all ages.
There are at least 10 slides and rides at the waterpark, each offering a unique adrenaline-rushing experience.
Besides the slides, the park organizes live entertainment and fun food events, serving hot dogs, pizzas, and hamburgers.
Admission
: $46.99 for 42" and taller, $29.99 for under 42".

Hours
: 10 am – 6 pm but may vary by month
Tourists can visit the Gulf Islands Waterpark website to check the ticket prices for the different rides and operation hours of the planned visitation day.
Related: These Mississippi Ghost Towns Are Worthy of a Spooky Road Trip
4
Bask On The Beach
nSunset in Biloxi beach, Mississippi, along Gulf Coast shore"" data-modal-id="single-image-modal" data-modal-container-id="single-image-modal-container" data-img-caption=""Shutterstock"">

Sunset in Biloxi beach, Mississippi, along Gulf Coast shore