Colombo is known for its sightseeing attractions and flavoursome cuisine. There are numerous options for street food in Colombo that one must try on their trip for an authentic Sri Lankan food experience. These food options are quite affordable on the pocket, can be snacked at any time of the day and are surely going to leave an impactful taste in your mouth. So, what are you waiting for? Plan a trip, pack your bags and head for an incredible holiday experience.
7 Delectable Street Food In Colombo
The mouth-watering street food in Colombo is ideal for vegetarians as well as non-vegetarians. Here is a well-curated list you can refer to on your trip to Colombo:
1. Hoppers
A type of pancake or noodles, Hoppers are a perfect breakfast to satiate your hunger. They are majorly classified into two varieties: string hoppers and plain hoppers. While string hoppers bear a resemblance to a nest of noodles, plain hoppers are similar to funnel-shaped or bowl-shaped pancakes. The hoppers are served with spicy chutney (Sambal) and curries. However, they can become a sweet dish when served with palm syrup and curd.
Where to eat: Dehiwala-Mount Lavina, Galle Face Green, Pettah Market
Price: Between ₹ 26 to ₹ 77 (depending on the type of hopper)
Must Read: 20 Best Things To Do In Colombo On A Delightful Trip To Sri Lanka
2. Kothu Roti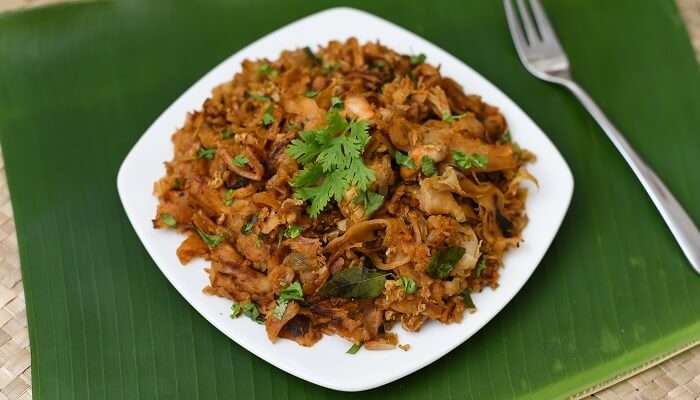 Kothu roti means 'chopped bread.' The dish is a mixture of bits of cooked Godhamba rotis (bread), spices and fried vegetables (leek, carrots, onions and cabbage) with either egg or your choice of meat (chicken, mutton or beef). The cheese version of Kothu roti is utterly popular among kids. The preparation of this delectable dish is a must-witness process with the clashing of metal spatulas to chop the rotis, and thereafter cutting the stuff on the grindle and mixing it.
Where to eat: Wellawatte, Marine Drive, Galle Face Green
Price: Between ₹ 51 to ₹ 128 (depending on size and type of meat)
3. Achcharu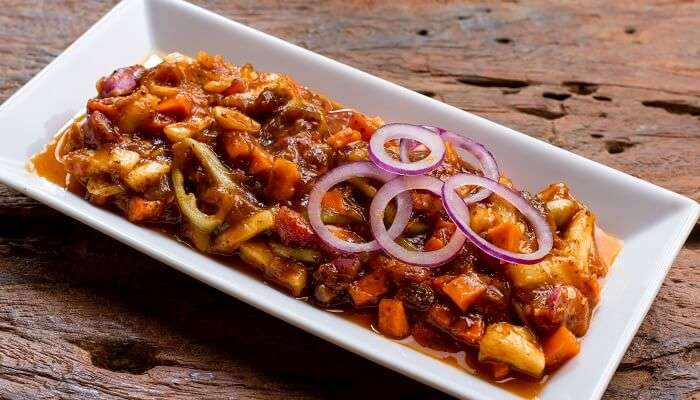 Achcharu is a traditional Sri Lankan pickle, wherein fruits and vegetables are pickled in spices. The sweet and spicy achcharu comes in many lip-smacking flavours like Sinhala, Malay, Ruhunu, Keselmuwa, Raabu, Polos and Sudu Iunu. The achcharu is served with a prepared meal while hosting guests during the April Sinhala and Tamil New Year.
Where to eat: Pettah Market, Galle Face Green
Price: Between ₹ 13 to ₹ 26 (depending on portion size)
Suggested Read: 7 Cottages In Colombo For A Refreshing Holiday Experience
4. Tapioca Chips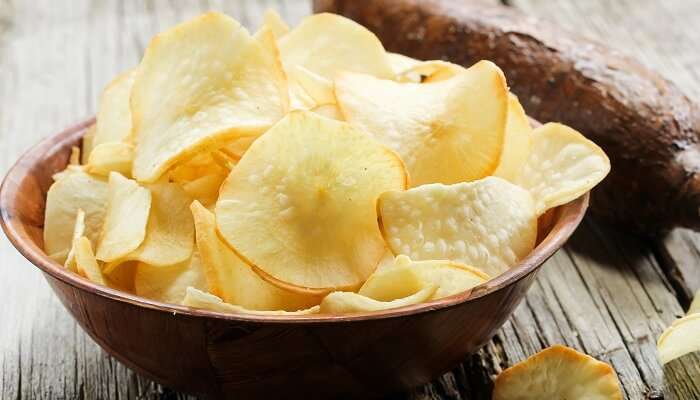 Tapioca or Cassava is a root that needs to be cleaned to remove mud, wherein the raw tubers have their inner rind and outer skin removed. The chips are then deep-fried in coconut oil. Served with a seasoning of salt and chilly powder, Cassava or Tapioca chips are thin crispy and crunchy wafers that can be munched anytime.
Where to eat: Galle Face Green, Pettah Market
Price: Between ₹ 13 to ₹ 26 (depending on quantity)
5. Isso Vadai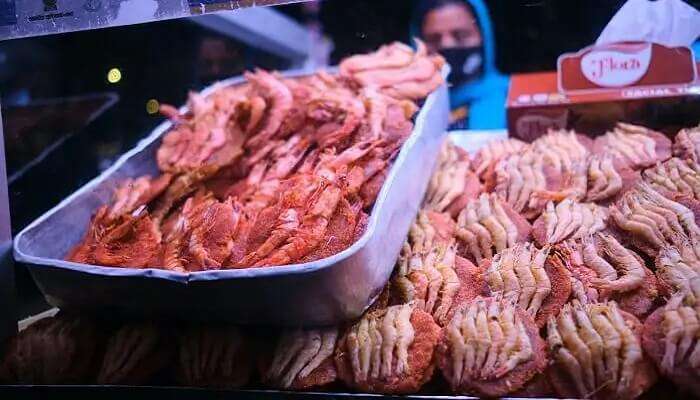 Image Credit: Meshaun de Silva for Unsplash
Isso (prawn or shrimp) vadai are deep-fried spicy lentil cakes or fritters topped with small prawns. These little fritters consist of ginger, halved chickpeas, onion, cumin, fennel & green chilli and are served with a dab of lime/lemon juice and chopped onions, green chillis & tomatoes. It is an ideal evening snacking option for seafood lovers. The other form of vadai one can indulge in is Ulundu Vadai, similar to Medu vada in India.
Where to eat: Galle Face Green, Pettah Market
Price: Between ₹ 13 to ₹ 26
Suggested Read: 9 Unique Museums In Colombo That'll Let You Live Its History On Your Trip
6. Kola Kanda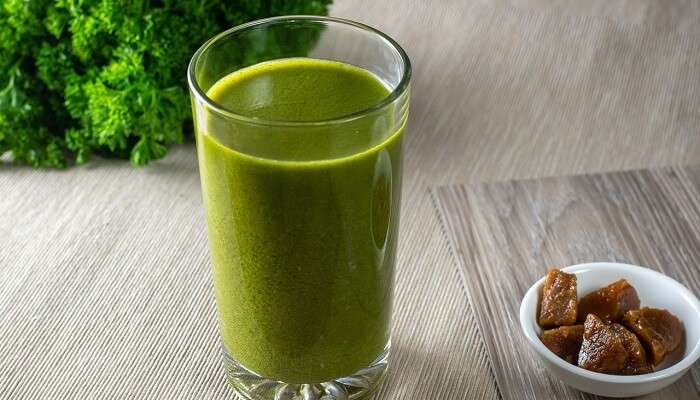 Image Credit: KavindaF for Pixabay
Kola Kanda is a traditional creamy porridge or herbal gruel. Also known as Kola Kenda, the mixture of herbal leaves also comprises rice, coconut milk and many spices. This healthy drink is rich in nutrients, low in fat and calories, is good for digestion and has anti-inflammatory properties. One can have a glass of the herbal Kola Kanda for breakfast. Although vegan, some variations of this herbal drink may include fish, meat or eggs.
Where to drink: High Level Road (Nugegoda), Pettah Market, Galle Face Green
Price: Between ₹ 26 to ₹ 51
7. Maalu Paan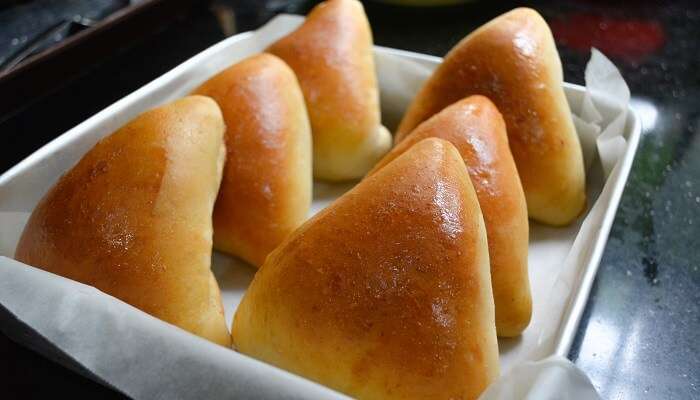 Maalu Paan is a fish bun eaten as a snack with tea or savoured as a Colombian breakfast meal. The pastry dough is a mixture of yeast, flour, salt, sugar and water. The triangle-shaped soft bread is filled with mashed potatoes, garlic, grated coconut, ginger, curry leaves, green chillies and onions, along with canned Mackerel fish mixed in Sri Lankan spices. The golden-brown snack is a must-try for seafood lovers.
Where to eat: Pettah Market
Price: Between ₹ 13 to ₹ 26
Further Read: Galle Face Green- An Urban Park In Sri Lanka's Colombo With a Historical Past
Now that you have a list of yummy street food in Colombo, bookmark it for the future. Plan a trip to Sri Lanka with TravelTriangle for an amazing vacation experience. The delectable street food while exploring the major tourist attractions will give you an authentic taste of the flavours of Sri Lanka. These delectable food items will make you want to visit Sri Lanka again.
For our editorial codes of conduct and copyright disclaimer please click here.
Cover Image Source: Shutterstock
Frequently Asked Questions About Street Food in Colombo
What is the favourite street food of Colombo?
Some of the street food in Colombo that is a must-eat are:
1. Hoppers
2. Kothu Roti
3. Kola Kanda
4. Achcharu
5. Maalu Paan
6. Isso Vadai
7. Tapioca Chips
What are the best places to eat street food in Colombo?
Some of the best street food areas in Colombo are:
1. Pettah Market
2. Galle Face Green
3. Dehiwala-Mount Lavina
4. Marine Drive
5. Wellawatte
What is Colombo famous for?
Apart from the tourist attractions, Colombo is famous for its diverse culinary and lip-smacking street food.
How expensive is food in Colombo?
If you look at the price list of a majority of street food places in Colombo, it won't be a dent in your pocket. Also, mid-range restaurants are quite affordable for meals.
What is the Street Food Festival Colombo?
Fairway Street Food Festival is conducted in Colombo on the last week of every month at Hospital Street, Colombo 01.
People Also Read:
Street Food in Australia Street Food in Switzerland Street Food in Turkey