Trivandrum, formerly known as Thiruvananthapuram, is the most populous city and the capital of Kerala, God's own country. Also known as the "Abode of Lord Anantha," there are numerous tourist places in Trivandrum for one-day trip. From religious sites to places of historical significance, from scenic locations to white sand beaches, the place doesn't disappoint travellers.
Considered one of the cleanest cities in India, Trivandrum is surrounded by Tamil Nadu in the East and the Arabian Sea in the West. Like all the cities in Kerala, Trivandrum has created a separate identity for its tourist attractions. So what are you waiting for? Plan a trip, pack your bags and head to Trivandrum.
7 Best Tourist Places In Trivandrum For One-Day Trip
There are plenty of incredible tourist locations one can pay a visit while on a trip to Trivandrum. Here is a well-curated list of the best tourist places in Trivandrum for one-day trip:
1. Padmanabhaswamy Temple
Dedicated to Lord Anantha, an avatar of Lord Vishnu, Padmanabhaswamy Temple is a coalescence of Dravidian and Kerala-style architecture. The temple's deity Sri Padmanabha is 18 feet long, in a reclining position on the serpent Adi Shesha, whose hoods form an umbrella over his head. The sanctum has three doors: the first door provides a glimpse at the face and upper body of the deity, the second door provides a glance at Lord Brahma emerging from the navel of the deity on a lotus flower, and the third door provides a peek at the feet of Lord Padmanabha.
One has to follow the dress code while on a visit to the temple. For men and boys, the upper body can be left bare or covered with a shawl, whereas, a dhoti should be wrapped around the lower half of the body. For women and girls, a saree/dhoti with a blouse or a t-shirt with a long skirt/lehenga or a dhoti wrapped over the jeans/salwar suit.
Location: W Nada, East Fort, Pazhavangadi, Thiruvananthapuram, Kerala, 695023, India
Timings: 3:15 am to 12 noon and 5 pm to 7:20 pm
Ticket Price: INR 150 per person for special darshan, INR 180 per person for special darshan with prasad
Distance from Trivandrum: 6.8 km
Must Read: 5 Temples In Trivandrum That You Shouldn't Miss On Your Next Trip To Kerala
2. Neyyar Dam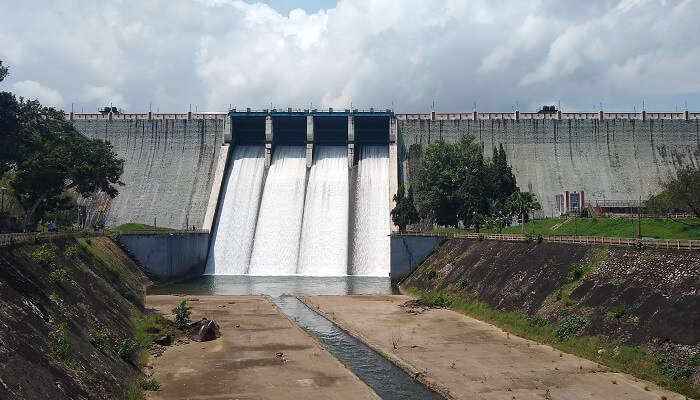 Located on the foot of the Western Ghats, Neyyar Dam was built in 1958 for irrigation purposes over the Neyyar River. It also supplies drinking water to surrounding areas. The dam has a lake that adds to its beauty. It is an ideal spot for those seeking tranquillity amidst nature and photographers who can capture enchanting views from their lenses.
The dam has a Research Centre, a Crocodile Rehabilitation Center, a watchtower, a deer park, a garden, an aquarium, and Sivananda Yoga Vedanta Dhanwanthari Ashram. One can indulge in elephant rides and boating (safari or high-speed boats). At present, it is considered one of the best picnic spots in Trivandrum, where people come with their loved ones to spend time, click pictures, and enjoy the breathtaking views of the environs.
Location: Thiruvananthapuram Neyyar Dam Road, Trivandrum, Kerala 695572
Timings: 9 am to 6 pm
Ticket Price: INR 10 per person
Distance from Trivandrum: 37.7 km
3. Napier Museum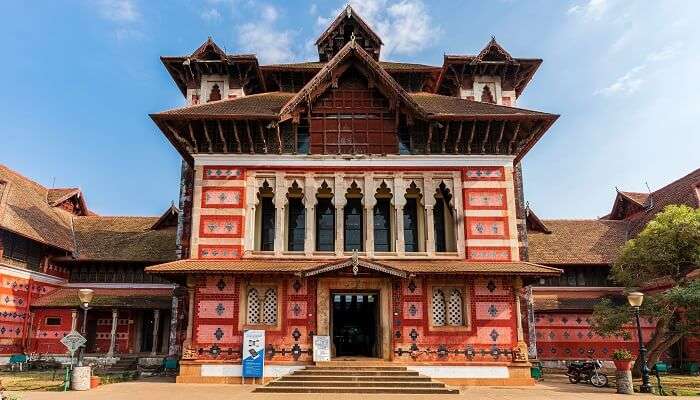 Napier Museum is a major attraction that exhibits the history of Kerala with respect to different rulers during different points of time. Established in 1857, the museum showcases a collection of artefacts like armour, sculptures, handicrafts, ornaments, idols, carvings, musical instruments, coins, and chariots. There is a Japanese shadow-play leather that depicts the epics of Mahabharatha and Ramayana. The museum is an information chamber for history buffs, researchers, and students.
Named after the then Governor General of Madras, the museum displays Indo-Saracenic architecture, which is inspired by the Indian, Chinese, Mughal and Kerala schools of architecture with Gothic roofs and minarets. The premises has a garden with a variety of flowers and the oldest living rubber tree in Kerala.
Location: LMS Vellayambalam Road, Opposite PWD Building, Palayam, Trivandrum, Kerala 695033
Timings: 10 am to 4:45 pm, closed on Mondays & Wednesdays forenoons
Ticket Price: INR 20 per person
Distance from Trivandrum: 4.6 km
Suggested Read: 7 Amazing Guest Houses In Trivandrum To Stay Amidst Peace And Tranquillity
4. Shanghumukham Beach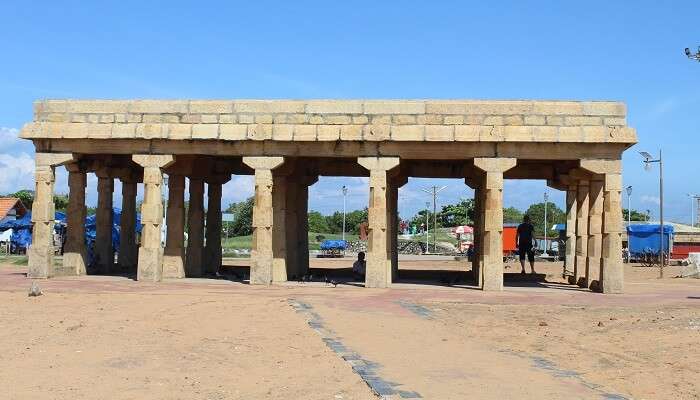 Located on the Western side of Trivandrum, Shanghumukham Beach is a white sand beach, away from the hustle and bustle of the city. The beach is famous for the huge 35-metre mermaid-like structure, also known as Sagarakanyaka (Jalakanyaka), made by the renowned sculptor Sri Kanai Kunjuraman, Aaratu Mandapam, and a starfish-shaped restaurant.
The beach is an ideal location to witness breathtaking views of sunrise and sunset. Locals also come here for picnicking, and to spend quality time with family and friends. There is an Indoor Recreation Center and Children's Park on the premises to keep people entertained. The pristine waters, serene surroundings and mesmerising views make Shanghumukham Beach on the list of one-day trip places in Trivandrum.
Location: Beach Road, Trivandrum, Kerala 695008
Timings: 24/7
Ticket Price: N.A.
Distance from Trivandrum: 10.3 km
5. Kanakakunnu Palace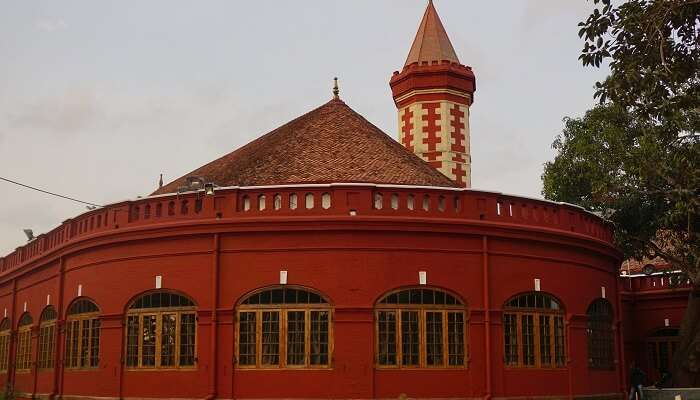 Situated on a small hillock, Kanakakunnu Palace was constructed in the 19th century, during the times of Travancore Sri Moolam Thirunal. It is located close to Napier Museum. Built to conduct private ceremonies of the royal family and parties for special occasions. At present, the red-bricked palace hosts many cultural events, seminars, and other programmes.
Every year from October to March, the Department of Tourism hosts an all-India dance festival, where people from far-off places gather here to witness some incredible performances. There are plans of constructing a museum on the premises that will cover the history, culture, politics, and art forms of the region. The palace has been declared a heritage monument by The Indian National Trust for Arts and Cultural Heritage (INTACH).
Location: Kanaka Kunnu Palace Rd, Nanthancodu, Trivandrum, Kerala 695033
Timings: 10 am to 5 pm, closed on Mondays
Ticket Price: No entry fee
Distance from Trivandrum: 2.5 km
Suggested Read: 5 Scintillating Islands Near Trivandrum That One Must See Before Dying
6. Chalai Bazaar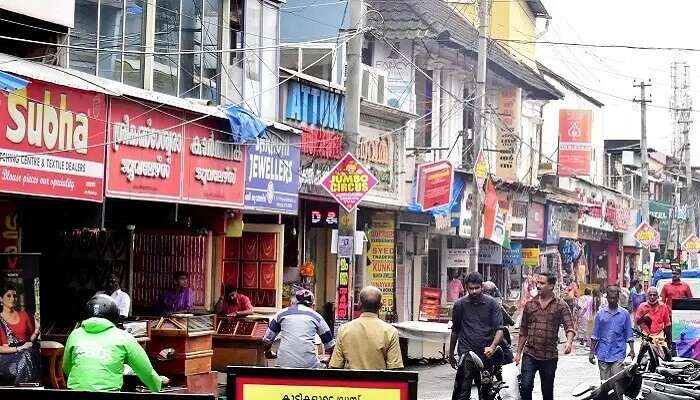 Lying in the heart of Trivandrum, Chalai Bazaar is the oldest market, spread over a stretch of 2 km, from East Gate to Killipalam. The market has an extensive range of footwear, groceries, home appliances, jewellery, furnishings, vessels, and more. In short, from fruits to flowers, from handlooms to clothes, you name it and it is there in Chalai Bazaar.
Each street of the bazaar has numerous Tamil-style temples and also houses one of the oldest mosques, Karuppattikada Juma Masjid. One can also indulge in drool-worthy delicacies with a wide variety of food options to choose from. The street is always crowded with people in the sense that there is hustle and bustle all the time.
Location: TC 38/1781, Chalai, Thiruvananthapuram, Kerala 695036
Timings: 9 am to 8 pm, closed on Sundays
Ticket Price: N.A.
Distance from Trivandrum: 7.2 km
7. Sri Chitra Art Gallery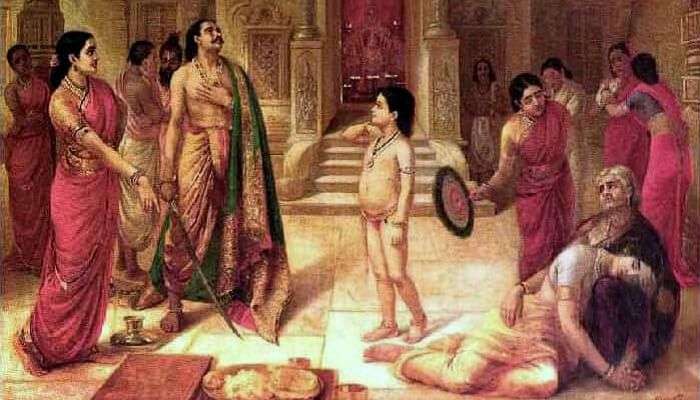 Image Credit: Wikimedia Commons
Sri Chitra Art Gallery also known as Sri Chitralayam, was reconstructed out of two existing bungalows in the museum gardens. It was opened for public viewing in September 1935. The gallery displays rare collections of paintings from the Rajputs, Mughals, Rajasthan, Bengal and Tanjore schools of art, Tibetan Thangka along with the paintings by Raja Ravi Varma, Rabindranath Tagore, Jamini Roy, Svetoslav Roerich & Nicholas Roerich, and other talented artists.
One can spot unique miniature paintings, manuscripts, and murals in the gallery. Numerous paintings in the gallery are gifted by the Kilimanoor Royal family and the Royal House of Travancore. Art fanatics and history enthusiasts searching for the best one-day trip places in Trivandrum should surely pay a visit to Sri Chitra Art Gallery.
Location: Sooryakanthi Road, Trivandrum, Kerala 695033
Timings: 10 am to 4:45 pm, closed on Mondays & Wednesdays forenoons
Ticket Price: INR 4 per person for 5-12 years, INR 10 per person above 12 years
Distance from Trivandrum: 0.8 km
Further Read: 15 Amazing Things To Do In Trivandrum For A Thrilling Vacation
Now that you have checked out the list of tourist places in Trivandrum for one-day trip, plan your day accordingly. Book Trivandrum Tour Packages from TravelTriangle for your next visit. These packages can be customised at your convenience. Make sure to convey your requirements to our executive at the time of booking.
For our editorial codes of conduct and copyright disclaimer, please click here.
Cover Image Credit: Binoyjsdk for Wikimedia Commons
Frequently Asked Questions About Tourist Places in Trivandrum for One-Day Trip
How can I spend one day in Trivandrum?
You can visit the following places for your one-day trip to Trivandrum:
1. Padmanabhaswamy Temple
2. Neyyar Dam
3. Napier Museum
4. Chalai Bazaar
5. Sri Chitra Art Gallery
6. Kanakakunnu Palace
7. Shanghumukham Beach
What are the best places for one-day trips from Trivandrum?
Some of the best places for one-day trips from Trivandrum are:
1. Thekkady
2. Varkala
3. Kollam
4. Palakkad
5. Tiruchendur
What is the best time to visit Trivandrum?
The best time to visit Trivandrum is from October to February. This peak season for tourists is an ideal time for sightseeing as the climatic conditions are pleasant.
What is the famous food of Thiruvananthapuram?
Puttu with Kadhala curry, Dosa, Appam, Malabar Parotta, and Erissery are some of the famous food of Thiruvananthapuram.
Which is the coldest month in Trivandrum?
January is the coldest month in Trivandrum.
People Also Read:
Tourist Places in Telangana Tourist Places in Delhi Tourist Places in Wayanad