Indore, a bustling and most populous city in Madhya Pradesh is set over the Malwa plateau. With the banks of the Saraswati and Khan rivers on opposite sides, this vast city embodies countless tourist attractions. However, if you are planning getaways from this electrifying city famed as Mini Mumbai, you get multiple interesting alternatives around. Here's an exclusively curated list of places to visit near Indore within 100 km for travellers.
7 Popular Places to Visit Near Indore within 100 km
Whether you wish to sneak peek at verdant landscapes or thriving waterfalls, continue reading to know the best places near Indore within 100 km:
1. Ralamandal Wildlife Sanctuary
A perfect refreshing retreat Ralamandal Wildlife Sanctuary is located in the vicinity of the city and takes you to lush surroundings with an abundance of regional flora and fauna. Here, you can spot multiple species of wild beings and birds. You can plan to go on a safari ride where you may spot blue bulls, sambar, and barking deer. Taking a trekking trail and talking routes passing through the forest is another adventure to experience at this sanctuary.
Location: Mirjapur
Distance from Indore: 12 km
Timings: 9:00 a.m. – 6:00 p.m.
Entry fee: ₹ 60 per person
Must Read: 9 Best Resorts In Indore For An Awesome Vacation
2. Lotus Lake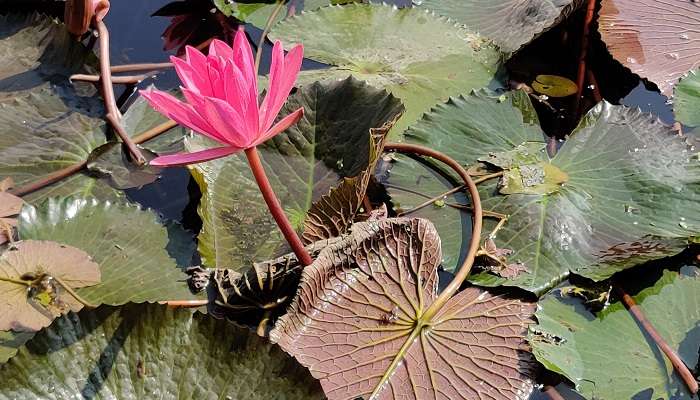 Lotus Lake features serenity away from the hustle and bustle of city life. Nestled in Gulawat, the gorgeous water body showcases countless lotus blooms. The lush green surroundings make it one of the best places to visit near Indore within 100 km. The place is ideal to click amazing pictures.
Location: Gurda Khedi
Distance from Indore: 21 km
Timings: 6:00 a.m. to 7:00 p.m.
Entry fee: No entry fee
3. Jam Darwaza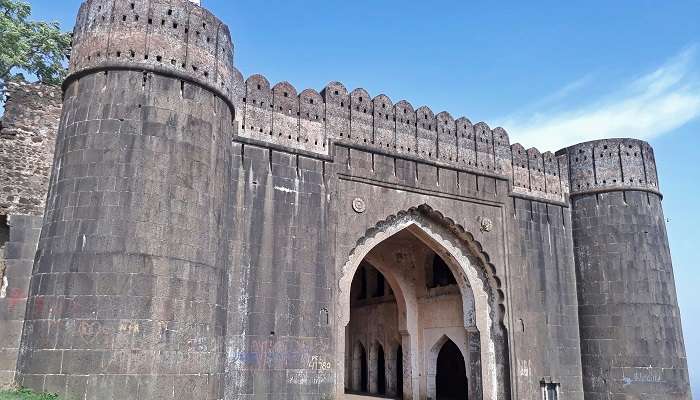 Jam Darwaza is another iconic attraction near Indore within 100 km. It is an archaeological gateway established on the top of a hill, showcasing unbelievable vistas of the entire city. You can take a drive to the Jam Darwaza from Indore and plan a picnic with your loved ones.
Location: Bhagdara
Distance from Indore: 52 km
Timings: Throughout the day
Entry fee: No entry fee
Suggested Read: 10 Best Hotels In Indore For The Modern Luxury Lovers
4. Patalpani Falls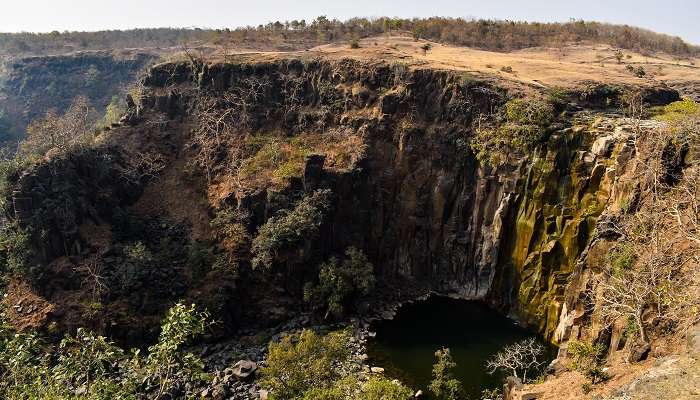 Patalpani Falls is located amid verdant forests and the gushing sound of streams is truly a treat to ears and other senses. Here, water cascades from a height of 300 feet, forming a pool at the bottom. The natural beauty of Patalpani Falls and its refreshing ambience makes it a popular choice for travellers looking for places to visit near Indore within 100 km.
Location: Kekariya Dabri
Distance from Indore: 33 km (approx.)
Timings: 8:00 a.m. – 7:00 p.m.
Entry fee: No entry fee
5. Janapav Hill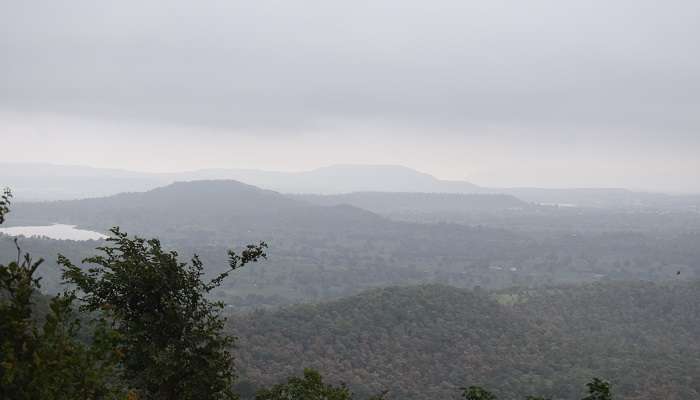 Another delightful place to witness the serenity of the Malwa Plateau, Janapav Hill features the second-highest point of the region. The place is believed to be the birthplace of Parasurama and features numerous trekking trails that leads you pass through dense forests. The place exhibits an amalgamation of landscaped terrains and unmatched adventures.
Location: Janapav Kuti
Distance from Indore: 45 km
Timings: 8:00 a.m. – 05:00 p.m.
Entry fee: No entry fee
Suggested Read: 8 Best Weekend Getaways From Indore Which Are Famous For Its Rich Culture And Heritage
6. Chidiya Bhadak Waterfall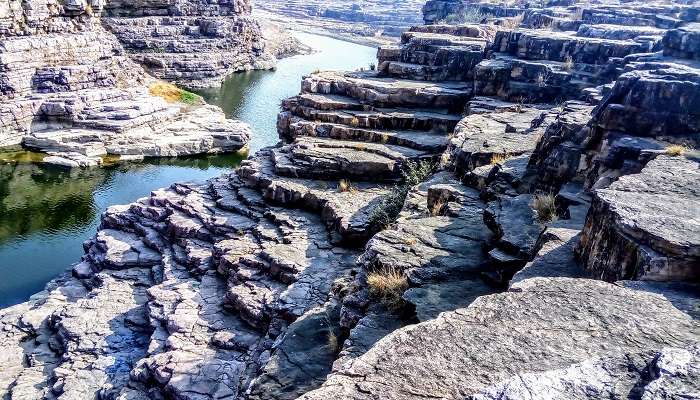 If you are looking for a refreshing waterfall to plan a picnic near Indore with family and friends, Chidiya Bhadak Waterfall is another delightful place for you. The site turns mesmerizing during monsoon, Nestled amid verdant terrains, the impeccable waters add a perfect contrast to picture-perfect landscapes.
Location: Katkut, Bhadwa
Distance from Indore: 55 km
Timings: Throughout the day
Entry fee: No entry fee
7. Omkareshwar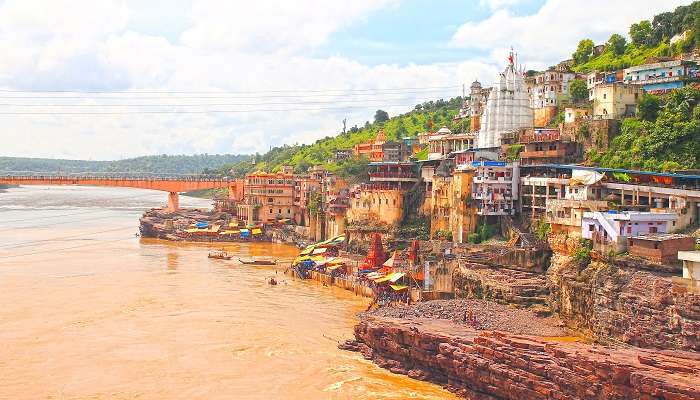 Omkareshwar is perched on Mandhata Island, formed by the Narmada River. The religious site is dedicated to Lord Shiva and is counted as one of the 12 Jyotirlingas. Globetrotters visit the temple to capture the authentic vibe of the Shravan month. The formation of the island seems to be alike the symbol of Om. You can also capture glimpses of Mamleshwar, another Hindu religious site located on the bank of Narmada.
Location: Mandhata
Distance from Indore: 78 km
Timings: 5:00 a.m. to 10:00 p.m.
Entry fee: INR 5
Further Read: 19 Best Things To Do In Indore For Feeling The True Vibe Of The City
Exploring famous places to visit near Indore within 100 km is undoubtedly an amazing experience for holidayers. If you are planning a holiday to Madhya Pradesh, book your exclusive trip with TravelTriangle and enjoy an itinerary drafted according to your preferences.
For our editorial codes of conduct and copyright disclaimer please click here.
Cover Image Source: Shutterstock
Frequently Asked Questions About Places near Indore within 100 km
What are the best places to visit in Indore?
Rajwada, Lalbagh Palace, Khajrana Ganesh Temple, Sarafa Market, Central Museum of Indore, Patalpani Waterfall, Annapurna Temple, Ralamandal Wildlife Sanctuary, etc. are the popular tourist attractions in Indore.
How far is Omkareshwar from Indore?
Omkareshwar is about 78 km away from Indore and can be easily reached by road.
Is there any waterfall near Indore?
Tincha Falls, Mohadi Falls, Hatyari Khoh Falls, Patalpani Falls, Bamniya Kund Falls, Gidiya Khoh Falls, etc. are the popular waterfalls near Indore.
What is the best time to visit Indore?
The best time to visit Indore is during winter months. The temperature remains pleasant and is apt for sightseeing and exploration. The best months to visit are October, November, December, January and March.
People Also Read:
Places to Visit near Chandigarh Places to Visit near Jaipur Places to Visit near Delhi