Ooty, the gorgeous resort town nestled amid the Western Ghats, has lured visitors with its enchanting landscapes for centuries. Nestled amid the picturesque Nilgiri Hills of Tamil Nadu, this gorgeous hill station offers a delightful escape to lush green terrains, misty mountains, and charming colonial-era architecture. If you are planning a getaway to this serene town, here's a well-curated itinerary including places to visit in Ooty in 2 days to have the most memorable time.
Popular Places to Visit in Ooty in 2 Days
The following are the day-wise places to visit in the scenic hill town located in the heart of the blue mountains:
| | | | |
| --- | --- | --- | --- |
| Day 1 | Morning: Doddabetta Peak & Tea Gardens | Afternoon: Ooty Lake & Botanical Gardens | Evening: Rose Garden & Ooty Chocolate Factory |
| Day 2 | Morning: Pykara Lake, Waterfalls, and Dam | Afternoon: Emerald Lake & Needle Rock Viewpoint | Evening: Main Bazaar |
1. Doddabetta Peak
Start your day early by visiting Doddabetta Peak, the highest point in the Nilgiri Mountains. Take in the breathtaking panoramic views of the surrounding valleys and tea estates from the famous observation tower.
Must Read: 12 Best Ooty Hotels That Will Make You Realize That There Is A Lot To This Hill Station
2. Tea Gardens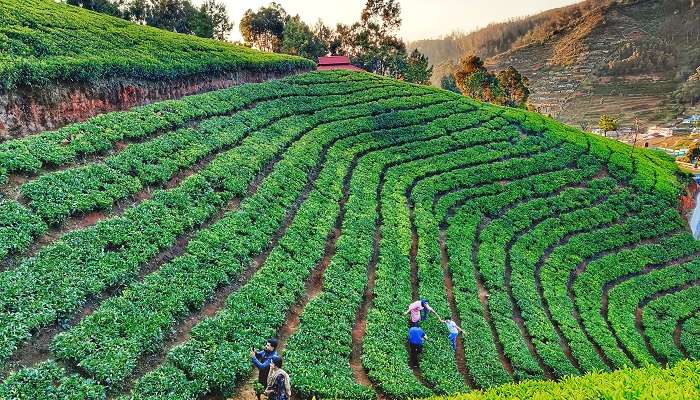 Head to the famous tea gardens of Ooty, especially the scenic estates of Glenmorgan or the sprawling tea plantations of Dodabetta Valley. Enjoy a leisurely walk amid the tea bushes, learn about the tea-making process, and don't forget to sample some freshly brewed tea.
3. Ooty Lake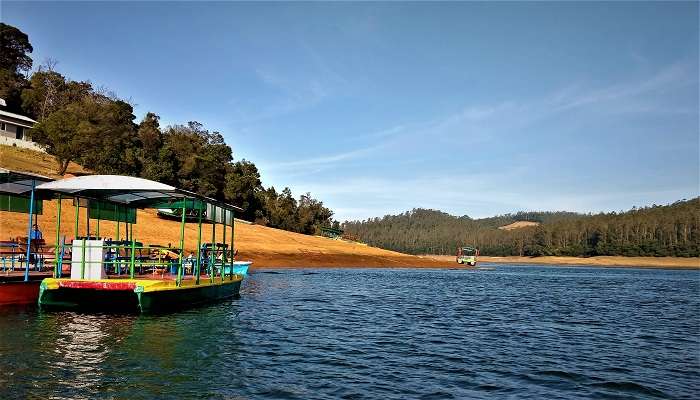 Make your way to Ooty Lake, a popular tourist attraction in the town. Indulge in a boat ride across the serene lake, surrounded by eucalyptus trees and charming hills. Rejuvenate by the lake, rent a paddleboat, or enjoy a picnic while being surrounded by awe-inspiring ambience.
Suggested Read: 10 Best Hotels Near Ooty For A Relaxing And Peaceful Vacation
4. Botanical Gardens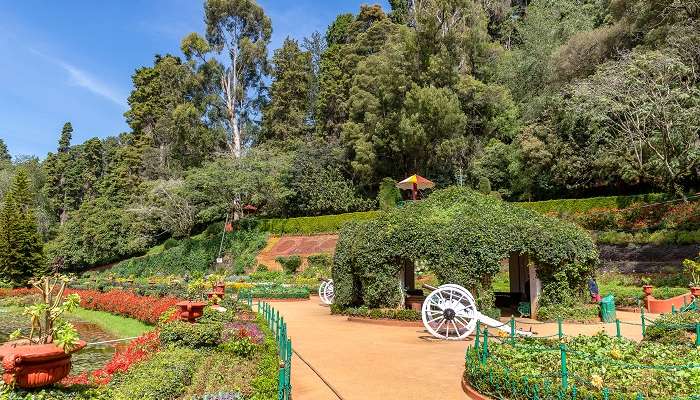 Explore the well-maintained Botanical Gardens, home to an enormous variety of exotic plants, vibrant flowers, and exquisite trees. You can take a relaxing stroll, admire the stunning floral vistas, and capture memorable photographs.
5. Rose Garden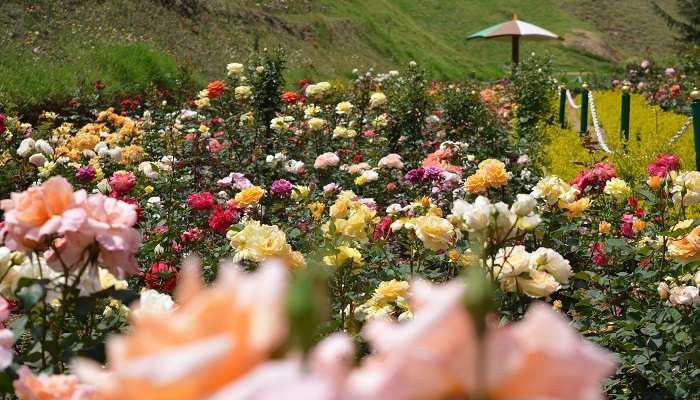 Don't miss the vibrant Rose Garden, nestled in the heart of Ooty. Marvel at the numerous varieties of roses in full bloom, breathe in the fragrant air, and spend a peaceful time amid nature's beauty.
Suggested Read: 5 Resorts Near Ooty Where You Can Spend Some Relaxing Time
6. Ooty Chocolate Factory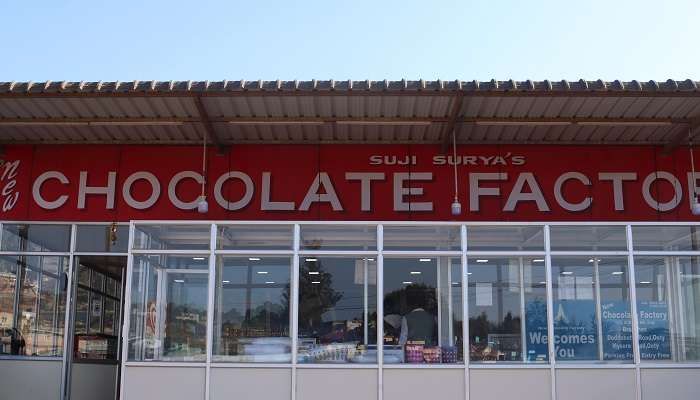 Treat your taste buds at the Ooty Chocolate Factory, known for its delectable homemade chocolates. Witness the chocolate-making process, indulge in some sweet delights, and take home delicious souvenirs.
7. Pykara Lake, Waterfalls, and Dam
Start your second day by visiting the serene Pykara Lake, surrounded by lush greenery. Enjoy a boat ride on the crystal-clear waters and soak in the tranquillity. Then, head to the enchanting Pykara Waterfalls, cascading amid the dense forests. Explore the Pykara Dam, located in the vicinity of the lake. Admire the scenic views of the reservoir and the surrounding hills.
Suggested Read: Our Honeymoon Trip To Ooty Gave Us Filmy Memories That We Will Cherish Forever
8. Emerald Lake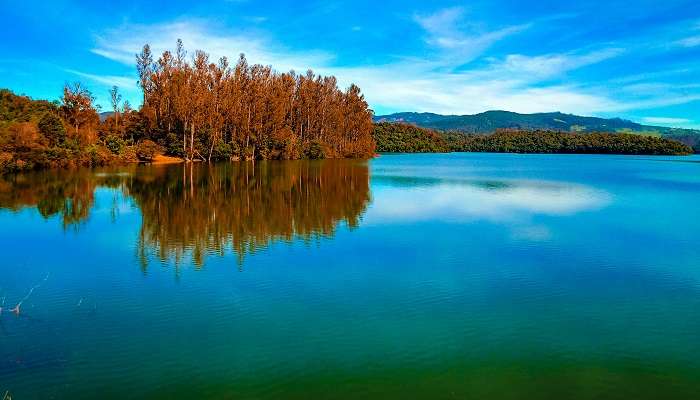 Venture to the picturesque Emerald Lake situated a short drive away from Ooty. Marvel at the calm waters, bordered by lush tea plantations and dense forests. Enjoy a peaceful picnic, go for a nature walk, or simply relax and soak in the serenity.
9. Needle Rock Viewpoint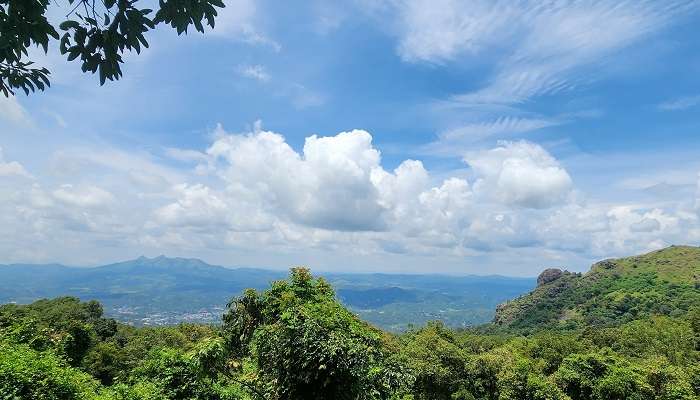 Capture impeccable vistas of dusk while concluding your trip by visiting Needle Rock Viewpoint. The site offers breathtaking views of the rolling hills and the deep valleys below. You can capture glimpses of the sunset casting its golden hues over the landscapes, creating a mesmerizing scene.
Further Read: 8 Ooty Guest Houses For Those Who Love To Travel In A Budget
As your two-day adventure in Ooty comes to an end, take with you the memories of its natural beauty, refreshing climate, and warm hospitality. Ooty's charm will surely beckon you to return for more explorations in the future. Don't forget to add the mentioned places to visit in Ooty in 2 days to your itinerary for an wholesome experience. You can also book your Ooty vacation with TravelTriangle and enjoy holidaying on an itinerary drafted exclusively as per your preferences.
For our editorial codes of conduct and copyright disclaimer please click here.
Cover Image Source: Shutterstock
Frequently Asked Questions About Places to Visit in Ooty in 2 Days
What are the best places to visit in Ooty?
The following are the best places to visit in Ooty – Pykara Lake, Doddabetta Peak, Pykara Falls, Ooty Lake, Government Rose Garden, Avalanche Lake, and more.
Which is the best place to witness sunset in Ooty?
Needle Rock Viewpoint is one of the most popular site to witness sunrise and sunset in Ooty.
What can I buy in Ooty?
You must check the local tea, spices, chocolates, essential oils, scarves, shawls, etc. to buy and carry back home as a memory of your enthralling trip.
How to reach Ooty?
The nearest airport to Ooty is Coimbatore and welcome flights from almost all parts of the country. Mettupalayam is the nearest rail head and is about 47 km away from Ooty. You can cover the remaining distance by road.
People Also Read:
Places to Visit in Munnar Places to Visit in Coonoor Places to Visit in Wayanad