The biggest city in Louisiana, New Orleans, is bursting with jazz and blues music, Creole and Cajun food, a rich history, annual celebrations, and vibrant festivals. Situated on the Mississippi River near the Gulf of Mexico, New Orleans is a prime tourist destination and more than just a beautiful place in Louisiana to visit.
From Mardi Gras and beignets to museums, parks, and colorful architecture, New Orleans promises a fun-filled adventure for any traveler—on and off Bourbon Street. Here is the ultimate travel guide to New Orleans, Louisiana.
Top Things To Do In New Orleans
New Orleans is known for its festivals. From celebrating food (like beignets and crawfish) and music (like blues and jazz), the city loves to celebrate year-round. However, the Big Easy has a lot more to offer besides its iconic festivals. Here are the top things to do in New Orleans.
1
Attend The Mardi Gras Festival
Mardi Gras parades through the streets of New Orleans, Louisiana.
Mardi Gras is a Christian holiday dating back thousands of years and celebrated around the world, mostly in countries and cities with a large Roman Catholic population. New Orleans hosts the largest Mardi Gras celebrations.
In French, Mardi means "Tuesday," and gras means "fat." Fat Tuesday is the Tuesday before Ash Wednesday and the start of Lent. Celebrations of parades and parties usually start about two weeks before Fat Tuesday.
The busiest of which is the weekend before Fat Tuesday, where tourists and locals alike feast on classic Mardi Gras dishes and watch Bacchus and Endymion (two big Mardi Gras parades) march down the street. This year, in 2023, Mardi Gras Day (Fat Tuesday) falls on February 21st.
Visit Mardi Gras World in the lower Garden District for a behind-the-scenes look at how artists create the magnificent floats paraded during the Mardi Gras festival.
2
The Audubon Zoo
Louisiana Alligator in the water at the Audubon Zoo
Ranked one of the top zoos in the country, tourists won't want to miss the Audubon Zoo's unique attractions, like the Louisiana Swamp Exhibit, the Jungle Exhibit, the white alligators, or the Cool Zoo, which is a lifesaver on a hot day.
The 750-foot lazy river, with sandy beaches, water cannons, and jumping jets, will give tourists a break from the heat.
Address
: 6500 Magazine Street, New Orleans

Hours
: Thursday through Monday, 10 AM – 5 PM
3
Check Out The City Museums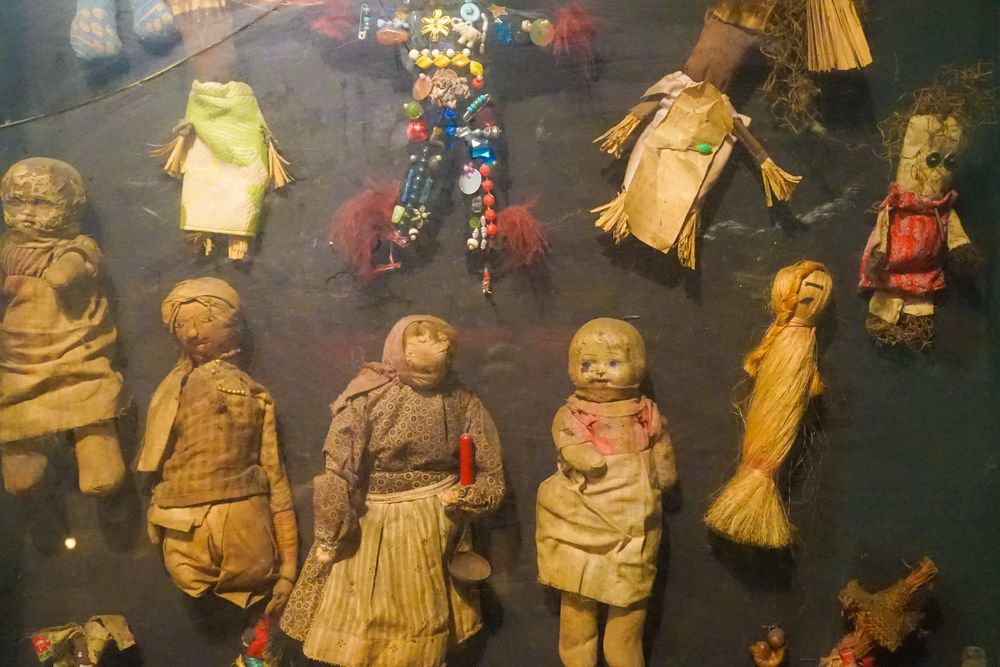 Voodoo artefacts, a museum exhibit of theNew Orleans Historic Voodoo Museum
Museum of Death
There are many eccentric museums in America, including at least one in New Orleans. This world-famous museum is located in the French Quarter.
For tourists that love true crime, this is the place to go. With Manson family photos and morgue scene photos, tourists can learn more about skulls, body bags, coffins, morticians, and much more!
Address
: 227 Dauphine St, New Orleans

Hours
: Open daily from 10 AM to 6 PM. Closed on Tuesdays.
National World War II Museum
Perfect for history buffs, this top attraction in New Orleans takes tourists on a powerful journey through the eyes of people who fought in World War II.
The National World War II Museum offers galleries, exhibits, interactive experiences, and oral histories that bring American experiences during World War II to life.
Address
: 945 Magazine Street, New Orleans

Hours
: Daily from 9 AM – 5 PM
Don't leave the museum without watching "Beyond All Boundaries"; this captivating 4D movie was produced and narrated by Tom Hanks.
4
Join The Locals At The French Quarter Festival
Music parade in New Orleans
The French Quarter Festival is the largest event showcasing Louisiana music in the world. A favorite for locals, the festival has over 20 stages throughout the French Quarter—all playing different genres of music. From jazz to New Orleans funk, R&B, folk, gospel, Latin, and cabaret—there's something for everyone.
Over 60 local restaurants also participate in the French Quarter Festival, so attendees can munch on their favorite food while listening to their favorite music.
5
Explore The New Orleans City Park
nNew Orleans, LA: The Peristyle New Orleans City Park"" data-modal-id="single-image-modal" data-modal-container-id="single-image-modal-container" data-img-caption=""Shutterstock"">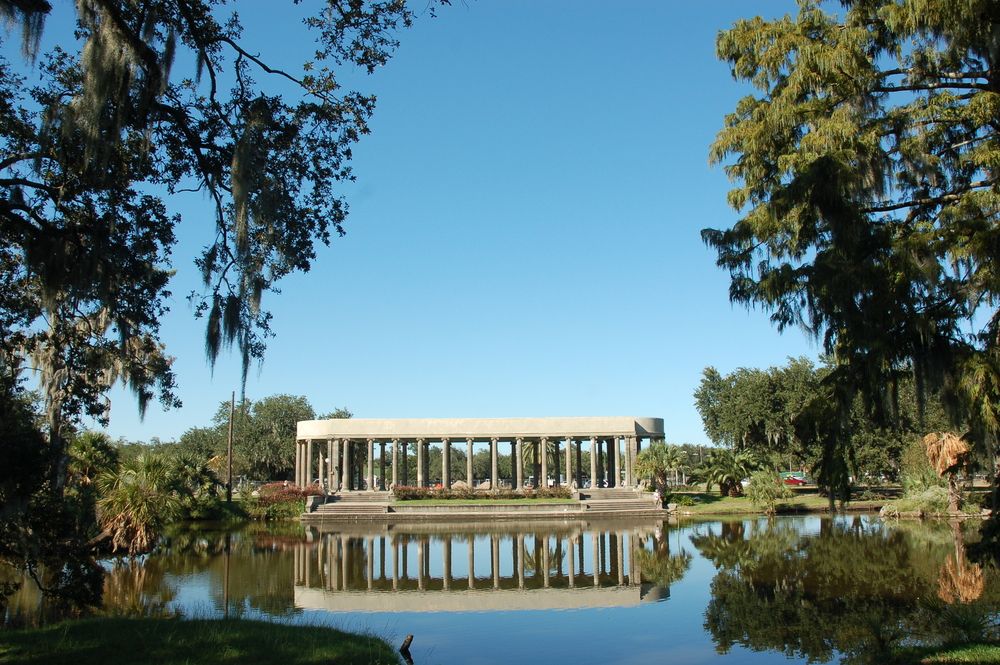 New Orleans, LA: The Peristyle New Orleans City Park
One of the largest urban parks in the U.S., this 1.300-acre property hosts some of the city's main attractions.
Visit the New Orleans Botanical Garden, the New Orleans Museum of Art, the Carousel Gardens, the Couturie Forest and Arboretum, rent peddle boats at Big Lake, or simply stroll (or bike) down the paths and explore the largest grove of mature live oaks in the world. Some are almost 800 years old.
Entry
: Free

Hours
: Sunset to sunrise
6
Explore The Lively Frenchmen Street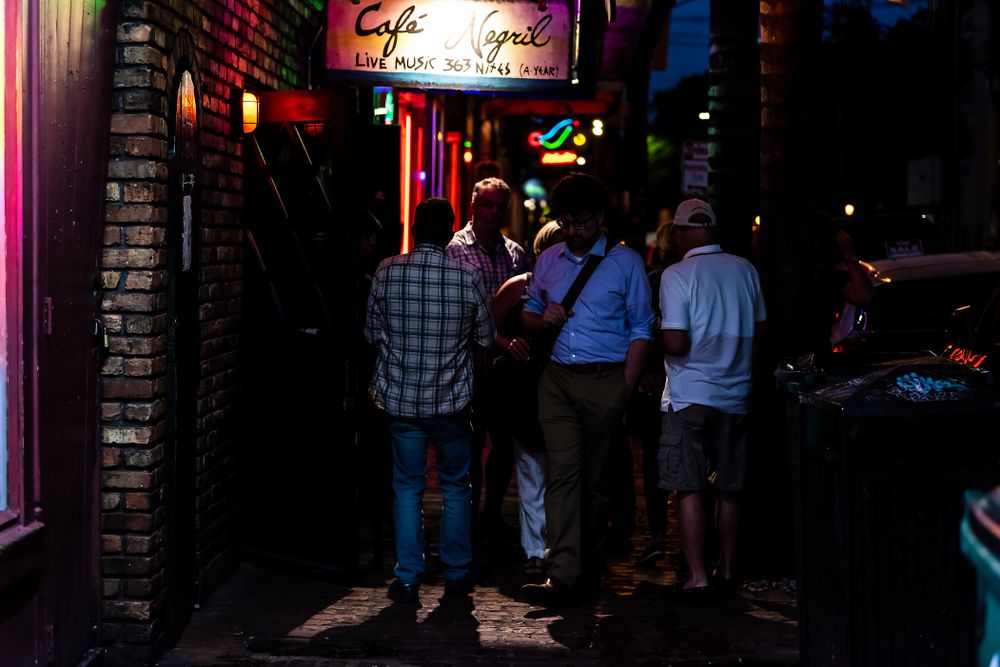 Old town Frenchmen street in Louisiana famous town city nightlife and people walking on sidewalk by cafe night club bar
Those looking for an authentic New Orleans experience must visit Frenchmen Street. An excellent alternative to the more touristy Bourbon Street, this popular spot is where locals converge for unadulterated entertainment. The district is home to a string of bars, live music venues, nightclubs, restaurants, and galleries.
Party lovers and night owls will have a blast hopping from one venue to another in one of the best areas to experience local nightlife. Some trendy establishments on Frenchmen Street to check out include The Three Muses and The Spotted Cat.
Target around 7 pm to visit Frenchmen Street. This is when the venue comes to its own as live music fills the air and revelers steadily trickle in.
7
Walk Around The Garden District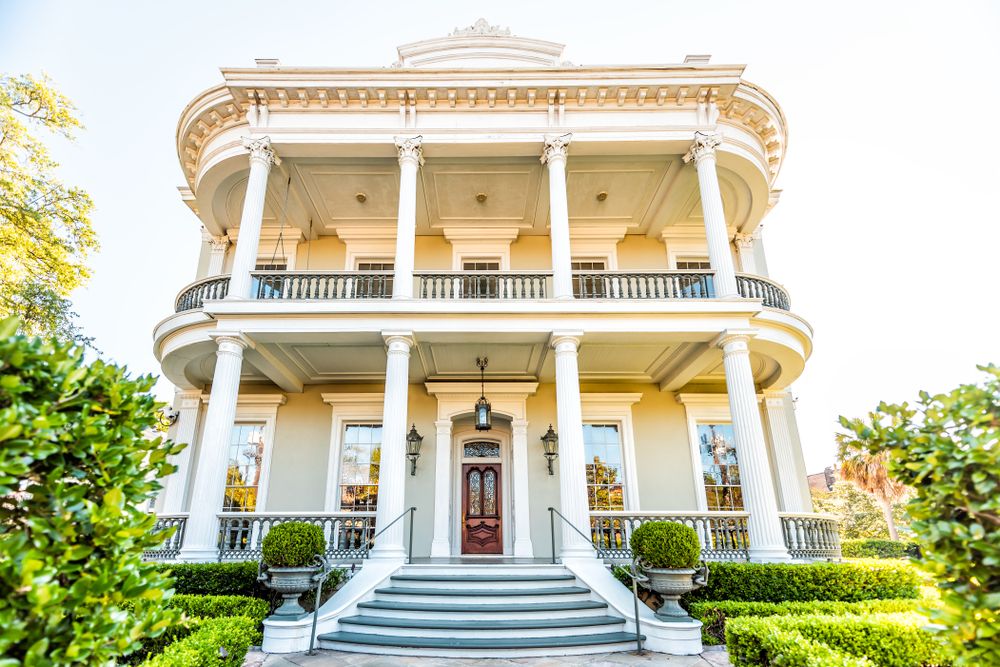 A classic yellow mansion on Old street historic Garden district in Louisiana's famous town city of New Orleans.
Located around three miles from the French Quarter, the Garden District is a quaint suburb with historic homes, well-manicured gardens, and rows of ivy trees. The laid-back, peaceful atmosphere is perfect for a relaxed stroll while admiring exquisite architecture and beautiful gardens.
It is a worthy escape from the more crowded French Quarter and easily accessible to tourists via bus or carriage. Those who want to refuel will find several cafes, shops, and restaurants like the highly-rated Commander's Palace Restaurant.
Fans of "The Curious Case Of Benjamin Button" can walk past 2707 Coliseum Street to see where the iconic movie was filmed.
8
Catch The New Orleans Jazz & Heritage Festival
New Orleans, LA: Gnarls Barkley frontman CeeLo Green performs a James Brown Tribute at the 2022 New Orleans Jazz and Heritage Festival 
This Jazz Fest celebrates New Orleans' (and Louisiana's) unique culture and heritage. The festival offers thirteen stages of music, not only jazz but also rock, funk, Caribbean, Cajun, gospel, and folk, to name a few. The festival also offers local delicacies, unique art, and second-line parades.
Considered one of the best music festivals in the country, the 2023 lineup includes hot stars like Lizzo, Ed Sheeran, Mumford & Sons, Ludacris, Leon Bridges, and many more!
Dates
: April 28-30, 2023, May 4-7, 2023
9
Marvel At The St. Louis Cathedral
nNew Orleans, Louisiana, USA at Jackson Square and St. Louis Cathedral."" data-modal-id="single-image-modal" data-modal-container-id="single-image-modal-container" data-img-caption=""Shutterstock"">

New Orleans, Louisiana, USA at Jackson Square and St. Louis Cathedral.
Originally constructed in the 1700s, the St. Louis Cathedral is the country's oldest Catholic Church in continuous use. The magnificent structure stands out in the middle of the French Quarter and is one of the most famous landmarks in the Big Easy.
The cathedral is a vital point of convergence for the Catholic faithful, visitors, and locals as it hosts various events, including services and free concerts.
The church is an architectural masterpiece that attracts admirers of its unique facade and intricate interior. The St. Anthony's Garden, just next to the church, is a great place to relax and view the Sacred Heart of Jesus statue.
Admissions
: $1 for a self-guided tour

Hours
: Open daily, 9 am – 4 pm
The St. Louis Cathedral complex also hosts a museum and the Old Ursuline Convent that charge visitors $8 for a self-guided tour.
10
Spend A Fun Family Day Out At The Audubon Nature Institute
nNew Orleans, Louisiana: New Orleans Audubon Zoo inside the Audubon Nature Institute."" data-modal-id="single-image-modal" data-modal-container-id="single-image-modal-container" data-img-caption=""Shutterstock"">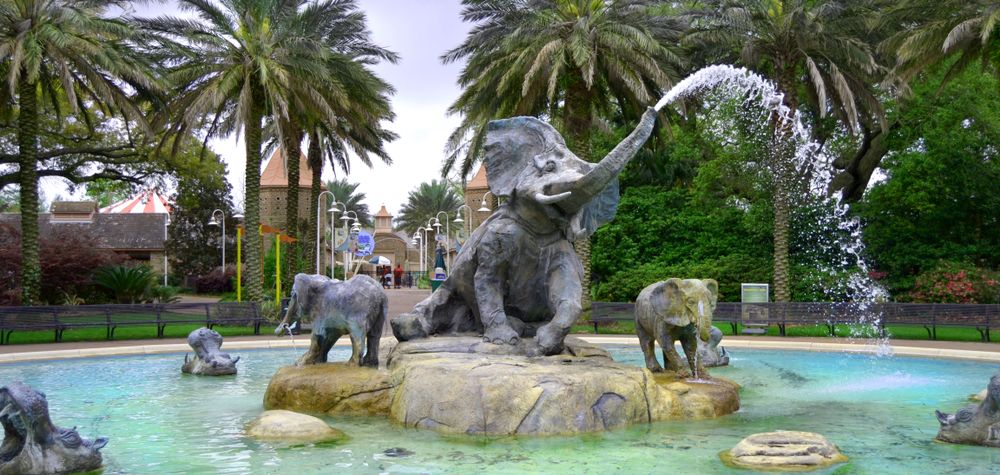 New Orleans, Louisiana: New Orleans Audubon Zoo inside the Audubon Nature Institute.