The vast, sprawling metropolis of Los Angeles is the largest city in California. If that wasn't big enough, the "City of Angels" even ranks as the second-largest city in the US, painting a clear picture of just how seriously big this place is. What LA looked like before Hollywood shot this part of the country to global fame is an entirely different realm; the city and its surrounding regions have undergone a complete transformation into a substantial urban hub filled with a diversity of attractions, neighborhoods, activities, and people.
More notably, the city is famed for being favored by movie stars, hopeful actors, musicians, budding artists (and plenty of surfers), and is thus a hive of the arts and comes with a booming social scene (and a ton of traffic, too) to match its electric, trendy vibe.
While Los Angeles is a place where dreams come true for many, it's not everybody's cup of tea. Some can't get enough of the place; others can't stand it. A lot of people — visitors and residents alike — claim it's far too big and expensive, which does put many off from ever visiting. However, those who know how to plan a trip to LA, where to go, what to do and see, and where to stay will find it's a top destination in California for tourists — not just residents.
When wondering what part of California to visit, Los Angeles always comes top. However, the key to the ultimate LA vacation is to take it at one's own pace and remove the pressure of trying to tick every tourist track off the list. As a place designed for enjoying life's pleasures, from eating and drinking to lounging on the beach and dancing the night away, a getaway to LA will show tourists that life is for living — but only if they go to the right places.
To help aspiring visitors have the time of their lives and experience the unique magic oozing from this city's every nook and cranny, this ultimate guide to Los Angeles, California, goes through everything they'd ever need to know: top LA attractions, where to stay, eat, and how much a vacation to LA costs.
UPDATE: 2023/07/04 09:21 EST BY BARRY JUMA
The Ultimate Travel Guide To Los Angeles & Southern California & Things To Do There
One article can't cover everything Los Angeles has to offer, but this piece certainly tries to cover a huge portion of this destination's wonders. This update places the things to do at center stage, and it's an attempt to do justice to the city of stars. Still, those planning to visit one of the most glamorous cities in the US will be spoiled for choice both within the city and nearby.
Things To Do In Los Angeles
The top attractions in LA range from budget-friendly to high-end purse string pullers. From shopping, partying, hiking, and checking out famous LA landmarks to beach lounging, surfing, and wining and dining, there are so many things to do in LA that visitors could easily spend several weeks exploring and still run out of time.
Still, whether one has a weekend in LA or a few months, these are some of the best things to do in Los Angeles.
Related: 12 Unique Stops To Make On A Road Trip From LA To San Diego
1
Spend The Day At Venice Beach
Cars crossing the intersection at Venice Beach in LA while pedestrians walk by
Venice Beach is one of the best beaches in California ranked by surf. It's just as popular among swimmers, sports lovers, and beach loungers as surfers, too, which is no surprise, given that it's an all-around eventful stretch of shoreline with a lot going on.
In between all the surgery, skaters, and street performers, visitors can watch entertaining street basketball games, gaze at street art, and eat and drink to their hearts' content at the diverse restaurants lining the beach.
Although Venice Beach is an amazing spot to spend the day, it does get crowded in peak season and on weekends, so it's not recommended for those looking for privacy, peace, and quiet.
Huntington Beach, Playa del Rey, and Redondo Beach are also some of the best beaches in LA. Also, Abbot Kinney Blvd is close to Venice Beach, which offers even more restaurants, bars, shops, galleries, and interesting (and often quirky) businesses to check out.
Plus, Abbot Kinney Boulevard's First Friday event is the best time to go; as its name suggests, it takes place on the first Friday of every month, when food trucks and live music performances move in and create a fun, flamboyant and flavorful atmosphere.
Tour:
Los Angeles Venice Beach walking tasting tour with Secret Food Tours

Duration:
3 hours

Cost:
From $84.53 USD per adult
2
Check Out The Getty Museum
Kimberly Fowler on
Unsplash
"">
The Getty Centery in Los Angeles
The Getty Museum houses an expansive art collection — its works predominately consist of pre-twentieth-century European pieces along with nineteenth and twentieth-century European and American photography.
Among its many masterpieces by renowned creatives, the establishment even features work by Van Gogh, Gauguin, and many other legendary artists.
First opened in 1997, the museum's exteriors are just as impressive, with its gardens, gorgeous architecture, and stunning city views
Getty Museum Price
: Free to enter (but parking costs $20)

Closed on Mondays
Tour
: Los Angeles City and Getty Museum Tour

Duration:
5 hours

Cost:
From $288 USD per adult
3
Stroll Down Hollywood Boulevard
Hollywood Boulevard is an iconic LA landmark, where street performers put on a constant show and tourists from all over the world stroll along the sidewalks.
This spot is also home to one of the most famous attractions in LA: the Walk of Fame, where over 2,700 celebrities' handprints and footprints are on show for all to marvel at and take photos.
Tour:
Hollywood Walk of Fame and Hollywood Boulevard Tour

Duration:
2 hours

Cost:
From $24 USD per adult
4
Explore Downtown LA
Olenka Kotyk on
Unsplash
"">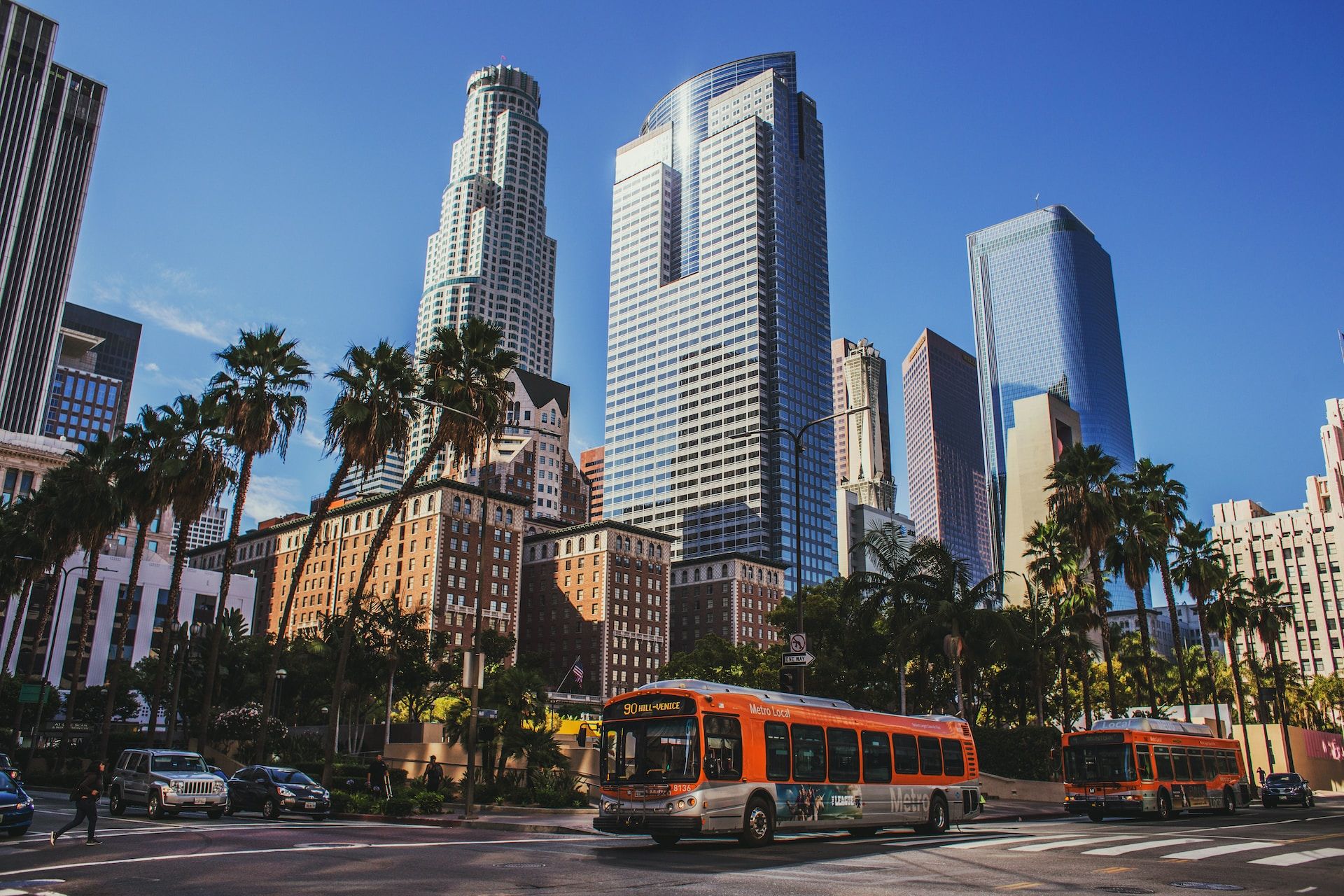 A bus in downtown Los Angeles, California
Downtown Los Angeles has always been a popular area, but in recent years, it's received new additions that have made this part of the city an even busier place with lots to experience.
One such addition is a pedestrian center, which boasts concert halls, theaters, museums, and plenty of new restaurants.
Of course, no visit downtown would be complete without checking out LA's Grand Central Market. Boasting dozens upon dozens of the best food vendors in LA, there are so many options for grub comprising cuisines from all over the world.
Tour:
Downtown Los Angeles Architecture Walking Tour

Duration:
2 hours

Cost:
From $35 USD per adult
5
Visit Griffith Park
Robin Månsson on
Unsplash
"">
Aerial view of Griffith Park in Los Angeles
Griffith Park offers excellent picnicking and hiking; its lovely trails head to Mulholland Drive and provide beautiful views of the city. However, hikes aren't the only activity popular in this park.
Visitors can enjoy the Autry Western Museum, the LA Zoo, the Griffith Observatory, a golf course, a driving range, and even pony rides.
Spanning 4,310 acres, the park also houses abundant wildlife, including coyotes, mountain lions, rattlesnakes, and more to look out for.
Tour:
Griffith Observatory Hike: An LA Tour through the Hollywood Hills

Duration:
2 hours 30 minutes

Cost:
From $35 USD per adult
6
Take A Tour Of Universal Studios Hollywood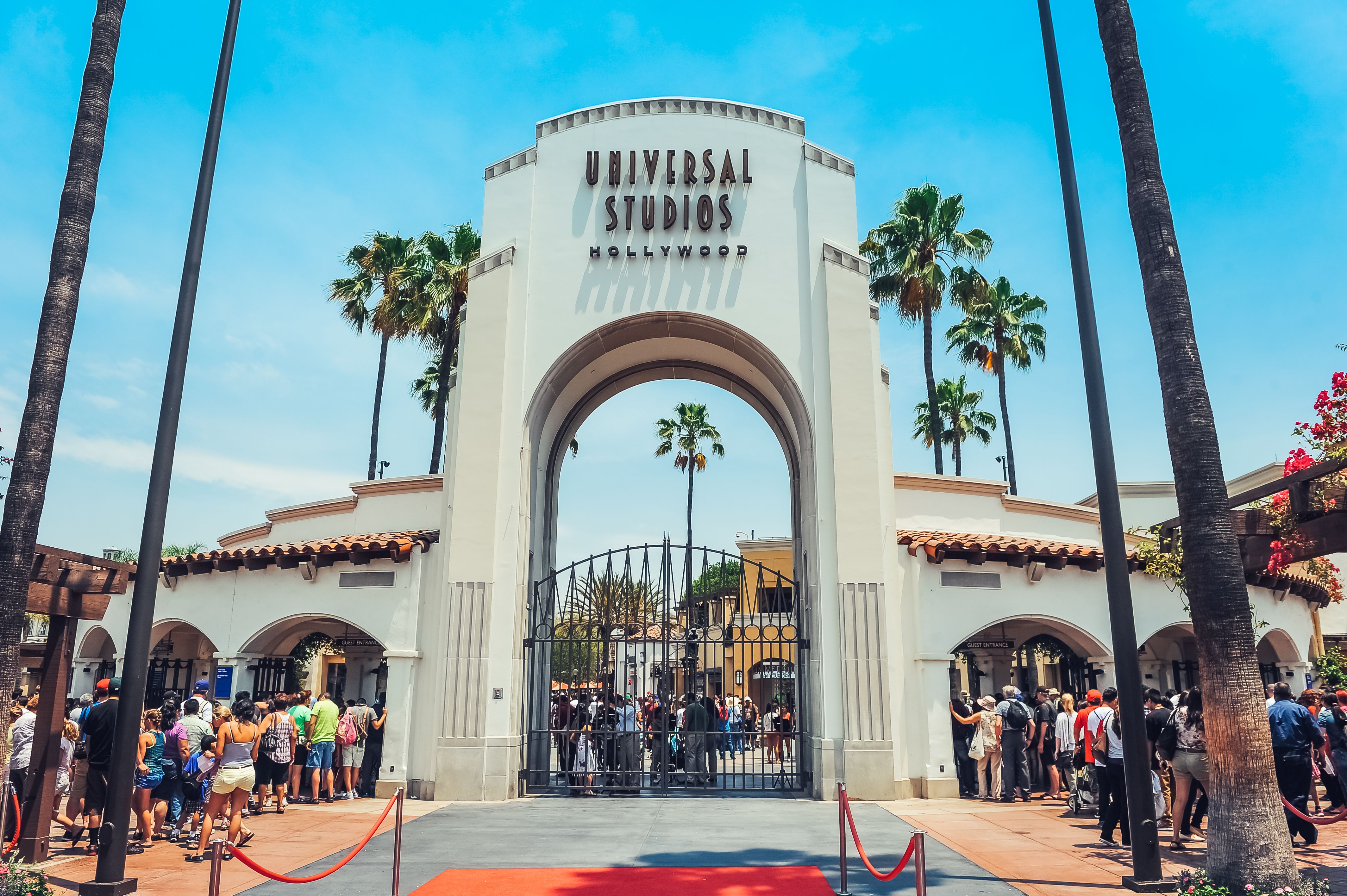 pablopicasso via Shutterstock
Universal Studios Hollywood one-day ticket price is $109. The two-day pass starts at $149
Universal Studios Hollywood is the world's only combined movie studio and theme park. The famed Studio Tour is a popular pastime, which only lasts an hour but grants an exclusive, behind-the-scenes glimpse at the Hollywood.
This tour even lets participants see real movie sets from well-known flicks, such as Peter Jackson's King Kong, the plane crash scene from War of the Worlds, cars from Fast and Furious, and the Bates Hotel from Psycho.
As for the amusement park side of the complex, there's Jurassic World, the Wizarding World of Harry Potter, numerous special effects shows, and so much more.
Tour:
Universal Studios Hollywood General Admission Ticket

Duration:
From $109 USD per adult

Cost:
8 hours
Related: 10 Beaches To Visit In Los Angeles Before Summer Is Over
7
Go Wild At Disneyland
Ame Stanko from
Pixabay
"">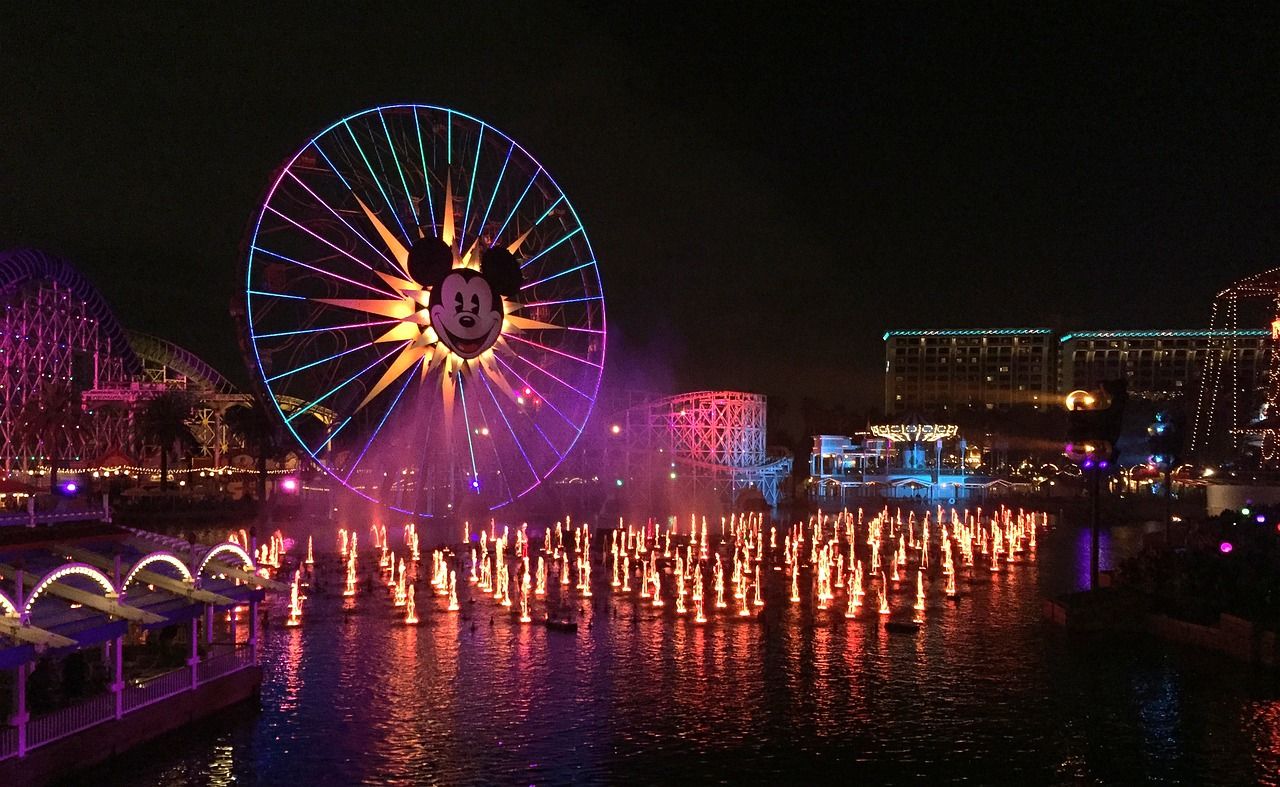 A ride at Disneyland, California
Located in Anaheim, Orange County, just outside of Los Angeles, Disneyland is the place to be if travelers wish to enjoy being a kid again. Rivaling Florida's theme parks, such as Disney and Universal Studios, this is the West Coast's answer to the biggest amusement parks in the Sunshine State.
The complex packs in so many rides and attractions, with popular rides including Star Wars: Galaxy's Edge and its Rise of the Resistance ride, Pirates of the Caribbean, Jungle Cruise, and Indiana Jones Adventure.
While it's around an hour and a half from LA, Disneyland in Anaheim is worth the venture if visitors are searching for some serious family-friendly fun and to let their inner child go wild.
Additionally, if traveling to the park from LAX, a Disneyland LAX shuttle operates the route (costing $85 for the first passenger and $10 for every extra person), affording park-goers the utmost convenience logistics-wise.
Disneyland Anaheim tickets start at $104
8
Party On Sunset Boulevard
Cedric Letsch on
Unsplash
"">
The sunset behind a street sign for Sunset Boulevard
Sunset Boulevard first started life as a commuter route between the star-stuffed neighborhoods and all the film studios in and around Hollywood. Now, it's more than that; it's one of the most famous streets in the world, stretching from downtown to the ocean.
Sunset Blvd passes through the world-famous Sunset Strip, with no lack of movie studios and trendy beaches along the way. This place is a top spot for celebrity spotting, too; simply driving through and keeping an eye out for famous faces is a fun activity in itself.
9
Visit Santa Monica Pier
Venti Views on
Unsplash
"">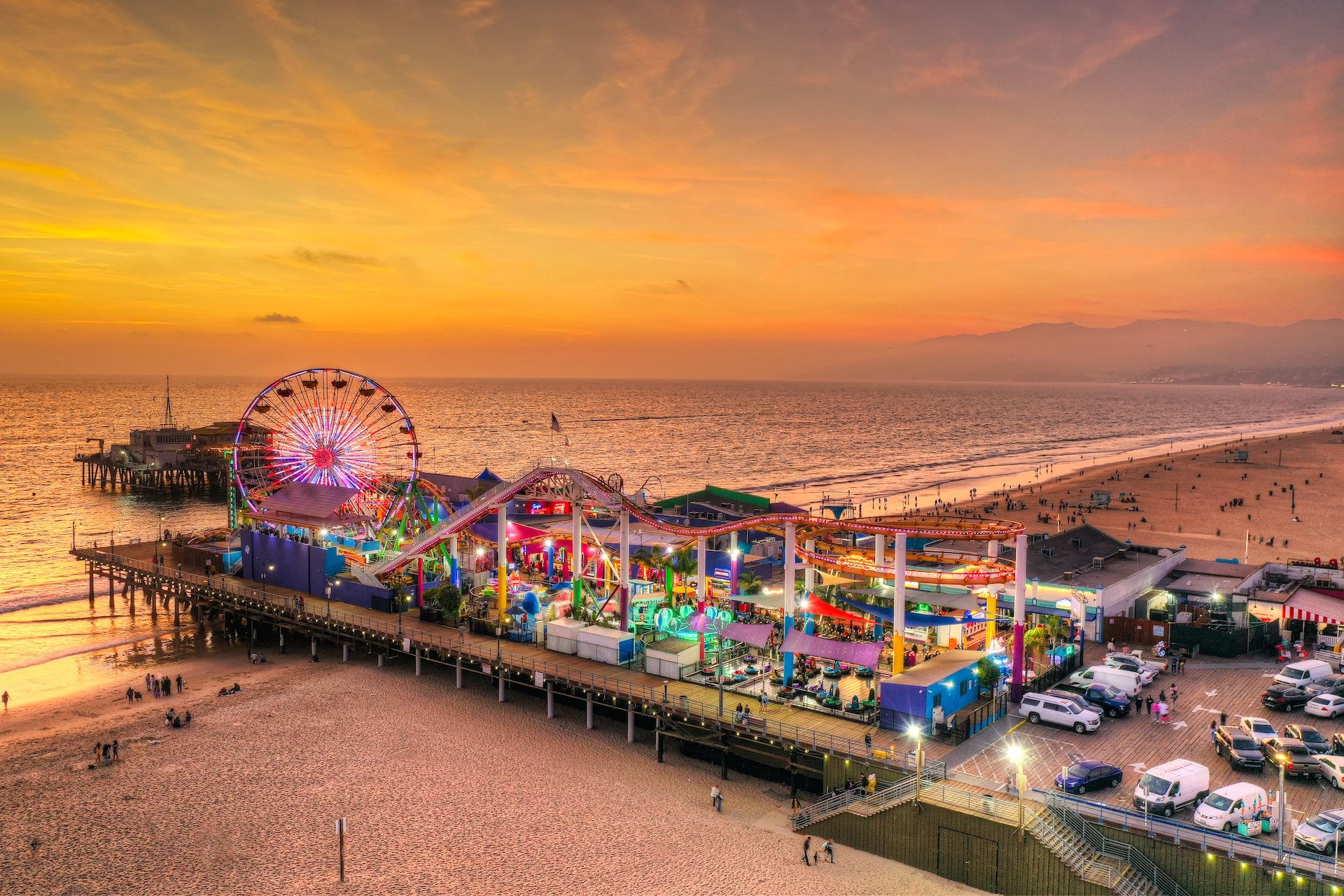 The Santa Monica Pier at sunset
Constructed in 1909, The Santa Monica Pier is one of the most famous spots in LA and promises a fun few hours for all the family.
Located right on the beach, this spot boasts a vibrant, energized carnival vibe and is chock-full of rides, food stalls, an arcade, and carnival games, and plenty of shops.
Explore Santa Monica Pier to see precisely why this long-loved spot in Los Angeles has remained a local and tourist favorite for years.
Address
: 200 Santa Monica Pier, Santa Monica, CA 90401, United States
10
Explore The Historic Old Town Pasadena

The old downtown Pasadena is only around ten minutes from Los Angeles. Extending 22 blocks, the pedestrian area is a National Register Historic District (under the National Register of Historic Places) and offers myriads of restaurants and boutique stores.
It's also fantastic for nightlife and is pretty popular among LA's young people who come for a night out on the town.
Though fashionable youngsters enjoy this area, it's enjoyed by all ages and remains a great hang-out spot, dining destination, and shopping hub.
Related: This Is The Best Beach Route To Skate In Los Angeles
11
Visit Huntington Library
Yael Hofnung on
Unsplash
"">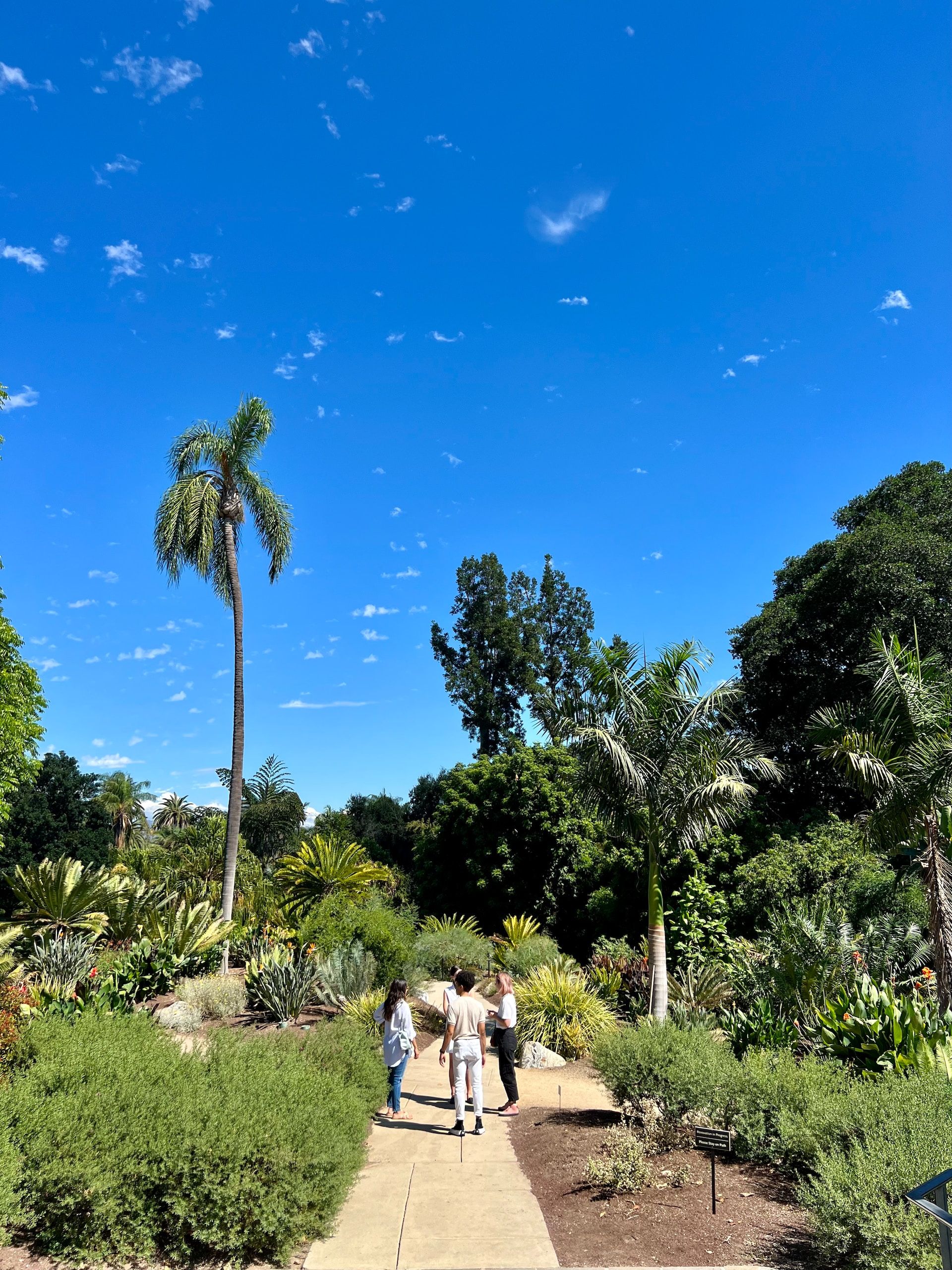 Gardens at Huntington Library
Situated nearby Pasadena, this library looks elaborately beautiful from the outside and in, with its ornate architecture, sublime interiors, as well as its magnificent gardens — which include Chinese and Japanese gardens (the latter worthy of being one of the most tranquil Japanese gardens in the US to visit in spring).
Of course, this isn't merely a breathtaking building with exquisite grounds; it's an enriching establishment overflowing with knowledge. In fact, the library houses some super rare, valuable books, one being a copy of The Canterbury Tales from the fifteenth century, as well as a fourteenth-century Gutenberg Bible in the main exhibition hall.
Huntington Library ticket price: $20 (note that Huntington Library tickets cost $29 on weekends)
Huntington Library hours: 10 am – 5 pm (closed on Tuesdays)
12
Go Hiking
Tomás Sala on
Unsplash
"">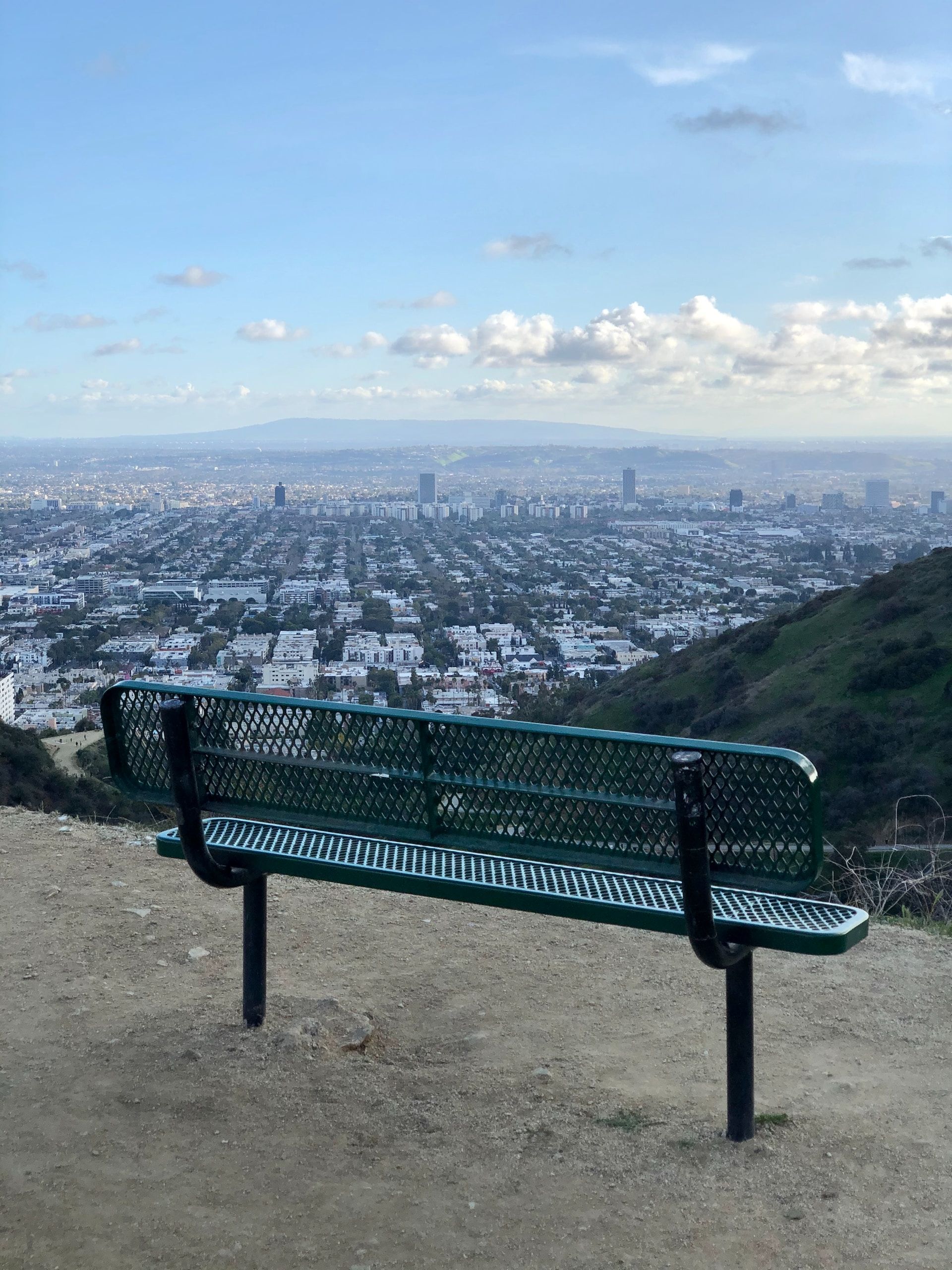 A bench in Runyon Canyon Park
Running and hiking trails in LA are abundant; however, one of the most famous among residents and tourists is Runyon Canyon.
This area offers plenty of marked trails, with some of the easiest for beginners, including Fryman Canyon Park (2.5 miles), Los Liones Trail (3.5 miles), and Caballero Canyon (3.4 miles).
13
View The World-Famous Hollywood Sign
Jeremy Bishop on
Unsplash
"">
A view of Hollywood from behind/above the Hollywood sign
Visitors can hike to the iconic Hollywood sign via Griffith Park trails, which are open during daylight hours from sunrise to sunset.
Three trails (which take around a couple of hours or so) lead hikers to the sign, with the easiest being the Mt Hollywood Trail, followed by the Brush Canyon Trail and the Cahuenga Peak Trail, which are a little more strenuous.
The effort is worth it, though; panoramic views of Hollywood can be enjoyed from the sign — and, for that reason, the best time to visit the Hollywood sign is said to be sunset.
Tour:
The Official Hollywood Sign Walking Tour in Los Angeles–FREE WATERS and PHOTOS

Duration:
2 hours 30 minutes

Cost:
From $25 USD per adult
14
Feed The Mind At The California Science Center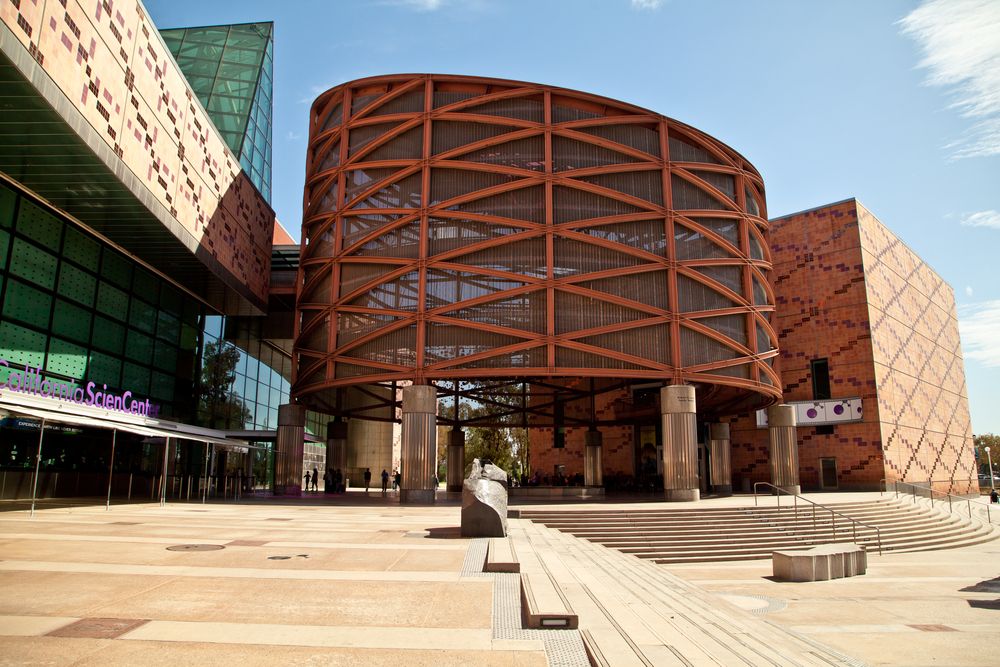 The California Science Center in Exposition Park
The family-friendly California Science Center is a treasure trove of educational exhibits covering a wealth of different niches. From space and aviation to biology, nature, and ecosystems (with river, forest, and island habitat exhibitions), guests can enjoy feeding their brains and eyes at this fascinating center of knowledge and research.
Although entry is free of charge, special exhibits and IMAX movies do require payment — usually anywhere from $10 to $20.
California Science Center ticket price: Free (but parking costs between $15 and $20)

Tour:
Hollywood, California Science Center, and the Griffith Observatory from Anaheim

Duration:
9 to 10 hours

Cost:
From $119 USD per adult
Related: A Flight To The Stars: Take This Celebrity-Themed Helicopter Ride Over Hollywood
15
Party In Echo Park And Silver Lake

Echo Park, Silver Lake, and the adjacent neighborhood of Los Feliz offer a constant party. These parts of Los Angeles are known for their hipster culture, trendy dive bars, and cool dining outlets that make for an awesome night on the town.
If partying sounds a little too much, though, visitors might enjoy a relaxing paddle boat ride on the lake instead.
16
Visit The Los Angeles County Museum of Art
Baron Alloway on
Unsplash
"">
Exterior view of the Los Angeles County Museum of Art
The LACMA is the largest museum in the western United States and contains a humongous collection of artworks, including modern art and older masterpieces by coveted artists, such as Rembrandt, Ansel Adams, Magritte, and Cézanne.
In addition, the museum houses ancient works from all across the globe, including Roman, Greek, and Egyptian sculptures.
17
Visit The Grammy Museum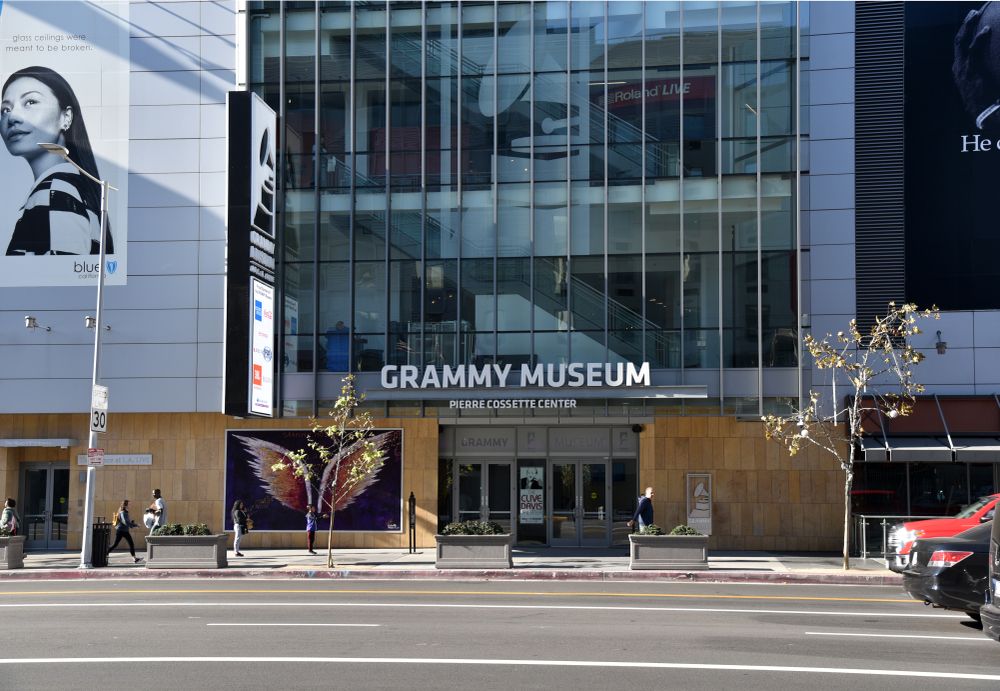 Exterior of the Grammy Museum building
Exhibitions, interactive experiences, costumes, movie artifacts, and a roster of films awaits at the famous Grammy Museum, which takes visitors through the entire timeline of the music industry and its history, along with previous Grammy winners' career stories.
Grammy Museum ticket price: $18
18
How Much Does A Trip To Los Angeles Cost?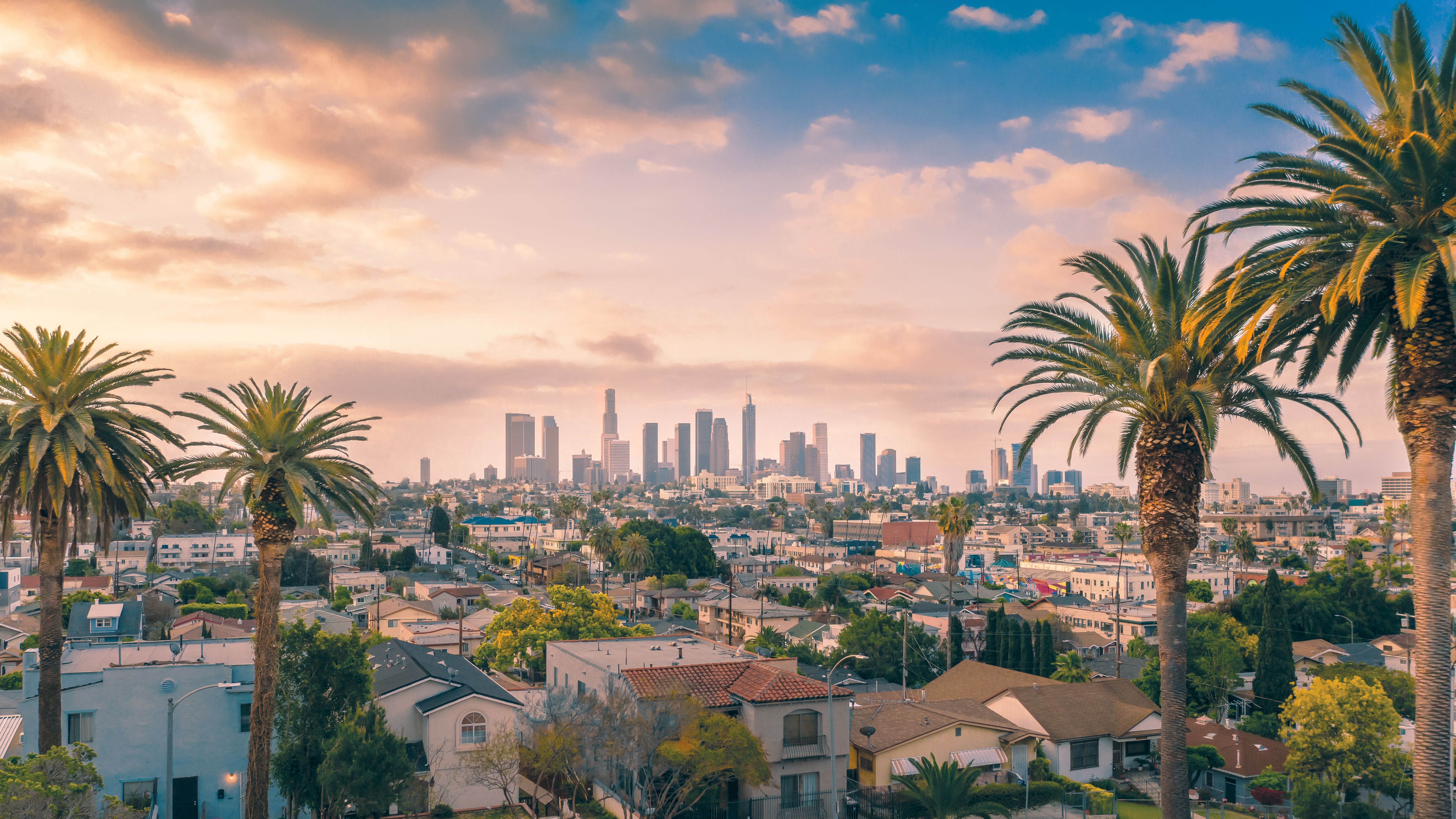 The Los Angeles cityscape with palm trees and buildings amid a hazy sunset/sunrise sky
According to ChampionTraveler, the average price for a week spent in Los Angeles is just under $2,000 for a solo traveler, while that total sits at a little over $3,500 for a couple, and $6,700 for a family of four.
On average, hotels in Los Angeles range from $70 to $300 a night, and most vacation rentals are priced at anything from $250 to just over $1000 per night for a full home.
Up next, the following sections offer a deeper insight into the costs of visiting Los Angeles, from hostel and budget hotel prices to food and drink and backpacking estimates.
LA Hostel Prices
The prices of hostels in LA vary, depending on which part of the city visitors stay in. Fortunately, prices don't fluctuate too much throughout the year, but they aren't on the cheap side — yes, even for a hostel.
Dorm rooms in LA range from $30 to $50 as a starting point and can even be as high as $80 to $100 for those on the more upmarket side. A basic private hostel room with an ensuite bathroom is typically priced at around $80 to $120 a night, with most offering free Wi-Fi and a shared kitchen area for self-catering.
LA Budget Hotel Prices
Joel Muniz on
Unsplash
"">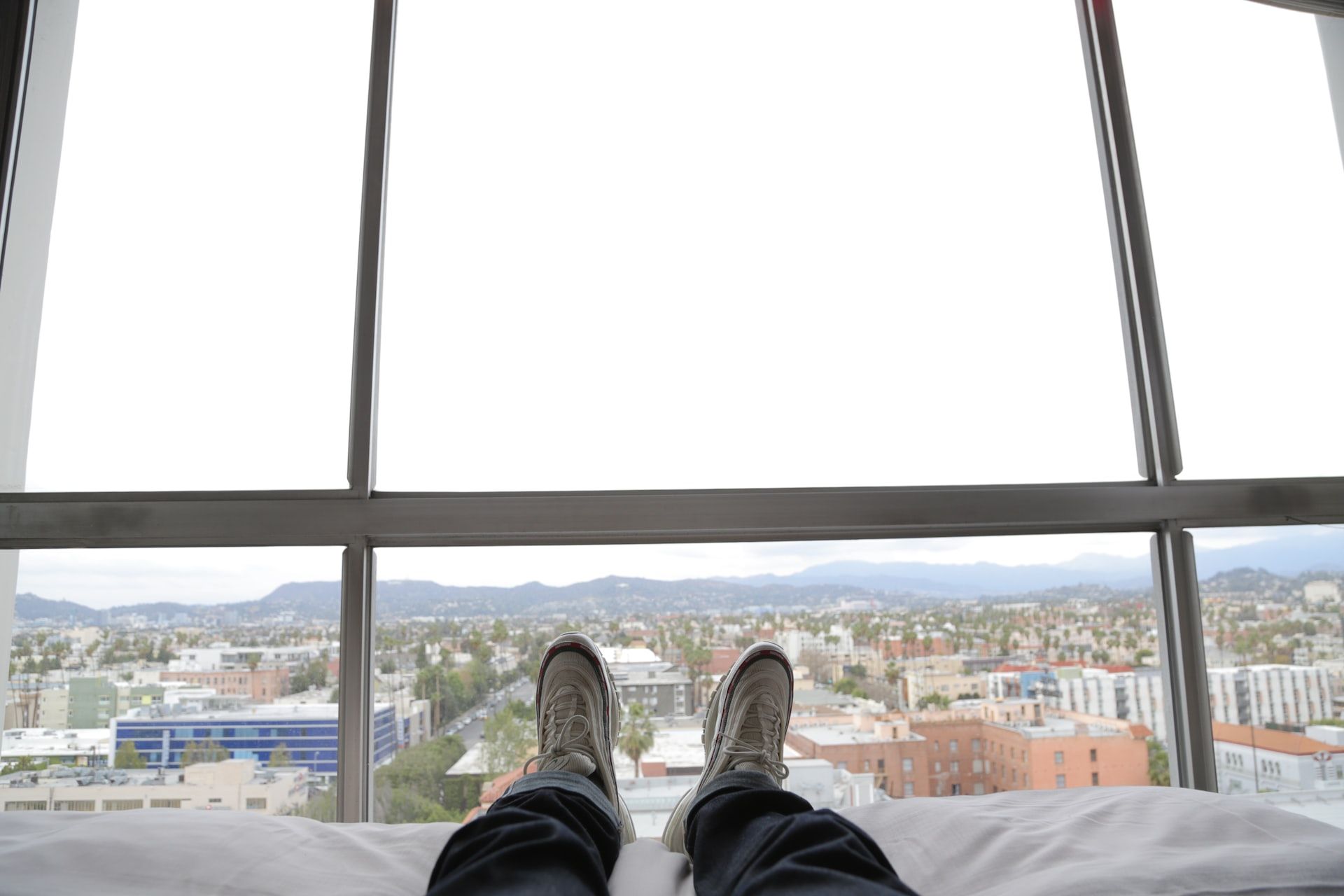 View out of the Line Hotel in Los Angeles
The average budget two-star hotel room in LA costs roughly $100 a night. These rooms are very basic but comfortable, usually including free Wi-Fi, a TV, and air-conditioning.
Airbnb Prices in LA
Travelers who prefer Airbnbs are in luck; there are plenty of Airbnbs in Los Angeles to suit all budgets.
A basic private Airbnb room on the lower end starts at about $85 to $95 a night, while vacation rental homes and apartments can be booked for around $150 to $180 per night at a starting point.
However, these prices can double if booked last minute; therefore, reserving Airbnbs well in advance is a must in order to save big bucks.
Related: Adrenaline Junkies Only: 10 Bold Things To Do In Los Angeles
Food Prices in LA
Los Angeles is a foodie's heaven! Luckily, even for travelers on a budget, it doesn't cost an arm and a leg to get affordable and good street food in LA. This city is where food trucks, street vendors, and unique eateries proliferate, so options are seemingly endless.
Plenty of street grub and fast food options can be found for under $10; for example, hungry visitors can bag a hearty sandwich or a McDonald's for around $10 or tacos for $3 to $6.
As for restaurants, laid-back, casual dining outlets charge around $15 to $20 for a main course, while a three-course sit-down meal will range from $55 to $80, depending on the establishment.
When it comes to drinks, beer costs approximately $8 to $10, bottled water costs around $2 to $3, and coffee will be around $5.
Travelers who don't eat out and prefer to cook instead will find they'll spend between $50 to $90 a week on groceries, which will be enough for essential items like rice, pasta, bread, vegetables, and affordable meats.
Los Angeles Backpacker Budget
Backpacking in Los Angeles is a popular option among travelers exploring the West Coast.
On a low-end budget, travelers can expect to spend between $70 to $80 a day, which should cover a basic hostel dorm room, cooking for oneself (no dining out or drinking), public transportation, and free LA attractions and activities, such as exploring hiking trails and visiting beaches.
Related: Follow These Tips To Have A Non-Touristy Los Angeles Vacation
A mid-tier budget for LA is around $200 a day, which includes more comfortable accommodation in a private hostel room or an Airbnb.
This budget level also enables travelers to dine out for most meals, have a few drinks, utilize a taxi or two, and enjoy some of the pay-for activities in LA, such as attending Disneyland for the day, visiting LA museums, or catching a theater show or a concert.
A high-end budget for LA will be at least $400 a day. For this amount daily, travelers can stay in a hotel, eat and drink out anywhere they please, take taxis or rent a vehicle, and sample all the activities, attractions, and tours in LA they so desire.
Still, this budget is only the low end of the high end; a heftier daily budget will get travelers even greater luxury and experiences.
19
Where To Stay In Los Angeles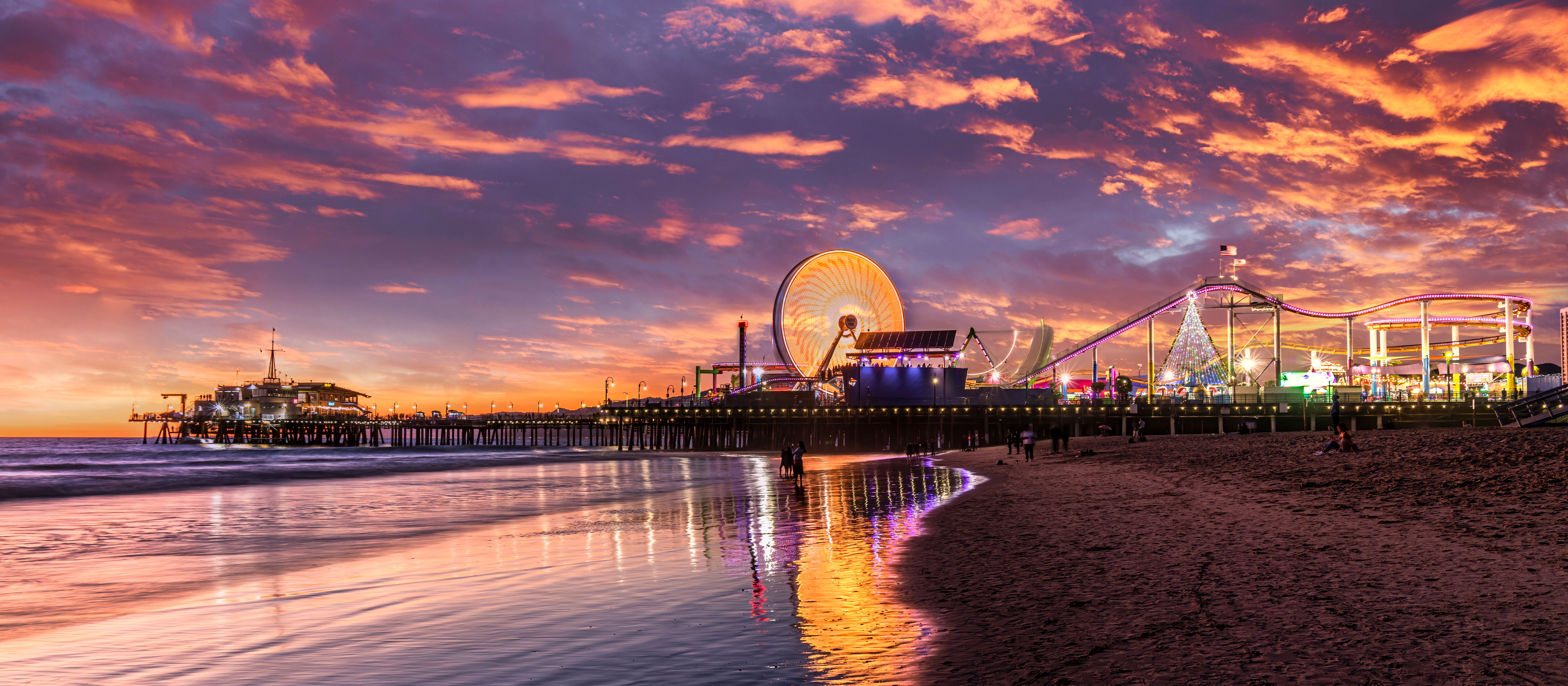 Pier on Santa Monica Beach, California during sunset
Ultimately, the top LA neighborhoods to stay in truly depends on travelers' preferences, style, what they intend to do and see, their budget, and also each area itself in terms of what it offers.
With those factors in mind, here's an in-depth rundown of some of the most famous neighborhoods and best places to stay in LA, along with accommodation suggestions for each based on three budget levels: budget, mid-range, and luxury.
What Are The Best Hostels In LA?
Before getting into the best places to stay in LA in each neighborhood, knowing some of the top hostels in LA is ideal for backpackers since most are on a tight budget.
For folks looking to stretch their funds without skimping on a good time, checking out the best hostels for backpackers in SoCal (top-rated SoCal hostels, at that) is a wise idea.
Related: The Ultimate List Of Dos & Don'ts When Staying In A Hostel
On the other hand, the following list of top-rated hostels in LA is based on traveler needs and preferences — which one sounds ideal for that dream trip in the City of Angeles?
20
What Are The Best LA Neighborhoods To Stay In?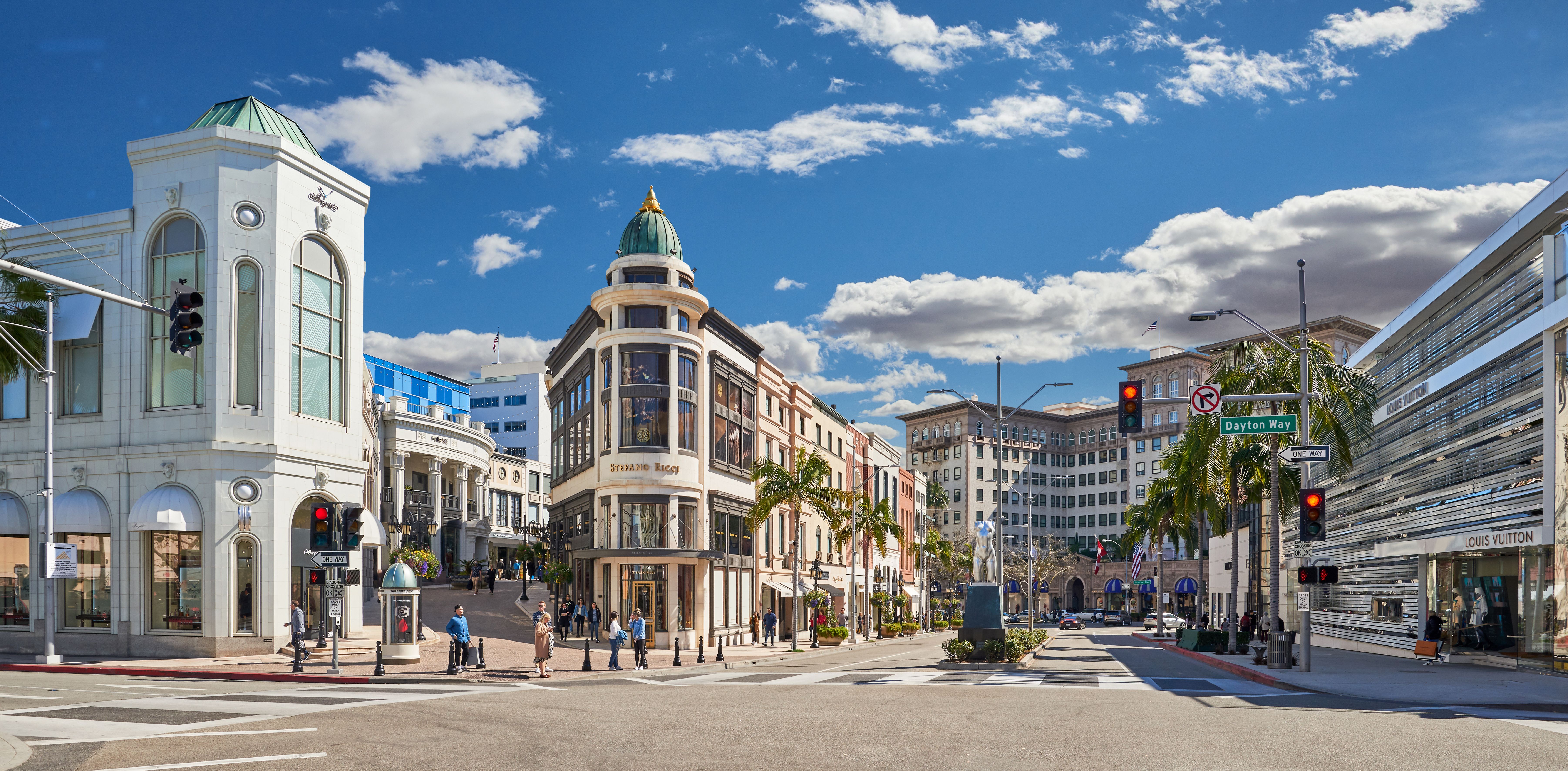 Best Place To Stay In LA For The Celebrity Experience: Beverly Hills
Beverly Hills translates to rich and famous; it's the home of many of the world's A-listers, so it's no surprise some of the USA's most luxurious hotels, mansions, and restaurants bustle in this globally famed neighborhood.
Even if travelers don't stay in Beverly Hills, visiting Rodeo Drive lets everyone feel like a celeb for the day and walk among the one percent; this spot is lined with some of the world's most expensive luxury stores and boutiques, which command a pretty penny but, of course, don't cost anything to look around.
If visitors dream of staying in Beverly Hills — no matter their budget — there are a few options:
Related: 10 Super Unique Los Angeles Hotels To Book
Best Place To Stay In LA For Budget Travelers: Venice Beach
Venice Beach is the beach destination in LA, where miles of wide-open sandy shores beckon sun-chasers and surfers. The area's iconic promenade also makes the place an incredible day out, flanked by shops and stalls selling all kinds of goodies, from food and souvenirs to clothing, trinkets, and gifts.
As one of the top spots in LA for tourists (and residents, too), Venice Beach and its promenade are also stocked with hotels and hostels to suit all budgets and preferences.
With that in mind, the following options offer some of the best accommodations in Venice Beach:
Best Place For First-Time Visitors In LA (For The Quintessential Hollywood Experience): West Hollywood
Nathan Dumlao on
Unsplash
"">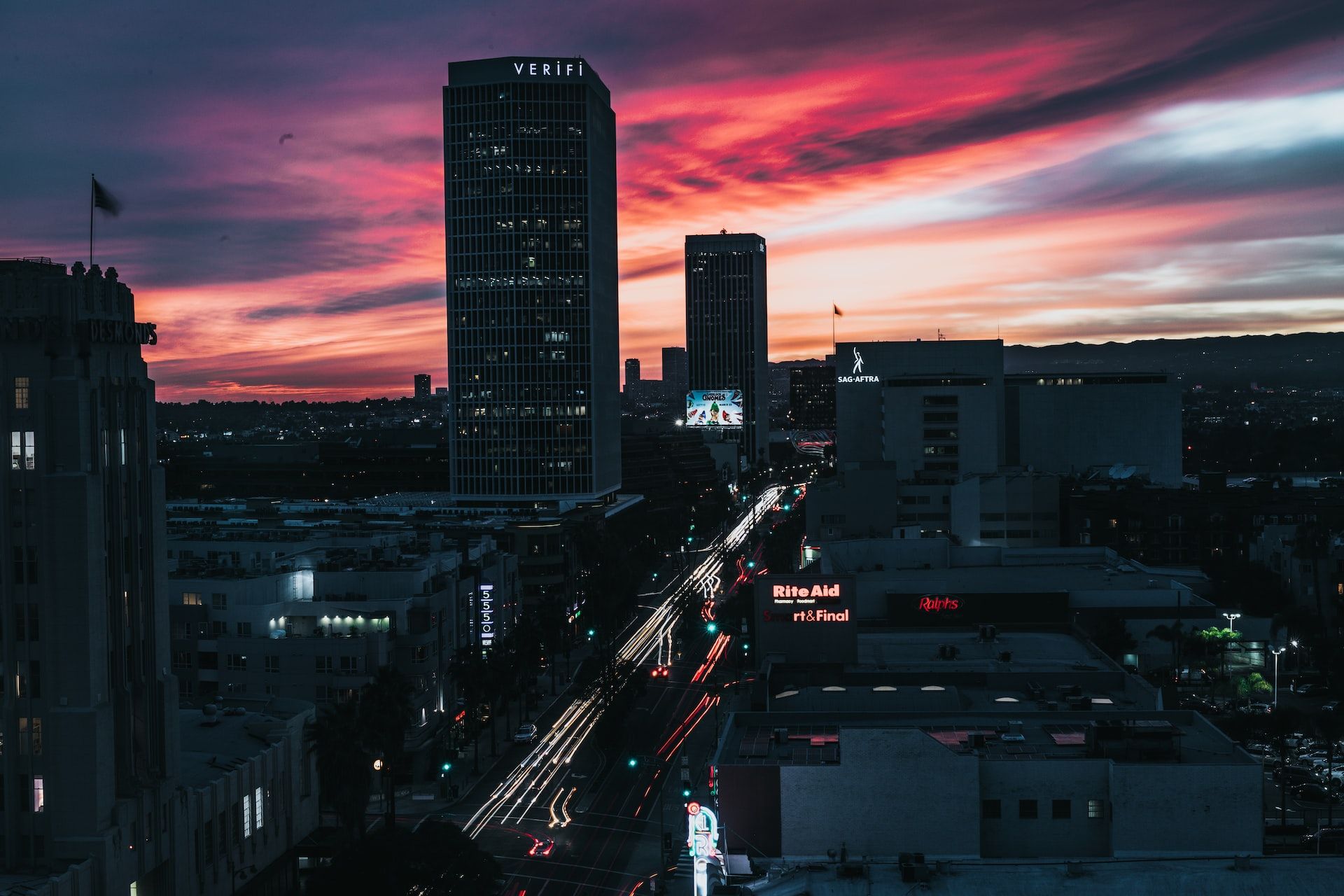 West Hollywood at night
West Hollywood is the epitome of Los Angeles as it's portrayed in the movies.
Most visitors whose experience of LA comes from the big screen will resonate with this part of California, with its famous Sunset and Hollywood Boulevards, the Walk of Fame, movie studios, and streets decorated with palm trees all under the LA sun.
This part of the city isn't the most affordable; however, it's perfect for first-time visitors seeking the signature Los Angeles experience, as it's central to almost anything and everything tourists want to do and see during their vacation. Here are some of the best places to stay in West Hollywood:
Best Place To Stay In LA For Families: Santa Monica
Nestled by the Pacific Ocean, Santa Monica is the perfect family-friendly destination in Los Angeles and is often considered one of the safest areas.
The gorgeous beach makes for the ideal day out, enjoying water activities and sunbathing, while the nearby pier offers even more entertainment, such as stalls and amusement park rides.
Santa Monica's Third Street Promenade is also a fun place to check out; it comprises numerous blocks of pedestrian streets full of restaurants, coffee shops, and all kinds of shops and stalls. The following picks are some of the best places to stay in Santa Monica:
Best Place To Stay In LA For The Arts And Culture: Downtown Los Angeles
Downtown Los Angeles (sometimes referred to as DTLA) used to be off the tourist map; synonymous with crime and the home of the infamous skid row, it was a troubled part of the city and remained a no-go for the most part. There wasn't much to do or see in this part of LA, either, which didn't help its appeal.
However, over the last couple of decades, LA's downtown has undergone an overhaul and transformed its reputation. Now, it offers an array of fancy hotels, trendy cafés and restaurants, epic cocktail bars, and popular artistic establishments — such as The Museum of Contemporary Art, the Broad Museum, and the Disney Hall concert venue.
If nightlife, the arts, and culture are of focus, then downtown LA deserves a chance to impress. For those interested, here are some of the best places to stay in downtown LA:
Related: 8 Things You Shouldn't Miss When Visiting Los Angeles