Fort Myers may not be as popular as Florida's larger cities like Miami, Orlando, or Tampa, but it still boasts a reputation for being a major tourist destination. In fact, according to the official Fort Myers city website, this city welcomes about 5 million visitors annually, which is no mean feat.
And, there's a reason why 5 million people troop to Fort Myers each year: the weather, the beaches, the serenity, the nightlife, the perks go on and on. It's also one of the cheapest places to visit in Florida.
UPDATE: 2023/06/29 18:35 EST BY NOAH STAATS
There Are More Things To Experience In Fort Myers, Florida!
This article has been refreshed with four new destinations for tourists to Fort Myers, as well as tips for a successful vacation to the Sunshine State. Whether visitors prefer to sit back and enjoy a park, watch a show, or stroll around the downtown area, Fort Myers is a hidden gem that every traveler will love.
Things To Do
This ultimate travel guide to Fort Myers has all a traveler needs to know about visiting this Southwest Florida destination, from the best time to visit and the top things to do. There are tons of things to do in Fort Myers; here are a few highlights.
1
Watch A Game At JetBlue Park
Sunset at Fort Myers Beach
Something to do while in Fort Myers, Florida, is heading down to JetBlue Park. Here, tourists can visit the baseball field, part of the Fenway South training and development facility. This is a major draw for sports fans throughout Florida and is the perfect daytime event for families.
The stadium section of the park fits nearly 11,000 people, making this a major sports complex in Fort Myers. There are seasonal events held here, as well as weekly games.
Fun fact: this sports complex cost roughly 77.9 million to build, becoming one of the more expensive in the state.
Address
: 11500 Fenway South Drive, Fort Myers, FL 33913
2
Take A Stroll Through Centennial Park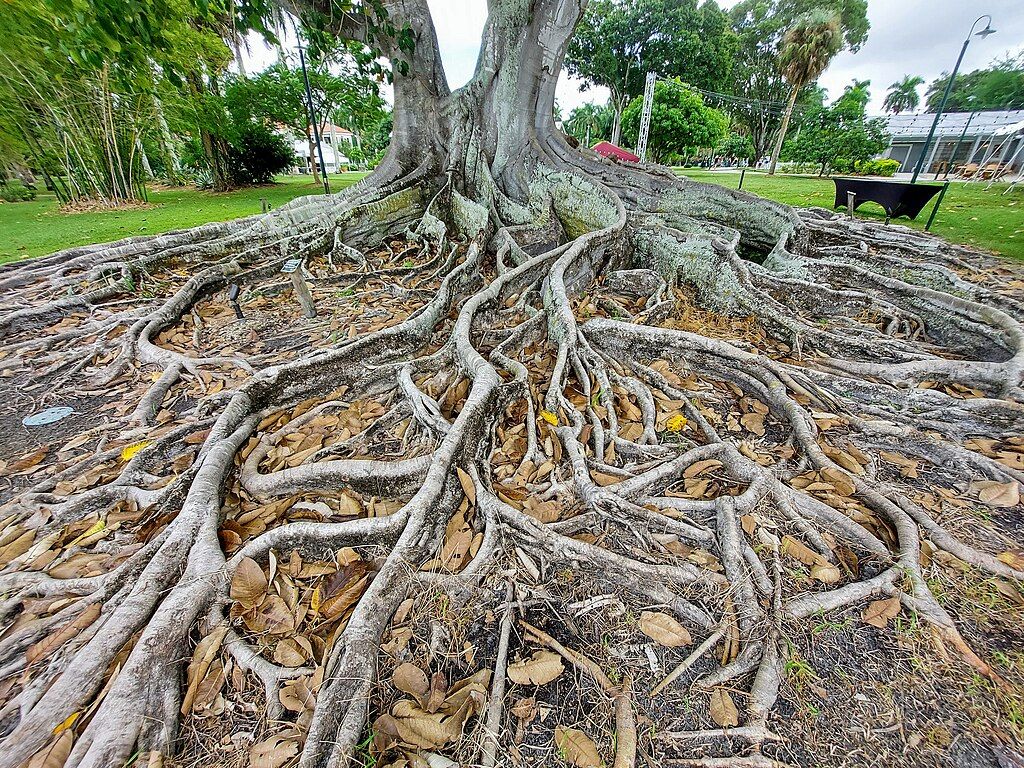 Banyan tree at park in Fort Myers
The next sight to experience in Fort Myers, Florida, is Centennial Park. Here, guests of the city can enjoy a stunning 10-acre park on the banks of the Caloosahatchee River in Downtown Fort Myers.
After a long day in the city, this is the perfect spot to unwind and watch the sunset. Notably, locals gather here for sunset and nature watching, as well as for community events throughout the year. For people wanting an authentic Fort Myers experience, Centennial Park is a nice choice.
It's also worth noting that this public park is free to enter and has parking. The only thing someone needs to be concerned with is if there will be open parking spots during prime weekend or evening hours, so it might be better to Uber, Lyft, or take a taxi.
Address
: 2000 W First St, Fort Myers, FL 33901

Hours
: Open daily from 6 am to 10 pm
3
Enjoy A Peaceful Afternoon At Lakes Park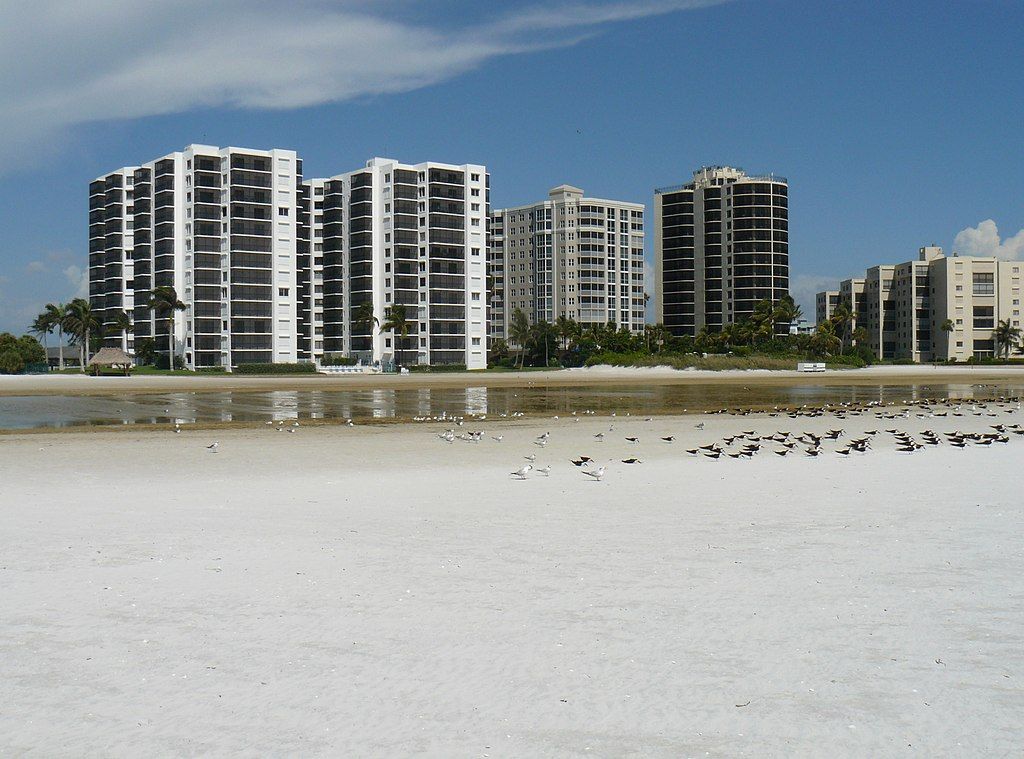 Panoramic shot of Fort Myers Beach
Another park to visit in Fort Myers is Lakes Park. This public park boasts lakes that cover 158 acres of the 279-acre facility and was purchased by Lee County in 1978. Notably, this property features a playground for the kids, along with benches, pavilions, and restrooms.
Location-wise, tourists can locate this park just south of Fort Myers, within the Lee County lines. The park gets its name because of the various artificial lakes throughout, which many people watch wildlife enjoy.
This is a top attraction for afternoons in the city.
Address
: 7330 Gladiolus Dr, Fort Myers, FL 33908

Hours
: Open 24 hours
4
Watch A Show At The Florida Repertory Theatre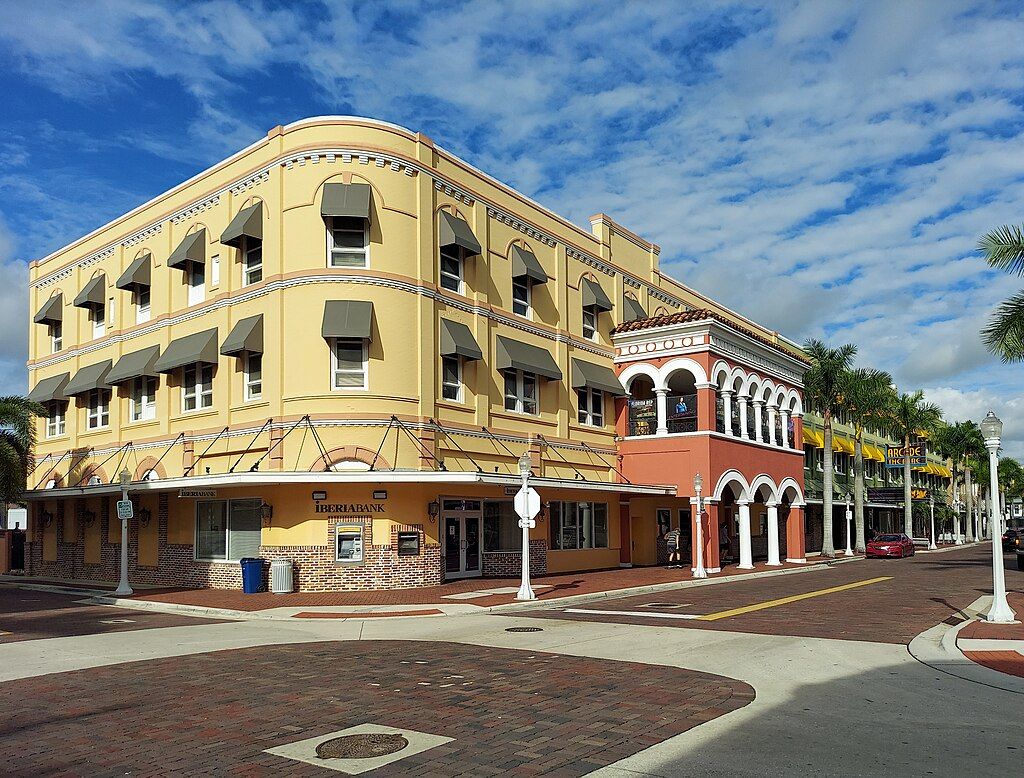 Downtown Fort Myers, Florida
The next stop in Fort Myers, Florida, is the famed Florida Repertory Theatre, an award-winning regional theater located in the heart of the city. Here, visitors can get tickets to shows put on by locals and performers from other states, varying throughout the year.
Notably, this location has been featured by Forbes and consistently ranks among the best theaters in the state. Regardless of age, this is a nice way to culture oneself while in Fort Myers, as well as a nice way of escaping the heat.
It's recommended to check out their website before heading over and purchasing any tickets online prior to arrival. They are known to sell out shows!
Address
: 2268 Bay St, Fort Myers, FL 33901
5
Visit Six Mile Cypress Slough Preserve
A Great White Egret at the Six Mile Cypress Slough Preserve
This attraction is 3,500 acres of wetland with a 1.2-mile (1.9-kilometer) boardwalk that cuts through the cypress swamp. This serene spot is home to alligators, turtles, and otters, as well as different bird species.
There's also a nature center on site, the perfect place to learn about Florida's flora and fauna population.
Address
: 7751 Penzance Blvd, Fort Myers, FL 33966

Hours
: Open daily from 7 am to 8 pm
There will be wild animals in this preserve, including crocodiles, so it's recommended to keep small children close by. Although attacks are not common, wild animals should not be touched or fed. Follow all posted rules throughout the nature preserve.
6
Explore Manatee Park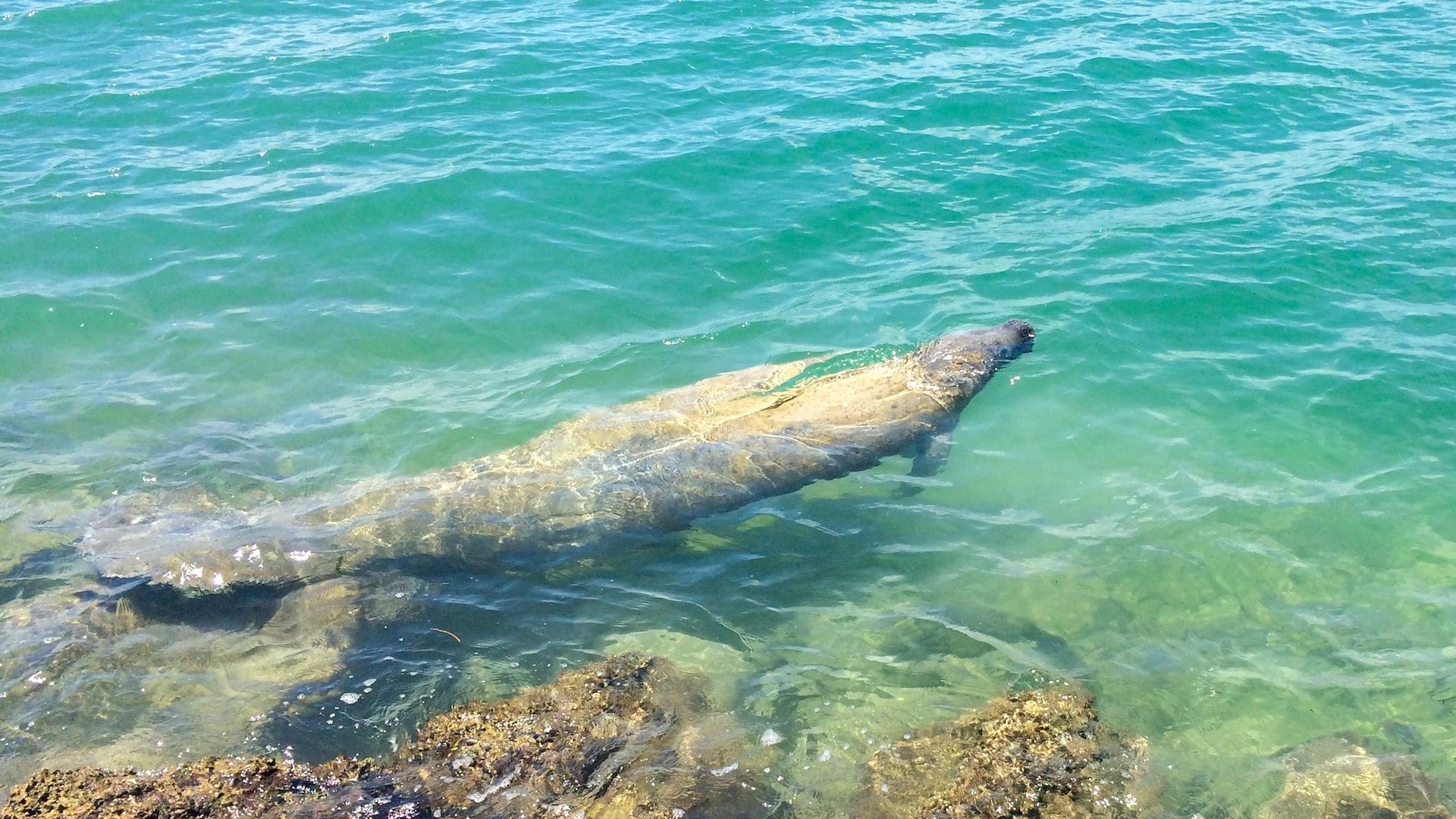 Manatee in water
Southwest Florida is known for its manatee population, and the best place to learn about these fascinating creatures is Manatee Park. There's a trail that cuts through the park, showcasing Florida's native plants.
However, the main attraction is the manatees, and they can be viewed from lookout points found along a concrete walking path. And if a visitor wants to get closer, there are kayaks available for rent, allowing them to go on the river.
The best time to visit Manatee Park is during the colder months, from November to March. It's also worth noting that manatees should not be touched by guests of this city, as they are wild animals. Try to keep an appropriate distance between yourself and the creatures.
Address
: 10901 Palm Beach Blvd, Fort Myers, FL 33905, United States

Hours
: 8 am – Sunset (daily)
7
Go On A Kayak Excursion
Boats docked at the Fort Myers Beach, Florida
Fort Myers is not short of spots where tourists can enjoy Kayaking. Bunche Beach is one such place, offering the opportunity to admire the area's biodiversity on a guided kayak tour. Travelers can also head to Estero Bay or sign up for a guided kayak tour in Pelican Bay.
Tour:
Guided Kayak Eco Tour – Bunche Beach

Duration:
2 hours 30 minutes to 3 hours

Cost:
From $79.95 USD per adult
8
Experience Parasailing
nImage by
Paul Brennan
from
Pixabay
"">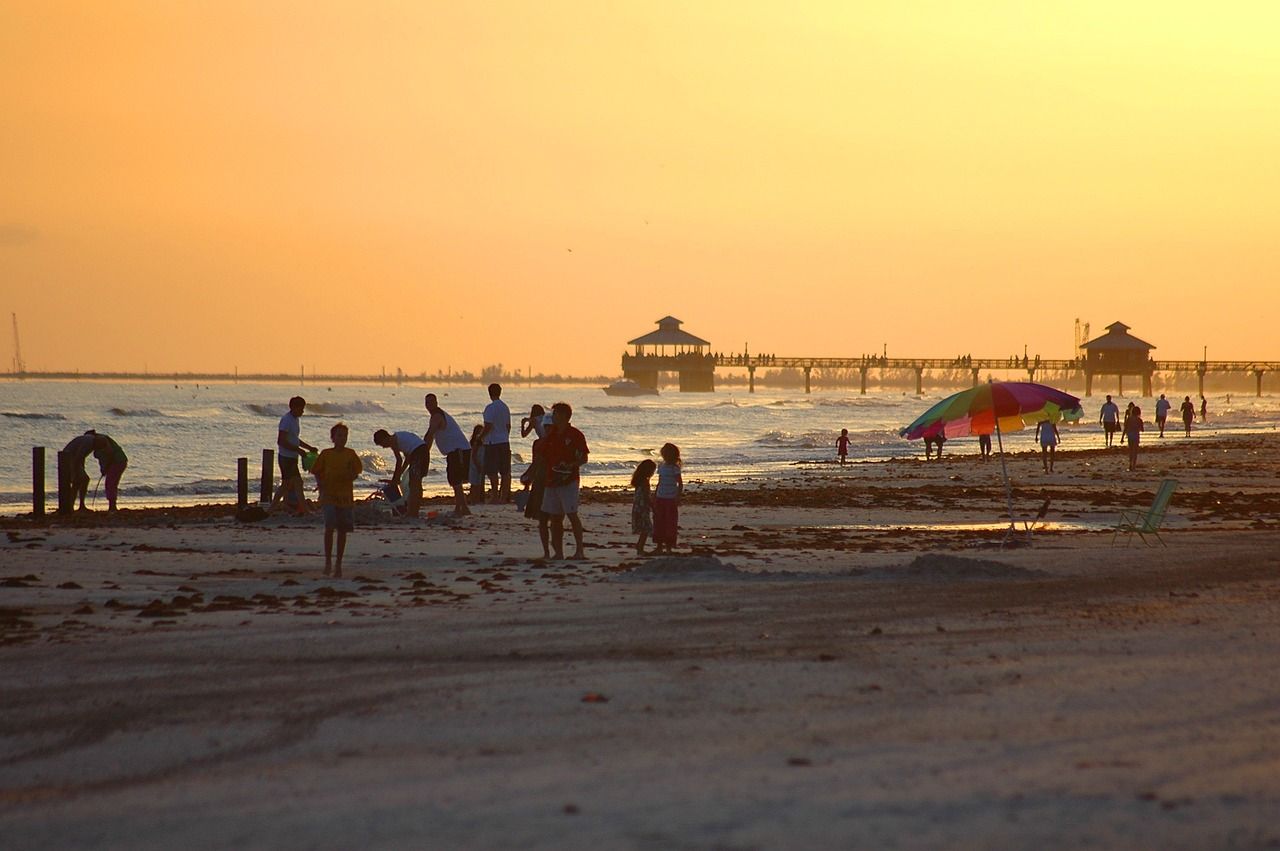 Sunset at Fort Myers Beach, Florida
For thrill-seekers, parasailing is the perfect activity in Fort Myers! There are dozens of companies that offer the parasailing experience. At the top of the list is Paradise Parasail. Adventurers get a chance to admire Fort Myers from up to 500 feet before a thrilling free-fall dip.
Tour:
Parasailing Adventure on Fort Myers Beach (400-Foot Flight)

Duration:
1 hour

Cost:
From $85 USD per adult
9
Tour Fort Myers River District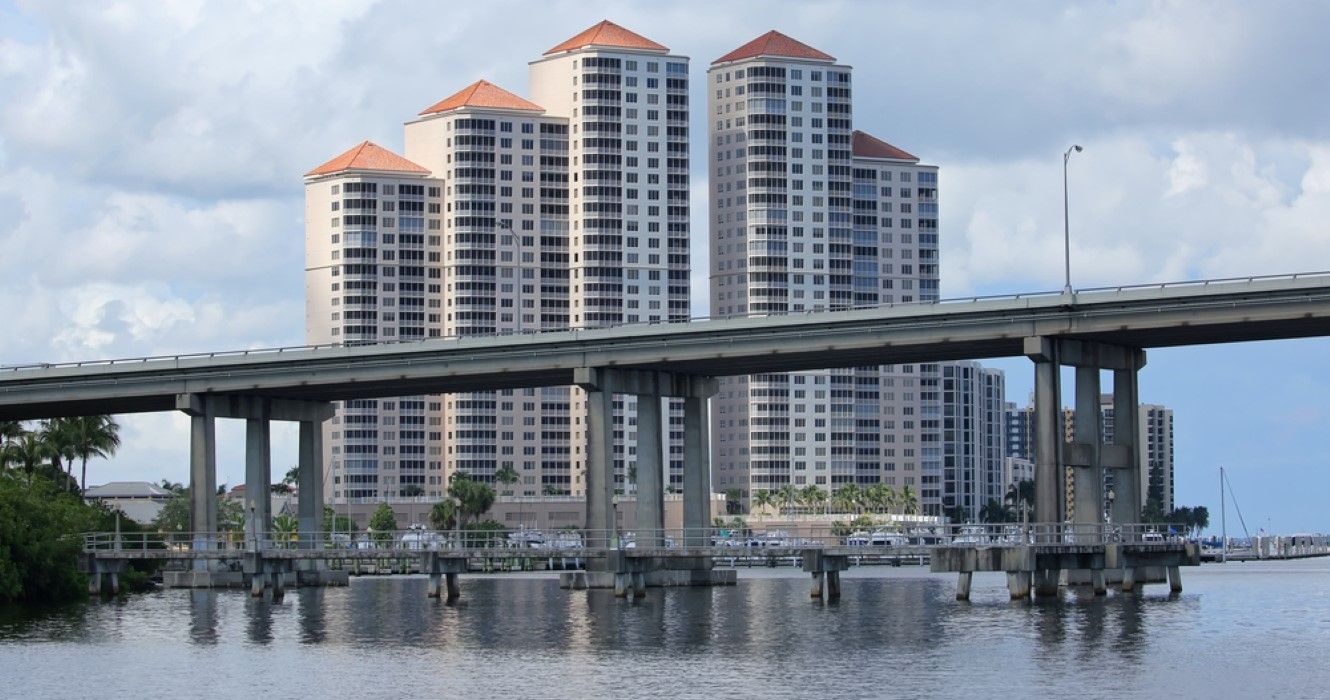 Downtown Fort Myers's River District, Florida
There's so much to experience at Fort Myers River District, a historic part of the downtown area. Lovers of history are enthralled by the district's century-old buildings with Neo-Classical architecture.
As travelers stroll along the street, they'll notice lots of public artwork that give the district a charming vibe. Dozens of dining spots dot the River District, the most popular of which is Silver King Ocean Brasserie. Shopaholics will be excited to know that there are over 55 stores in the River District.
Address
: 2180 First St #510, Fort Myers, FL 33901
RELATED: 10 Things You Didn't Know You Could Do In Florida
10
Shop At Fleamasters Fleamarket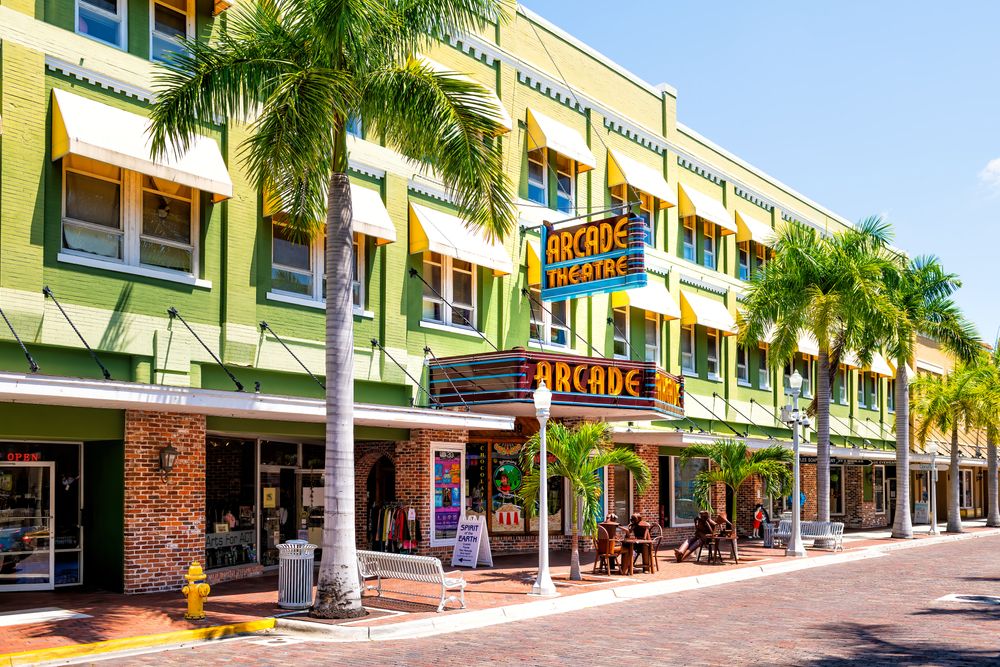 A street in Fort Myers, Florida
From fresh produce to bargain clothing, Fleamasters Fleamarket is Fort Myers' destination for an affordable shopping experience. This flea market isn't just a shopping spot, though; visitors can enjoy a meal or catch a live band performance.
There are actually close to 1000 stores at Fleamasters, which should give an idea of how big this destination is. Those interested in visiting should make it a whole-day affair as the market simply can't be browsed in just a few hours.
Address
: 4135 Dr. Martin Luther King Jr Blvd, Fort Myers, FL 33916, United States

Hours
: Fri – Sun: 9 am – 5 pm (closed from Mon – Thu)
11
Visit The Edison And Ford Winter Estates
Fort Myers distributed under a
CC BY 2.0
license."">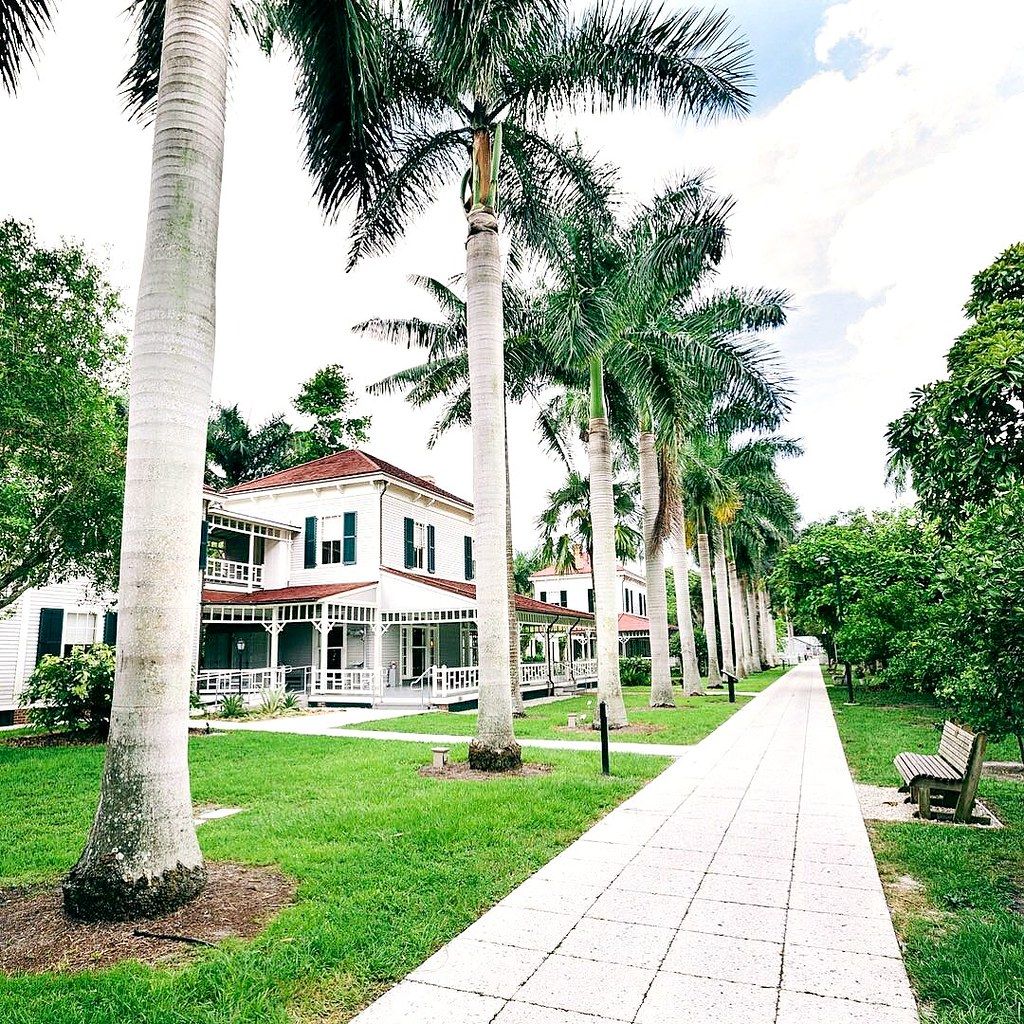 A section of the Edison and Ford Winter Estates
This 20-acre property along the Caloosahatchee River in Fort Myers holds two historic homes belonging to iconic figures, Thomas Edison and Henry Ford. Edison was first to purchase the property in 1886, and Ford acquired the adjoining side in 1916.
Today, the Edison and Ford Winter Estates are major attractions in Fort Myers, designated as a National Historic Site. Visitors can tour the main houses, guest houses, the Edison Ford Museum, and the gardens with close to 2000 plants. Both guided and self-guided tours are available daily.
Address
: 2350 McGregor Blvd, Fort Myers, FL 33901, United States

Hours
: 9 am – 5:30 pm (daily)

Price
: Self-Guided Tours: $25 (adults); $20 (teens 13-19); $15 (children 6-12); Free (children 5 and under); Guided Tours: $30 (adults); $25 (teens 13-19); $18 (children 6-12); Free (children 5 and under)
12
Visit Calusa Nature Center And Planetarium
nImage by
Kenny Holmes
from
Pixabay
"">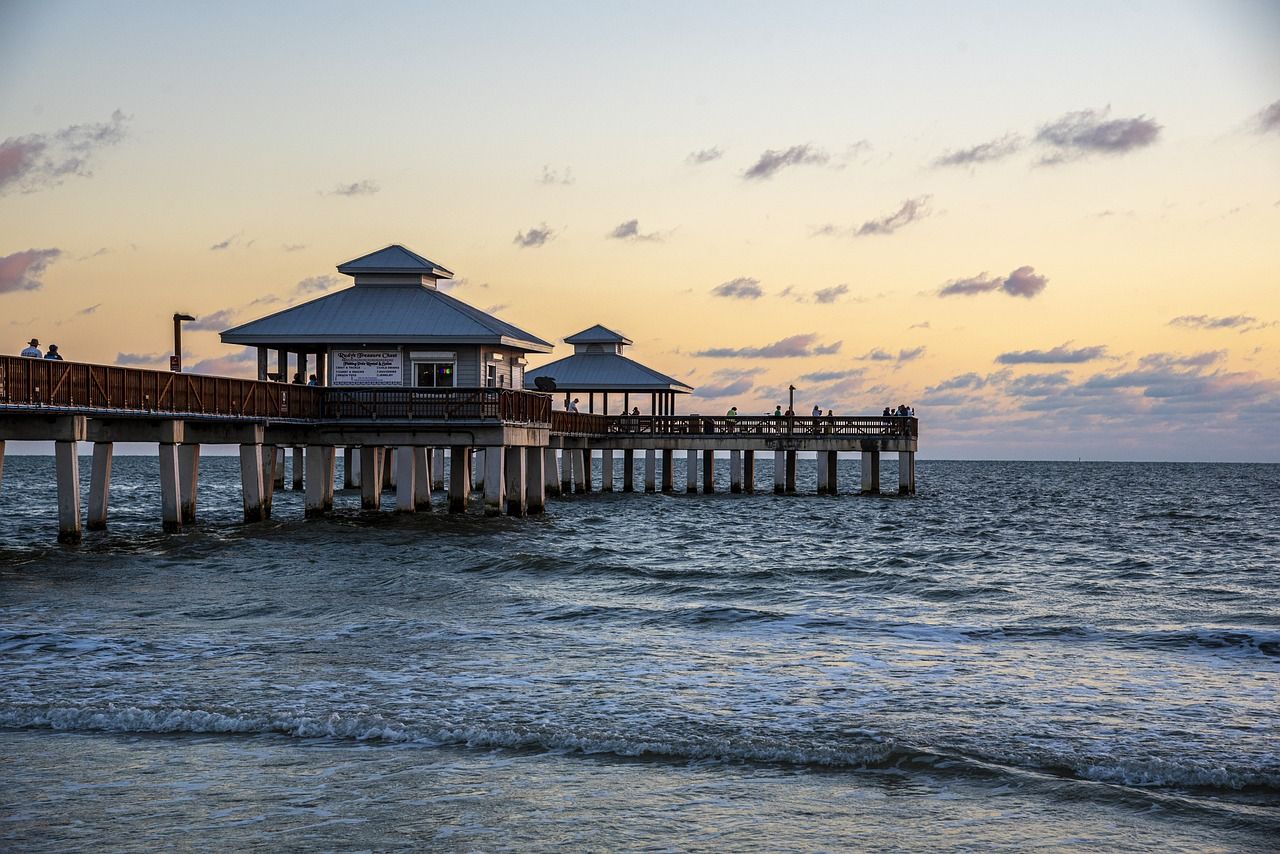 Beach Pier in Fort Myers, Florida
Calusa Nature Center is set on 105 acres of land in Fort Myers, offering scenic trails, an aviary, a planetarium, and a museum. Those who love spending time in nature will enjoy exploring the trails, which traverse the nature center's cypress swamp and pine forest. There's also an Audubon aviary, with residents such as hawks, owls, and eagles.
Lovers of astronomy can learn more about the solar system and our universe at the planetarium, which offers daily shows. Calusa offers so much to do for a whole day of fun.
Address
: 3450 Ortiz Ave, Fort Myers, FL 33905, United States

Hours
: Tue – Sun: 10 am – 4 pm (closed on Mon)

Admission
: Adults (18-59): $10; Seniors (60 and over): $8; Children (3-17): $5; Children under 3: Free
13
Stroll Through The Butterfly Estates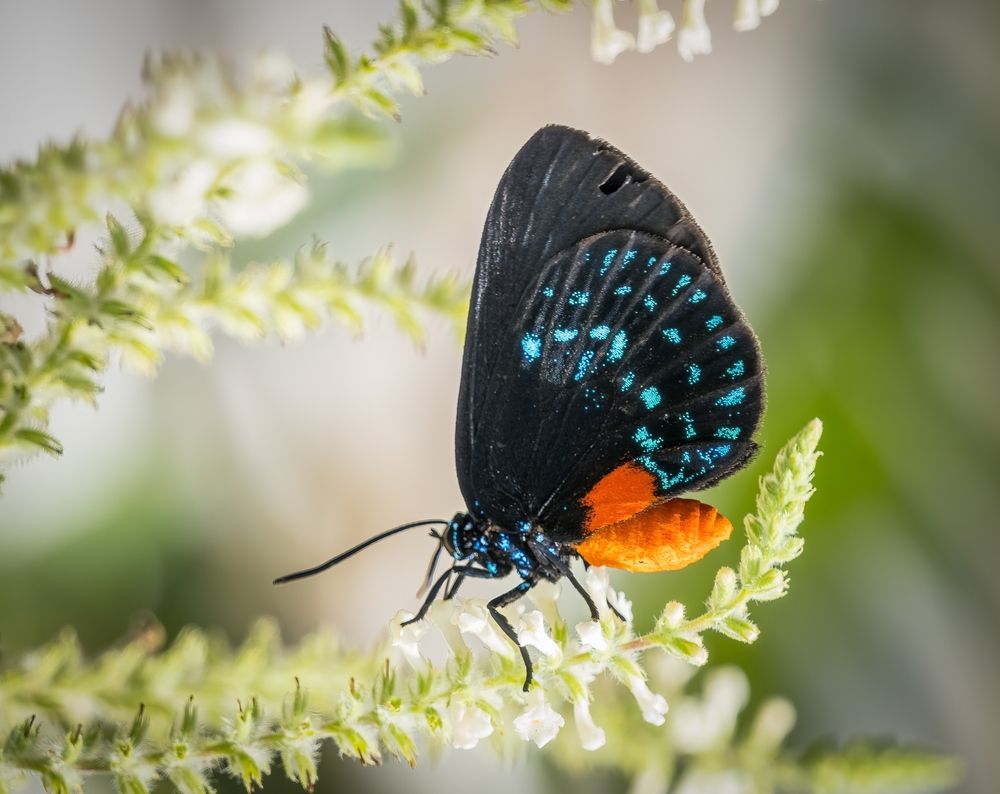 Close up of a single black blue and red Atala butterfly, at the Butterfly Estates in Fort Myers Florida USA
The Butterfly Estates' main role is to conserve butterflies and other pollinators. This center in downtown Fort Myers does this at its butterfly conservatory and gardens, which are open to visitors. The conservatory is home to hundreds of butterflies from all over the world, including species from Africa, Asia, and South America.
Visitors get a chance to observe these butterflies up close and learn about the conservation efforts. Moreover, the gardens surrounding the conservatory boast a variety of plants, from milkweed to salvia, and visitors get a chance to learn about these as well.
Address
: 1815 Fowler St, Fort Myers, FL 33901, United States

Hours
: Tue – Sun: 10 am – 2 pm (closed on Mon)

Admission
: Adults (16 and above): $10; Children (3 to 12): $7; Seniors (65+): $9; Children under 3: Free
The Butterfly Estates also boasts a beautiful shop where guests can purchase butterfly-themed gifts and artwork. This may be a nice spot to find something to bring home for a friend or loved one.
14
Bring The Family To The Imaginarium Science Center
Ebyabe distributed under a
CC BY-SA 3.0
license."">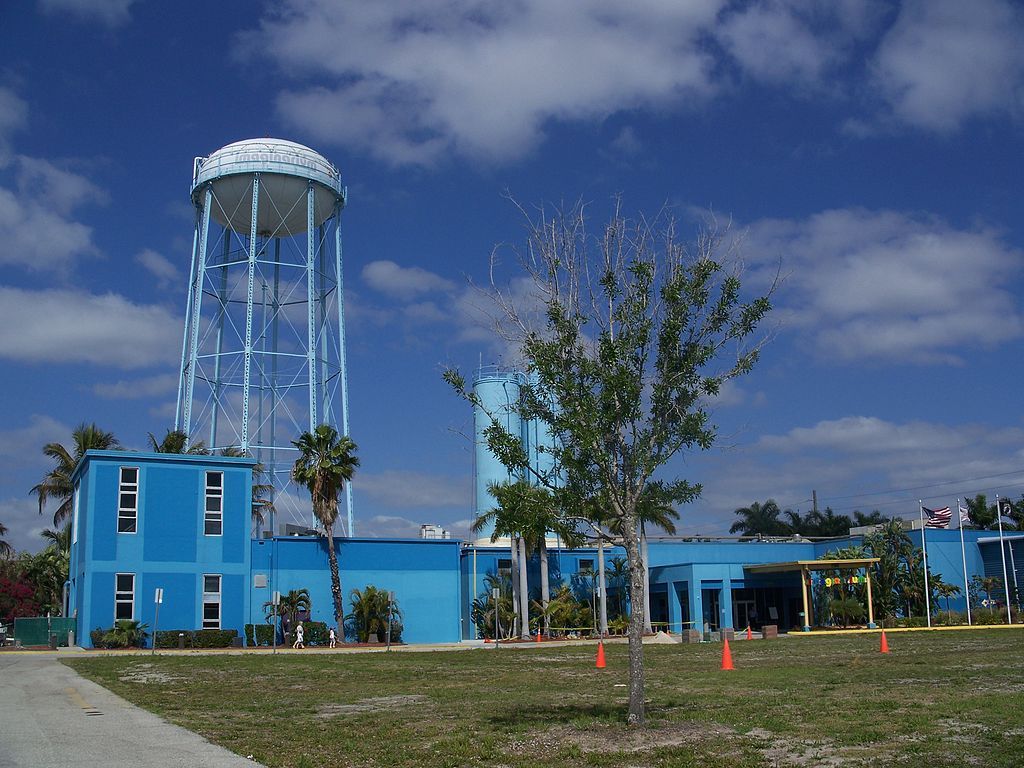 A view of the Imaginarium Science Center exterior
This hands-on science museum appeals to people of all ages, with exhibits and activities designed to keep everyone engaged. The Imaginarium Science Center has over 60 interactive exhibits that highlight different topics ranging from physics to astronomy.
Some of these include the Science on a Sphere display that simulates earth systems like weather patterns on an animated globe. Visitors can also head to the IMAG Hurricane Simulator, which allows visitors to learn about the formation of these storms.
Kids, on the other hand, are kept busy at the IMAGination Playground, the Engineering Lab, and the Rollercoaster Builder.
Address
: 2000 Cranford Ave, Fort Myers, FL 33916, United States

Hours
: Mon & Wed – Sat: 10 am – 5 pm; Sun: 12 pm – 5 pm (closed on Tue)

Admission
: Adults: $19.50; Children (3 to 18): $15
This learning center is perfect for families with young kids up to teenagers. For anyone wanting to learn about the world while visiting Fort Myers, this is the place to be.
15
Best Time To Visit Fort Myers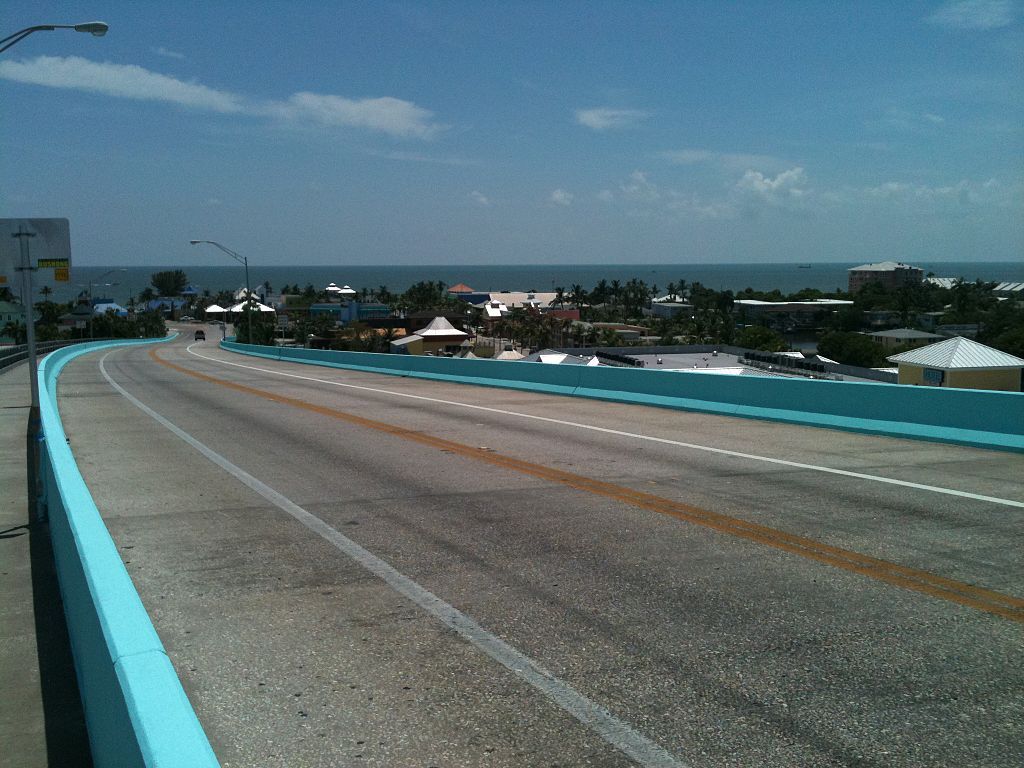 A view from a roadway of Fort Myers, FL and the Gulf of Mexico in the distance
Fort Myers' winters aren't harsh, and temperatures hardly ever dip below 59 degrees F (15 degrees C). However, this is a hurricane-prone city, with hurricane season running from June to November. August, September, and October have the highest risk of hurricanes.
As a result, hotel rates are the lowest during this time. Those who keep an eye out for hurricane warnings should be able to plan a low-cost trip during this time.
If the hurricanes are scary (understandably), then consider visiting between March and May. These months have low visitor numbers, so costs should be low. Plus, visitors enjoy warm weather during this time without worrying about nature's wrath.
Related: These Are The 10 Most Famous Miami Beach Hotels
Those who love the summer heat should visit Fort Myers between June and August. However, temperatures at this time can go as high as 90 degrees F (32 degrees C). This is also a busy season in the city, so prices are usually higher than in other months.
December to February also experiences an influx of visitors as winter bites in northern US cities. At this time, temperatures peak at a luxurious 77 degrees F (25 degrees C) which is perfect for outdoor fun. The period from March to May is the best time to visit Fort Myers because of lower prices due to low visitor numbers and good weather.
16
Best Ways To Get Around Fort Myers
Truck That Beach on
Unsplash
"">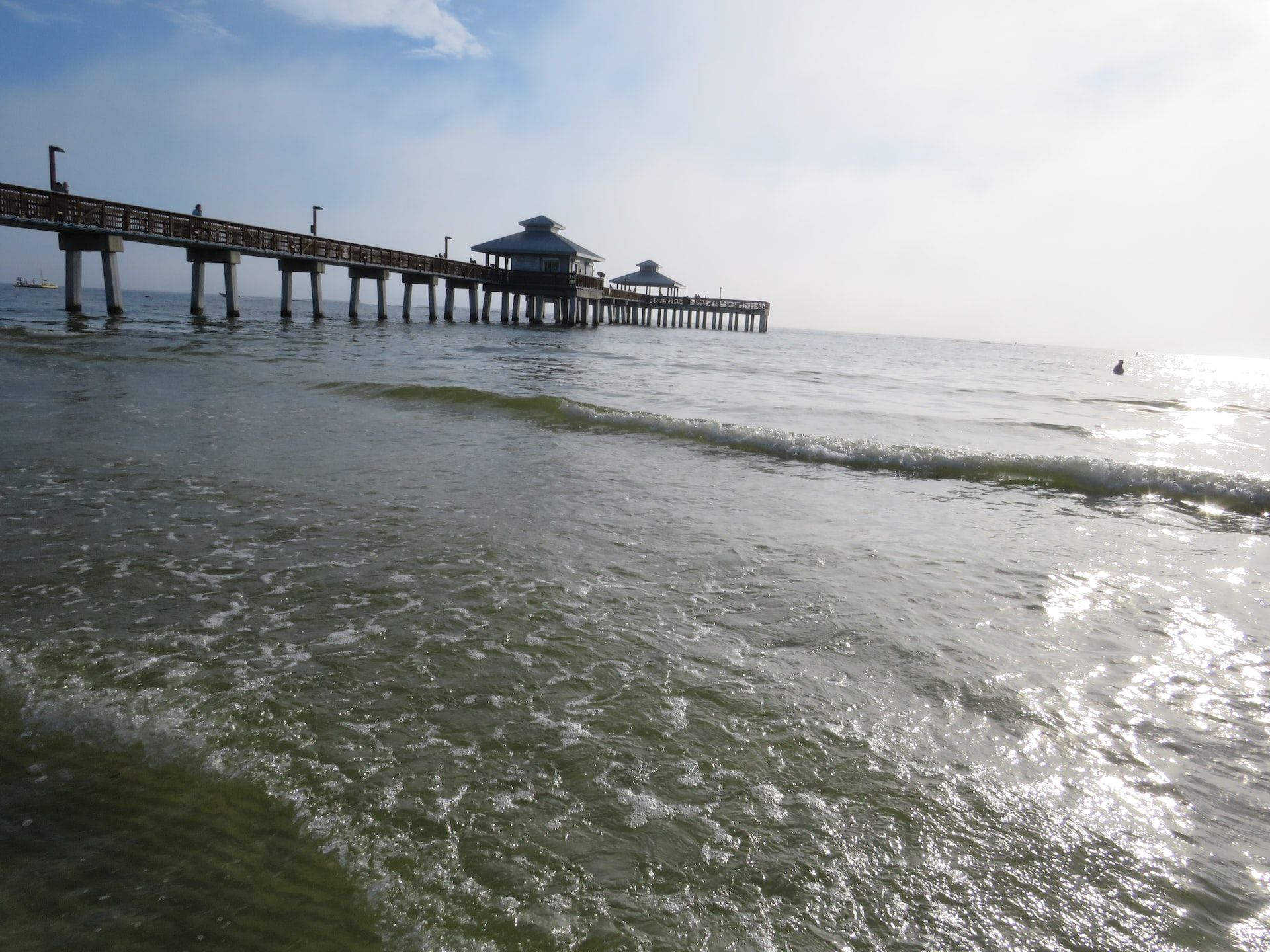 A view of the water at Fort Myers Beach in Florida
By Car
The best way for visitors to get around Fort Myers is by driving themselves around. Public transport doesn't cover the entire city, and it's unreliable. Plus, destinations within the city are far apart, making it difficult to explore on foot.
Tourists can rent a car from services like Avis, National, or Hertz and enjoy the convenience of hassle-free travel within Fort Myers.
Related: This Florida Ghost Town Once Thrived On The Suwanee
Public Transport
Lee County Transit, better known as LeeTran, provides public transport services in Fort Myers. Under their purview are the city's bus and trolley services, covering 22 routes in total. However, the buses pass each route about once each hour, so if a traveler misses a bus, they may have to wait for at least an hour for the next one.
This is the best option for those on a tight budget; fares cost just $1.50 per ride.
Get a multi-day pass for a more cost-effective trip.
Rideshare
Visitors can opt to use one of the several rideshares available in Fort Myers. Services like Uber, Lyft, and Carmel are available from the airport. For shorter distances, the rideshares are a good option. However, if a traveler will be doing long journeys within Fort Myers, then the costs can pile up.
For those planning to explore a lot of Fort Myers (as they should) then, the best option is renting a car.
17
Where To Eat In Fort Myers
Turkey sandwich like the one served at McGregor Cafe
Breakfast: McGregor Café
This restaurant is found on McGregor Boulevard and is open every day from 8 am to 3 pm, except for Tuesdays. McGregor Cafe is famed for its sandwiches, which include the sumptuous Turkey Club, a sandwich with turkey breast, bacon, lettuce, tomato, and mayonnaise.
The breakfast menu is, perhaps, the café's most popular, with options like corn beef hash, egg sandwiches, and quiches.
Lunch: Farmers Market Restaurant
Found along Edison Avenue, the Farmers Market Restaurant is an unassuming spot with affordable meal prices. With just $10, patrons can enjoy an entire dinner. Their specialty is southern fare – southern fried chicken sits at the top of the list. Visitors can also enjoy mouthwatering pulled pork or meatloaf with gravy.
The ambiance is quaint, reminiscent of grandma's place. Its 50-year age is clearly visible, but that's a good thing for someone who wants a hearty meal in a cheerful environment.
Dinner: Osteria Celli
Italian for dinner? Head to Osteria Celli, which straddles Summerlin and Winkler Roads. Unlike the options above, Osteria Celli exudes class, which is evident in the presentation of their dishes.
This restaurant is entirely a dinner spot and is open from 5 pm to 9.30 pm from Wednesdays to Sundays. They have an elaborate list of seafood options, like grilled salmon, sea bass, Octopus, and grilled squid. Osteria Celli has options for vegetarians as well.
Drinks: Space 39 Art Bar & Martini Lounge
Space 39 is a boisterous spot for those who love to have fun when the sun goes down. If for nothing else, visit this lounge for their drinks. Visitors can enjoy margaritas, house wines, and beer but come here for their martinis.
The martini menu includes banana nut bread martini, Appletini Gre Goose, Sunburn Martini, and chocolate salted caramel martini. One thing's for sure. All their martinis have a refreshing kick!
Space39 Art Bar & Martini Lounge is open Wednesdays to Saturdays from 5:30 pm to 2 am.
18
Popular Neighborhoods In Fort Myers
Paseo Drive, Fort Myers, Florida
Learn where to go (and stay) in Fort Myers.
Paseo
Paseo is a tranquil gated community located on the southern side of Fort Myers. This neighborhood is made up of luxury homes, villas, townhomes, and single-family units. Residents who live here need not leave the community since amenities like a movie theater, sports facilities, and eateries are all located within the gates of Paseo.
Those who choose to venture outside love its convenient location near beaches and shopping outlets in South Fort Myers.
Cypress Lake
With an area of about 10 square kilometers (4 square miles) and a population of about 14,000, Cypress Lake is a much larger neighborhood than Paseo above. In fact, it's a census-designated place. This suburban area is known for its serenity, mainly made up of retired seniors.
Cypress Lake is famous for its golf courses; the most popular ones are Cypress Lake Golf Club and Golfview Golf & Racquet Club.
The neighborhood also boasts proximity to attractions like Manatee Park, which is about 18 miles (28 kilometers) away.
Buckingham
Buckingham's population is about 4000, which seems like a lot but with an area more than four times the size of Cypress Lake, the big city's crowds are non-existent. This neighborhood is also just 20 minutes from downtown Fort Myers, so it's not too far from the nerve center of the city.
Buckingham is known for its abundance of green spaces like parks and nature preserves. Some of the most notable spots are Hickory Swamp Preserve and Buckingham Trails Preserve.
Pelican Preserve
Pelican Preserve was designed for seniors, with ample amenities to keep retirees busy. For instance, there's a golf course a movie theater, and a fitness center.
This gated community also has a 38-acre preserve, with a boardwalk that cuts through. Everything here screams tranquility, ideal for older folks to live away from the cacophony of the city.
The residential units are made up of condos, villas, and single-family homes.
19
Where To Stay In Fort Myers
Yihong Chen on
Unsplash
"">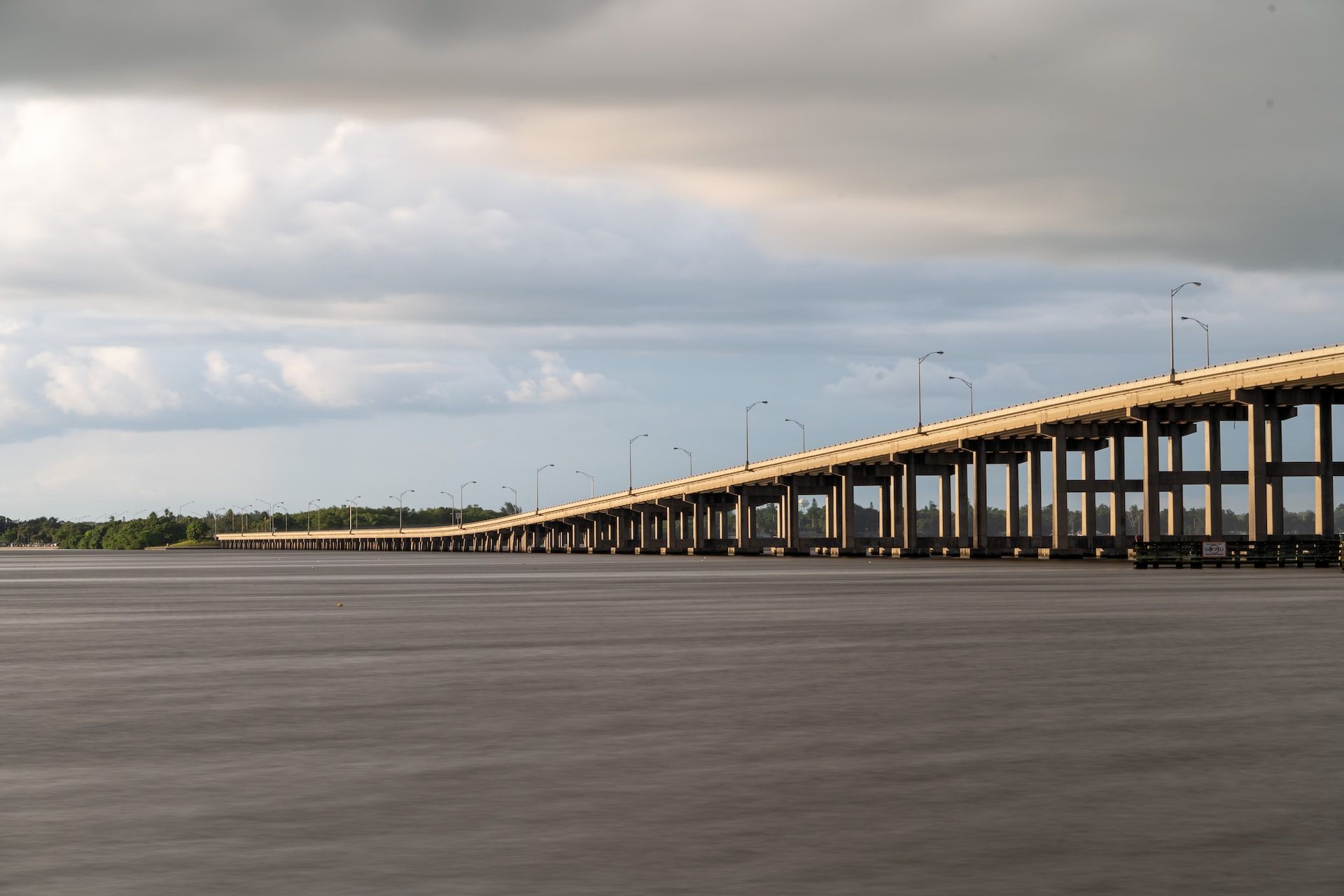 A view of Centennial Park in Fort Myers FL
Florida's cities offer visitors a wide variety of accommodation options, from all-inclusive resorts to Airbnb vacation rentals. Fort Myers is no different. Here are some of the places you can stay in Fort Myers.
This boutique establishment has a homely mom-and-pop appeal that makes it an ideal choice for travelers on a budget. There are four room types, with the largest one able to sleep four adults and two kids. All the other rooms can sleep two adults and one child.
Hibiscus House is a short stroll to Centennial Park and the Edison Ford Winter Estates, among other attractions.
Luminary Hotel offers luxury to visitors who have the budget for it, with rooms costing at least about $400 per night. Still, at this price, guests get to enjoy comforts like a swimming pool and an onsite fitness center. Some rooms also get breathtaking river views.
Centennial Park is a short walk away, while the Imaginarium Hands-On Museum and Edison Ford Winter Estates are both less than a mile from the hotel.
For about $125 a night, guests can stay at this Airbnb rental, a private room in a waterfront home. A kitchen is available for those who wish to cook for themselves. However, this rental is just a short distance from several eateries.
Right outside the home, there's a canal on which guests can kayak. The host also offers bikes for those who wish to explore on two wheels.
Cost:
From 125 USD

Address:
Cape Coral, Florida, United States

Amenities:
Full kitchen, workspace, pool, Wi-Fi
For about $385 a night, visitors can rent this entire three-bedroom villa. It can host up to 6 guests, making it perfect for group vacations. Features like the covered pool area and the lush garden make this a serene place for homebodies. However, guests who want to enjoy the area might want to go boating on the Caloosahatchee River – There's a canal right behind the villa.
Cost:
From 385 USD

Address:
Cape Coral, Florida, United States

Amenities:
Full kitchen, pool, Wi-Fi, hot tub
20
Tips For Visiting Fort Myers, Florida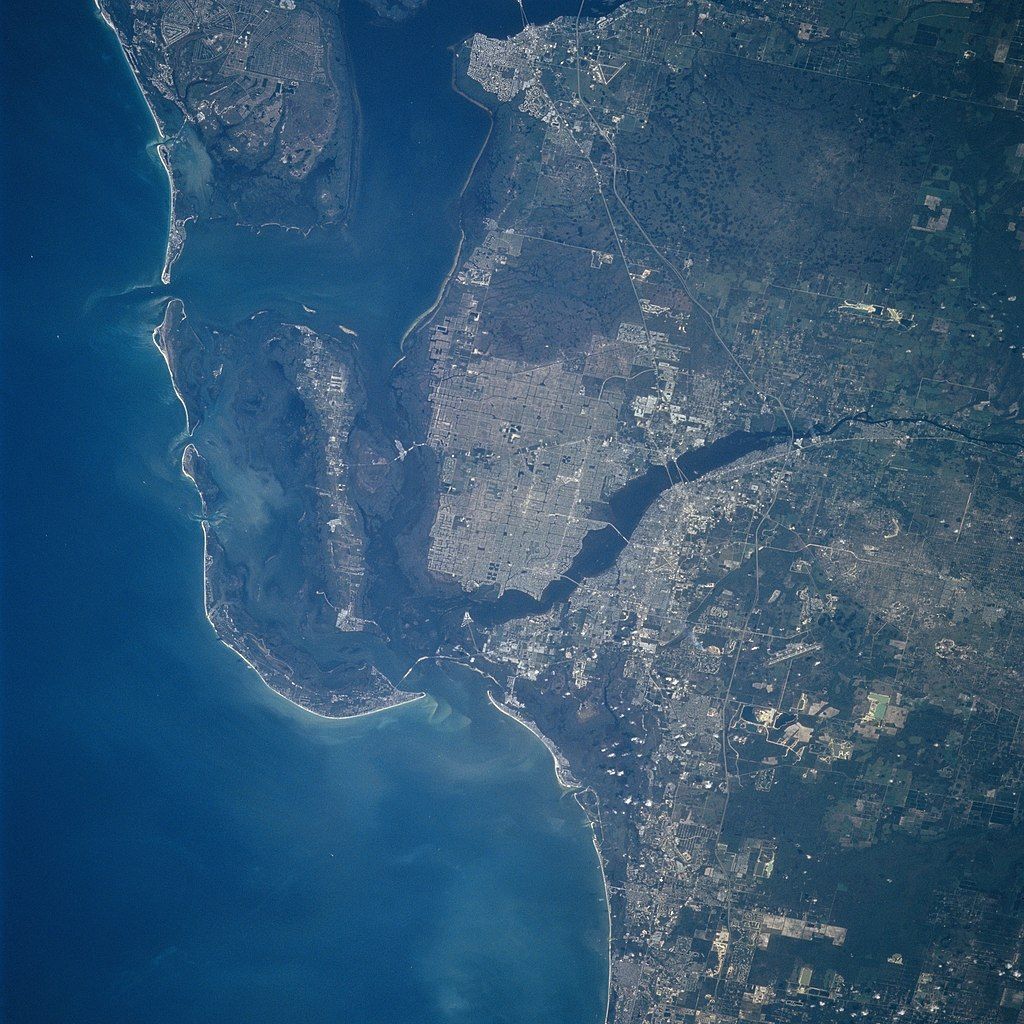 An aerial view of Cape Coral in Fort Myers, Florida
Although hurricane season is from June to November, August to October are the most hurricane-prone months. Because of this, the city is likely to flood, so avoid visiting at this time.
The nature preserves are affordable attractions, so visit more of these in order to save money.
Consider camping at Fort Myers' several campgrounds for an inexpensive outdoor experience.
For those who don't like crowds, the best time to visit is from March to May when there are fewer visitors.
Summer months can get quite hot, so remember to carry sunscreen.
Hurricane season typically affects Fort Myers between June and October, often causing evacuations throughout the state and city. It isn't recommended to come here during this time, as there is a chance of a storm forming and ruining the trip. Although prices are cheaper during this timeframe, it's not always worth the headache of experiencing a natural disaster.