From the epic 4th July celebrations in New York to the spectacular Independence Day Fireworks in Las Vegas, the Fourth of July Weekend 2023 in the United States is set to be bigger and better than ever. But out of all the best 4th July events in the US, there's one state that really knows how to party: the Golden one.
Indeed, California is always one of the best places to celebrate 4th July in the US, thanks to its iconic yearly events and parties in major cities like San Diego, Santa Monica, San Francisco, Los Angeles, and more. However, choosing where to go for 4th July in California is a mean feat in itself since there are so many festivals, events, parties, and shenanigans taking place from the end of June to the show-stopping day of July 4th.
Out of all the occasions on Independence Day, these are a handful of the best 4th July events California has in store for revelers seeking the ultimate parties, festivals, fireworks shows, and parades (and many are family-and-pet-friendly, too!).
Related: Celebrate Independence: 10 Of America's Small Cities For A Spectacular 4th Of July
10
Santa Monica 4th Of July Parade
Fireworks over Santa Monica Pier and amusement park, Santa Monica, California
The annual Santa Monica 4th of July Parade returns yet again for another family-friendly California 4th July event full of, floats, music, and fun. The 1.3-mile parade route kicks off at 9:30 AM sharp at Pico and Main Street before traveling South on Main Street and turning right onto Marine (the parade then ends at Barnard Way).
Visitors can catch the show pretty much anywhere along the Main Street route as the parade heads toward Beach Lot 5 South. Come along in festive attire sporting patriotic colors of red, white, and blue, and prepare for a day of lively music, fun activities, and, as always, an awesome parade of a show. What's more, this party is a dog-friendly July 4th event in California; pets on leashes are welcome!
When:
July 4, at 9:30 AM

Where:
Starts at Pico and Main Street and ends at Barnard Way, Santa Monica, California
The parade route and several streets nearby are closed to traffic from 6 AM- 12 PM. Public parking is available off Neilson to the West; however, visitors driving in to catch the show should be aware that parking in residential areas to the East may be restricted.
9
Pacific Palisades Fourth Of July Parade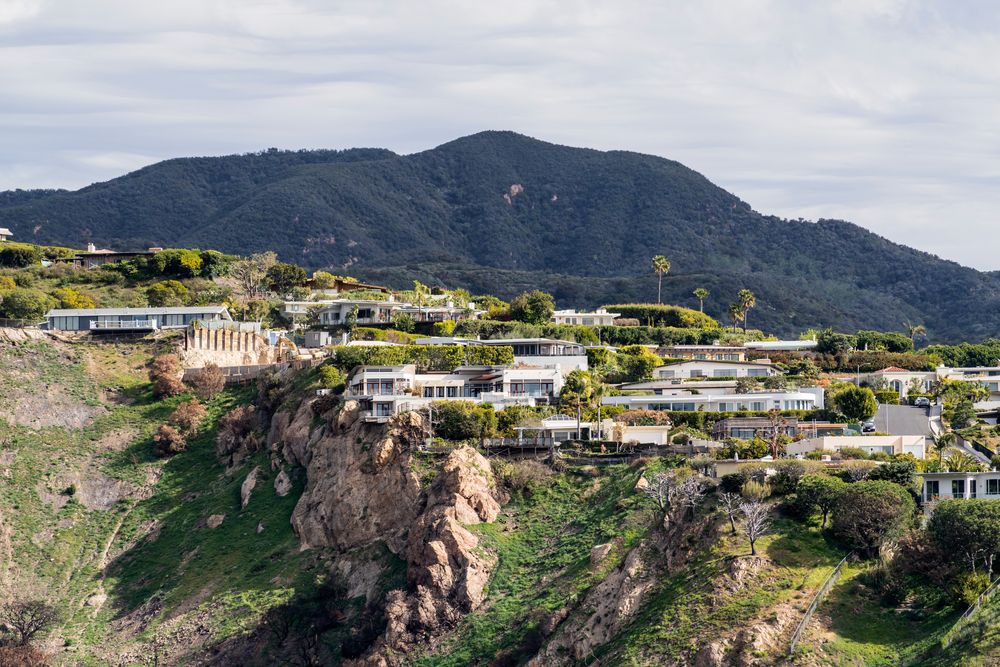 Cliff top homes in the Pacific Palisades area of Los Angeles, California
Relevers can head on up to the Palisades for a family-friendly, beachy Independence Day at the Pacific Palisades Fourth of July Parade. At 2 PM, a WWII fighter plane flyover marks the beginning of the parade, which is free to attend and features displays of marching trombonists, baton twirlers, and more.
The parade continues its promenade on Sunset Boulevard between Via de la Paz and Drummond, after which an evening of live music (including from DJ Lee Dyson of Hey Mister DJ) and fireworks at Palisades Charter High School continues the celebrations (tickets are required for the concert and fireworks at Palisades Charter High School). Plus, superb food trucks on the upper deck are there to keep attendees fed and happy.
Where:
Palisades Charter High School. 15777 Bowdoin St, Pacific Palisades, CA, 90272

When:
July 4 (parade starts at 2 PM, gates at Palisades Charter High School open at 6 PM, fireworks at 9 PM)
8
San Diego Boardwalk Boom 4th Of July Celebration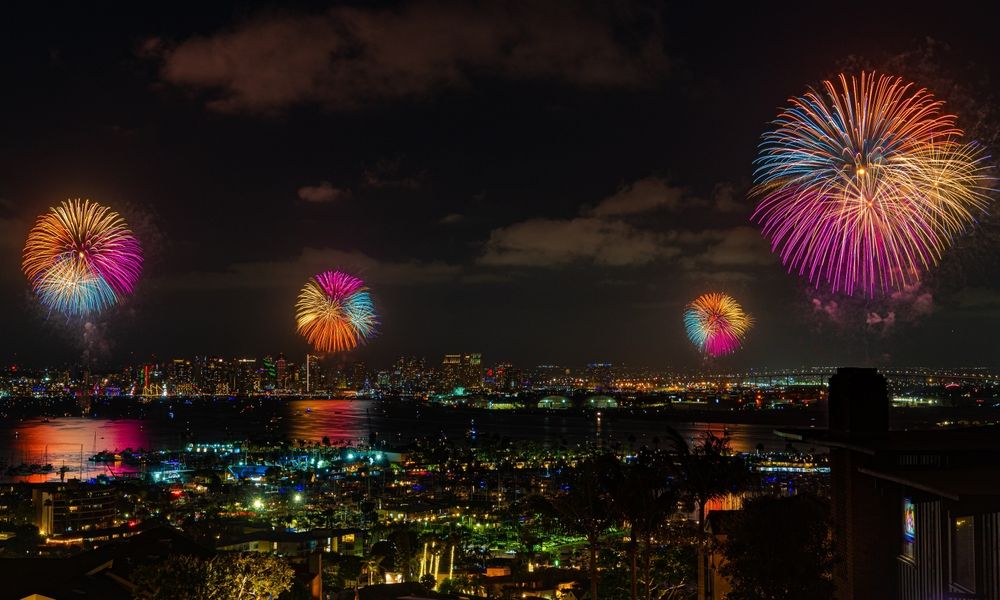 San Diego Big Bay Boom fireworks
One of the best Fourth of July events in California consists of what is perhaps the largest fireworks show on the West Coast. Located on San Diego's Embarcadero Boardwalk in downtown San Diego, this family-friendly 4th of July celebration can rival even the best Independence Day fireworks in Los Angeles.
For the ultimate experience, Sally's Fish House & Barr at Manchester Grand Hyatt San Diego is the place to be; the establishment's patio tables grant the best views of the Big Bay Boom Fireworks show in San Diego Bay.
Attendees can enjoy locally sourced seafood, craft cocktails, and an array of fine wines as they soak up the spectacular show from a premier vantage point.
An initial ticket fee of $100 reserves a table for up to four people, but guests should note that a $400 minimum of food and beverage per table is required during dinner reservations (not inclusive of tax, gratuities, and the 6% hotel surcharge).
When:
July 4 (entrance to Sally's starts at 6 pm; fireworks begin at 9 pm)

Where:
Sally's Fish House & Bar, San Diego, CA
Adults over 21 years of age must buy an adult ticket for the event at Sally's (discounted prices without alcohol are available for guests aged 20 and under). Also, Sally's recommends arriving before 4 pm to secure parking, as drive-in traffic is likely to be high on the day.
Related: 10 Best Beaches In & Near San Diego To Visit In California
7
San Francisco Bay Fireworks Cruise
n "" data-modal-id="single-image-modal" data-modal-container-id="single-image-modal-container" data-img-caption=""Shutterstock"">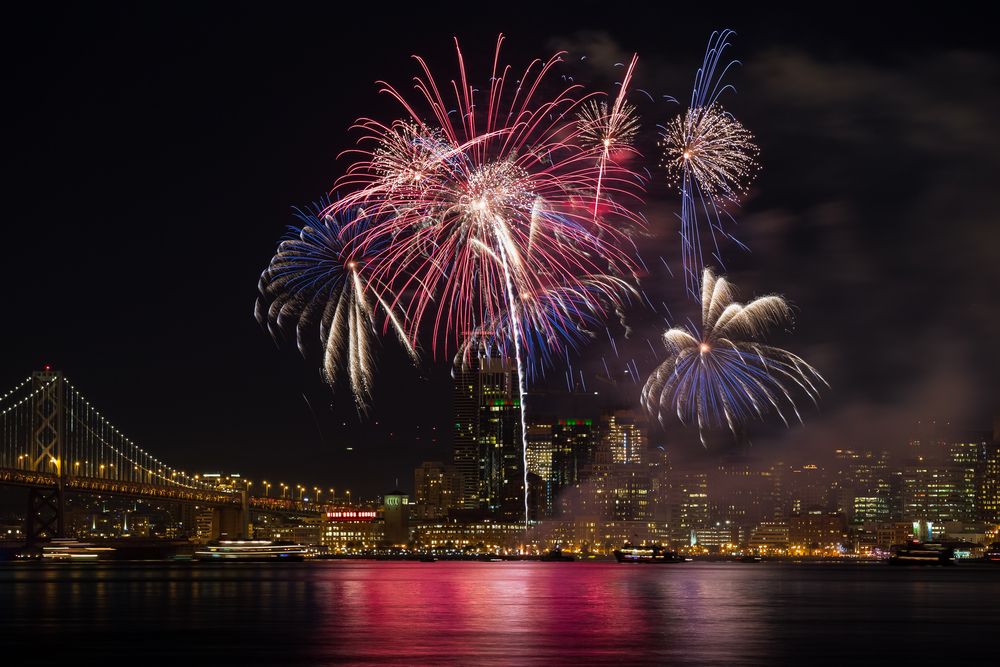 Fireworks at San Francisco Bay Bridge, California, USA

 
Perhaps the best view of San Francisco's July 4th Fireworks is aboard the luxury 65ft Derek M. Bayils, which takes guests on a night sail along the city front to the Golden Gate Bridge. During this 4th July cruise, visitors not only get breathtaking night views of some of the most famous landmarks in San Diego but they're also treated to epic views of one of California's best 4th July fireworks shows – from the water.
Enjoy sailing in luxury as the San Francisco 4th July fireworks explode above the Golden Gate Bridge, Alcatraz, and the city skyline.
When:
July 4, 2023, 8 PM – 10:30 PM

Where:
South Beach Harbor, San Francisco, California
6
Rose, White & Blue Parade In San José
Mariusz S. Jurgielewicz"">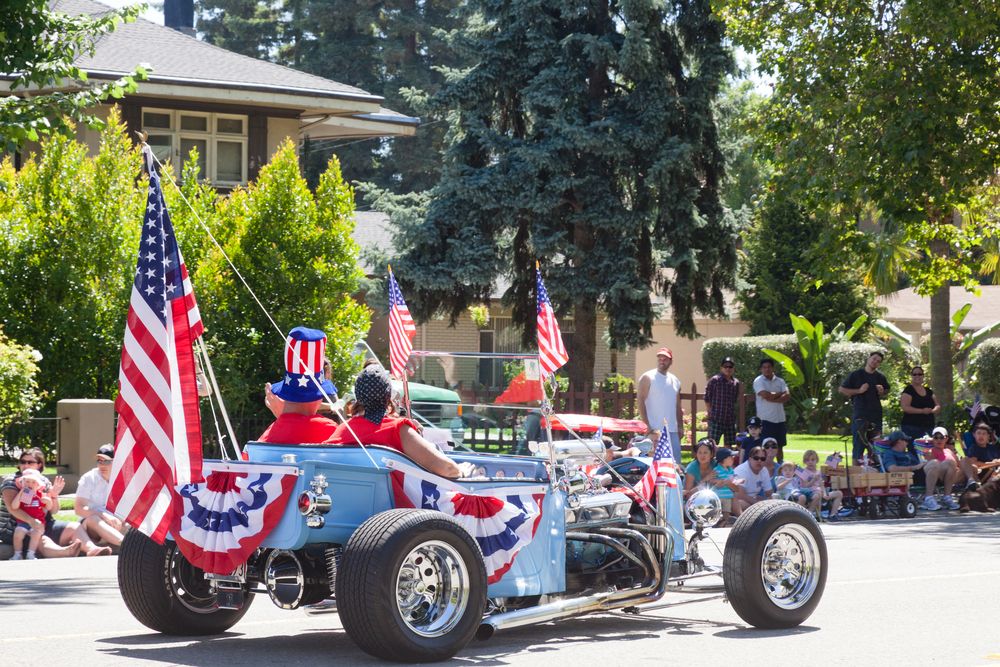 Decorated classic cars at the 4th of July Rose, White and Blue Parade in the Rose Garden District in San Jose, California, USA
The Rose, White & Blue Parade is set to be one of the best 4th July festivals in California for family fun and community spirit. It's a lively Independence Day event in San José, bringing together residents, visitors, businesses, and organizations in the city and the greater Bay Area.
Celebrating public spirit, diversity, and the area's agricultural and floral heritage, the parade navigates through the heart of San José, featuring marching bands, classic cars, a number of community groups, horse units, and lots of floats and displays decorated with pretty rose blooms. Come see why San José is nicknamed the "Capital of the Silicon Valley" at this multicultural July 4 celebration.
When:
July 4, 2023, at 9 AM

Where:
The Alameda, San Jose, CA 95126, United States | San Jose, CA
5
Huntington Beach 4th Of July Celebration
KK Stock"">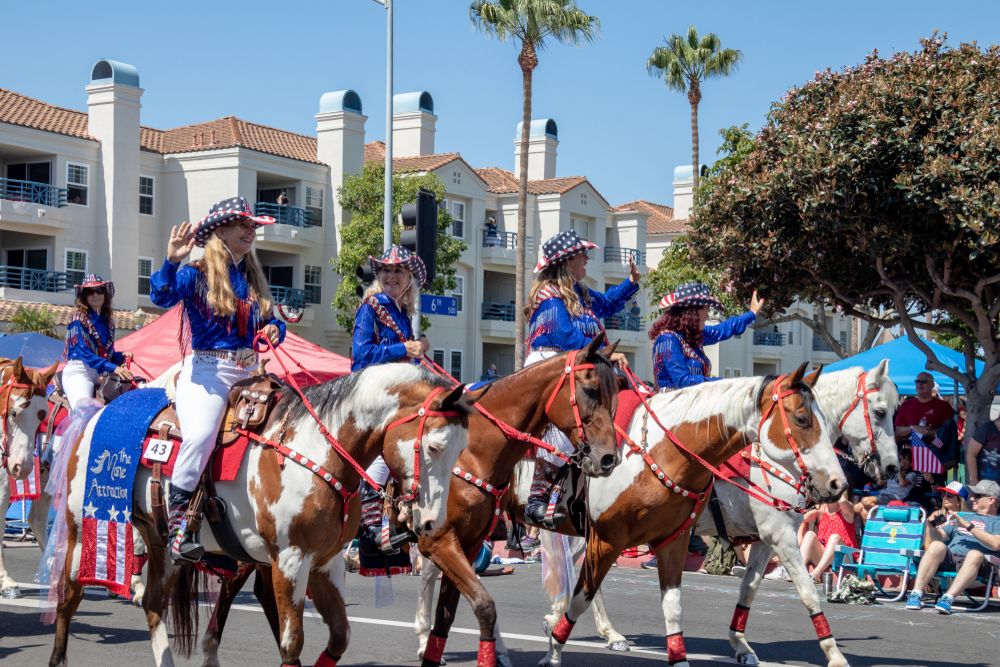 Cowgirls riding horses at the Huntington Beach Parade 4th of July Independence Day, California, USA
Originally launched in 1904, the very first Huntington Beach 4th of July celebration commemorated the arrival of the first electric passenger train linking the area with Long Beach and Los Angeles. The historic event attracted 50,000 attendees, and over a century later, the annual celebration draws in ten times that.
Nowadays, more than 500,000 people flock to one of the best 4 July parties in California at Huntington Beach over five days of programming, including a picturesque 5K course along the historic route of Main Street and Pacific Coast Highway, free live entertainment, food vendors, a Block party, and much more.
Where:
Main Street, Huntington Beach, CA 92605

When:
June 30 – July 4
4
San Diego's 4th Of July Dance Party
Roaming Panda Photos"">
The Rady Shell concert venue at Jacobs Park in the Embarcadero Marina, San Diego, California, USA
San Diego's 4th of July Dance Party with DJ Prince Hakim, presented by the San Diego Symphony at The Rady Shell at Jacobs Park, is a huge event in the city for rap and hip-hop fans. Held at The Rady Shell at Jacobs Park, this is set to be one of the hottest 4th July parties in California.
In addition to DJ Prince Hakim, who's set to start the show, 90s hip-hop sensation C&C Music Factory, known for long-loved tracks Gonna Make You Sweat, Here We Go Let's Rock & Roll and Things That Make You Go Hmmm, is set to put on one of the best 4th July shows in San Diego that party-goers who love nostalgic 90s hits do not want to miss.
Where:
The Rady Shell at Jacobs Park, 222 Marina Park Way, San Diego, CA

When:
July 4 at 7 PM
Related: Best Beaches In California That Will Make You Fall In Love With The Golden State
3
July 4th Fireworks Spectacular At Hollywood Bowl With The Beach Boys
Kit Leong"">
Hollywood Bowl amphitheater in Los Angeles, California
July 4th Fireworks Spectacular at Hollywood Bowl in Los Angeles never fails to deliver performances from some of the most famous artists in history. This year, the reason this is one of the top 4th July events in California is the fact that one of the most famous American bands will be there. That's right; The Beach Boys will dazzle the stage and pump out dozens of their hit anthems of American youth.
Known for world-famous chart-toppers, including Surfin' USA, I Get Around, and Fun, Fun, Fun, The Beach Boys, along with the Hollywood Bowl Orchestra and the venue's legendary fireworks are set to put on what is expected to be one of California's best July 4th parties that music fanatics can't afford to skip. Heck, even New York City's 4th July firework displays will struggle to compete with this one.
When:
July 2, 7:30 PM, July 3, 7:30 PM; July 4, 7:30 PM

Where:
Hollywood Bowl, Los Angeles, CA
2
Grand Park's 4th of July Block Party In Los Angeles
Elliott Cowand Jr"">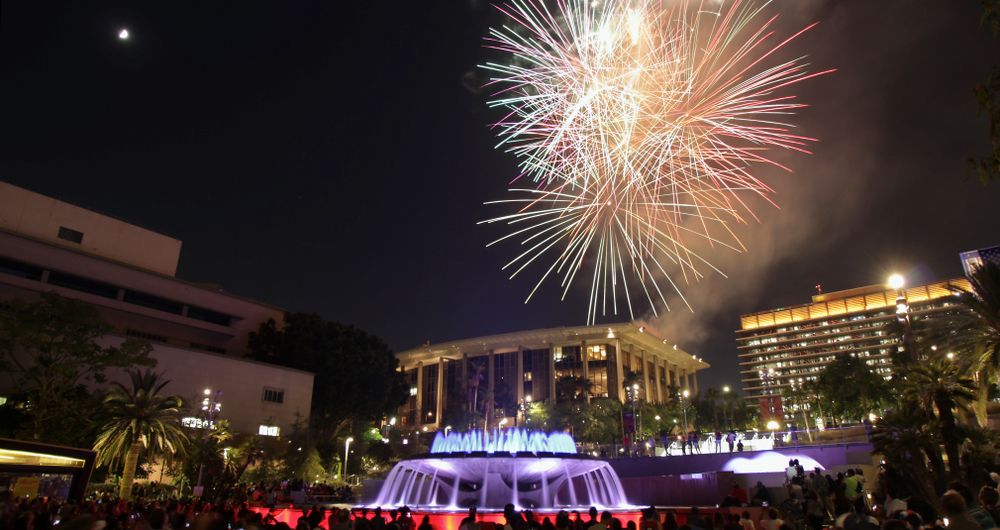 4th of July Fireworks in LA above the Dorothy Chandler Pavilion in Grand Park, Downtown Los Angeles, California, USA
Grand Park's 4th of July Block Party returns to rock Los Angeles yet again this year. Experience one of the biggest and best free 4th of July events in California, where downtown LA will host a first-time spectacle in the history of its Gloria Molina Grand Park Independence Day shows.
This time, there'll be no fireworks; instead, a stunning, futuristic drone show will light up the LA skyline, ready to rival even the biggest 4th July fireworks in the US. The pet-friendly 12-minute drone show will fly high above The Music Center, performing a dynamic, orchestrated dance in the sky to a curated hip-hop playlist, which celebrates the 50th anniversary of this music genre.
Moreover, iconic hip-hop star Bahamadia and DJ Cut Chemist, with rapper Chali 2na, will headline this year's Grad Park Block Party on July 4. To complete the event, there'll be food trucks, a "Snack Alley", and even an Augmented Reality digital playground. Remember, this is a free 4th July event in LA, too!
When:
July 4, 4 PM – 9:30 PM

Where:
Grand Park, Los Angeles, CA
1
Sacramento July 4th Weekend Pub Crawl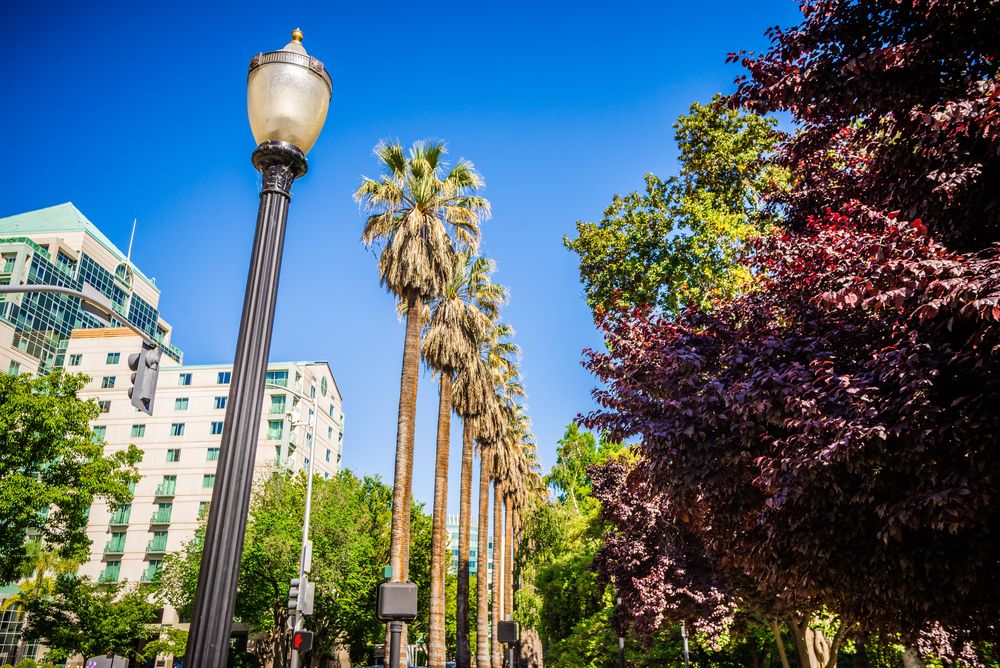 Skyline of downtown Sacramento, California, USA
July 4th Weekend pub crawls are the perfect party for revelers who can't get enough of meeting new people and mingling over beer, cocktails, and myriads of other creative beverages. Fortunately for pub crawlers, there are more than half a dozen locations serving up drinks specials on 4th July in Sacramento.
The annual Independence Day Saturday Pub Tour in Sacramento celebrates "Red, White & Brew" on the 4th of July Weekend in true Californian spirit. This top 4th July event in California starts at KBar.Doco before heading on to the best bars in Sacramento, each participating in the event and offering exclusive drinks deals throughout the weekend.
To participate, simply purchase a ticket for the desired day of attendance and then check in at B-Side between 1 PM and 8 PM on the Saturday. Then, pub crawlers are given a map featuring Sacramento's bars and the times they offer 4th July drinks specials. Easy!
When:
July 1, 1 PM – July 2, 2 AM

Where:
KBar, Sacramento, CA
Ticket-holders must not be late checking in at B-Side. Attendees must check in by 8 PM – no exceptions! Also, only those aged 21+ are permitted to participate.