Penguins are one of the most loved and iconic birds in the world. They are the stuff of countless nature documentaries and children's cartoons. While many people may think of penguins as living in large colonies on the frozen ice of Antarctica, this is only half true. Not all penguins live in large colonies, and many of the species live in more temperate zones – in fact, they are found in four of the world's seven continents.
Here are ten of the best places to see penguins in the wild around the world to add to the wildlife-spotting vacation itinerary.
10
New Zealand
Two Yellow Eyed Penguins in the wild
New Zealand is home to several species of penguins, including the little blue penguin, the yellow-eyed penguin, and the Fiordland penguin. These can be found nesting and fishing around New Zealand's coastlines (and even within the South Island town of Oamaru).
The yellow-eyed penguin is one of the most popular penguins to see in the far south of New Zealand but faces a number of threats. In the same area, visitors can see the only mainland nesting Albatross colony on the Otago Peninsula.
Species:
Little Blue Penguin, Yellow-Eyed Penguin, Fiordland Penguin
9
The Galápagos Islands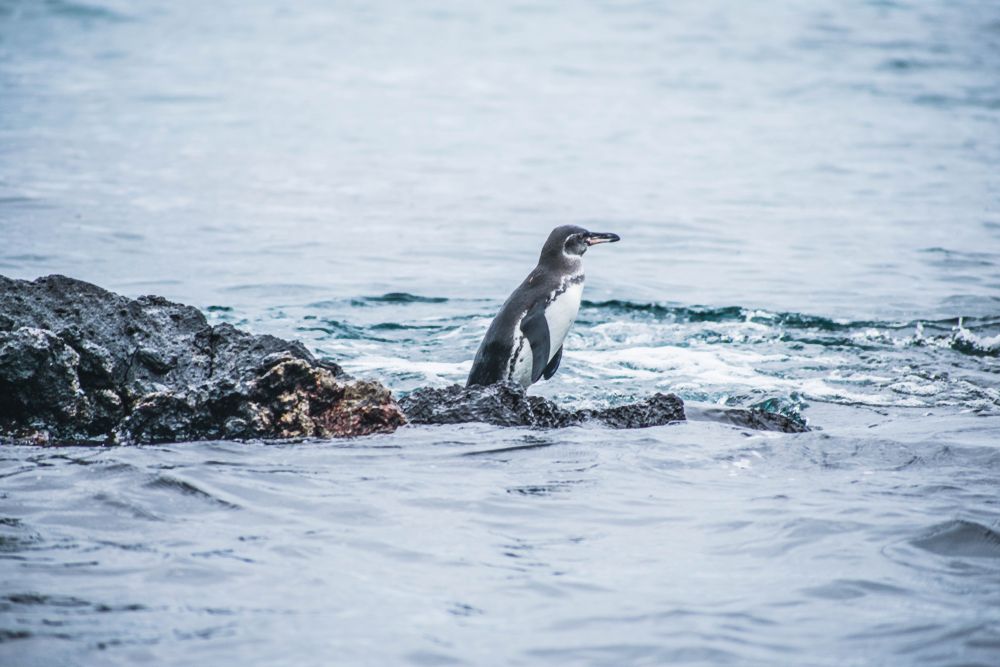 Rare Galápagos penguin perching on a rock
The Galápagos Islands are famous for their stunning array of unique wildlife that evolved in isolation and helped Charles Darwin formulate his theory of evolution. The islands are home to rich wildlife, including on land and underwater. In fact, the Galapagos Islands offer some of the best dive sites in the world, as well as a handful of some of the best spots to dive with sharks (hammerheads, in particular).
When it comes to penguins in the Galapagos, they are indeed possible to spot. Penguins got to the Galápagos thanks to cold ocean currents coming up from the south, and are home to the only penguin population north of the equator. The Galápagos Penguin is rare, with perhaps only 1,200 still living in the wild.
Species:
Galápagos Penguin
Related: How To Visit The Picturesque Galapagos Island Wildlife Hotspot
8
Melbourne, Australia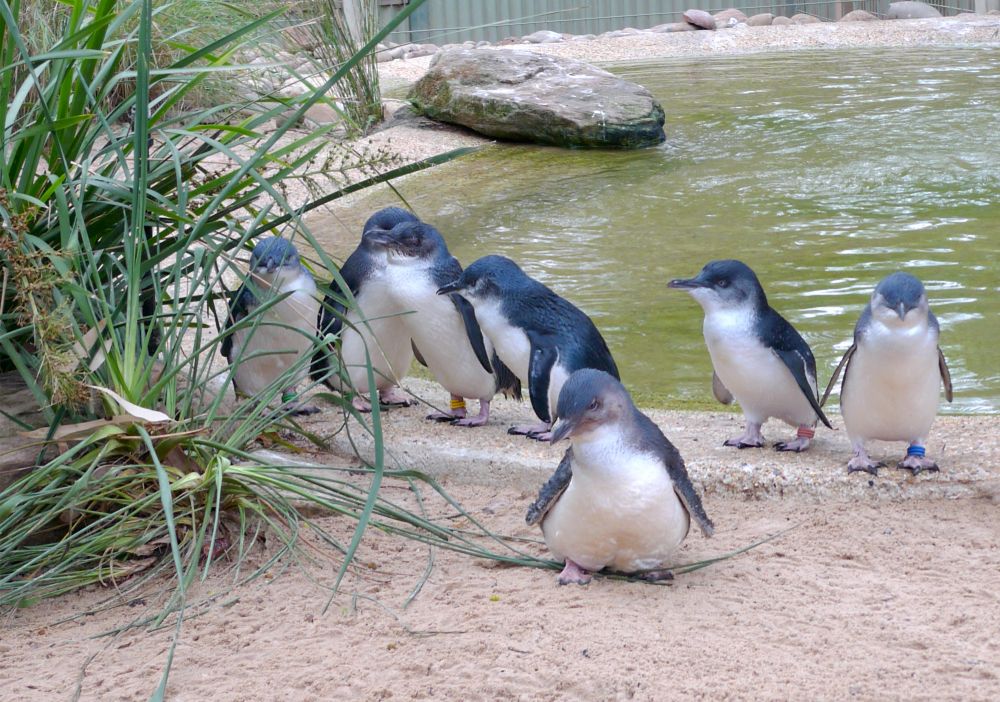 Cute Australian little penguins
Most people may think of Australia as being a hot, dry, and barren land. Well, for much of the country, that is a fair description, but it is still a continent and has a huge variation, especially when it comes to wildlife (and penguins, of course).
The southern regions of Australia are temperate and are home to the little blue penguin. Melbourne is a famous place to see the little blue penguin come ashore.
Species:
Little Blue Penguin
7
Cape Town, South Africa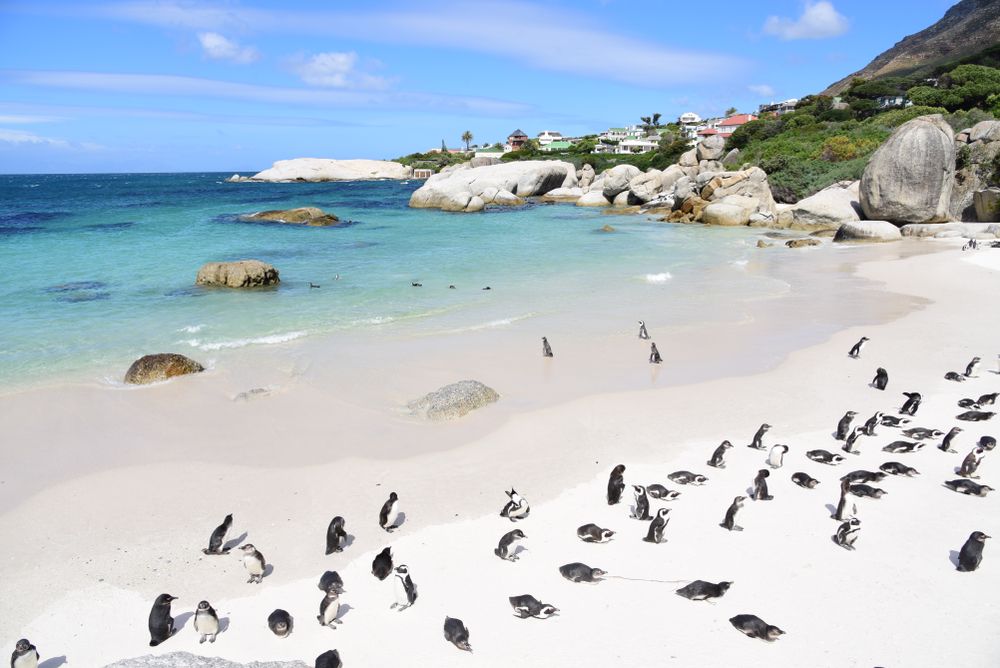 African Penguins Wildlife South Africa Cape Town
Cape Town in South Africa is one of the most stunning cities in all of Africa. It is worth visiting and is very popular with backpackers. Cape Town is also famous for its colonies of African penguins.
These are found just outside the city and are very much worth a visit – penguins in Africa! The most famous and accessible of the Cape Town penguins are those of Boulders Penguin Colony.
6
Falkland Islands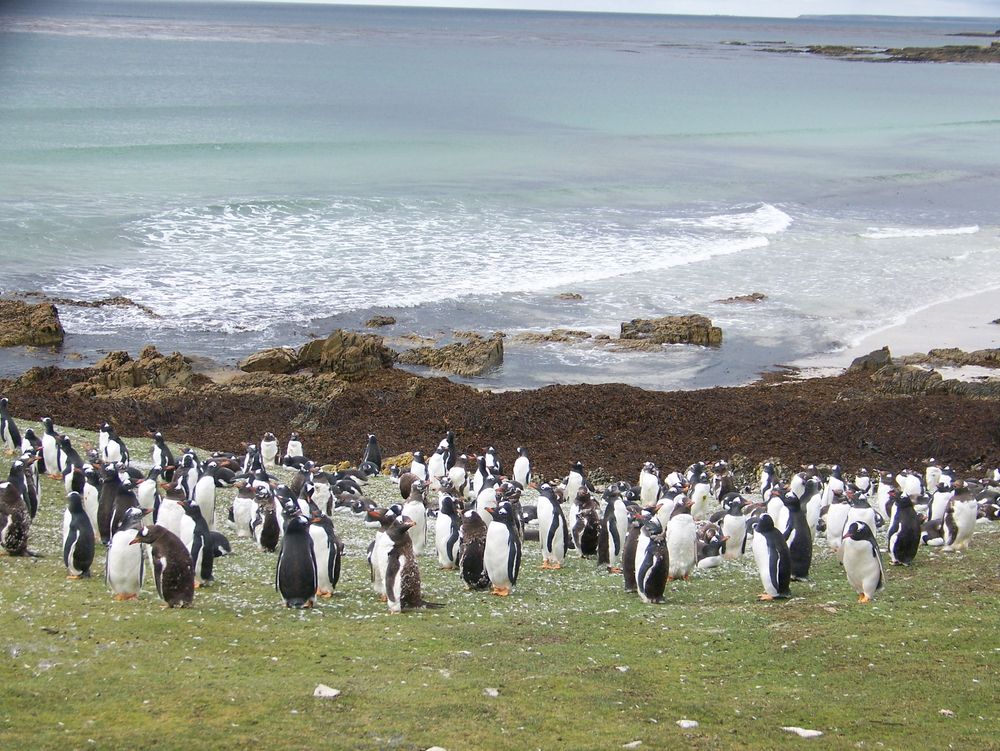 Gentoo Penguins at North Pond, Falkland Islands
The Falkland Islands are a far-flung South Atlantic British possession (claimed by Argentina) and are famous for their sheep. But besides sheep, the Falkland Islands is a popular destination for subantarctic cruises to call by and see the penguins that call the barren and chilly islands home.
As many as a million penguins nest in the Falkland Islands (which only have around 3,600 people, for comparison).
Species:
King, Gentoo, Rockhopper, Magellanic, and Macaroni
5
Bouvet Island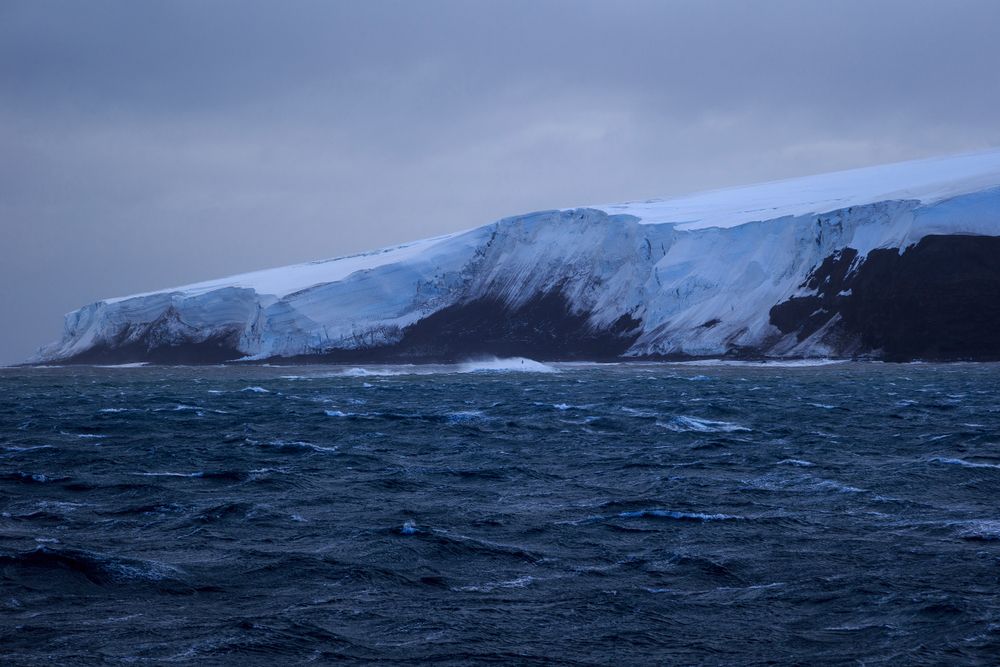 Bouvet Island, Norway
Bouvet Island is odd and the remotest island in the world. It is extremely difficult to reach this subantarctic volcanic island belonging to Norway (it is a piece of Norway close to Antarctica).
It is possible to go there with a special cruise and a permit, but it is also difficult and expensive (and very tricky to land on the island). The island often gets into nature documentaries thanks to its massive colonies of penguins.
Species:
Macaroni And Chinstrap Penguins
4
South Georgia Island
Sybille H. from
Pixabay
"">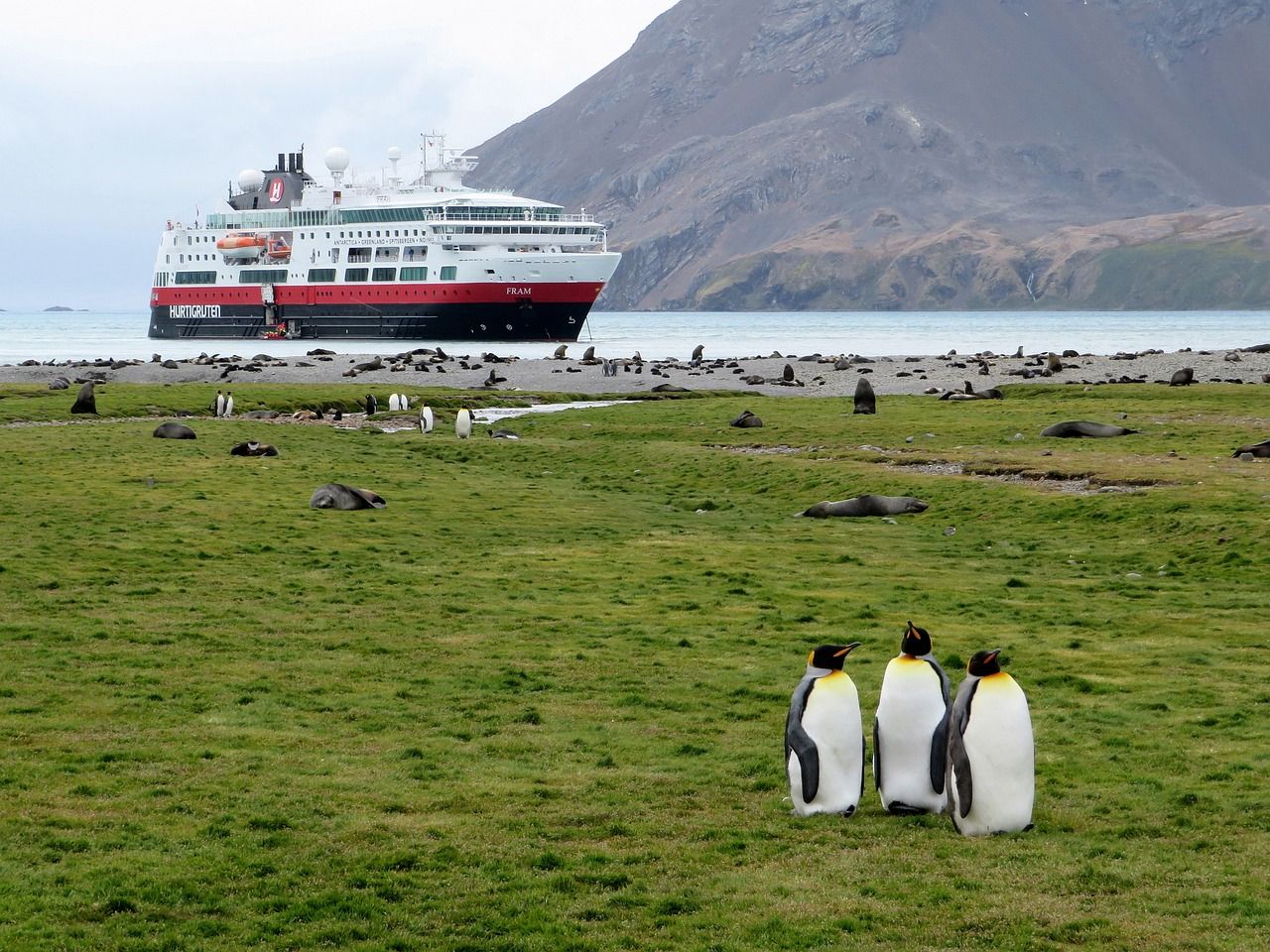 A View Of A Hurtigruten Ship On A South Georgia Itinerary
South Georgia Island is a favorite of the classic Sir David Attenborough nature documentaries (a documentary with David Attenborough and penguins likely includes scenes shot on South Georgia Island in the subantarctic).
It is teaming with life and is home to many of the most iconic species of penguins (including King Penguins) and some of the largest colonies. In addition, South Georgia is a favorite destination for skiing and subantarctic cruises in search of King Penguins.
Species:
King, Gentoo, Chinstrap, and Macaroni
Related: Visiting The World's Most Remote Museum Is An Adventure In Itself
3
Antarctic Peninsula
Emperor penguins in Antarctica
While penguins live in many coastal regions of Antarctica, only the Antarctic Peninsula is mentioned here as it is by far the easiest-to-reach part of the frozen continent.
A number of Antarctic expeditions call in at the Antarctic Peninsula, where the weather warms enough in the summer months for the ice to melt. It is also home to some of the most iconic penguins and their colonies, earning it a place among the best places to see wild penguins.
Species:
Emperor, Adélie, Gentoo, Chinstrap, and Macaroni
2
Patagonia, Argentina
Derek Oyen on Unsplash "">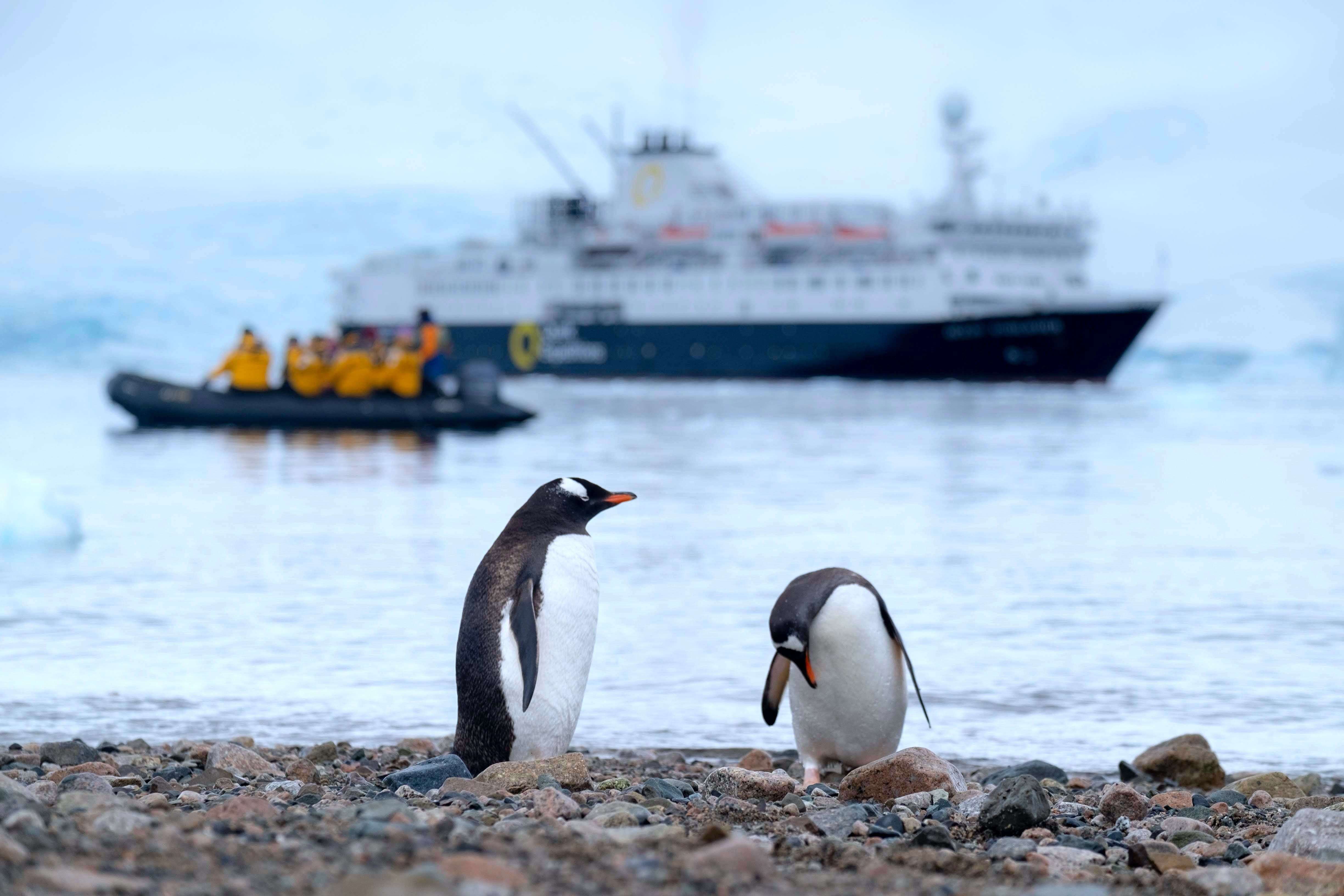 Gentoo penguins on a stony beach on Danco Island 
South America is also one of the best places in the world to see penguins in the wild; it has its own populations of penguins, too. Just as the Falkland Islands have penguins, so too does Argentina, especially in the country's beautiful region of Patagonia (which also spills over into Chile – more on that below).
There are a number of places along Argentina's long Patagonian coast where visitors can see penguins.
Species:
Humboldt, King, Gentoo, and Macaroni
Related: 10 Stunning Things To See In Patagonia
1
Patagonia, Chile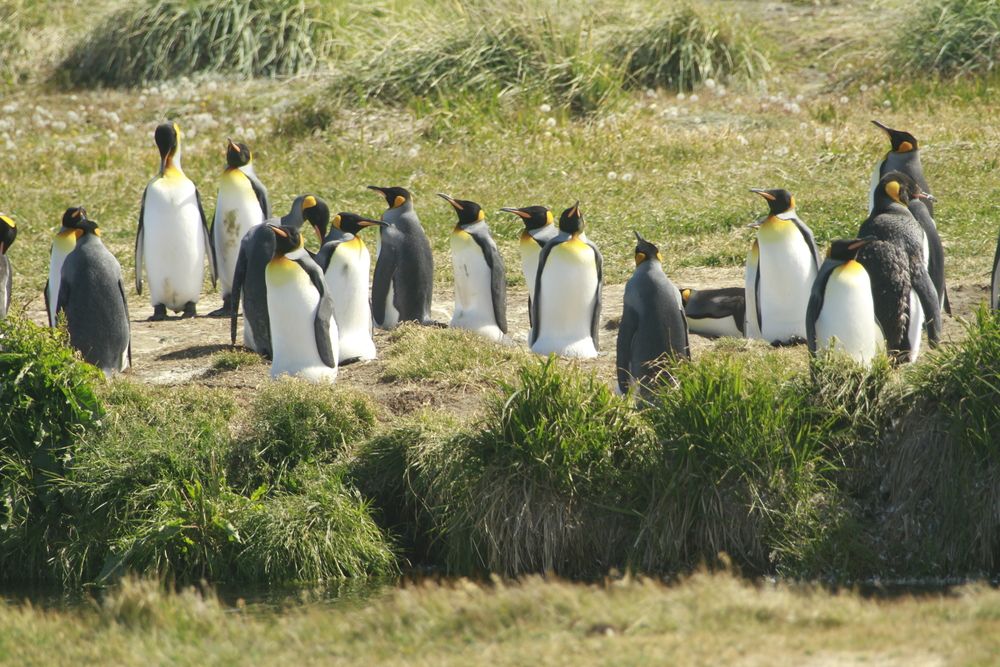 King Penguin park on Tierra del fuego, Chile
Looping around the Cape Horn of South America to Chile, visitors can find penguins on the Chilean side of Patagonia. Their populations extend far north along the Chilean coastline.
Penguins are one of the attractions to look out for when discovering the fjords of Chile's Patagonia.
Species:
Humboldt, King, Gentoo, and Macaroni