Bali is one of the top tourist destinations in the world. Bali's most beautiful beaches and resorts attract jet-setters from across the globe year-round, but this stunning Indonesian destination is more than sunny shores and polished hotels. This tropical paradise in Indonesia is also one of the most historic places in the world and is filled with many ruins and historic sites that date back to ancient times.
The many historic temples, palaces, and ancient ruins Bali has waiting for visitors to explore shed more light on the religious and cultural heritage of the city, which makes them even more interesting to see in the flesh. For travelers looking to visit Bali, they'll be glad to know that it's home to some of the best ancient sites in Indonesia. Discover Bali's ancient ruins that are worth visiting over the city's beaches and its other attractions.
Related: 10 Beachside Ruins That Will Make You Forego Sunbathing For Exploring
10
Besakih Temple
Located on a mountain slope in Besakih village, eastern Bali, the Besakih Temple is one of the most important Hindu landmarks in the world. In Bali, particularly, the temple holds great significance as it is the largest, most important, and holiest temple of Balinese Hinduism.
Every year, thousands of local Hindu people flock to this temple to say prayers, which is one of the most historic sites in Bali. Plus, it is also open to tourists who want to learn more about Balinese Hinduism.
Besides its size and cultural importance, the temple is also incredibly beautiful as it combines impressive architecture with beautiful garden decorations.
Location:
Besakih, Rendang, Karangasem, Bali 80863, Indonesia

Entrance Fee:
IIDR 60,000 for adults, IDR 30,000 for children
9
Puri Agung Karangasem
Ola Blossom"">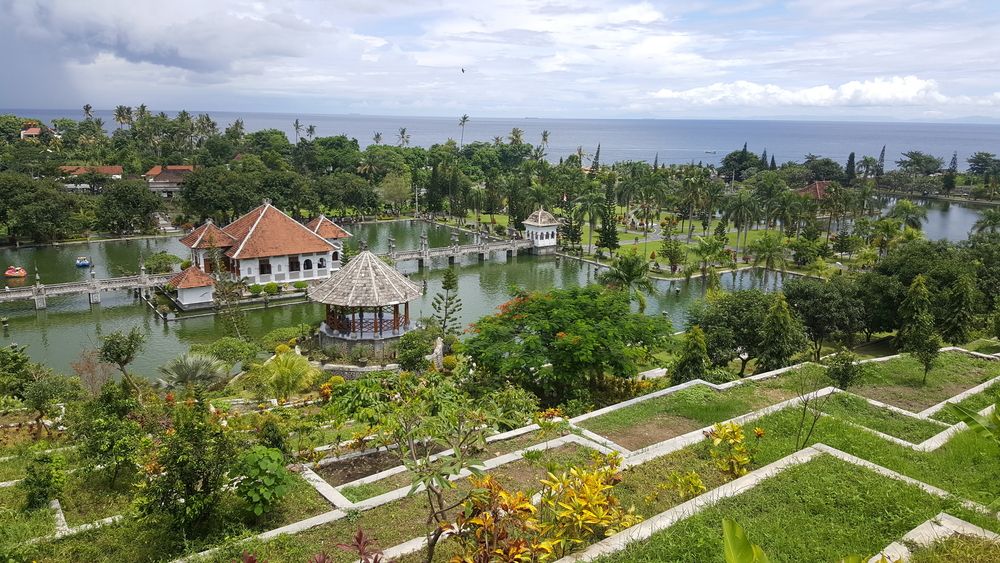 Puri Agung Karangasem palace, Bali, Indonesia
Located in East Bali, the Puri Agung Karangasem is one of the top ancient sites in Bali to visit; it's a building that was once the palace of the Karangasem kingdom.
The palace was built in the 19th century, and even though it now looks abandoned, some descendants of the kingdom still live here to date.
A tour of Puri Agung Karangasem palace is an opportunity to see some impressive structures as well as architectural designs that were influenced by foreign cultures, such as the Chinese and European cultures.
Location:
Jalan Sultan Agung, Karangasem, Bali 80811, Indonesia

Entrance Fee:
IDR 30,000 for adults
Related: 13 Things To Do In Bali: Complete Guide To The Island Of The Gods
8
Pura Ulun Danu Bratan
Aron Visuals on
Unsplash
"">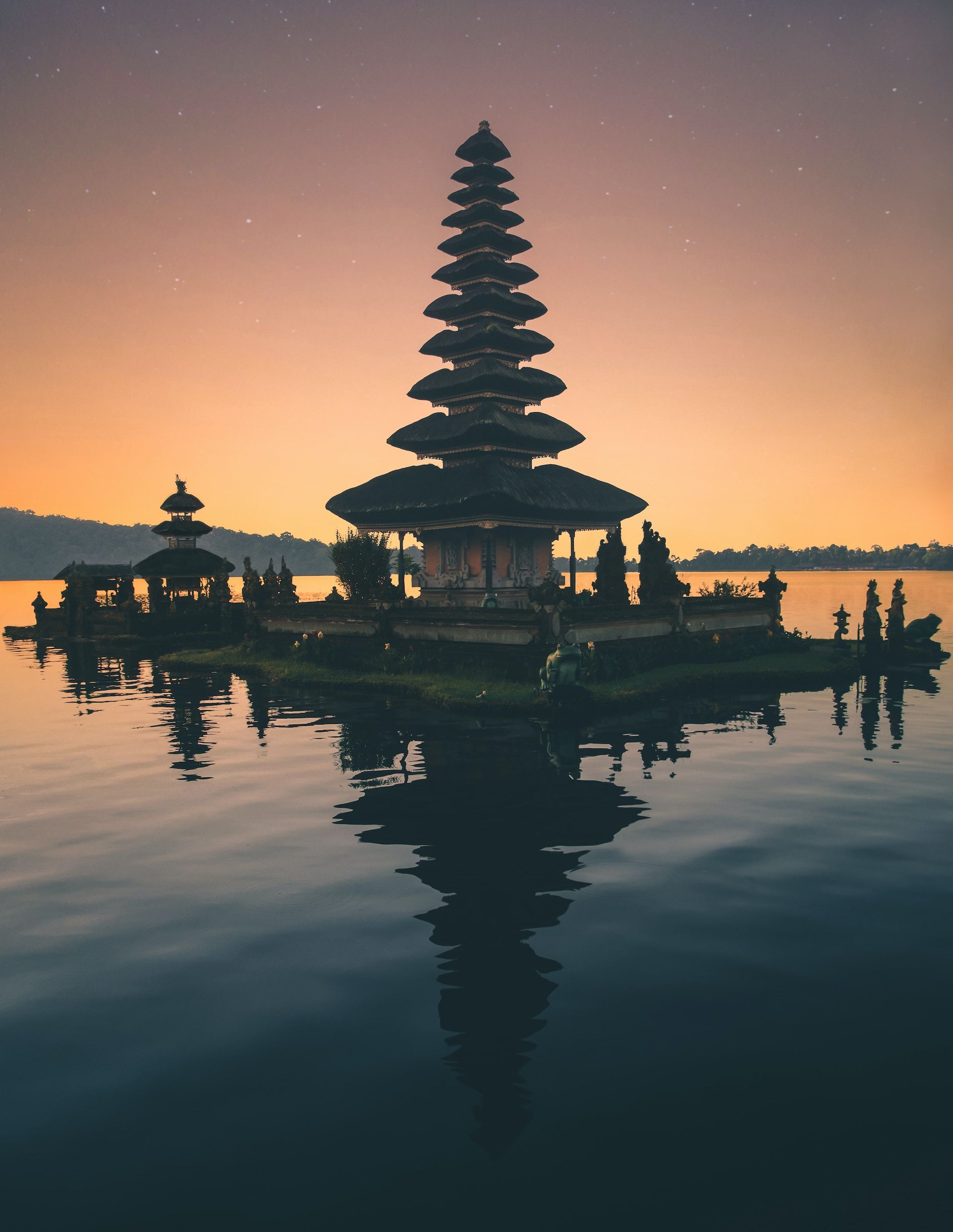 Pura Ulun Danu Bratan in Bali, Indonesia, during sunset 
The Pura Bratan, which means Bratan Temple, is one of the most beautiful archeological sites in Bali. This Hindu temple complex was established in the 17th century on the shores of the scenic Lake Bratan, which is the second-largest lake in Bali.
Its garden and the crystal clear water body are stunning, but the 11-story tower is the most striking feature of this temple. Whether one is coming to say prayers or witness the scenery of the temple, visitors to this temple are sure to be fascinated.
Location:
Candukuning, Baturiti, Tabanan, Bali 82191, Inonesia

Entrance Fee:
IDR 50,000 for adults, IDR 25,000 for children
7
Gunung Kawi Temple
Reena Yadav on
Unsplash
"">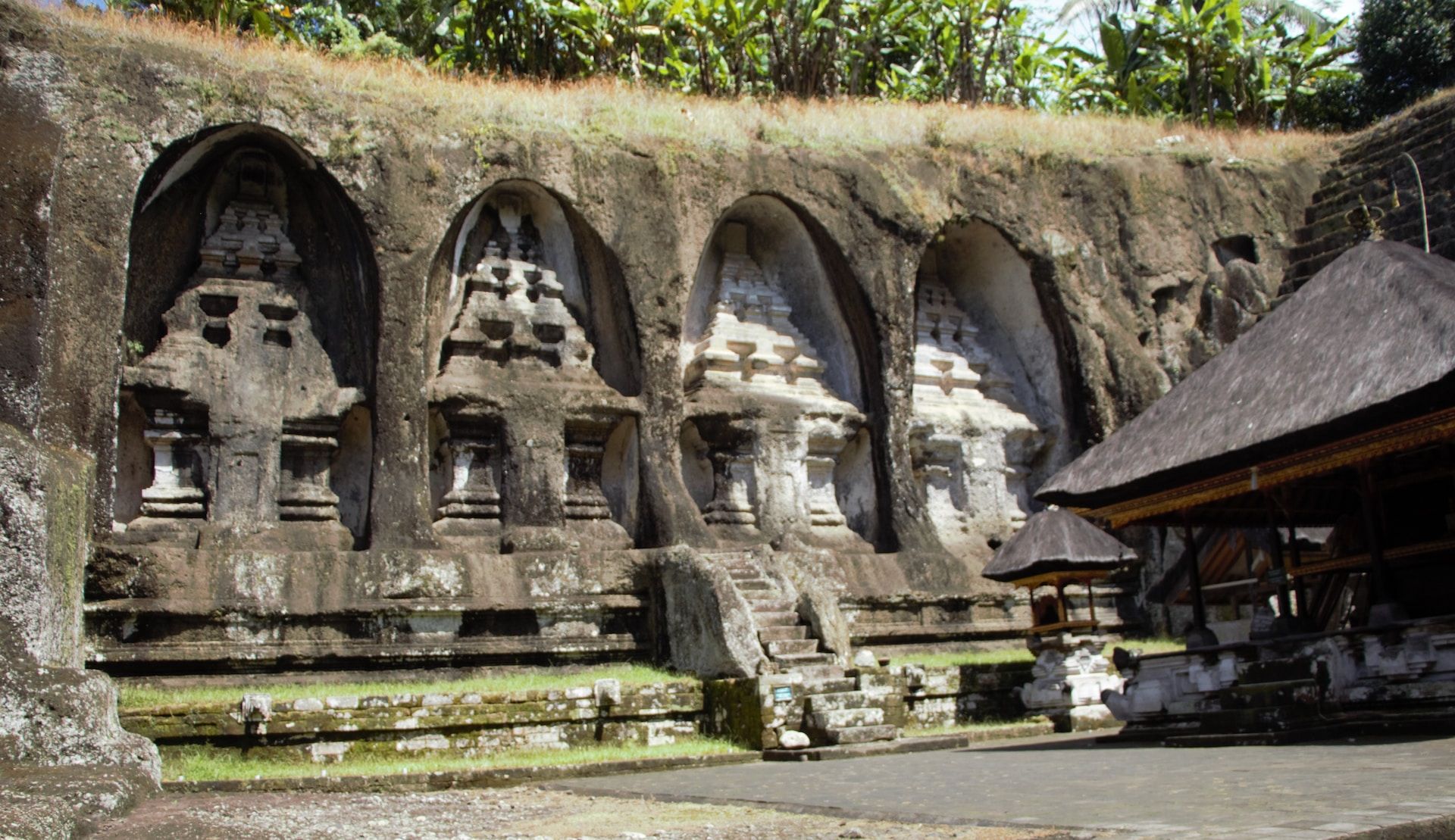 Gunung Kawi Temple in Bali Indonesia
The Kawi Temple is one of the oldest ancient ruins in Bali. It was built in the 11th century as a temple and funeral monument. There are different stories associated with this site, but the most popular claim is that it was built by King Anak Wungsu of the Udayana dynasty.
Besides its history and religious significance, the temple's location at the foot of a river valley, its surrounding lush greenery, and the stunning carvings at the entrance make it picture-perfect.
Location:
Tampaksiring, Bali, Gianyar Regency

Entrance Fee:
50,000 IDR
Related: 17 Things You Should Know Before Booking A Trip To Bali
6
Ujung Water Palace
A park filled with trees inside Taman Ujung, Bali
Ujung Water Palace, also known as Taman Ujung, was a former royal palace of the Karangasem Regency built in 1909. After serving as the royal palace for a short while, this site was turned into a park when the Dutch occupied Bali.
As fate would have it, the palace was severely damaged by an earthquake and an eruption that occurred on different occasions.
Despite almost getting destroyed by natural disasters, the temple has been renovated, and today, it is a beautiful park that has an ancient appeal. The park features three large ponds and impressive architecture, and it also offers great views of the surrounding hills.
Location:
Tumbu, Karangasem, Bali 80811

Entrance Fee:
20,000 IDR
5
Goa Gajah
Reena Yadav on
Unsplash
"">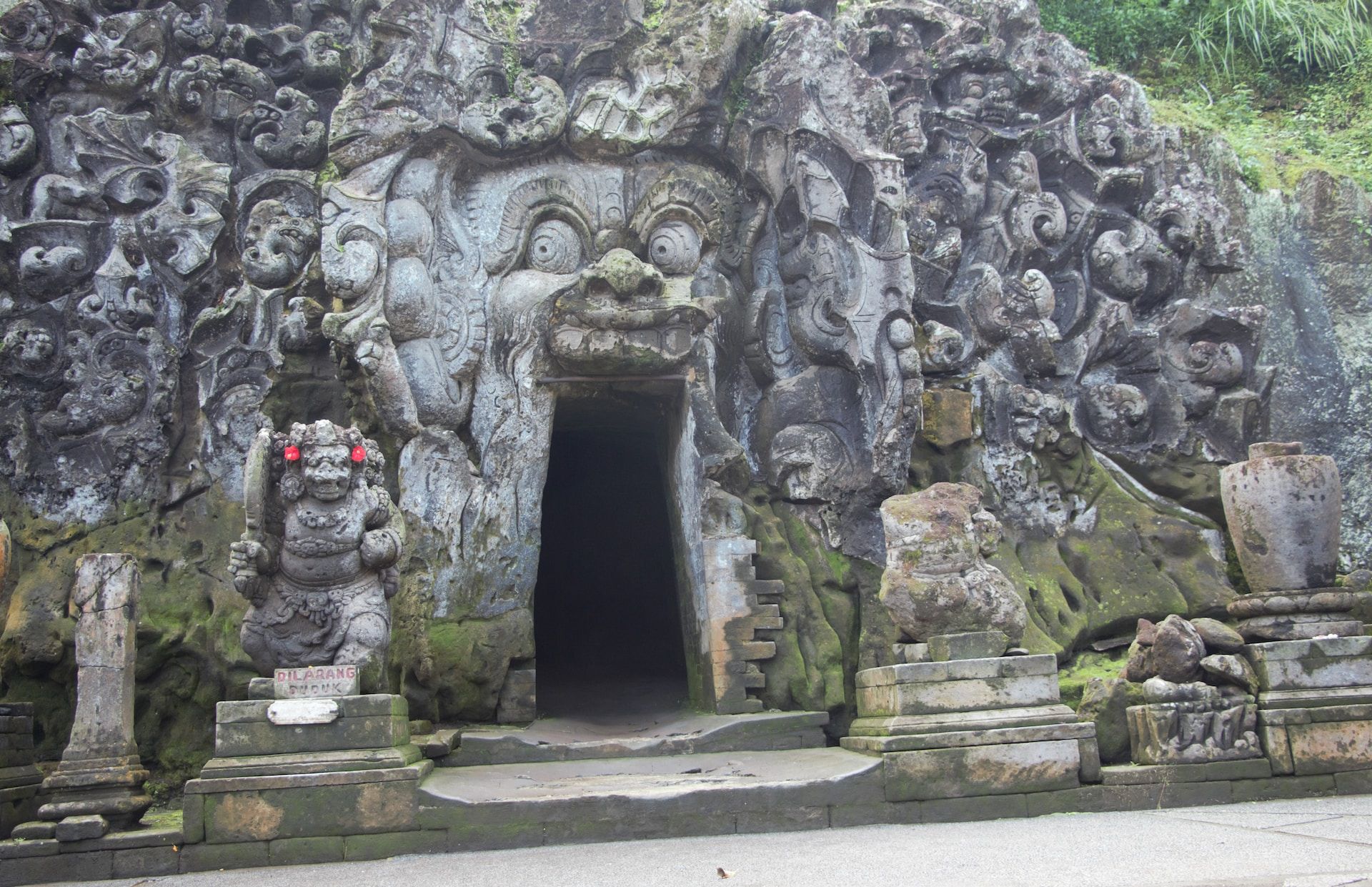 Goa Gajah in Bali, Indonesia
Goa Gajah translates to "elephant cave", and it is a Hindu temple in Bedulu village. Dating back to the 11th century, it's one of the best archeological sites in Bali to visit today.
However, this cave is nothing related to its name; it is instead a structure characterized by designs of monster-looking creatures and a door that is created from the wide-open mouth of a large monstrous being.
Such sight may be terrifying to even the bravest adventurer, but the cave is actually a place of meditation and prayers. The carved creatures are said to keep demons away. Inside the cave, it is silent and dark, and things one will see there include statues and a worship area. It's perhaps one of the most unique of the best ancient sites in Bali to check out.
Location:
Jalan Raya, Goa Gajah, Sukawati, 80582, Indonesia

Entrance Fee:
15,000 IDR
4
Yeh Pulu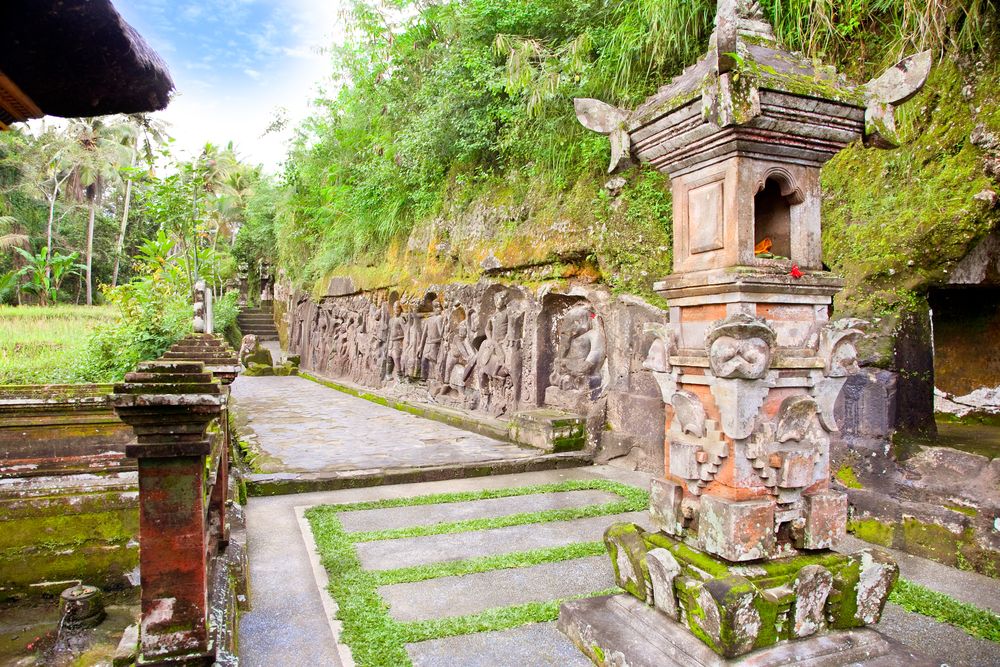 Famous carved cliff face of Yeh Pulu, Ubud, Bali, Indonesia
Yeh Pulu is one of the lesser-known ancient sites in Bali, which is not too far from Goa Gajah mentioned above. The main feature of this site is its 25-meter-long wall which is filled with human carvings that tell a story of the daily life of the ancient Balinese people.
The site is also used as a place for meditation, and it also offers hiking opportunities. But no other activity in this place is more fascinating than exploring the carvings, which are so detailed and impressive.
One would even wonder how ancient people managed to create such amazing rock art, which is even more impressive than many created today.
Location:
Jalah Yeh Pulu, Blahbatuh, Bedulu, Gainyar, Bali 80581

Entrance Fee:
15,000 – 30,000 IDR
3
The Peliatan Royal Palace
Barbora Martinakova from
Pixabay
"">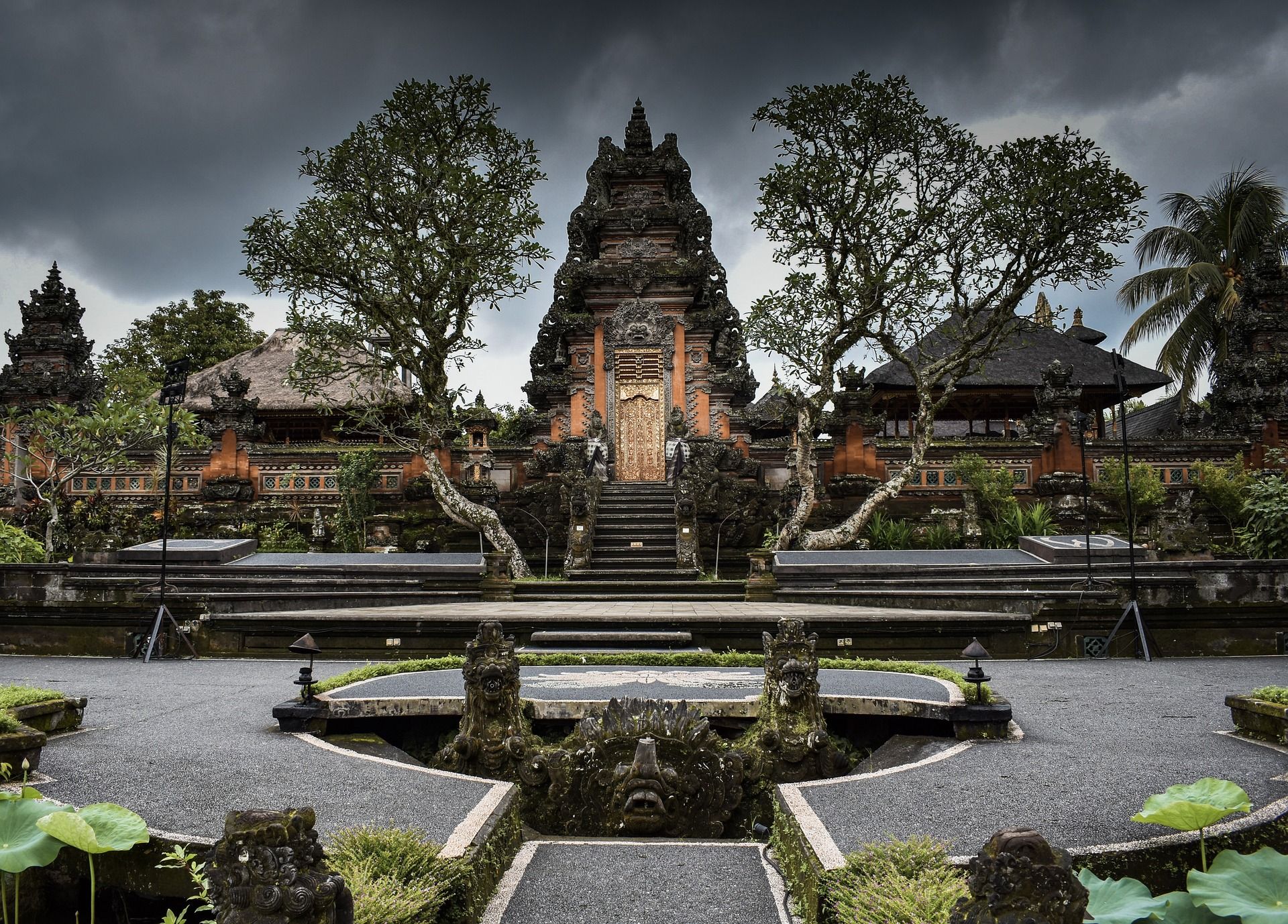 Peliatan Royal Palace, home to some of the most beautiful temples in Bali, Indonesia
Established in the 17th century, the Peliatan Palace is a historic site characterized by impressive architectural designs that look just like the Ubud Palace. The palace is well decorated with ornaments of gold and several statues, and it also features beautiful gardens and Balinese carvings.
A visit to this palace is exciting because, besides the views, cultural performances are also held here in the evenings. The palace is in Peliatan village in Ubud, and it still houses the royal family.
Location:
Jlan, Cok Gede Rai, Peliatan, Ubud, Gianyar, Balii, Indonesia, 80571

Entrance Fee:
20,000 IDR
2
Ubud Palace, Ubud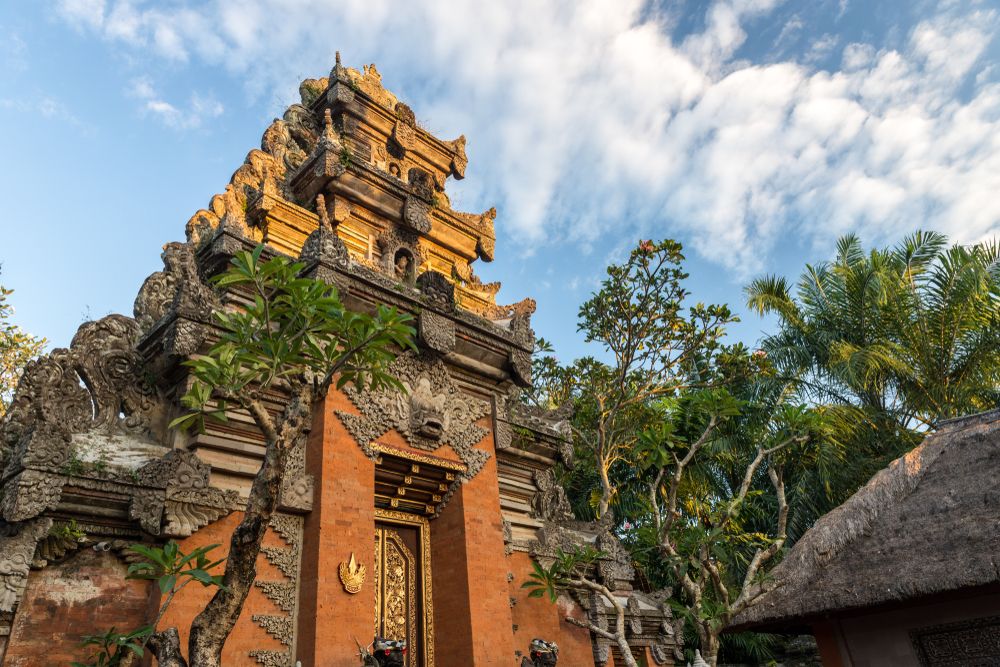 Part of the Ubud Palace in Bali, Indonesia
The Ubud Palace is an ancient building in Ubud, Bali, which was once the official residence of the Ubud royal family. It comes with impressive architectural designs as well as a natural appeal as it is surrounded by trees.
On some parts of the palace, one will find unique designs of frog-like demon faces engraved into its stone doors, while other parts of the building also feature gold-winged flower designs and carvings of Ubud monkeys.
There's something unique and interesting to see at every turn in this temple, and just visiting to walk through it is an exciting experience. There is also a temple in the palace where performances are held every evening to entertain guests.
Location:
Jalan Raya, Ubud, Gianyar, Bali 80571, Indonesia

Cost of Entry:
Free
Related: These Are 10 Of The Best Roman Ruins Worth Seeing Today
1
Tanah Lot Temple
Eyestetix Studio on
Unsplash
"">
People at Tanah Lot Temple in Bali, Indonesia
Tanah Lot Temple is one of the most historical places in Bali; it's a Hindu pilgrimage temple of great historic and religious essence to the Hindus of Bali. It is also a unique sight to behold as it is positioned on a large rock island in the middle of the water body, where it is constantly being bombarded by water.
The temple is a great place for photography, but its most important features are its religious and historic significance.
While the year it was built is not known specifically, Tanah Lot is said to have been built in the 16th century by a Balinese-Hindu traveler who came to rest on the rock and then declared it a holy place to worship Hindu gods. Today, it's one of the most famous temples in Bali to visit.
Location:
93HP+GPH, Tabanan Regency, Bali 82121, Indonesia

Entrance Fee:
IDR 60,000 for adults and 30,000 for children