Maldives, the tropical paradise, showcases innumerable natural wonders ranging from dream-like landscapes to glittering seas. As dawn knocks on the door and dusk caresses a charming goodbye, the island country evolves colours that entice visitors with its enigma. One such escapade is the Sea of Stars Maldives. It is the site where turquoise waters transform into twinkling lights, and the glowing radiance seems extraordinary. This phenomenon occurs especially during late summers due to bioluminescent phytoplankton. Vaadhoo Island is a popular spot for witnessing these plankton.
About the Sea of Stars Maldives
Bioluminescence is the phenomenon seen in a variety of organisms, including bacteria, algae, jellyfish, worms, fish, sharks, etc. This phenomenon is created by microscopic plankton named Dinoflagellates which possess a chemical called Luciferin known for emitting bright blue light to defend against copepod grazers. It helps disorient predators and gets triggered by the movement of the waves, resulting in glowing waves washing ashore mystically.
Things to do at the Sea of Stars Maldives
Admiring the glistening waters amid caliginous ambiance, there are miscellaneous things to experience here. The following are the popular activities to indulge in while visiting the Sea of Stars in Maldives:
1. Strolling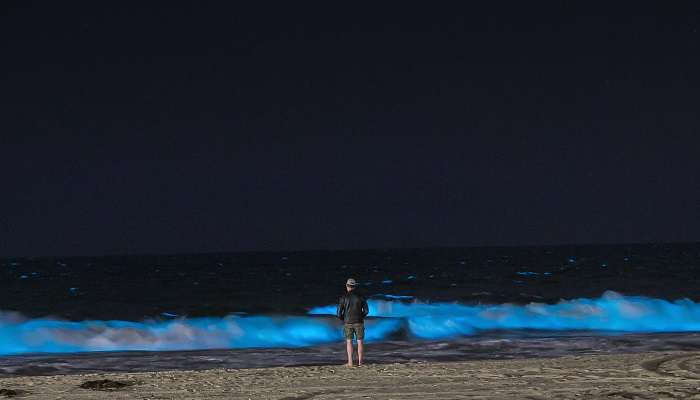 You can visit the Sea of Stars during the evening and after capturing sunset vistas get prepared to witness the bluish glow and sparkles in the water, beautifying the surroundings. You can plan to dine at any of the nearby clubs or restaurants, especially Hard Rock Cafe, Sansation Beach Club, Kale Odi, Kebab & Curry, Jiao Wu, etc. to enjoy scrumptious delicacies.
5 Best Five-star Hotels In Maldives To Stay For A Rejuvenating Experience
2. Swimming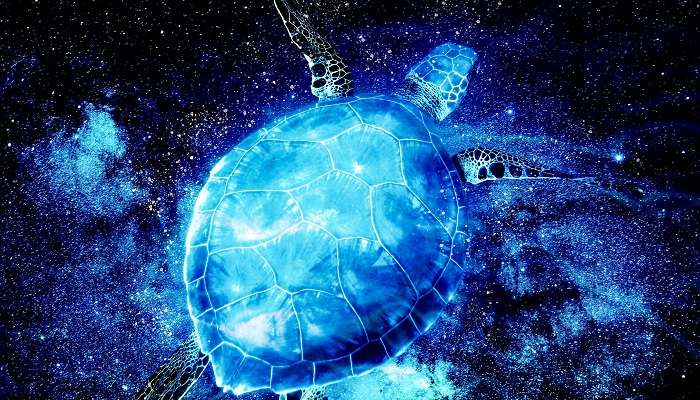 You can opt to swim during night at the Sea of Stars and experience the movement formed by you will amplify the blue glow, giving a sneak peek of the oceanic light show around you.
When you swim here, the water movement stresses the micro-organisms, leading to intense lights and an outstanding vistas.
3. Snorkelling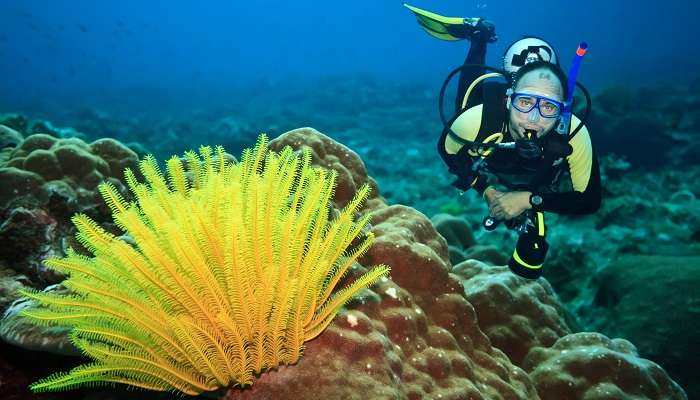 Indulging in snorkelling is another interesting thing to do while exploring the Sea of stars Maldives. This excursion will give you a chance to witness the sparkling lights from underneath the surface of the water. You may also spot glowing fishes, the aquatic creatures that consume a large number of microorganisms.
7 Best Budget-friendly Resorts in Maldives for Leisure Seekers
Places to Visit near Sea of Stars Maldives
1. Dharavandhoo Fish Market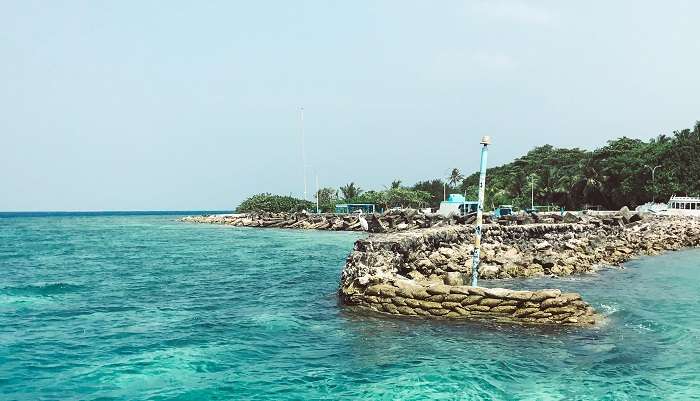 Dharavandhoo Fish Market is a vibrant pocket-sized harbour that serves to be a hub for tourists willing to witness gatherings of manta rays at nearby Hanifaru Bay. The place is perfect to capture the local vibe.
2. Baa Atoll Biosphere Reserve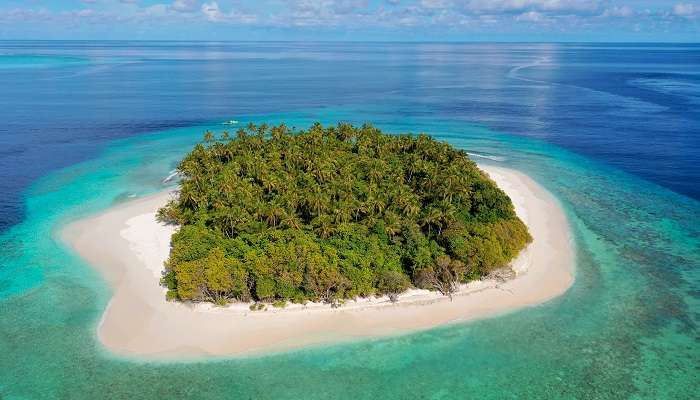 The Baa Atoll Biosphere Reserve features 75 islands, out of which 13 are inhabited by around 12,000 people. It harbours nearly 250 species of vibrant corals and 1,200 species of fish. You can plan to visit the reserve during morning or afternoon, before heading to the Sea of Stars in the evening.
8 Best Family-Friendly Resorts in Maldives
3. Thilafushi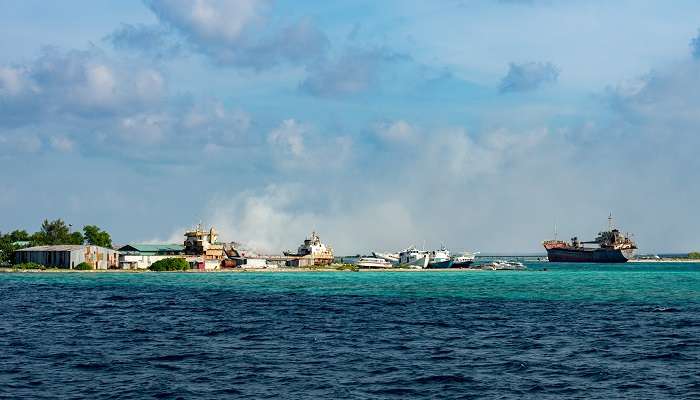 Thilafushi is the highest place above sea level in the Maldives and is made out of trash that has piled metres as a result of a vast man-made lagoon landfill. The place is one of its kinds and must not be missed out while exploring the region.
Best Time to Visit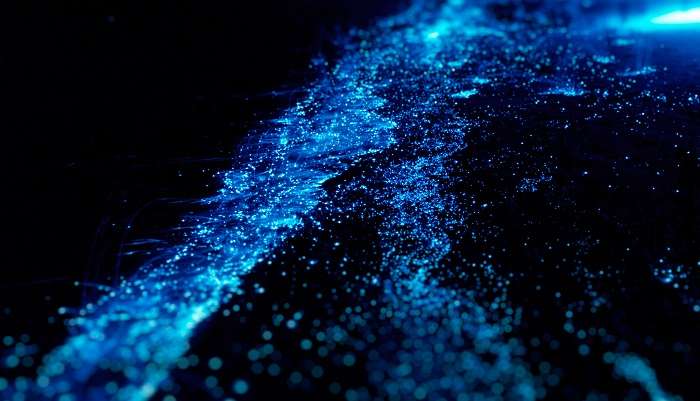 The sight of bluish sparkles of the Sea of Stars depends upon the growth of the bioluminescent plankton. It is impossible to predict its time and location. However, the best views can be captured between late summer to the year end.
10 Best Resorts In Maldives For Indian Travellers
How to Reach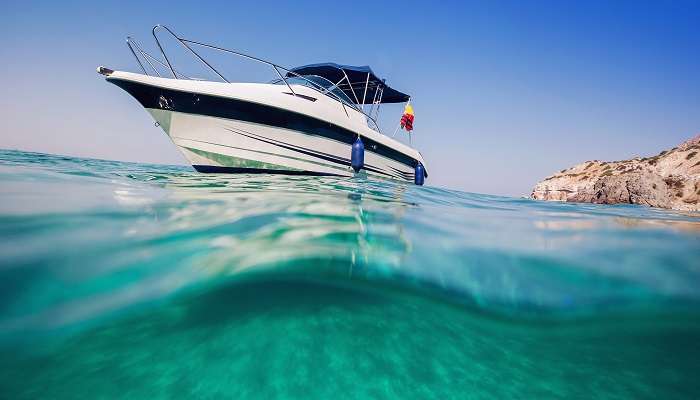 Vaadhoo Island can be easily reached from the Male International Airport. From the airport take a domestic flight to Ifuru Domestic Airport. From here you can hire a boat to reach Vaadhoo Island. You can also take a speedboat or ferry from Male to reach Vaadhoo.
Whether you're an adventure seeker or love to enjoy leisures, don't forget to consider visiting Raa Atoll's Sea of Stars to witness something beyond your normal explorations. You can also book your future holiday to the Maldives with TravelTriangle and enjoy holidaying on an itinerary drafted exclusively according to your preferences.
For our editorial codes of conduct and copyright disclaimer, please click here.
Frequently Asked Questions about Sea of Stars Maldives
Is the Sea of Stars in the Maldives real?
Yes, it occurs due to a phenomenon caused by bioluminescent phytoplankton, especially during the summer season.
When can you see the Sea of Stars in Maldives?
The best time to witness the Sea of Stars is between June to October. During this time, the bluish glow tends to be maximum.
Is it safe to swim in the Sea of Stars Maldives?
Yes, it is completely safe to swim in the Sea of Stars and this also gives you a chance to capture unbelievable vistas of the water.
Is it safe to visit the Maldives during Covid?
You need to follow all the mandatory travel guidelines mentioned by the authorities to ensure a safe experience. Always remain masked at the public places and sanitise your hands regularly after touching surfaces.
People Also Read:
Places To Visit In Seychelles Places To Visit In Maldives Places To Visit In Sri Lanka