Kansas is home to pretty small towns and bustling big cities. However, when people think of The Sunflower State, the first thing that probably comes to mind might be the prairies and gorgeous countryside, but there are quite a few things that can only be found in Kansas, namely some incredible waterfalls.
From hidden gems like Elk Falls to the intense cascades of Cowley Falls, it's time to grab a camera and explore the most beautiful waterfalls in Kansas.
10
Idlewild Falls
Waterville in Kansas on a map
There are so many picturesque waterfalls to see around the world, and Idlewild Falls is one that any waterfall lover should have on a bucket list. Situated north of Waterville, Idlewild Falls is actually composed of two waterfalls formed "by the spillway carrying water from Lake Idlewild to the nearby Little Blue River".
The waterfalls are 60 feet apart, and each has a drop of 10 -12 feet. Travelers who want to explore and have a look at this waterfall should dress with the possibility of trekking through the foliage.
Location
: Waterville

Attractions close by
: Lake Idlewild
Related: Hit The Road: 10 Unforgettable Adventures Await With These U.S. Road Trip Ideas
9
Elk Falls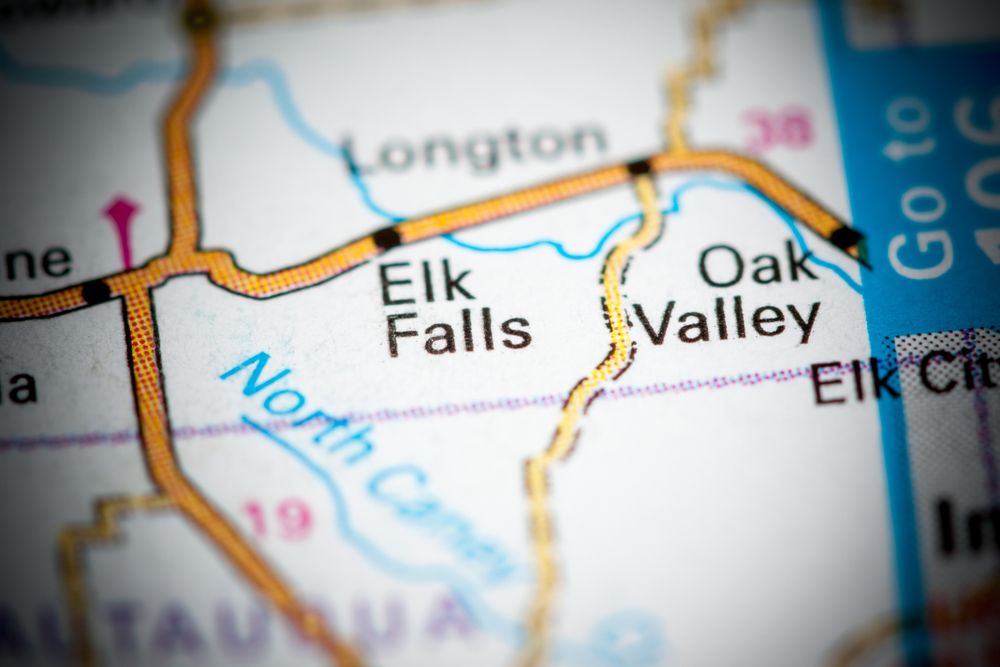 Elk Falls, Kansas, on a map
Located in the lovely town of Elk Falls (which has a population of less than 200 people), Elk Falls is a waterfall about "10 ft. high and approximately 100 ft. wide". While it's not massive, it still earns its place among the most stunning waterfalls in Kansas, mostly because of the tranquil, peaceful surroundings that visitors can enjoy.
This mini hidden gem in Kansas is great for travelers who want to embrace a serene and quiet yet scenic atmosphere with awesome views.
Want some great photographs? Take a few pictures from the Iron Truss Bridge.
8
Santa Fe Lake Falls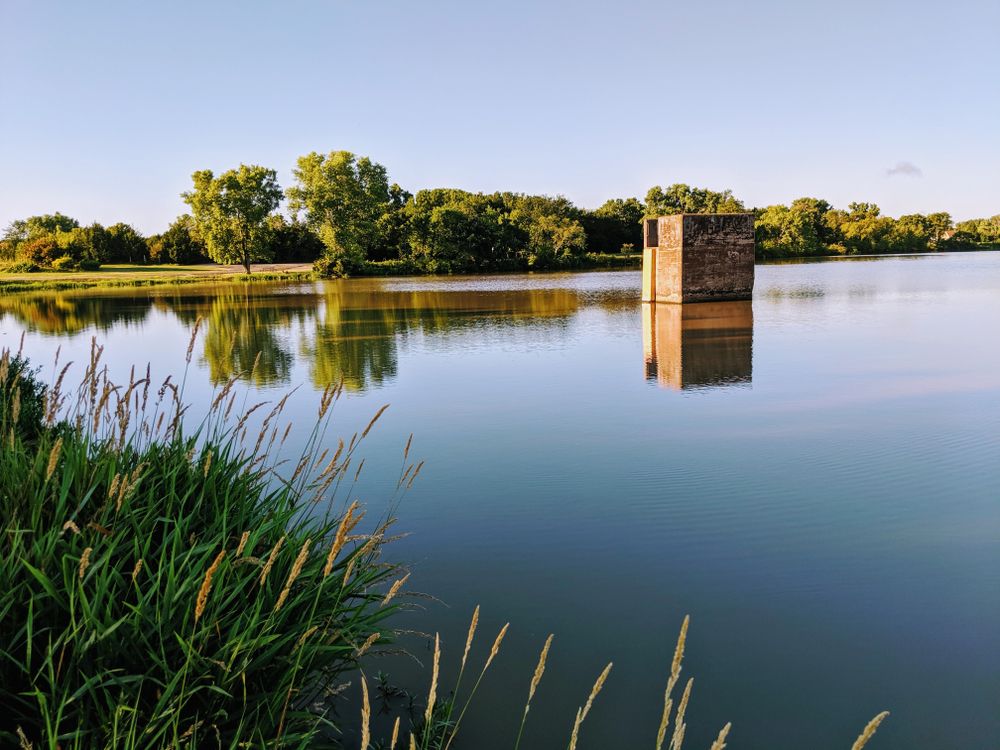 Santa Fe Lake in Kansas near Augusta. Photo taken near the dam.
The US is home to so many beautiful waterfall hikes, and Sante Fe Lake Falls is definitely among one them (and it is absolutely worth every second of the hike).
Not to be confused with the manmade waterfall with the same name in Edgerton, Sante Fe Lake Falls is a waterfall with many layers located in Augusta.
Sante Fe Lake Hiking/Biking Trail Park Entry Fee
: $10 Weekdays $12 Weekends

Location
: Augusta

Active
: during the rainy season

Attractions close by
: Santa Fe Lake
7
Chautauqua Falls
Roberto Galan"">

The old business district in Sedan, Kansas, USA. Sedan is only 10 minutes from Chautauqua Falls.
Located in Chautauqua County, Chautauqua Falls is one of the most beautiful Kansas waterfalls. But it is "a partially man-made falls, where the spillway of Sedan Lake falls over a natural limestone caprock formation".
Travelers heading to this waterfall can look forward to seeing multiple drops once the amount of rainfall is high, especially during the rainy season. Furthermore, the falls are not far from Sedan, which people can also add to their itinerary when in the area.
Location
: Chautauqua County

Active
: during the rainy season

Attractions close by
: Sedan City Lake
6
Prather Creek Falls
The banks of the Cottonwood River, Cottonwood Falls, (located near Prather Creek Falls around 5 minutes away), Kansas, USA
Located in Chase County, Prather Creek Falls, also known as Chase Falls, is one of the prettiest waterfalls in Kansas; it is a delightful three-tier waterfall worth the trip.
With a "drop of 40 feet," it is no wonder this waterfall has become a top place to visit in Kansas for nature lovers, especially as the weather heats up.
Location
: Chase County

Attractions close by
: Chase County Lake
Related: U.S. National Parks: 14 Road Trips To Explore The Best Of America's Natural Beauty
5
Bourbon Falls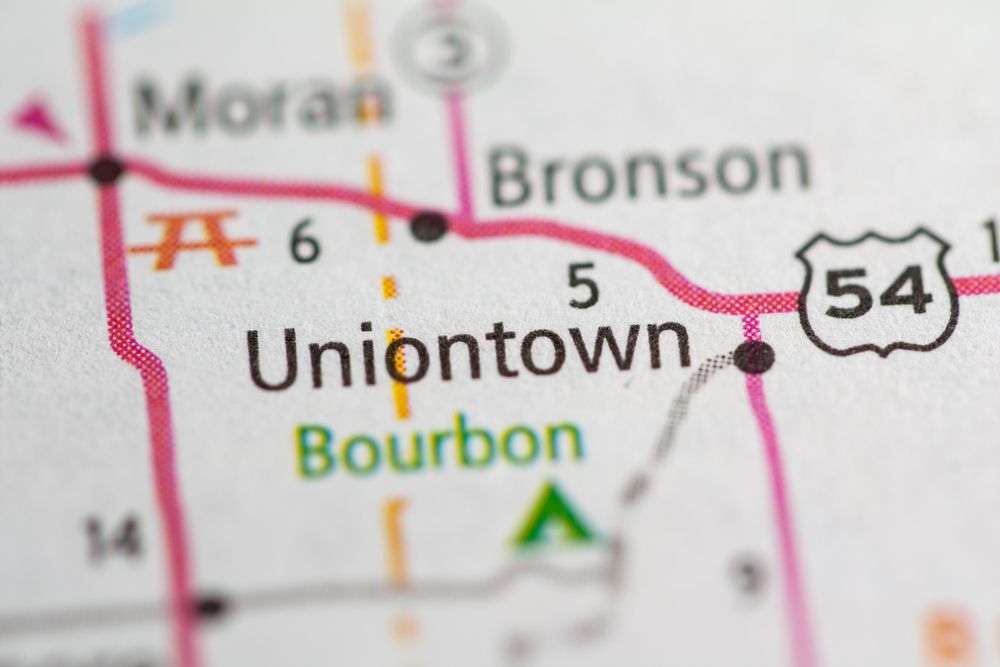 Uniontown, Kansas, on a map, where Bourbon Falls is located
Located in Uniontown, Bourbon Falls is one of the most photogenic waterfalls in Kansas that is truly grand. The 30-foot waterfall is definitely a must-see for waterfall enthusiasts and can sometimes be seen "through the trees from the gravel road a quarter mile away".
Travelers that are keen to visit this epic waterfall should wear appropriate footwear because cars are unable to access the waterfall directly.
Location
: Uniontown

Active
:
April until July

Attractions close by
: Bourbon State Fishing Lake
4
Butcher Falls
Located to the northwest of Sedan on Red Buffalo Ranch, Butcher Falls is a 14-foot waterfall "just 500′ above the point where the creek empties into Middle Caney Creek". Waterfall lovers that want to experience this fall at its best should visit "during spring high water".
3
Cowley Falls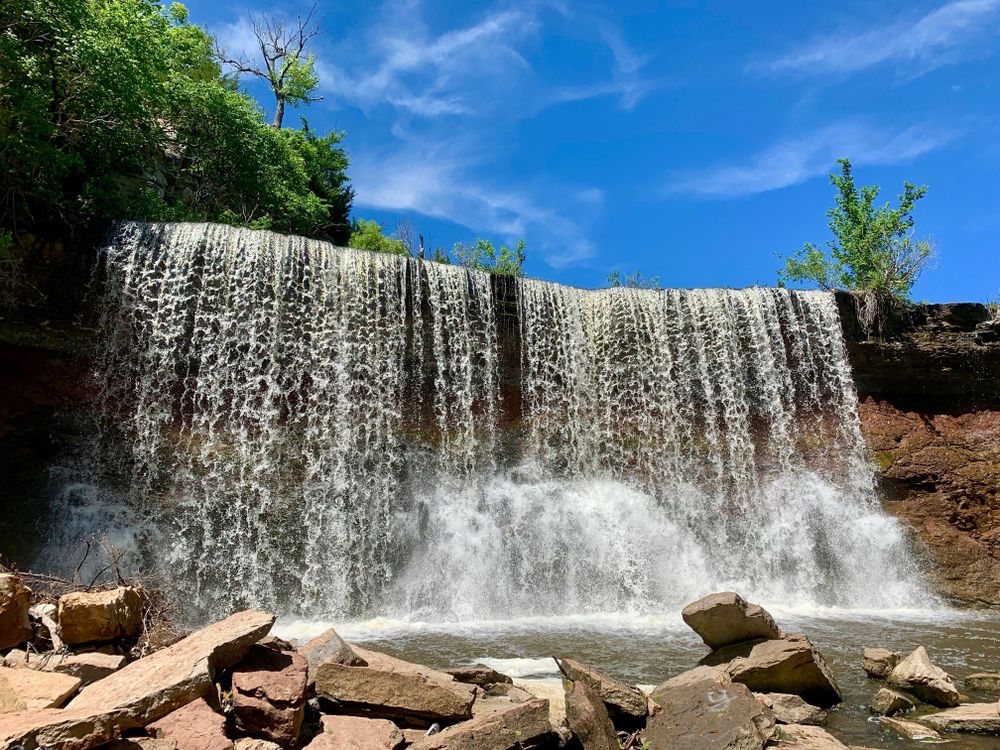 Cowley County State Lake Waterfall, Kansas, USA
Located east of Arkansas City, Crowley Falls is a beautiful 25-foot waterfall with a broad water flow. Visitors that love waterfalls with raging waters will definitely enjoy this waterfall.
To capture Insta-worthy views of the waterfall and explore a little, it's best to head toward the base of the fall. The path is a little tricky, so hikers should proceed with caution and wear appropriate footwear.
Location
: Cowley County

Active
: during and after the rainy season

Attractions close by
: Cowley State Fishing Lake
Be cautious of the broken glass at the base of the waterfall.
2
Alma Falls
Sunset in the Flint Hills of Kansas with cattle grazing in the background
Located in the southwest of the Alma City Fishing Lake, Alma Falls is one of the top waterfalls in Kansas in terms of beauty; it is a spectacular waterfall with at "least three large drops".
Waterfall enthusiasts should visit this fall when the rain has been heavy, as the waterfall really shines after a downpour. Also, what makes the area of Alma even more appealing to visit is that it's situated in the heart of the beautiful Flint Hills of Kansas.
Location:
Alma

Active:
especially when it's rainy

Attractions close by:
Alma City Lake
1
Geary Lake Falls
Geary County State Fishing Lake Waterfall, Kansas, USA
Located in the Geary State Fishing Lake south of Junction, Geary Lake Falls is one of the most scenic waterfalls in Kansas. It is created "by the outlet from Geary State Fishing Lake".
At 35 feet, Geary Lake Falls is an impressive sight to behold, with its water flow and natural background of foliage creating a photo-worthy view. Getting to the waterfall is relatively easy; it's an "out-and-back trail that's under a mile".
Want to hike to the top of Geary Lake Falls? Be sure to wear proper hiking shoes as it may be a little slippery.