South Carolina is one of the best vacation destinations in the southern US and is known for its bustling cities and popular tourist destinations. But nestled amidst its picturesque landscapes are hidden treasures. From the historic streets of Abbeville to the coastal allure of McClellanville, these off-the-beaten-path South Carolina towns hold a unique charm that deserves to be explored.
For travelers in this state in search of something different off the tourist trail, here are the most underrated towns South Carolina has waiting for explorers, each of which offers a glimpse into the rich history, natural beauty, and vibrant communities that make this state truly special. So, embark on a virtual tour to unveil the secrets of these underrated towns and experience the authentic and captivating side of the Palmetto State.
Related: These Small South Carolina Towns Are Full Of Charm
10
Edisto Beach
Waves in the Atlantic Ocean and the beachfront homes at Edisto Beach, South Carolina, USA
Located on the southern tip of Edisto Island, Edisto Beach is one of the many underrated yet best beach towns in South Carolina, known for its unspoiled natural surroundings and laid-back atmosphere. One of the main attractions of Edisto Beach is its pristine beach, offering soft sand, gentle waves, and ample space for sunbathing, swimming, and beachcombing.
Additionally, the area is home to a diverse ecosystem that features marshes, maritime forests, and a wide range of plant and animal species. Visitors can explore hiking and biking trails, go kayaking or canoeing in the creeks, or enjoy birdwatching and fishing.
Moreover, visitors can also explore the Edisto Island Historic District, which showcases historic homes, churches, and other structures dating back to the 18th and 19th centuries.
Popular Attractions in Edisoto Beach
: Edisto Beach State Park, The Plantation Course at Edisto, and Edisto Island Historic District.
9
Bluffton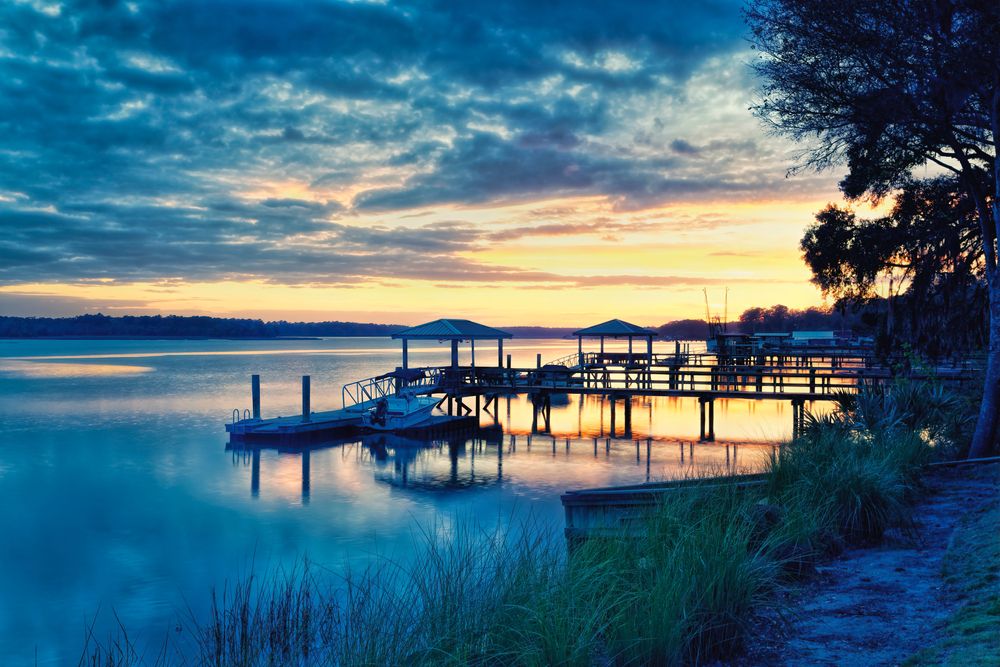 Scenic view of May River, Bluffton, South Carolina, United States
Situated on the banks of the May River in Beaufort County, Bluffton is one of the beautiful lesser-known towns in South Carolina worth visiting. It's a picturesque town renowned for its natural beauty and vibrant community.
The Old Town area of Bluffton is the heart of the town and offers a unique blend of art galleries, boutiques, antique shops, and restaurants housed in beautifully restored buildings. Visitors can explore the streets lined with moss-draped oak trees while browsing through art studios showcasing the works of local artists.
Bluffton has a deep-rooted history that can be seen in its 18th-century architecture and landmarks. Also nature lovers will also appreciate the natural beauty that surrounds the town. The May River offers opportunities for boating, fishing, and kayaking, with its scenic waterways and abundant wildlife.
Popular Attractions in Bluffton:
Heyward House
Historic Center, Pinckney Island National Wildlife Refuge, Bluffton Oyster Factory Park, and Church of the Cross
Related: 10 Reasons South Carolina Should Be Your Next Travel Destination
8
Mount Pleasant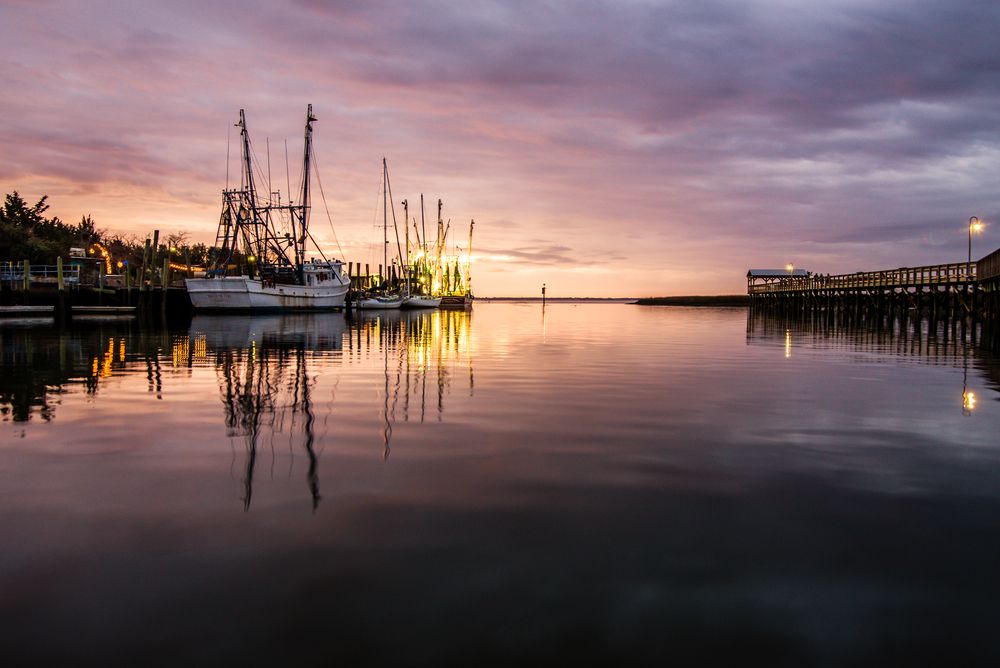 Sunset over Shem Creek in Mount Pleasant, South Carolina
Mount Pleasant is among the best underrated towns in South Carolina; it's a thriving town in Charleston County that offers a suburban lifestyle with easy access to the amenities and attractions of the larger city.
One of the defining features of Mount Pleasant is its scenic waterfront location. The town is bordered by the Wando River and the Charleston Harbor, providing residents and visitors with beautiful views and opportunities for water-based activities.
The town has a vibrant culinary scene with a wide range of dining options and is known for its craft breweries and locally owned shops, providing opportunities for shopping and sampling unique flavors. For outdoor enthusiasts, Mount Pleasant offers several parks and recreational areas featuring walking trails, picnic areas, and various other activities.
Popular Attractions in Mount Pleasant:
Shem Creek Park and Memorial Waterfront Park, Boone Hall Plantation and Gardens, and Charles Pinckney National Historic Site
While enjoying the outdoor spaces in Mount Pleasant, it's important to be aware of the presence of fire ants. To avoid unpleasant encounters, be cautious when sitting or placing belongings on the ground, especially in grassy areas, and keep an eye out for ant mounds or signs of ant activity.
7
Abbeville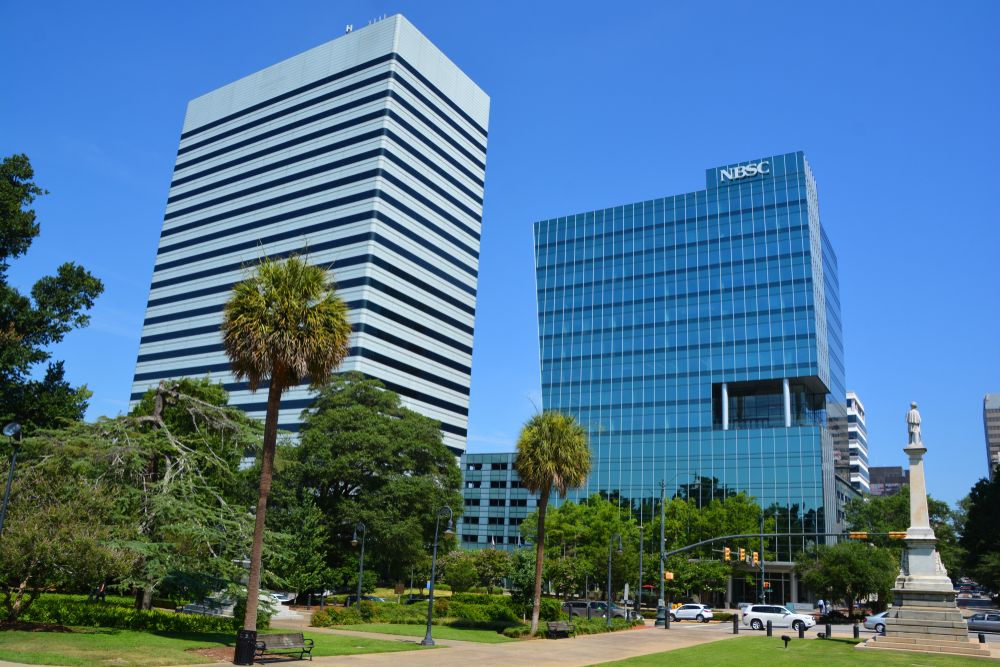 Prysmian Copper Wire Tower in Abbeville, South Carolina
Abbeville is one of the charming small towns in South Carolina; it's a historic town in Abbeville County, popular for its rich architectural heritage, offering visitors a glimpse into the past with its well-preserved historic buildings, charming streets, and friendly community. One of the notable features of Abbeville is its beautiful downtown district, listed on the National Register of Historic Places.
The town's Main Street is lined with 19th-century buildings, including Victorian-style homes, churches, and commercial structures. The architecture reflects the town's prosperous past and adds to its unique charm.
Nature lovers will appreciate Abbeville's proximity to the Sumter National Forest and the nearby Lake Russell. These natural areas offer opportunities for outdoor activities such as hiking, camping, fishing, and boating.
Popular Attractions in Abbeville:
Abbeville Historic District, Abbeville County Courthouse, Abbeville Opera House, and Abbeville Spring Festival
6
Aiken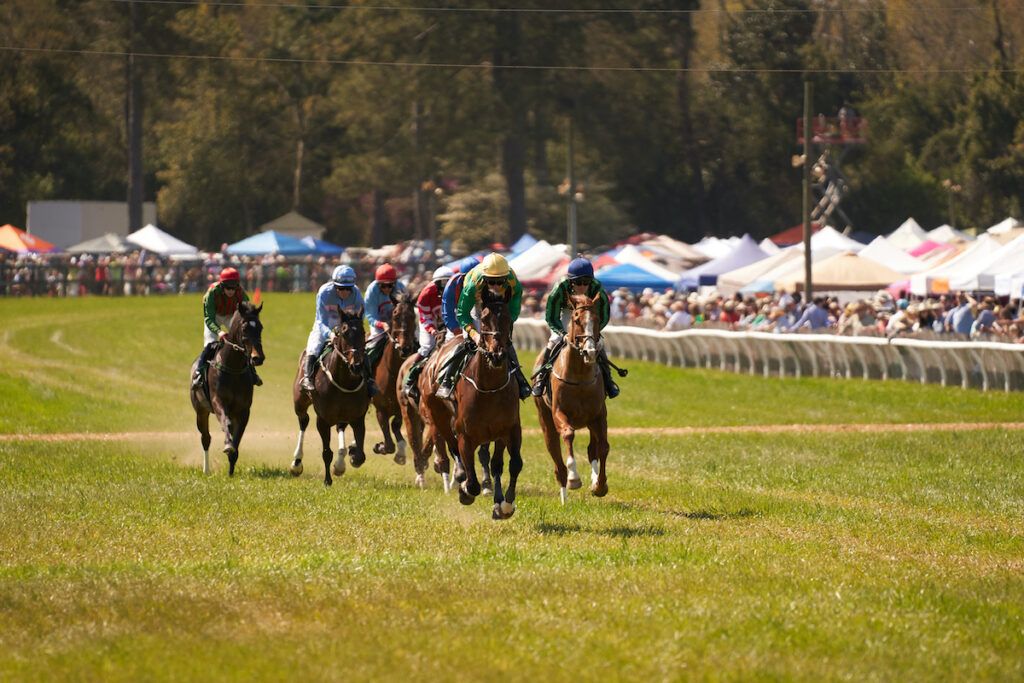 Spring Steeplechase in Aiken, South Carolina 
Aiken is also among the most underrated small towns in South Carolina and is home to a unique local culture. It's a vibrant city in Aiken County and is popular for its rich equestrian heritage, Southern charm, and cultural attractions. Equestrian activities are an integral part of Aiken's identity.
The city is often referred to as the "Polo Capital of the World" and is home to numerous equestrian events and facilities. The Aiken Steeplechase, held annually, is a major event in the equestrian calendar and draws spectators to watch thrilling horse races.
Aiken's downtown area is known for its picturesque streets, boutique shops, and locally-owned restaurants. Additionally, the city is home to several historic sites, such as Hopelands Gardens and the Rye Patch, which offer visitors a glimpse into the city's past.
Popular Attractions in Aiken:
Aiken County Historical Museum, Hitchcock Woods, and Aiken Center for the Arts
Related: 10 Best State Parks In South Carolina
5
Clemson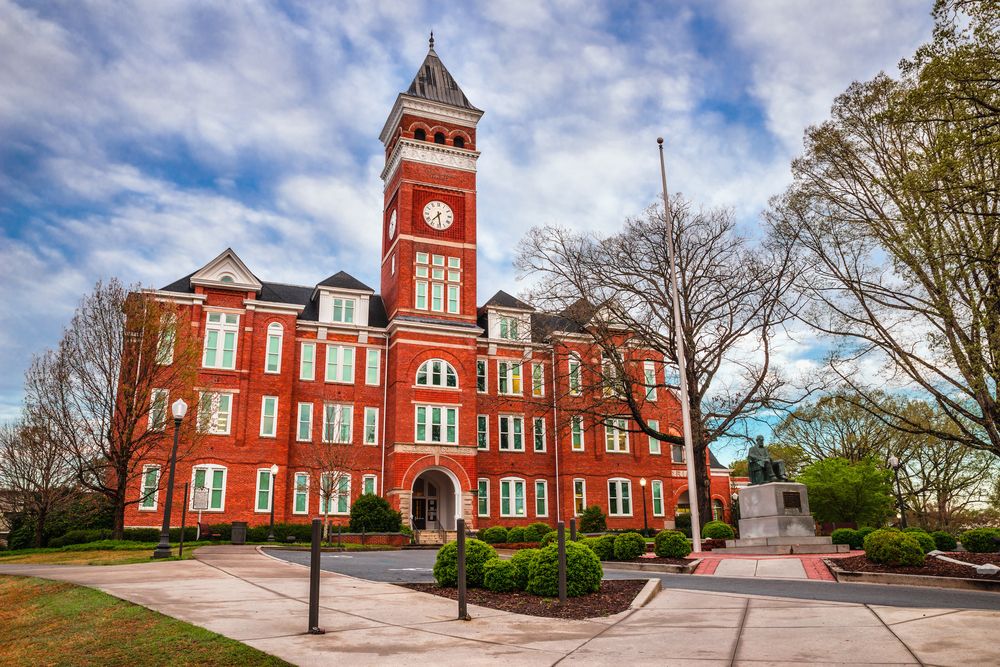 Clemson University, Clemson, South Carolina
Clemson is stunning enough to be considered one of the most beautiful towns in South Carolina, yet it's super underrated. It's a thriving town in Pickens and Anderson counties in the upstate region of South Carolina. Home to Clemson University, the city is known for its strong sense of community, beautiful natural surroundings, and vibrant academic atmosphere.
In particular, the university campus is stunning and features various historic buildings, lush green spaces, and the iconic Tillman Hall clock tower.
Clemson has a vibrant downtown with a variety of shops, restaurants, and entertainment venues. College Avenue, the main street running through downtown, is lined with charming storefronts, local boutiques, and eateries serving a diverse range of cuisines.
Additionally, the town features a scenic natural backdrop, with its location in the foothills of the Blue Ridge Mountains, providing opportunities for boating, fishing, and other water activities.
Popular Activities in Clemson:
South Carolina Botanical Garden, Lake Hartwell, Clemson Experimental Forest, and the Larry W. Abernathy Waterfront Park
4
Georgetown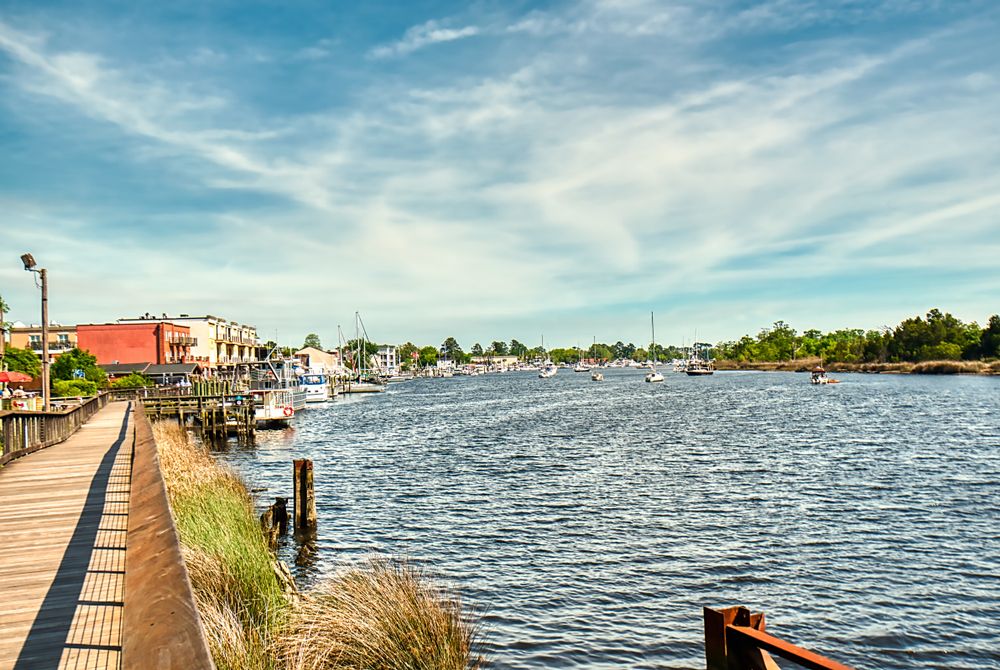 The boardwalk along the river in Georgetown, South Carolina
Nestled on the banks of the Sampit River, Georgetown is another one of the underrated yet beautiful small towns in South Carolina. It is a gorgeous historic coastal town in Georgetown County, South Carolina.
The town is known for its rich history, which is evident in its well-preserved historic district. The city boasts over 50 historic homes and buildings, including elegant mansions, churches, and public buildings.
The waterfront plays a significant role in Georgetown's identity. The city's Harborwalk, a scenic boardwalk, offers stunning views of the Sampit River, marshes, and nearby islands. Visitors can take leisurely strolls, savor the local cuisine or embark on boat tours to explore the river and its natural surroundings.
Popular Attractions in Georgetown:
Georgetown County Courthouse, the Kaminski House Museum, the Rice Museum, and Georgetown Wooden Boat Show
3
Greenville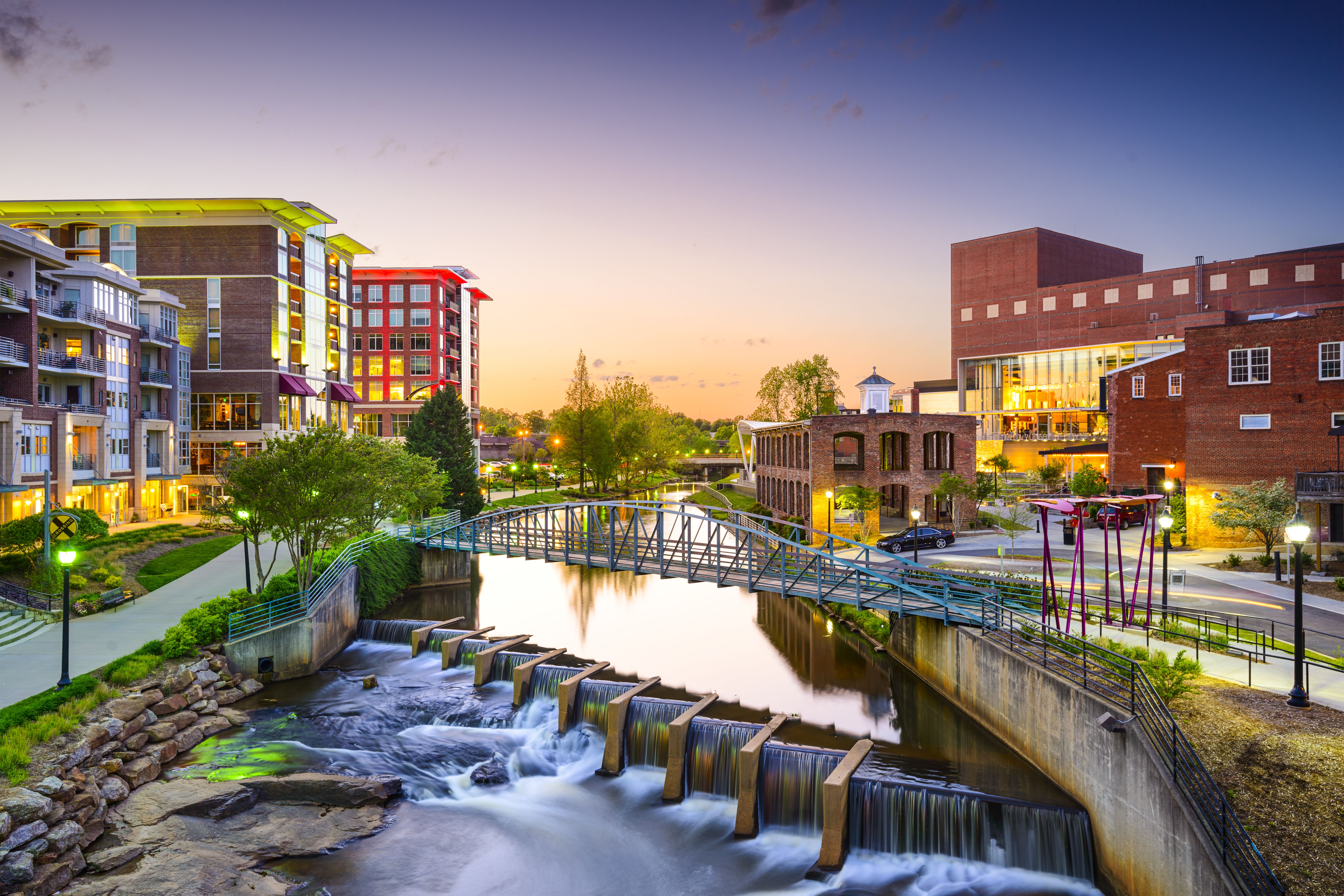 Photo of Greenville, South Carolina town cityscape
Greenville is one of the best towns in South Carolina to visit and offers tons to do and see. It's a vibrant city-like town in the Upstate region of South Carolina renowned for its beautiful scenery and rich cultural offerings.
Downtown Greenville serves as the heart of the city and offers a bustling urban experience with a unique blend of historic charm and modern amenities.
The area boasts a wide array of shops, restaurants, art galleries, and entertainment venues, creating a vibrant atmosphere for both daytime exploration and nighttime entertainment.
The town is home to award-winning Falls Park on the Reedy, which features some of South Carolina's most stunning waterfalls, gardens, and walking trails. Additionally, Greenville is also known for its public art installations, including the Mice on Main, which is a whimsical scavenger hunt featuring bronze mice hidden throughout downtown.
Popular Attractions in Greenville:
The Liberty Bridge, Paris Mountain State Park, Greenville County Museum of Art, and Swamp Rabbit Trail
Related: 14 Least-Crowded Beaches You Should Add To Your South Carolina List
2
McClellanville
The dock in McClellanville, South Carolina
Nestled between the Francis Marion National Forest and the Cape Romain National Wildlife Refuge, McClellanville is one of the numerous underrated yet most charming coastal towns in South Carolina, offering a tranquil and picturesque setting with a rich history and natural beauty. It's also home to some of the best beaches in South Carolina, ranked by popularity.
The town's Main Street is lined with historic homes and buildings, many of which date back to the 19th century. The district has been designated a National Historic District, showcasing the town's architectural heritage and Southern charm.
The town's proximity to the Cape Romain National Wildlife Refuge makes it a haven for nature enthusiasts, providing opportunities for birdwatching, wildlife observation, boating, and fishing.
Popular Attractions in McClellanville:
McClellanville Museum, Blue Pearl Farm, Washo Reserve, and Buck Hall Recreation Area
McClellanville and its surrounding areas are home to a variety of wildlife, including deer, raccoons, and other animals that may venture onto roadways. Be cautious and drive at a moderate speed, especially during dawn and dusk when wildlife activity is higher. Additionally, pay attention to any wildlife crossing signs along the roads.
1
York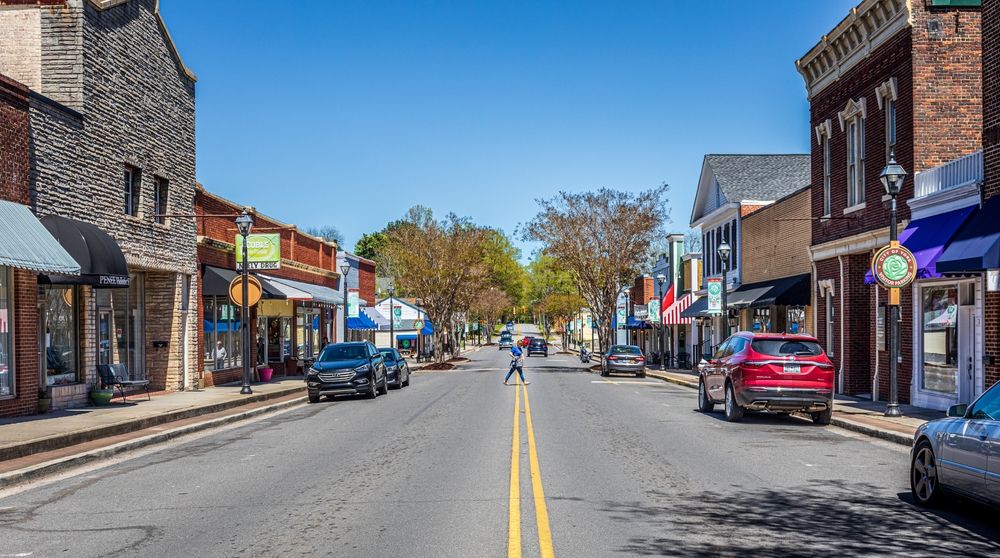 North Congress Street, York, South Carolina, one of the most underrated South Carolina towns
Situated in the Piedmont region, York is one of the many beautiful historic towns in South Carolina but is very underrated. It's located in York County and delivers a blend of small-town charm, rich history, and a close-knit community.
The town has a strong connection to its past, evident in its well-preserved historic district. The downtown area features beautifully restored buildings that date back to the 19th century.
York is also home to several historical landmarks that showcase its significance in American history. One of those landmarks is the McCelvey Center, listed on the National Register of Historic Places, which is a cultural and educational facility that hosts art exhibits, concerts, and other community events.
Additionally, the nearby Kings Mountain State Park offers various hiking trails, camping sites, and picnic areas, making it a paradise for adventure seekers.
Popular Attractions in York:
York County Courthouse, The Historic York Jail Museum, York Recreational Complex, and Moore Park