The sacred city of Kandy is known for its Buddhist pilgrimages. Considered a UNESCO World Heritage Site, there are many destinations nearby to plan day trips from Kandy. Located in the middle of the hills, Kandy houses world-famous Buddhist sites like the Temple of the Sacred Tooth Relic, Buddhist monasteries, and Hatara Devales with shrines of Visnu, Natha, Pattini, and Kataragama. Discover Kandy, the last capital of the ancient king's era of the island country of Sri Lanka, along with the historical and religious locations nearby, on a one-day trip from Kandy.
6 Best Day Trips From Kandy
There are numerous locations that one can visit from Kandy. Check out the well-curated list of the best day trips from Kandy:
1. Anuradhapura
The capital of the North Central Province of Sri Lanka, Anuradhapura is also known as the "pearl of the Indian Ocean." Plan your day trip from Kandy to Anuradhapura in such a way that you can visit famous tourist attractions like Sri Maha Bodhi, Isurumuniya Temple, Ruwanweli Maha Seya, Thuparamaya, and Abayagiriya Museum.
Sri Maha Bodhi is a sacred tree and a place of religious significance, as it is the southern sapling of that tree in India, wherein Lord Buddha attained enlightenment. Isurumuniya Temple is an ancient temple dedicated to Buddha, with special carvings dedicated to The Royal Family, Elephant Pond, and Isurumuniya Lovers. The stupa of Ruwanweli Maha Seya houses the largest collection of relics in the world. Located within Mahamewna Park, Thuparamaya is the first Buddhist temple in Sri Lanka. Abayagiriya Museum showcases a collection of religious sculptures, pottery, jewellery, stonecrafts, and other artefacts.
Distance from Kandy: 137 km
Best time to visit: April to September
7 Cottages In Kandy Everyone Is Rushing Towards In This Hot Weather
2. Dambulla Cave Temple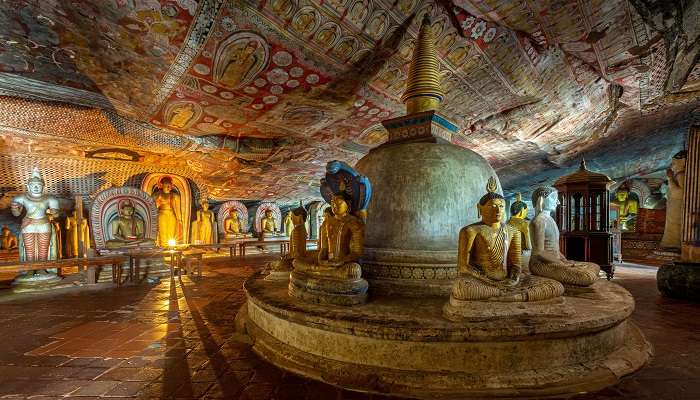 Located in the city of Dambulla, the Dambulla Cave Temple is also known as the Golden Temple of Dambulla or Dambulla Rock Temple. It is not only a religious site but also a historical monument which is among one of the eight World Heritage Sites by UNESCO in Sri Lanka. This preserved ancient site consists of five temples with beautiful carvings and wall paintings, all of which have stood the test of time. The premises also has a Golden Buddha Statue and a Buddhist Museum. The views from the temple top are simply exhilarating and if you are there during sunset, you are in luck.
There are some strict rules to enter the temple. Remove your hat and shoes and make sure that your shoulders and knees are covered. Be sure to buy tickets from the ticket booth near the parking lot, else you have to climb down the steps to the counter after reaching the entrance.
Distance from Kandy: 73 km
Best time to visit: January to May
Ticket Price: 1,500 LKR per person
Ticket booth timings: 7 am to 5 pm
3. Negombo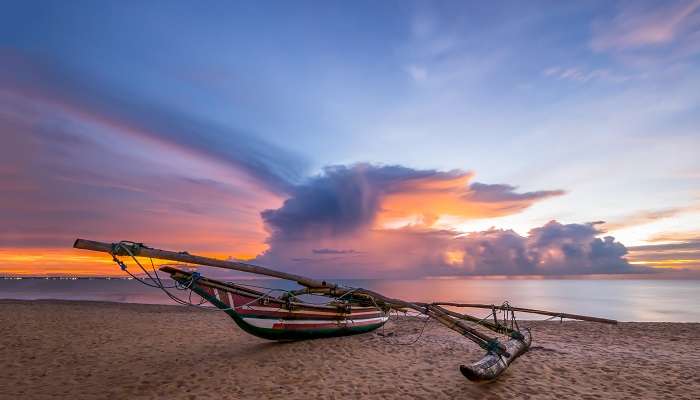 Negombo is a major city in Sri Lanka, popular for its sandy beaches and fishing industry. On a day tour to Negombo from Kandy, one can visit famous tourists attractions like Negombo Dutch Fort, Negombo Beach, Angurukaramulla Temple (Bodhirajaramaya), St. Mary's Church, and Negombo Lagoon.
The Negombo Dutch Fort, a symbol of the colonial history of Sri Lanka, is now in ruins but some parts of it are still intact. The popular spiritual sites of Negombo include St. Mary's Church (one of the largest cathedrals in Sri Lanka, famous for its Buddhist art) and Angurukaramulla Temple (with a magnanimous dragon entrance, a statue of Buddha and paintings & sculptures). Apart from enjoying views at Negombo Beach, if time permits, one can indulge in windsurfing, sailing, and kitesurfing.
Distance from Kandy: 109 km
Best time to visit: February to April
10 Classic Villas In Kandy That Will Never Go Out Of Style
4. Galle
Founded in the 16th century by the Portuguese colonists, Galle is a fortified UNESCO World Heritage site of Sri Lanka. One of the best day tours in Kandy is to Galle, where one has a variety of options to explore, like Galle Fort, Galle International Stadium, Sea Turtle Hatchery Centre, and Madu Ganga River Safari.
Galle Fort is an architectural marvel amidst an equatorial setting, consisting of museums, churches, a mosque, a lighthouse, and a historic mansion. Galle International Stadium is the luckiest cricket venue for the host and home team Sri Lanka. The family-run Sea Turtle Hatchery Centre is a rescue centre for endangered turtles in the world, where you can witness five different species of turtles. At Madu River Boat Safari, one can embark on an adventure with boat and bird-watching rides accompanied by trained professionals.
Distance from Kandy: 222 km
Best time to visit: December to March
5. Sigiriya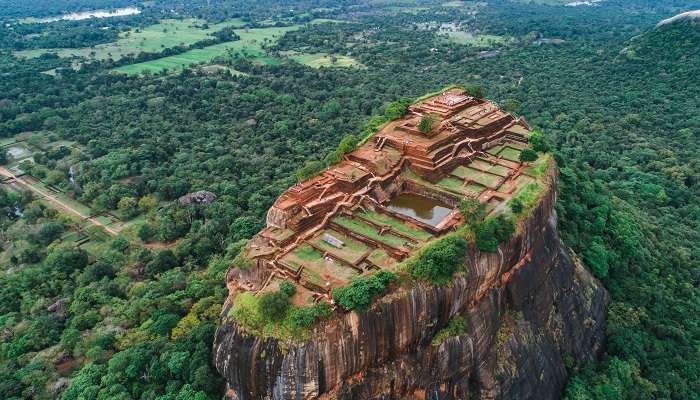 Sigiriya is a rock fortress complex that has been given the title of "Eighth Wonder of the World" by the locals. The ancient rock fortress, also known as "Lion's Rock," is surrounded by ponds, gardens, canals, alleys, fountains, and fortifications. The base of the fortress has Sigiriya Museum, which exhibits artefacts, photographs, jewellery, frescoes, and sculptures, along with models and videos to depict the ancient site's history.
Minneriya National Park and Kaudula National Park both are famous for their majestic elephants. Apart from the elephants, these parks house many intriguing varieties of flora and fauna. Both have facilities for jeep safari tours. In a nutshell, on Kandy to Sigiriya day tour, one can visit Sigiriya Rock and choose among the two national parks. For a unique sightseeing experience in Sigiriya, one can opt for an elephant ride.
Distance from Kandy: 90 km
Best time to visit: January to April
6 Incredible Kandy Hostels For Backpackers And Solo Travellers
6. Nuwara Eliya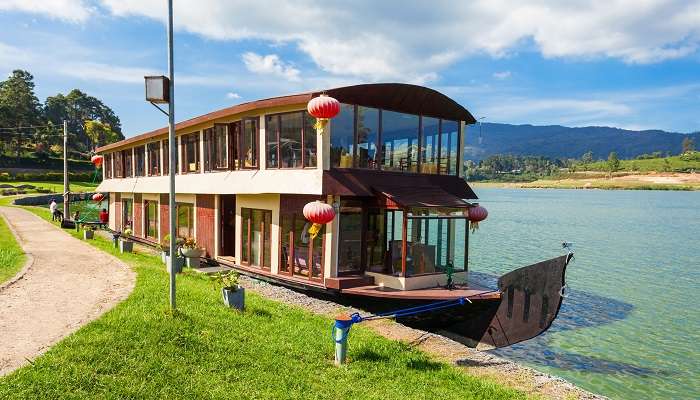 Surrounded by tea estates, Nuwara Eliya is also known as "Little England" because of the British influence still prevalent in the city. On a Kandy to Nuwara Eliya day tour, one can visit Gregory Lake, Ramboda Falls, and a tea estate.
Cascading from a height of approximately 1130 feet, Ramboda Falls is surrounded by lush greenery and enchanting views. It makes you feel closer to nature. Spend time at Gregory Lake amidst the calm surroundings. It is also a famous picnic spot, with food stalls present to satiate your hunger. One can also indulge in jet skiing, horseback riding, and paddle boating at the lake. Amongst the tea plantations, Pedro Tea Factory is famous for its factory and ground tours, and one can also enjoy Ceylon tea on the premises.
Distance from Kandy: 72 km
Best time to visit: December to April
Now that you have a list of day trips from Kandy, you can bookmark it for your next visit to Sri Lanka's last royal capital. Check out our Sri Lanka Tour Packages and book the one that suits you best for a hassle-free vacation experience. These packages can be customized as per your requirements at the time of booking.
Cover Image Credit: Vyacheslav Argenberg for Wikimedia Commons
For our editorial codes of conduct and copyright disclaimer, please click here.
Frequently Asked Questions About Day Trips from Kandy
What are the best day trips from Kandy?
The best day trips from Kandy can include a combination of Kandy to Sigiriya and Dambulla or discovering solo cities like Galle, Nuwara Eliya, Negombo, or Anuradhapura.
What are the best shopping spots in Kandy?
The best shopping spots in Kandy are:
1. Kandy City Center
2. Jayamali Batik Studios
3. Kandy Municipal Central Market
4. Waruna Antiques
How to visit Sigiriya from Kandy as a day tour?
One can get to Sigiriya from Kandy by bus, which takes approximately 2.5 hours. Another option is hiring a private car, which is comparatively more expensive.
What are the best trekking trails in Kandy?
The best trekking trails in Kandy are:
1. Hantana to Galaha
2. Corbett's Gap
3. Knuckles 5 Peak Trail
4. Kandasamigala
Where is the best place to experience traditional Kandyan dancing?
Some of the best places to experience traditional Kandyan dance are:
1. Kandyan Art Association & Cultural Centre
2. Kandy Lake Club
3. Young Men's Buddhist Association (YMBA)
How to spend a day in Kandy?
Some great options for a one-day trip in Kandy are the Temple of the Sacred Tooth Relic, Kandy Lake, and the Royal Botanical Gardens.
People Also Read:
Day Trips From Bangkok Day Trips From Krabi Day Trips From Brisbane