Kurnool, an ancient city that has existed for over 2,000 years has derived its name from the word 'Kandanavolu' which means the 'Town of Grease'. It is believed that during the 11th century, stones were transported in carts to Alampur, and Kurnool served as a prominent halt as the locals supplied grease for the carts. The place is home to numerous attractions that attract travelers and history lovers from across the world. You can glance at the paintings that belong to the Paleolithic era or encounter the exclusive experiences of the famous places to visit in Kurnool which include forts, temples, caves, gardens, etc. According to historians, the entire region of Kurnool was established by a Pathan general and ruled by Nawabs. Kurnool also served as the capital of Andhra Pradesh for nearly 3 years (1st October 1953 to 1st November 1956).
13 Best Places to Visit in Kurnool
With four-prominent rivers, that are, the Tungabhadra River with its tributary Hundri, and the Krishna & the Kunderu rivers flowing through its boundaries, Kurnool is one of the most refreshing places to visit in Andhra Pradesh. From rich flora & fauna to iconic historical sites and scrumptious local delicacies, Kurnool offers everything that makes your vacation a memorable one! Read on to know the best places to visit in Kurnool.
1. Yaganti
Yaganti in Kurnool is famous for the marvellous temple of Sri Yaganti Swamy, a well-known Shiva temple that dates back to the 5th-6th century. The main idol of the temple is the Ardhanareeswara, that is, Shiva and Parvati fused. The idol of Ardhanareeswara is carved out of a single stone making Yaganti Swamy one of the most beautiful temples in Kurnool. The temple experiences visitors throughout the year but if you want to catch the true vibe of Yaganti you can plan your visit during Maha Shiv Ratri. This is amongst the best tourist places in Kurnool.
Location: Temple Gopuram, Yaganti Rd, Yaganti, Andhra Pradesh 518124
9 Mesmerising Hill Stations In Andhra Pradesh For A Scenic Getaway
2. Rollapadu Wildlife Sanctuary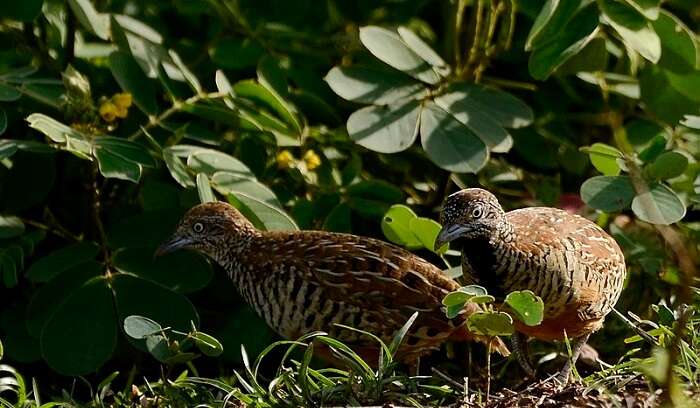 If you are a wildlife enthusiast then Rollapadu Wildlife Sanctuary is surely a delightful escape for you! Spread over an area of 614 square kilometres, Rollapadu Wildlife Sanctuary was established in the year 1988 and being home to some of the rare and endangered species such as the Great Indian Bustard and Lesser Florican, the place has remained popular among tourists. This is also an awesome site for birdwatchers and a wonderful example of mutual coexistence where man and nature reside together! This is one of the best places to visit in Kurnool in 1 day.
Location: Rollapadu, Andhra Pradesh 518405
3. Oravakallu Rock Garden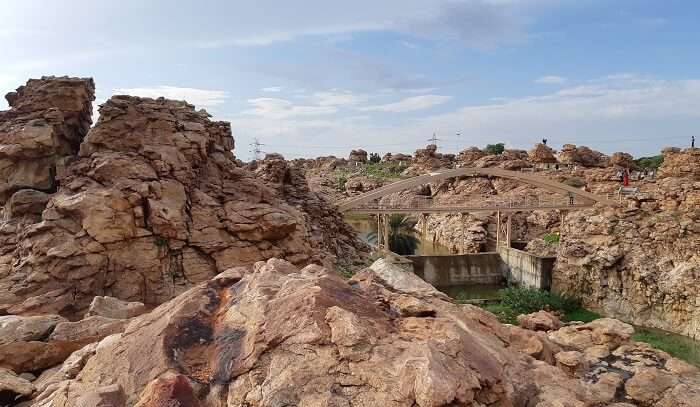 Oravakallu Rock Garden is an enticing stretch comprising igneous rock formations. Located nearly 20 kilometers from the main city, this garden is famous for boating and cave museums and serves as a popular picnic spot for those staying with their kids. It is one of the most popular Kurnool tourist attractions.
Location: Chittoor Road Kurnool, Andhra Pradesh
9 Cool Places To Visit In Summer In Andhra Pradesh To Beat The Heat
4. Mahanandi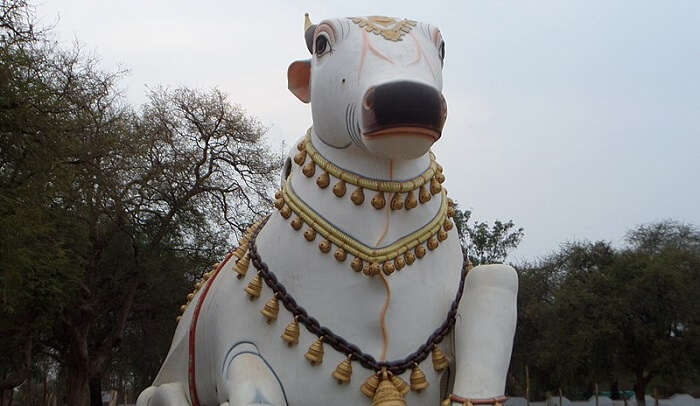 Mahanandi is another beautiful escape for nature lovers. It is surrounded by dense forestation and the place features numerous exciting treks for adventure lovers. Located in the east of Nallamala Hills, this serene village of Mahanandi is home to natural beauty and distinct flora and fauna. It is also home to the famous temple of Lord Nandi, called Nava Nandulu. The temple was established in the early 10th century and is one of the significant 9 shrines that are dedicated to Lord Nandi.
Location: Kurnool, Andhra Pradesh
5. Belum Caves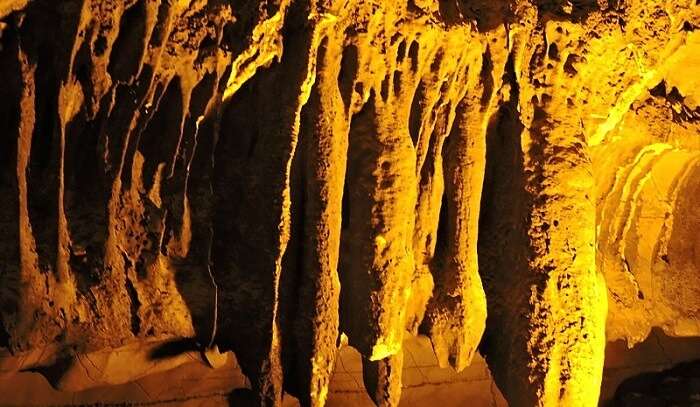 You would surely be thrilled to know that the Kurnool district is also home to the largest and longest cave system in India, called Belum Caves. The place is still open for tourists and is one of the most exclusive experiences of Kurnool. These caves have numerous pathways with entangled patterns of water streams on limestone. A site of this cave which is nearly 46 meters deep, is called Patalganga as an underground stream flows through this point.
Location: 1/1, Opposite Indian Oil Petrol Pump, Kolimigundla, Andhra Pradesh 518123
28 Places To Visit In Andhra Pradesh For An Enlightening Vacation!
6. Konda Reddy Fort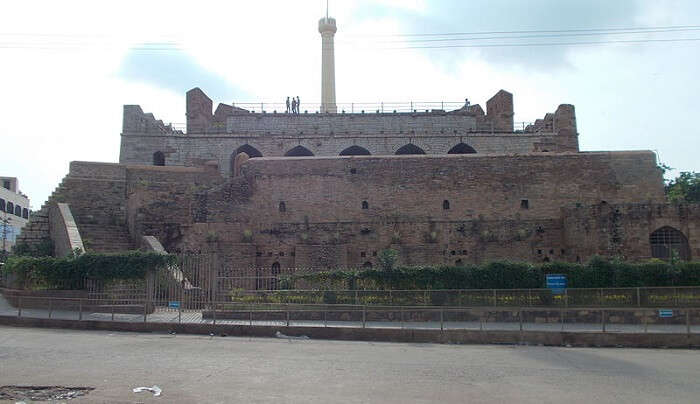 Popularly known as Kurnool Fort, this is undoubtedly one of the best places to visit in Kurnool. It is located at a distance of nearly 2 kilometers from Kurnool railway station and is well-connected through the road. The fort was built during the Vijayanagar empire and had a hidden tunnel that passes from beneath the Tungabhadra River. There is also an enormous watchtower in the fort which offers spellbinding sights of the surrounding area. This is one of the best places to visit in Kurnool on two days trip.
Location: Old Bus Stand Area, Kurnool, Andhra Pradesh 518001
7. Ahobilam Temple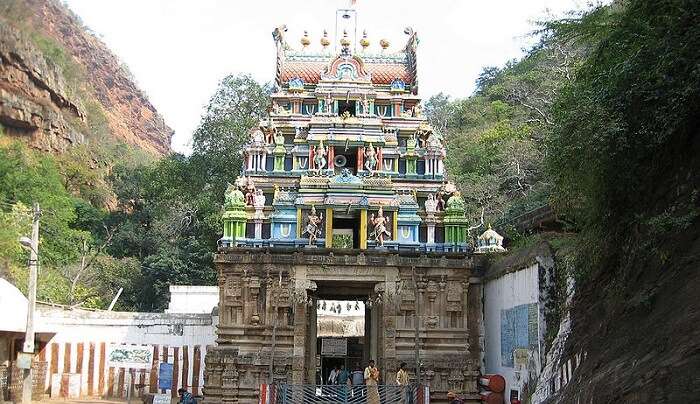 Another historical temple in Kurnool is the Ahobilam temple. The temple is dedicated to Lord Narasimha and is one of the rare temples where all the nine forms of Lord Narasimha are worshipped. The temple exhibits unique architecture that lures archaeology admirers to this tranquil site. This is one of the most interesting places to visit in Kurnool.
Location: Allagadda Mandal, Ahobilam, Andhra Pradesh 518543
8 Exciting Things To Do In Andhra Pradesh To Explore The State To The Fullest!
8. Tomb Of Abdul Wahab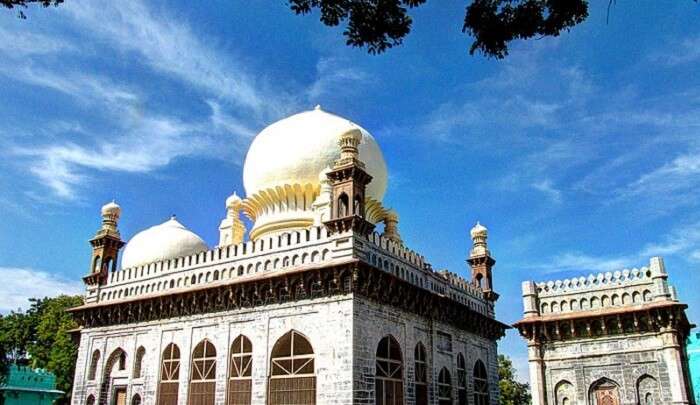 The famous tomb of Abdul Wahab is also known as Gol Gummaz due to its similarity to Gol Gumbaz of Bijapur. It was established in the 17th century after the death of Abdul Wahab Khan, the first Nawab of Kurnool. The tomb holds 2 majestic domes, arches, and prolonged verandahs. Being located in proximity to Osmania College, the tomb is frequently visited by students and scholars looking for a quick break.
Location: Abdul Wahab Khan Gumbad, Osmania College Rd, Peta, KVR Garden Colony, Kurnool, Andhra Pradesh 518001
9. Venugoplaswami Temple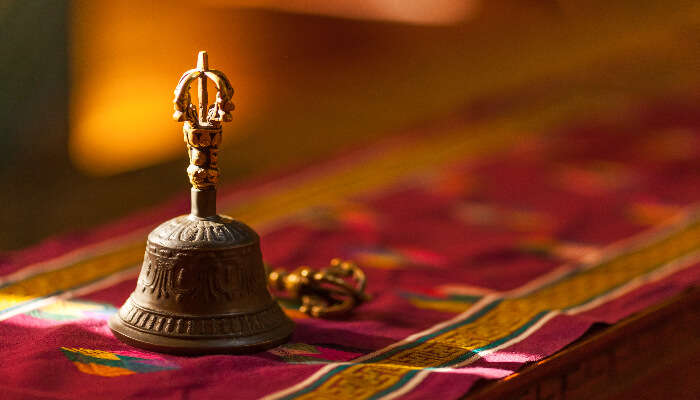 Amongst the most prominent temples in Kurnool, Venugoplaswami is a must-visit attraction here. The Venugopalaswamy Temple is at Hosa Kannambadi, near Krishna Raja Sagara and features exquisite Hoysala architecture. The temple was established in the 12th century and the intricate design is worth exploring on a holiday.
Location: Hosa Kannambadi, Mysore district
10. Mantralayam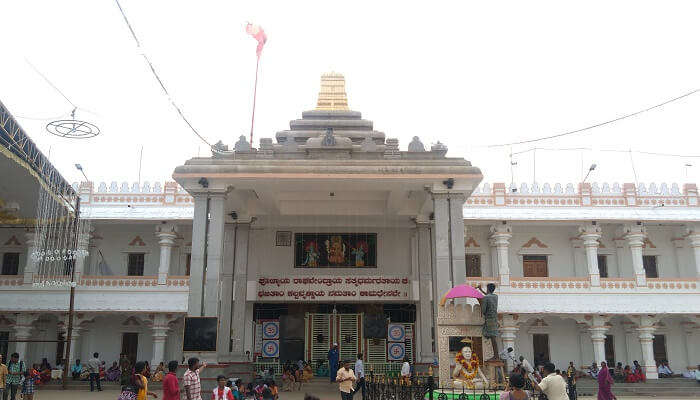 Mantralayam is perched on the banks of the river Tungabhadra, nearly 74 km from Kurnool district, nestled beside the border of Karnataka. The place is famous for Sri Guru Raghavendra Swami, the saint who took samadhi in the 17th Century. The prime attraction here is the religious site which includes the temple and Mutt complex.
Location: Kurnool
11. Buddha Statue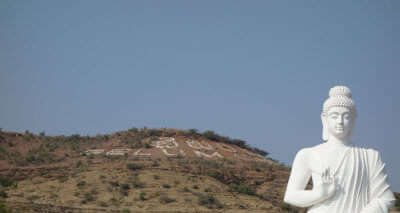 Buddha Statue in the Kurnool district is an enormous white statue located in from of the Belum Caves. This architectural marvel features an admirable artwork which has a height of 40 ft. The statue was constructed by the Andhra Pradesh Tourism Development Corporation and was opened for public in the year 2005. This is among the best Kurnool tourist places.
Location: Kurnool
12. Sakshi Ganapati Temple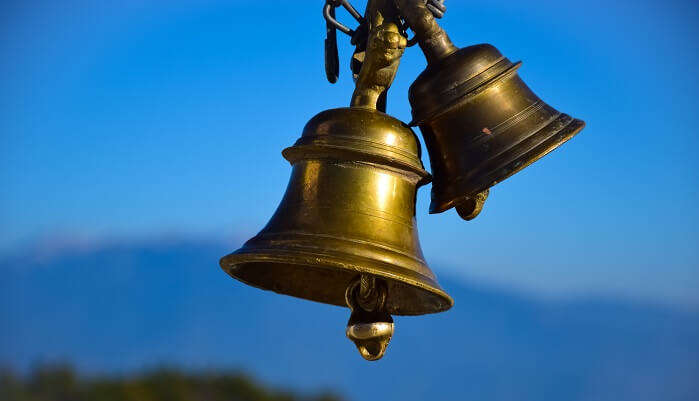 The Sakshi Ganapati Temple is a religious site in the region dedicated to Lord Ganesha. According to the locals, the Lord here knows who visits the Mallikarjuna Jyotirlinga and maintains a record of the same. The temple is visited by devotees heading to the other temple in Srisailam. The temple is surrounded by lush greenery and makes it a refreshing break for visitors.
Location: Kurnool
13. Jumma Masjid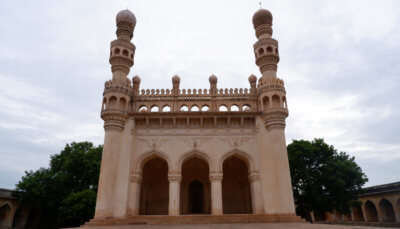 Jumma Masjid is another prominent religious site in the district that dates back to the 17th century. The mosque was constructed by Madu Qadiri who was a governor and served to Adil Shah. The magnificent structure of the mosque comprises minarets, domes and large prayer halls.
Location: Kurnool
Best Time To Visit Kurnool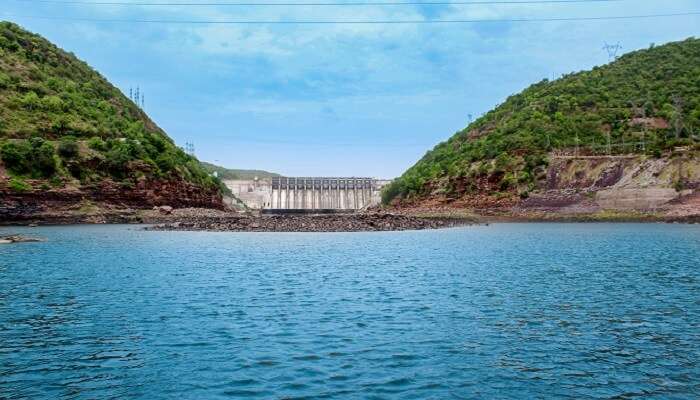 The climate of Kurnool remains moderate throughout the year. However, January to March is the best time to explore this ancient city. April and May are comparatively hotter and showers start by the last week of May. The succeeding four months experience a fair amount of rainfall. If you are interested in unveiling the archaeological gems in Kurnool then avoid travelling during monsoon. Weather remains pleasant between September to November which is also perfect for sightseeing tours.
6 Best Valleys In Andhra Pradesh One Must Visit To Enjoy A Laid-Back Vacation
How To Reach Kurnool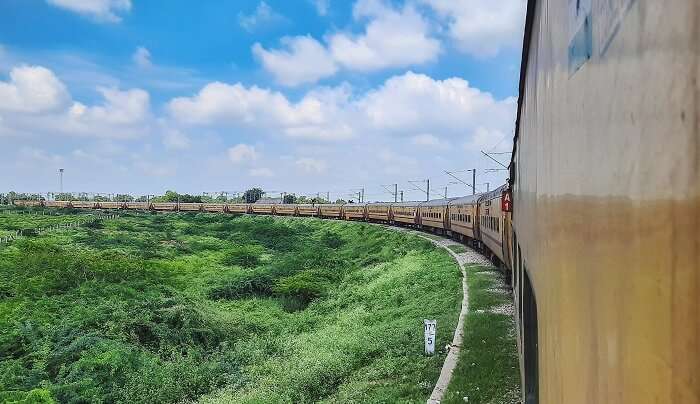 Kurnool is one of the most refreshing getaways in Andhra Pradesh and is well connected by rail and road. Here are the best ways to reach Kurnool:
By Air: The nearest airport to Kurnool is located in Hyderabad. However, if the plane is your preferred mode of transportation then you can take a flight to Begumpet Airport in Hyderabad and take a taxi or cab to Kurnool which is nearly 187 kilometers from there.
By Train: You can take a train to Kurnool Railway Station which is well-connected to the major cities of the country. After de-boarding the train, you can take an auto-rickshaw or taxi to your preferred destination.
By Road: Kurnool welcomes regular buses from Anantapur, Chittoor, Hyderabad, and Cuddapah. You can board a direct bus to reach here. You can also take a taxi from the major cities of Andhra Pradesh and Tamil Nadu to reach here.
So what are you waiting for? There are numerous interesting and beautiful places to visit in Kurnool making you have a memorable vacation! Plan your next trip with TravelTriangle and get an itinerary drafted exclusively according to your preferences.
For our editorial codes of conduct and copyright disclaimer, please click here.
Frequently Asked Questions about Places to Visit in Kurnool
What are the top attractions to visit in Kurnool?
Some of the best attractions in Kurnool Yaganti, Rollapadu Wildlife Sanctuary, Oravakallu Rock Garden, Mahanandi, Belum Caves, Konda Reddy Fort, Ahobilam Temple, Tomb Of Abdul Wahab, etc.
What are the most popular things to do in Kurnool with children?
Here are some of the best things to do in Kurnool with Children:
1. Explore Belum Caves
2. Seek blessings at Yaganti Temple
3. Spot intriguing wildlife at Rollapadu Wildlife Sanctuary
4. Peep into the history at Tomb Of Abdul Wahab
What is special in Kurnool?
There are many spectacular landmarks in and around the city and Konda Reddy Fort is one of them which is a historical monument, located in the north-eastern part of the city. There is a Sculpture Garden along with the ancient cave named Orvakal Rock Gardens which is situated in the south-eastern part of the city.
Can I visit Kurnool during the current Covid situation?
Yes, you can plan a visit to Kurnool during the current Covid situation. However, make sure that you are completely vaccinated and always carry your vaccination certificate. Besides this, you need to follow government protocols that include wearing a mask when in public, sanitizing hands at certain intervals, and maintaining social distance.
Which is the famous temple in Kurnool?
Sri Yaganti Swamy is one of the famous temples in Kurnool, a Shiva temple that was constructed dates back in the 5th century. The main idol of the temple is Ardhanareeswara, which implies the existence of Shiva and Parvati.
What is the best time to visit Kurnool?
The Winter season is the best time to visit Kurnool which is between November to February. This is the perfect time for sightseeing and indulging in outdoor activities.
How many days are enough for exploring Kurnool?
If you want to witness the best of Kurnool, you must plan a trip of 2-3 days.
Which are the best hotels in Kurnool?
Here is a list of some of the best hotels in Kurnool:
1. Triguna Clarks Inn Kurnool
2. Mourya Lords Inn Kurnool
3. Hotel Rajavihar
4. Dvr Mansion
5. S.V. Regency Hotel
6. Hotel Prime land
People Also Read
Places To Visit In Uttarkashi Places To Visit In Panchgani Places To Visit In Thekkady