Known for housing lush forests, imposing architecture, and plenty of things to see, Seattle serves as a wonderful travel destination in the Pacific Northwest. And what better way to experience Seattle's top attractions and colorful and upbeat demeanor than by taking one of Amtrak's trains through the heart of the Emerald City?
Out of all the things to know about Amtrak in Settle, it's that the Pacific Coast King Street station serves as the main stopping point for the journey to and from the Emerald City, with some of the busiest and most popular Amtrak routes connected to this station. However, there are a few more elements worth knowing before hopping on board, though, both about the services that Amtrak provides and what to expect once reaching the station to start a Seattle vacation on the right foot.
Related:Start Your 2023 Domestic Travel From These Most Visited Cities In The US
10
The History Of Pacific Coast King Street Station In Seattle
Built in 1906 to replace Seattle's antiquated railway system, the station played a major part in the city's economic growth thanks to connecting it directly with the rest of the Pacific Coast's main railway. It stood out thanks to its red brick construction and stylized clock tower, granting a welcoming sight for anyone arriving.
In 2003, the whole station received a massive restoration, fixing problems with its installations and beautifying its facade. It might have received a fresh "coat of paint", but the station still has the same style and functionality as it did a hundred years ago.
9
Pacific Coast King Street Station's Facilities & Amenities Could Be Better
Interior of an Amtrak train Coach service
The station boasts the facilities necessary to make it a comfortable layover but not quite enough to make it a main attraction.
Passengers will be able to find restrooms, booths to comfortably purchase their tickets, and even an ATM for those low on cash. There is no Wi-Fi available, though, and the only food service available comes from vending machines, so come duly prepared with refreshments and means of communication.
Benches at the station aren't quite meant for comfort, so try to bring a pillow to cushion the wooden seating.
8
Getting To Amtrak's Pacific Coast King Street Station Is Easy
Unsplash"">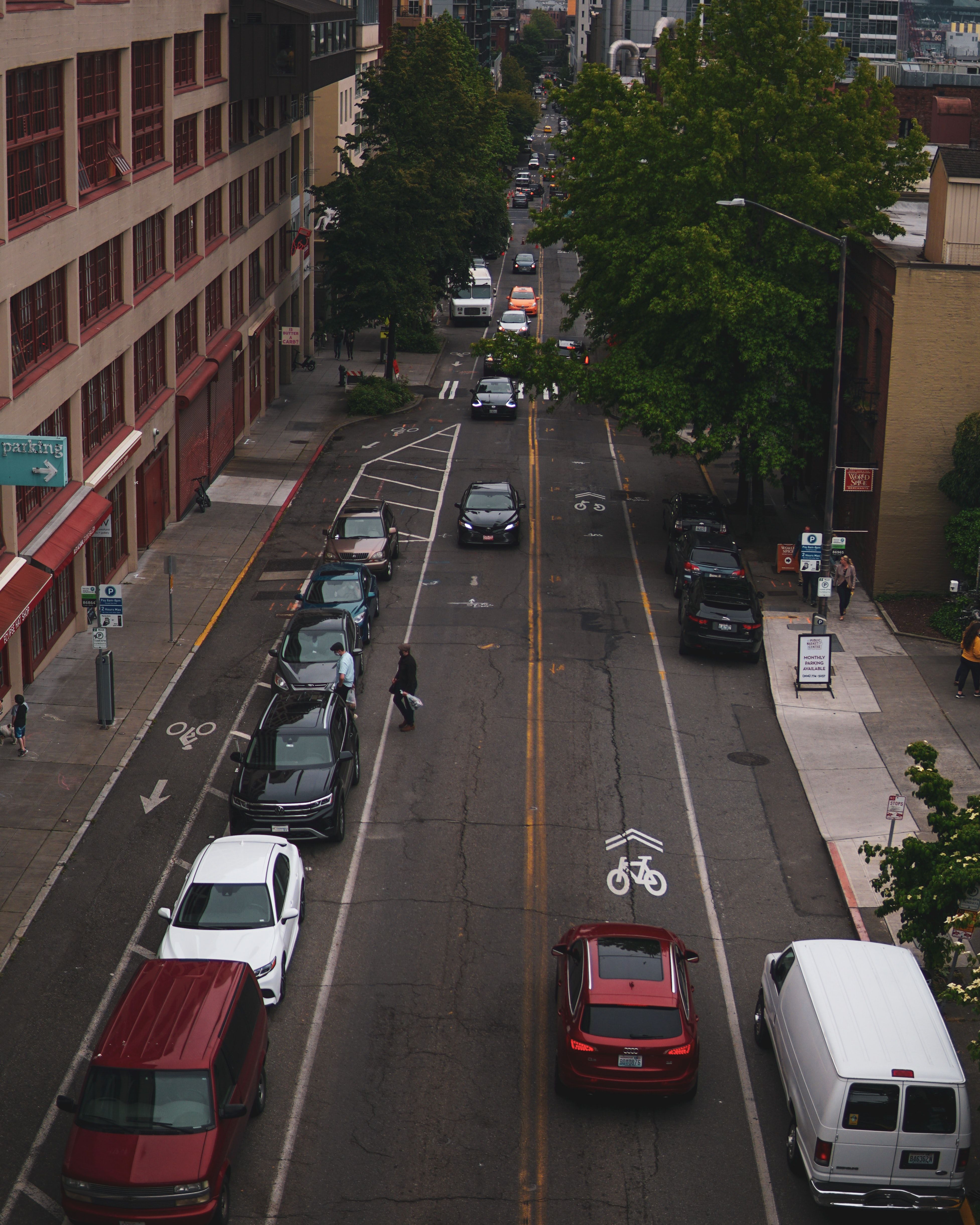 A road in Seattle 
It's hard to miss the building for King Street Station, both for the way it stands out above the other buildings in the area and for the fact that it's located in Pioneer Square, the oldest neighborhood in Seattle. There are a bunch of bus lines that lead to the station, as well as the light rail 1-LINE.
Related:Road Trip Alaska: A Guide From Seattle To Anchorage
7
There Are Several Public Bus Routes To Pacific Coast King Street Station
Taylor Vick on
Unsplash
"">
Empty bus, Seattle, Washington
As already said before, there are a lot of options when it comes to choosing to take public transportation to and from the Amtrak Pacific Coast King Street Station. In fact, a total of 9 bus lines pass by the surrounding stops. By bus, it's 40 minutes away from main venues such as Alki Beach, Green Lake Park, and the ferry terminal.
But there's no need to hop on a bus to get to Downtown Seattle, though, as it's only one mile north from the station.
6
There Are Three Main Routes & Amtrak Trains That Go From Pacific Coast King Street Station
Pierre Jean Durieu "">
The Empire Builder passing through
There are three main routes and trains that take off and arrive at this station, connecting Seattle with the rest of the Amtrak stations in Washington and beyond.
Amtrak Cascades
Following along the route from Eugene, Amtrak Cascades passes by King Street Station before heading on to Vancouver in British Columbia. It connects directly with the station at Tukwila before merging with other Amtrak routes and entering Seattle along the Pacific Coast's scenic landscapes. A total of 6 trains go along the Amtrak Cascades railway and reach the station.
Coast Starlight
Connecting Seattle with the Bay Area all the way from Los Angeles, the Coast Starlight is an Amtrak train with a route designed for adventurous travelers as they go through mountains, forests, and the beautiful shoreline of the West Coast.
Empire Builder
Making a huge detour to and from the East Coast, the Empire Builder is the most scenic Amtrak train in the US and connects the Pacific Northwest with Chicago, going across almost every country in the Northern region with stops along Portland, Spokane, and Minneapolis.
The station also offers its services to Sound Transit, following its N and S lines in and out of Seattle as an alternative to Amtrak routes.
5
What To Know About Pacific Coast King Street Station Amtrak Schedules & Routes
Ben Dutton on
Unsplash
"">
Pike Place Market sign against the sky in Seattle
The Pacific Coast King Street Station operates every day of the week from 6:00am to 9:30pm, with constant trips from both Amtrak and Sounder trains.
There are 6 daily trips on the Cascades route that connects with the Seattle station (4 between Portland and Seattle and 2 from Seattle to Vancouver); the trip on the Coastal Starlight usually leaves at 9:30am departing from Seattle (and around the same time the next day when departing from Los Angeles), and the Empire Builder arrives at either 10:25am or 4:40pm to Seattle, depending on the day.
4
Pacific Coast King Street Station Has Good Accessibility
The station is equipped to give accessible services to any passengers who might need them, with all sorts of easy-to-access platforms, ramps on demand, wheelchair lifts, and accessible restrooms.
There is no preferential parking within the station, though, but there's not much distance from the public parking spots, and the station offers wheelchairs for in-house transportation.
Related:If You've Ever Wanted To Hitch Your Own Private Train Car To An Amtrak, Here's How
3
Seattle's Pacific Coast King Street Station Connects Travelers To Scenic Destinations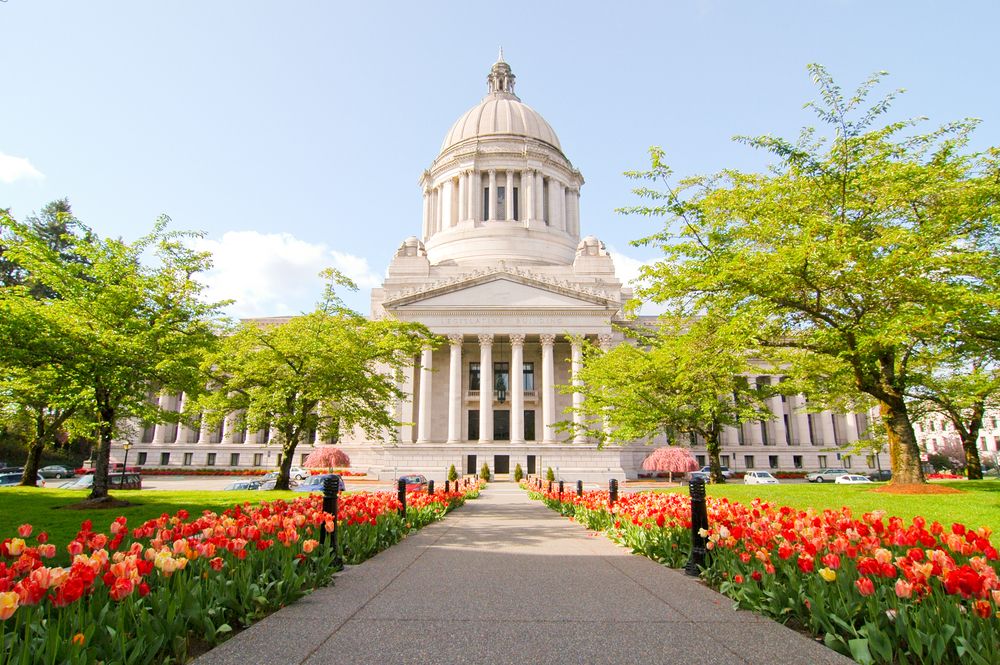 Washington State Capitol Building in Olympia
One thing that makes the Amtrak routes and stations stand out is for showcasing a great part of North America's scenic beauty, and a huge perk of this station's routes is that they directly connect with some of Washington's most picturesque and charming cities, both across the coastline and along the meadows.
A few miles south, down on the route from Seattle, the city of Olympia is ready to grant visitors historical sights, and Skagit Valley offers natural scenery when going north towards Vancouver.
2
There Are Many Attractions & Landmarks Near Pacific Coast King Street Station
Kubota Gardens, Seattle, Washington
Not only does the Pacific Coast King Street Amtrak Station in Seattle lead to wonderful destinations near the city, but it's also surrounded by unique places and local attractions to make waiting for the next train a delight or to kick-start a Seattle vacation with a bit of fun just five minutes away from King Street Station.
From museums dedicated to the area's gold rush era to exotic parks with a wonderful vibe to them, there are numerous must-see attractions near Pacific Coast King Street Station to enjoy during a layover or if spending a day or two in Seattle.
Most-notable attractions near Pacific Coast King Street Station:
Klondike Gold Rush National Historical Park, Flatstick Pub, Waterfall Garden Park, Chinatown International District
1
Pacific Coast King Street Station ARTS: There's An Art Gallery Inside The Station
f11photo"">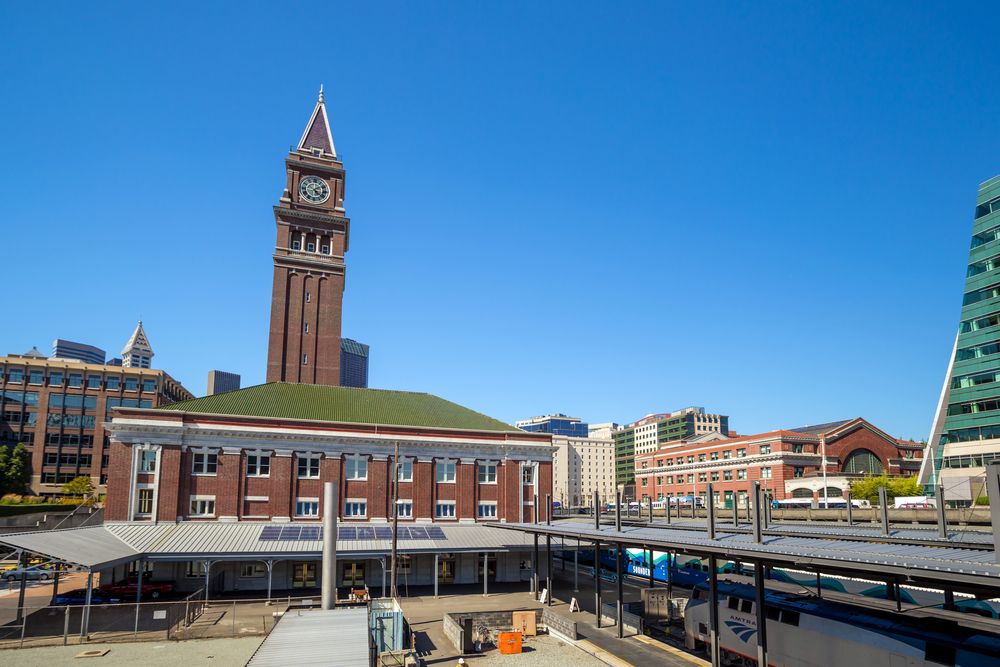 King Street Station in Seattle, Washington, which was built between 1904 and 1906 by the Great Northern Railway and Northern Pacific Railway
Art and culture have been a great influence in Seattle throughout its history, but it has seen a steep incline over the past few decades. In 2019, the station became "ARTS", a local gallery and community meeting place designed by the West Coast-based company Mithun to bring a fresh take to the unused floor of the station.
The gallery houses over 150 pieces from regional artists, with pieces that range from paintings of everyday life to intricate sculptures of all shapes and sizes.