Madeira, Portugal, an archipelago in the North Atlantic Ocean, boasts a unique blend of natural beauty and cultural richness. As an autonomous region of Portugal, Madeira has developed its own distinct identity while still retaining strong ties to its motherland. Funchal, the capital city, is a vibrant hub that showcases Madeira's history and charm through its cobblestone streets and colorful markets. The Mercado dos Lavradores, for instance, offers visitors a chance to sample local delicacies and admire the island's famous flowers.
Madeira's stunning landscapes are a major draw for nature enthusiasts. The island's volcanic origins have created dramatic cliffs and lush forests, such as the Laurisilva Forest, a UNESCO World Heritage Site. Outdoor adventurers can explore the island's extensive network of levadas, which are irrigation channels that double as scenic walking trails. The warm waters surrounding Madeira also provide ample opportunities for water sports like scuba diving and whale watching.
Culturally, Madeira is known for its lively festivals and traditional crafts. The annual Madeira Flower Festival and the New Year's Eve fireworks display are just two examples of events that attract visitors from around the world. A diverse range of things to do beckons visitors to Madeira; here's what to see and where.
Things To Do In Madeira
Madeira's main allure is its beaches, but visitors also have a chance to explore the archipelago's history and culture, as well as spend time in nature. Below is a look at some of the top things to do in this region, proving why tourists should visit the Madeira Islands.
1
Visit The Monte Palace Tropical Garden
A section of Monte Palace Tropical Garden
The Monte Palace Tropical Garden, situated atop a hill in Funchal, offers a serene escape for visitors. This enchanting garden boasts a diverse collection of plants from around the world, as well as beautiful koi ponds and exotic birds.
The garden's layout is inspired by 18th-century designs, providing a picturesque setting for leisurely strolls. Additionally, the on-site museum displays an impressive collection of minerals and sculptures.
Address
: Caminho do Monte 174, 9050-288 Funchal, Portugal

Hours
: Garden: 9:30 am – 6 pm (daily); Museum: 10 am – 4:30 pm (daily)

Cost
: Adults: $14; Children (below 15): Free
2
Explore The São Vicente Caves
Alberto-g-rovi distributed under a
CC BY 3.0
license."">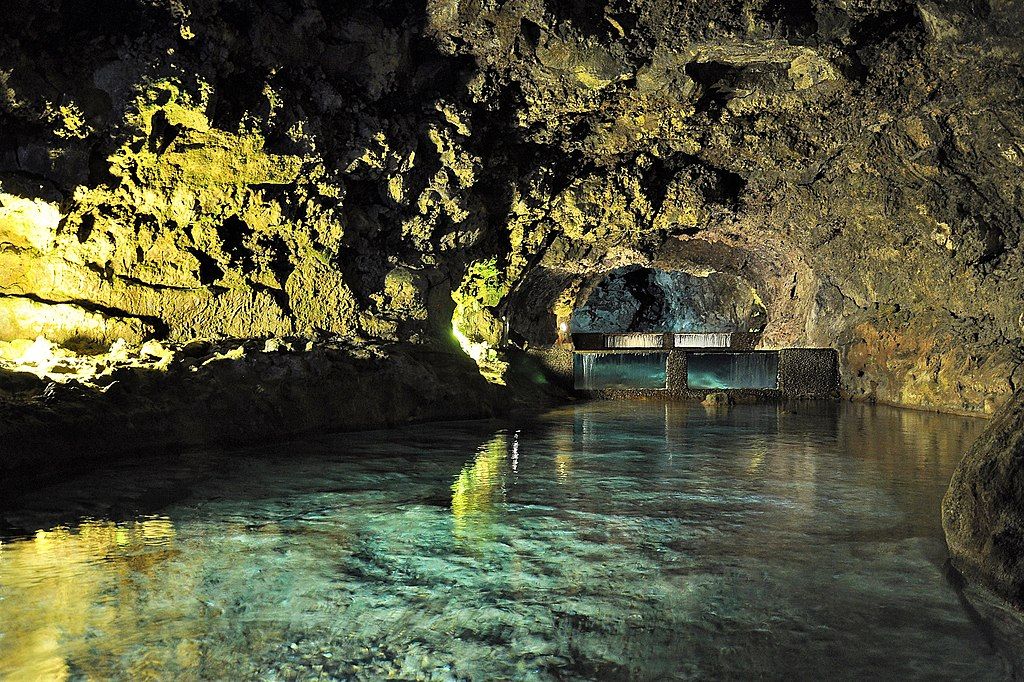 Interior of the São Vicente Caves
Formed by volcanic activity thousands of years ago, the Sao Vicente Caves are hidden gems in Madeira, inviting visitors to delve into the island's geological past.
These fascinating caves feature a network of lava tubes extending over a kilometer. Visitors can take guided tours that provide insight into the caves' formation and history while exploring the well-lit pathways.
Still, the adjacent Volcanism Center offers interactive exhibits and a simulation of a volcanic eruption.
Address
: Sitio do Pé do Passo, 9240-039 São Vicente, Portugal
3
Learn About The Island's History At The Madeira Story Center
Joãofcf distributed under a
CC BY-SA 3.0
license."">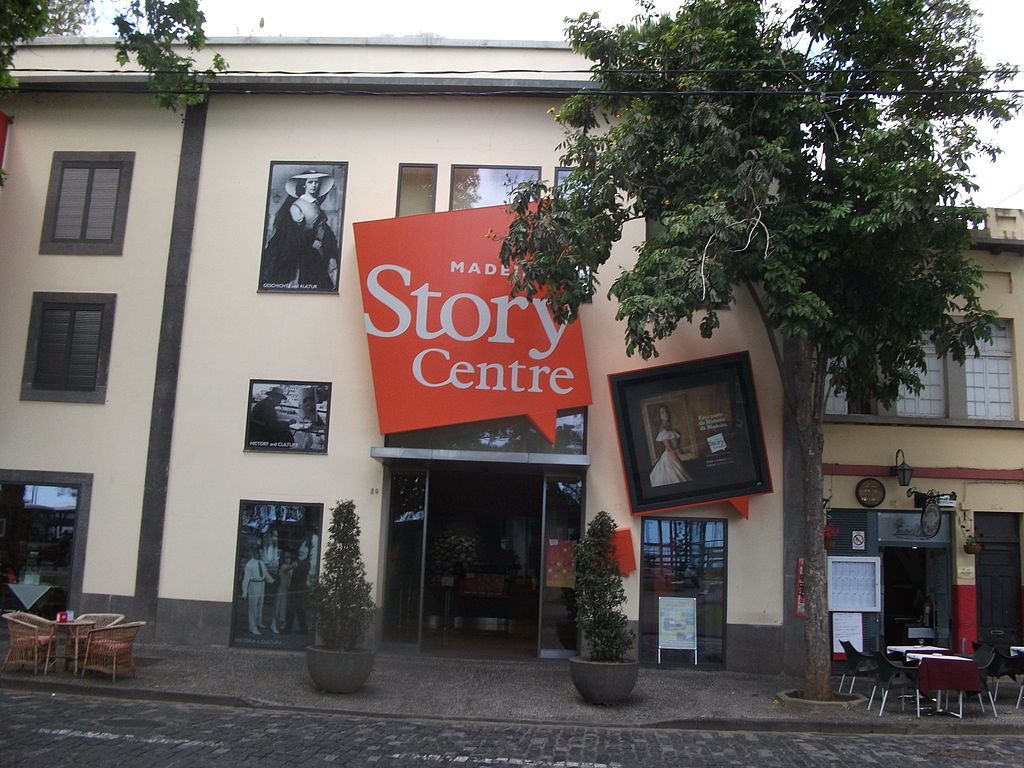 Madeira Story Center exterior
The Madeira Story Center offers tourists an engaging journey through the island's rich history. It has interactive exhibits and multimedia displays covering key events, from volcanic origins to modern-day Madeira.
Visitors can learn about the island's discovery, its role in global exploration, and its unique culture and traditions. The center also features a panoramic terrace with stunning views of Funchal's harbor.
Address
: Rua D. Carlos I 27-29, 9060-051 Funchal, Portugal

Hours
: 10 am – 7 pm (daily)

Cost
: Adults: $5.50; Children: $3
Related: This Is How Long You'll Need To See The Best Parts Of Beautiful Madeira
4
Sample Madeira's Wines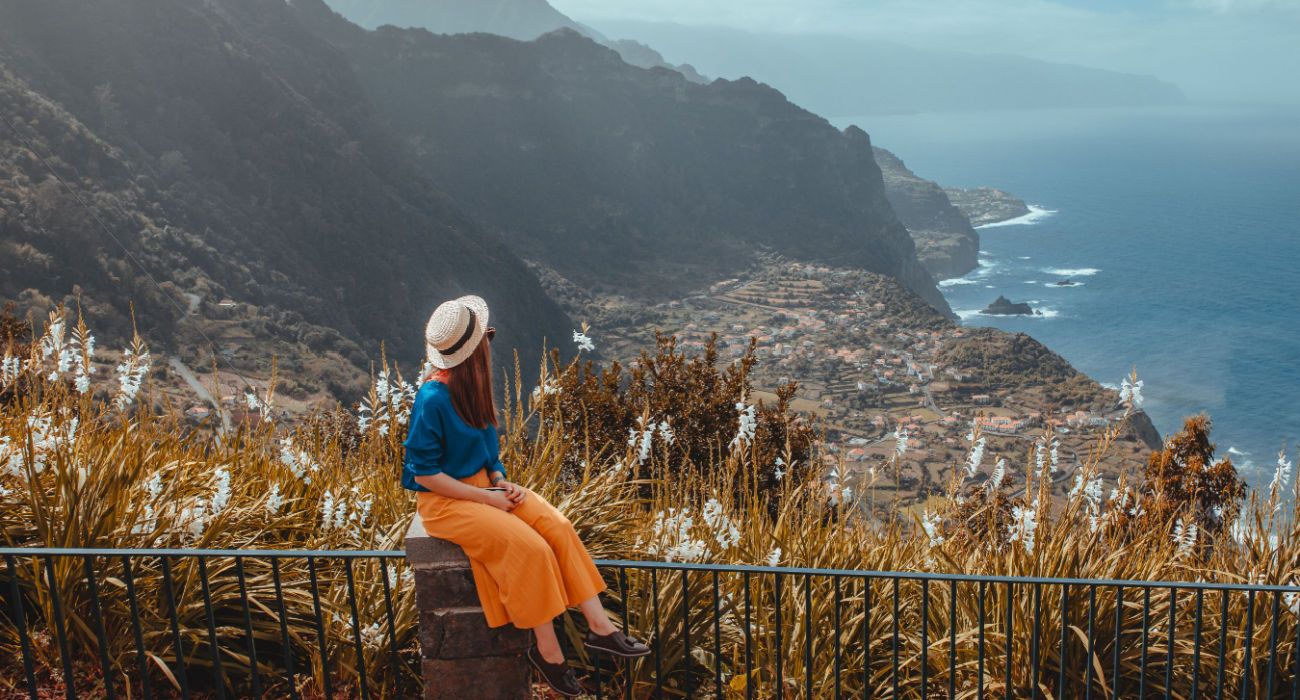 Golden views on tropical island, Madeira Portugal
Madeira's centuries-old winemaking tradition can be experienced firsthand at local wine cellars and tasting rooms. Visitors can savor the distinct flavors of Madeira wines, ranging from dry to sweet varieties.
Guided wine-tasting tours offer insights into the production process and the island's wine history while teaching tourists about the unique aging method that gives Madeira's wines their signature taste.
5
Get Breathtaking Views At The Pico do Areeiro Observatory
Colin Watts on
Unsplash
"">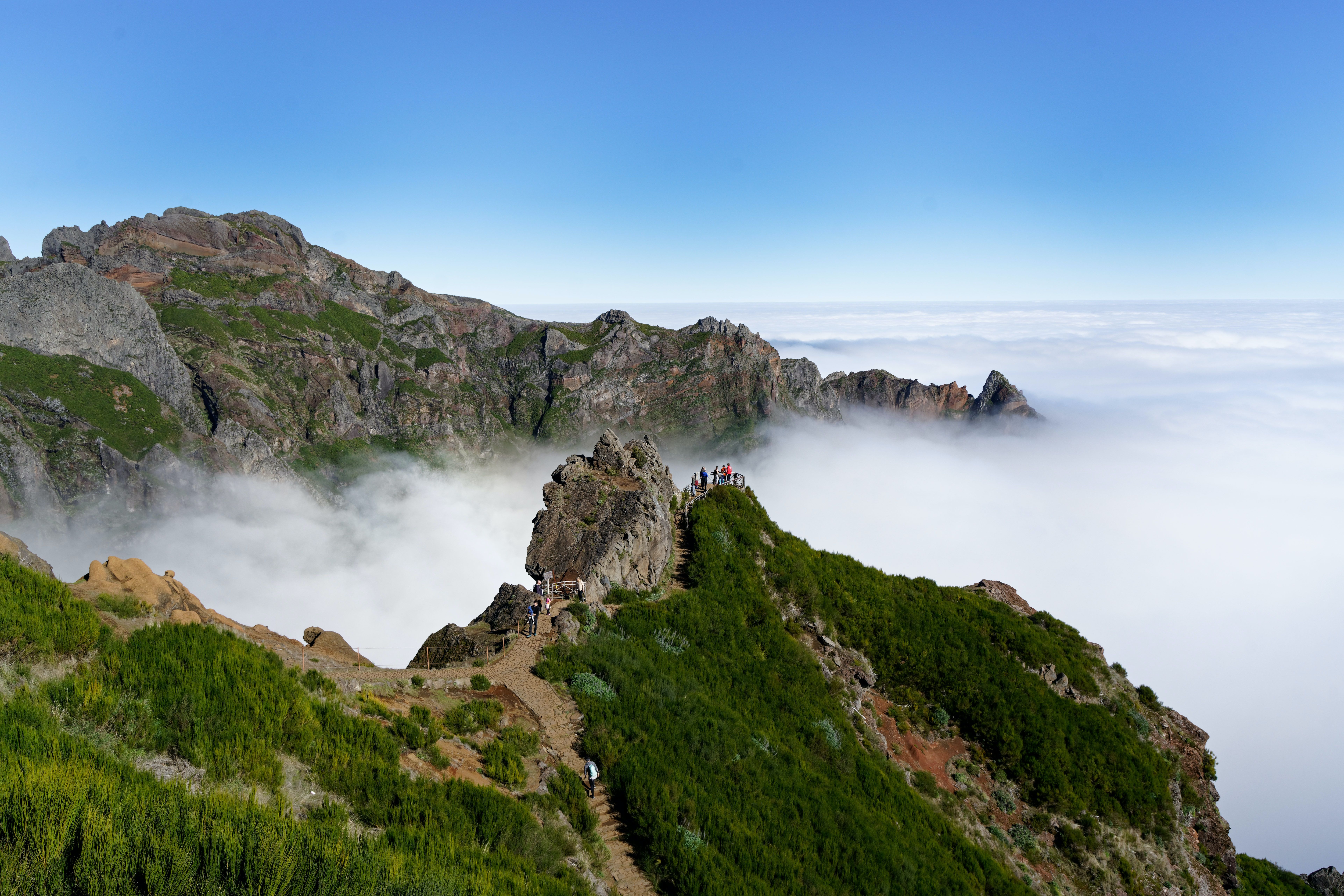 Summit of Pico do Areeiro, Madeira
At an altitude of 1,818 meters, the Pico do Areeiro Observatory provides awe-inspiring views of Madeira's dramatic landscape. Visitors can marvel at the panoramic vistas of rugged mountains, lush valleys, and distant ocean horizons.
The observatory is accessible by car or via challenging hiking trails for adventurous travelers.
Address
: Estrada Regional 202, Pico do Arieiro, Portugal

Hours
: 24 hours daily (weather permitting)

Cost
: Free
Warm clothing is recommended due to cooler temperatures at this elevation.
6
Take A Catamaran Cruise
Experience the beauty of Madeira's coastline by embarking on a catamaran cruise. These luxurious vessels offer a unique perspective of the island, allowing visitors to admire the stunning landscapes and crystal-clear waters.
Many cruises also provide opportunities to spot dolphins and whales in their natural habitat, making it an unforgettable adventure. Various companies, like VMT Maderia, operate catamaran cruises, with options for half-day or full-day excursions, ensuring a memorable experience for all ages.
Address
: Marina do Funchal, 9000-005 Funchal, Madeira, Portugal

Cost
: From $40
7
Learn About Whales At The Madeira Whale Museum
jacqueline macou from
Pixabay
"">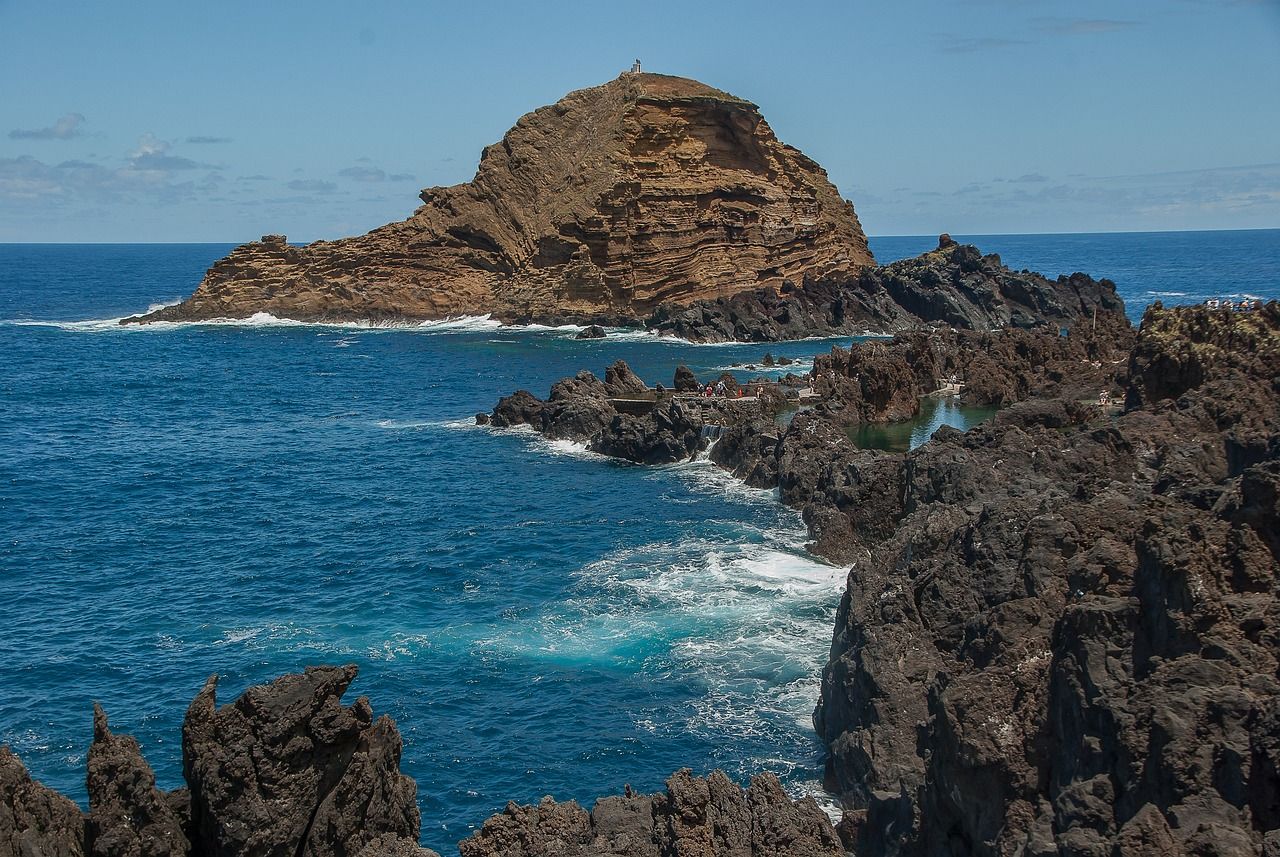 Porto Moniz in Madeira
The Madeira Whale Museum, located in Caniçal, offers an informative and engaging experience for visitors interested in learning about the island's rich whaling history and marine life.
The museum features interactive exhibits, life-size models of whales, and a collection of artifacts that reveal the whaling industry's evolution.
Guided tours are available, providing in-depth knowledge about these magnificent creatures and their importance to Madeira's culture.
Address
: Rua da Pedra d'Eira, 9200-031 Caniçal, Madeira, Portugal

Hours
: Tue – Sun: 10 am – 6 pm (closed on Mon)

Cost
: Adults: $12; Youth (12-17 yrs): $9.30; Children (6 to 11): $6; Children (below 6): Free
8
Wander Around Funchal's Old Town
Funchal's Old Town is a charming area that's a testament to Madeira's rich history thanks to its well-preserved architecture and cobblestone streets. Visitors can stroll through the narrow lanes, admiring the colorful buildings adorned with intricate door paintings.
The area is also home to numerous shops, galleries, and restaurants offering traditional Madeiran cuisine. Notable landmarks include the Sé Catedral de Nossa Senhora da Assunção and the farmers' market known locally as Mercado dos Lavradores, a lively spot selling local produce and crafts.
Address
: Rua de Santa Maria 1, 9060-291 Funchal, Portugal

Hours
: 24 hours (daily)
Related: Why Portugal Is Considered The Friendliest Country In The World
9
Hang Out At Madeira's Beaches
Chairs and umbrellas out at Madeira Beach in Florida
The island's picturesque beaches offer a relaxing escape for visitors seeking sun, sand, and sea, ranking among the top things to do in Madeira. This destination boasts a variety of beaches, ranging from golden sands to volcanic black pebbles.
Popular choices include Calheta Beach, with its calm waters and golden sands, and Praia Formosa, known for its dramatic cliffs and stunning views. Other beaches include Praia do Porto do Seixal, Porto Santo Beach, and Machico Bay Beach.
Beachgoers can enjoy swimming, sunbathing, or taking part in water sports such as snorkeling and paddleboarding.
10
Go Hiking In Ponta de São Lourenço
A trail in Ponta de São Lourenço
Ponta de São Lourenço is a breathtaking nature reserve located at the eastern tip of Madeira. This rugged landscape offers a unique hiking experience, with well-marked trails that lead visitors through dramatic cliffs, volcanic rock formations, and vibrant flora.
The hike culminates at the Casa do Sardinha viewpoint, where panoramic views of the Atlantic Ocean and neighboring islands can be enjoyed. The trails are suitable for all fitness levels, and they provide an unforgettable adventure for nature enthusiasts.
Address
: Vereda da Ponta de São Lourenço, 9200-031 Caniçal, Madeira, Portugal

Hours
: 24 hours (daily)

Cost
: Free
11
Where To Eat In Madeira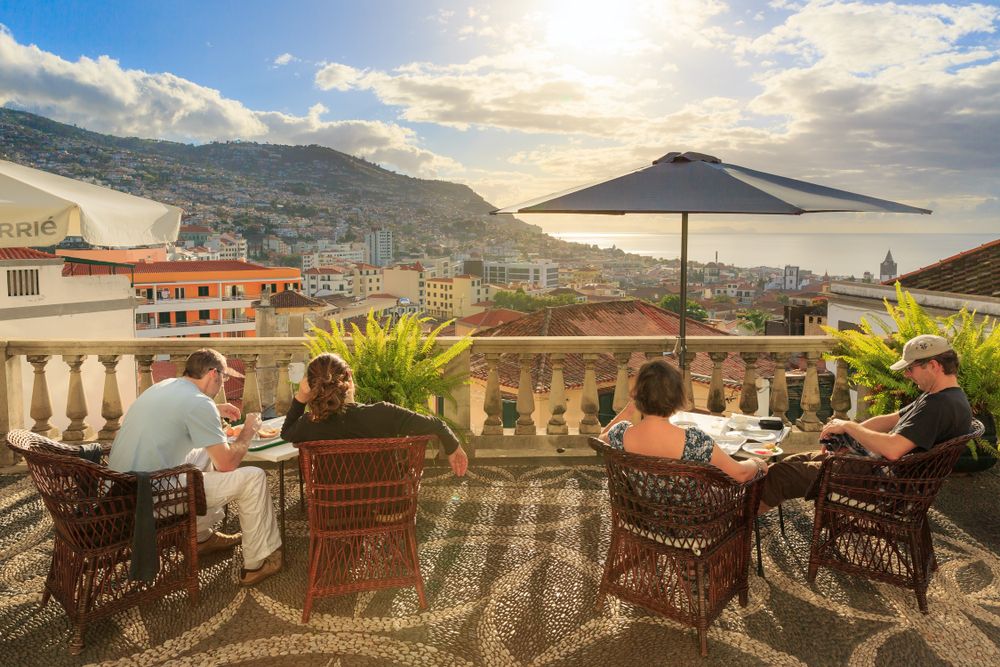 People having breakfast on the terrace of their hotel in Funchal, Madeira
Visitors ought to try some of Madeira's famous foods, including dishes like espetada, battered black scabbard fish, and picadinho, among others. Below is a look at some of the places to eat in the archipelago.
Breakfast/Lunch
Address
: R. Dom Carlos I 20, 9060-051 Funchal, Portugal

Hours
: Mon – Fri: 9 am – 5 pm; Sat: 9 am – 4 pm (closed on Sun)

Meals
: Mexican-style wraps, avocado toast, chia pudding, hummus toast
LOFT Brunch & Cocktail Restaurant
Address
: edf séc.xxi, Estrada Monumental loja D, 9000-100 Funchal, Portugal

Hours
: Tue – Sun: 9 am – 7 pm (closed on Mon)

Meals
: Mexican veggie burger, pancakes, tacos
Lunch/Dinner
Address
: Caramanchao, Estrada D. Manuel Machico, Portugal

Hours
: Sun: 12 pm – 3 pm; Tue – Sat: 12 pm – 3 pm & 6:30 pm – 10 pm

Meals
: Strogonoff chicken, grilled pork tenderloin, pastas, battered scabbard fish
Restaurant A Traineira
Address
: Rua Dom Franscisco Santana, Edificio Varandas Mar loja 1 e 2, 9125-031 Caniço, Portugal

Hours
: 12 pm – 11 pm (daily)

Meals
: Shellfish, grilled scabbard, fried mackerel, grilled codfish, tiger prawns, beefsteak Traineira style
Related: Pastries To Grilled Sardines: Discover 10 Must-Try Street Foods In Portugal
Dinner/Drinks
Address
: R. da Alfândega 1B, 9000-059 Funchal, Portugal

Hours
: Tue – Sat: 8 pm – 2 am (closed on Sun & Mon)

Drinks
: Cocktails – SMoked Negroni, Watermelon Gummy, Irish Punch, Gin Fizz, Daiquiri
Address
: Rua de Santa Maria 170, 9060-291 Funchal, Portugal

Hours
: Sun – Thu: 4 pm – 1 am; Fri & Sat: 4 pm – 2 am

Meals
: Steak on the Stone, paella, octopus

Drinks: Nikita (alcoholic & non-alcoholic), Sangria, Martini, Mojito, Tequila
12
Where To Stay In Madeira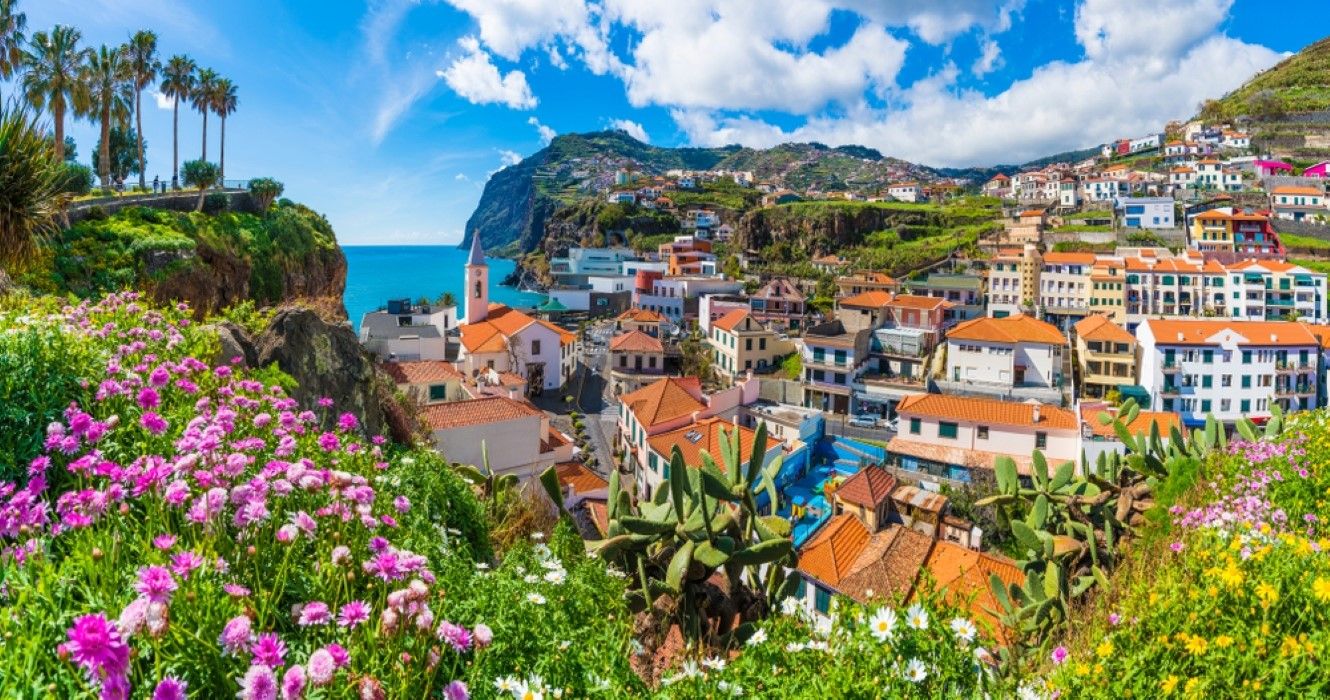 Camara de Lobos, Madeira island, Portugal
From restaurants to hotels, Madeira has a lot to offer. Here are some of the best places to stay.
Hotels
Savoy Palace – The Leading Hotels of the World – Savoy Signature
Address
: Avenida do Infante, 25, 9004-542 Funchal, Madeira

Price
: From $177

Amenities
: Airport shuttle, private parking, fitness center, beach access, garden, private pool, spa, hot tub, babysitting service, restaurant
Address
: Rua Carvalho Araújo Nº 8, 9000-022 Funchal, Madeira

Price
: From $89

Amenities
: Spa, gym, sauna, rooftop pool, bike rental, game room, cribs, kids' play area, private parking
Bio Hotel – Hotel Quinta Da Serra
Address
: Estrada Do Chote 4/6, 9325-140 Câmara de Lobos, Madeira

Price
: From $49

Amenities
: Laundry facilities, free parking, shuttle service, fitness center, picnic area, babysitting service, spa, hot tub, pool
Vacation Rentals
Address
: Funchal, Madeira, Portugal

Price
: From $153

Amenities
: Queen bed, sofa bed, sea views, smart TV, kitchenette, shared pool, private parking, beach access
Address
: Achadas da Cruz, Madeira, Portugal

Price
: From $101

Amenities
: Mountain & sea views, kitchenette, private bedroom area, 1.5 baths, deck area, private garden, beach access
Address
: Santa Cruz, Madeira, Portugal

Price
: From $83

Amenities
: 1 bed, 1 bath, shared beach access, free parking, crib, shared backyard, BBQ grill
13
When To Visit Madeira
Madeira enjoys a subtropical climate with mild temperatures throughout the year. The ideal months to visit are April to June and September to November, as the weather is pleasant and there are fewer tourists.
Here's a detailed look at what to expect in Madeira during the different seasons.
April to June
These months mark spring season in Madeira, offering delightful weather with temperatures averaging highs of 68 degrees Fahrenheit (20 degrees Celsius) and lows of 57 degrees Fahrenheit (14 degrees Celsius).
The island comes alive with vibrant flowers and lush greenery, making it a perfect time to explore the beautiful gardens and scenic hiking trails. Visitors can expect a moderate number of tourists during this period, with prices for accommodations and activities being relatively reasonable.
It is advisable to book flights and hotels in advance to secure the best deals.
Related: Springtime Special: 10 Amazing Places To Visit In Portugal This Spring
July to August
Summer in Madeira brings warmer temperatures, with highs reaching 75 degrees Fahrenheit (24 degrees Celsius) and lows of 64 degrees Fahrenheit (18 degrees Celsius). While the weather is enjoyable, these months attract many tourists, resulting in crowded attractions and higher prices for accommodations.
Those who want a more relaxed atmosphere may want to consider visiting during other months. However, for travelers who enjoy lively events and festivals, this is the time when Madeira hosts several cultural celebrations.
September to November
Autumn in Madeira offers a pleasant climate with temperatures ranging between highs of 72 degrees Fahrenheit (22 degrees Celsius) and lows of 61 degrees Fahrenheit (16 degrees Celsius). The crowds start to thin out during this period, making it an excellent time to explore the island's attractions at a leisurely pace.
Prices for accommodations and activities become more affordable, allowing visitors to enjoy their stay without breaking the bank. Additionally, the grape harvest season takes place during these months, providing an opportunity to witness traditional wine-making processes and taste exquisite local wines.
December to March
Winter in Madeira is characterized by cooler temperatures and occasional rainfall. Highs average around 63 degrees Fahrenheit (17 degrees Celsius) while lows hover around 54 degrees Fahrenheit (12 degrees Celsius).
Although outdoor activities may be limited due to the weather conditions, visitors can still enjoy the island's indoor attractions such as museums, art galleries, and wine cellars. The tourist crowds are significantly lower during this period, and prices for accommodations are quite attractive for budget-conscious travelers.
14
Getting Around Madeira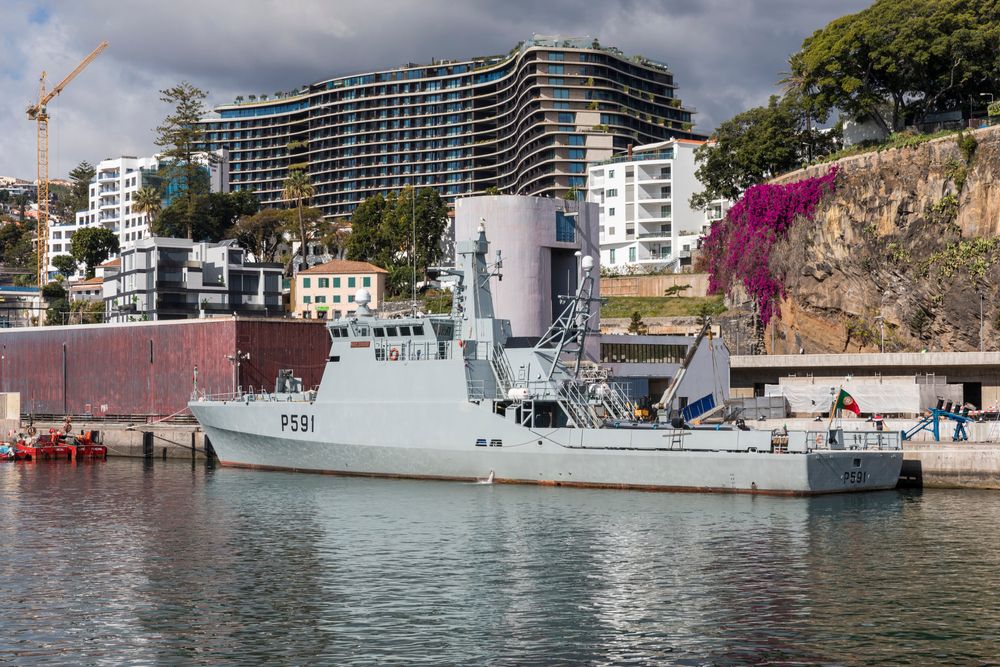 Coastal Patrol Vessel with hotel Savoy in the background in Madeira, Portugal
Visitors to Madeira will land at Cristiano Ronaldo International Airport, which is conveniently located just 13 miles from the capital city of Funchal. This airport welcomes flights from various European cities such as London, Lisbon, Paris, and Frankfurt.
For those traveling from outside Europe, a layover in one of these cities may be necessary before continuing on to Madeira.
Once in Madeira, tourists have several options for getting around the island:
Bus
Madeira's public bus system, operated by Horários do Funchal and SAM, offers an extensive network of routes that cover a majority of the island. These buses connect Funchal with other towns and villages, making it easy for visitors to explore the island at their leisure.
Bus fares start at around $2 for a single journey within Funchal, while longer trips to other parts of the island may cost up to roughly $6.
For those planning to use the bus frequently, a monthly pass is available for around $32.
Cable Car
One of the most scenic ways to travel around Madeira is by taking a cable car ride. The Madeira Cable Car transports passengers from the city center up to the hilltop village of Monte, offering breathtaking views of the city and coastline along the way.
The cable car operates daily from 9 am to 5:45 pm, with fares starting at approximately $14 for a one-way ticket and $20 for a round-trip ticket.
Taxi
Taxis are readily available throughout Madeira, providing a convenient and comfortable way to get around the island. Fares are metered and can vary depending on the distance traveled and time of day.
It is worth noting that some taxi drivers also offer guided tours of the island, which can be an excellent way for visitors to learn more about Madeira's history and attractions.
Car Rental
For those who prefer to explore Madeira at their own pace, renting a car is an ideal option. Numerous car rental agencies are available at the airport and in Funchal, offering a range of vehicles to suit different budgets and preferences.
Visitors should keep in mind that driving in Madeira can be challenging due to its steep hills and narrow roads; however, this also adds to the island's charm and allure.
Madeira is famous for its network of levadas or irrigation channels that traverse the island's lush landscapes. These levadas often have walking paths alongside them, allowing visitors to enjoy leisurely strolls while taking in the stunning scenery.
Guided levada walks are available through various tour operators, providing an opportunity for tourists to learn more about Madeira's unique flora and fauna.
15
Spending The Perfect Day In Madeira
Begin the perfect day in Madeira with a delicious breakfast at a local café, then explore the vibrant Mercado dos Lavradores for fresh produce and souvenirs. Next, visit the stunning Monte Palace Tropical Garden, admiring its exotic flora and breathtaking views.
For lunch, savor traditional Madeiran cuisine at a local restaurant before embarking on a tour of Old Town Funchal to get a glimpse of the city's historical sites.
​​​​​​​In the afternoon, unwind at the picturesque Praia Formosa beach, and later, indulge in a sumptuous dinner at a waterfront eatery. Conclude the day with drinks at a lively bar.
FAQ
Q: What is Madeira best known for?
Madeira is best known for its stunning natural landscapes, mild climate, and unique flora and fauna. Some of the highlights include the lush Laurisilva Forest, which is a UNESCO World Heritage Site, the dramatic cliffs and coastal views, and the levadas (irrigation channels) that crisscross the island.
Madeira is also famous for its wine, Madeira wine, which is a fortified wine produced on the island.
Q: Is it worth it to go to Madeira?
Yes, it is worth it to go to Madeira, especially for those who enjoy nature, outdoor activities, and unique cultural experiences.
The island offers stunning landscapes, beautiful gardens, and a variety of activities such as hiking, whale watching, and exploring the levadas.
Q: Is Madeira closer to Africa or Europe?
Madeira is closer to Africa than Europe. It is located in the North Atlantic Ocean, about 520 km (320 miles) from the northwest coast of Africa (home to its own gorgeous destinations) and approximately 978 km (608 miles) southwest of mainland Portugal.