Located on the Hudson River in New Jersey, Hoboken is small but mighty. It's bursting with character, full of fun bars and delectable restaurants, and it simply offers so many fun things to do.
Visitors can kayak or paddleboard on the Hudson River, stroll along the paved waterfront path, or take advantage of Hoboken's Piers and stunning vantage points to see the gorgeous views of the Manhattan skyline. And a trip to Hoboken's Historical Museum will let visitors know everything they need to know about one of New Jersey's favorite cities, such as interesting tidbits like the fact that Hoboken is the birthplace of two American favorites—baseball and Frank Sinatra.
There are so many awesome things to do in New Jersey, and visiting Hoboken is definitely one of them!
UPDATE: 2023/06/02 15:58 EST BY NOAH STAATS
There Are Even More Things To Do In Hoboken, New Jersey!
This article has been updated with three new things to do in Hoboken, as well as tips for a successful New Jersey vacation. Whether someone wants to explore Little Island, head to an art gallery, or even rock climb, Hoboken, New Jersey, is the place to be!
Things To Do
There are many beautiful towns in New Jersey, but Hoboken is the perfect destination for a first-time visit to the Garden State. And to help tourists plan that first visit, here is our complete guide and list of things to do in Hoboken, New Jersey.
1
Take A Trip To Little Island
Night in Hoboken, New Jersey with views of New York City in the distance
One fun thing to do while in Hoboken is visit Little Island. Here, tourists can explore a new public park located in Hudson River Park. This park has a futuristic look, being the perfect spot for capturing photos, videos, and other content for social media.
On top of that, Little Island feels secluded, often being an escape from nearby New York City, which is arguably the busiest place in the world. Little Island is open every day from 6 AM to 11 PM, so be sure to stop by!
Little Island is open daily, from early in the morning to late at night. This might be a nice spot to catch the sunrise or sunset and is often regarded as a peaceful escape from the hustle and bustle. Feel free to bring a book, have a picnic, or even stroll around the sidewalks here.
2
Climb At The Gravity Vault
View of New York City from Hoboken, New Jersey
The next thing to see and do in Hoboken is The Gravity Vault. Here, guests can rock climb and get a workout in during their vacation to the city. The Gravity Vault is highly rated for overall value and appeal, often bringing droves of locals during weekends and evenings.
Therefore, it might be best to come here during the daytime, Monday through Thursday. Like any indoor attraction, it's possible to be turned away at the door because the venue has reached capacity on a busy Friday or Saturday night.
There are also rock climbing camps for kids here, which might be a fun way to spend a day with younger people in the group.
3
Ponder Art At The PHOTO Gallery
Julien Maculan on
Unsplash
"">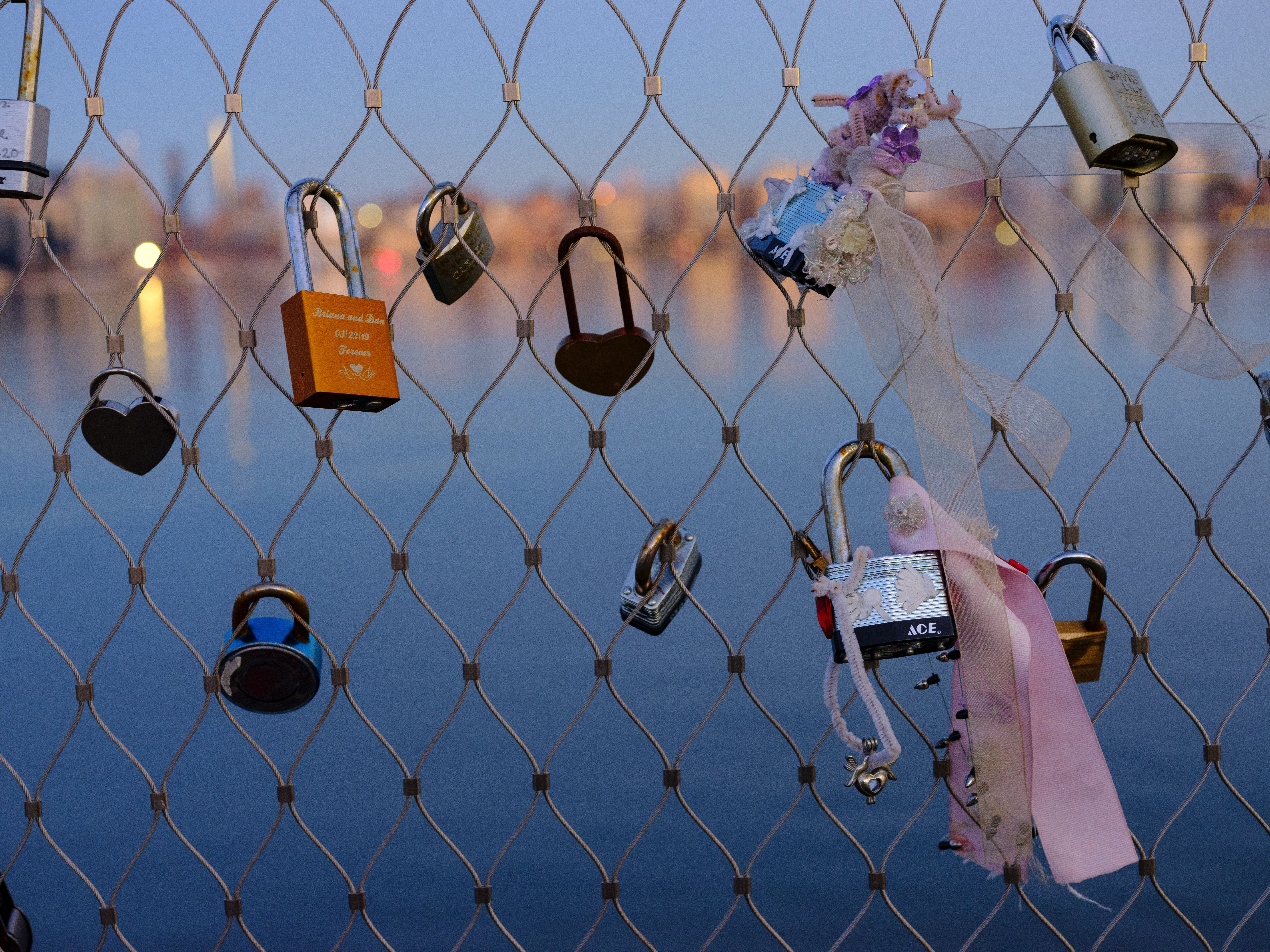 Love Lock Bridge, Hoboken, NJ
Another must-see while in Hoboken, New Jersey, is the PHOTO Gallery. In this space, guests can view a gallery for contemporary art, exhibiting early and mid-career artists working in various media.
This location doubles as a ceramics studio, so it might be worth it to come for that. Hoboken is known for bringing art and culture, even if it's smaller than the nearby big cities.
PHOTO Gallery is a place to kill time in the afternoon and learn about local and global art in a modern event space. There's something for everybody here!
4
Retrace Frank Sinatra's Steps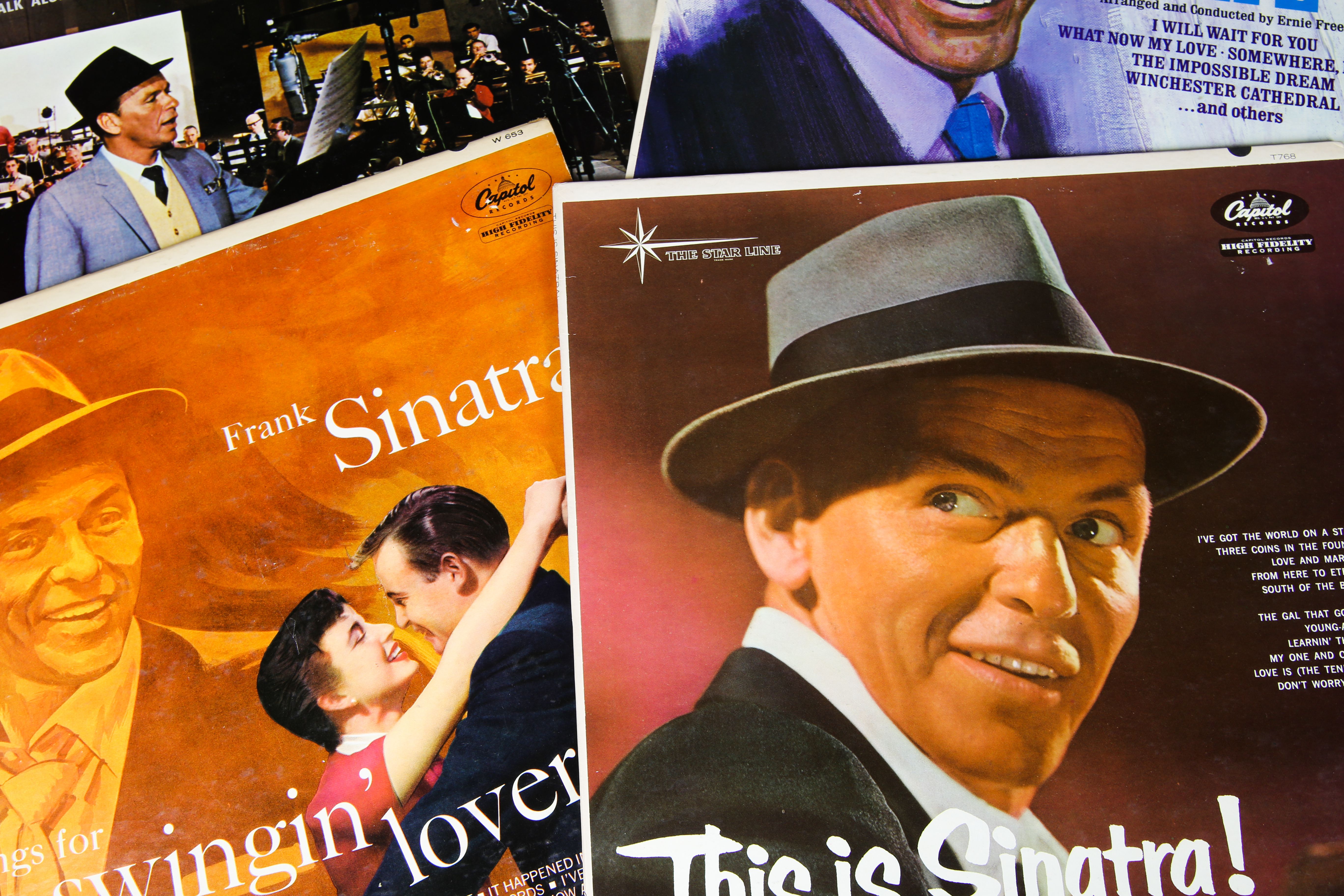 Frank Sinatra, legendary singer from Hoboken, New Jersey
Frank Albert Sinatra was born on December 12, 1915, at 415 Monroe Street in Hoboken. The 5-story condominium, "Frank's Place," has a bronze star with Sinatra's full name embedded into the exterior wall for fans to see.
The star at 415 Monroe Street is the first stop on the Frank Sinatra Tour offered by Hoboken's Historical Museum.
Other stops on the tour include a few other places Sinatra lived, the church where Sinatra was baptized, the site of Marty O'Brien's (the bar and grill his parents owned), and some of Sinatra's favorite local eateries, like Leo's Grandevous.
5
Visit Hoboken's Historical Museum
The Hoboken Historical Museum in Hoboken, New Jersey
Located on the waterfront in one of the oldest buildings in Hoboken, the Hoboken Historical Museum offers visitors a chance to learn about Hoboken's fascinating history. This is where Sinatra fans can get a special map to tour all things Sinatra throughout Hoboken.
Address: 1301 Hudson Street, Hoboken
Hours: Tuesday through Thursday, 2 PM to 7 PM; Friday, 1 PM to 5 PM; Saturday & Sunday, 12 PM to 5 PM
Cost: $5 per person
6
Walk Along The Hudson River
Ryan Stone on
Unsplash
"">
Wide path along the Hudson River in Hoboken, New Jersey
The Hoboken waterfront walkway is a popular path along the Hudson River and the perfect place to walk, run or skate. Enjoy the views while getting a bit of exercise! And after working up an appetite, there are tons of restaurants and bars nearby to refuel.
At just over 18 miles long, the path runs along the river from the tip of Bayonne to the George Washington Bridge. To get the best views of the dramatic Manhattan skyline, try Pier A Park, Pier C Park, and Castle Point Lookout.
Related: 10 Best Beaches In New Jersey You Need To Visit
7
Go To Elysian Fields
public domain
"">
Elysian Fields in Hoboken, home to the very first baseball game.
The very first organized baseball game is said to have taken place in 1845 when the New York Nine faced the Knickerbockers at Elysian Fields. Over the years, as the popularity of the sport grew, the inevitability of bigger stadiums diminished the fame of Elysian Fields.
Today, visitors can only spot a small portion of Elysian Fields, but how cool to witness the exact spot where baseball was born!
Address: 11th Street and Washington Street, Hoboken
Hours: Daily, 24 hours
Cost: Free
8
Kayak, Paddle Board, And Canoe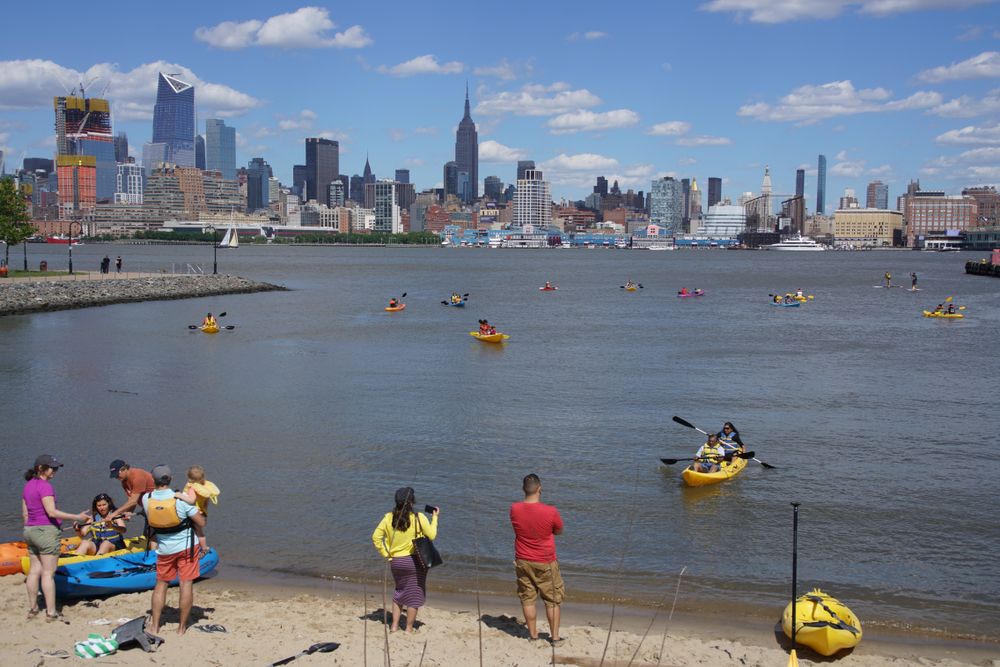 Kayaking on the Hudson River in Hoboken, New Jersey
The Hoboken Cove Community Boathouse is New Jersey's largest free paddling program. Tourists can kayak, stand-up paddleboard, or outrigger canoe. Arrive at the front desk, put on a life jacket, attend a short training on the beach, and tourists will be ready to start right away. Easy, right? No reservations are required.
This organization is completely run by volunteers and donation based. For those who can, a donation would be super appreciated.
Address: Maxwell Place Park on the Hoboken waterfront (near the intersection of Frank Sinatra Drive and Maxwell Place).
Hours: Open almost every weekend in the summer
Clothes will get wet. Bring extra. Small lockers are available on-site.
9
Linger At Barksy Gallery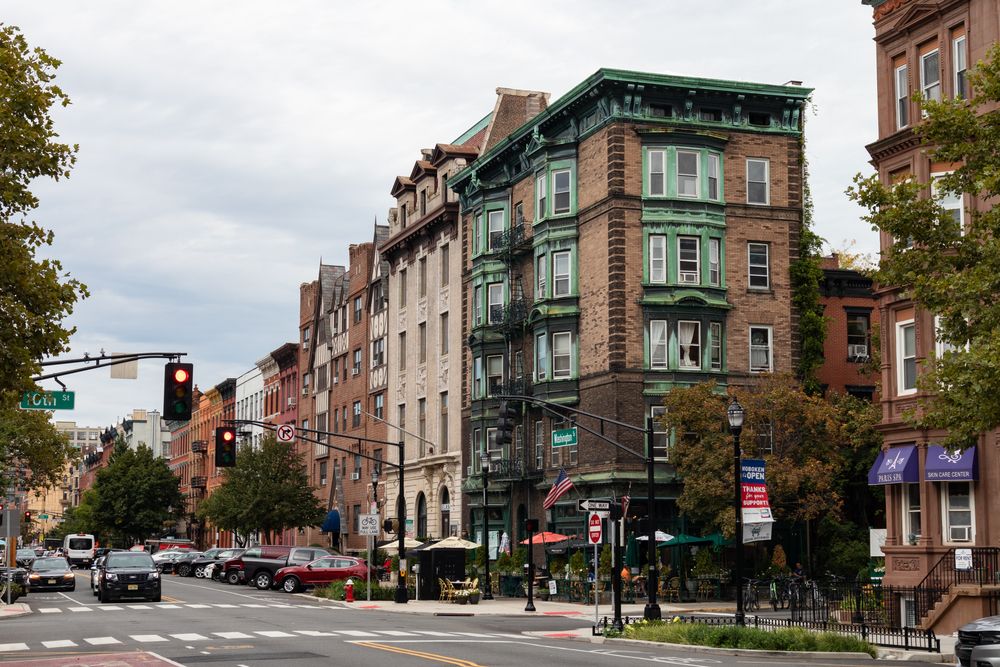 Downtown Hoboken, New Jersey
Showcasing contemporary art in Hoboken, the Barksy Gallery showcases spectacular pieces. The founder, Al Barksy, commits his time to equally to both novice and experienced art collectors and prides himself in helping people find artworks they will enjoy for years to come.
The Barksy Gallery also has an Art for Good Program where people can donate pre-loved artworks to make room for new pieces.
Address: 99 Harrison St, Hoboken, and 50 Harrison Street, Suite 303, Hoboken
10
Enroll In Carlo's Bakery Classes
Carlo's Bake Shop in Hoboken, New Jersey
Carlo's Bake Shop became a household name ever since it was featured on TLC's Cake Boss show. Their wedding cakes are amazing and have appeared in popular publications like Modern Bride and The Knot. Visiting this little slice of heaven is a must for anyone visiting Hoboken.
And for any tourists interested in baking and cake decorating, come to Carlo's Bakery Classes and learn from the best! And a big bonus—all bakers get to keep the cake they make to share with friends and family (or eat all by themselves—no judgment here!).
Address: 95 Washington St, Hoboken
11
Watch The Sunset At Castle Point Lookout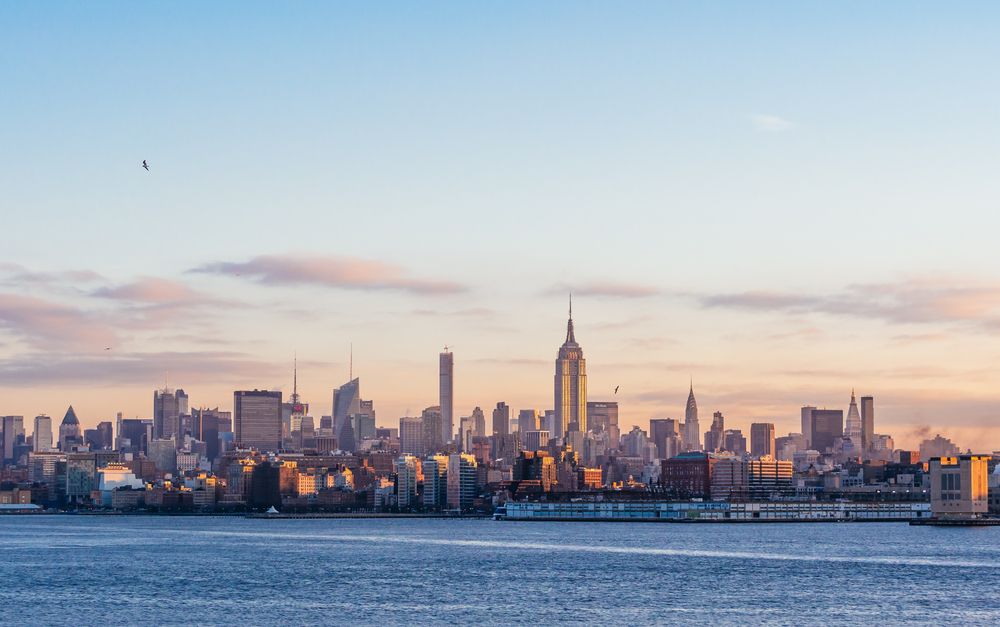 View of the New York City skyline from Hoboken at dawn
Get ready to be impressed! It doesn't get much better than watching the sunrise or sunset from Castle Point Lookout in Hoboken. The lookout provides panoramic views of the Hudson River and is located at Stevens Institute of Technology, the city's only college.
It stands at the highest point in Hoboken (at an elevation of 100 feet) and is home to Steven's cannon, a historical artifact from the American Revolution. The Castle Point Lookout is a remarkable vantage spot to witness the beautiful colors change over the New York City skyline.
Address: 90 Frank Sinatra Dr, Hoboken
12
Best Time To See Hoboken, New Jersey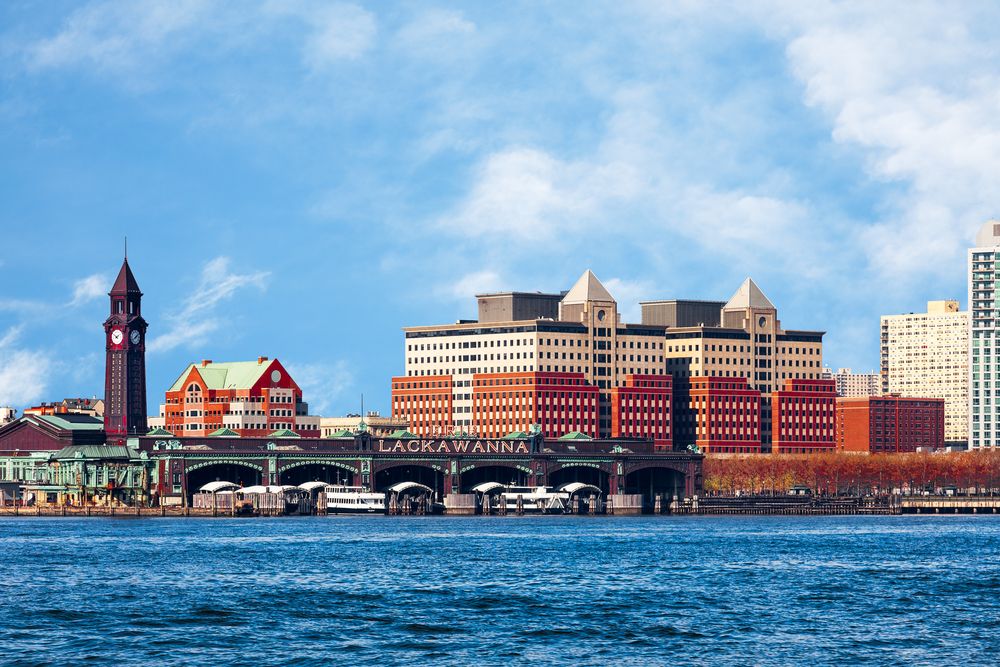 View of Hoboken from the Hudson River on a beautiful day.
Like most of the East Coast, temperatures in Hoboken vary drastically throughout the year.
Spring
The start of spring can be chilly, but it warms up as summer approaches. Overall, spring temperatures range from highs in the mid-40s to the high-70s. It's a slow time for tourism, so travel deals may be available. The super fun Spring Arts and Music Festival is also in spring.
Summer
Summers in Hoboken are warm, but for the most part—not too hot. Summers also bring a few days of rain each month, so tourists may want to pack an umbrella. June through August is the busiest time of year, and the St. Anne's Italian Festival in July is a fun annual event that draws big crowds.
Related: 10 Most Beautiful New Jersey Beaches You Should Visit This Summer
Fall
Fall, especially late fall, is chilly. Tourists can expect highs from the low-80s to the low-40s, with the possibility of rain and snow. The Hoboken Italian Festival is a popular event held annually every September.
Winter
Hoboken winters are cold, and the city is slow with tourists, probably because it's too chilly to enjoy outdoor activities. Temperatures range from highs in the mid-40s to the low-30s, and it rains and snows a fair amount.
13
Best Ways To Get Around Hoboken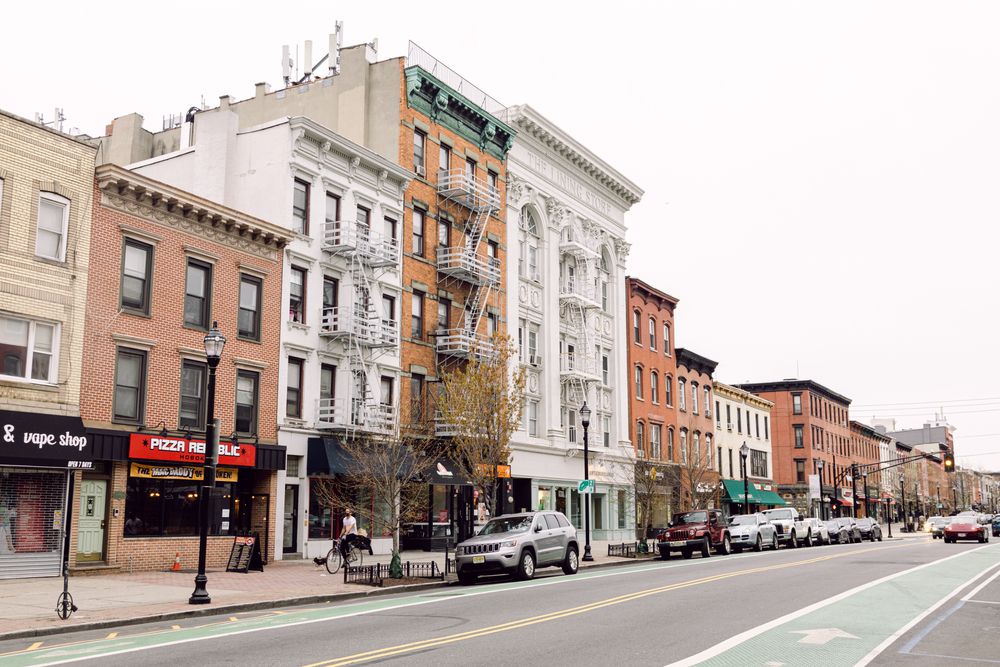 Washington Street in Hoboken, New Jersey
Travelers have a handful of options when it comes to getting around Hoboken.
Walk
Hoboken is small, only 1.25 square miles. Walking is the best option. And traveling on two feet lets tourists avoid circling the busy blocks in search of a parking spot. For tourists who do travel by car, make sure to read the signs when parking, as many spots are reserved for Hoboken residents.
Bike
The Hudson Bike Share is an excellent option for tourists who want to travel around Hoboken on wheels. Sign up at any Hudson Bike Share website, with the mobile app, by calling ahead, or by popping into a bike share kiosk.
14
Where To Eat In Hoboken
Street signs that show Washington Street and Third Street, Hoboken
The Garden State offers a variety of fantastic restaurants. In fact, New Jersey has a few eateries on the Anthony Bourdain food trail. And while Hoboken is small in size, its food scene is incredibly impressive.
Breakfast
Turning Point
A lengthy menu and quality food keep Turning Point a busy breakfast establishment.
Address: 1420 Frank Sinatra Drive, Hoboken
Hours: Daily, 7:30 AM to 3 PM
Recommended: The Cinnamon Roll Pancakes are always a hit!
Lunch
Fiore's House of Quality
This Hoboken staple opened in 1903. Every day features a different special, the most popular is the roast beef, but customers can order any classic deli sandwich they like. This old-school spot is crowded, so consider calling in ahead of time to place orders.
Address: 414 Adams Street, Hoboken
Hours: Mondays through Saturdays, 8 AM to 6 PM
Recommended: The fresh mozzarella and the roast beef
Dinner
Antique Bar & Bakery
The Antique Bar & Bakery opened in 2016 inside a century-old building that was the longtime home of the famous Antique Bakery, which made bread so famous that Sinatra used to have it delivered directly from its Willow Avenue address.
The Antique Bar & Bakery cooks delicious eats inside a 30-ton coal oven made of porcelain brick. This is a must-stop destination for anyone traveling to Hoboken.
Address: 122 Willow Avenue, Hoboken
Hours: Sunday through Wednesday, 5 PM to 10 PM; Thursday through Saturday, 5 PM to 11 PM
Recommended: Try the Aged Rib-Eye and Roasted Jerk Beets with Lime Yogurt
Related: You'd Be Hard-Pressed To Find These Iconic New Jersey Dishes Anywhere Else In The Country
Drinks
Pier 13
The beautiful and colorful Pier 13 on the Hudson River lets customers enjoy a cocktail with unobstructed New York City skyline views. There are also food trucks and a family-friendly beer garden. But keep in mind; this gem is only open in the warmer months.
Address: 1301 Sinatra Drive N, Hoboken
15
Where To Stay In Hoboken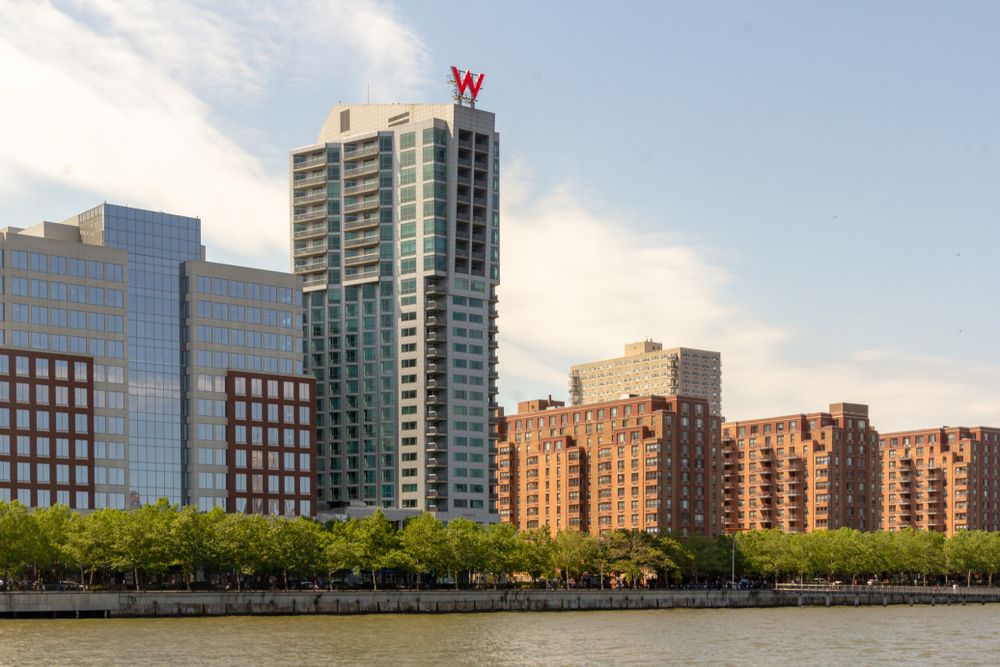 View of the W Hoboken Hotel from the Hudson River in Hoboken
While Hoboken doesn't have a ton of hotels within its city limits, it does have many very nearby.
Luxury
W Hoboken
The W Hoboken is nestled on the waterfront and within walking distance of Hoboken's many bars and restaurants.
Address:
225 River Street, Hoboken
Amenities: spa and wellness center; restaurant; flat-screen TV; valet parking; room service; fitness center; bar/lounge.
Cost based on double occupancy: $$$
Mid-range
Sheraton Lincoln Harbor Hotel
Nearby Hoboken on the banks of the Hudson River, the Sheraton Lincoln Harbor Hotel has fantastic views of the New York City skyline. The Lincoln Harbor Light Rail Station is a short walk (six minutes) from the hotel, so guests can easily and quickly travel to Hoboken.
Address:
500 Harbor Boulevard, Weehawken
Amenities: Indoor pool; restaurant; room service; flat-screen TV; fitness center; bar/lounge.
Cost based on double occupancy: $$
Budget
Holiday Inn Express & Suites Jersey City North – Hoboken
Easily accessible from the New Jersey turnpike, the Holiday Inn Express & Suites Jersey City North – Hoboken is in a prime location to explore Hoboken and the nearby cities.
Related: 10 New Jersey State Parks To Visit For Free This Summer
16
Tips For Staying In Hoboken
View of downtown street in Hoboken, New Jersey
When coming to Hoboken, New Jersey, for a vacation, there aren't many safety concerns or advisories for guests. Because this city is safe and quiet, the only thing to remember is to always double-check with cab drivers and rideshare drivers to ensure they are actually the driver.
In New York City and beyond, fake taxis are a thing, so keep an eye out. Confirm the name and destination with the driver before venturing off.
The next thing to think of when in Hoboken is traffic during weeknights and mornings. Many residents will commute to the Big Apple, so there could be congestion leading into the city.
The same goes for weekends when New Yorkers might travel over to NJ to spend time at one of the various attractions mentioned in this guide. Traffic is a part of being near the world's greatest big city!
17
How To Spend The Perfect Day In Hoboken
Pier C Park in Hoboken, New Jersey
Start the morning in Hoboken with a hearty breakfast. Try Turning Point for the Cinnamon Roll Pancakes or simply stroll along Washington Street and take your pick of fabulous eateries. After breakfast, head over to Hoboken's Historical Museum.
Learn more about this wonderful city, and for Frank Sinatra fans, why not get the map and take the special tour? With so many sights worth seeing, tourists can retrace Sinatra's steps all around town.
After all that exploring, tourists will inevitably work up an appetite. Grab a sub from one of Hoboken's many excellent delis and travel to one of Hoboken's many cool vantage points, like Pier A Park, Pier C Park, or Castle Point Lookout.
Sink those teeth into that delicious sandwich, before walking to the Hoboken Cove Community Boathouse for a little kayaking. Explore the water, enjoy the views of Manhattan, and don't forget to leave a donation, if possible.
One of the best things about Hoboken is the nightlife. The energy goes up when the sun goes down. Tourists can take their pick of vibrant restaurants and bars, all within walking distance.
Whether tourists call it an early night and head back to the hotel to Netflix and chill, or whether they stay out until the last call—anyone visiting Hoboken is in for a unique and fun-filled getaway.
FAQ
Q: Is Hoboken worth visiting?
Absolutely. Hoboken is one of the many beautiful places to visit in New Jersey. From gorgeous views to outdoor activities (like kayaking and paddleboarding) to fantastic restaurants and a fun nightlife, Hoboken is a great destination for any tourist.
Q: How do you spend a day in Hoboken?
It's easy to spend the day in Hoboken. There are so many fun things to do in New Jersey, and Hoboken, New Jersey, has a ton of options. Tourists can spend the day following Frank Sinatra's footsteps around town, kayak in the Hudson River, and treat themselves to delicious food and drinks.
They can visit the Absecon Lighthouse, buy a cake a Carlo's, or walk along the waterfront to glimpse the one-of-a-kind New York City skyline.
Q: What is Hoboken famous for?
Mostly the beautiful views of the Manhattan skyline. But, it's also the birthplace of both baseball and Frank Sinatra. And it's known for having great restaurants and a fantastic nightlife.