The beaches and nearby beautiful tiny towns of Alabama, which are distinguished by the warm Gulf seas and smooth, ivory sands, are a treat for tourists looking for a relaxed, family-friendly escape. Alabama can compete with Florida's best beaches if visitors are seeking good sand and surf. The sugar-white sands seen in Alabama are outstanding and well-known. The marvelous granules that massage the feet as vacationers go down the soft sand are equally at ease for both sunbathing and strolling on the beach.
When people think about the best beaches and things to do in Gulf Shores, Alabama the first one that crosses their minds is Orange Beach. Here are 10 awesome things to do in Orange Beach, Alabama.
Related: 10 Fun & Memorable Things To Do In Gulf Shores, Alabama
10
Book A Dolphin Watching Cruise
Dolphin spotting in the sea
Searching for the local dolphin pods is a must-do activity while visiting Orange Beach. The greatest way to experience and observe the fun animals up close is on a dolphin tour, though vacationers may occasionally glimpse them while kayaking or hanging on the coast.
The majority of excursions last two hours, but there are other options, including sunset cruises, shallow-water eco-tours in special boats that can take vacationers deep into marshes and creeks, and picturesque tours of the area's waterways.
Prices:
Starting at $25 per adult and $20 per child
9
Take A Tour Of Orange Beach With Lost Bay Helicopters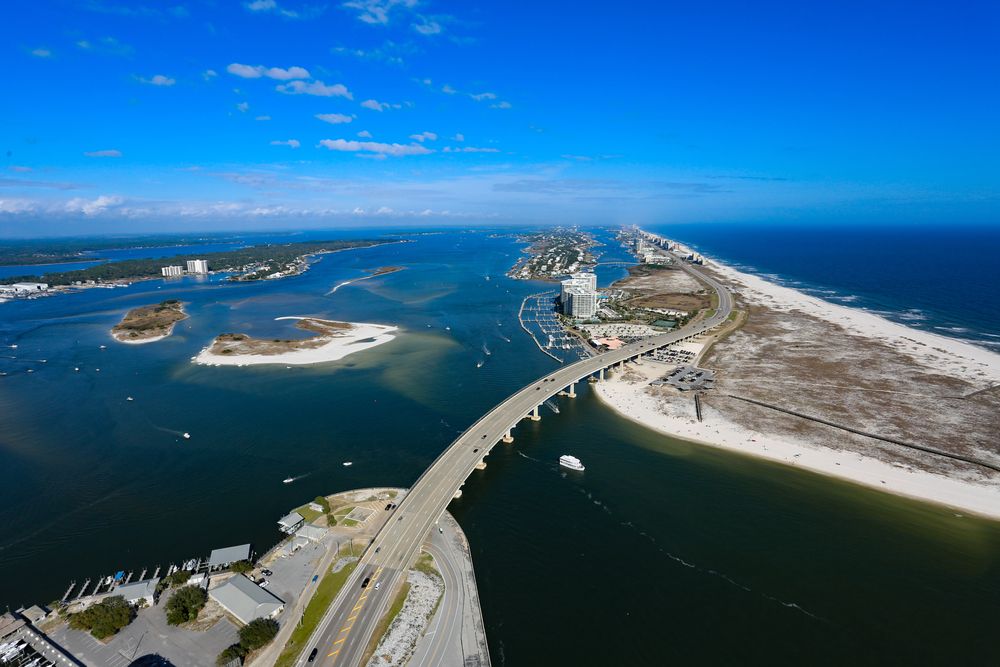 Aerial view of Gulf Shores, Alabama
The best option if vacationers are seeking an exhilarating trip is Lost Bay Helicopters. They can get a bird's-eye perspective of Orange Beach's splendor and the nearby coastal area, which is situated in adjacent Gulf Shores, from Lost Bay Helicopters.
Lost Bay Helicopters has a variety of flights and trips. Vacationers can either take a fast, 8-minute flight down the coast or the Sea & Wildlife trip, which will take them out above the wonderful Gulf of Mexico. The State Park trip will take vacationers above Alabama Gulf State Park. They will undoubtedly adore anything they decide.
Prices:
Starting at $55 per person
8
Spend A Day At Adventure Island
Perdido Pass, Orange Beach, Alabama
The popular amusement park, Adventure Island, is situated near Orange Beach, directly across from the Gulf of Mexico. It offers a variety of thrilling rides and family-friendly excursions. The park visitors may play laser tag, go-karting, bumper boats, play adventure golf, have fun at the arcade, or take paddle boat excursions.
There are various rides specifically for children. The massive five-story volcano's eruption, with fire flying into the sky, will be fascinating to the entire family. Visitors can play a family-friendly round of 18-hole mini golf, climb a coconut palm, play a high-powered adventure game of tag, or enjoy a leisurely boat ride on Adventure Island's hidden lagoon lake.
Entrance fee:
Visitors pay per point. Each point is $1
Related: 10 Scenic State Parks In Alabama (& Their Best Hikes)
7
Ride Orange Beach's Famous Wharf Ferris Wheel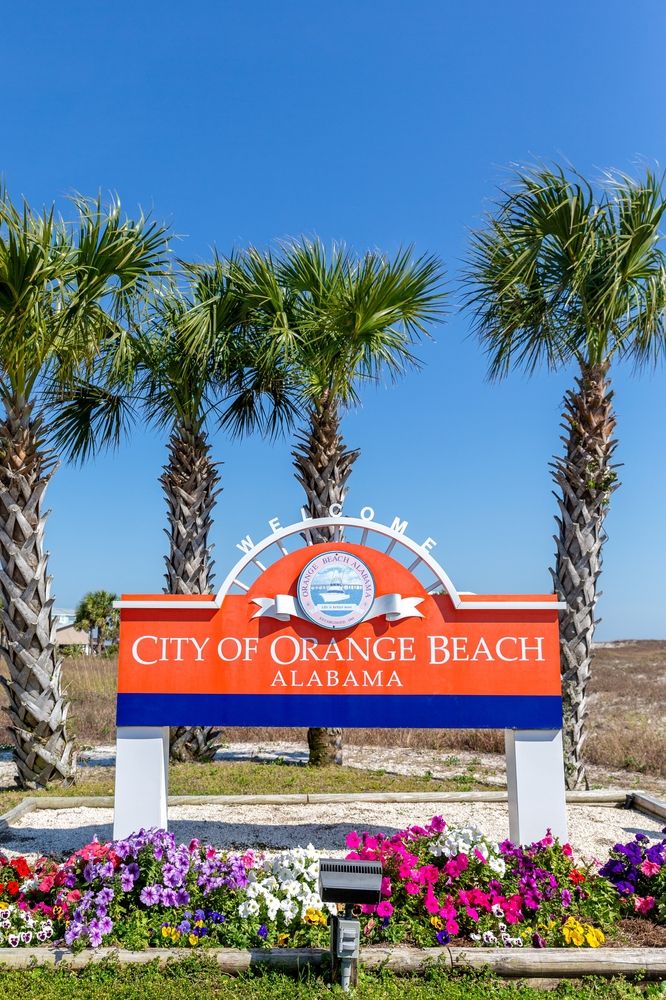 Welcome sign for the City of Orange Beach, Alabama
The Wharf Ferris Wheel, which stands at a towering 112 feet (34.13 meters) tall and has 24 open gondolas, is one of the best things to do in Orange Beach. There are just no better places to snap spectacular views, day or night, than this.
Additionally, the wheel is decked out in lovely lights if vacationers ride it at night. They can also go at sunset to see the sky turn into a mesmerizing rainbow of reds and oranges or take the open gondolas for a cool breeze on sweltering afternoons.
6
Take Cool Shots Selfie Museum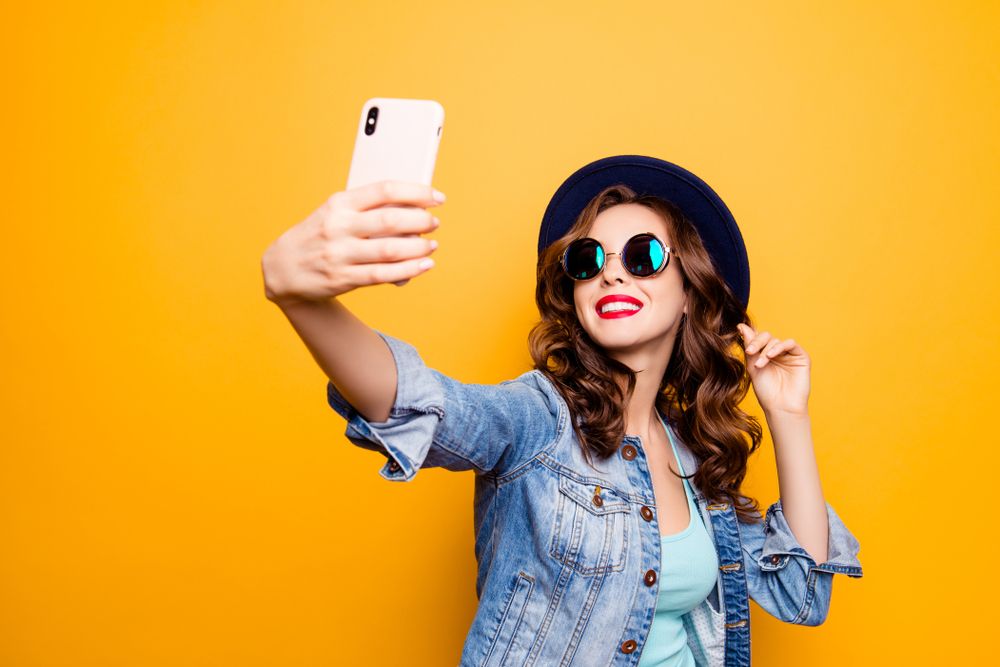 A girl taking a selfie
The Cool Shots Selfie Museum in Orange Beach, which is devoted to selfie and social media aficionados, provides 50 distinctive backdrops for visitors' distinctive photographs. They may find the ideal backdrop for their upcoming Instagram Reels or Tik Tok movies here, in addition to thousands of fascinating photos for their own selfie collection.
Even if vacationers are not a fan of social media or selfies, there are some amazing locations where they may snap group and family photos of professional quality.
Entrance fee:
Starting at $22 per visitor
5
Enjoy Parasailing Over Orange Beach
engin akyurt on
Unsplash
"">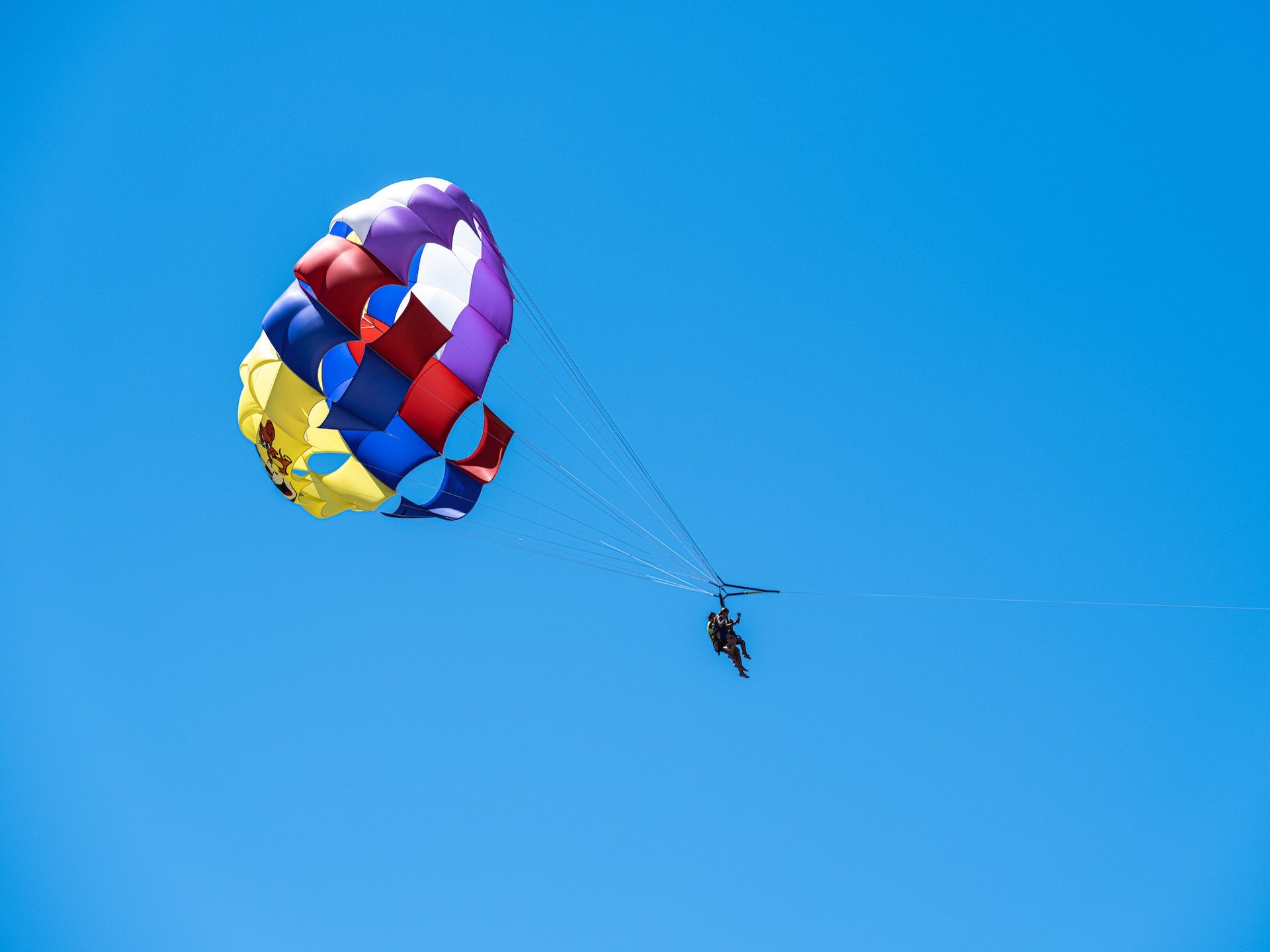 Tourists parasailing in blue sky 
In Orange Beach, there are several businesses that provide parasailing, so vacationers may choose the one they like according to their requirements, available hours, and spending limit. Whatever they decide, they will be flying 500 feet (152.4 meters) above the coast to enjoy the stunning and scenic view of the Gulf's turquoise seas, golden beaches, and unending blue horizon.
The majority of businesses provide tandem flights, allowing vacationers to go on an experience with up to two family members or friends.
Vacationers should pack water-friendly clothing because they will get wet
4
Seize the Orange Beach Pirate Ship And Go!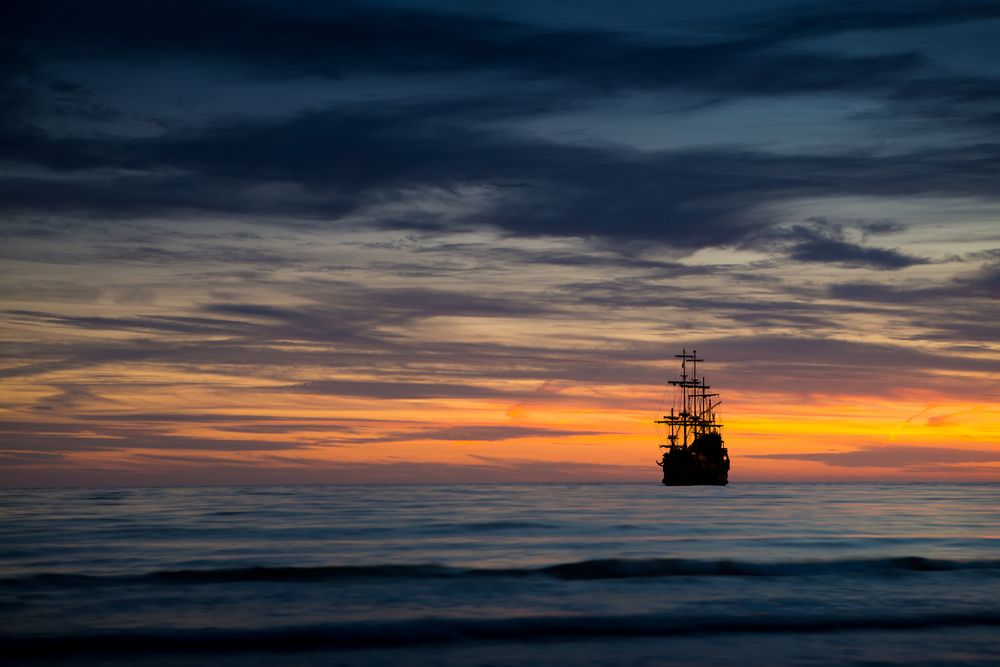 Pirate ship on sunset
One of the awesome things to do in Orange Beach is letting a captain lead visitors on a fascinating voyage around the Alabama Gulf Coast, and get onboard a replica of a ship from the 1400s. The Orange Beach Pirate Ship Cruise is ideal for the whole family and includes a variety of onboard activities!
Vacationers may play musical games, learn some pirate slang, and hear tales of actual pirates and the local treasure hunt as they sail along. At the end of the cruise, vacationers will have plenty of time to snap pictures with their favorite pirates.
Prices:
$33 per youth or adult, $31 per senior, and $29 per child (2-12)
Related: Get To The Gulf: Alabama's Most Sun-Worthy Beaches
3
Visit Kentucky Mist Distillery In Orange Beach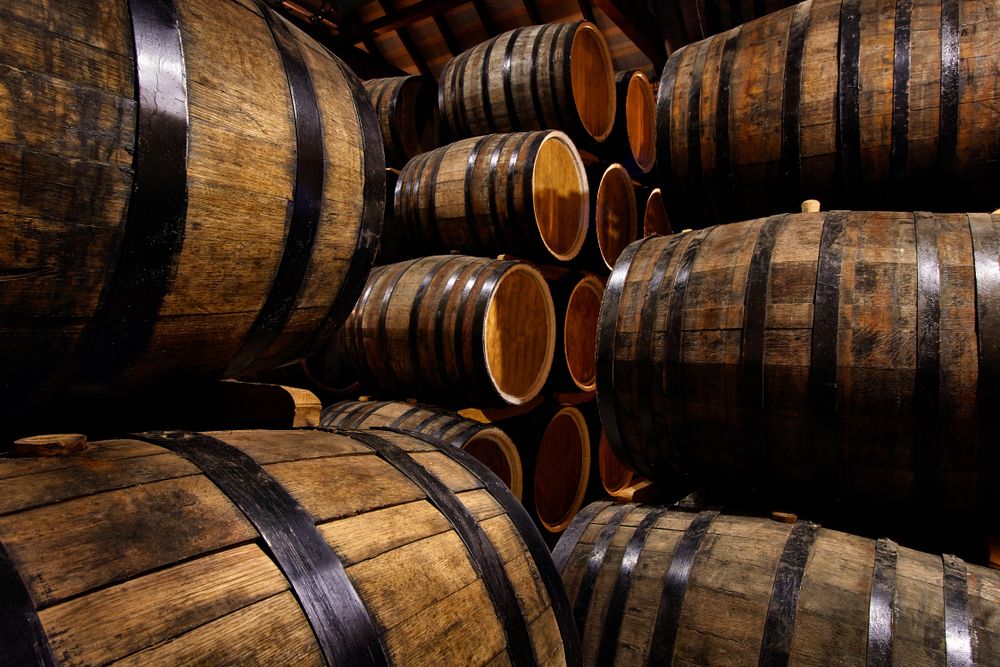 Alcohol barrels in a distillery
Kentucky Mist Moonshine is a family-run distillery in Orange Beach, Alabama that has been around since the American Prohibition. It carries on the tradition begun by previous generations.
Bootlegging corn liquor is no longer necessary, but the current generation running Kentucky Mist is still employing the traditional formulas that were handed down to them from their predecessors. The list of options is topped by a big selection of moonshines and other drinks like a variety of vodka and whiskey.
2
Ride Tropic Falls At OWA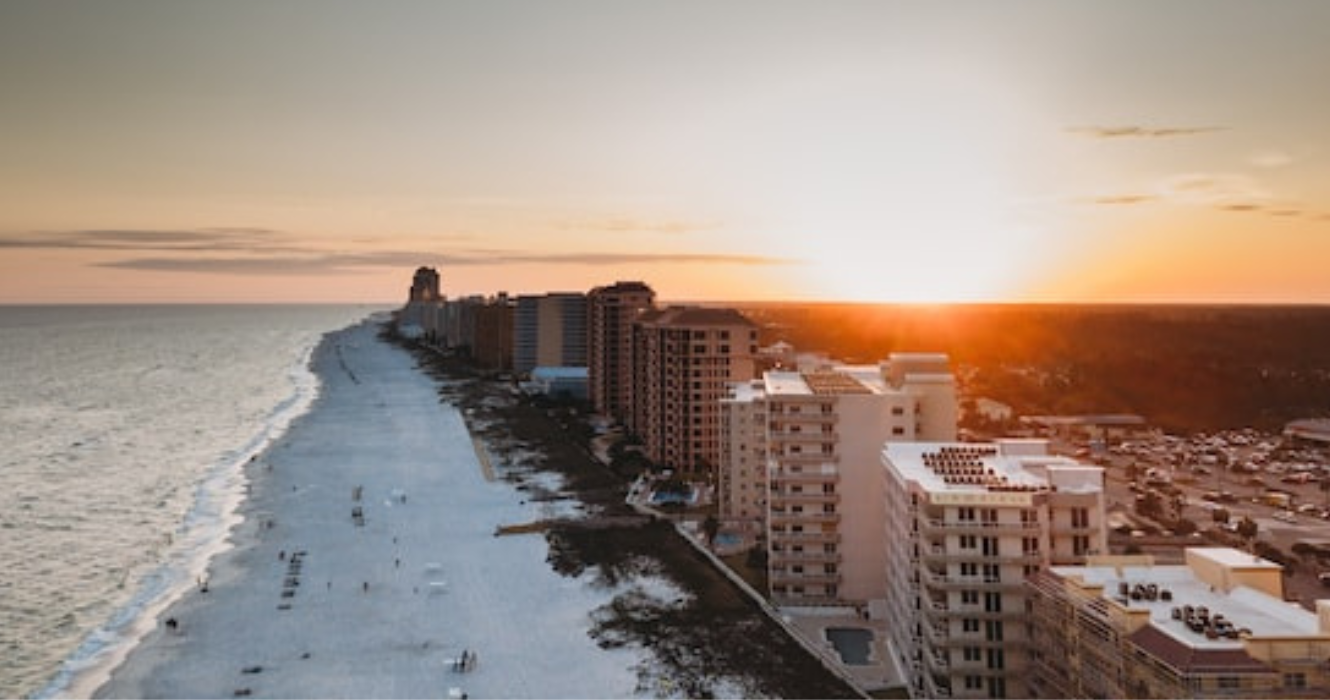 An aerial view of Orange Beach, Alabama
OWA's water and amusement parks will let their visitors bounce, jump, and scream with joy. With both indoor and outdoor attractions, it is the ideal balance of excitement and relaxation and an awesome attraction in Orange Beach.
Visitors can continue having fun in the water even when it is chilly outside since the indoor water park offers a year-round tropical vacation despite the outdoor portion being seasonal. The Tropic Falls Theme Park is great for adrenaline lovers with its 23 rides and attractions.
Orange Beach visitors can enjoy some leaps and scares in the Mystic Mansion, tilt and zoom into the air with AeroZoom or the Air Racer, and get ready for a thrilling journey.
Entrance fee:
$63 per day
1
Compete At Civil Axe Throwing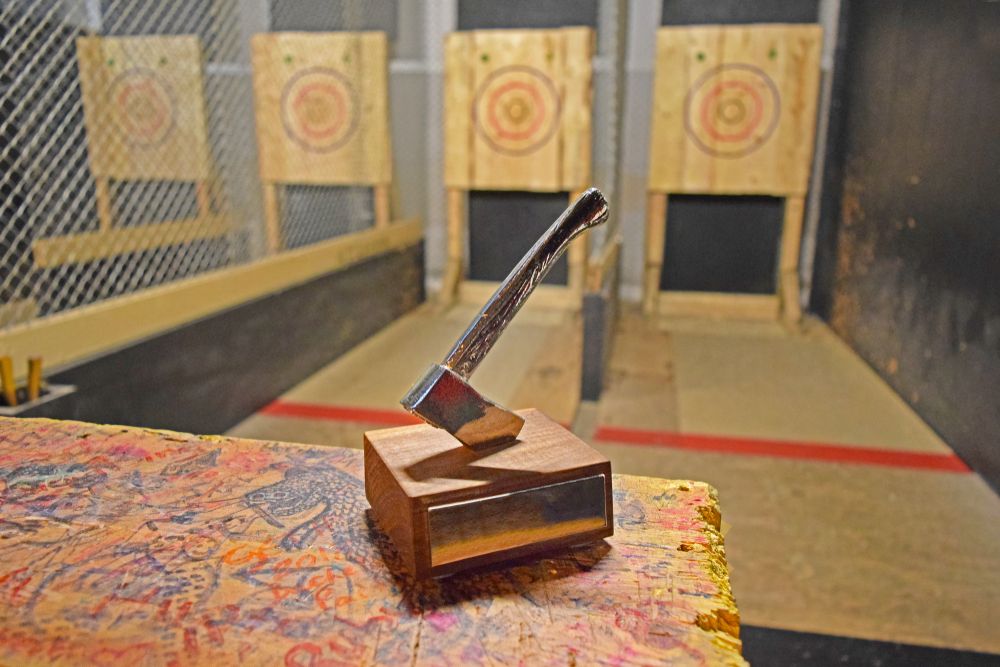 An indoor axe throwing hall
A relatively new competitive sport that is sweeping the nation is axe throwing. Vacationers can come to check out Orange Beach's Civil Axe Throwing to see what all the excitement is about. They have a team of experts who can educate them on all the crucial safety guidelines and show them how to throw their axe so that it hits the bulls-eye.
Vacationers can compete in one of the broad lanes with up to 8 other players. It is important to keep in mind that they should bring their own food and beverages, as well as closed-toed shoes.
Visitors should be at least 10 years old